San Jose Costa Rica – The Way & the Why
Dionne Warwick famously asked "Do you know the way to San Jose?" in her 1968 hit song lamenting the insanity of Los Angeles and longing for the breathing space of San Jose, California. Fast forward some fifty plus years and I doubt that anyone would consider that apparently once idyllic small city to be a place they would go to get away from it all. As the centre of Silicon Valley it's now the tenth largest city in the U.S. and totally unaffordable to all but the highest paid hi tech execs. But there's another San Jose and while it's not on most people's radar as a tourist destination, it does have a some good qualities that merit finding your way there. Here's why.
Costa Rica has long had a reputation as the white sheep in a family of Central American countries that have been notorious for their bad actors. While the others were going through one revolution or dictatorship after another, always with the military involved,  Costa Rica got sick of this shit, had an epiphany and cancelled its military in 1948. Yes, got rid of the army for good. No civil wars or external wars since then. And the added bonus of being able to do a lot more for the people when you're not spending a ridiculous amount on defence.
On top of that, Costa Rica is ridiculously beautiful with an incredible diversity of ecosystems found nowhere else in a nation this small. A full 25% of the country is protected in national parks, the highest in the world. This has paid off tremendously for Costa Rica in terms of attracting tourists and the big bucks they can bring into what is technically a third world country. Millions of tourists fly into Costa Rica every year and the overwhelming majority start their visit by landing in San Jose. That's not necessarily a good thing as the immigration lines are long, the baggage area total chaos and there are even long lines to have your luggage scanned before leaving as is the norm in most Latin American countries today.
However, once out into the warm tropical sunshine things improve dramatically. It's about a $30 USD cab ride into the centre of San Jose and my destination is the Gran Hotel Costa Rica which is a Hilton Curio brand and easily the best hotel in a city that has a dearth of them. Alison and I are in Costa Rica to join a tour an Adventures Abroad tour of Central America specifically designed and led by veteran guide and friend Victor Romagnoli. While it's a one off tour it follows much the same itinerary as do a number of other Adventures Abroad Central American tours of shorter duration with the addition of El Salvador and Honduras. The tour started a week earlier in Panama and visited a number of places we did on a previous trip with Adventures Abroad led by Andrés Fernandéz. Highlights included a partial transit of the Panama Canal, a visit to an Embera Indigenous village and a stay in the remote Caribbean town of Bocos del Toro. After that the group flew into San Jose and took a bus and a riverboat to Costa Rica's premiere Caribbean coastal community of Tortuguero where the sea turtle conservation movement began and jaguars, not humans, are their primary predators.
We elected not to repeat these adventures, as fun as they were, but instead to join the group in San Jose on their return from Tortuguero. We flew in a day early which gave us almost two full days to explore the city before continuing on to other Costa Rican destinations. This was not our first time in San Jose and while we did not have a bad impression of the place neither did we rate is as one of our favourites. Having just spent more time here I can say that it definitely rose in our estimation starting with the excellent Gran Hotel Costa Rica.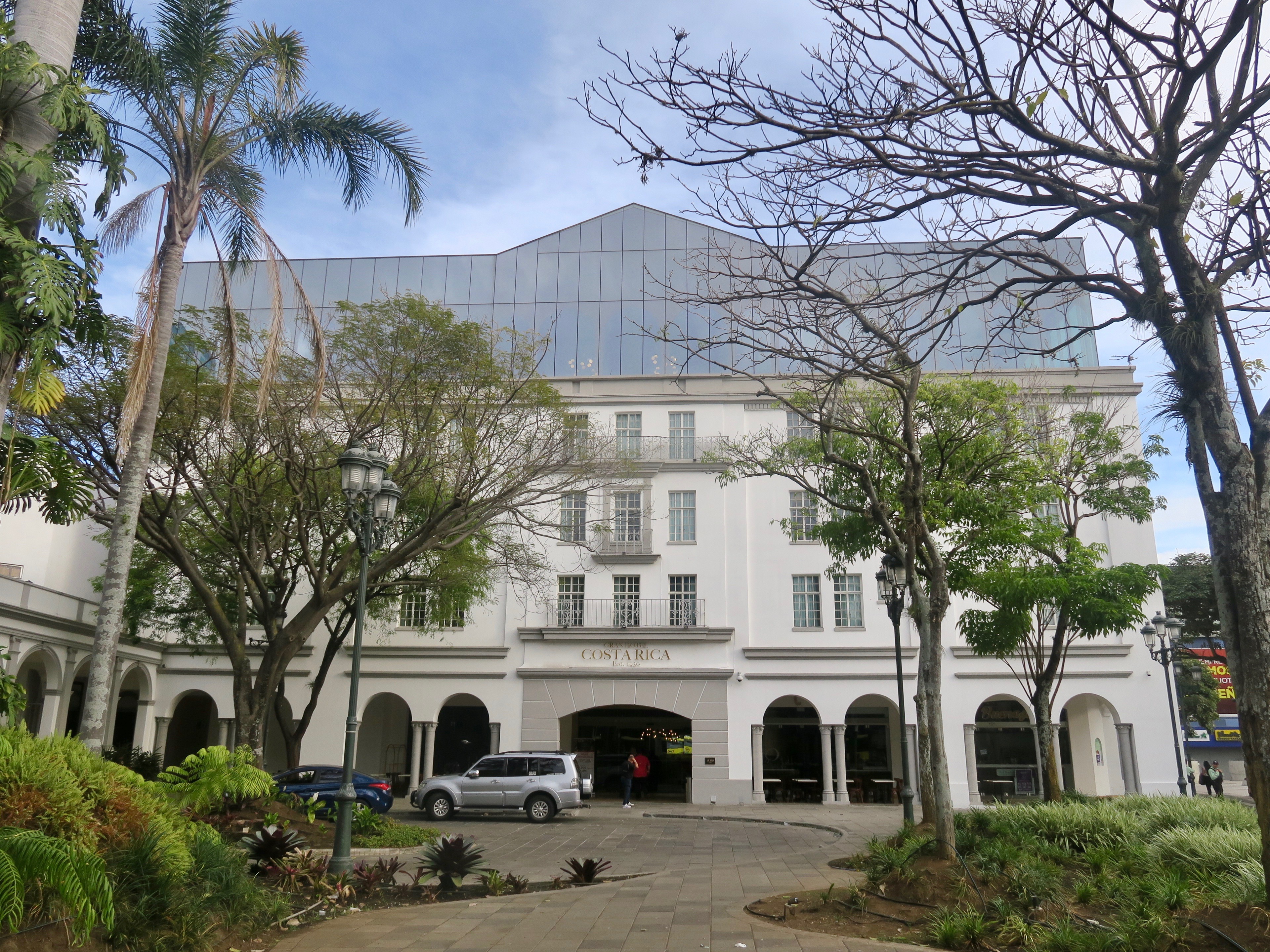 This hotel was a vast improvement over the hotel we stayed at before which was connected to a casino. The Gran Hotel Costa Rica has a great location right in the middle of the central area and is within easy walking distance of most of the things you might want to see. It also has a great restaurant and lounge on the top floor which lets you people watch the goings on in the plaza below. If you do need to spend a night or more in San Jose, take my advice and stay here, and no, I don't get any discount or other favour for plugging this place. I just want my readers to stay at a place I know is worth the extra cost (not that much really) and is safe and friendly as well.
OK, let's explore San Jose.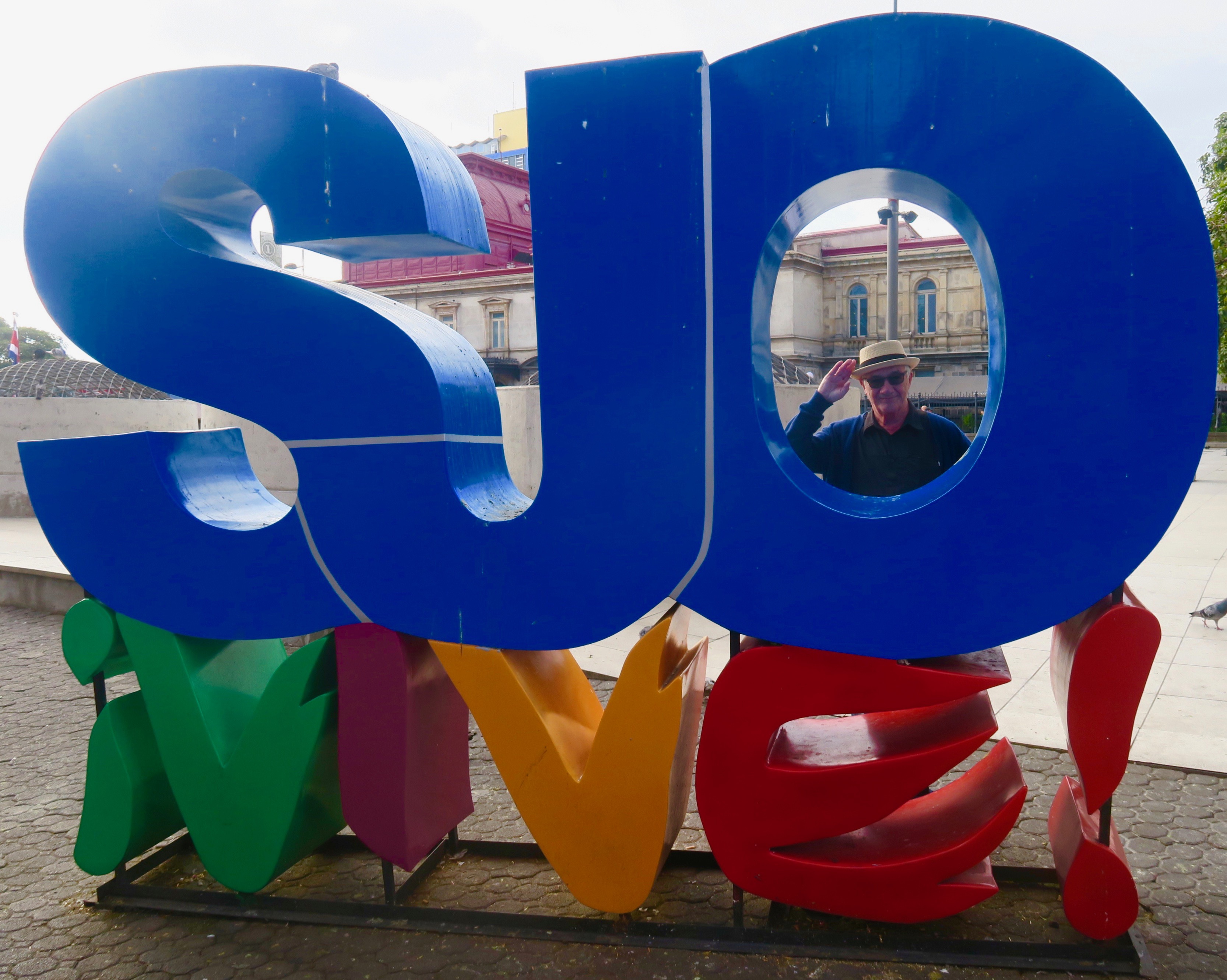 Unlike many of my posts I am not going to spend much time talking about the history of this place because frankly it's pretty boring. Suffice it to say that San Jose is too new to be a great Spanish-American colonial city like Granada, Nicaragua or Antigua, Guatemala and too old to be a really modern looking place like Panama City. It has a mishmash of architectural styles that don't blend together very well. What it does have is a large number of pedestrianized streets that make getting around without getting run over a breeze. It also has a good collection of small parks, museums and the Teatro Nacional which make for interesting day on foot in a city that's easy to walk with only a few mild changes in elevation here and there. I suggest getting a map of the central area from the front desk of the hotel and just heading out without much of a plan as we did. You can of course use Google maps on your smart phone, but you'll also incur roaming charges up the wazoo on most data plans.
The first thing you'll notice on walking around San Jose is that there are not many tourists around and pretty well everyone on the streets is a local going about their daily lives. You'll also notice that the population on average is much younger and much slimmer than what you'd see on a typical walking tour in Canada or the United States, although there are the exceptions. Central San Jose is also a safe place to walk. Yes, there are a few bums in some of the parks, mostly winos it seemed, but in neither of our visits were we accosted or at any time felt unsafe. There are also no scam artists awaiting on every corner as in many cities I could name. Costa Ricans on the whole are friendly and do not view tourists as potential sources of profit other than by legitimate means. I am told that in some of the coastal resorts that this is changing for the worse and will report if that's the case when we visit Quepos in a few days.
You can hardly miss the Teatro Nacional, San Jose's most prized public building as it is literally across the plaza from the Gran Hotel. I took this picture from the 5th floor lounge which explains the glare.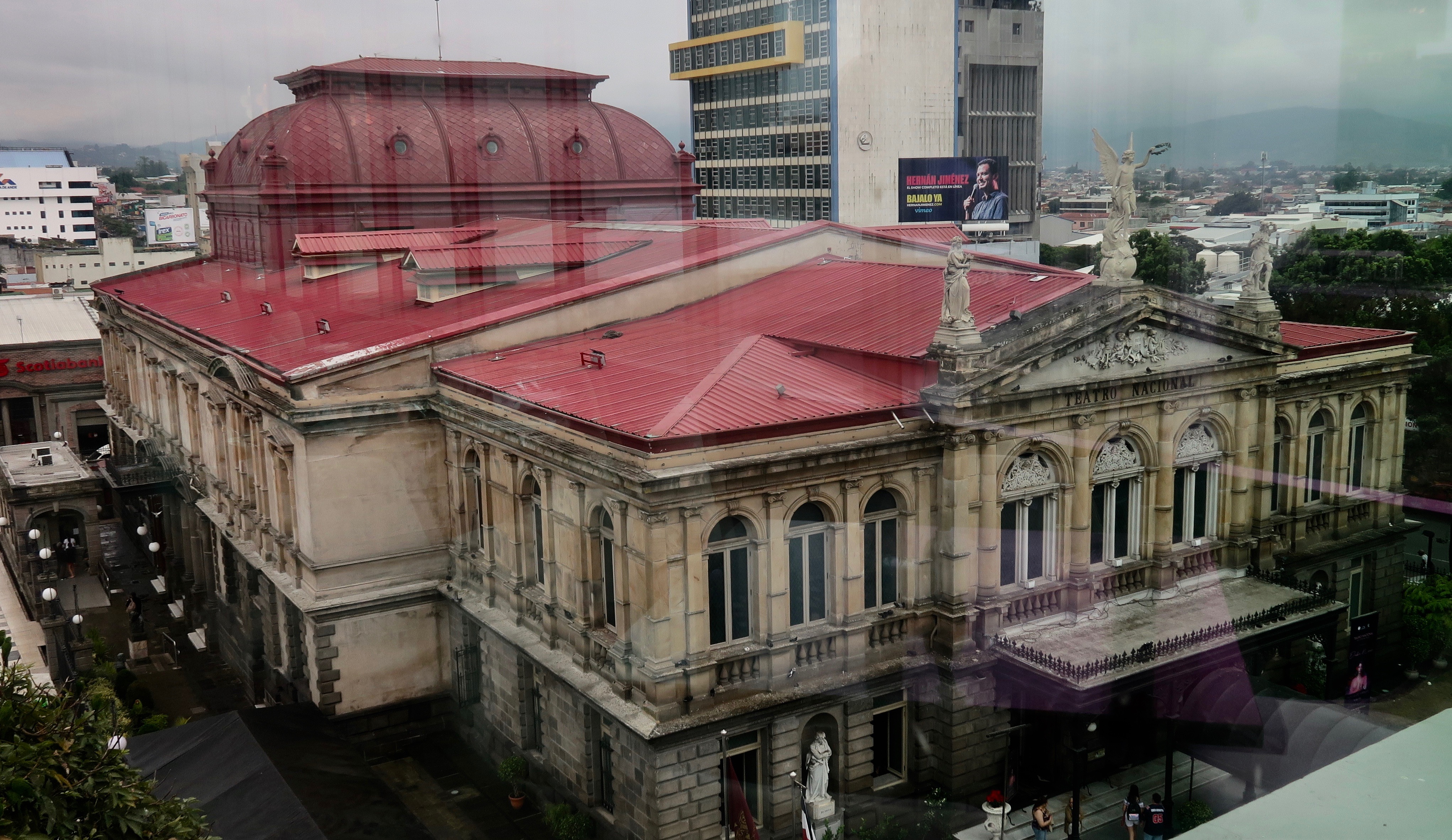 Opened in 1897, it was one of the last of the great Latin American-baroque buildings to be constructed and while the over the top rococo ornamentation is off putting to some, me included, it is worth paying the small entry fee to take a short peek inside. There are guided tours in English but I would say that unless you are baroque devotee, I would settle for the brochure you get with the entry fee as your guide.
The entry atrium has a number of interesting statues representing the various performing arts including this one of La Musica looking suitably detached as she plucks at her lyre.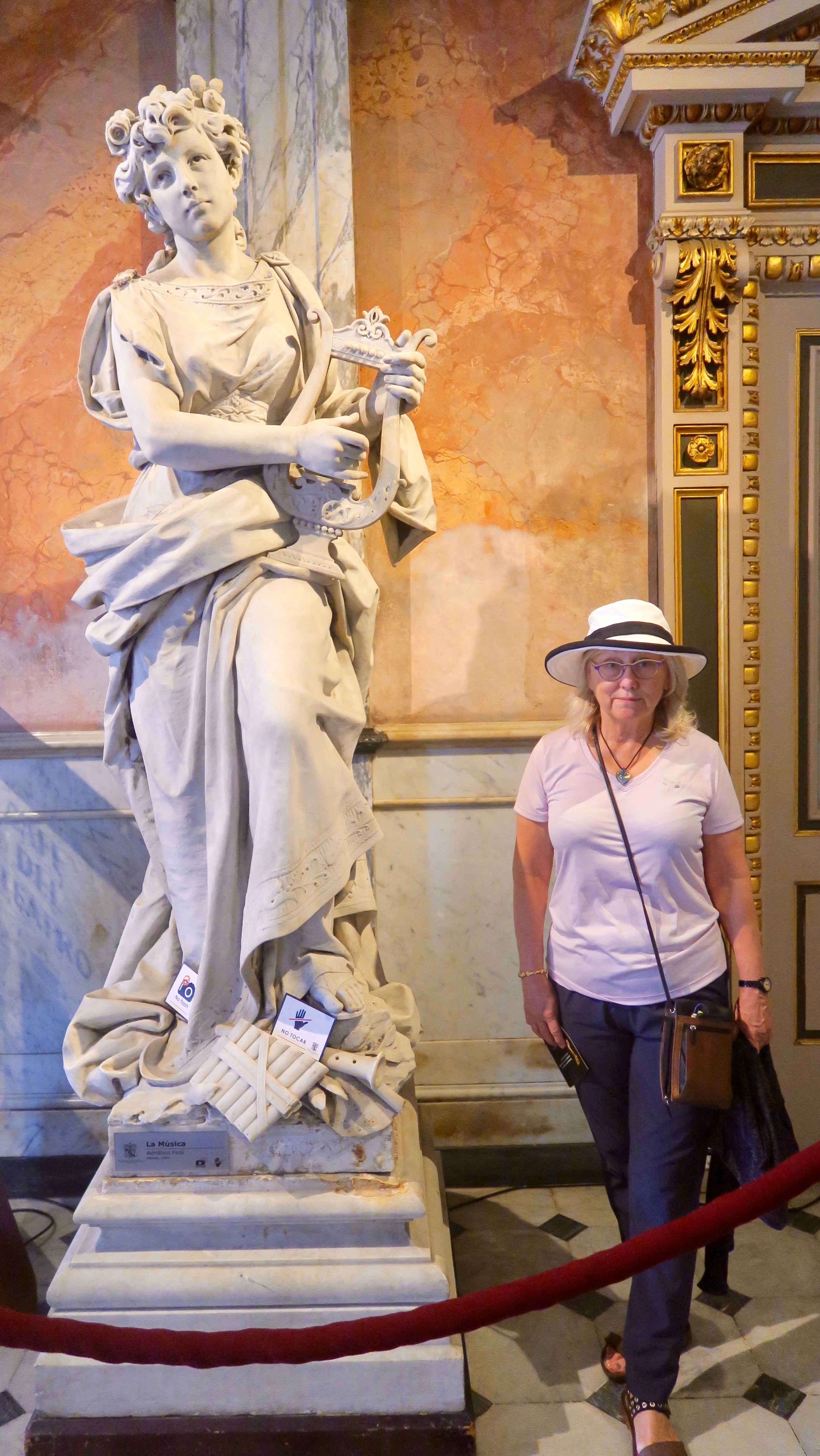 As expected the interior is sufficiently grand with enough tromp l'oeil to satisfy a Tiepolo or Tintoretto and certainly would have impressed the 19th century Costa Rican coffee farmers who paid for this place by agreeing to a special tax on their products.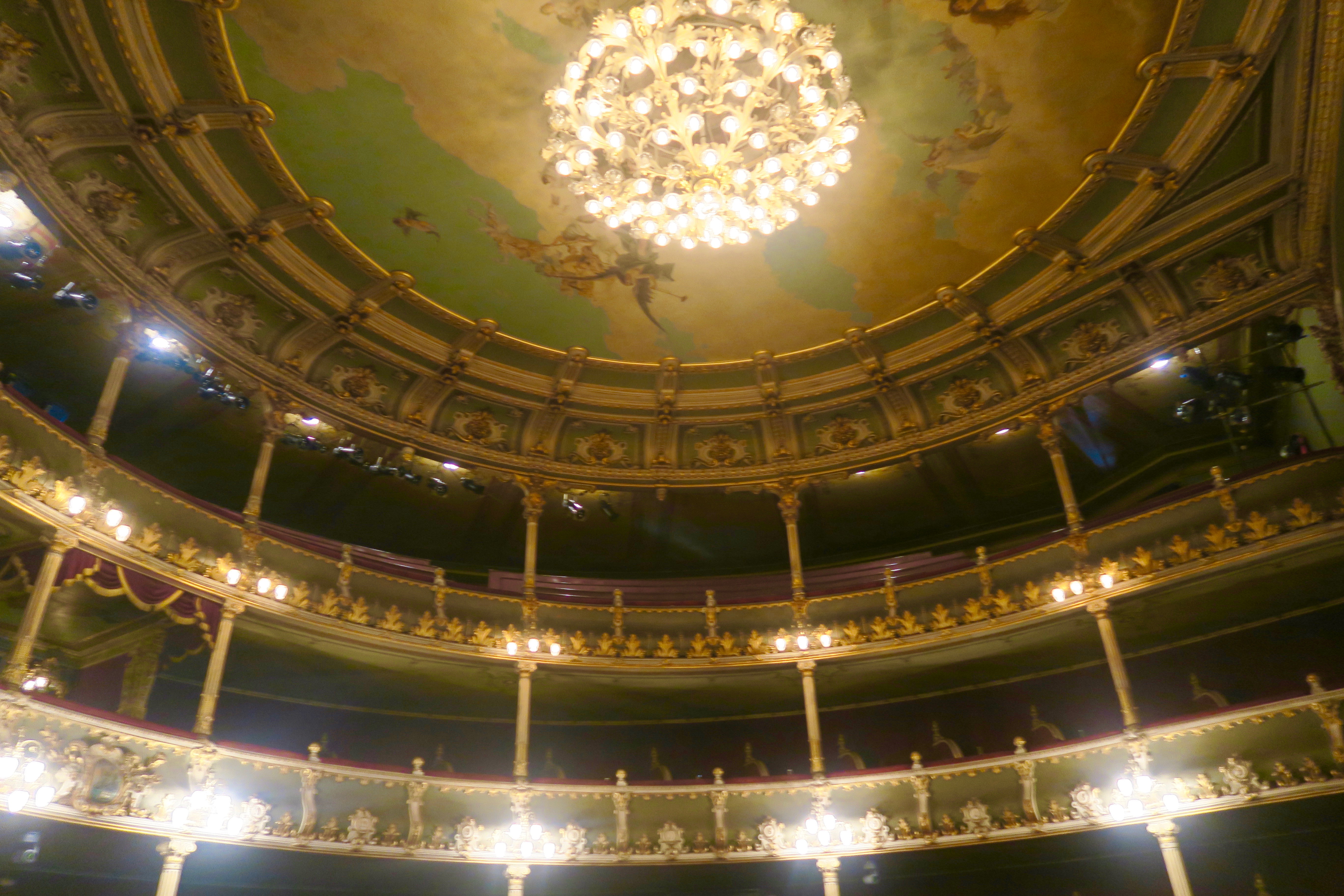 How about these gold gilt gynosphinxes over the entry door to the theatre proper?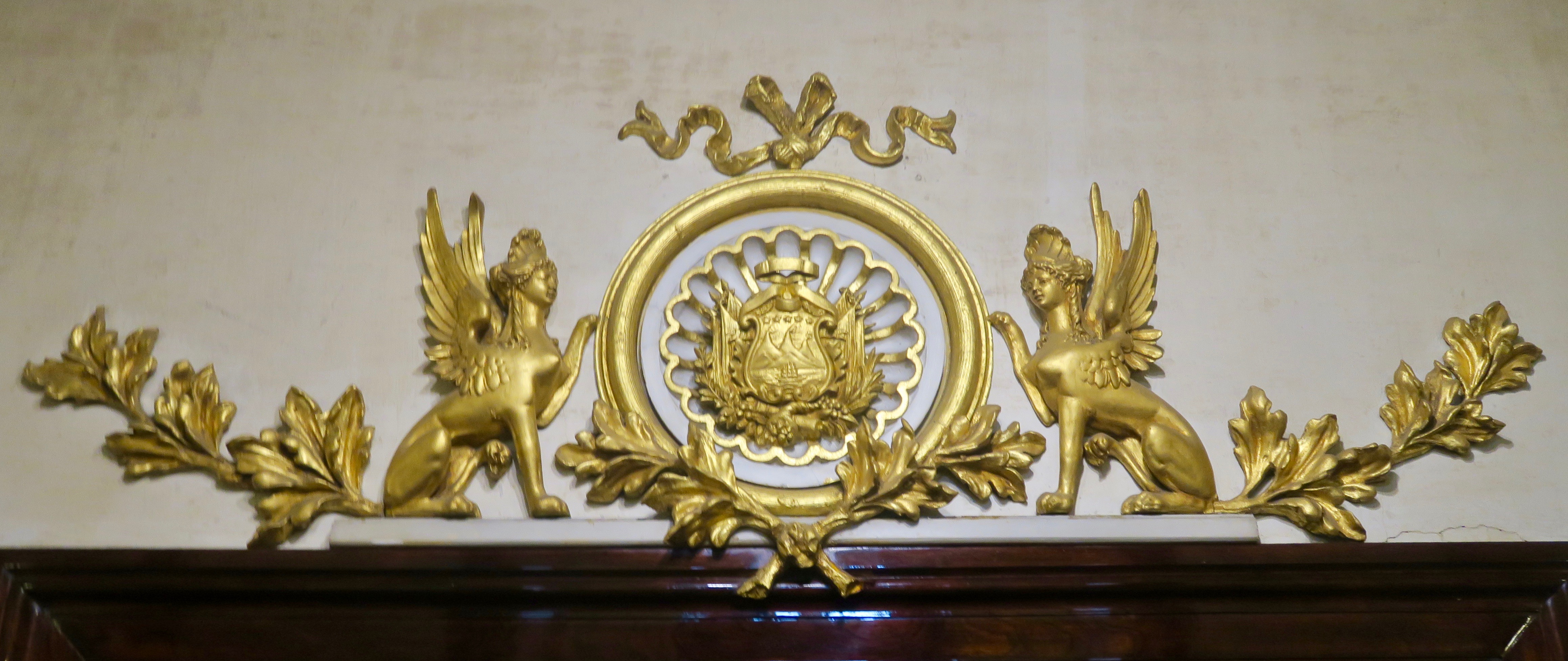 Or this huge lobby that must have taken its inspiration from Versailles or the Belvedere in Vienna.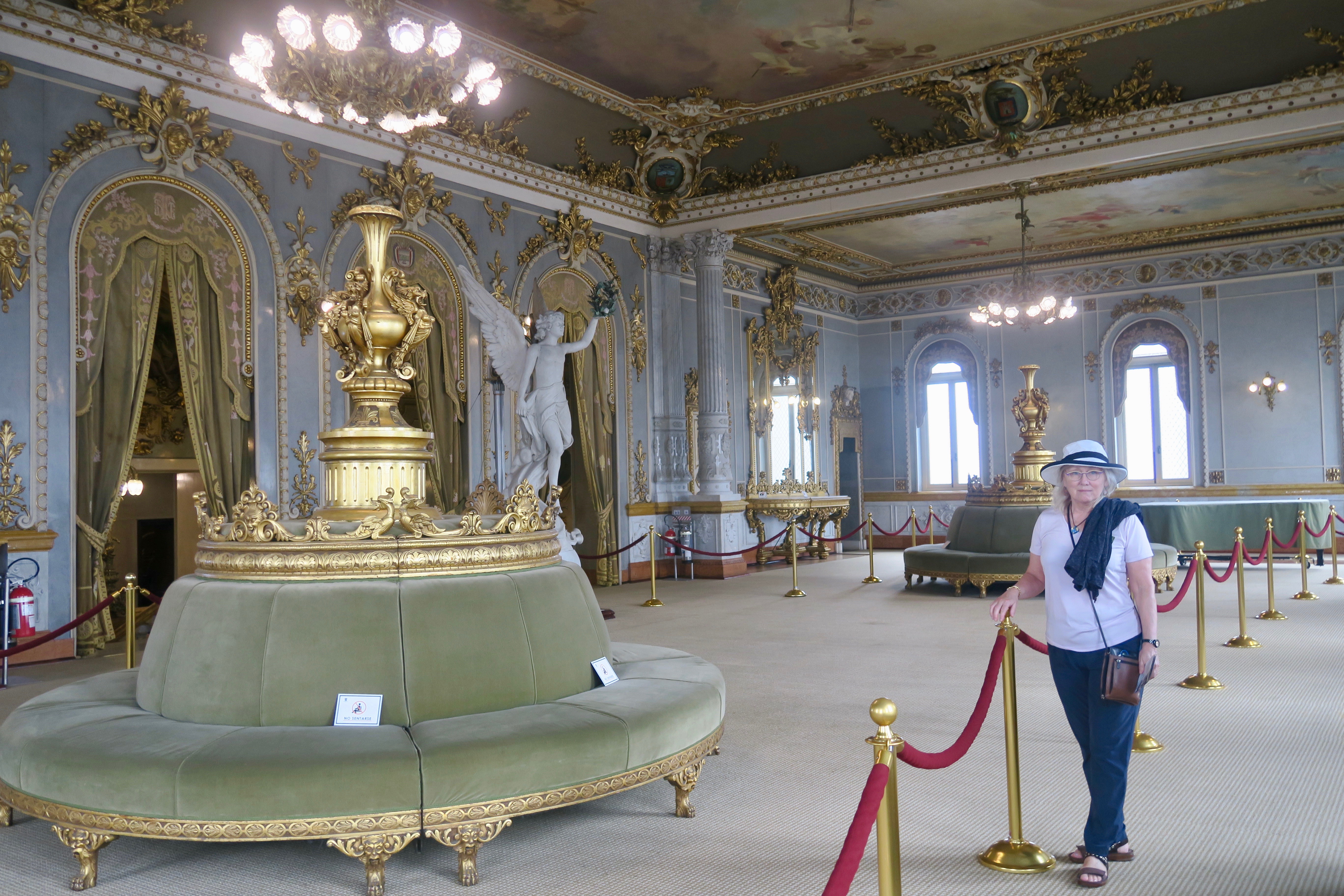 Frankly, too much baroque is the equivalent to eating architectural cotton candy so let's move on before my neck becomes too sore from constantly looking at the ceilings.
Also just across or actually under the plaza on the other side of the hotel is what is usually referred to as the Gold Museum, but is actually a collection of three small museums correctly called the Museos Banco Central de Costa Rica. As a foreigner you'll need to pay $14 USD to get in, but I think most people will think it is worth, especially if you have never visited the Gold Museum in Bogota, Columbia.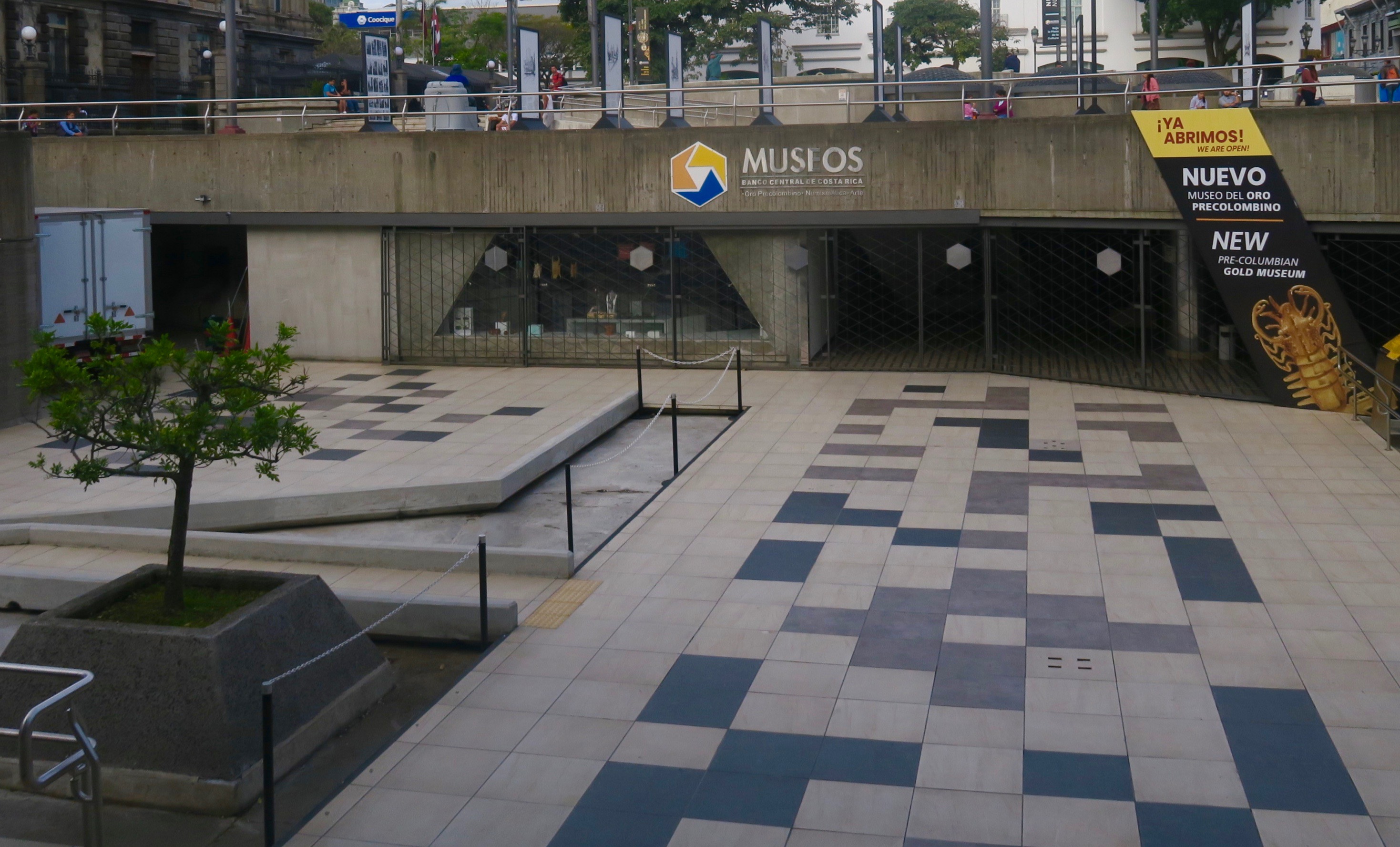 The museums were built by the Central Bank of Costa Rica to house and display its collection of pre-Columbian gold artifacts and its collection of Costa Rican numismatics (coins basically) as well as a gallery of modern art. It extends for three floors below the plaza above in a concrete bunker that is humanized by the grand spiral staircase that takes you down each level.
The first stop is the numismatics exhibit which is inside a giant vault. It is well set out with explanations in both English and Spanish, but unless you are a coin collector this museum will probably not hold a lot of interest. Next is the modern art display which has some very interesting pieces and a lot that aren't. I particularly liked this school of fishes made from brake parts – innovative and simple.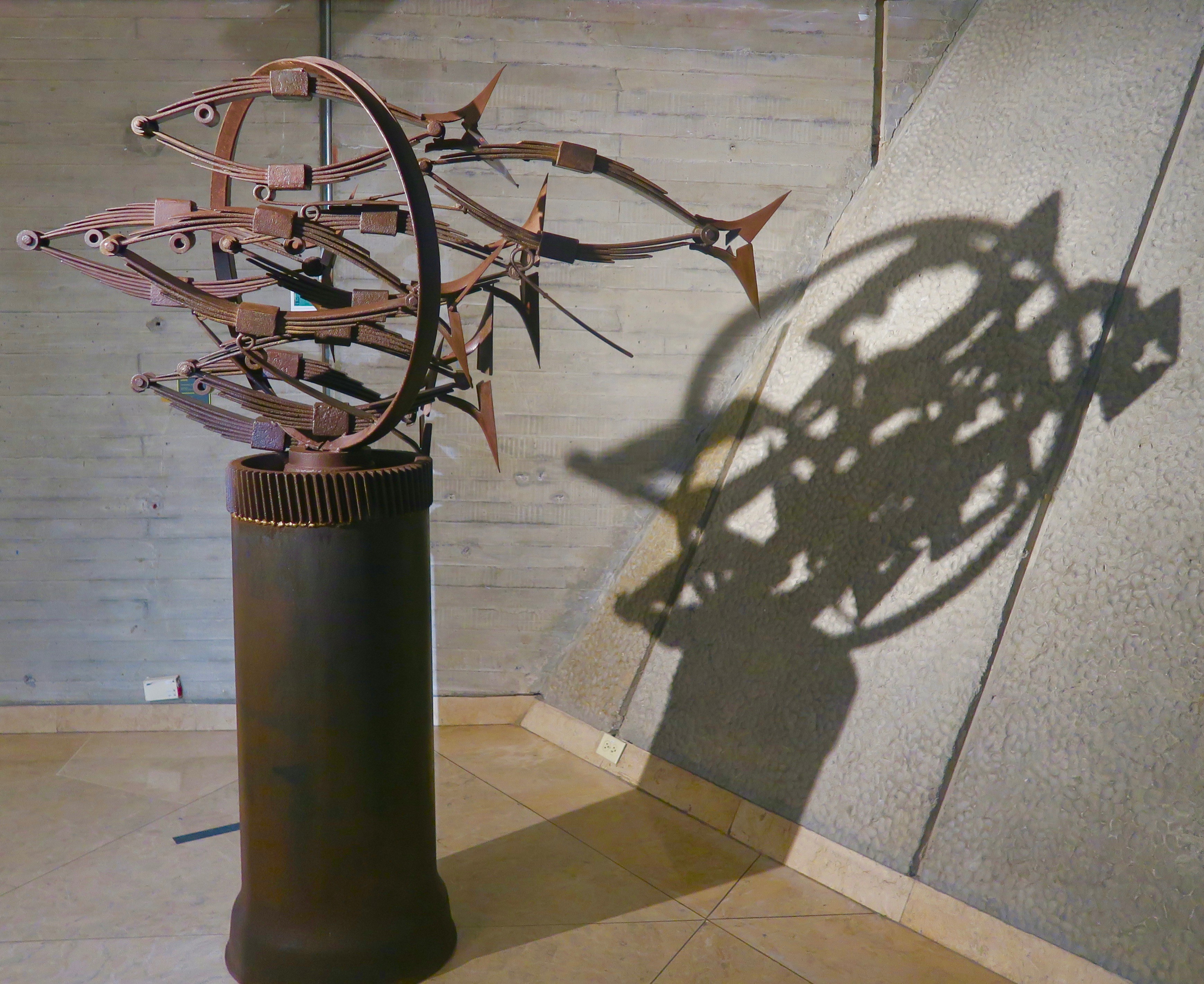 However, there is no question that the real reason 90% of the visitors are here is to see the pre-Columbian gold exhibit. This also is contained inside a giant vault which I presume they lock at night. The exhibits are arranged chronologically from the first human habitation in Costa Rica to the arrival of the Spanish in the early 1500's. While the quantity and variety of the pieces is no match for the gold museum in Bogota as Colombia is where most of the gold came from, it is still impressive. The best is saved for last, where a collection of the very finest pieces, each in their own display case is mesmerizing, like this birdman shamanic priest.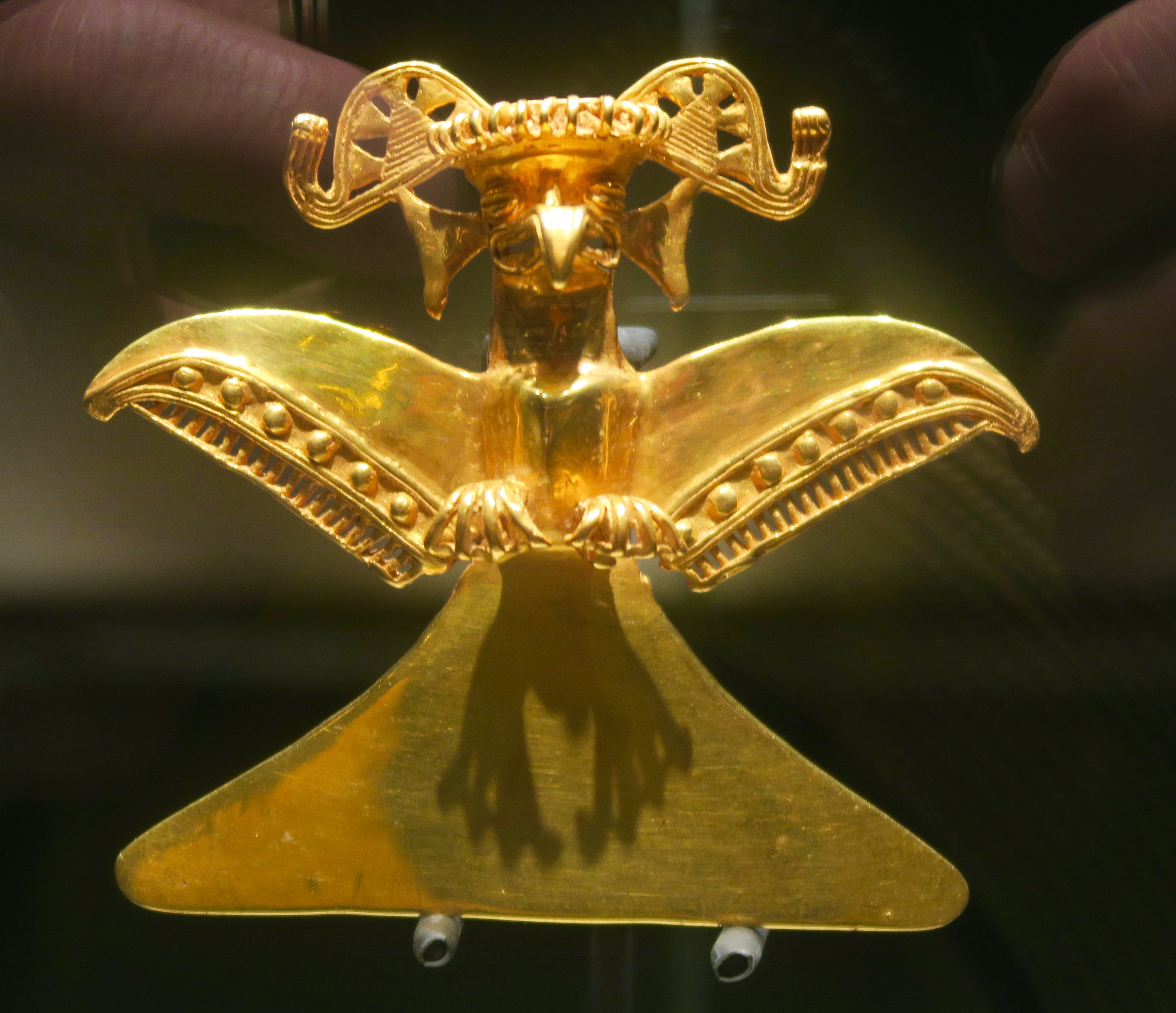 The museum has a nice small gift store with quality works for sale.
Time now to just look at the map and head for some of the parks; you never know who you'll meet.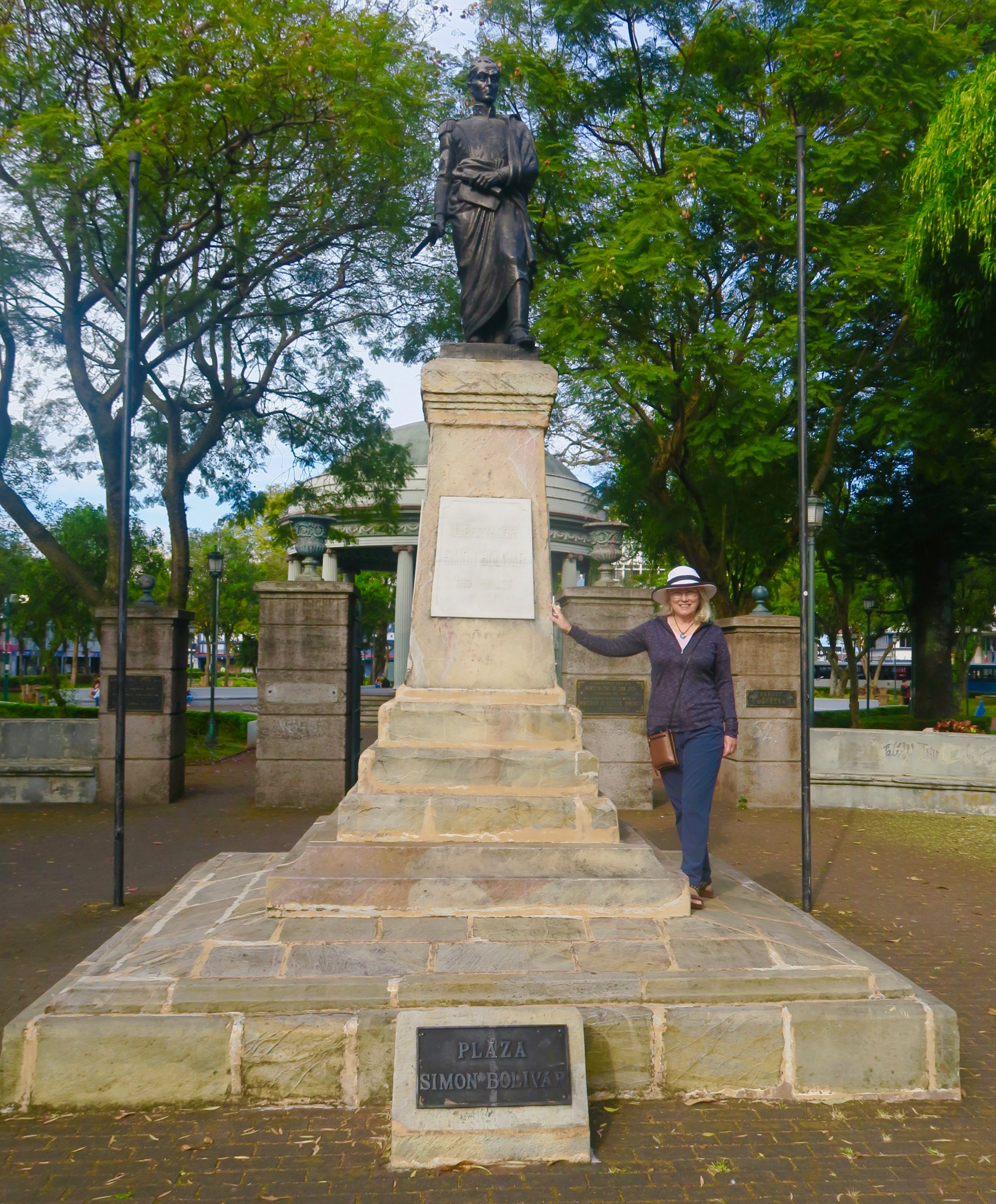 This is Alison with the Great Liberator – Simon Bolivar who never liberated any part of Costa Rica. In fact, he never set foot in the country, but nevertheless he is revered as a saint here and the history of the country is replete with the roles that various 'Bolivar fan clubs' played at one time or another, particularly university students.
I came across another guy who never set foot in Costa Rica yet also has a statue commemorating him. Here I am on a park bench with John Winston Ono Lennon and the story behind this statue is very interesting.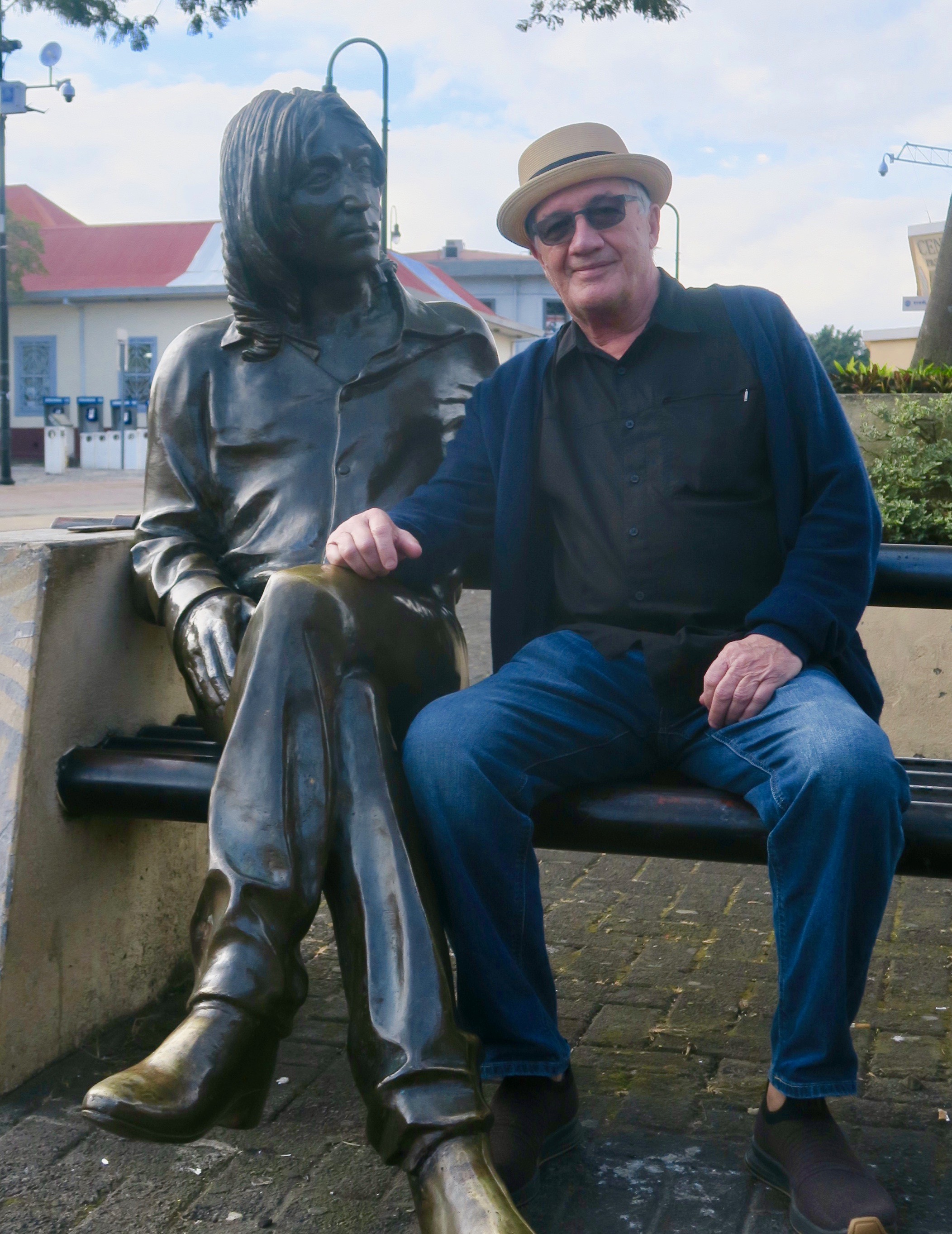 It's located in front the Church of Soledad at a very special spot. In 1964 John Lennon famously declared in a perhaps joking, perhaps not attitude that 'The Beatles were more than Jesus'. At the time incensed Roman Catholics rallied on this very spot to demand that The Beatles' music be banned in Costa Rica. That didn't happen and in 2011 this statue was unveiled. The irony is that since the remark, church attendance in Costa Rica has plummeted, but The Beatles remain as popular as ever so in the long run John might be right.
One guy who did visit San Jose and apparently even did some writing here was Ernest Hemingway who, as anyone who reads my posts will know, I am big fan of. I've written posts about his birthplace, Oak Park, Illinois and his death place, Ketchum, Idaho and many places in between. However, I had no idea that he had visited San Jose until, by pure serendipity I came across the former Ernest Hemingway Inn on a quiet street near Bolivar Park. Sadly, it is now closed, but the website confirms that he did stay here at one time.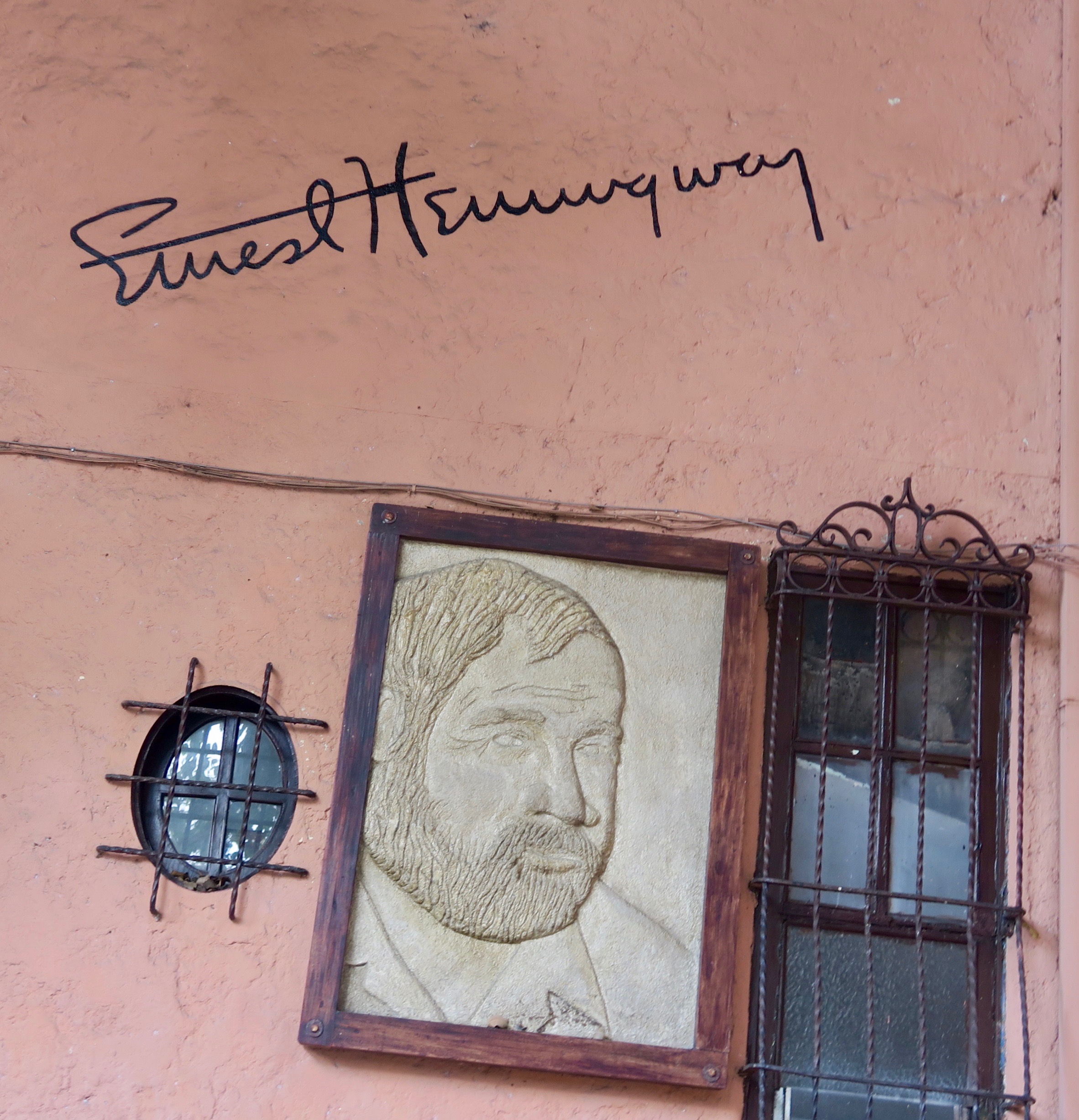 One park and district you should definitely visit is the area around the National Legislature. Although Costa Rica does not have an outstanding capitol building it does have a nice collection of buildings and parks surrounding the seat of government including the National Museum of Costa Rica, located in a faux castle structure across from the Legislature. Unfortunately we didn't have a time for a visit, so it gives us a reason to not rush out of San Jose on our next visit to Costa Rica which will be sooner rather than later.
Also nearby is the Parque Nacional which is the best of many we visited in the city, adorned with a number of interesting statues and monuments, most notably this one.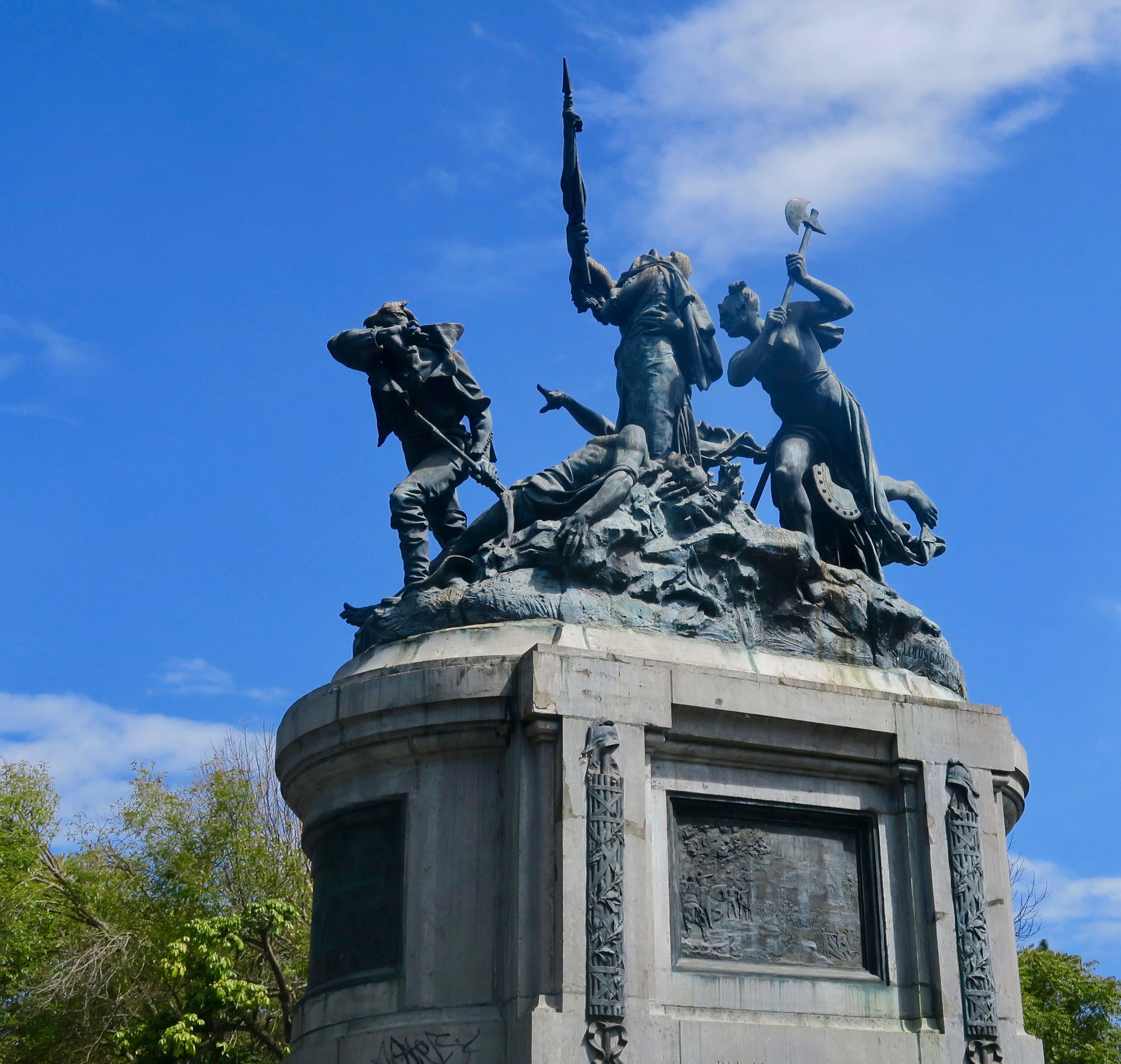 This is the National Monument of Costa Rica and depicts, what else but a victorious and life changing battle for Ticos. However, instead of defeating the Spanish as almost every other monument of this type commemorates in Latin America it shows the Costa Ricans defeating William Walker and his army of filibusters' at the Second Battle of Rivas which actually took place in Nicaragua. Walker is one of most fascinating and ultimately, evil characters in all of Latin American history. As a private American citizen he attempted and sometimes succeeded to overthrow governments in Mexico, Nicaragua, Honduras and El Salvador, but not as far as I can find out, in Costa Rica. Why there has not been a movie or miniseries about this man is beyond me.
Anyway, only in Costa Rica could you have a National Monument to a battle fought in another country against an army of mercenaries owing allegiance to an American freebooter that was led by a German. And that's where I'll leave it.
Next up Manuel Antonio National Park, one of the most beautiful spots on earth or so I am told. Let's find out.