Lahinch – Playing the World's Craziest Par Three
This is my fourth post from last fall's amazing golf trip to southwest Ireland with Golf Travel NI which unfortunately doesn't exist as of right now. We did three trips with them and enjoyed them all immensely. Hopefully owner Barry McGuigan will have his new venture up and running for our next trip. We have already played Old Head, Tralee and Ballybunion and clicking on the links will take you to my posts on those courses. We also played Waterville, but it was raining so hard I couldn't get any decent pictures so no post on it. Today we are headed to Lahinch, a course I have wanted to play ever since several members of my home course Ashburn in Halifax, Nova Scotia became non-resident members there for next to nothing. Every year since they have returned to play at least a couple of rounds and it costs them less than the green fees for one round which now stand at €240 in high season. Unlike the other courses on this trip, I've heard a lot of stories about playing this course including the par three 5th which they say you must play to believe. Today I'll find out if all the hype I've heard from these guys over the years is true or not. Please join me.
History of Lahinch
Lahinch has a history that would be the envy of almost any course in the world. Although the flag indicates the club was founded in 1892 the course was not opened until 1894 with the architect being none other than Old Tom Morris, perhaps the most legendary figure in golf. Not only did he design over seventy-five golf courses including Prestwick where the first British Open was played as well as Muirfield, Carnoustie, Royal Dornoch and Cruden Bay, but he also won The Open four times. He also laid out the design for Royal County Down which currently the #1 ranked course in the world by Golf Digest. Morris is considered the father of modern golf and his enduring legacy at Lahinch are the fourth and fifth holes that later architects considered untouchable.
Following Old Tom was another legendary golf architect, Alister MacKenzie who did a redesign in 1927 that at the time he considered to be his finest work. MacKenzie then went on to design Augusta National, Cypress Point and Royal Melbourne, all of which are in the top ten in the world. So between these two legends you have the architects of six of the top ten courses on earth. Can't beat that pedigree.
The final touches to the Lahinch we'll play today were added by Martin Hawtree in 1999 who is a specialist in restoring classic courses and lengthening them to modern championship standards. Just a few weeks before our arrival the Irish Open was held here for the first time with Spaniard Jon Rahm posting the lowest score at sixteen under and taking home over €1,000,000.00 for his effort.
Lahinch is currently ranked #31 in the world outside the United States and is often referred to as the St. Andrews of Ireland.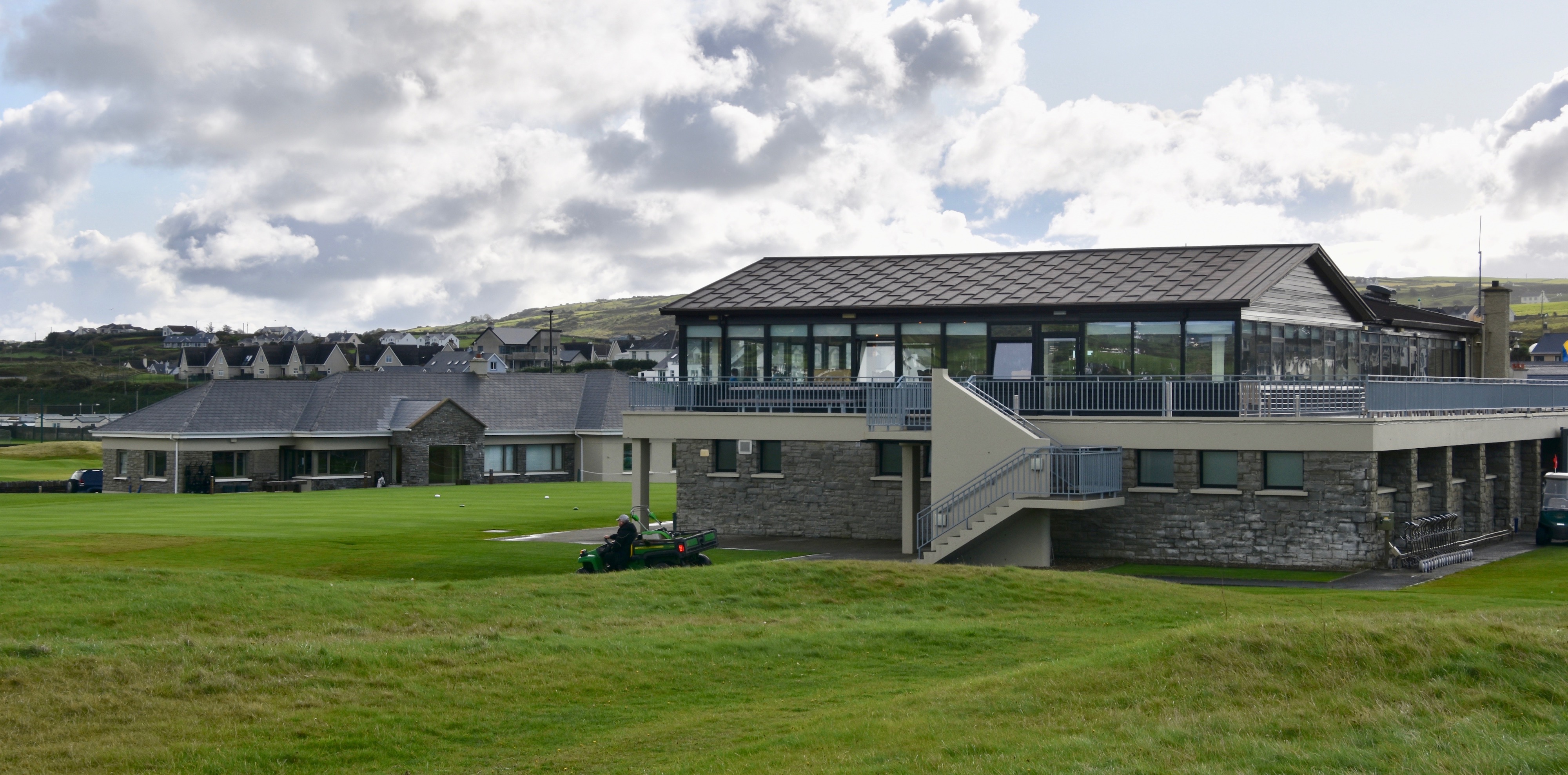 The clubhouse at Lahinch is modern and fairly modest compared to Ballybunion where we last played. It also seemed to have a more relaxed atmosphere which perhaps is reflected by the fact that their symbol is a goat. Most every group that came to play got their picture taken with Mr. Goat before teeing off.
Apparently goats still roam the course and are excellent predictors of the weather. If they are out and about then it'll be fair, if they're huddled together around the clubhouse you'll be getting wet.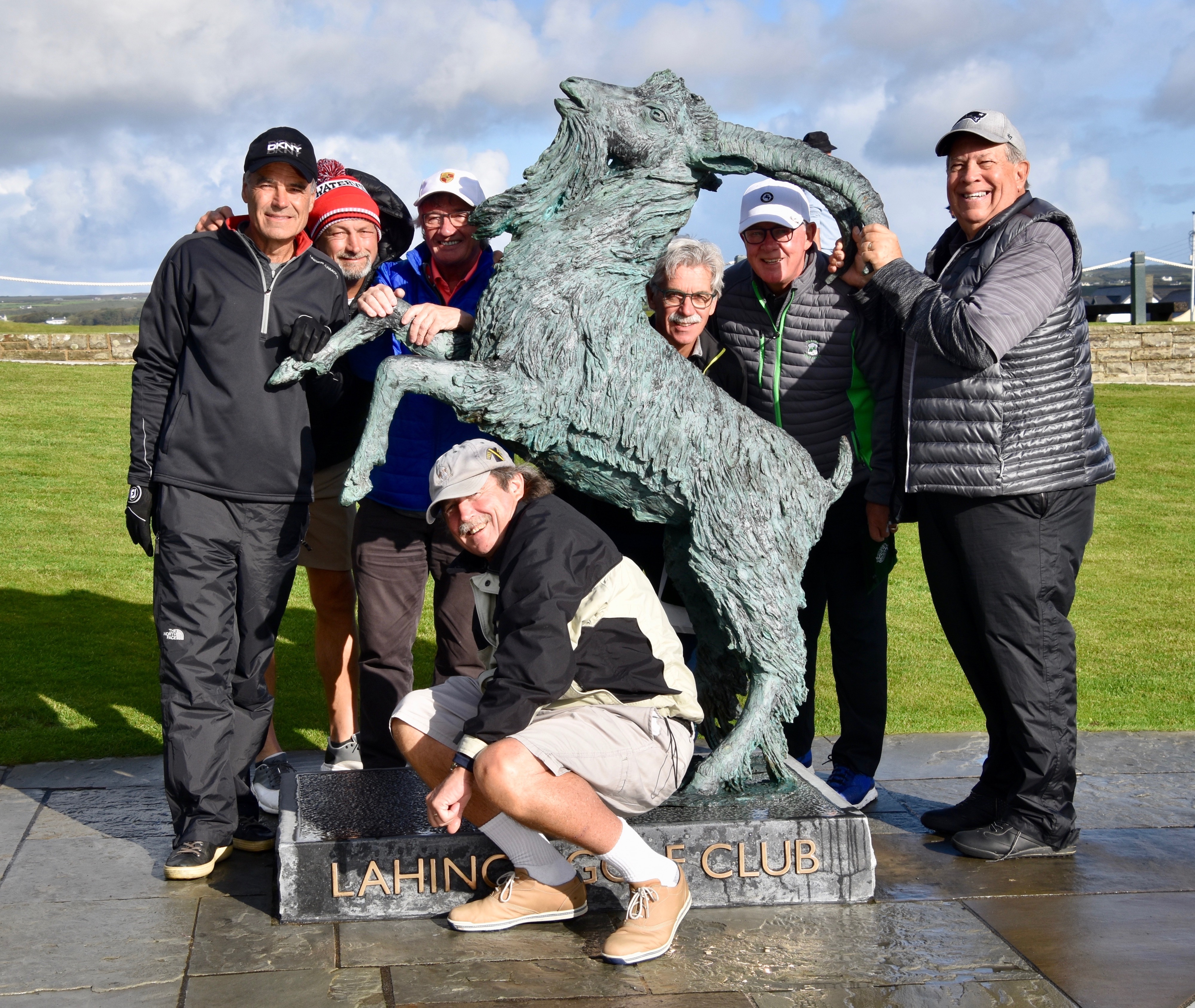 Lahinch is a walking only course and every group has to have at least one caddie. In my experience these guys are worth every penny you pay them as they have an absolutely uncanny ability to find balls in deep grass that would otherwise be unfindable. They save you both time and money.
This is our caddie who simply went by John and although he is over eighty and smoked a cigarette a hole, we could barely keep up with him.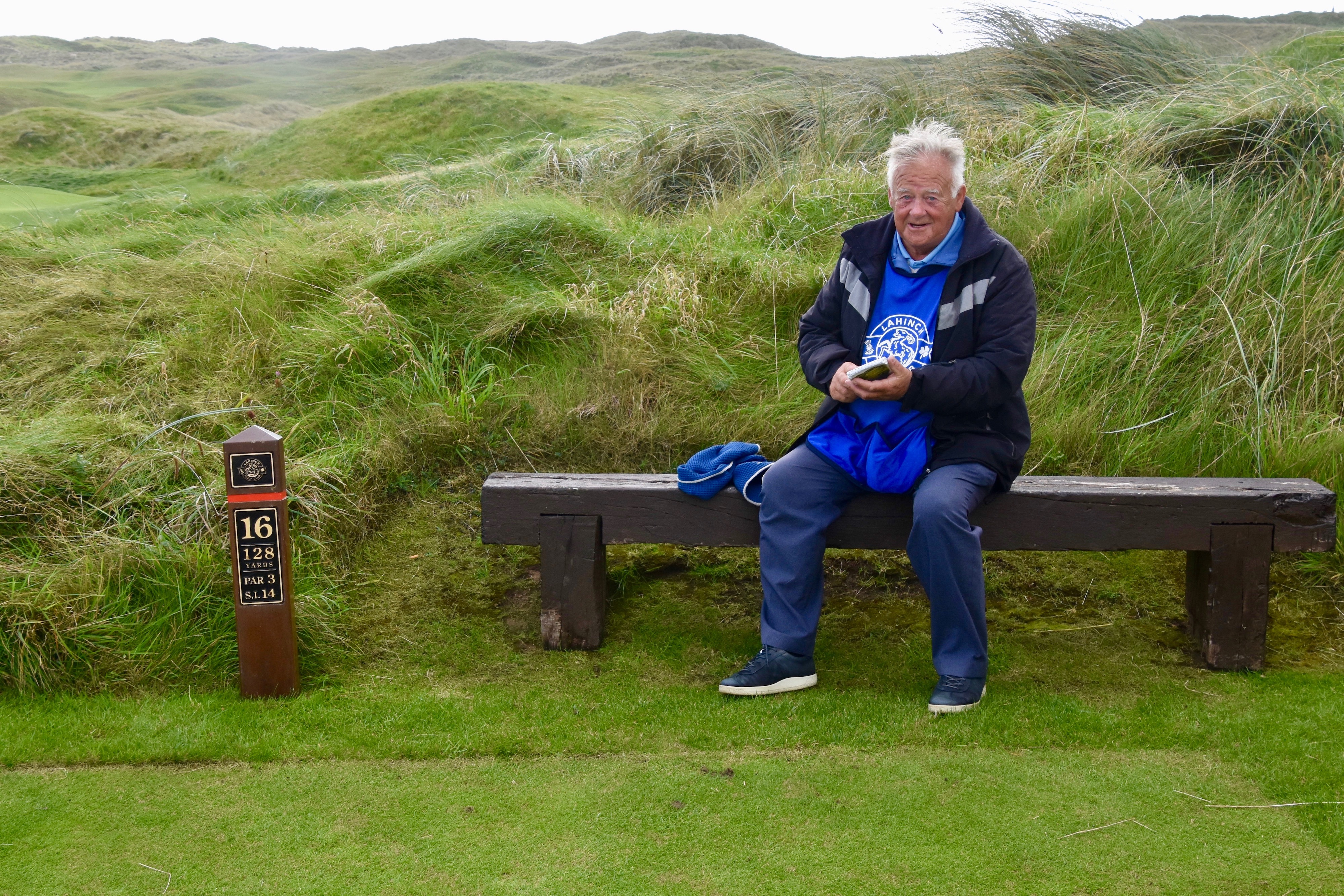 OK, let's play Lahinch. BTW there are two courses here so when you are booking make sure it is the Old Course you book and not the Castle Course.
The Old Course is laid out along a triangular piece of land where the Inagh River flows into Liscannor Bay allowing for a number of notable holes beside the water and others that play down to greens with the ocean in the background.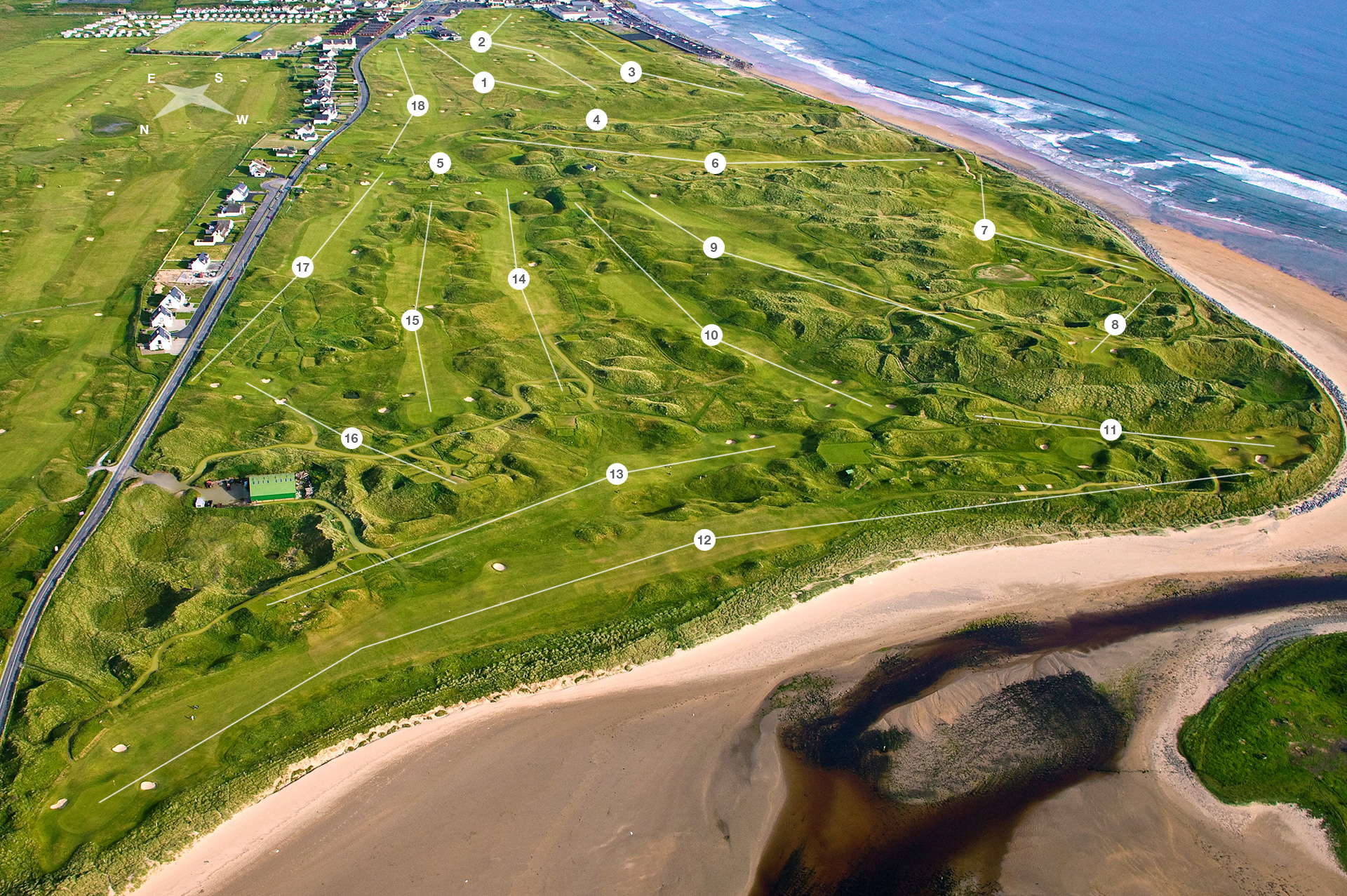 No. 1. – MacKenzie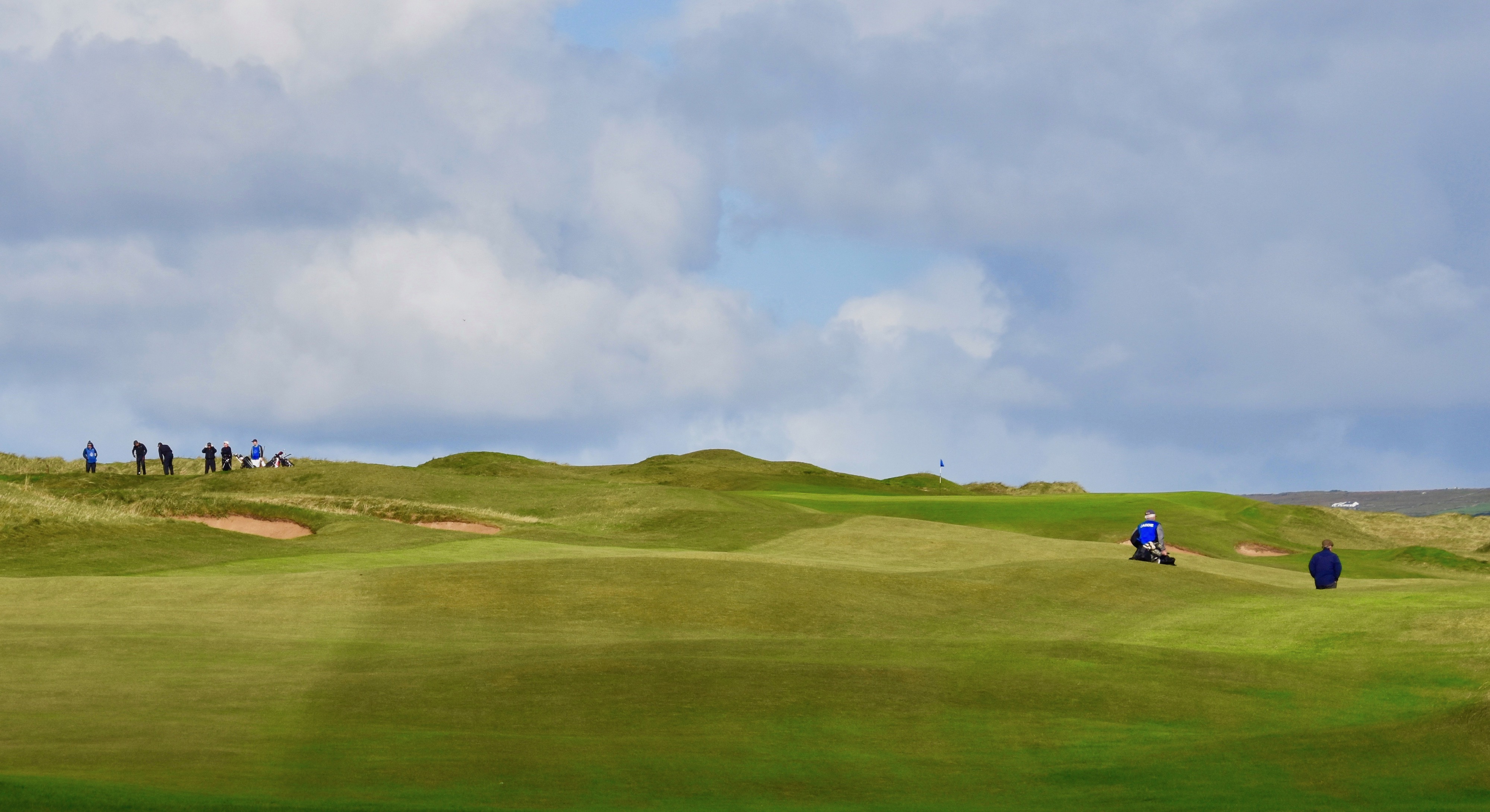 Our group of three has elected to play the green tees that play to a par 72 over 6,339 yards which is about all we can handle at our age. The first hole is a 363 yard uphill par four that plays much.much longer as John lets us know. It's quite wide open, but everything is going to roll to the right like crazy after the ball lands so you have to pretty well aim at the traps on the left and hope you miss them. The second shot requires taking at least one extra club as its severely uphill. Despite knowing this from playing many holes like this in Scotland and Ireland, we all come up short. Doh!
No. 2 – Village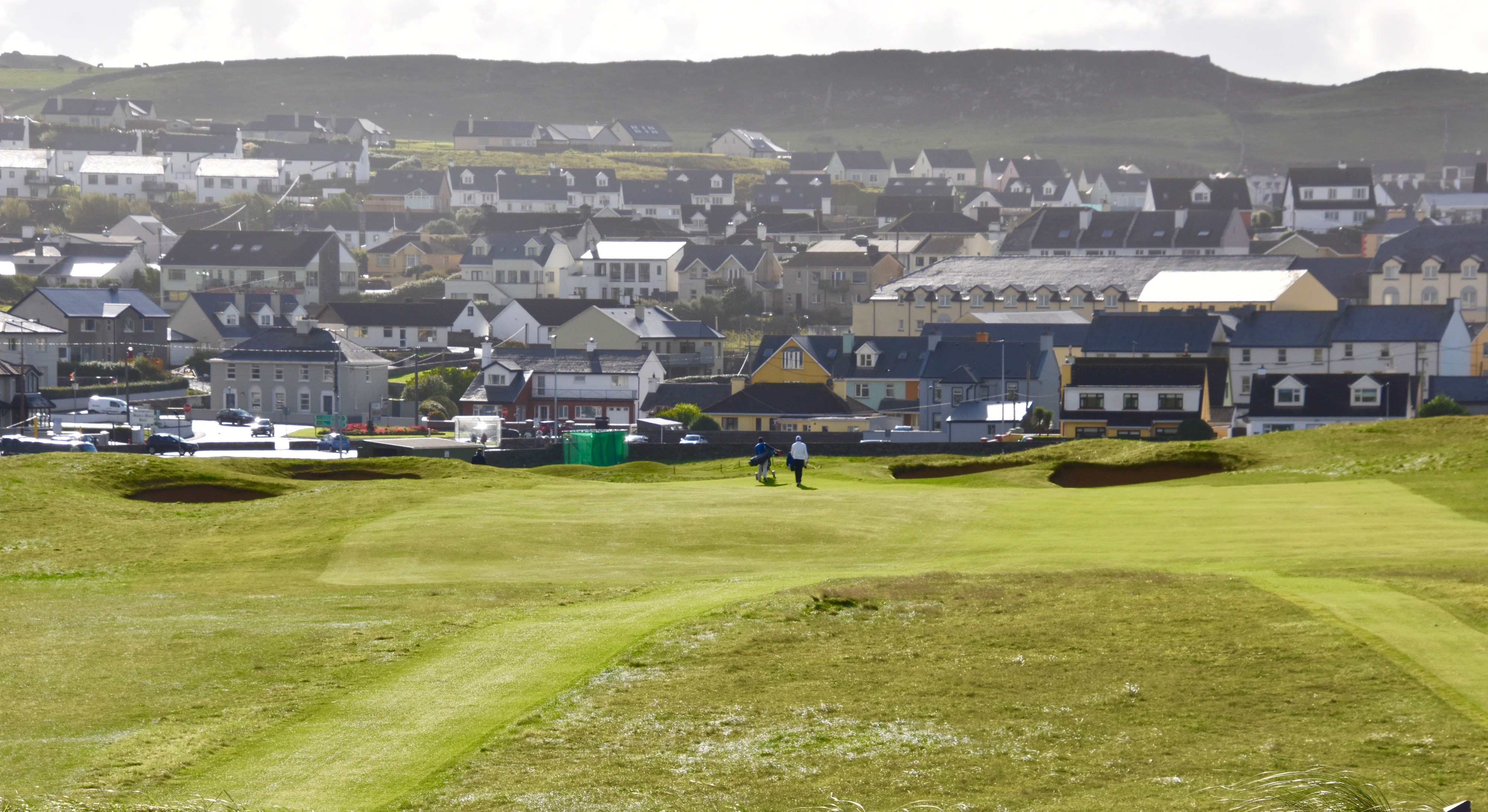 Not too hard to figure out the name for this hole which is a 510 yard downhill par 5 that despite looking pretty wide open in this photo actually has a narrow landing area. Still, if you can stay on this fairway and avoid one of the six bunkers that guard the green on the second shot this should be a pretty easy par.
No. 3 – Cillstifiann
You better hope you got a par on #2 because things are about to take a serious turn for the worse or at least your score will with this series of famous holes coming up. But the good news is that this next hole is so beautiful that you won't care what you shoot and it has a great story to boot.
Cillstifiann is a legendary sunken city that apparently really did exist just off the coast near Lahinch. Over 1,000 years ago an earthquake struck the coast of Clare and a tsunami wiped out Cillstifiann which allegedly still lies beneath the waters you can see from this hole. On a clear day it is said that one can look down and see the remains of the sunken city far below. There's only one hitch – if you see it, you die. No harm in looking though.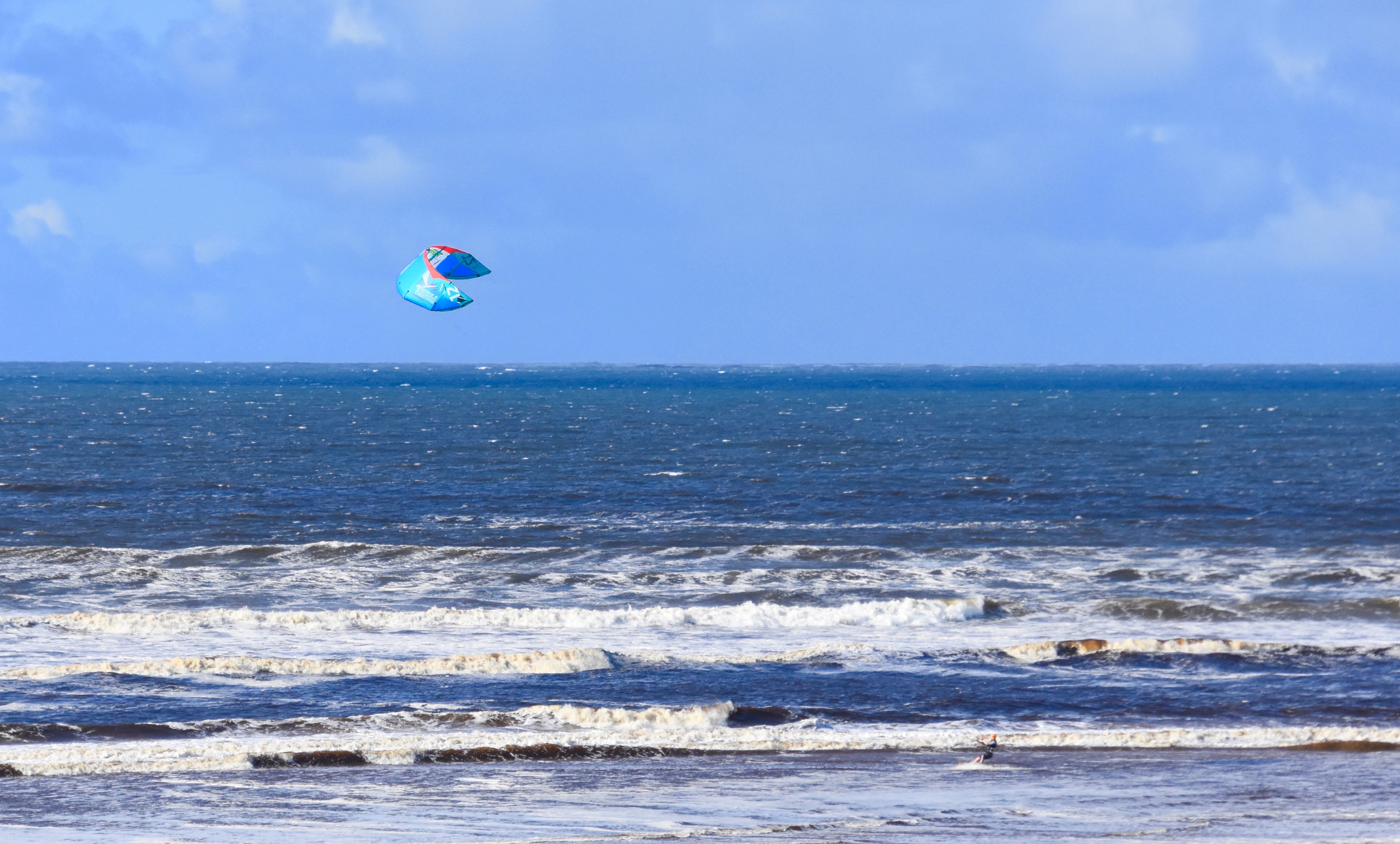 I can see a kite surfer.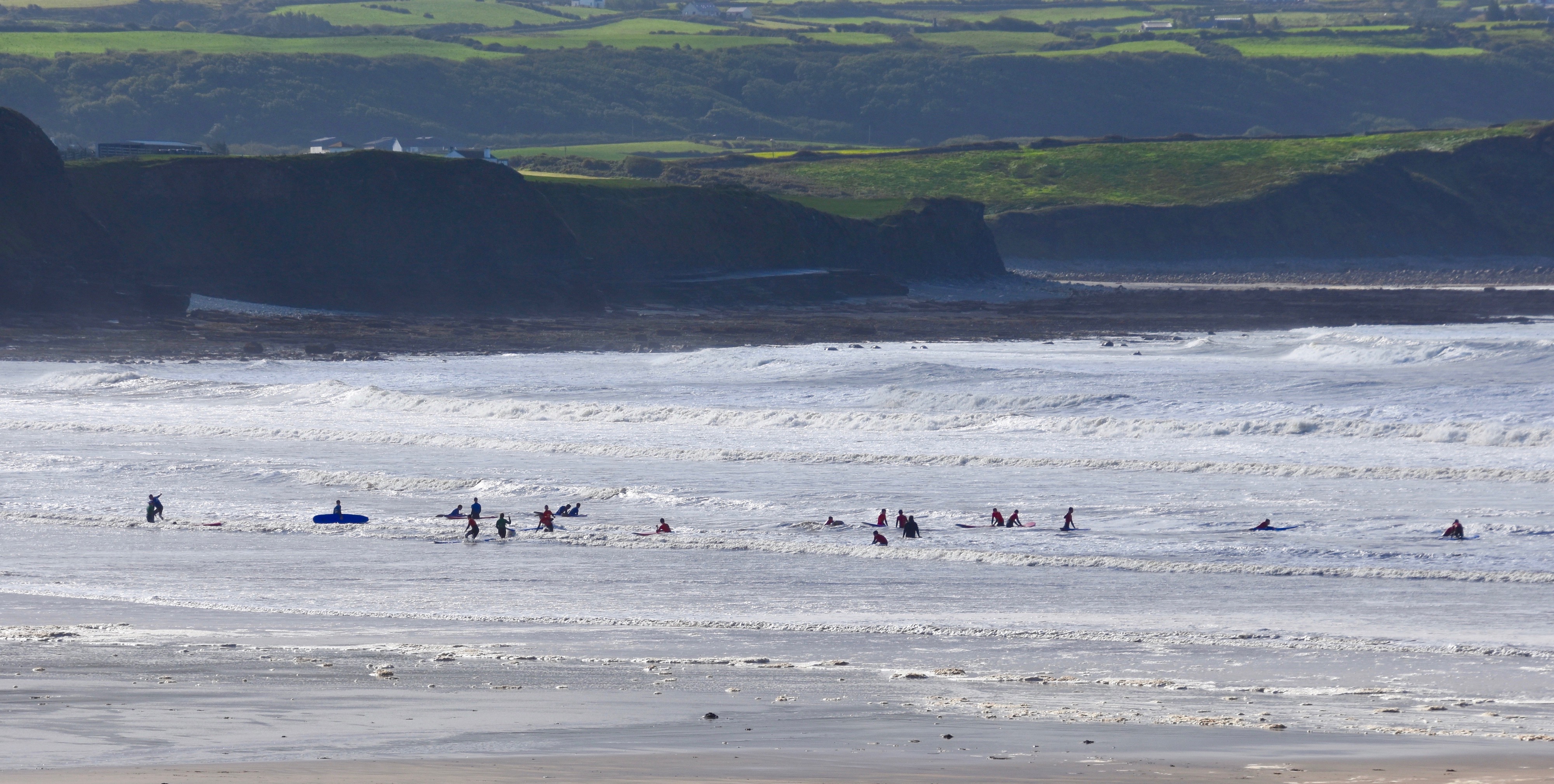 And regular surfers.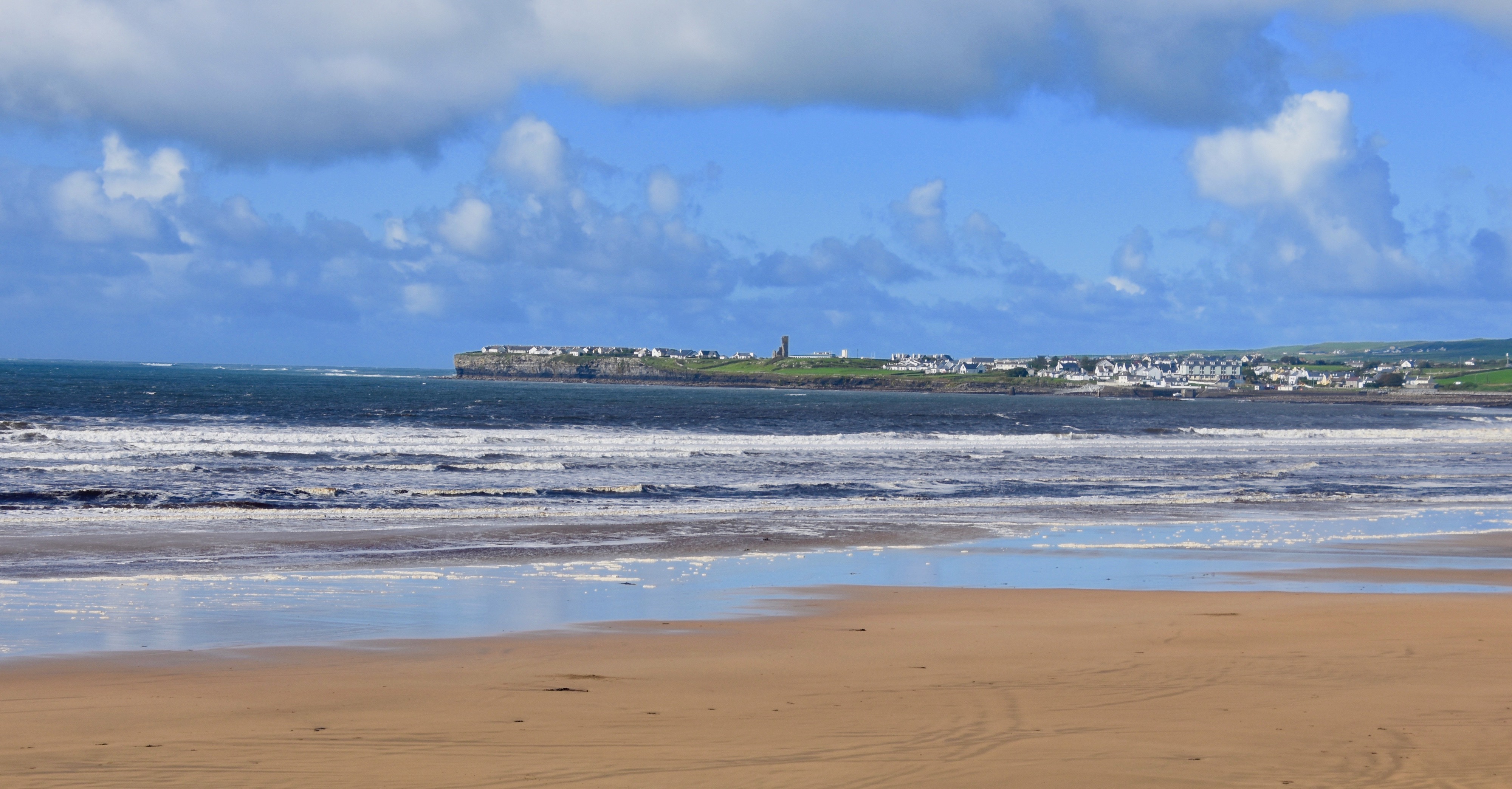 And a beautiful beach, but no Cillstifiann. Just not my lucky day.
So having looked around as long as possible to avoid the tee shot on this ridiculously hard 401 yard uphill par four, you are faced with this. Not only is it a good 200 yards from the tee to the top of that ridge, there's zero chance your ball will be anywhere but in the rough for your second shot. The rough might not look that bad, but trust me it will almost take the club right out of your hand and the ball will go sideways. It's called marram grass and grows on the dunes naturally. And of course John can find anything so rather than just throw the damn thing back on the fairway you feel obliged to keep hacking away.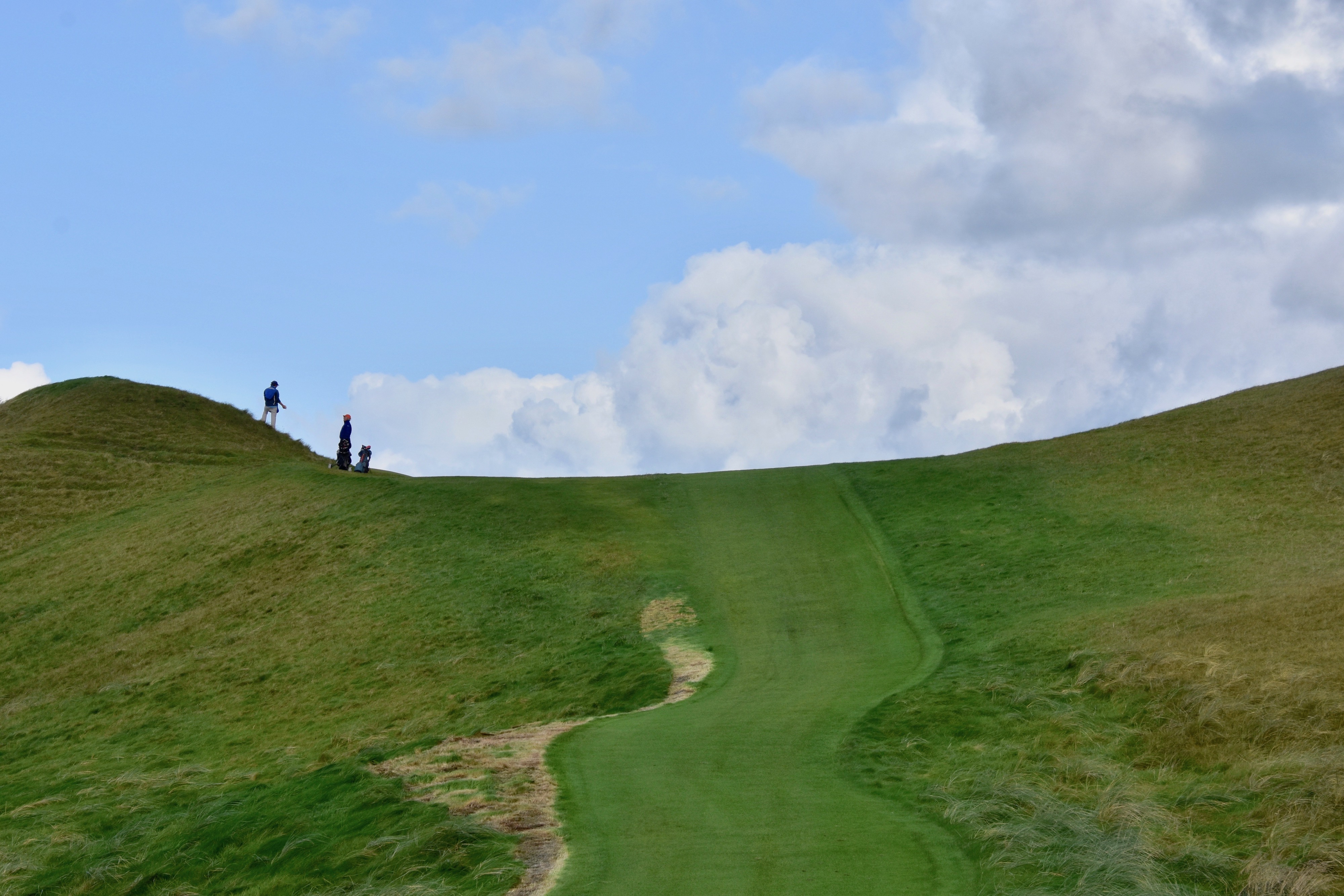 Once you do get up here, totally out of breath, it's literally all downhill to a small green where everything rolls off to one side or the other. Thank God for the distractions on this hole, because otherwise you could go mad.
No. 4 – Klondyke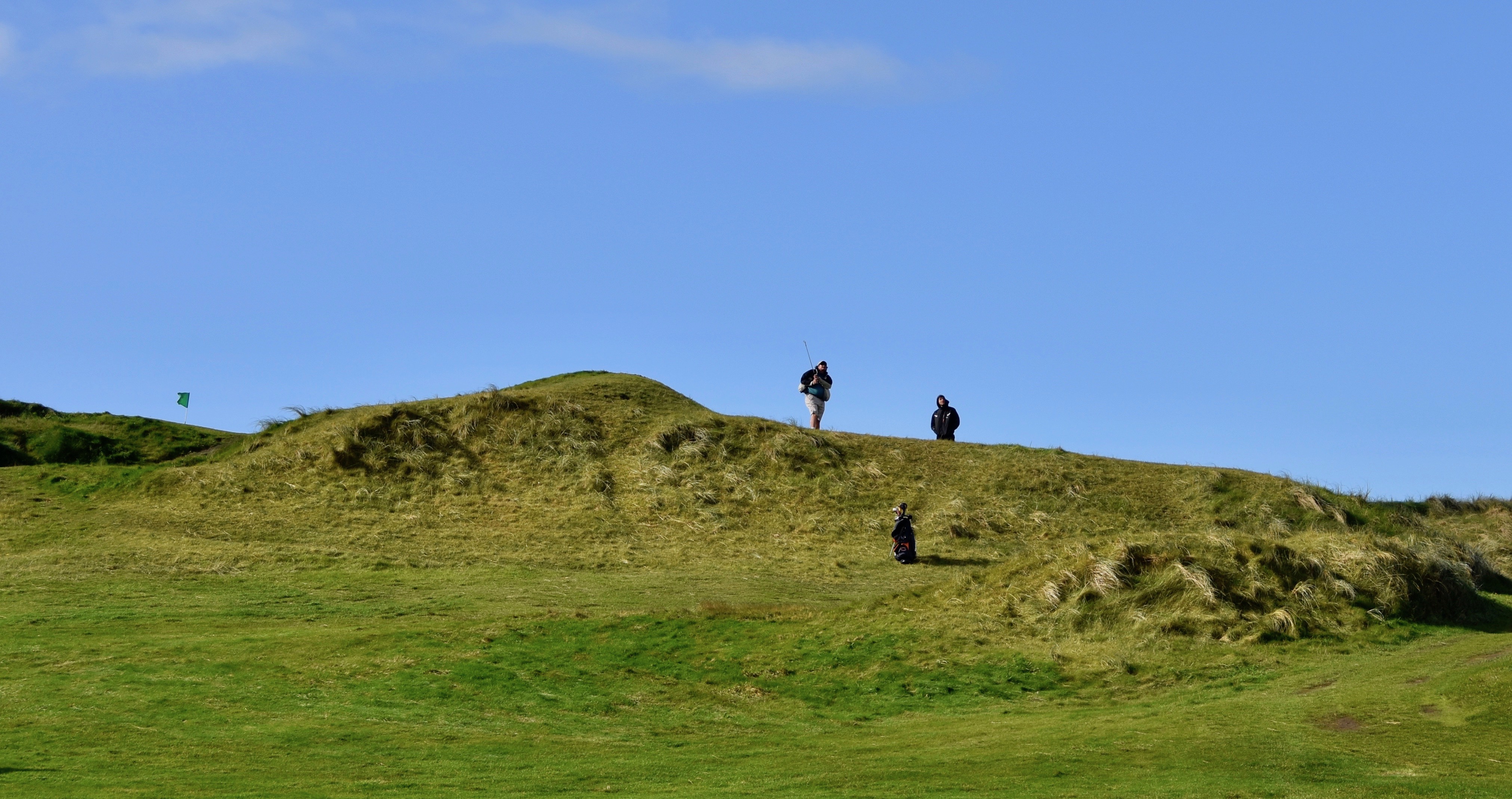 Next come two of the most famous blind shots in all of golf. Normally I hate blind shots, but these two holes are so bizarre that I actually enjoyed them. #4 is a short 463 yard par five that is supposedly the easiest on the course.
The look from the tee is down a narrow serpentine chute with huge dunes on either side. The fairway is next to none existent so you have to deal with that damn rough again. Then the fairway just comes to an end and you are staring up at the sight above. It's the dune known as Klondyke and completely blocks off the fairway. John scampers to the top to reconnoitre and eventually getting a signal you can't see from below, gives you the line. Fearless he just stands there quite confident that I could never hit him if I tried and he's right.
On the other side of Klondyke a whole new world opens up and there's a green right down by the highway. Looking back you can see a hut on this side of Klondyke where some poor bastard has to sit all day and go out and put up the all clear sign once the group in front leaves the green. From this vantage point you can see just what an obstacle Klondyke really is.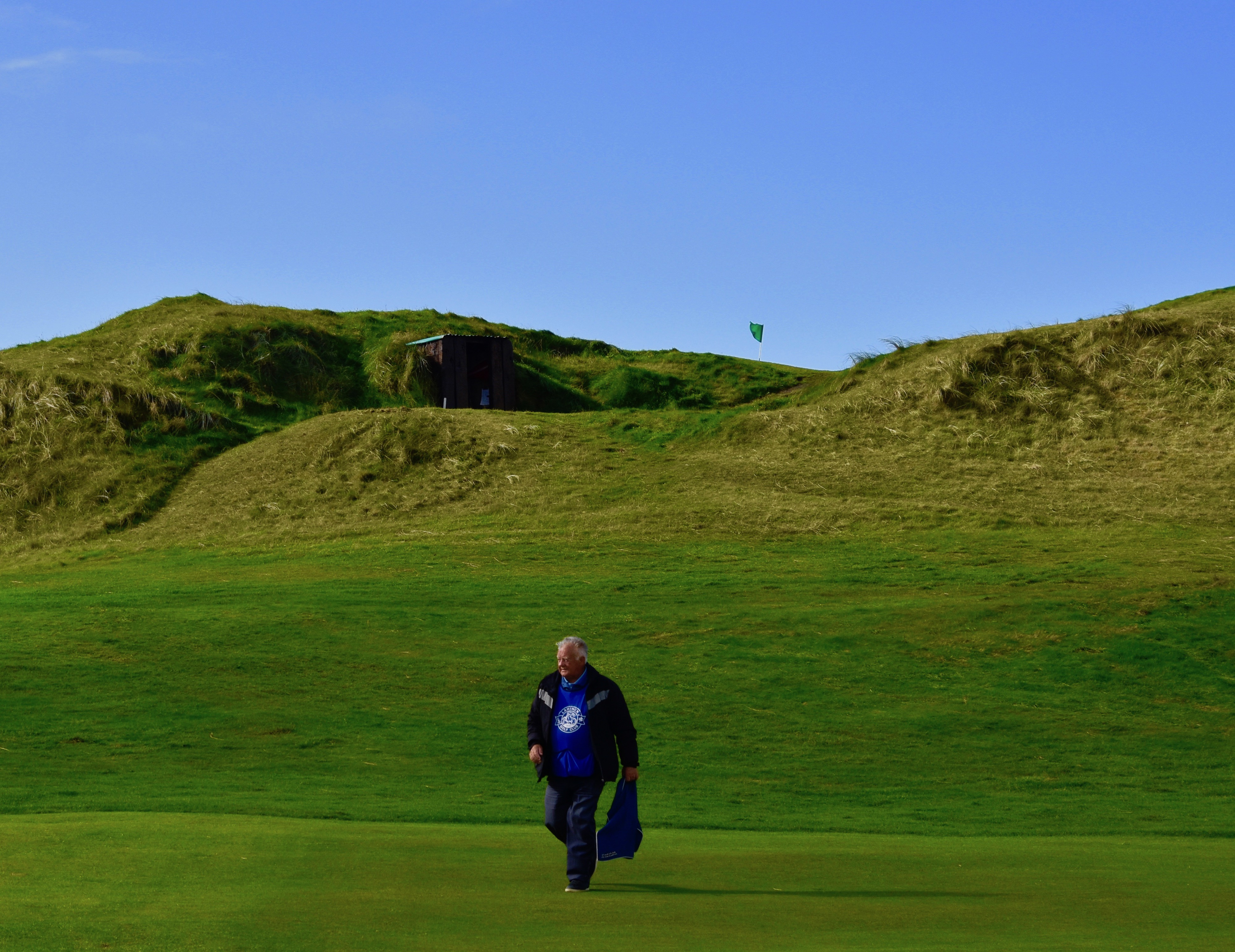 With this photo of John on the fourth green I must mention that the greens at Lahinch, despite getting a lot of play, were in great shape and notably fast. However, I would not call them overly tricky. Maybe that's because John could read them as well as any caddy I've ever had. He showed the line and gave the speed and by God it worked. The last thing you wanted after the struggle to get to these greens was to three putt and thanks to John that didn't happen, at least not as often as usual.
No. 5 – Dell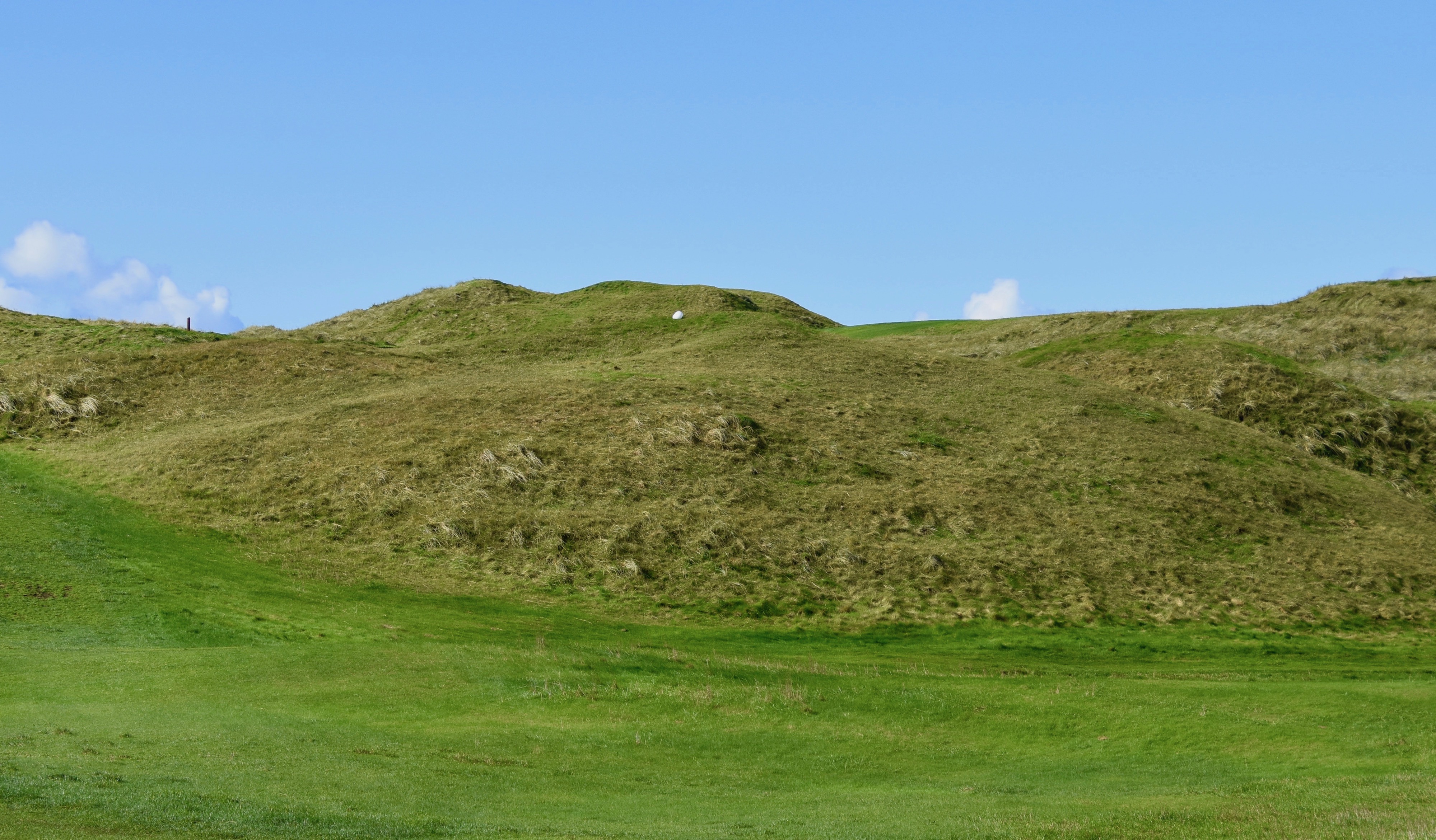 This is the view from # 5 tee. It's supposed to be a 143 yard par 3, but wtf? Where? John says it's just on the other side of that huge mound. And so it is. This is the view from above on the way to #6. You can see that Old Tom decided to stick a green just on the other side in a tiny area surrounded on almost all four sides by dune mounds. If someone tried that today he would be called nuts or worse, but you can't argue with 125 years of success. This is not a hole you will ever forget.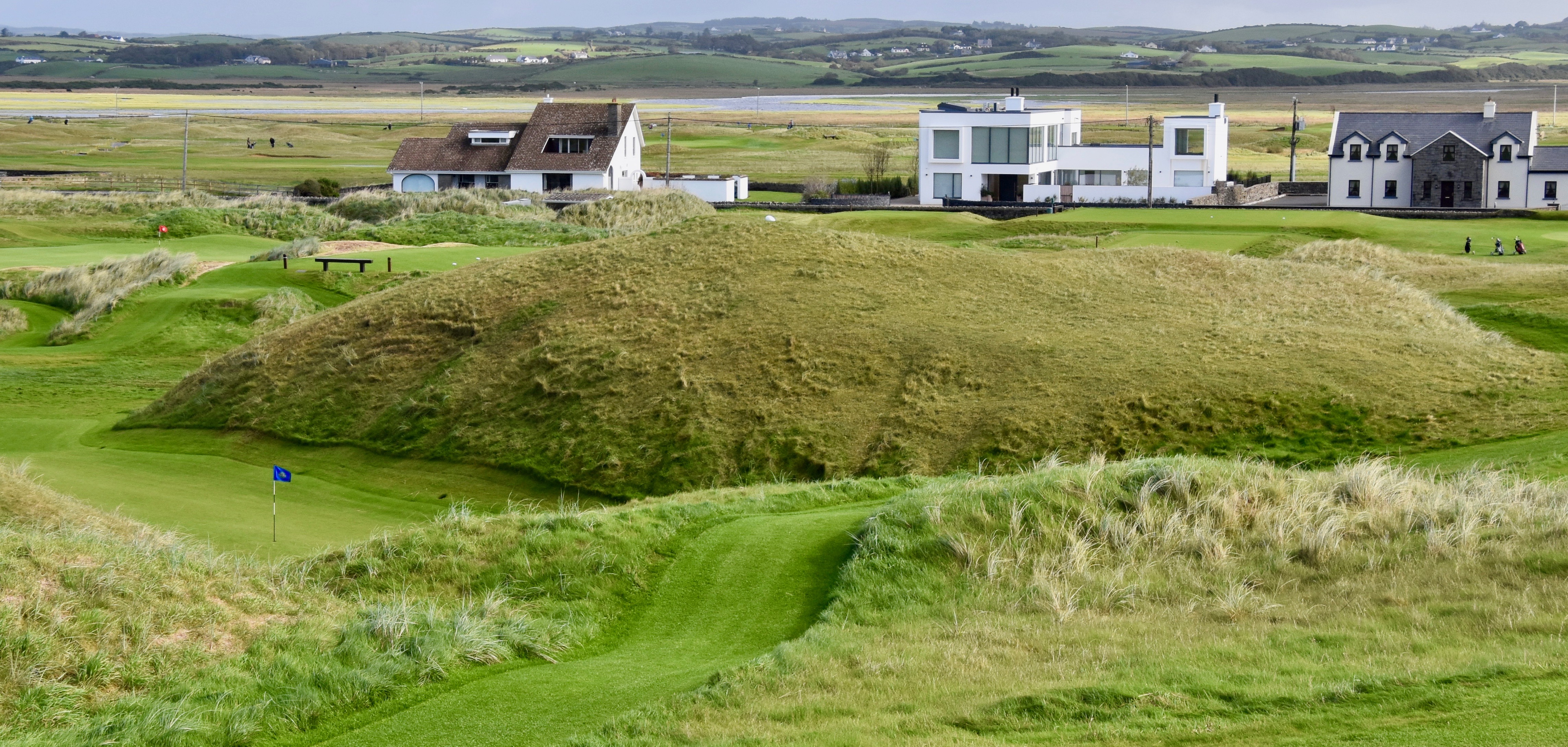 No. 6 – Paradise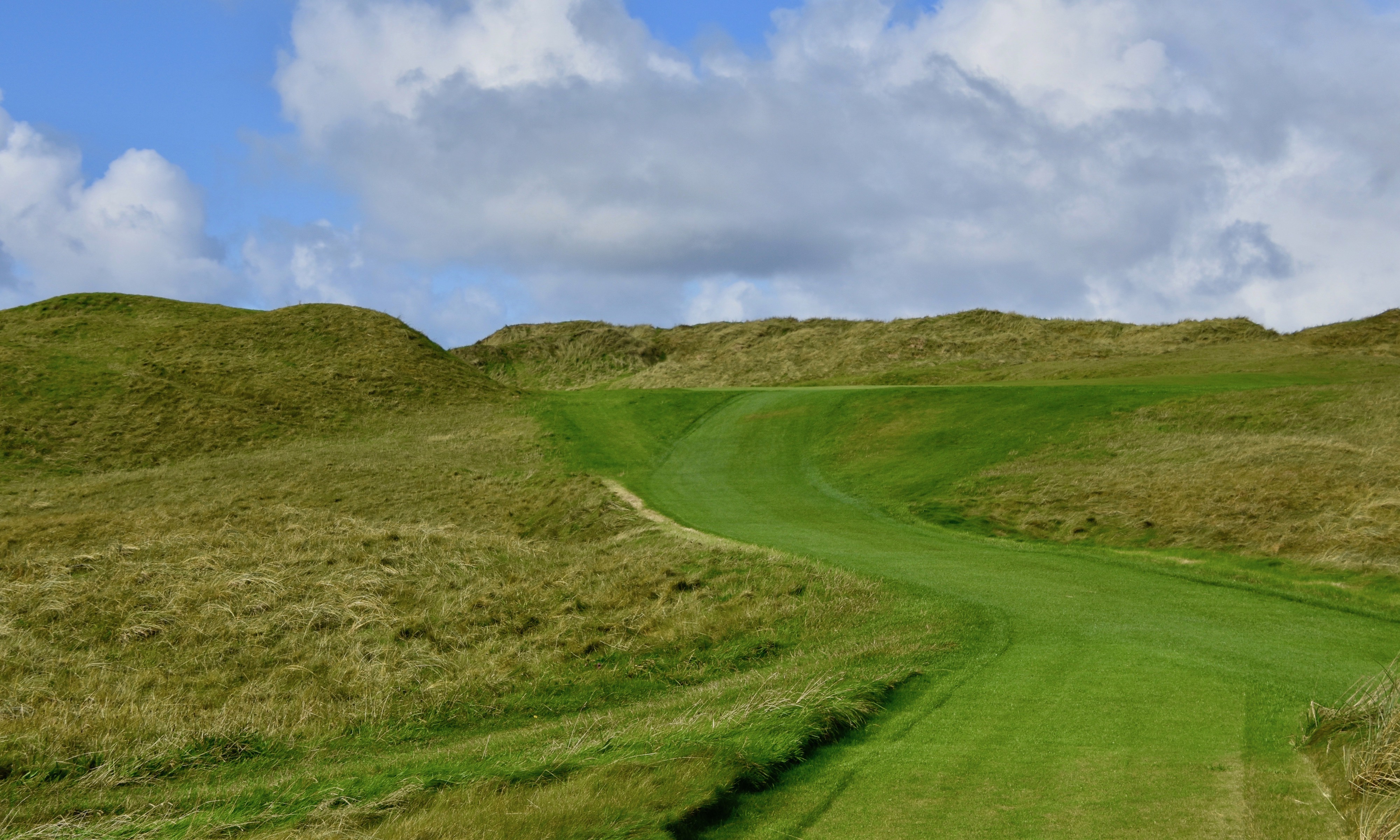 No. 6 is a 393 yard par four that plays as the toughest on the front nine. It has a similarity to No. 3, but the elevation change up to the top is not as severe. What is severe is the right to left dogleg that almost forces one to aim down the left side and go over the mound on the left as by going straight you can easily go right through the fairway. Because of its length you do need distance off the tee so going with something less than a driver will leave a very long second shot.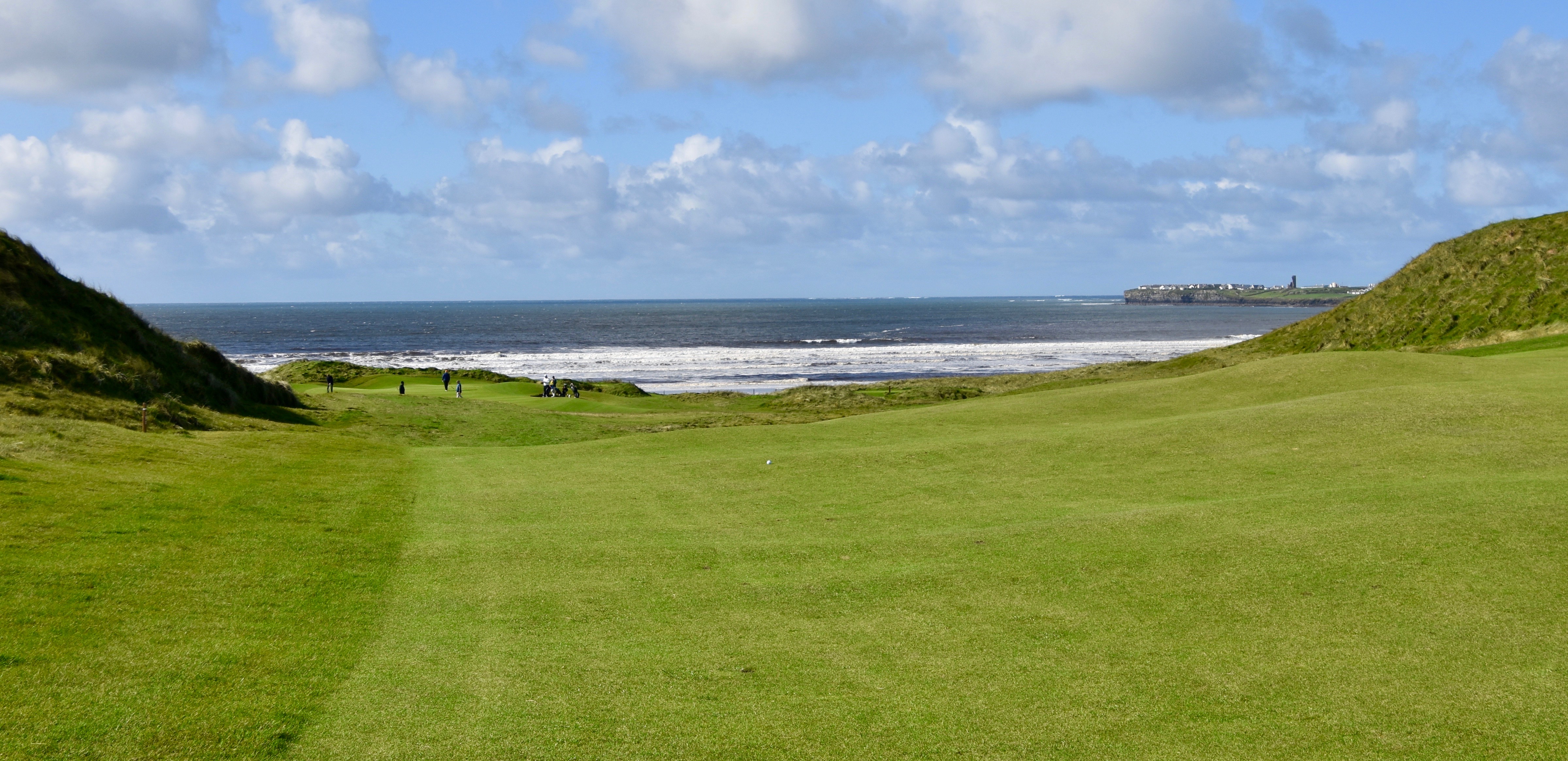 As you can see, even with a half decent drive that for once stayed on the fairway, it's a bloody long way in to a very small green that's elevated to boot. There are two deep natural depressions that you can't really see from this vantage point and eliminate any chance of landing short and rolling on to the green. Hitting the green on your second shot is a feat to brag about after the round. I know I won't be. Bogey is a very acceptable score on this hole and the good news is the wonderful views from the green when you finally do get there.
No. 7 – Blind Hookey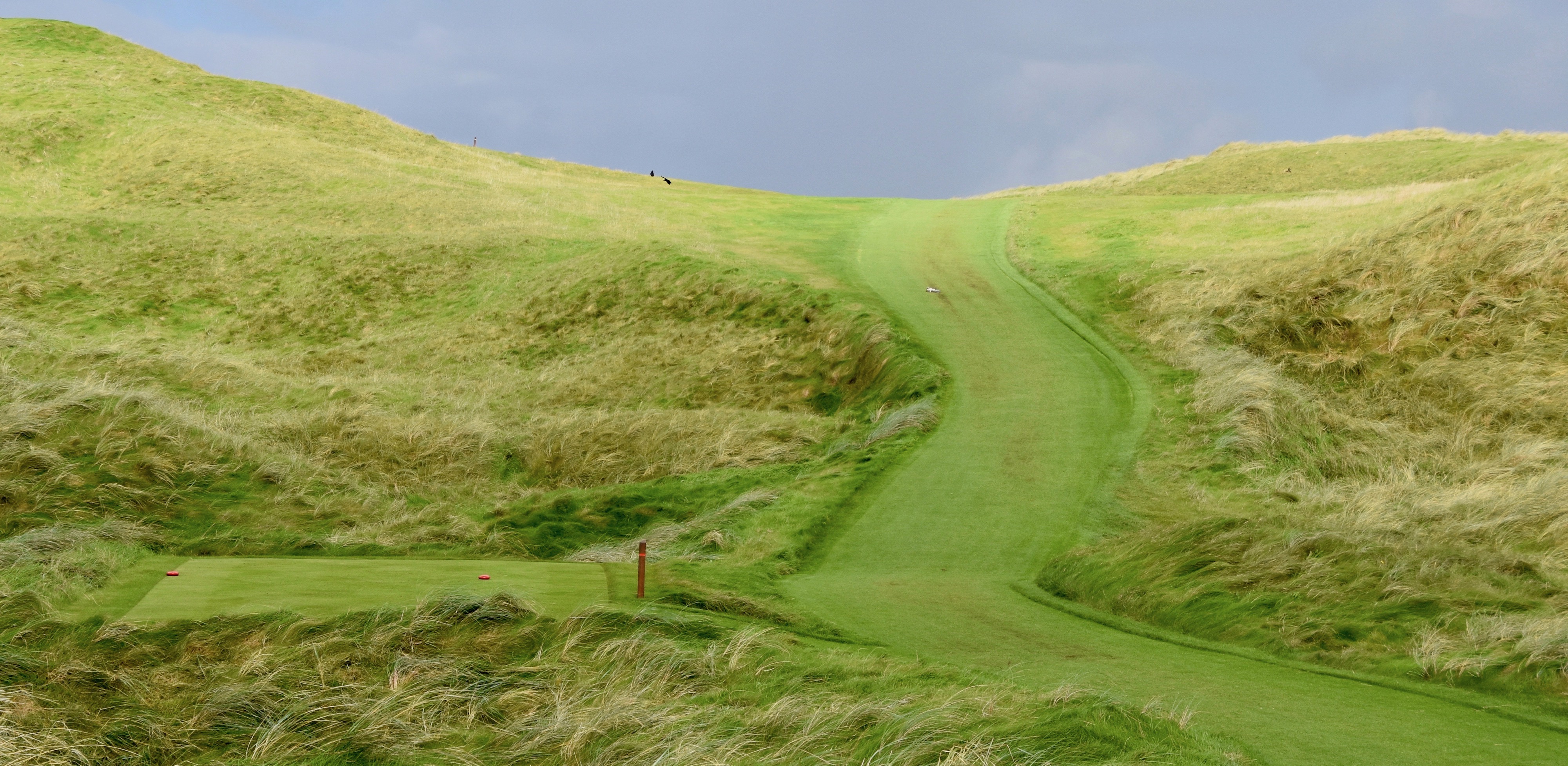 Here we go again! Another blind tee shot uphill followed by a dogleg down to the seashore green. Thankfully No. 7 is only 349 yards and considerably easier than No. 6, but it's still no cakewalk.
Once again there are great views across the bay and to the beach below from the green area.
No. 8 – Crater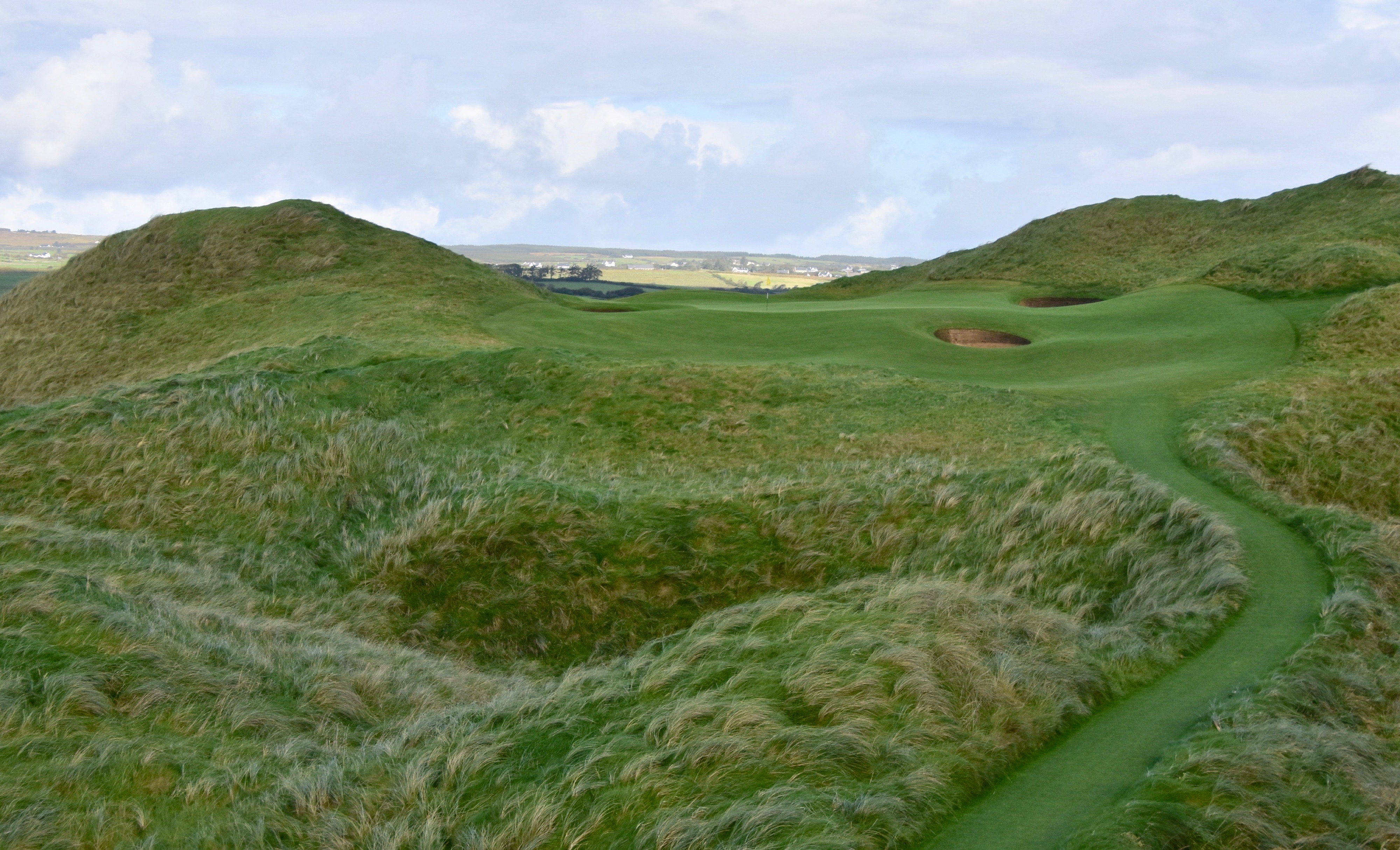 The second par three on the front is a very pretty 147 yard uphill shot to a tiny green that reminded me of the Postage Stamp at Troon. This photo gives a better idea of the rough at Lahinch which as noted, is unforgiving.
Once you get up to the green there is a 360° panorama that is as good as you are going to get on any golf course, anywhere. This couldn't be anywhere but Ireland.
Looking northeast you have this view of the old stone bridge and the ruined tower.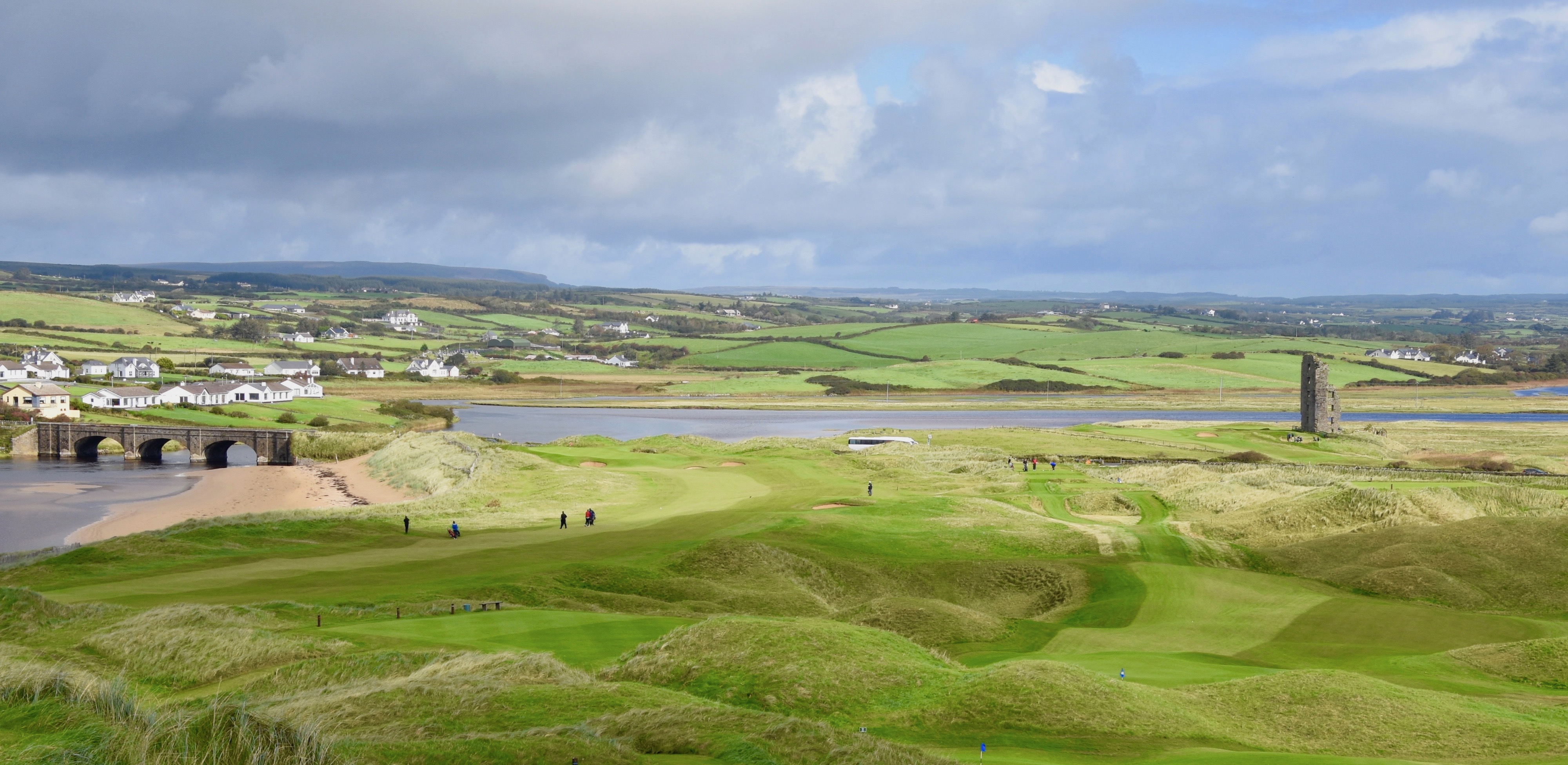 No. 9 – Burke's Corner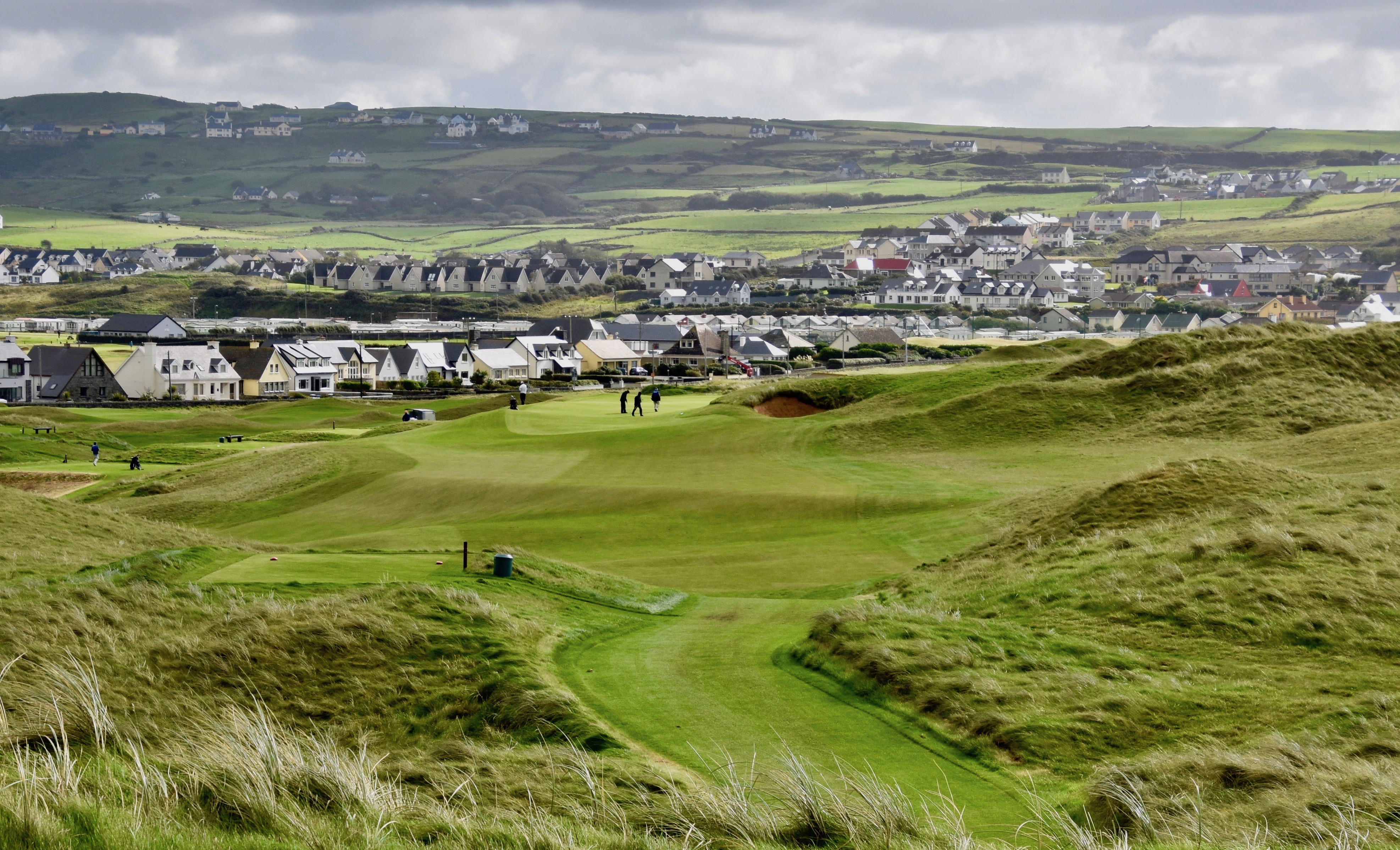 The front nine ends with a relatively benign looking par four that plays 355 yards downhill to a very narrow elongated green, one of the longest in links golf and first designed by MacKenzie. The foursome in front of us is actually on the green. The trick here is not to have your drive end up way below the fairway and for someone like me who hits a right to left ball, that's nigh on impossible.
Like almost all links courses there is no return to the clubhouse after nine. However, there was a person in a tiny hut selling beer and sandwiches which were welcome at this point.
No. 10 – Goats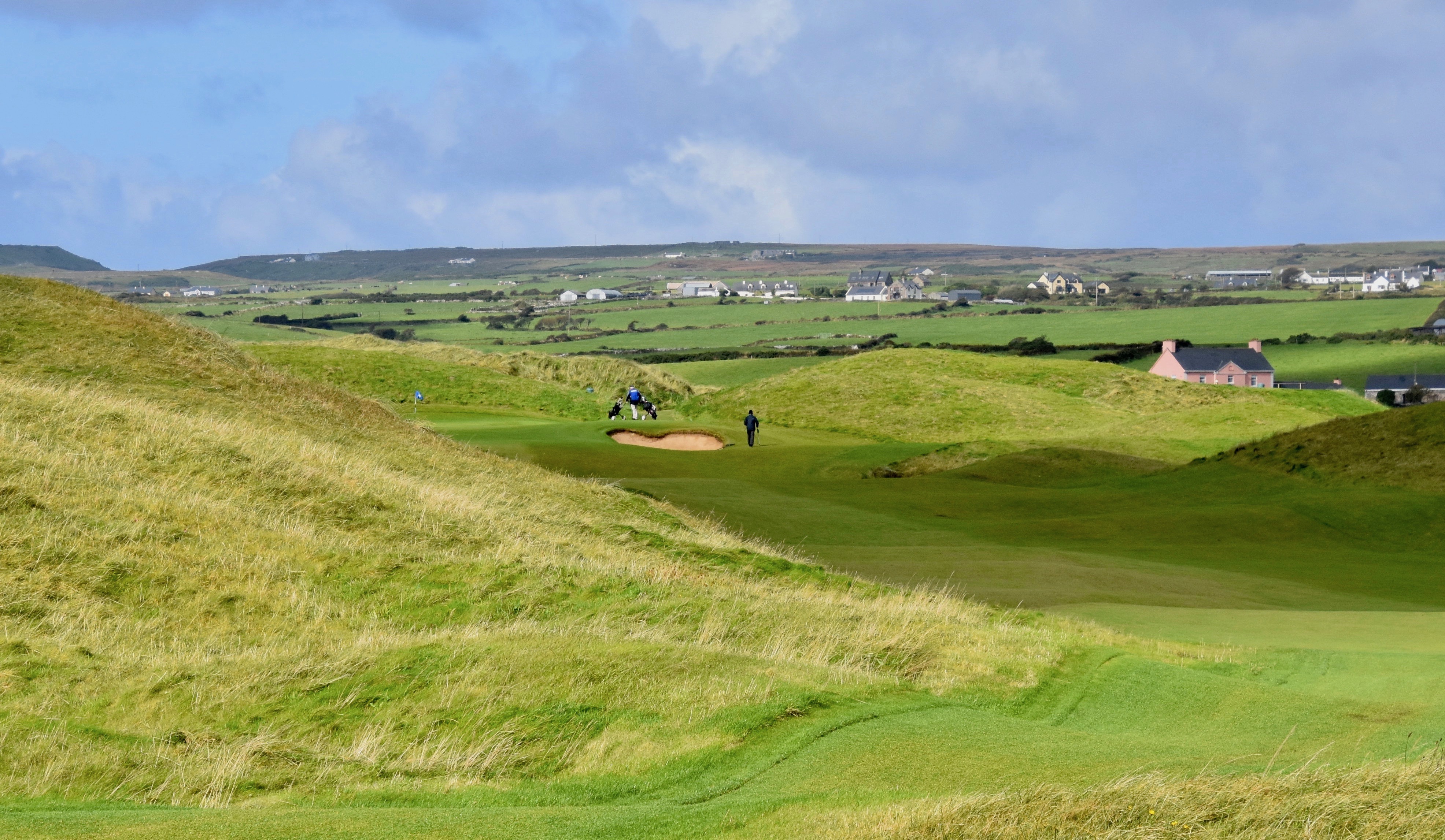 The back nine starts off very hard with this 403 yard par four that is very narrow. By now I'm starting to realize just how narrow most of the fairways are at Lahinch and that holes 1 and 2 were not representative of what was to come. To top it off most of these par fours are doglegs that if you don't reach the point where they turn, often involve a blind second shot over a mound to a fairway that is sloping downward. This hole can definitely make you feel like a goat or maybe that you just got butted by one.
No. 11 – Liscannor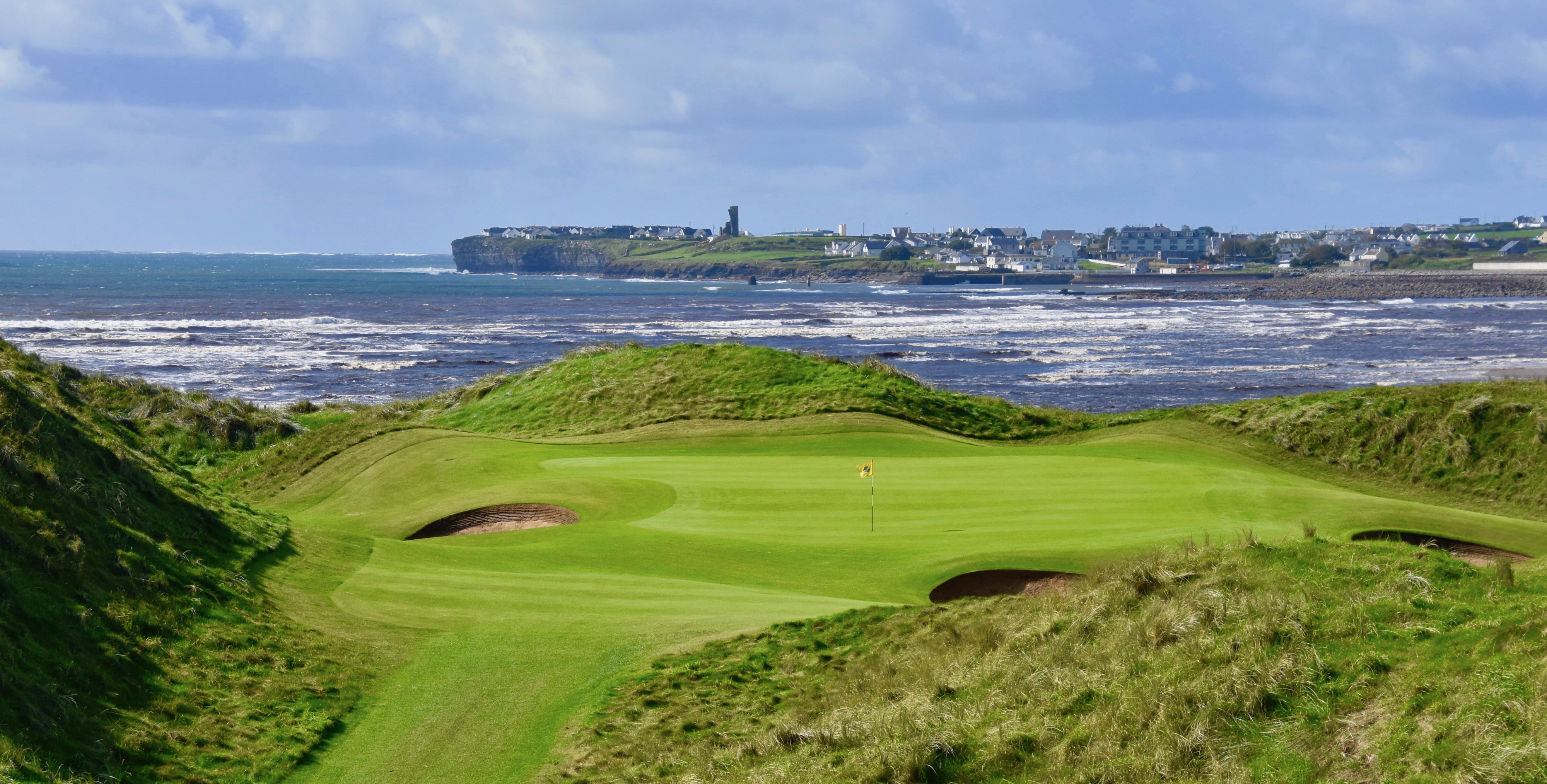 The shortest of the par threes at 141 yards Liscannor is easily one of the prettiest short holes in golf. This is a macKenzie green that takes full advantage of the views of Liscannor Bay and the Cliffs of Moher in the distance.
I noticed I haven't mentioned the bunkers at Lahinch yet and 11 is a good place to do it. The bunkers on almost every hole are remarkably consistent in size and depth. They are generally small, round and about three to five feet deep – typical links course pot bunkers. Unlike many courses, the fairways are not designed to naturally feed balls into greenside traps. The sand in the traps is again quite consistent from hole to hole and if you have any kind of game out of the traps these should not present a problem. You definitely would prefer being in a trap over the thick rough.
No. 12 – Castle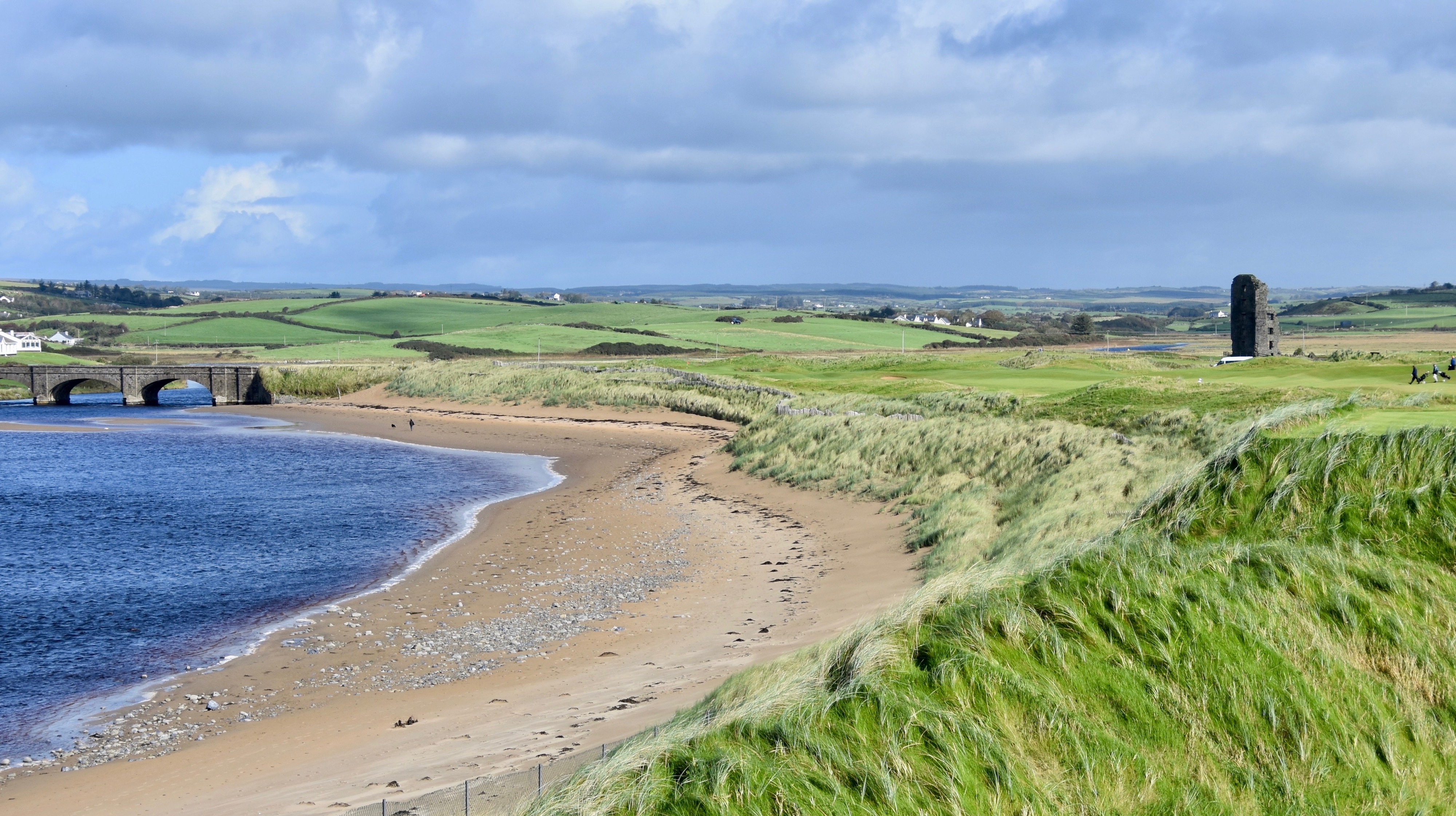 How's this for a view from a tee box? No. 12 is a reasonable length 494 yard par five that is the last of the seaside holes at Lahinch and probably the only one that actually brings water into play. The hole is a gentle dog leg to the left with, for Lahinch anyway, a fairly generous fairway. This is absolutely the type of par five that the average golfer can really appreciate. Not only is the scenery outstanding, but with three decent shots you can get on and expect a par. Two three woods and a nine iron or wedge will do the trick.
No. 13 – Mine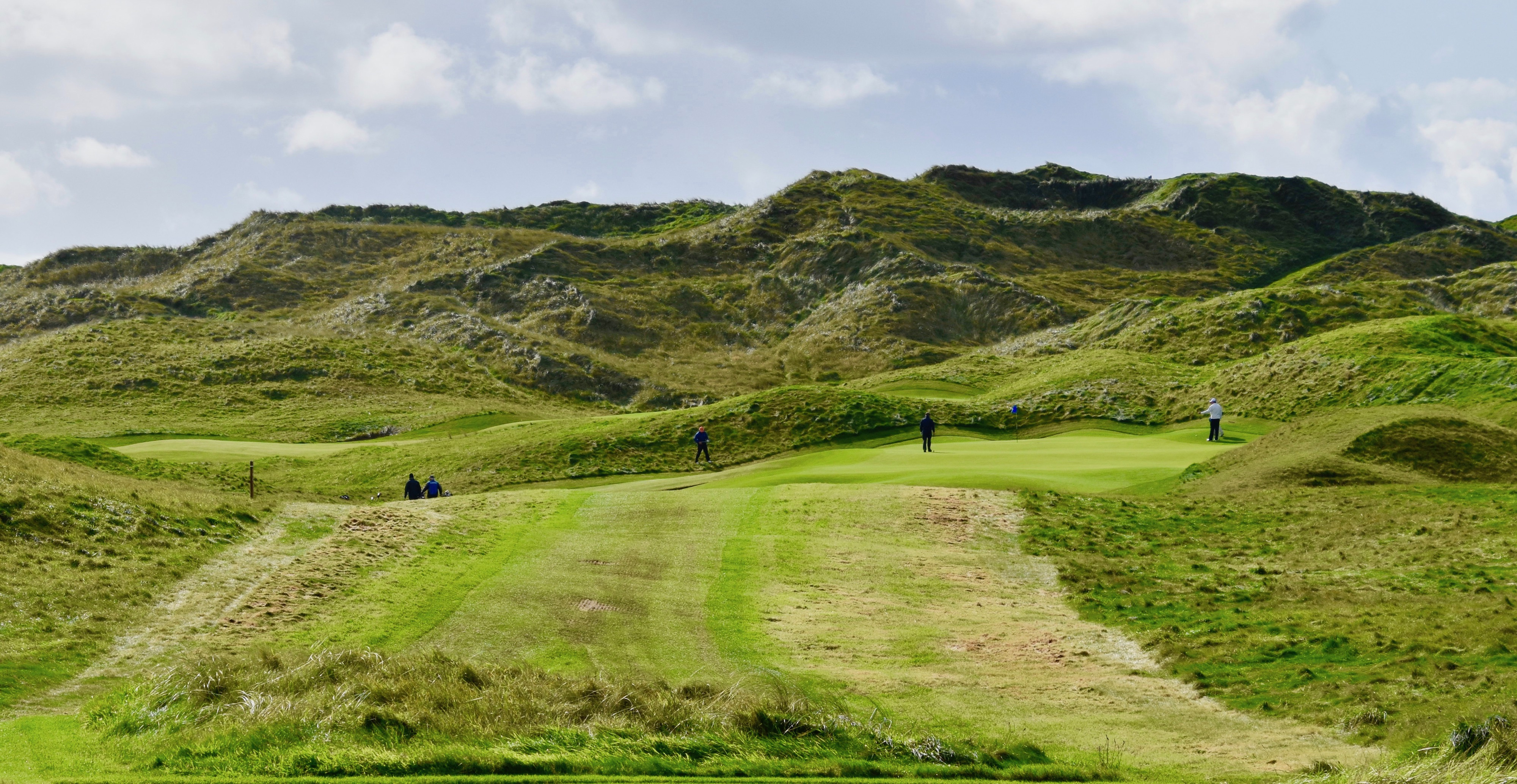 Today it seems that every new course has at least one very short par four. Golf architects having woken up to the fact that every level of player loves these risk/reward holes and they need look no further than this 250 yard masterpiece from Alister MacKenzie to know why. Even from the tips at the Irish Open this played just over 300 yards. Obviously the sensible play for the average golfer is just to hit an iron or maybe a five wood up the right side, pitch on a get a par and maybe a birdie. That did work for those in our group who opted for that route. If you use a driver here and it's anywhere near the center of the fairway the ball is going to roll left and contradicting what I just said about the bunkers here, will end up in one of two collector bunkers below the green.
12 and 13 make a nice two hole respite at Lahinch after the rigours of the front  nine.
No. 14 – Twins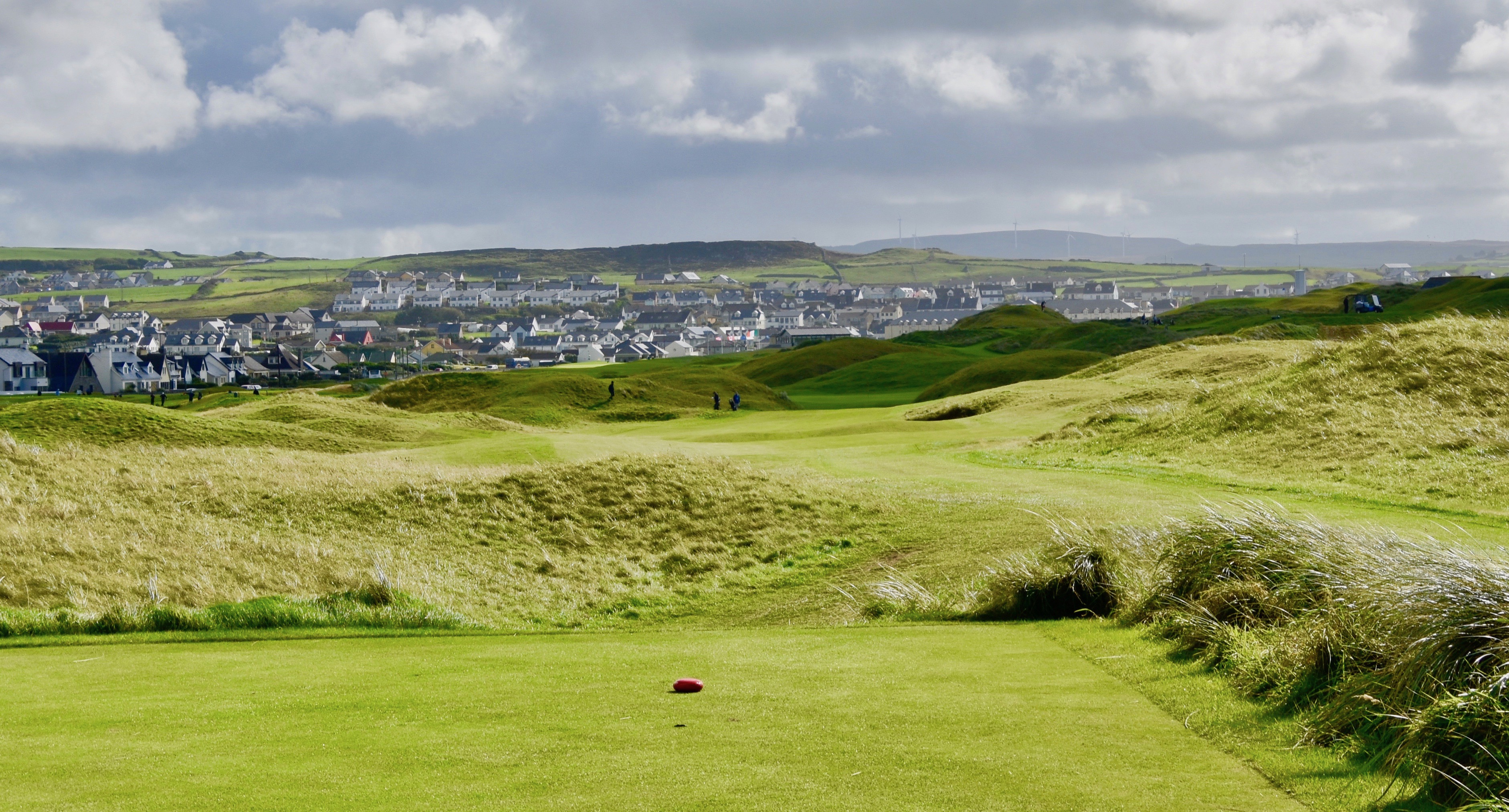 So much for the let up – you about to get a one two punch in the golfing gut starting with this 429 yard par four monster that has a cruel surprise at the end. The Twins are two huge almost identical mounds that guard the front of this green. Given its length the second shot is always going to be very long on this hole and the odds of threading it between the mounds are very slim. Although the hole plays downhill the fairway plays out to the left and staying out of the rough is not easy. I think it is easier to get a five on No. 12 than it is here. Playing for bogey is the only sensible option for all but the lowest handicaps.
No. 15 – Brud's Vision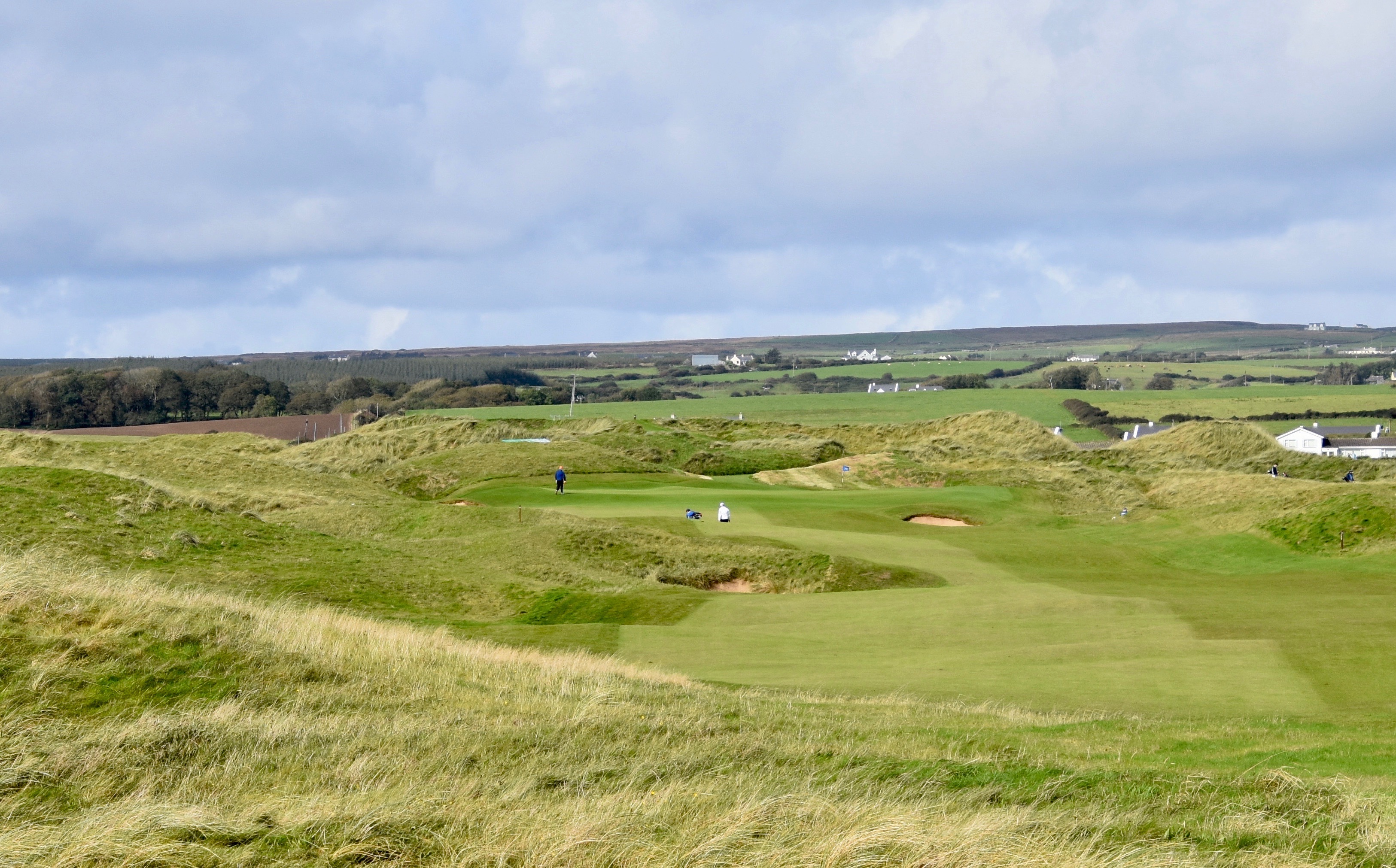 Not sure who Brud was, but he must have been a mean bastard because his vision is a 428 yard par four that is ranked the toughest at Lahinch. On this one you just hold onto your hat and hope for a five. Note that the sunny weather we had on the front nine is turning into an ominous sky. It will be a race to get in before the rain comes.
No. 16 – Old Tom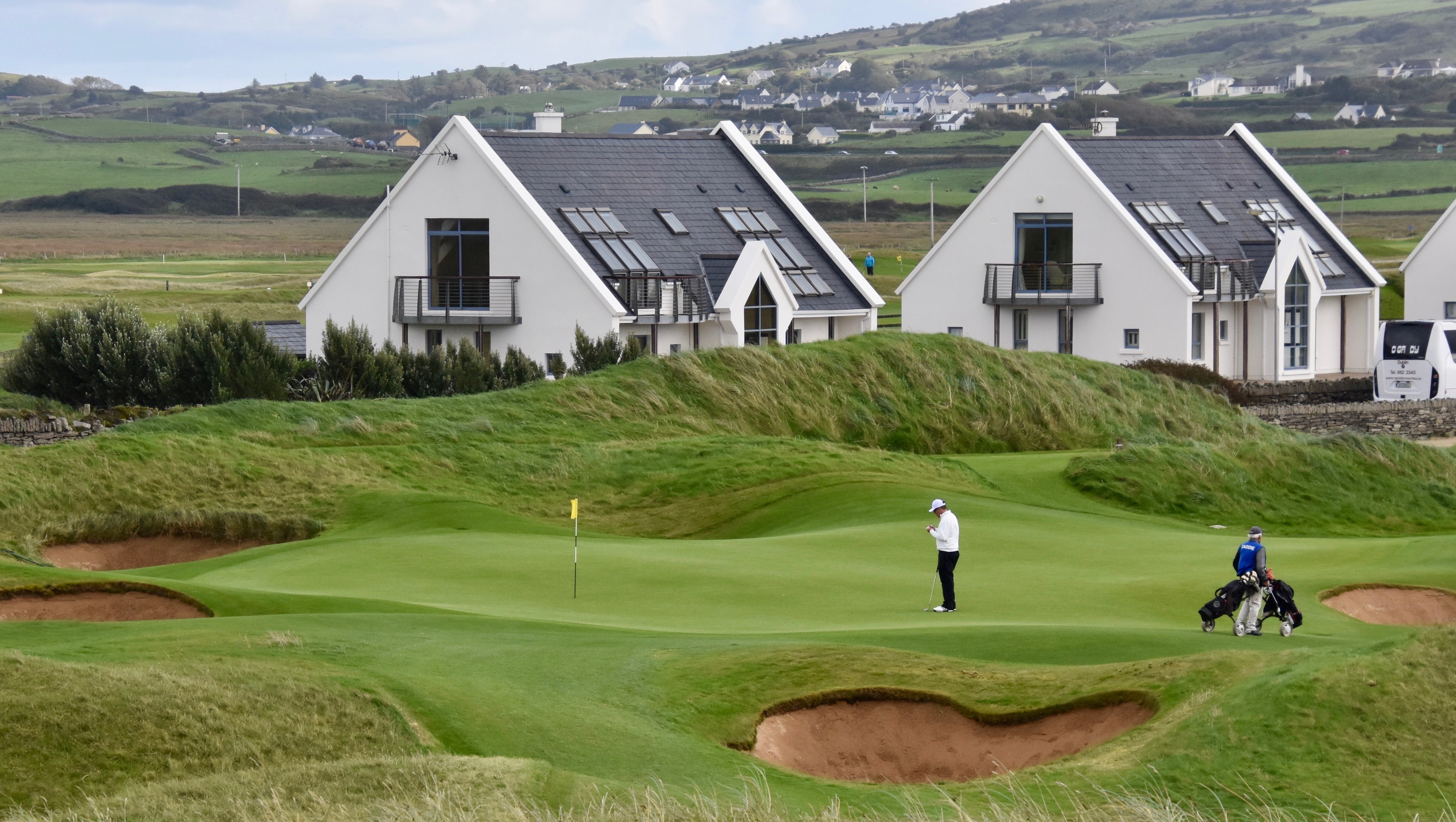 No need to ask who was responsible for this hole, the last and longest of the par threes at 175 yards. While it's quite downhill, you need to carry it all the way to the green so judging the wind is important. I haven't mentioned the wind because it was, by Irish standards, quite reasonable. The fact I haven't mentioned it until this hole says it all. Still on a hole like this it is a major consideration. This photo also gives an idea of just how rolling some of the greens are at Lahinch. But as I wrote earlier, with caddie John reading them, these were not a problem.
No. 17 – Pons Asinorum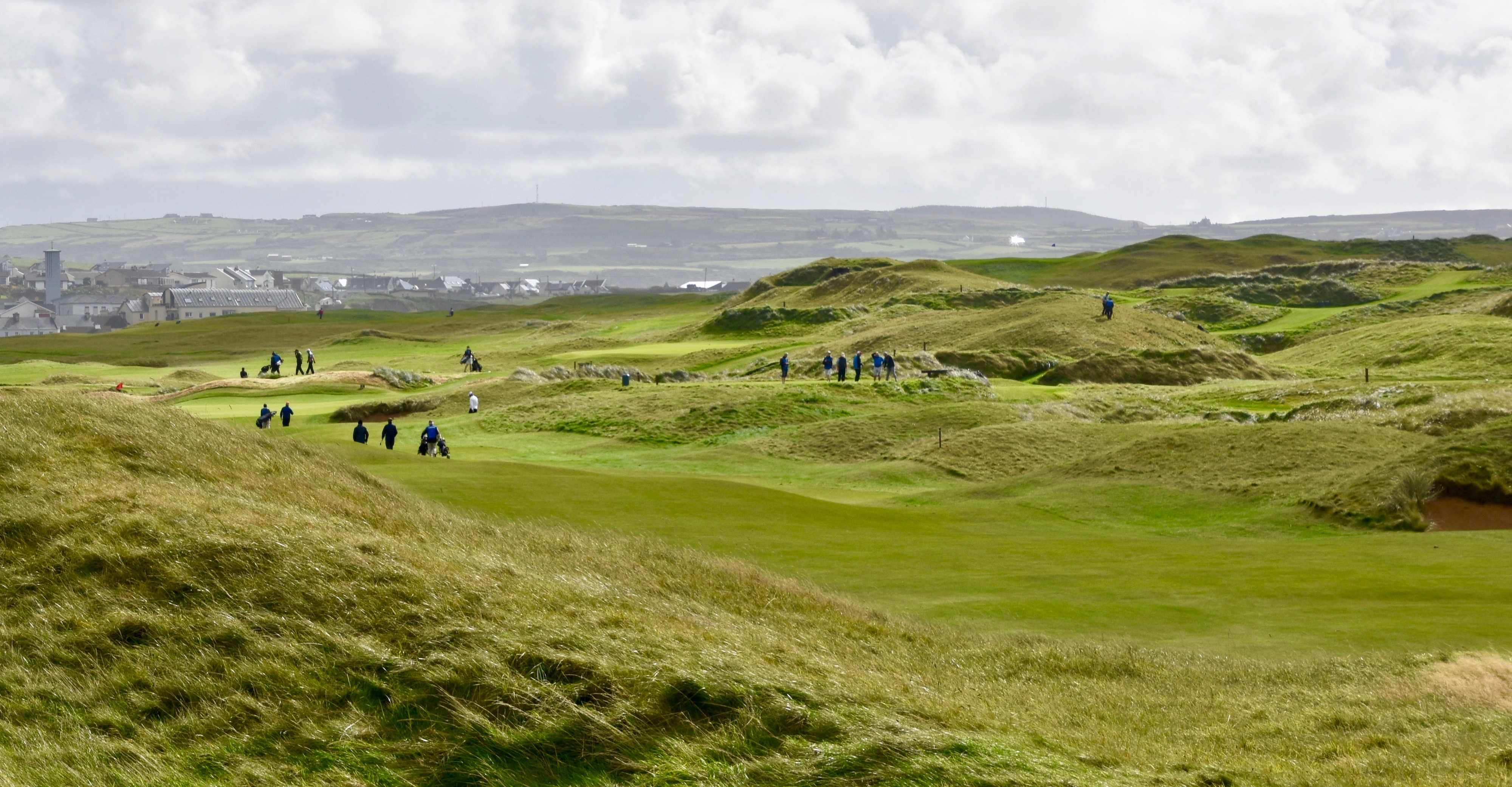 At 'only' 398 yards this final par four seems quite reasonable after 14 and 15. A pons asinorum in geometry is an isosceles triangle which comes to a narrow point at the top. This hole has vaguely that feel as the fairway gets narrower and narrower the closer it gets to the green. The distance from the tee box to the fairway on this hole is brutal. This photo is not from the tee box, but from the start of the fairway a good 175 yards at least from that spot. If you are wondering where all the people suddenly came from we'll find out on the last hole.
No. 18 – Shaw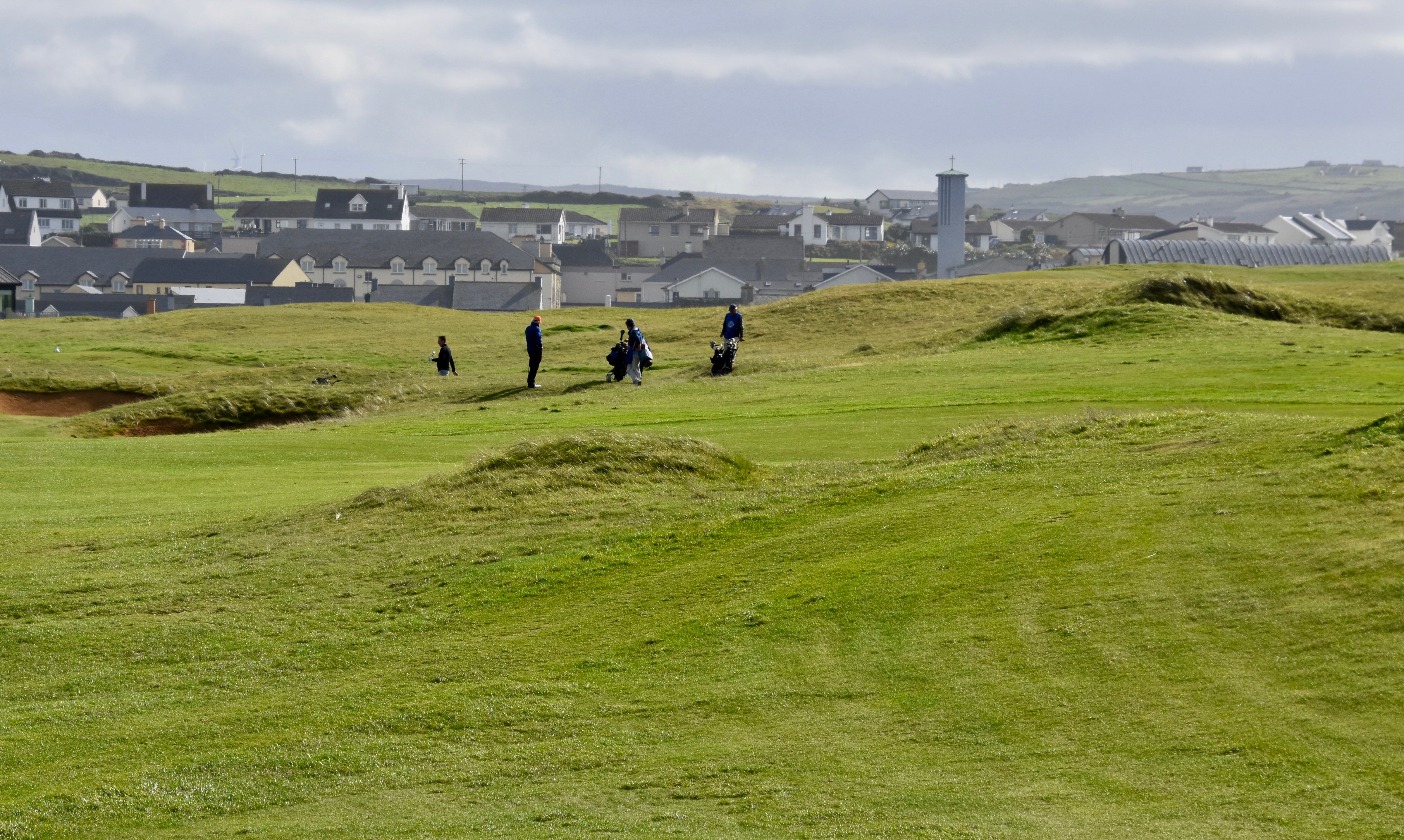 At 497 yards this is another quite reasonable par five. The reason for so many people congregating around 18 tee is that the hole crosses over both the 4th and 5th holes so there is often a wait. Because the busy main road runs along the left side of the hole and the crossover I can't call this a great finishing hole, but that's a small nit to pick on a course with so many great holes.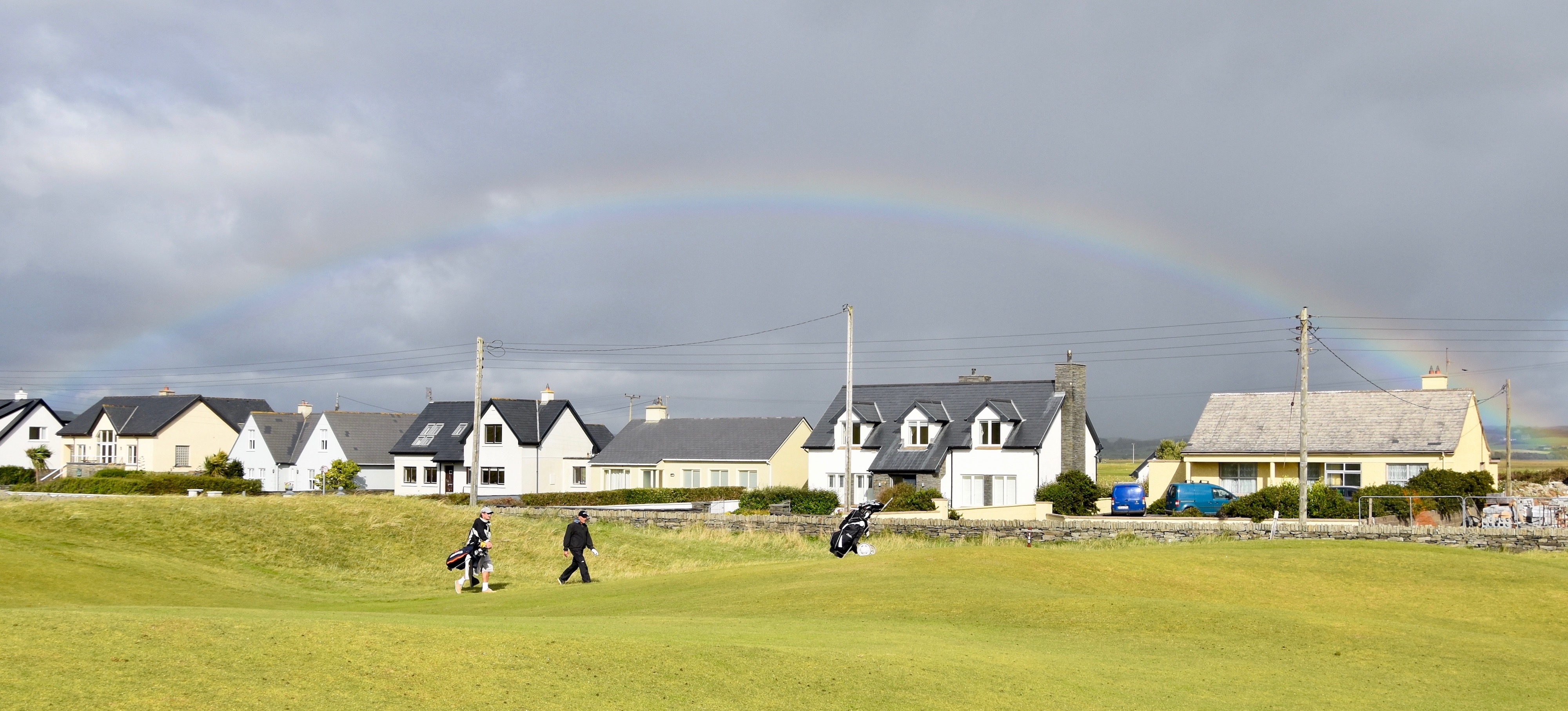 And how's this for finishing up under an Irish rainbow?
Next we head for Doonbeg and Trumpland. Should be interesting to say the least.