Point Prim – Five Great Reasons to Visit
Point Prim is a long finger of land that juts out from the south coast of Prince Edward Island and forms the eastern boundary of Hillsborough Bay. At its tip sits the oldest and in my opinion best lighthouse on the island so that's reason enough to take the short detour off the Trans-Canada Highway heading either west to Charlottetown or east to the Wood Islands ferry. However, as Alison and I discovered on a recent visit, that is only one of many reasons to explore this most interesting area of The Gentle Island. Please join us as we explore all that Point Prim has to offer.
Lord Selkirk Park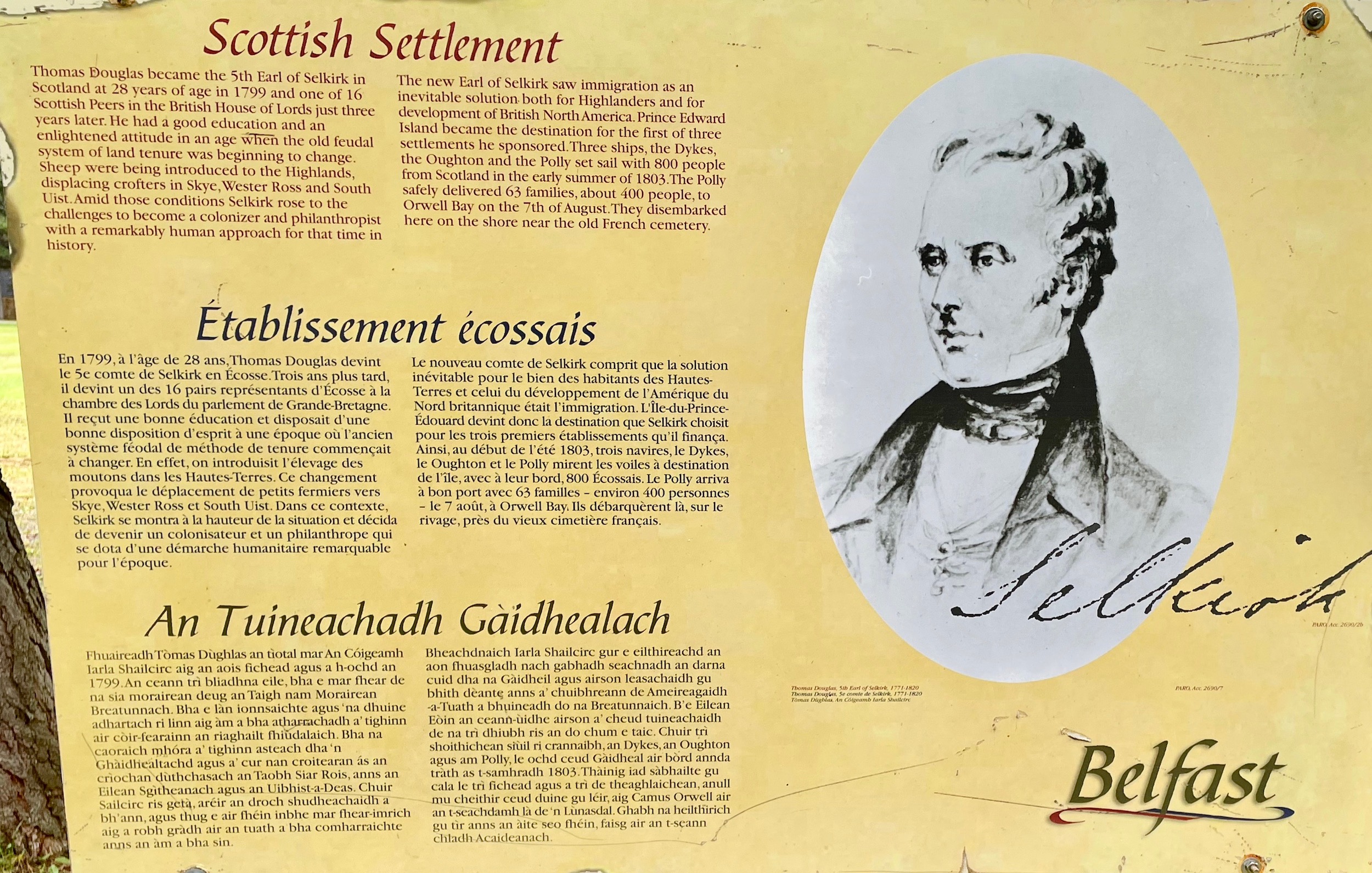 As someone who grew up in Manitoba, I was quite familiar with the story of the Selkirk Settlers who founded the Red River Colony in 1812 and went on to become key figures in provincial business, finance and politics to this very day. What I did not know until I visited Prince Edward Island maybe twenty years ago or so, was that nine years before the Manitoba experiment, Lord Selkirk first tried it out on the island. Despite many subsequent visits, I never actually got to the site of this settlement until my last visit in July, 2021. Why I waited so long I don't know, because it is one of the most interesting stories on the island. It also just happens to have taken place in the community of Belfast which is the turn off spot for Point Prim road and thus the first place to visit on your Point Prim tour.
Thomas Douglas the 5th Lord of Selkirk was a man well ahead of his time and unlike many historical figures, there is nothing in his record to suggest that he does not deserve the admiration in which he has been held for over two hundred years. Despite being a seventh son of the 4th Lord of Selkirk, by 28 all six of his older brothers were dead and so was his father. This was at a period of time when the infamous Highland Clearances were taking place and highland tenant farmers or crofters were being evicted and forced onto less productive land or simply driven out entirely. Douglas was appalled by this placing of profits over persons and wanted to help by assisting as many of these displaced Scots emigrate to a better life in Canada as he could. To that end he managed to obtain the rights to a substantial portion of land in the Belfast area of Prince Edward Island and in 1803 three ships landed in what is now Lord Selkirk Provincial Park. Like the settlers who followed them to Canada in 1812, the ones who landed here made a success of their transition to a new land and their descendants have had a significant effect on PEI history, including producing two Fathers of Confederation.
Today the story is told via a series of interpretive panels such as the one above and inside a replica of a Scottish croft house which I am about to enter.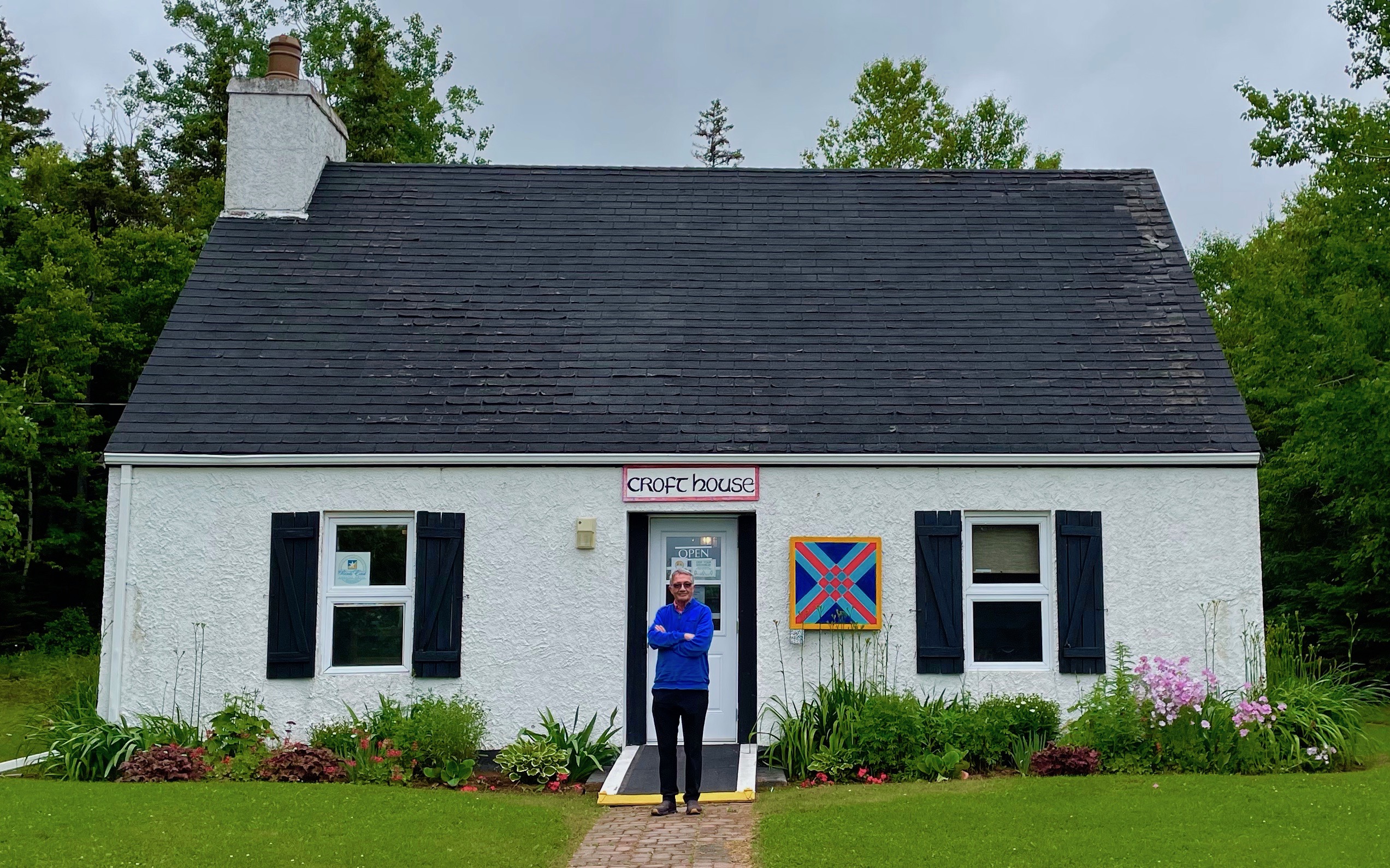 Inside we were given a guided tour by the lady in charge and found out a lot more about the Selkirk Settlers of PEI than you would from a history book. In answer to my question as to why Scots would name the place Belfast, she replied that the name predated their arrival. While the display area is not large it does contain some very interesting items.  including all these items found by one man using a metal detector in the immediate area.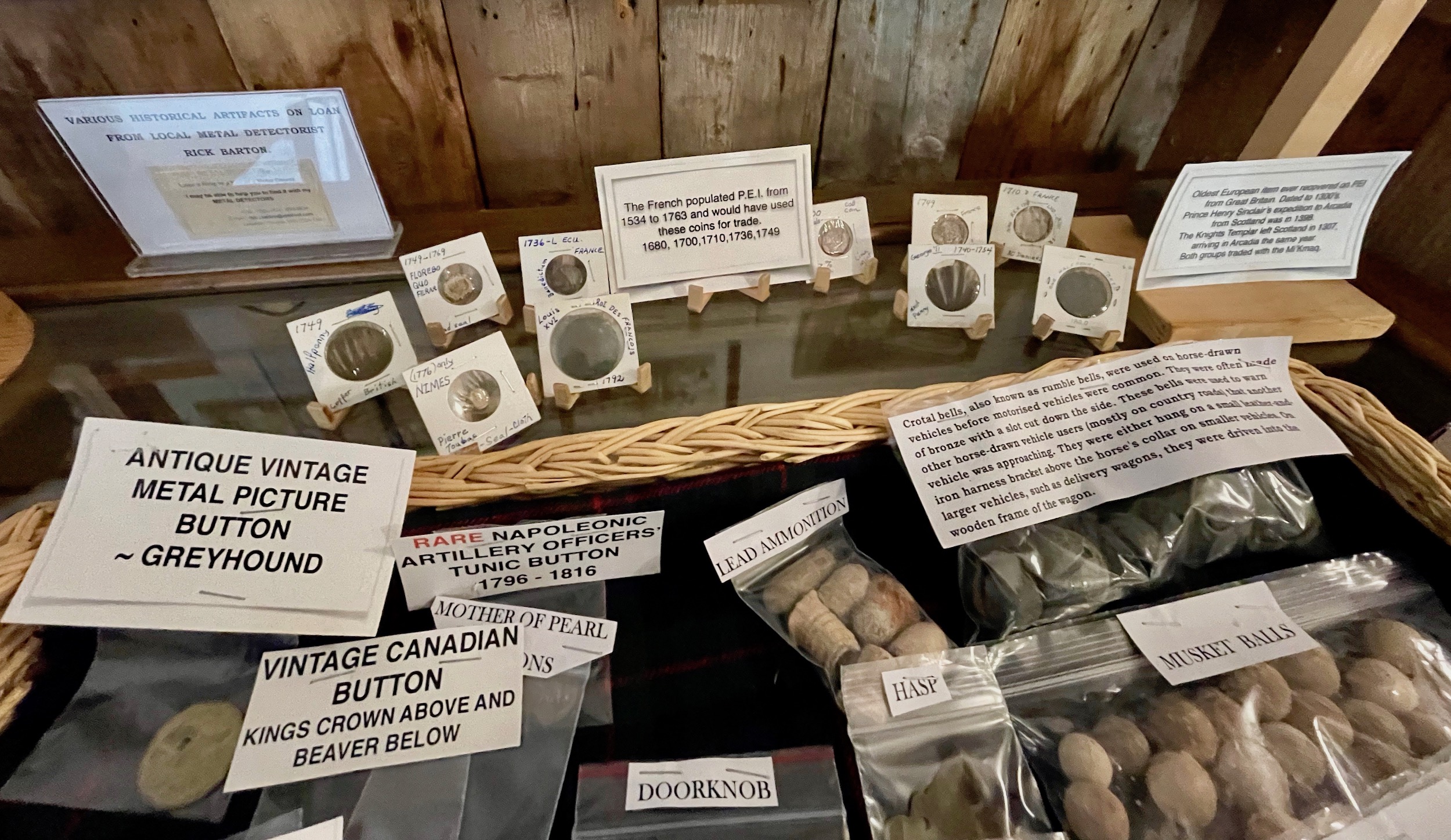 If you look more closely at the coins that he found you will astonished to see the age of many of them, including one from 1680. While I cannot agree that the French occupied the island as early as 1534 (Cartier did sail by here in that year), the French definitely had a major presence on what they called Ile St. Jean for well over a hundred years. For more details on French settlement in PEI and their expulsion read my comments on the Havre St. Pierre trail in my post on Greenwich Dunes. It was amazing to me that in this rural Canadian setting you actually have coins minted during the reigns of some of the most famous monarchs in European history lying buried and forgotten just below the surface.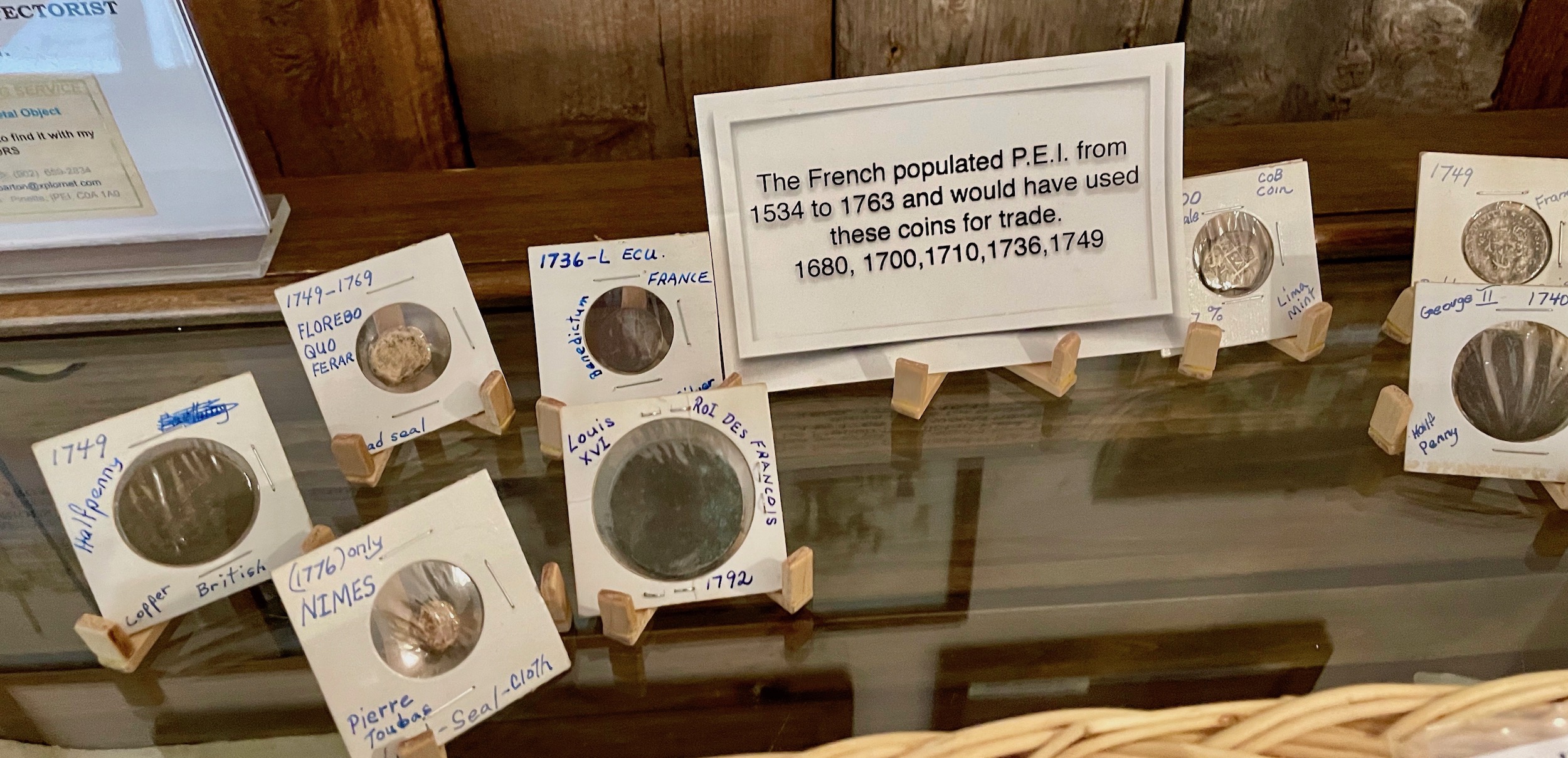 For the story of how the Highland Clearances depopulated an entire island whose inhabitants moved en masse to Nova Scotia read this post on Handa Island. If you're looking for more things to do in the immediate area there is a private campground, a nine hole golf course and swimming or beach combing on the Northumberland Strait.
The Acadian Cemetery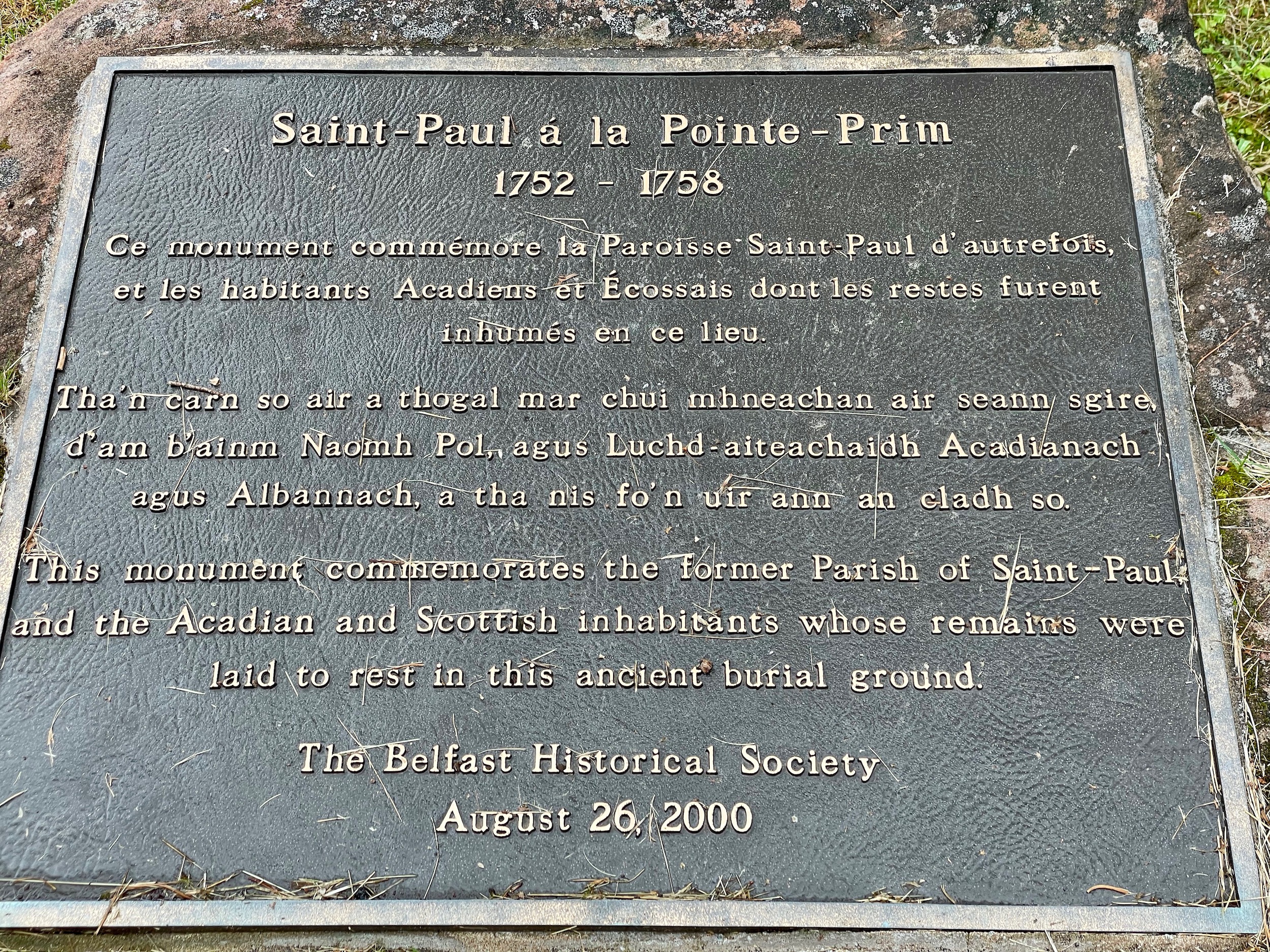 The presence of the French coins naturally raised the subject of French settlement in the Point Prim area or La Pointe-Prim(e) as they called it. The parish of Saint Paul de la Pointe-Prim(e) existed on the same spot as the Selkirk Settlers occupied in 1803. They were here for only a few years before being forcibly deported to Britain in 1758. As this panel explains, almost all of them died in the wreck of the Duke Willem within sight of land in the English Channel. Note that despite the fact that only about 1% of those on board survived, one of them was the parish priest who apparently wanted nothing to do with going down with his flock. I can't help but think he must have been given special treatment.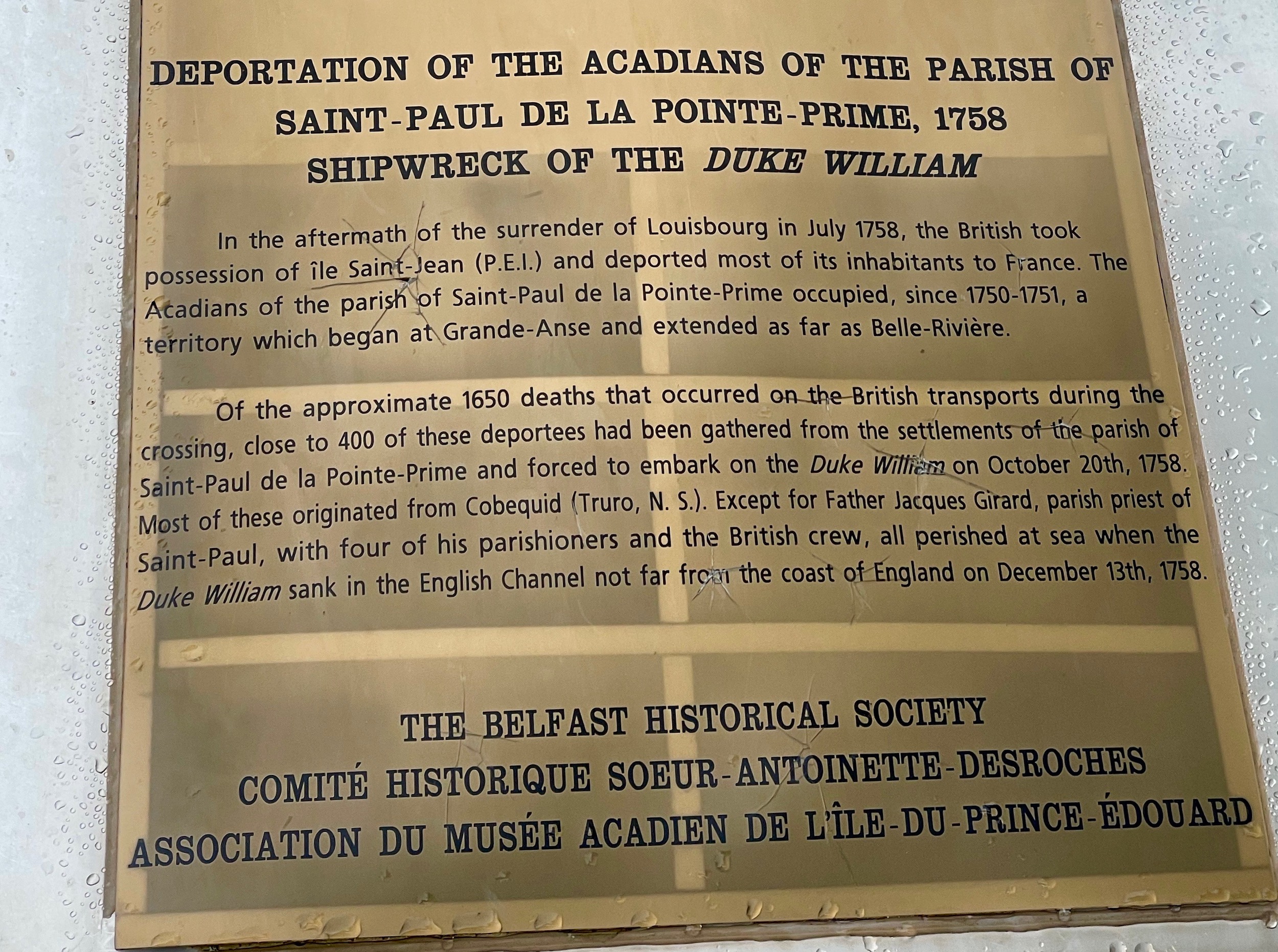 Acadian cemeteries are extremely rare. The only one I knew of was Sainte-Famille in Falmouth, Nova Scotia and it was only discovered by accident in 1996. It is known that there was one on the site of Grand Pre National Historic Park, but it's never been definitively located. So I was very surprised to learn that there is one here, literally right beside the Croft House grounds. While the occupants of each grave remain unidentified and probably always will, it was established that the similar sandstone rocks within what was also a cemetery used by the Selkirk Settlers, were definitely Acadian.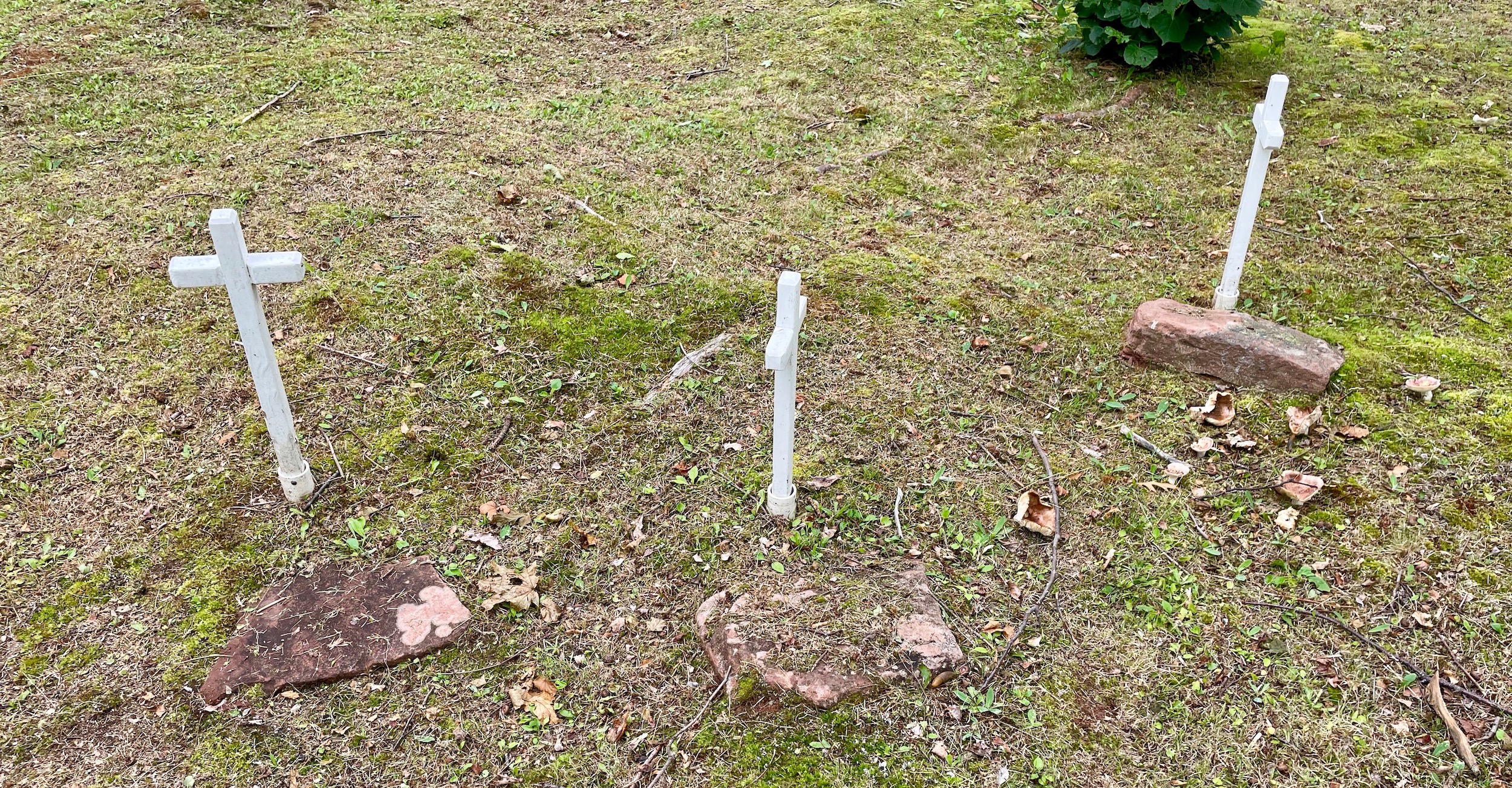 To commemorate the people buried here each grave has a simple wooden cross like the ones in the photo above. I couldn't help but think that something similar might be done at the grave of each of the children at the newly uncovered cemeteries on residential school grounds although given the role of the Catholic church, crosses might not be suitable.
This is the grave of Alexander Nicholson, his wife Mary and daughter Isabelle, who were Selkirk Settlers. It dates from 1820. Unlike the New England Planters from whom I am partially descended, the Selkirk Settlers did not take over lands that had just been vacated by the deported Acadians. These lands had lain fallow and overgrown for 45 years in between the departure of the Acadians and arrival of the Scots.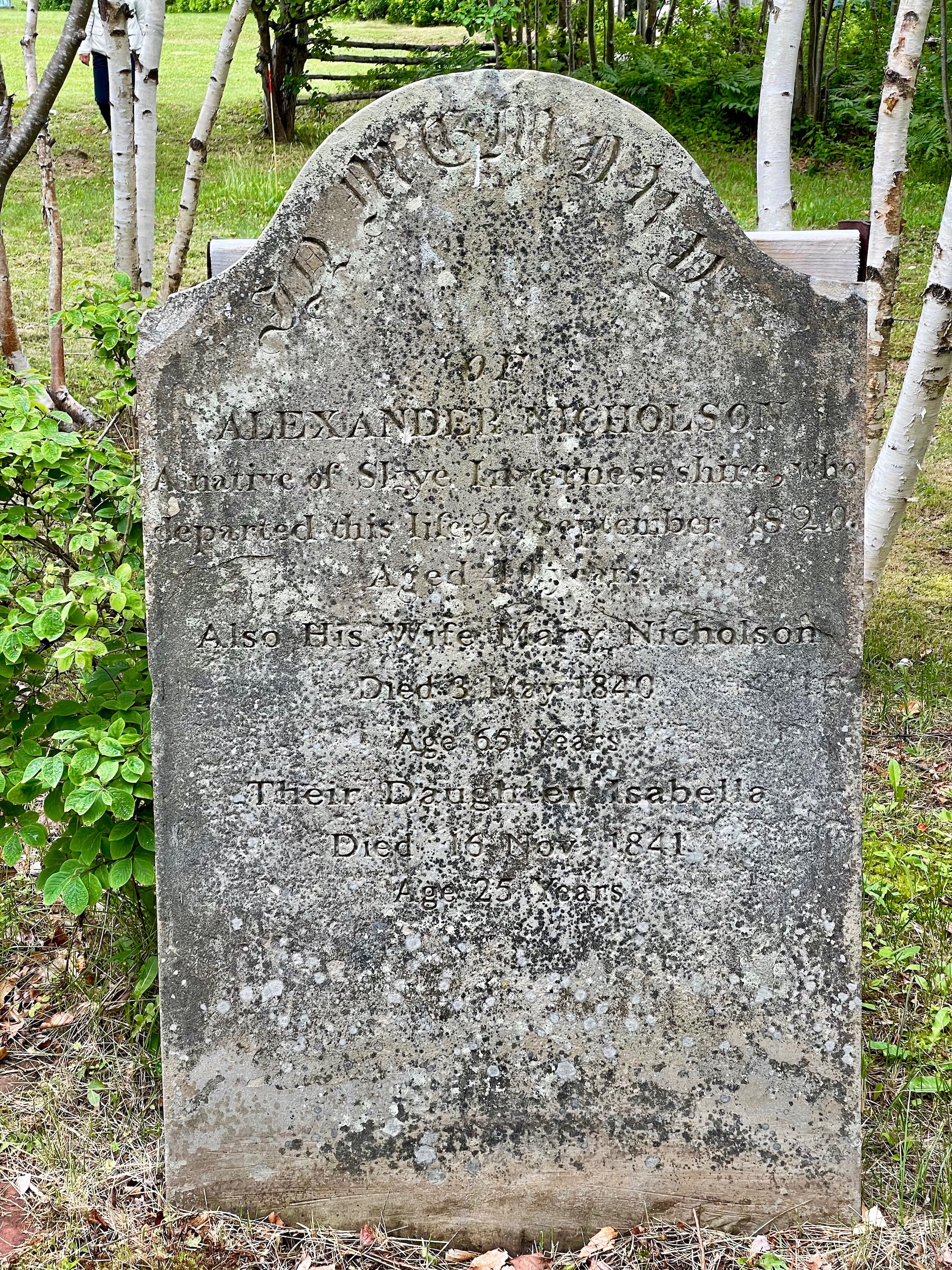 Point Prim Lighthouse
A very short distance past Lord Selkirk P.P. you turn onto Highway 209 which cuts through very verdant farmland and houses with well kept gardens. Some have interesting folk art like this buoy tree.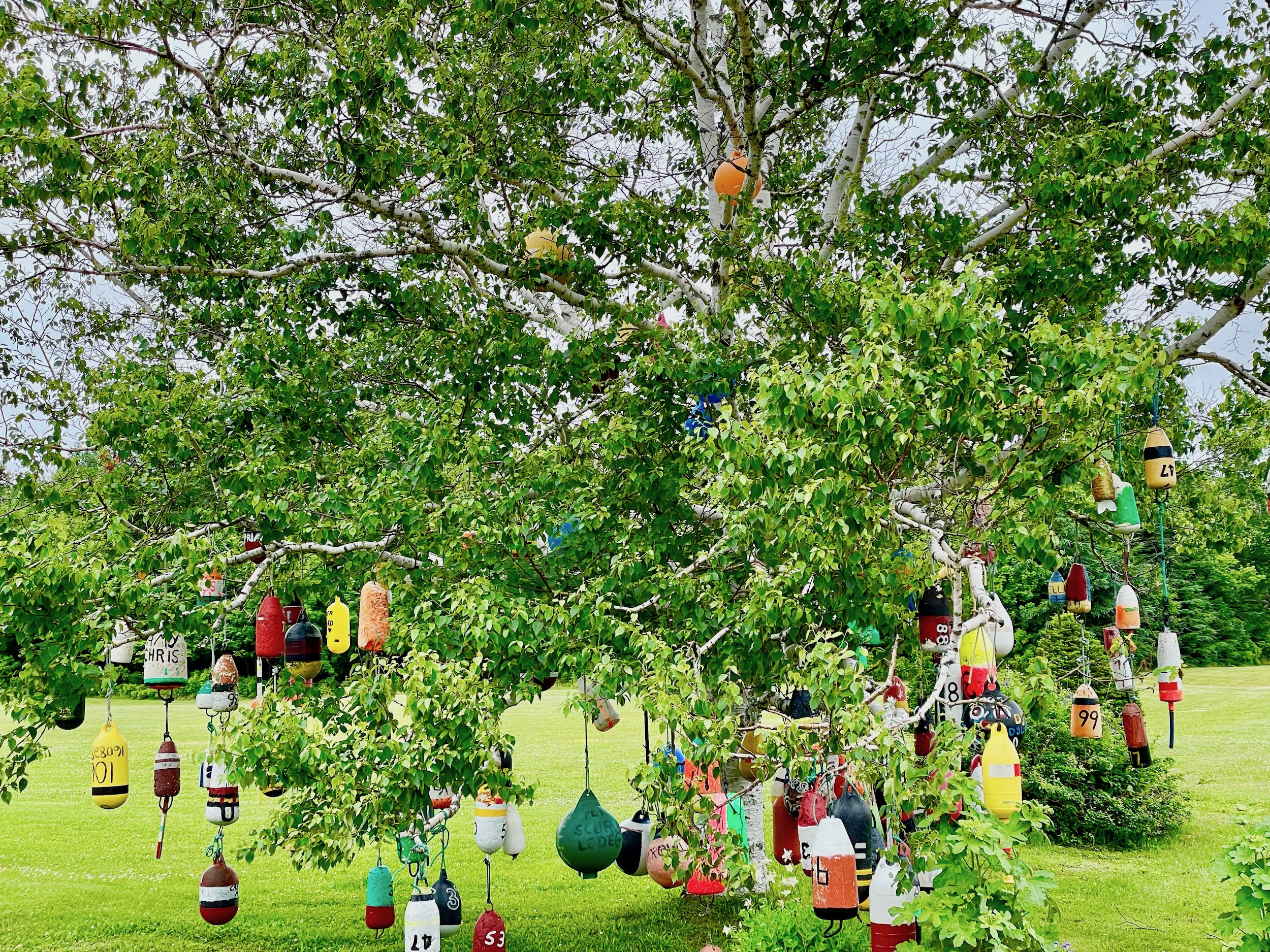 Driving straight to the end of the road you come to the entrance to Point Prim lighthouse which sits imposingly at the very end of the peninsula. It is the oldest lighthouse on Prince Edward Island dating back to 1845 and is unique in being the only round brick lighthouse in Atlantic Canada. Confusingly, the sign at the entrance says it's the only round brick lighthouse in the country, but during our guided tour our guide said it was one of three. In any event, because it is under the aegis of Parks Canada it is well maintained and to my eye the prettiest lighthouse on the island. See if you agree.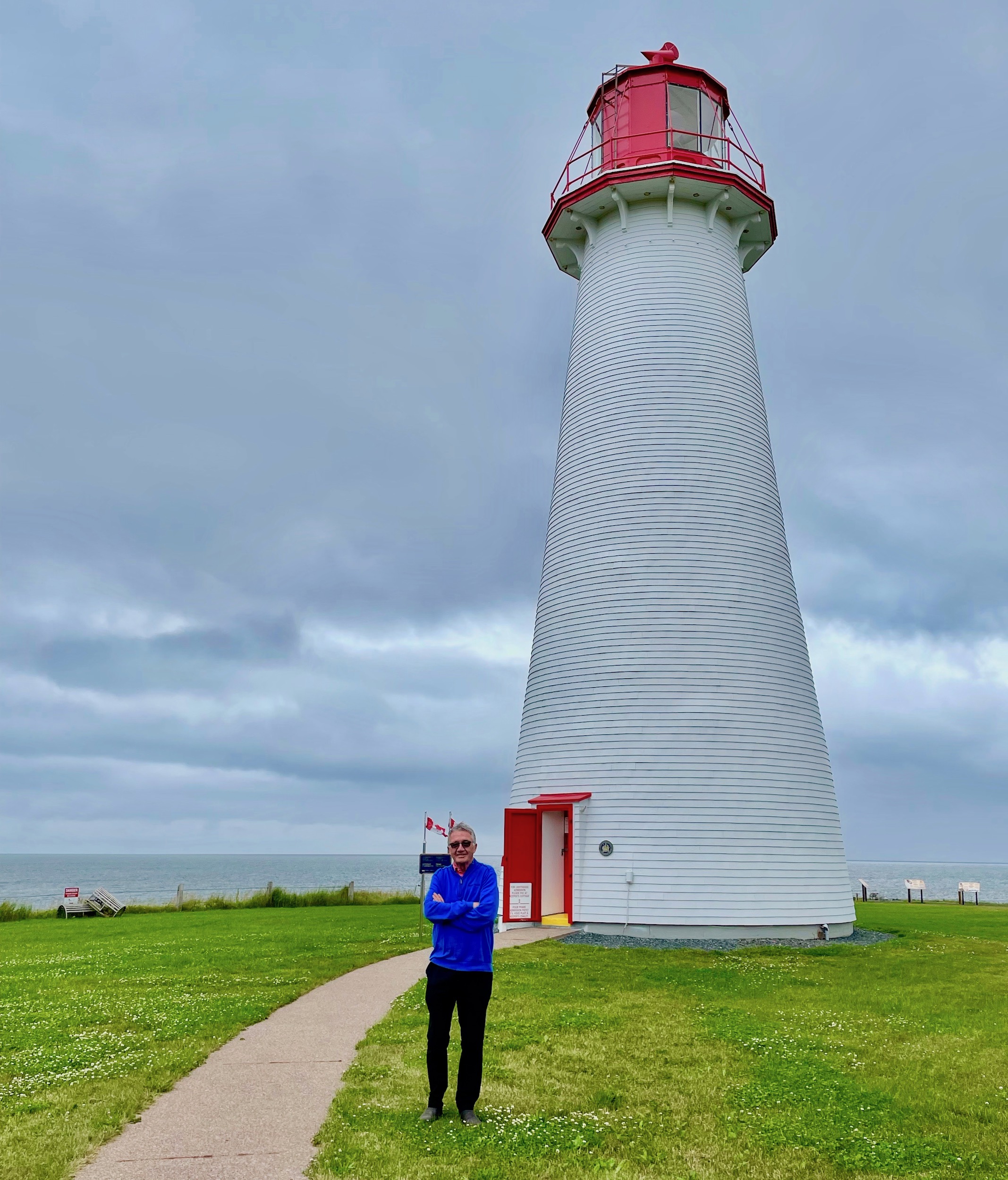 Another great thing about Point Prim lighthouse is that you can climb it. But first you need to enter the small, but really wonderful gift shop that is choc-a-bloc with good quality island crafts.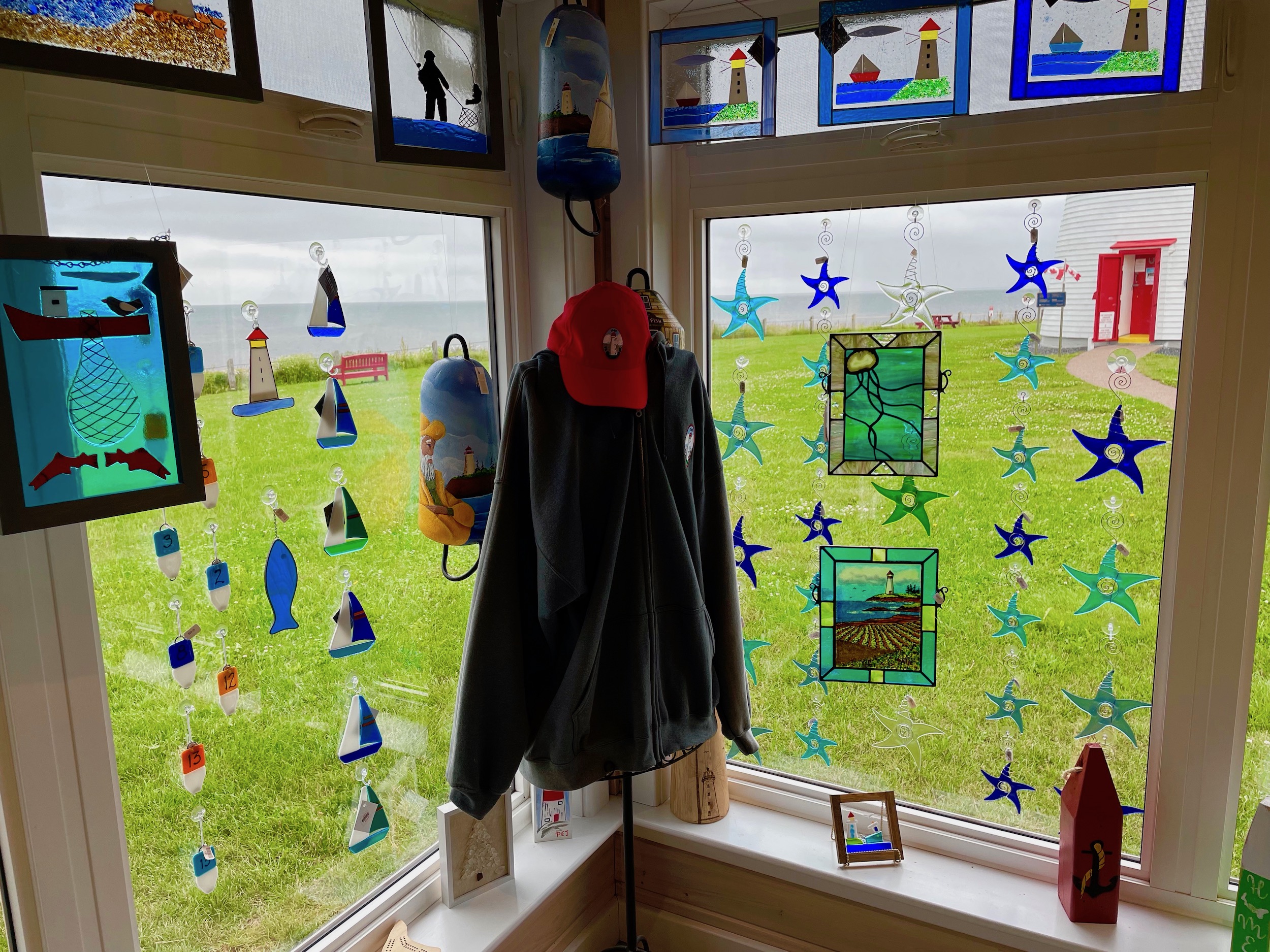 We bought our granddaughter one of the mermaid dolls you can see in this picture.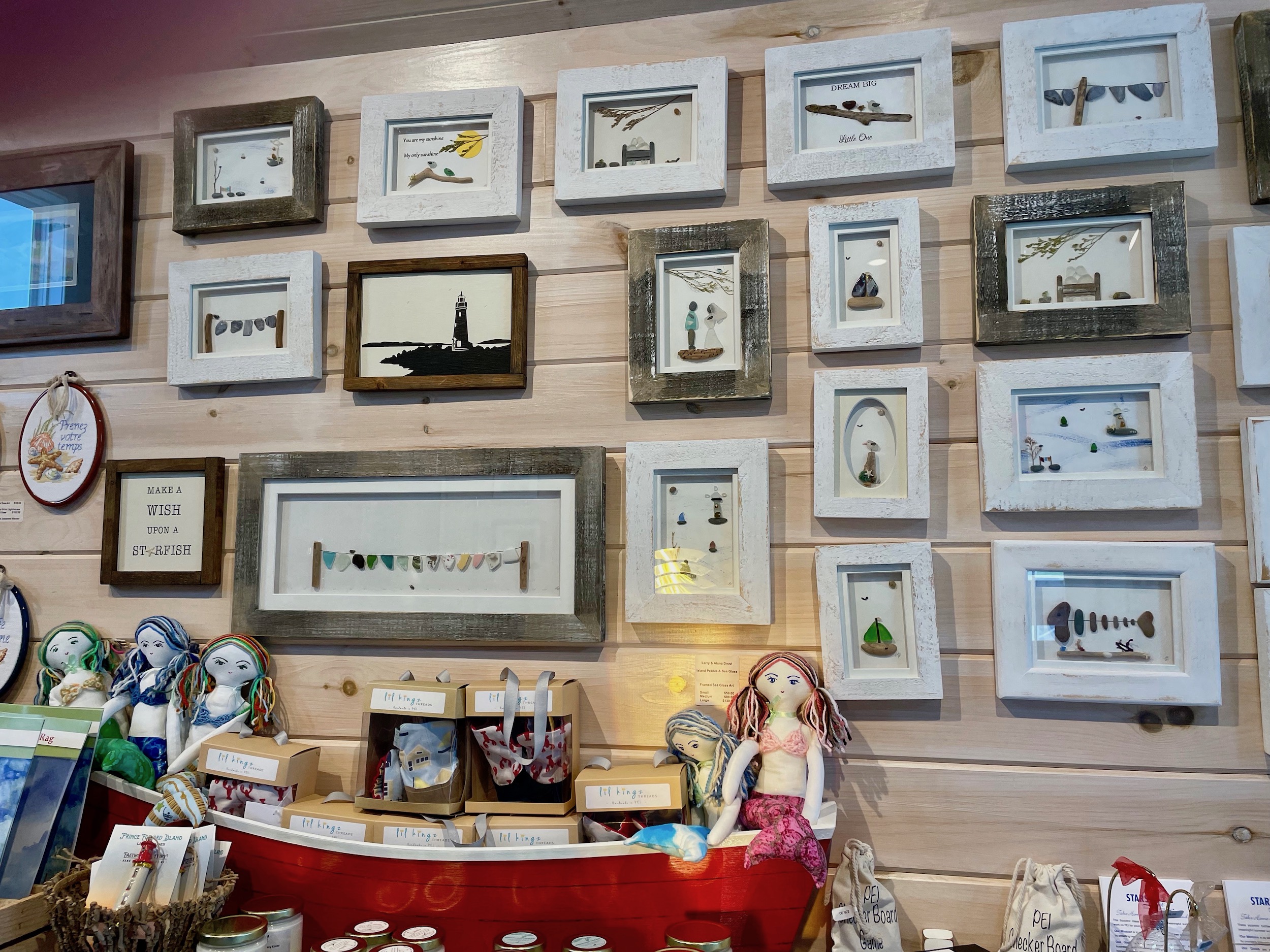 After buying your tickets ($3.50 for seniors) a guide will lead you to lighthouse door which is locked if no one is inside. Make sure to get your picture taken at the entrance.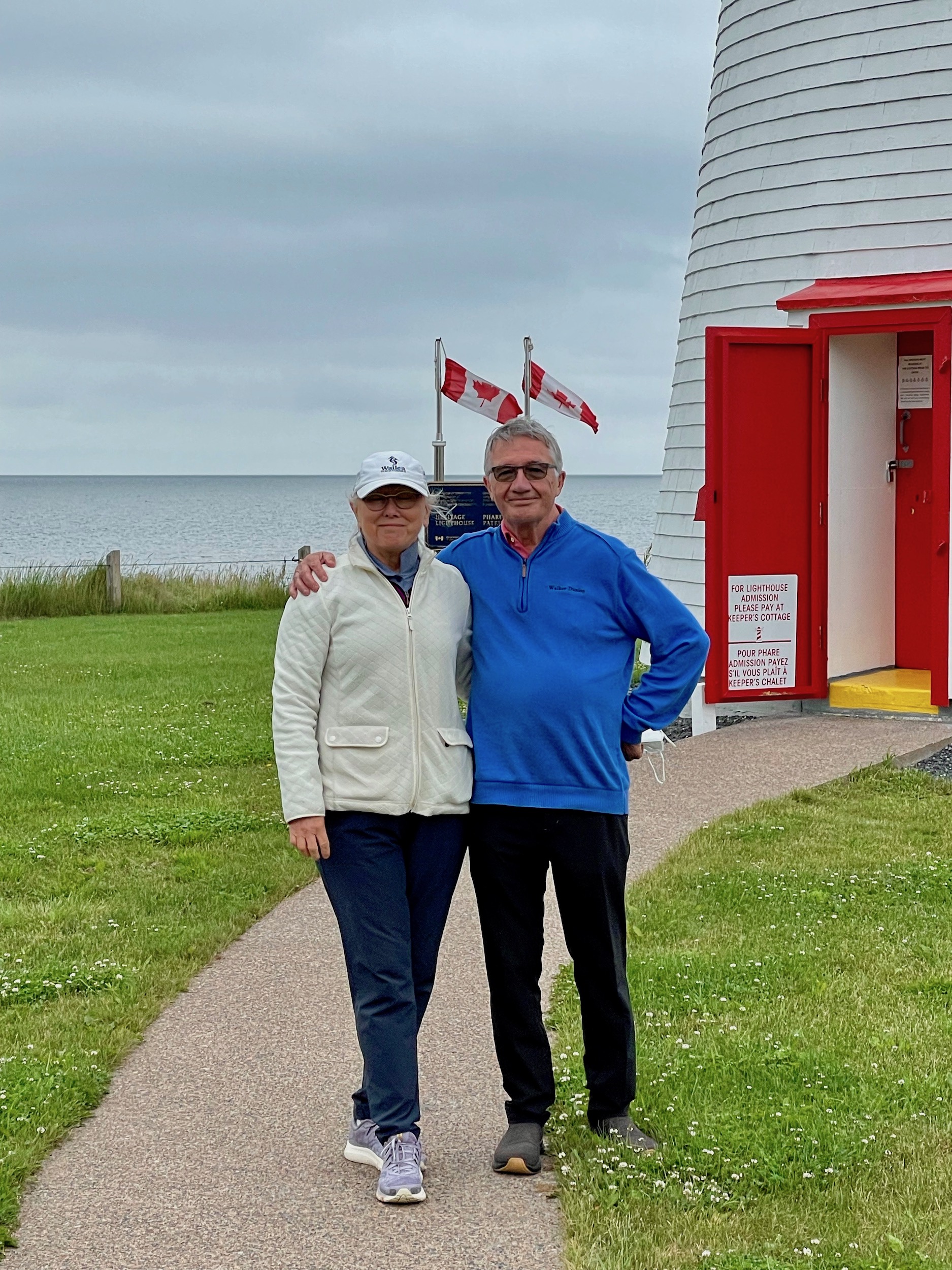 Inside the guide will give you a brief history of the lighthouse and its keepers. There is also the opportunity to blow a foghorn by pulling the lever on this little red box. Who knew such a small thing could set off a noise so loud! After that you are free to climb to the top on your own.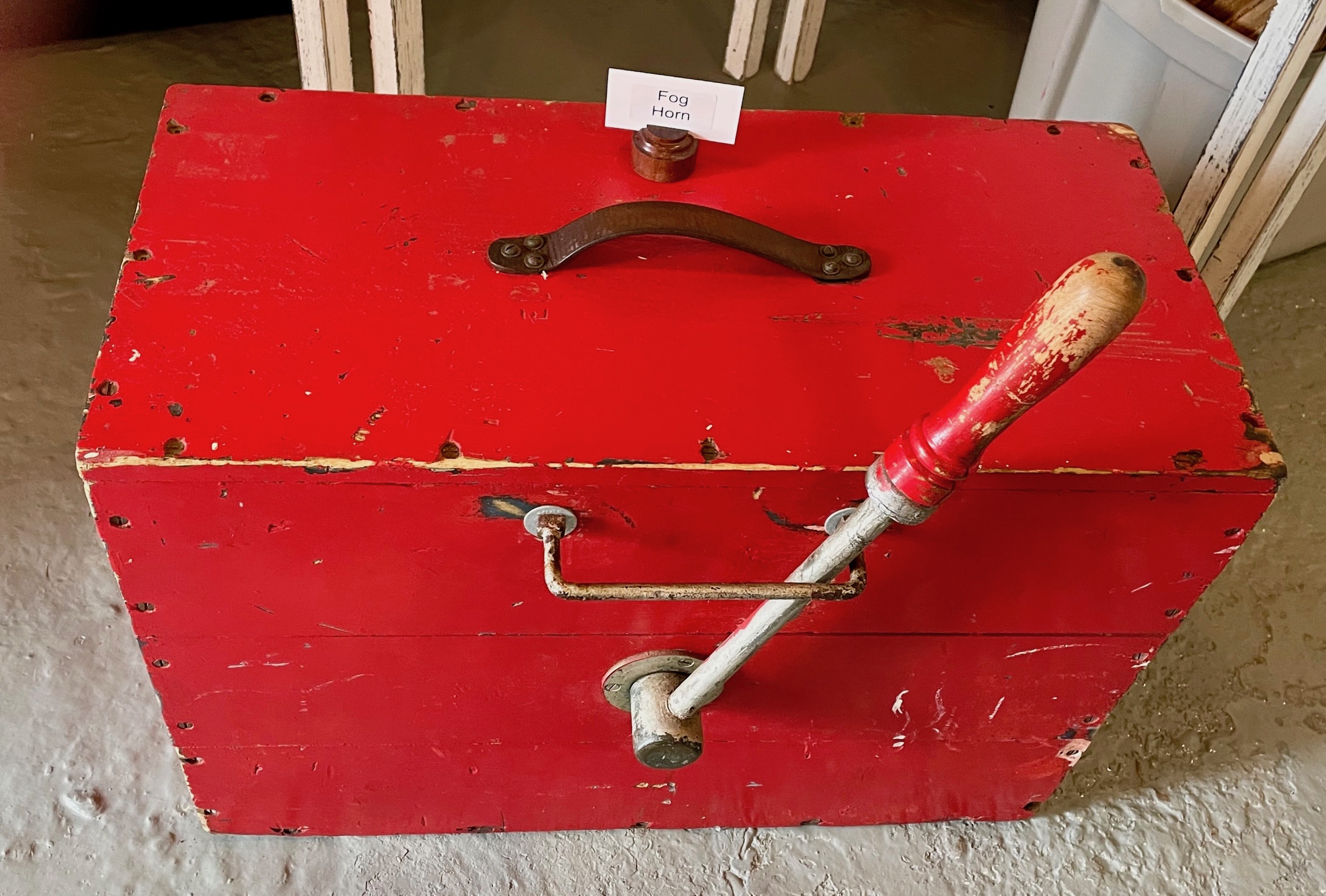 Like all lighthouses the steps are more akin to ladders and require holding on, but anyone in reasonably good shape can do this. On the third floor there is the bed of the first lighthouse keeper who had to live inside the lighthouse until the keeper's house was built.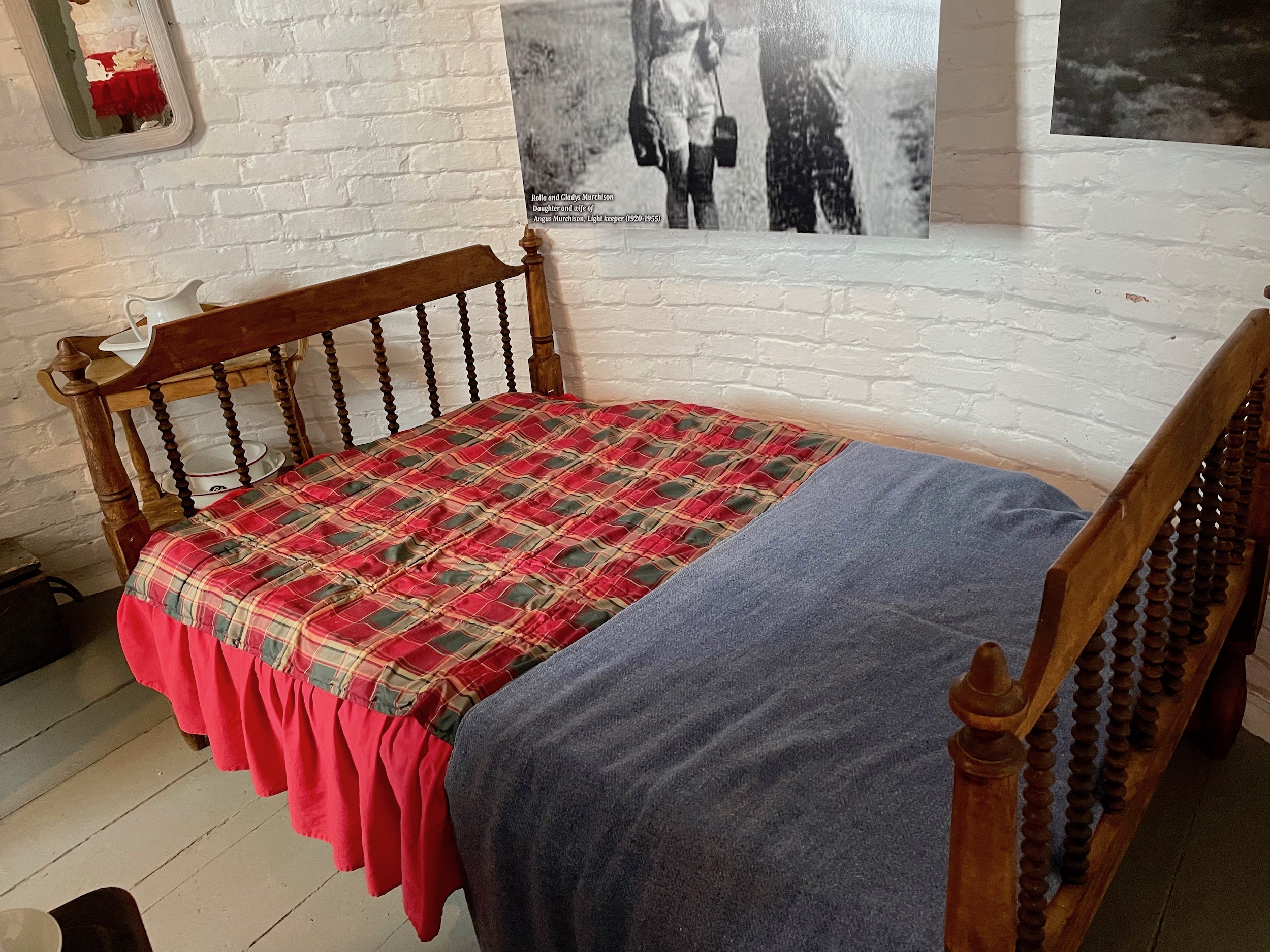 At last you arrive at the top with a surprisingly small light compared to others I have scene.
And of course there is the view which makes it all worthwhile, especially of the Point Prim Chowder House where we are headed next.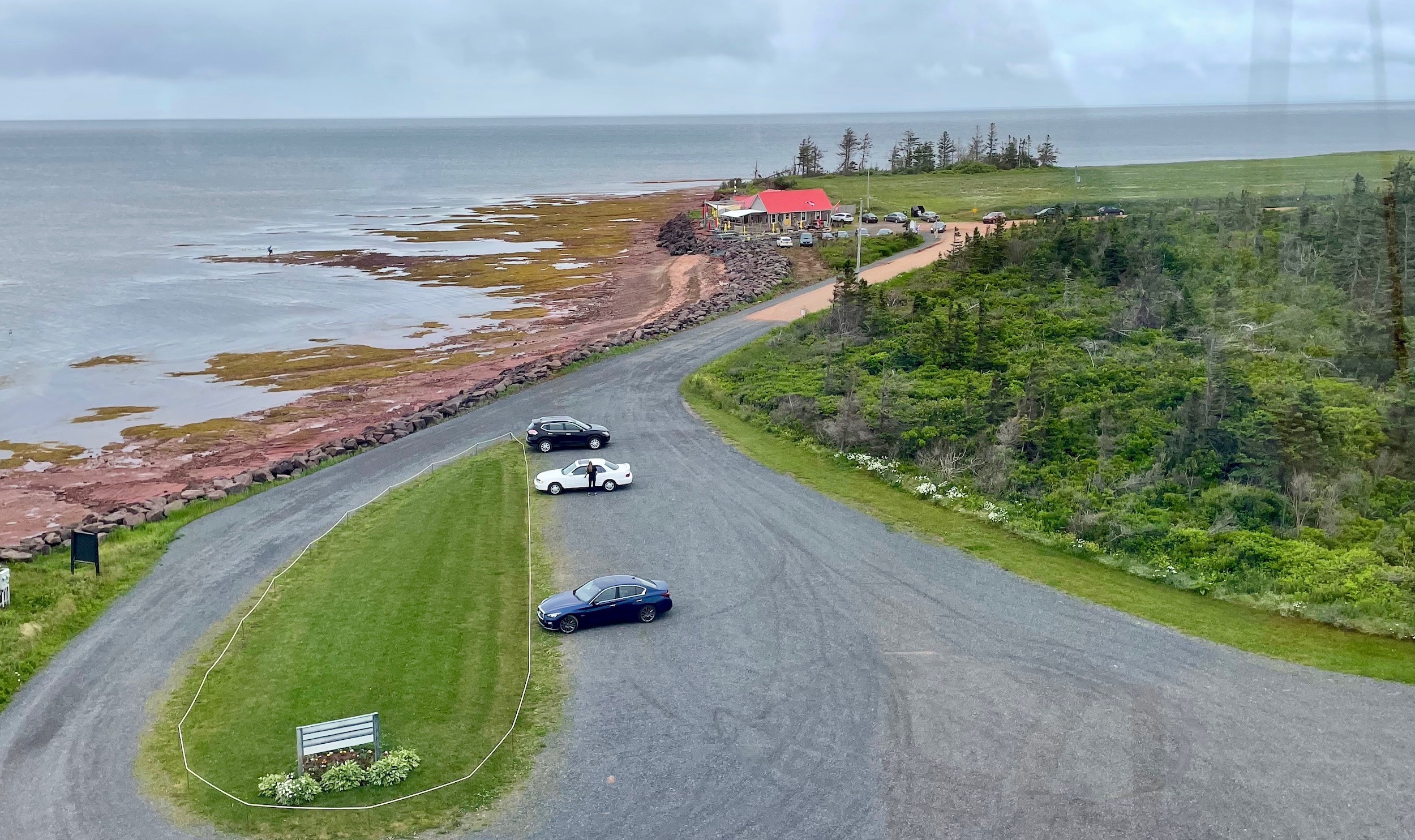 Point Prim Chowder House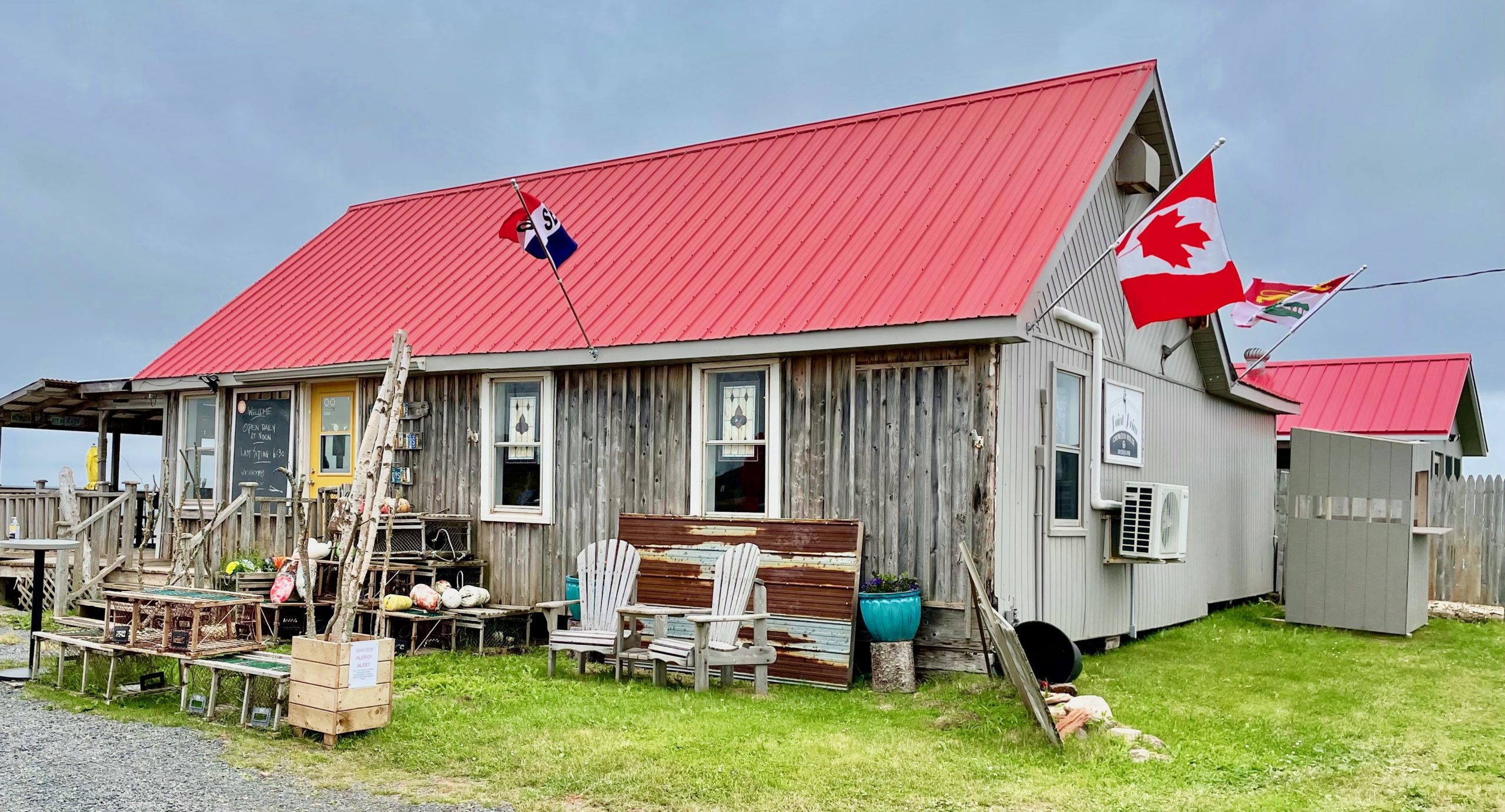 Here's a closer look at one of Prince Edward Island's most popular and interesting restaurants, Point Prim Chowder House. We had wisely made a reservation online for an inside table as the weather was just a bit windy and chilly for dining on the deck. That would have been nice as it has a great ocean view.
On the way in you see one of the restaurant's singular fancies – words spelled out with letters made from different license plates.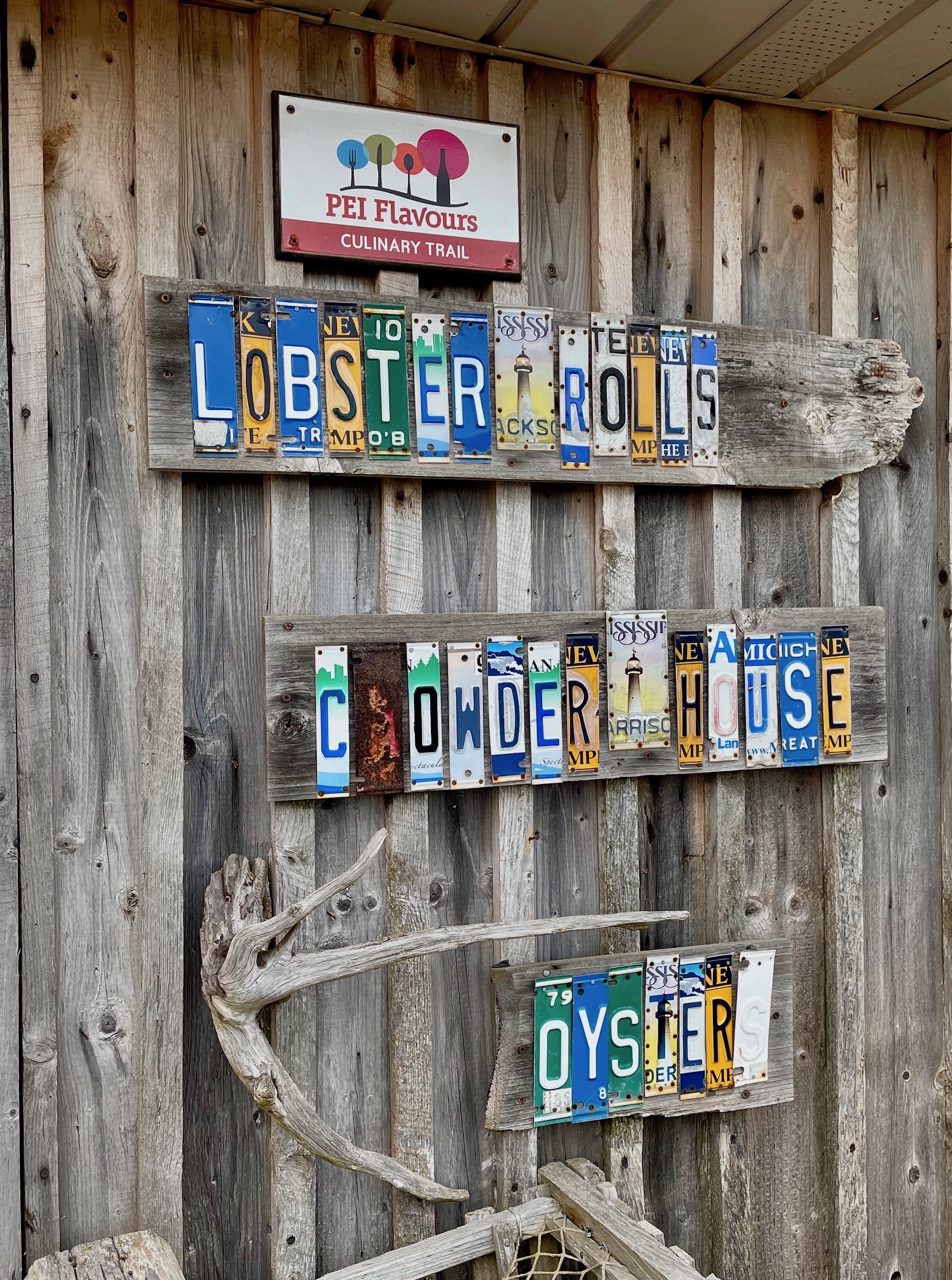 There are more of these inside.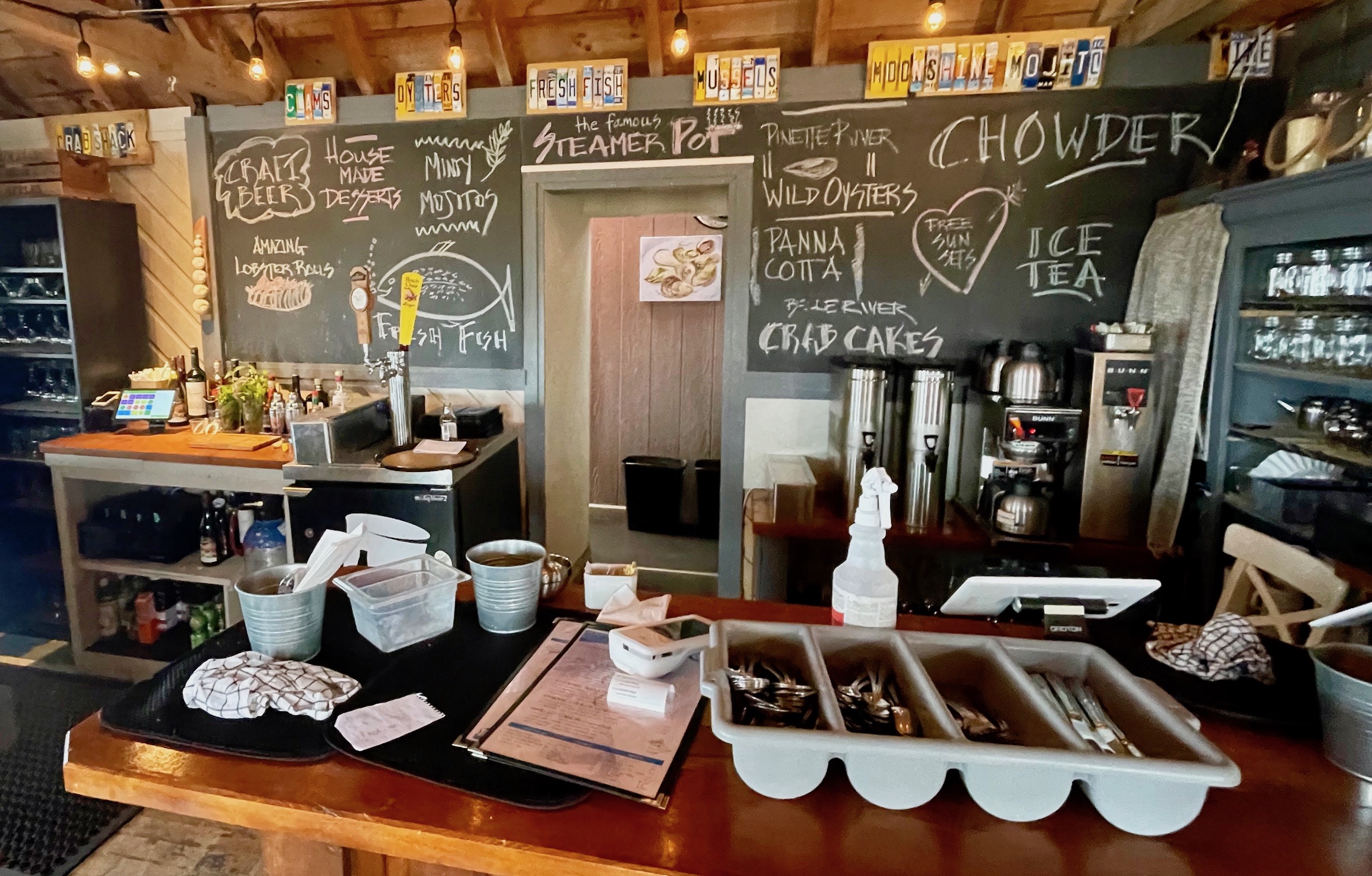 Almost everything on the menu falls into the 100 mile rule starting with the Centennial Stock Blonde ale from Copper Bottom brewery in nearby Montague.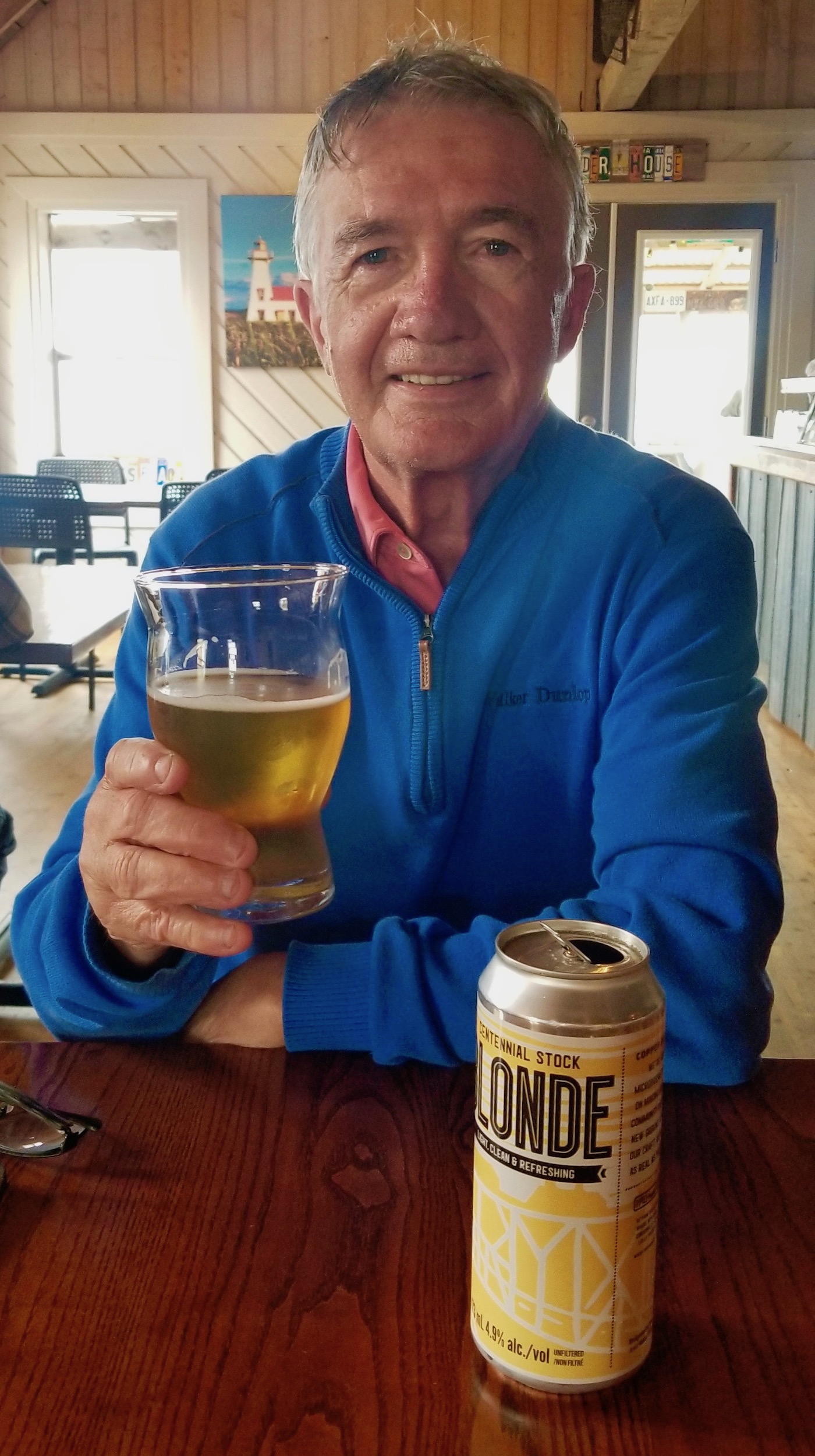 We then enjoyed a half dozen Pinette River oysters which you can only get at this restaurant. They are grown by John Gillis not more than a few kilometres away from the chowder house and they are amazingly good. At one time the only oysters for which PEI was known were those from Malpeque Bay on the north shore, but now there are dozens of different growers and they are producing oysters that are comparable to the best anywhere, including the Breton coast of France. The previous night we had a dozen Raspberry Point oysters at Dalvay House and I can honestly say they were the best I have ever had. The Pinette River oysters were a very close second.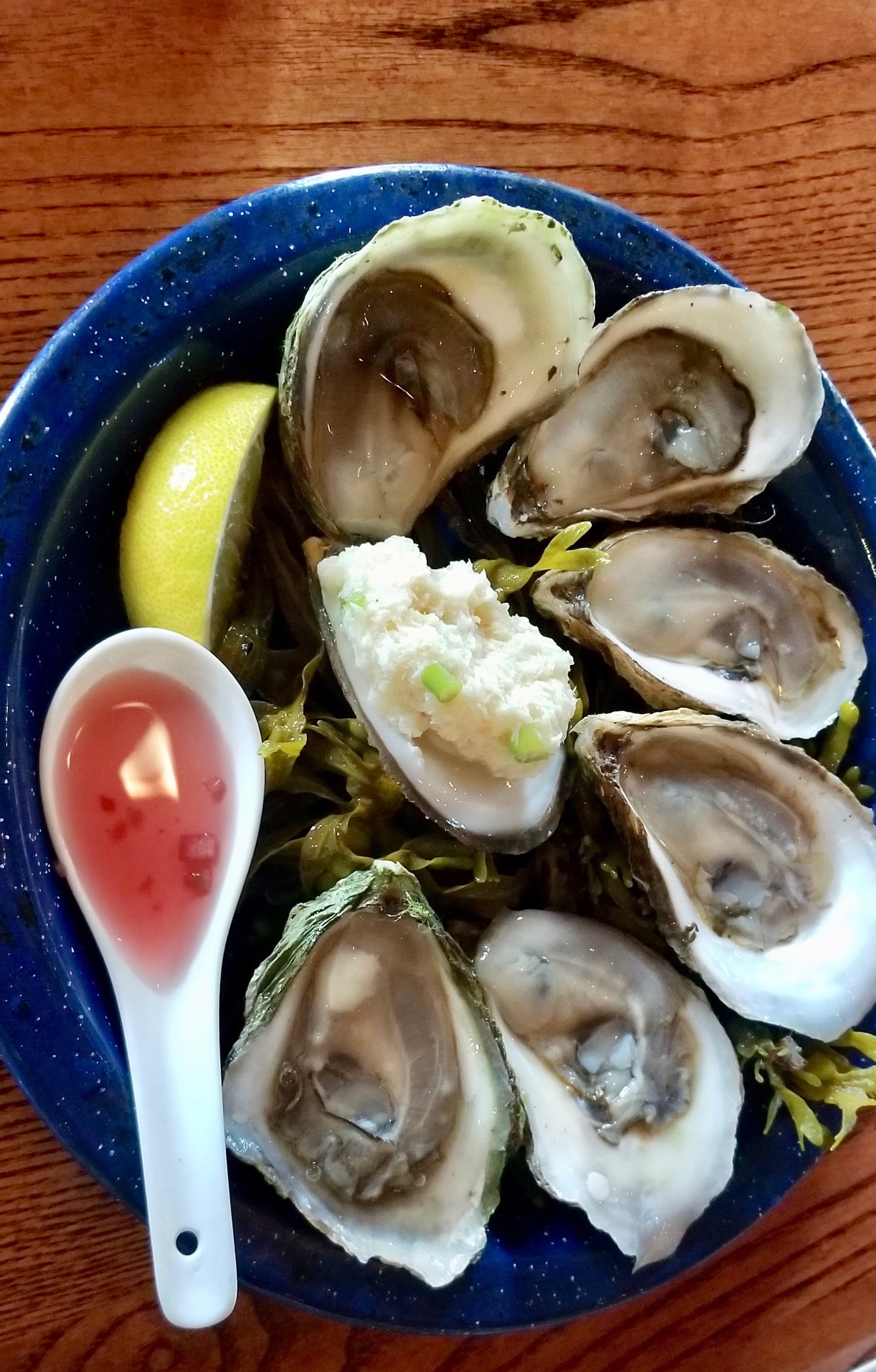 Alison opted for the seafood chowder which is probably the most ordered thing on the menu at Point Prim Chowder House and it is justly famous.
What I had came about as a result of a fortuitous mistake. I intended to order the clam and bacon chowder, but just as the person came to take our order Alison handed me the phone to arrange for a meet up with friends that night so she ordered for me. What I got was the chorizo and clams. The clams were baby quahogs, also raised at nearby Pinette River, steamed with olive oil, garlic and white wine. The chorizo added a nice peppery zing. Unbelievably delicious.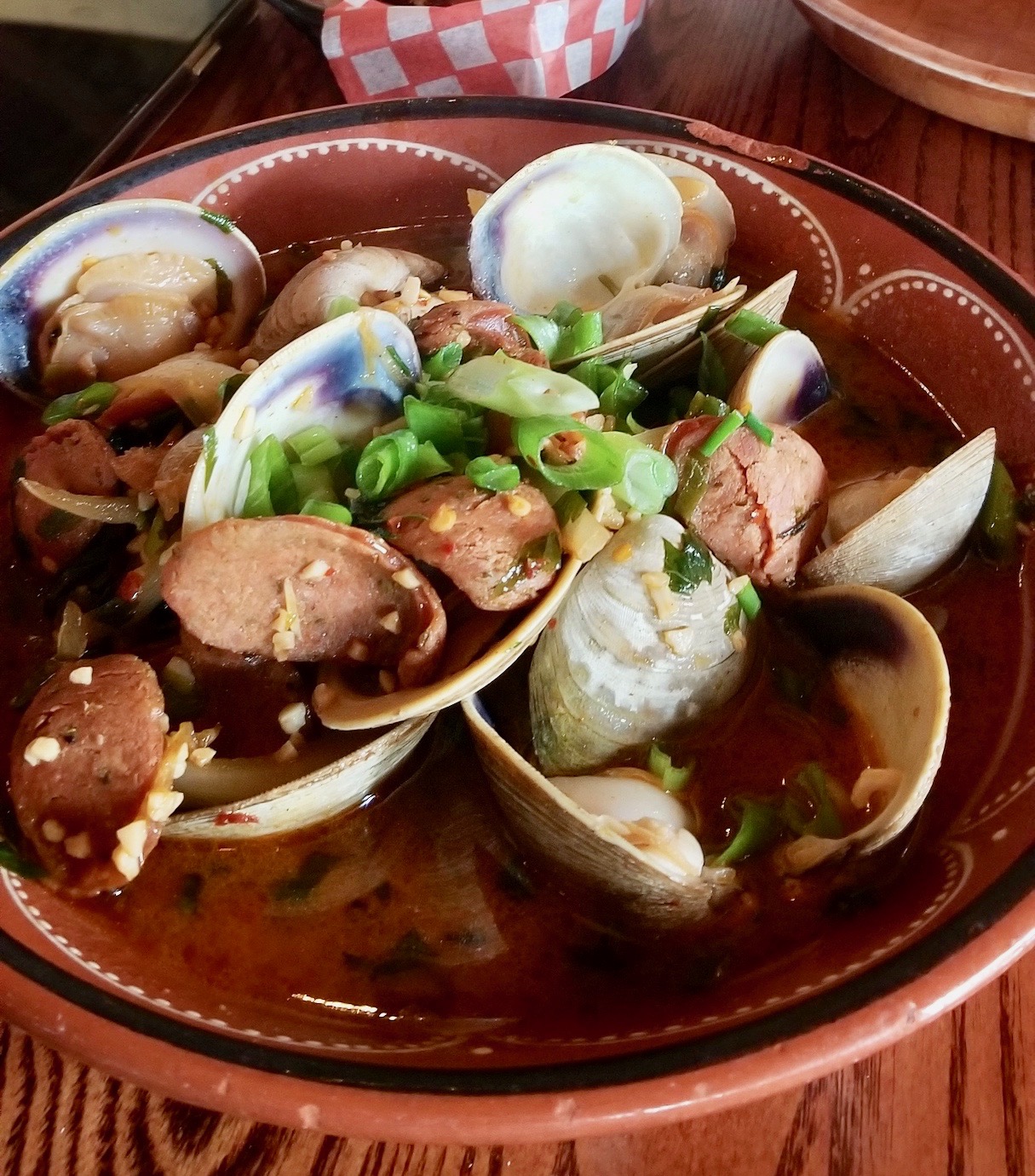 I can say without reservation that if you like shellfish then you absolutely need to visit Point Prim Chowder House.
Hannah's Bottle Village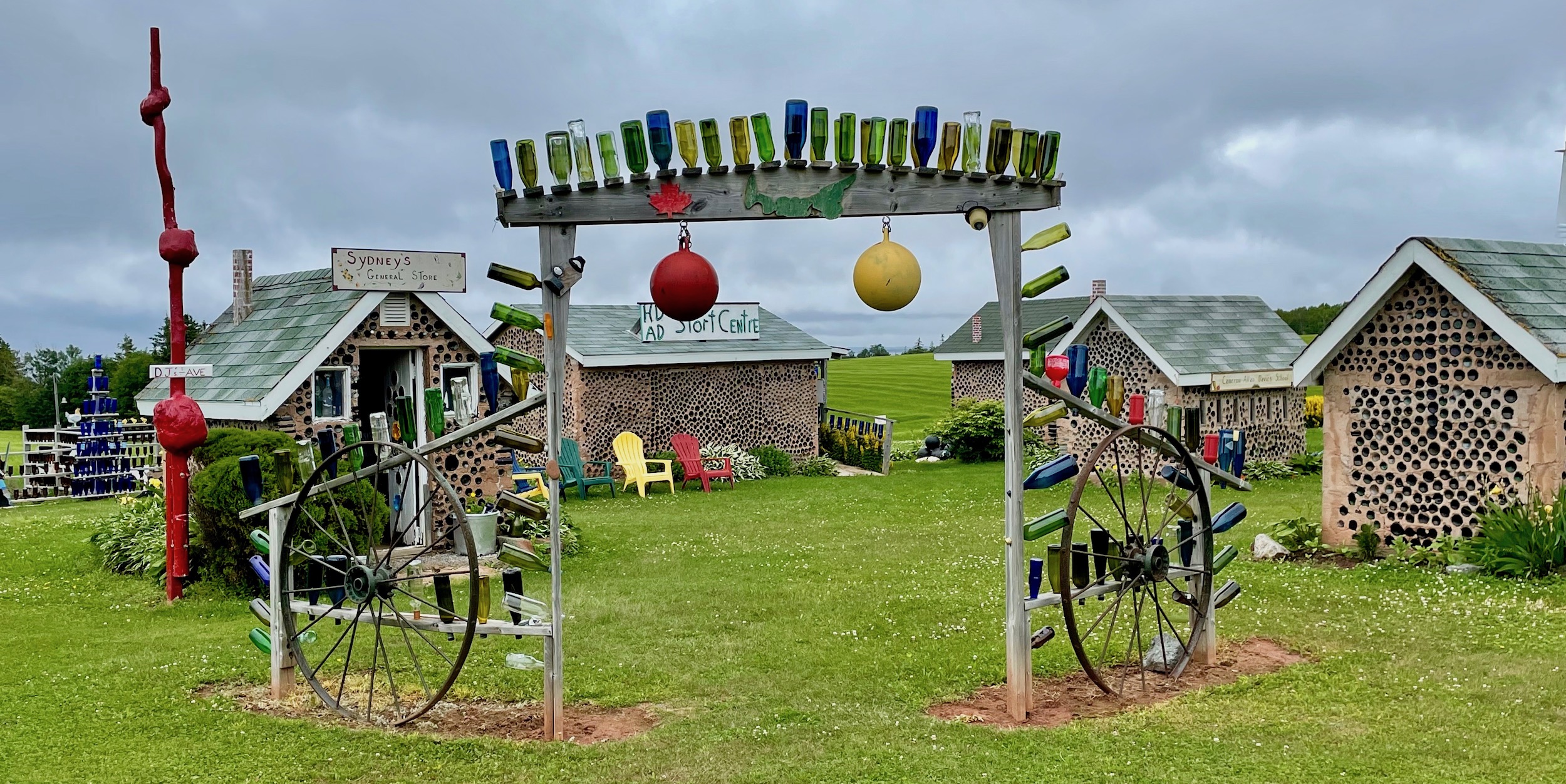 When I was a kid I couldn't wait to visit what at the time was one of PEI's major attractions – the Woodleigh Replicas at Kensington. These were a collection of miniature buildings that were built with a great eye for detail and fascinating to walk amid, especially the Tower of London. Sadly, this attraction closed in 2008. However, driving toward Point Prim lighthouse we saw a sign for Hannah's Bottle Village and decided to stop in on our way back. I'm glad we did because this is PEI's current equivalent of the Woodleigh Replicas.
The Bottle Village is the creation of Gar and Bonnie Gillis with the sole purpose of raising money for the IWK Foundation. The foundation raises money for the children's hospital in Halifax which is the only one in Atlantic Canada. It is a laudable cause of which we know personally as our grandson Charlie, arriving almost four months premature, spent his first six months of life in its neonatal unit. Today he is a healthy twelve year old who is a natural athlete and comedian. Without the IWK he would not have made it.
There is no admission fee, but there are donation boxes for the IWK which we were glad to patronize.
Simply put, this is a fascinating place to explore. There are bottle house replicas of a church.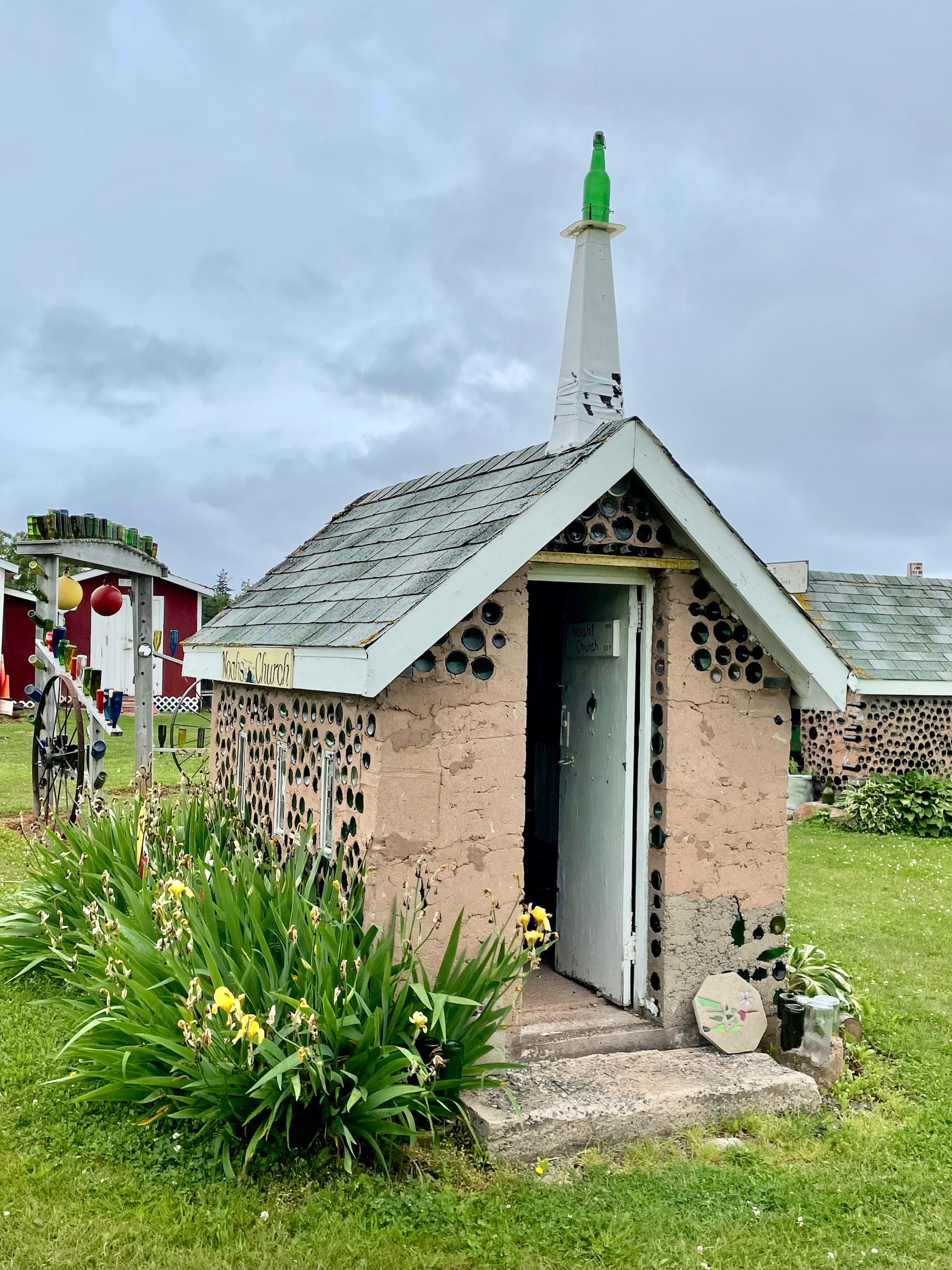 A school.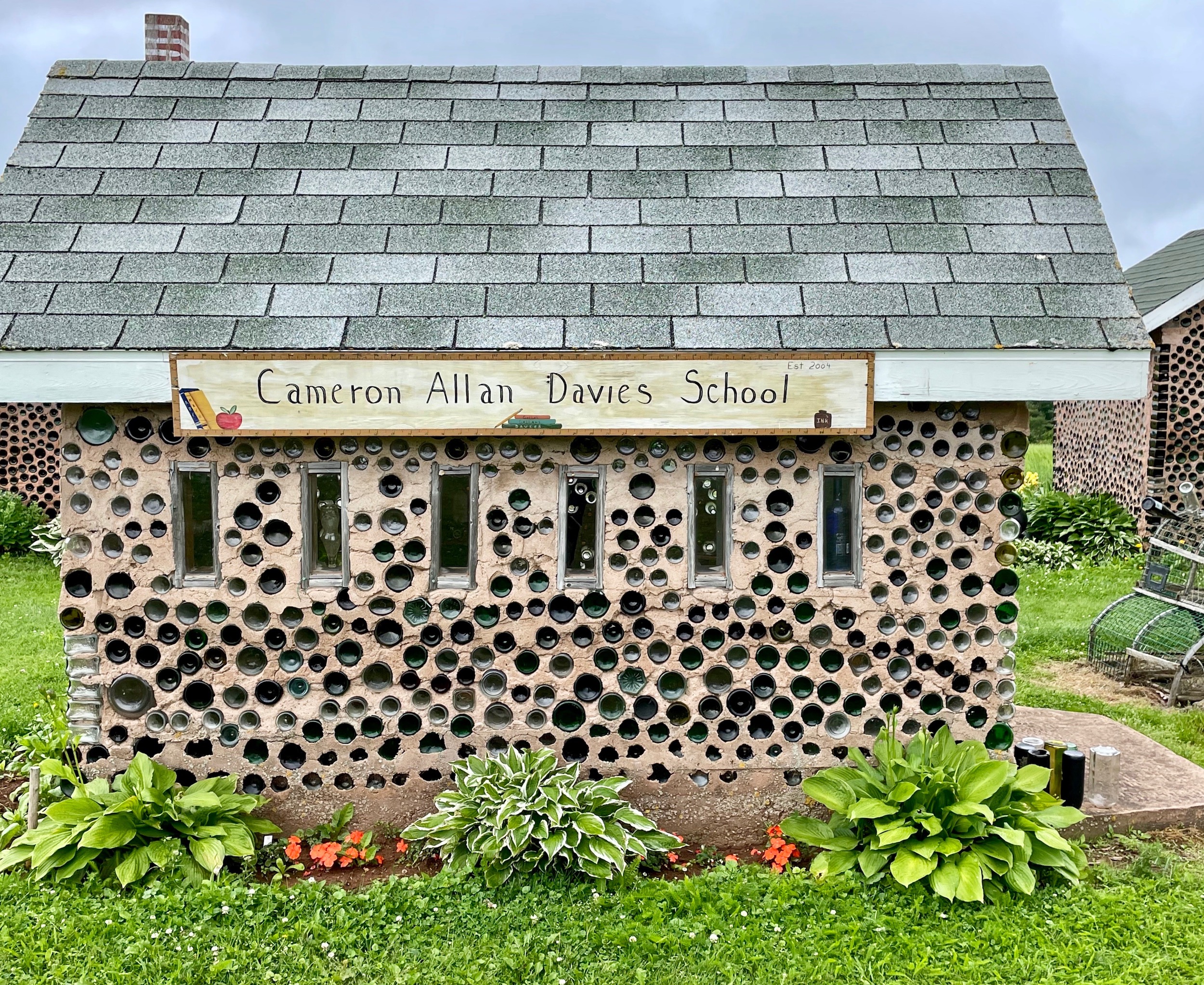 A sports centre.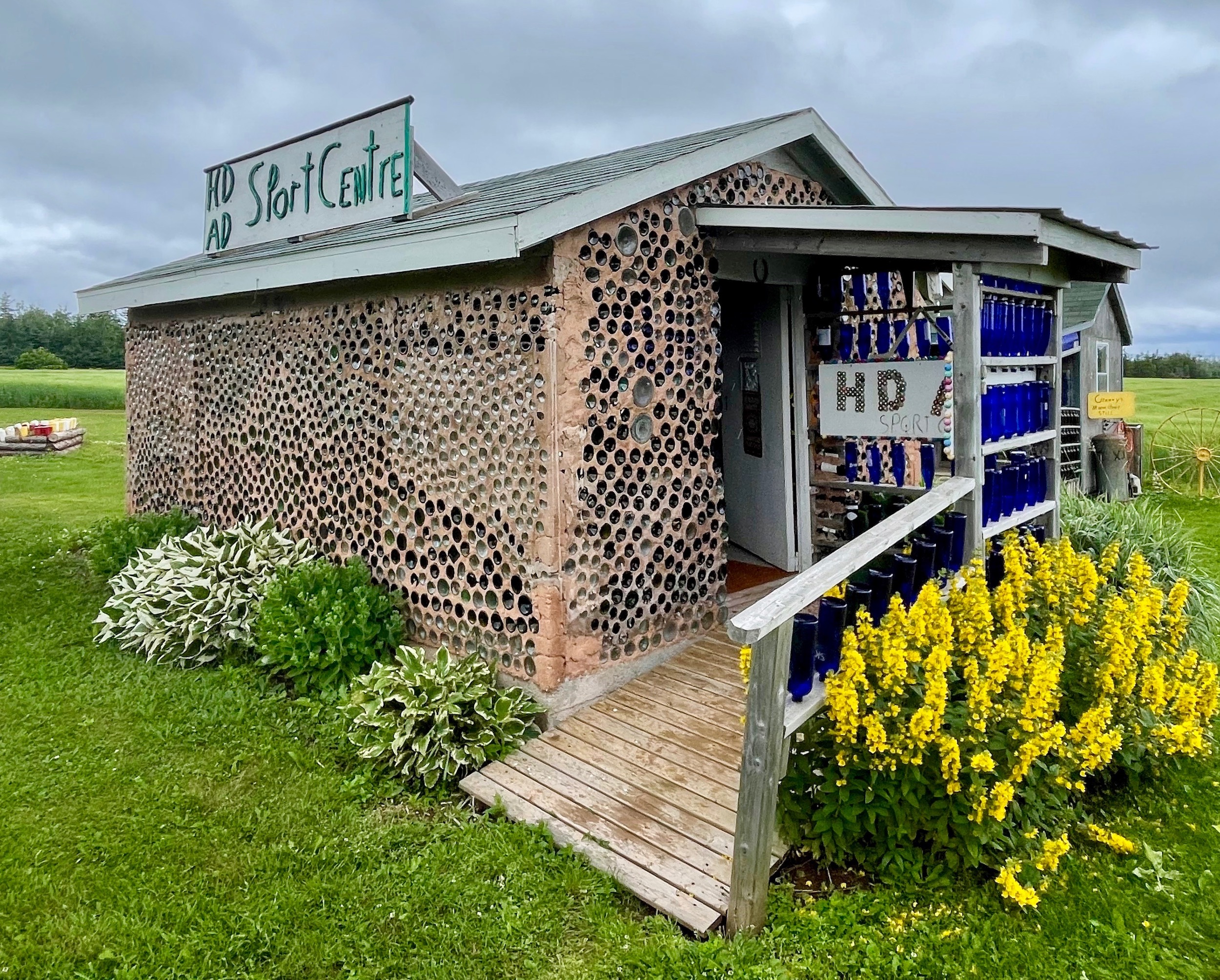 A general stor.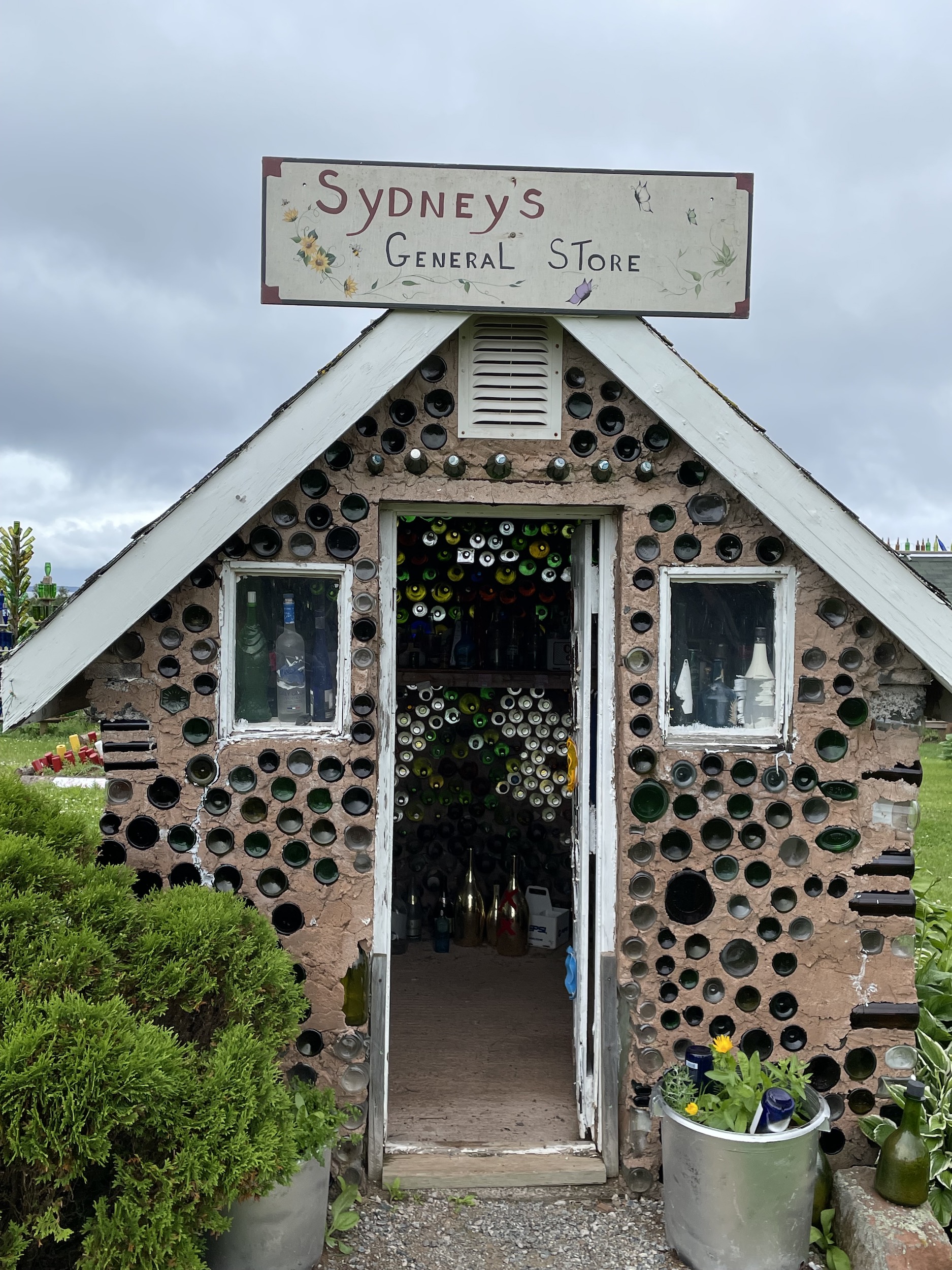 A tea room.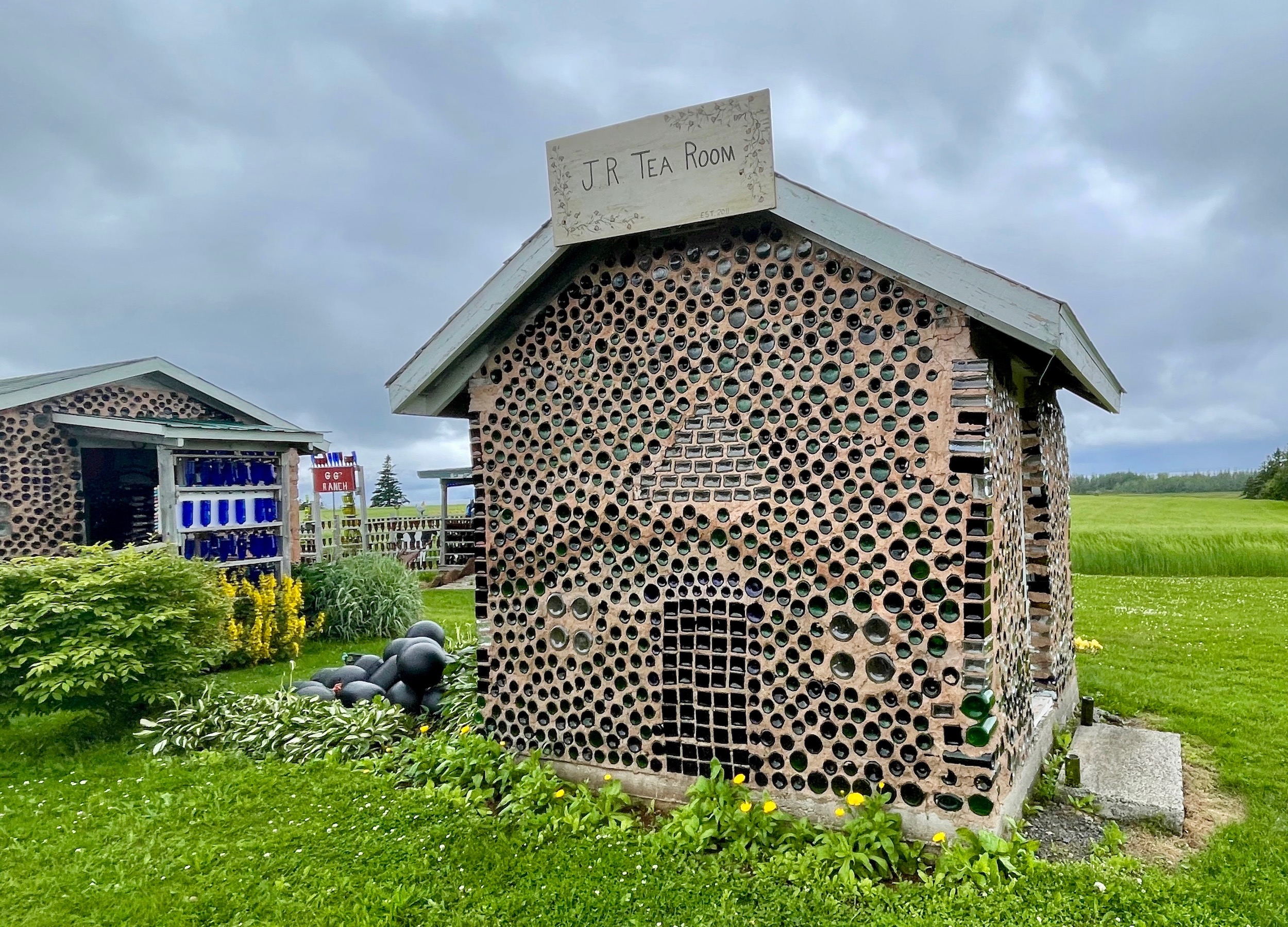 A sugar shack.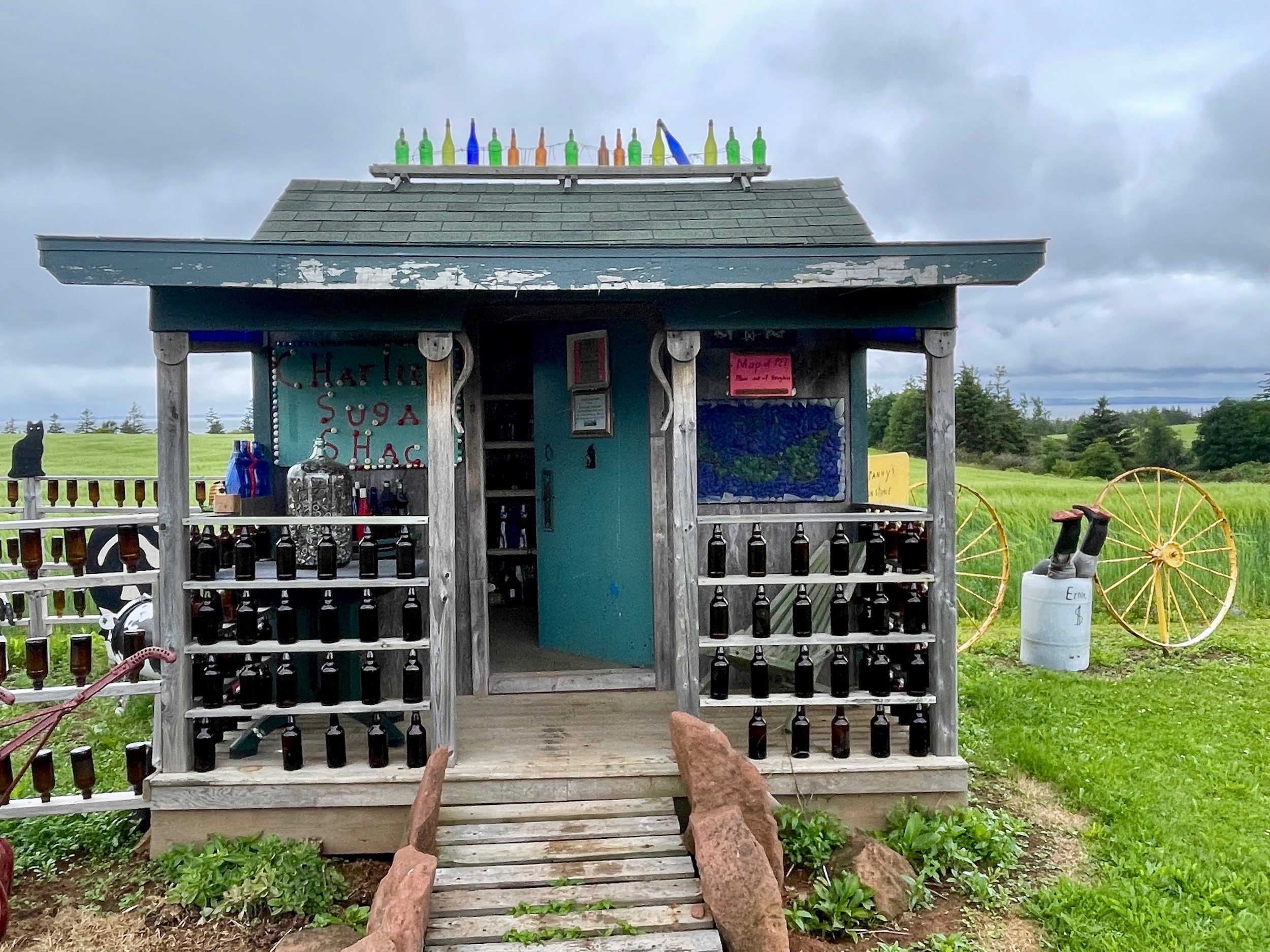 And more, including a tower and Christmas tree.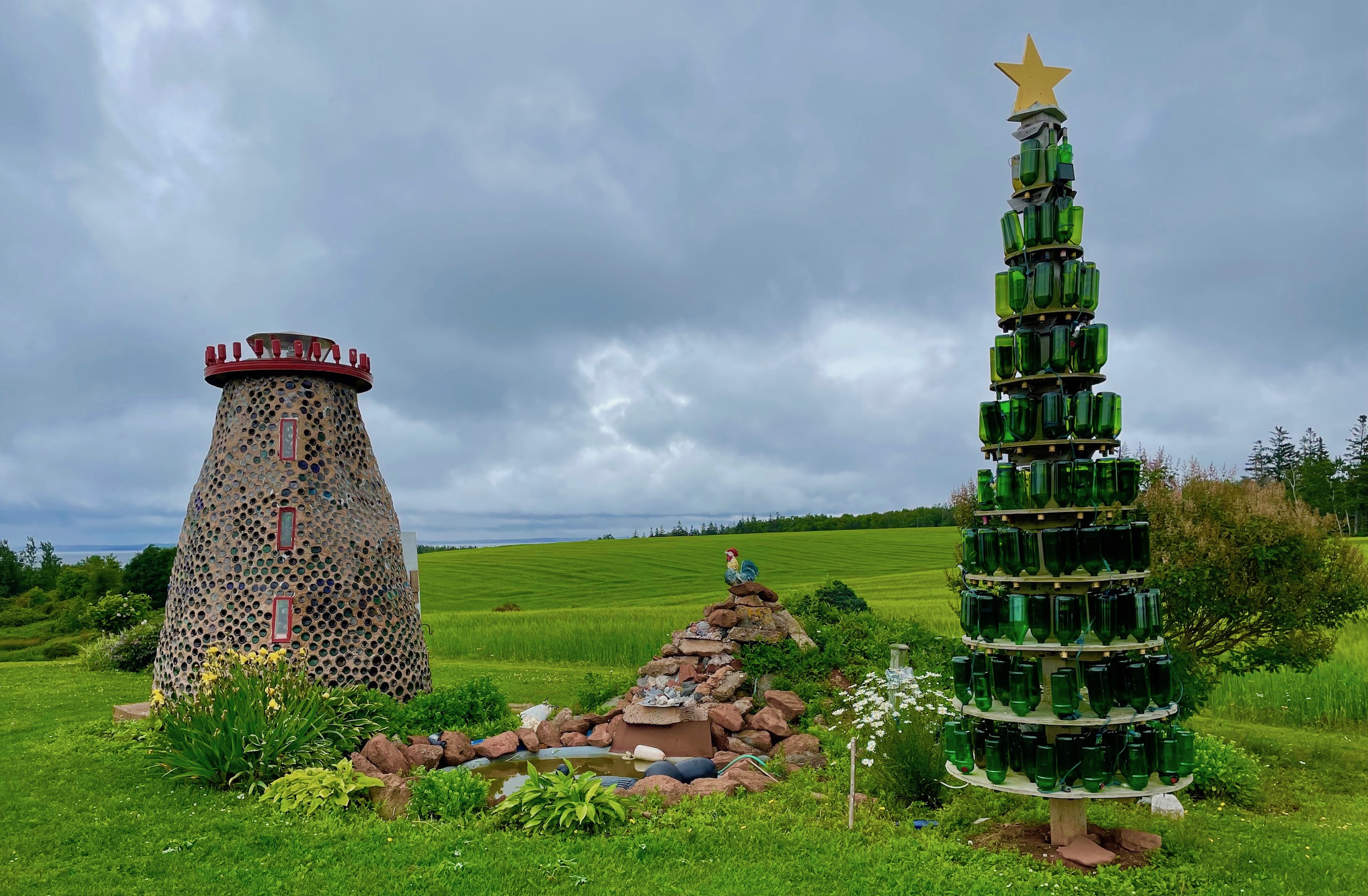 This is Alison at the entrance to Sherwood Forest.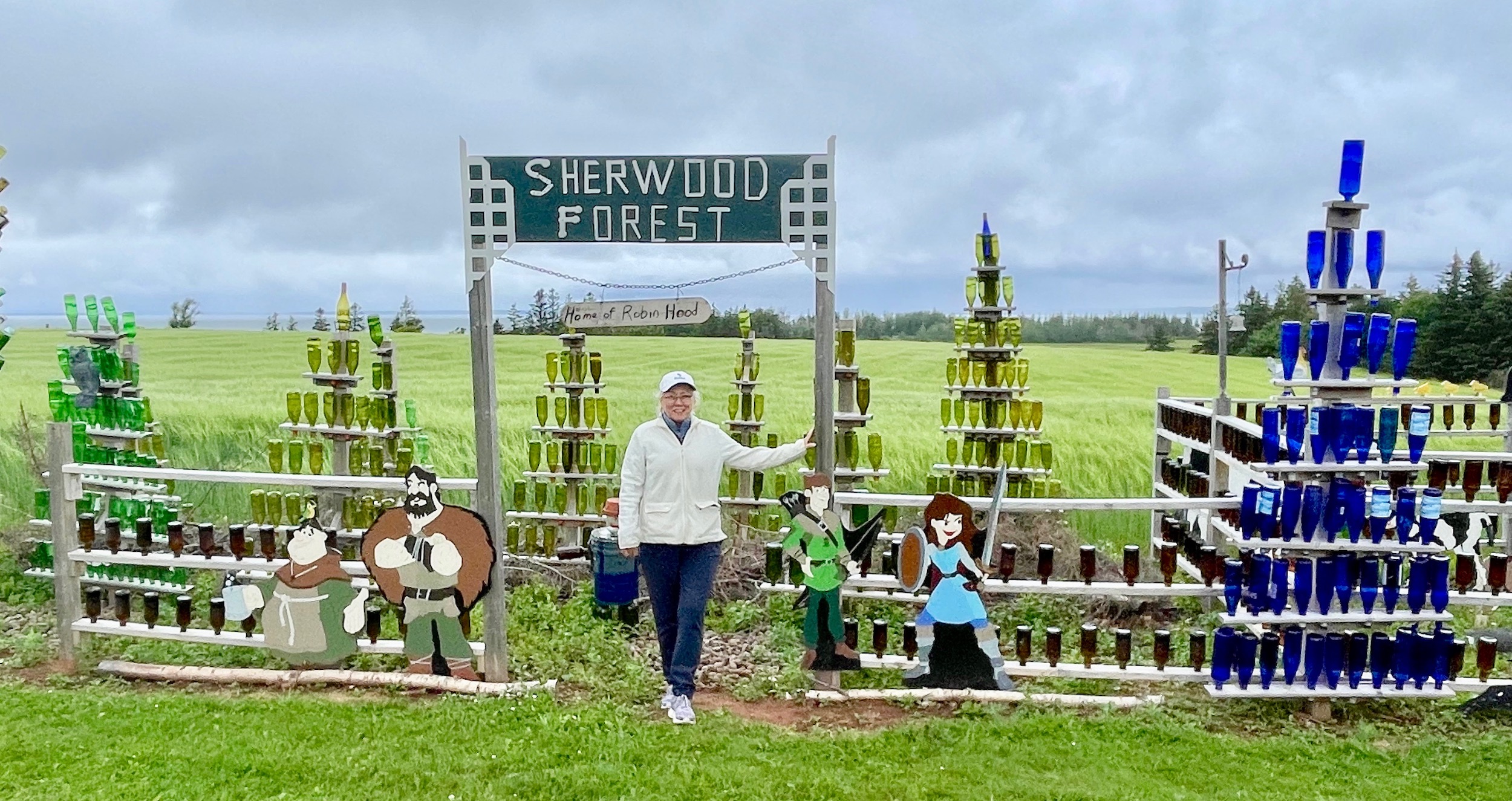 However, as fascinating as the exteriors are, the interiors are even more interesting. The various colours of the bottles produces different light patterns inside each structure.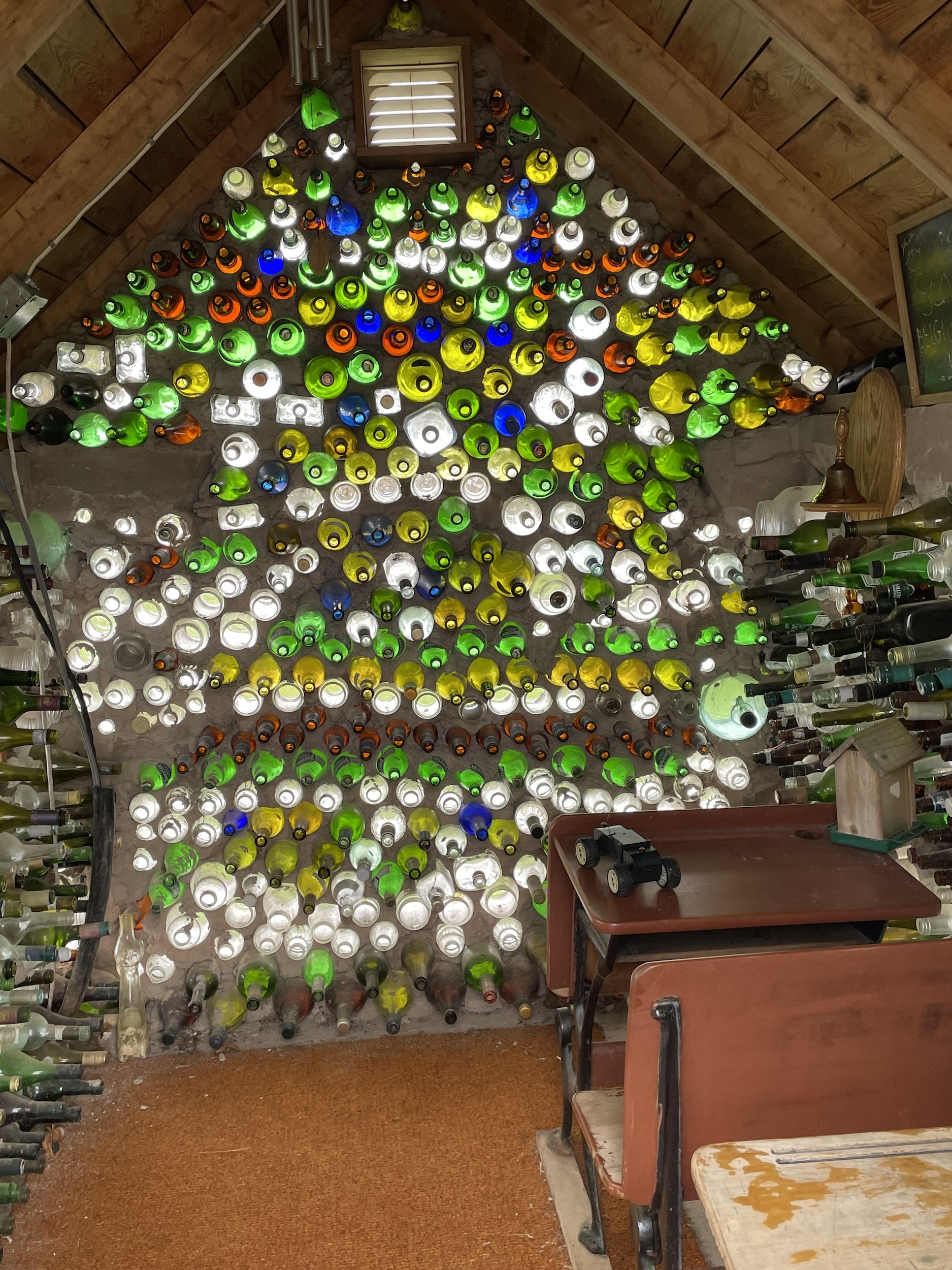 This is the sports centre interior. I averted my eyes from the Montreal Canadien's paraphernalia.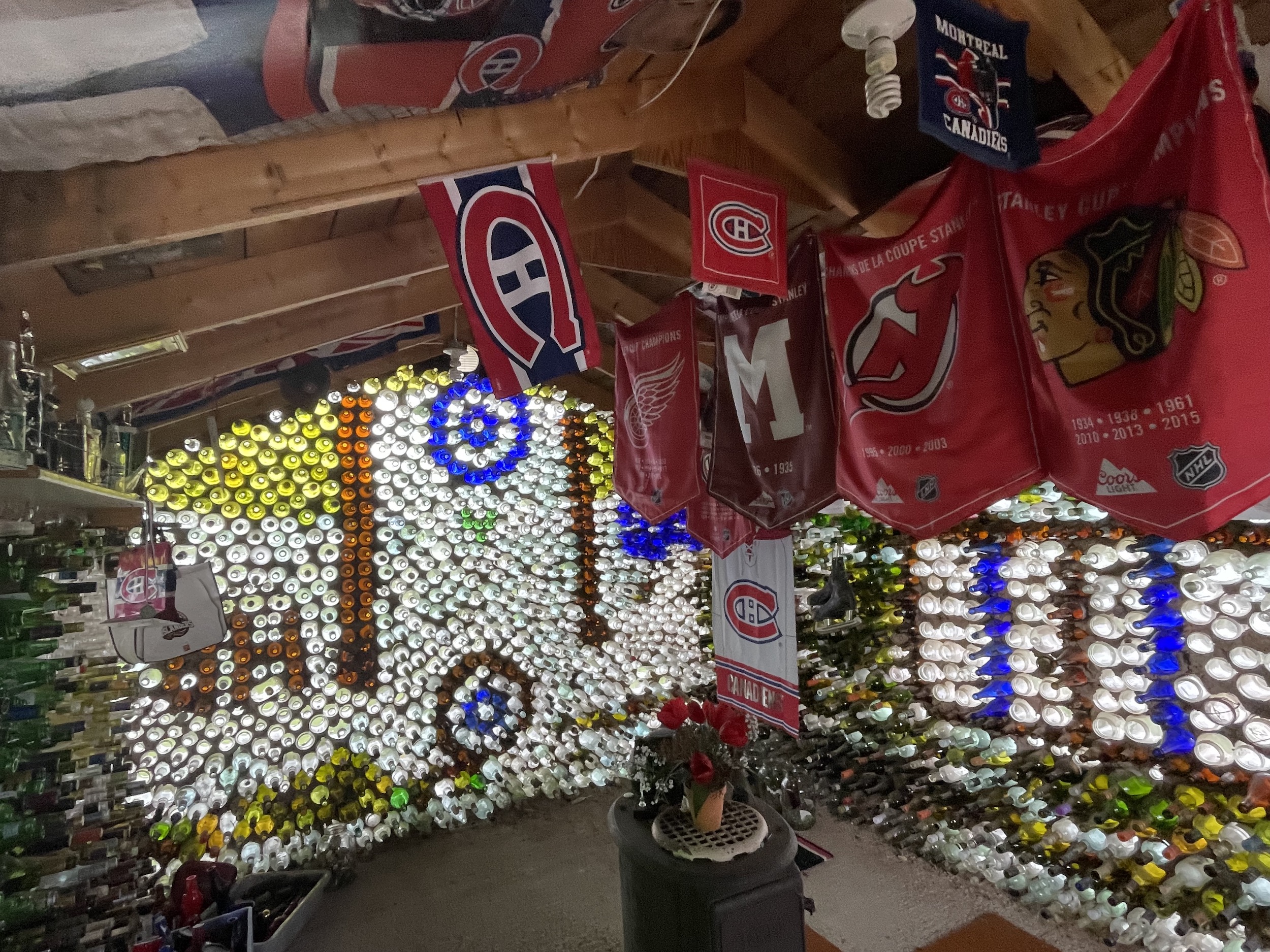 How about this poster of Sidney Crosby when he really did look like Sid the Kid.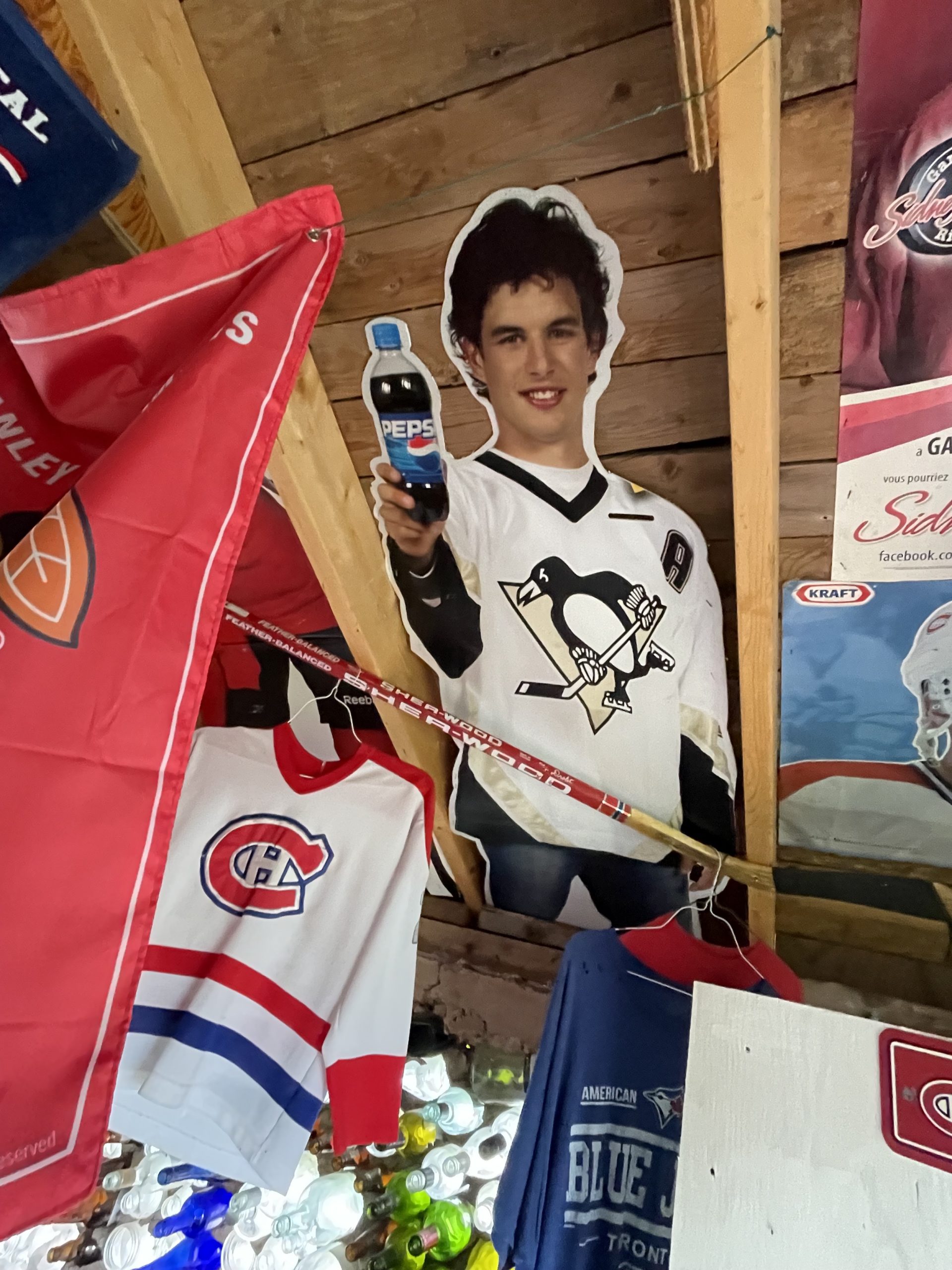 Where the Gillis's could lay their hands on so many bottles, especially the coloured ones, is beyond me, but when you visit Point Prim make sure to stop in at Hannah's Bottle Village and donate generously.
So that's five good reasons to visit the Point Prim peninsula any one of which would merit a visit on its own.