Saint John Co-Cathedral, Valletta
In the last post on our Adventures Abroad journey to Malta our group began a walking tour of Valletta by entering through the main city gate and exploring parts of the city concluding at the Armoury in the Grandmaster's Palace. However, there is much more to see in this smallest in area of all European capitals. Please join us as we continue our exploration of Valletta starting with the country's most important church, Saint John Co-Cathedral.
Saint John Co-Cathedral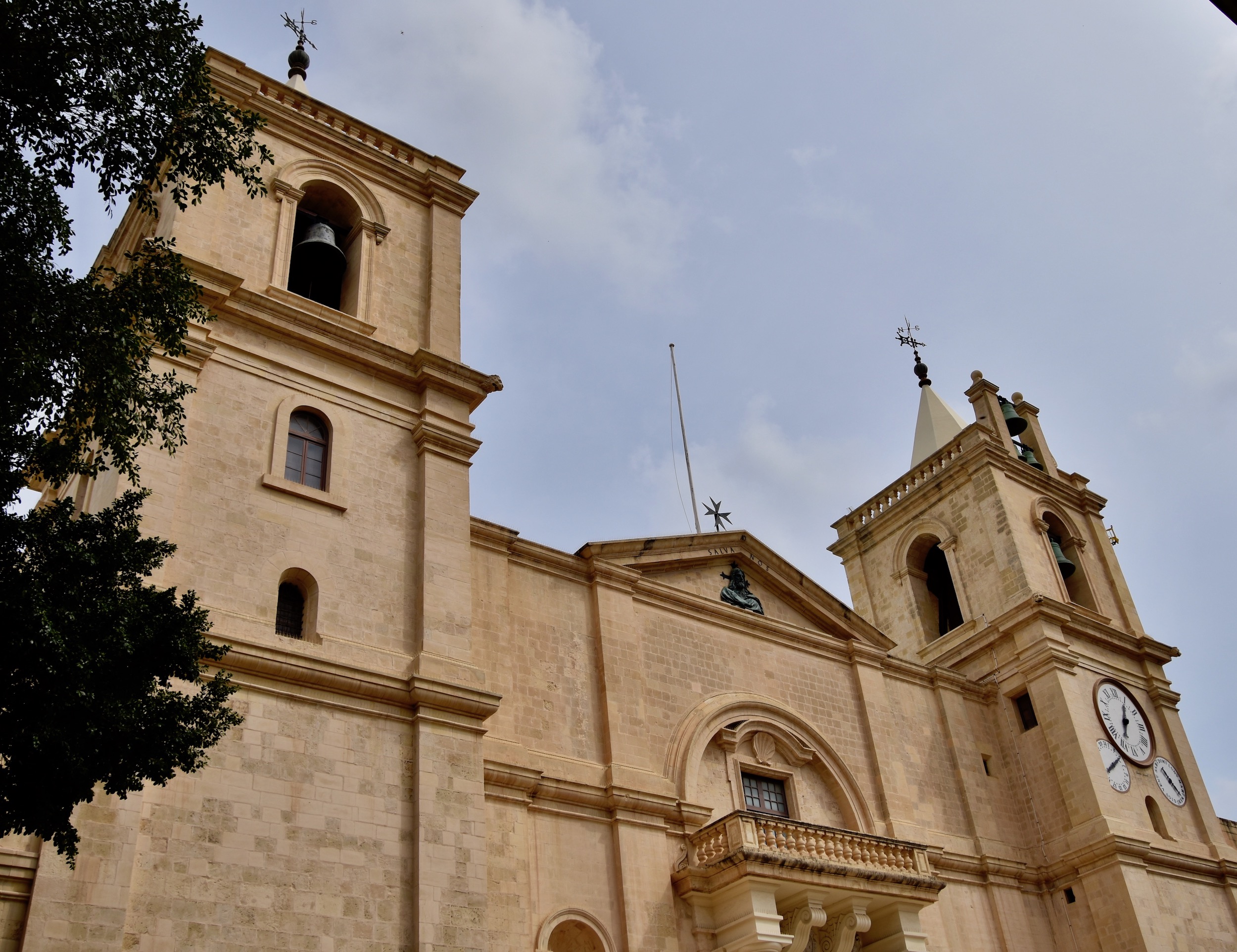 First off, why is this called a co-cathedral and what the heck is that? When the Knights of St. John were given Malta by Holy Roman Emperor Charles V, there was already a Catholic cathedral in Malta at the citadel of Mdina where the existing Maltese aristocracy were based. The Knights and the traditional Maltese rulers were not on friendly terms, the latter rightly pissed that their little fiefdom had been handed over to a bunch of foreigners without any consultation on their part. So the Knights built their own church in Valletta, but it was not a cathedral. When the British took over they wanted to convert it to a Protestant church, which did not go over well with the Maltese population. To prevent this, they petitioned the Pope to make it of equal status with the church in Mdina, which he did by naming it a co-cathedral and that is the explanation.
Now while the Church of Our Lady of Mount Carmel has the more impressive exterior with its large dome, Saint John Co-Cathedral definitely has it all over St. Paul's and most other churches with an incredible baroque interior that Sir Walter Scott called the most striking he had ever seen. The thing about baroque churches, and I've seen a lot of them in both Europe and Latin America, is that they assault you so visually that it can almost be repelling. There is a fine line between high art and kitsch that is often crossed by these churches, but Saint John Co-Cathedral is not one of them. This nave is simply a wonder of symmetry right down to the matching pipe organs.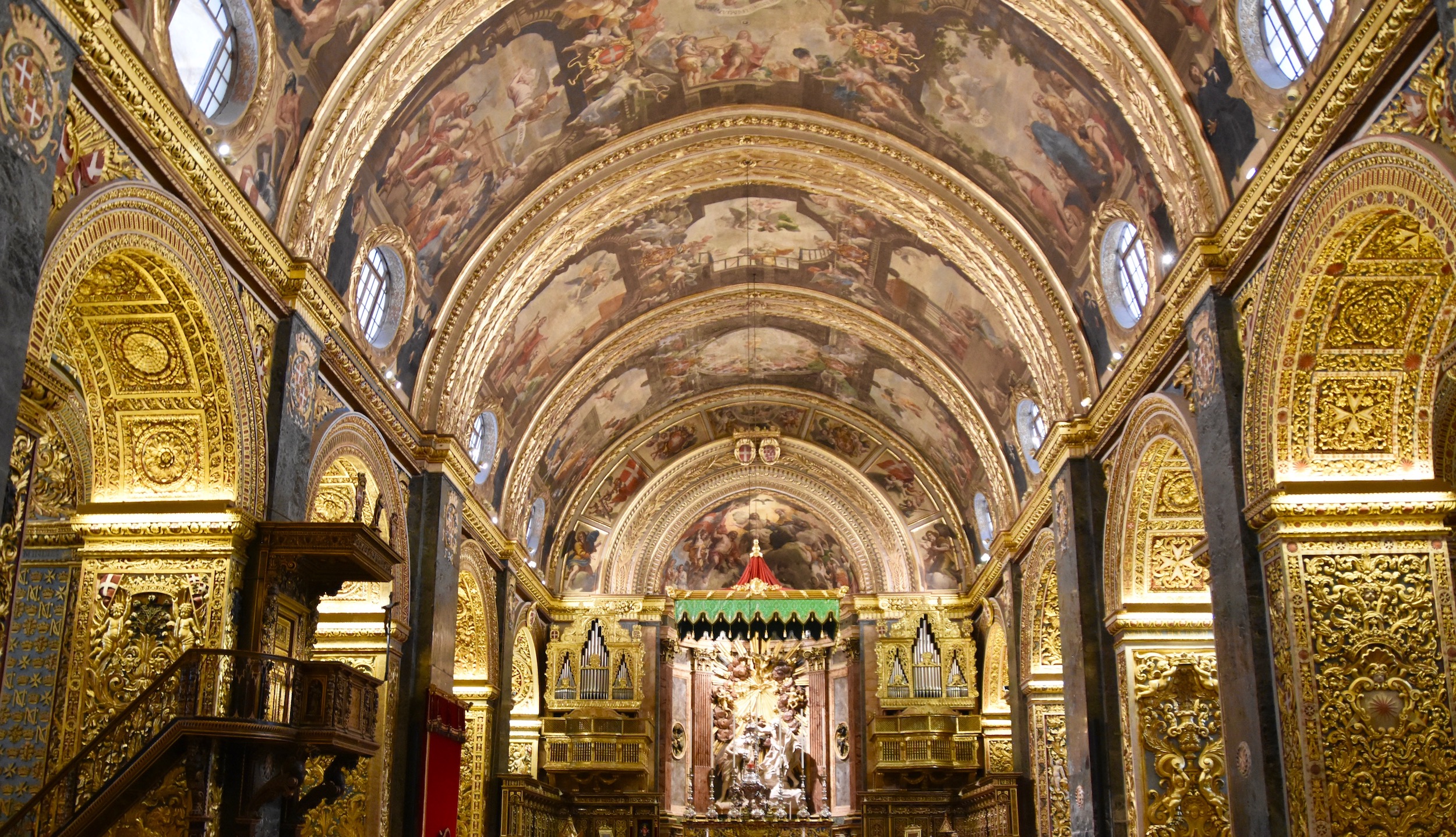 You can strain your neck looking up at the ceiling to view Mattia Preti's eighteen frescoes depicting the life of St. John the Baptist, which includes The Allegory of the Triumph of the Knights of St. John over the main entrance. What this has to do with John the Baptist I don't know, but it is a great allegory painting with Victory standing atop some very convincing tromp l'oeil Turks with scenes from The Great Siege in the background. On the left hand side Grandmaster Nicolas Cotoner tends to the sick in the Hospitalers mode of the order and on the right side his older brother Grandmaster Raphael Cotoner points out their role as great sailors and defenders of the Mediterranean. Don't ask me why, but this painting really stood out to me among many very good ones by Preti. Incidentally you don't need to go to Malta to see works by this artist as examples of his work are included in most of the world's great collections including the murderous Feast of Absalom which is in the National Gallery of Canada.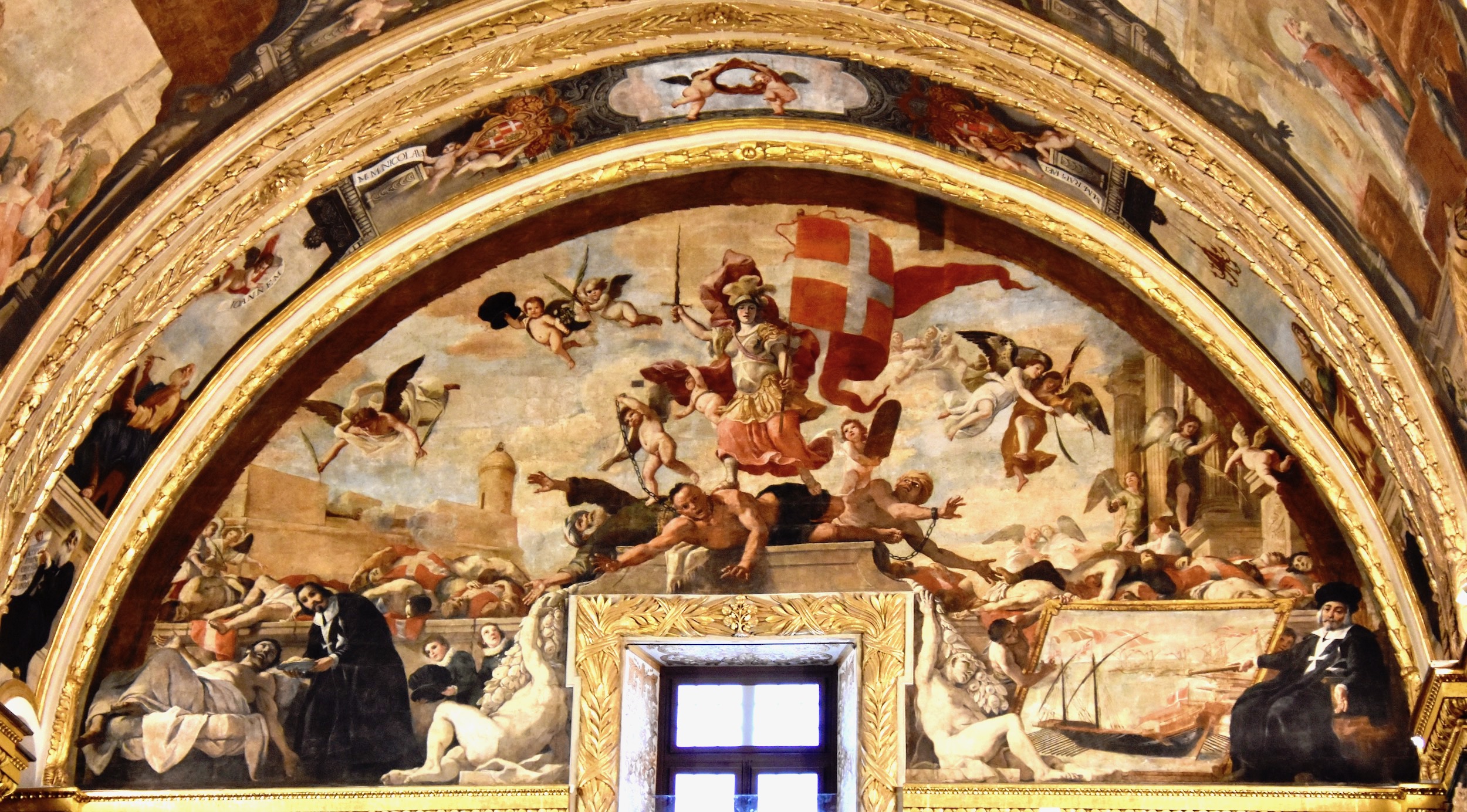 You can equally tire your neck out by looking at what is at your feet. The floor of this place is as incredible as everything else about this church as you can see from this public domain photo. I have seen these intricate marble grave markers before, but never in a profusion like this. There are almost four hundred of them.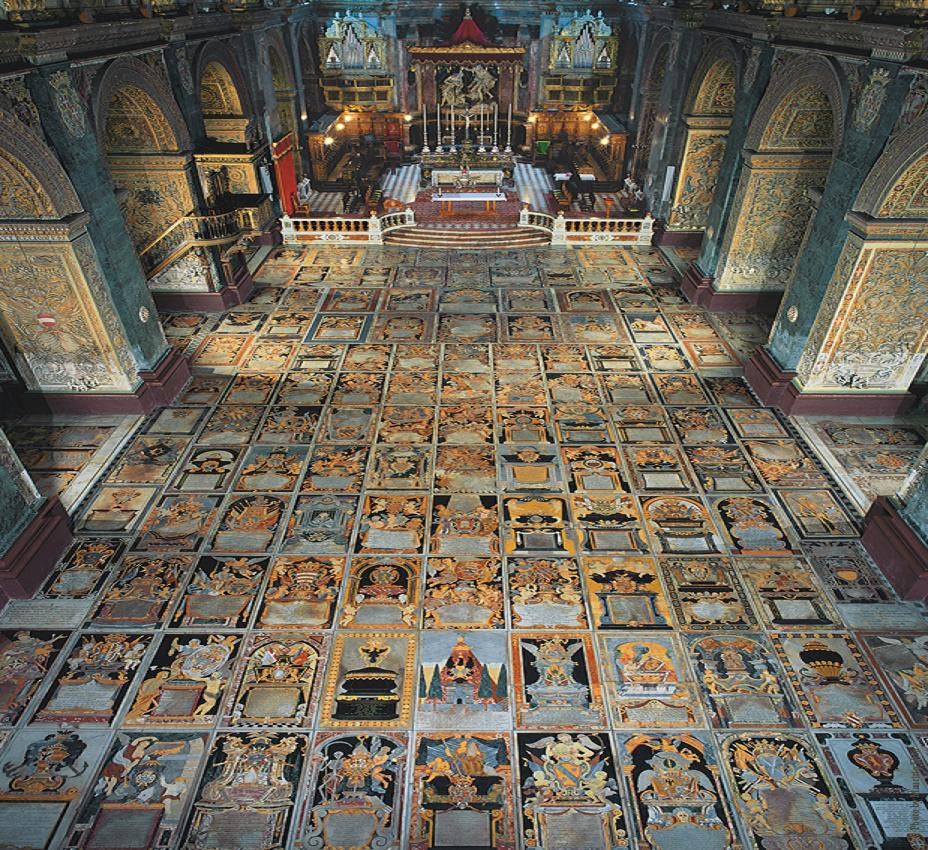 You could easily spend hours just examining these in detail. Actually you can do that from the comfort of your own home as the excellent cathedral website has a link to every tomb in the place.
Each of the eight langues or 'languages' of the Knights of St. John has its own chapel that are equally as wildly decorated as the main part of the church. This is a bust of Grandmaster Nicolas Cotoner by Domenico Guidi in the Chapel of Aragon with the subjugation of the Turks as its rather obvious theme. This is the same guy that was tending to the sick just a few photos ago.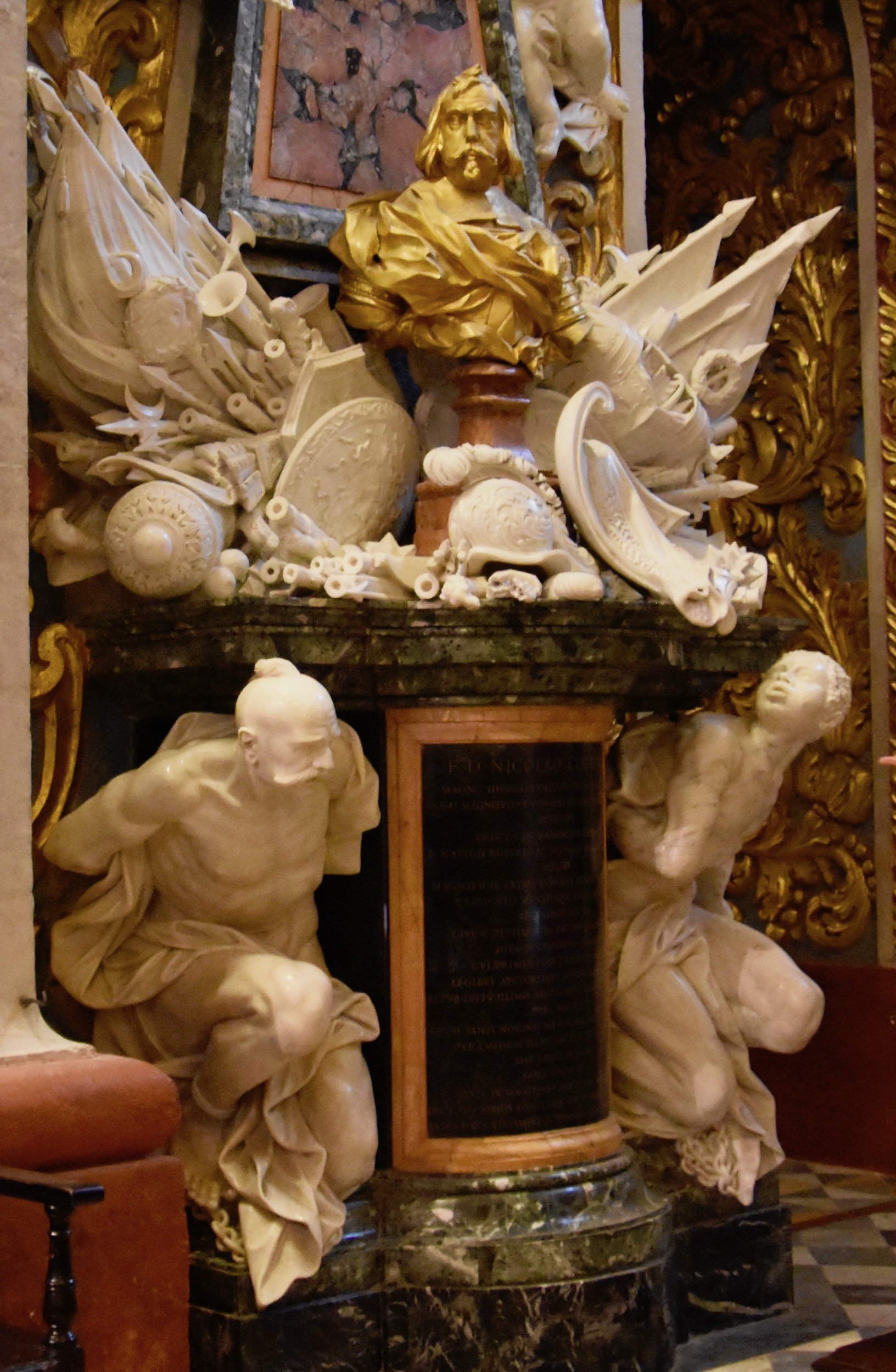 The main altar features this more sublime Baptism of Christ by Guiseppe Mazzuoli.
Despite these and many more remarkable features of Saint John Co-Cathedral, the main reason tourists flock to this church has nothing to do with them, but rather to see a painting by one of the great 'bad boys' of Italian art, Michaelangelo Merisi da Caravaggio or just Caravaggio as he is known today. In my opinion he was one of the greatest artists of all time and he took the technique of chiaroscuro painting to levels not achieved before or since. I will go a long way to see a great painting by Caravaggio which I did when I featured him in this post on the Borghese Gallery in Rome. It is no exaggeration to say that this painting we are about to see was a major factor in me deciding to take this trip to Malta.
So what the heck was Caravaggio doing in Malta – he was after all one of the most famous painters of his day. He was also one of the most famous a**holes of his time. Constantly in trouble with the law, he had to flee Rome for Naples after killing a man in a bar brawl. He wore out his welcome there as well and then in Sicily until finally arriving in Malta in 1607 where he sought absolution from the Knights. Ignoring his past and realizing they had a great artist at their disposal, he was actually ordained as a member of the order.
He apparently completed a number of paintings in Malta, but only two remain there and both are in the Oratory at Saint John Co-Cathedral. The first is the lesser known St. Jerome Writing which is a classic Caravaggio. St. Jerome was a favourite topic of his and as the first person to translate the Bible into Latin, is often depicted doing just that. Note the Maltese cross in the lower right corner.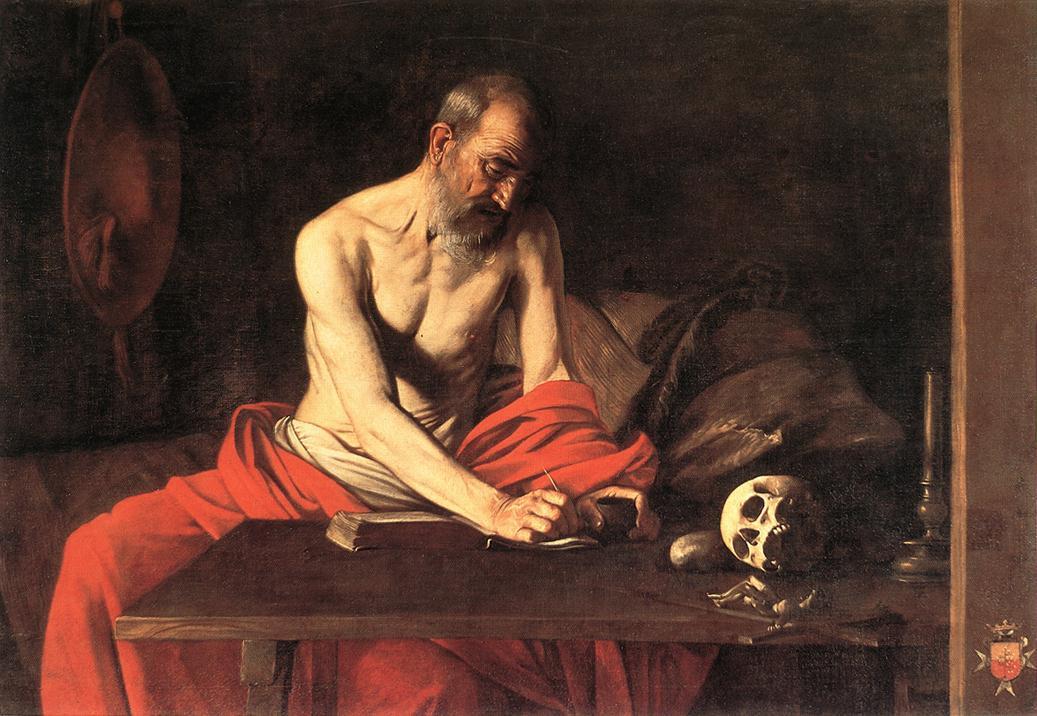 The second painting is the largest that Caravaggio ever painted and the only one he signed. I present to you The Beheading of John the Baptist.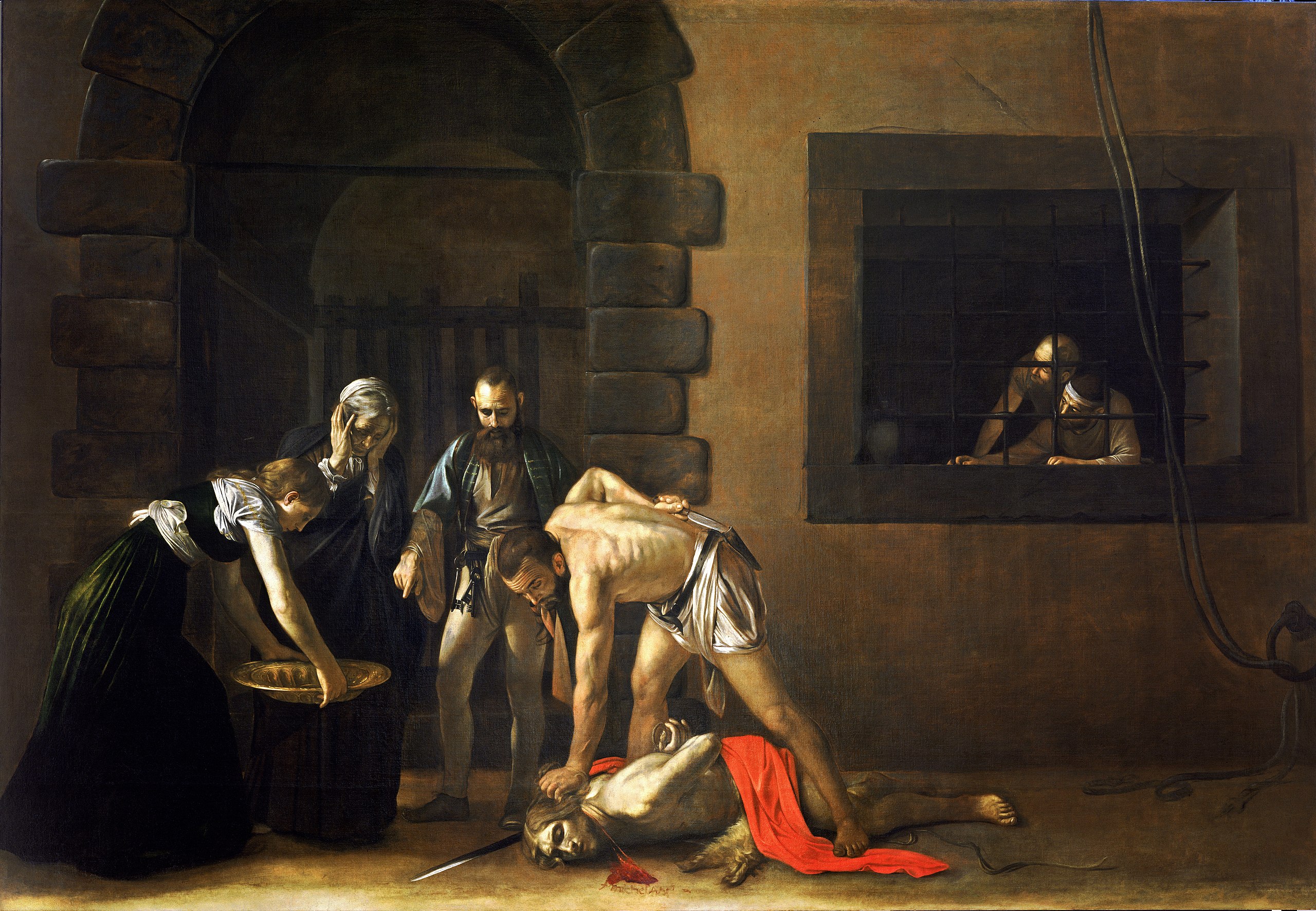 John the Baptist appears in all four of the New Testament Gospels and in Acts. He is also mentioned by the Jewish historian Josephus in several places in his massive work, Jewish Antiquities. All agree that John was beheaded on the orders of Herod Antipas, the son and successor of Herod the Great. In Matthew and Mark the execution is at the behest of his step-daughter, but only Josephus mentions that her name was Salome. Caravaggio was fascinated with this story and painted two versions of Salome literally holding John's head on a platter, which is identical to the one in the painting above. However, only this painting shows the horrific act in progress. He was also entranced by the idea of decapitation and painted other scenes showing the beheading of Holofernes by Judith and David holding the severed head of Goliath. You could say Caravaggio lost his head over these type of things.
Enough rambling, suffice it to say that if this was the only thing to see in Saint John Co-Cathedral it would be worth the visit.
So how did Caravaggio fare as a member of the Knights of St. John? About as well as anything else in his life. Of course he screwed up, getting into a brawl at the house of the organist for the church where somebody was killed, was stripped of his honours and imprisoned in Fort St. Angelo which we sailed past on our boat cruise. Supposedly escape proof, Caravaggio pulled a Houdini and did escape to Sicily. Eventually he made his way back to Naples where he barely survive an assassination attempt which some have attributed to the Knights of St. John. Thinking he was pardoned he returned to Rome, but was briefly imprisoned where he probably contracted malaria and died at age 39.
Despite the fact there are only twenty-one works attributed to Caravaggio, he was a great influence on artists like Rembrandt, Velasquez, Vermeer and others. The fact that two of his works are in the Saint John Co-Cathedral and now represent a Maltese national treasure, I'm sure at the time he was on the lam from the Knights seemed positively ludicrous.
There are other things to see in Saint John Co-Cathedral including the tomb of Jean de Valette and other Grandmasters in the crypt below the altar. However, the one thing that for religious people that is a bigger draw than the Caravaggio's is the right hand of John the Baptist. I kid you not. If you do a little digging on the internet you can come up with at least five places where the supposed right hand is on display including Topkapi Palace in Istanbul. It does seem that at one time the Knights did have something that was claimed to be the arm, but various tales of its removal to Russia/Serbia/Romania/Syria – take your pick, are all in circulation. Unfortunately, it appears that the hand is not currently on display so I'll look for it in Topkapi Palace when I visit there later this month.
Usually, I would not devote an entire post to one church, but in the case of Saint John Co-Cathedral I think it is worth it. Our group will continue our exploration of Valletta in the next post when we visit the National Museum of Archaeology and Upper Barrakkas Gardens. Please join us there.