Te Moana – A Great Introduction to Tahiti
This is my second post from a recent trip Alison and I took with Adventures Abroad to French Polynesia. The first post was an overview of the entire trip and gave the reasons why I thought it was pretty well unique in terms of what tour operators are offering in this area of the world. In this post I'm going to get down to specifics, starting with the first place on the itinerary, the wonderful Te Moana Tahiti Resort just outside of Papeete. Here's why I think you should take the time to spend at least one extra day here before the official tour begins.
Getting to French Polynesia from my home province of Nova Scotia is not that easy. It is 11,000 kms. (6800 miles) and seven times zones away. We elected to do it in two stages, stopping in Vancouver for the night and then getting to Tahiti via San Francisco. Even so, we knew we would not want to hook up with the tour right off the bat, but rather have an extra day to get adjusted which we had booked in advance through AA. As it turned out, when we exited the Papeete airport after getting leied, there were six other tour participants who also elected to come over a day earlier.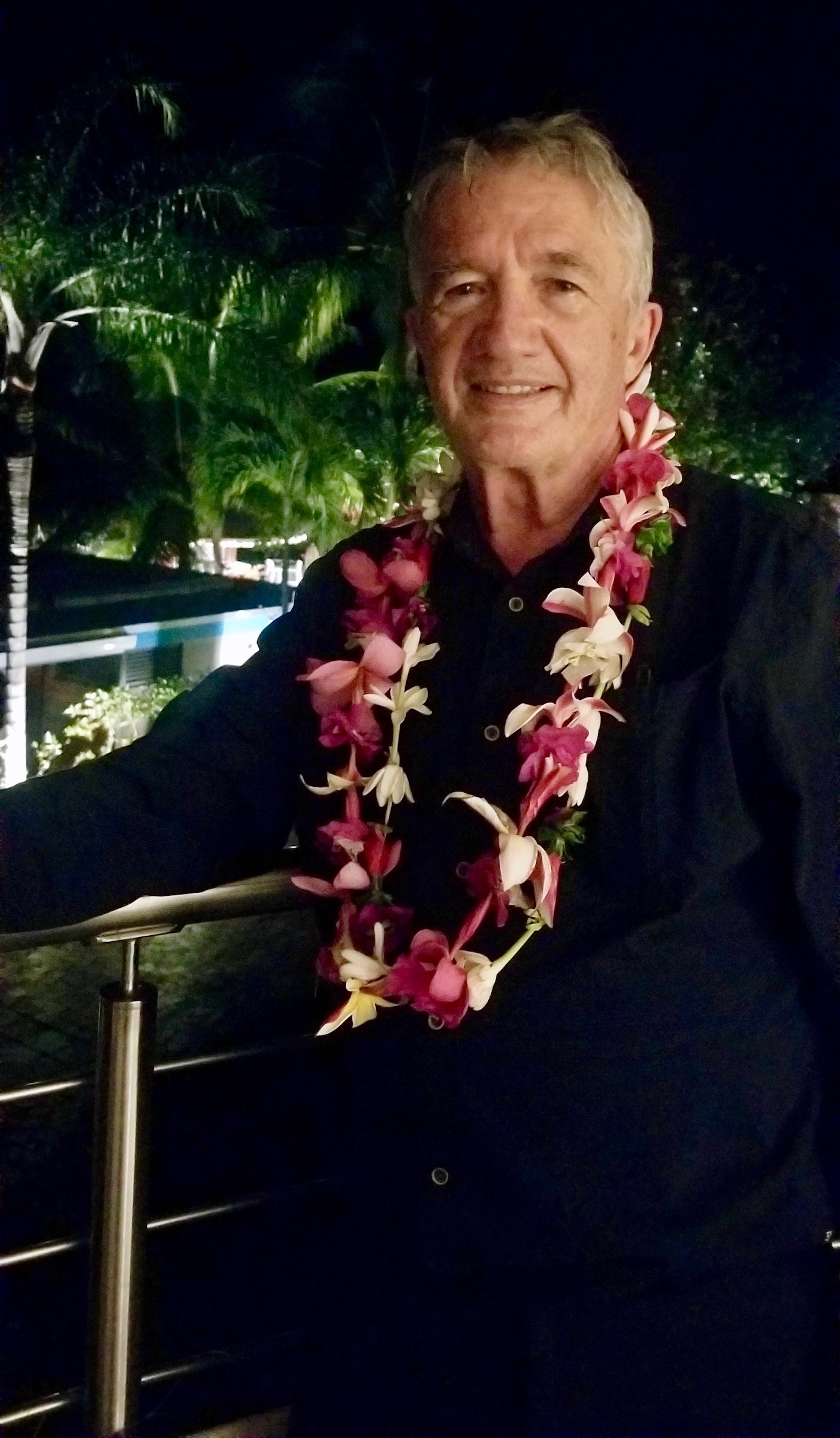 At the time we arrived, everybody coming to French Polynesia was subjected to an antigen Covid test which didn't take very long and you didn't have to wait for the results. They would track you down if it was positive. Needless to say they weren't or I wouldn't be writing this story. I believe these requirements are now lifted, although you probably need a negative test result before getting on the plane to Tahiti.
I have often commented on the high quality of the hotels that Adventures Abroad uses on their tours and I'm happy to report that the ones we stayed at in French Polynesia were exceptional, starting with the Te Moana.
Te Moana Tahiti Resort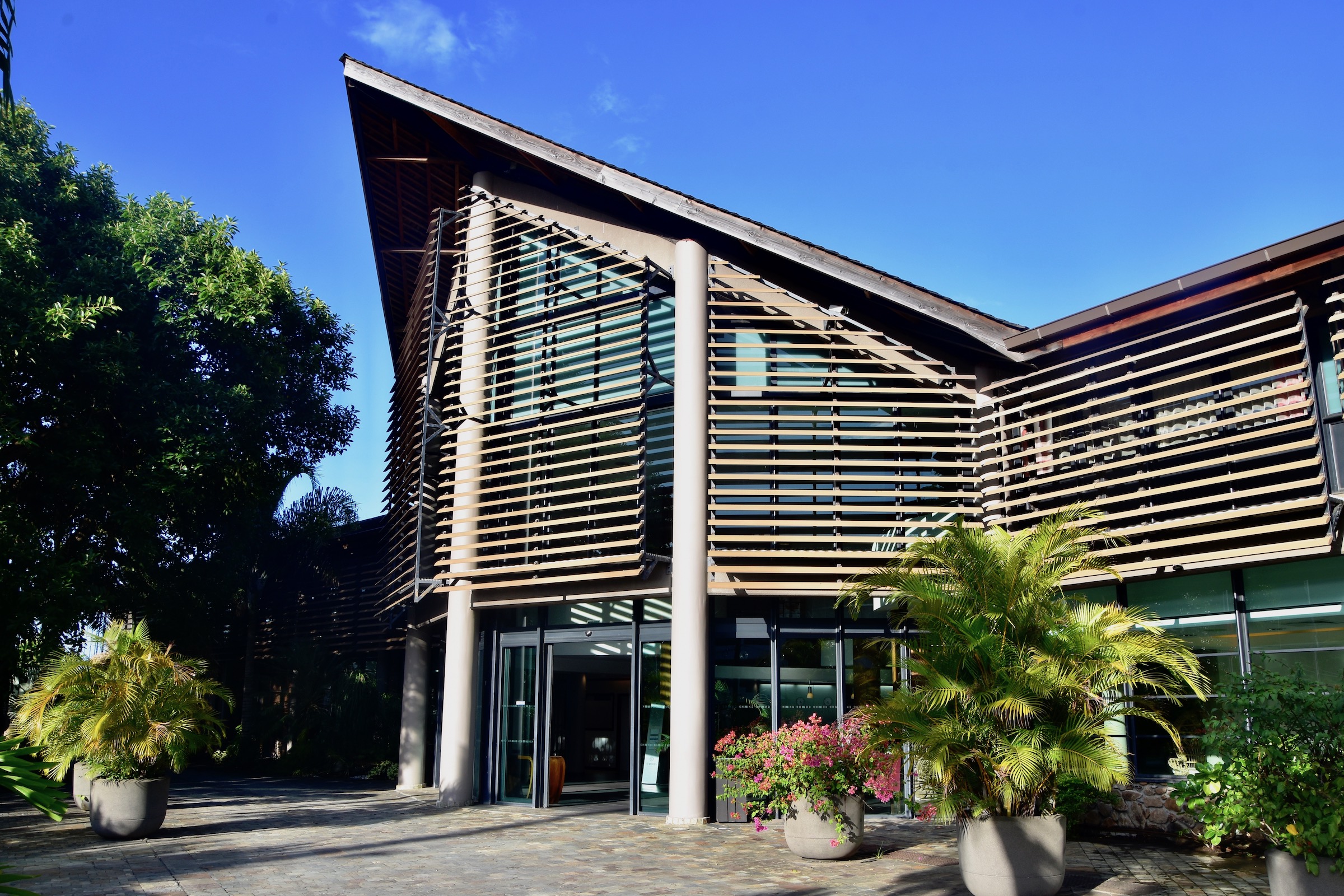 Here's something I did not know before arriving in Tahiti – there are actually very few resorts on the island, just over a dozen in total. Something else I did not know, there are next to no beaches on the island. The reason for this is that Tahiti and the rest of the Society Islands archipelago which includes Moorea and Bora Bora are geologically very young. The volcanoes that arose from the sea floor to create them have not had the time to erode enough to develop beaches around their edges. With one notable exception on Bora Bora, the few beaches that do exist are small and made up of the black sand that marks a very young island. So don't get the idea that coming to Tahiti will mean nice long walks on golden strands. But don't worry, there's more than enough to compensate for this one natural shortcoming.
The Te Moana is located a relatively short distance from the Papeete airport and has a fabulous location looking directly at the island of Moorea.

From the moment you enter its airy atrium lobby you begin to relax and soak up the almost tangible lush tropical aroma of the place with its combination of pungency and fragrance.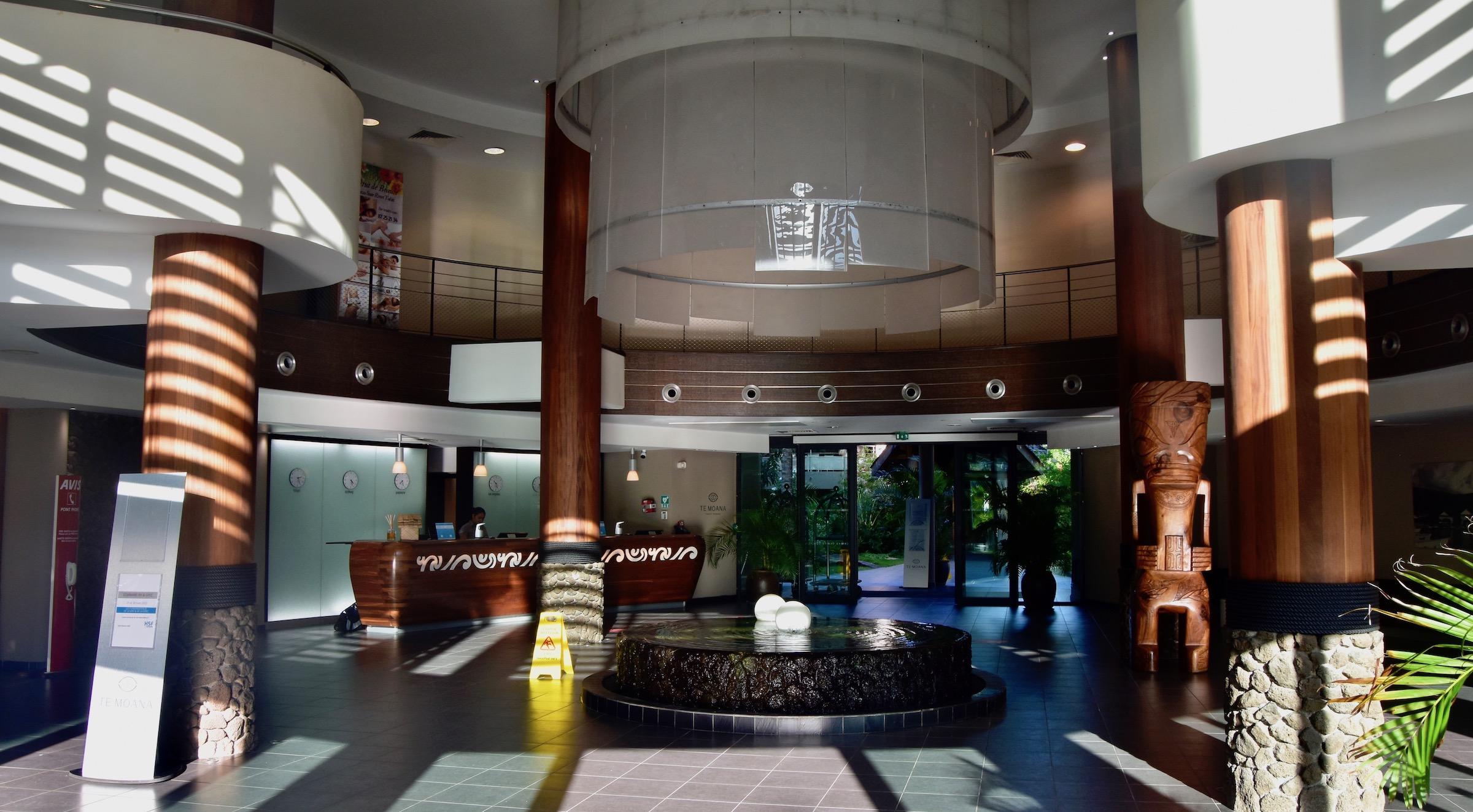 Check in was a breeze with a very friendly welcome and it was great to see our Adventures Abroad guide Martin Charlton waiting to greet us. We had last travelled with Martin and his father on our trip to Egypt and since then we have kept in touch regularly. After a quick briefing we unpacked our things in Room 4104 which had this view from our balcony. Not too shabby.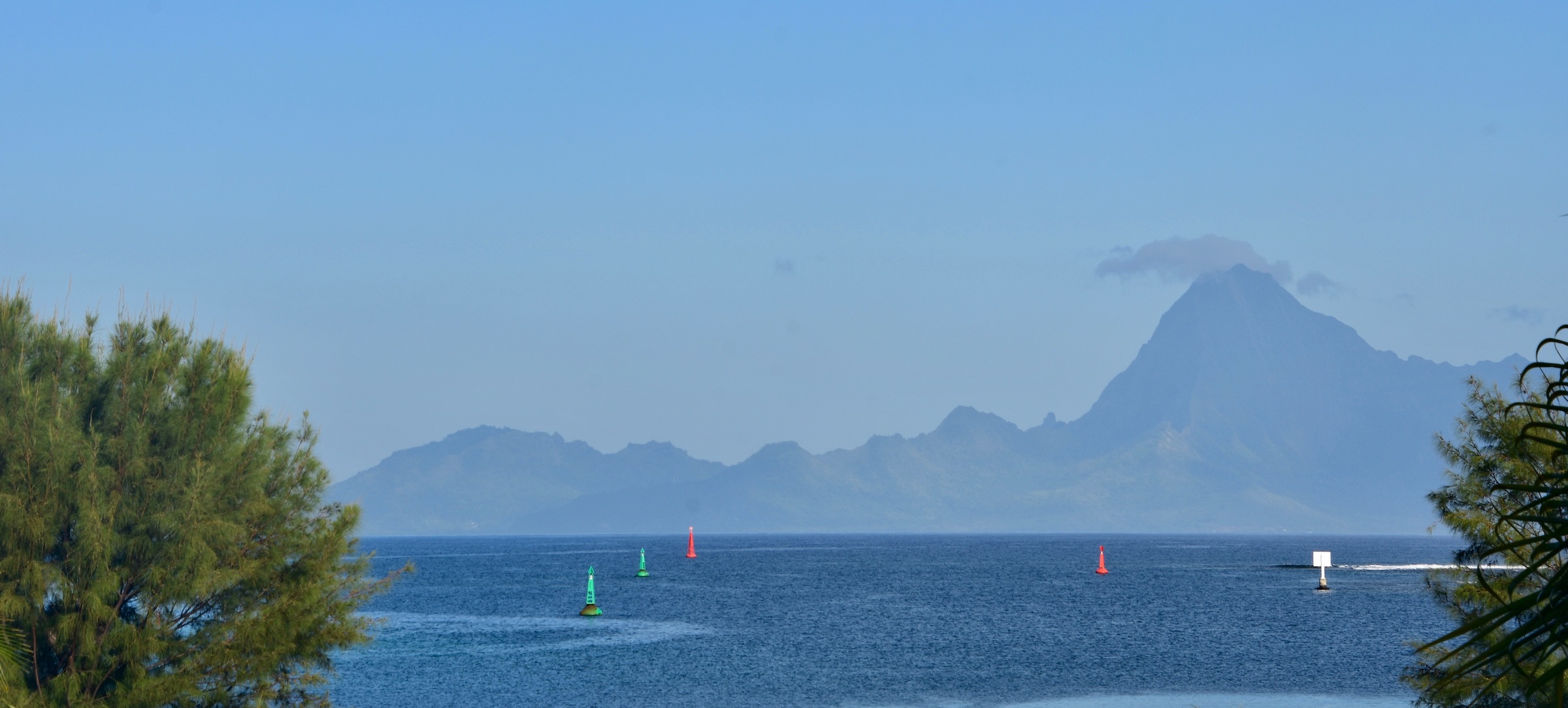 Here's an important thing about the Te Moana. It has five separate buildings of which only two actually front right on the ocean. The other three are behind buildings four and five so the view from these is of the buildings in front of you. I would have been severely pissed to have been in one of these, but to AA's credit we all had these ocean front rooms, even though they cost a lot more than the non-ocean view rooms. I sure as hell did not want to travel 11,000 kms to Tahiti to look at someone else's ocean view room.
This is building four from the ocean side. You can see that the balconies are quite expansive.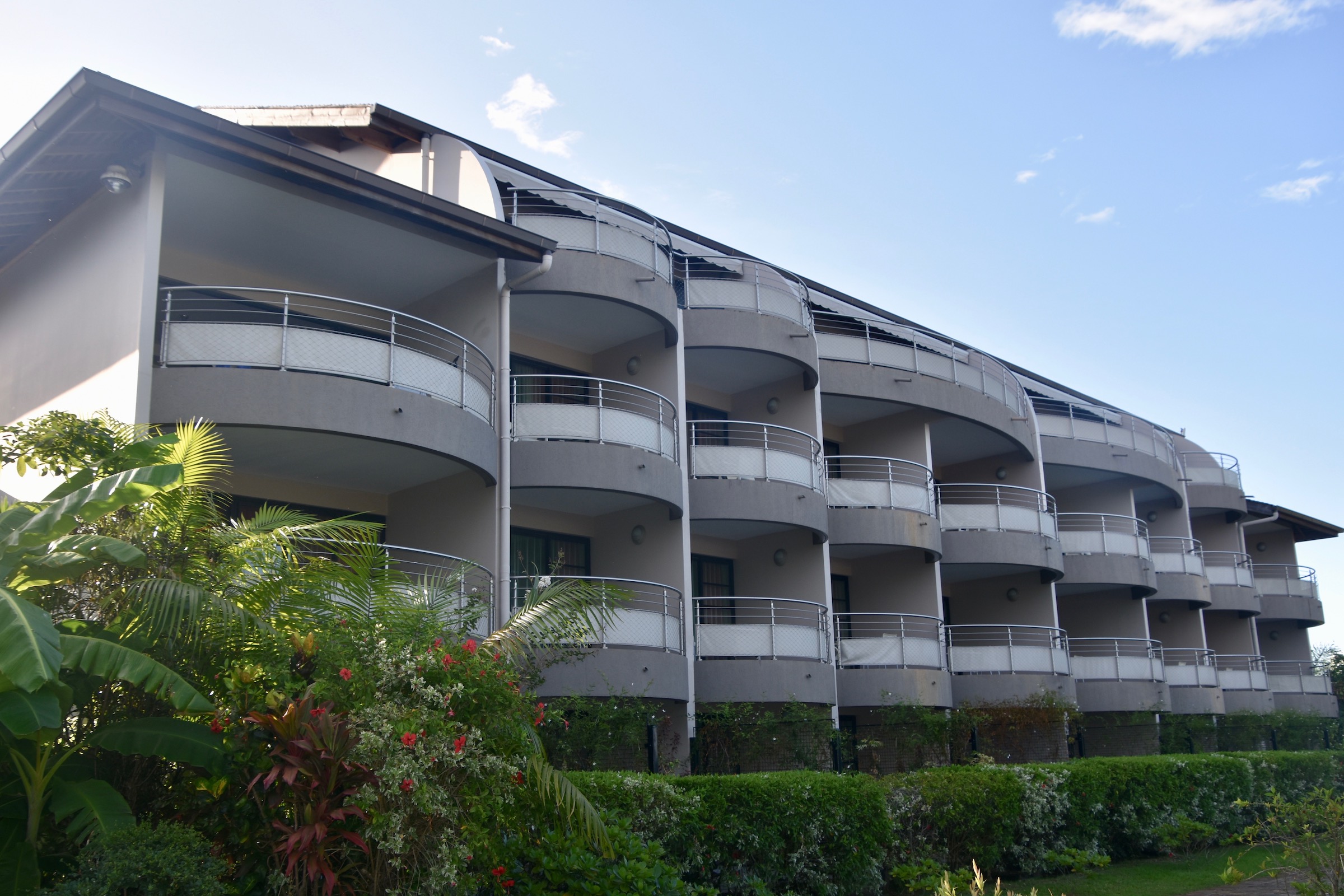 After what seemed like an unending winter in Canada, the grounds of the Te Moana with its bougainvillea, plumeria and water lilies were a treat to eyes starved of any real colour other than gray for months. The nose was rewarded with the always welcome fragrance of frangipani and the ears rejoiced in the sound of trickling water rather than the crackling of ice back home. In other words, your senses come alive in the tropics in a way that I cannot adequately describe – you need to experience it for yourself. It's worth travelling 11,000 kms. for.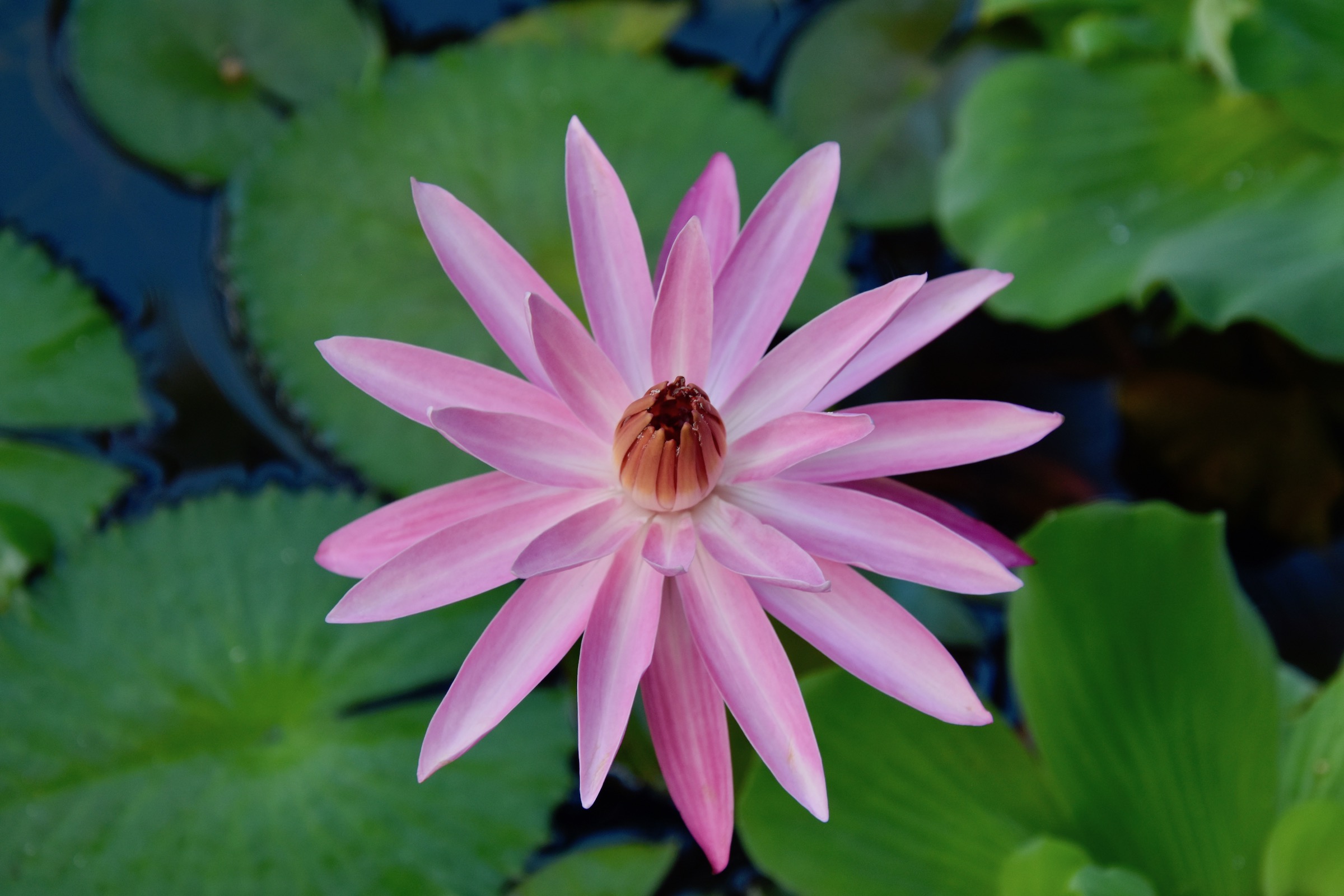 The Te Moana has a great bar right on the water where Alison and me and Martin had our first beverage in Tahiti, the very refreshing Hinano Blonde Lager whose iconic symbol of a Polynesian woman in a red and white muumuu is omnipresent throughout French Polynesia.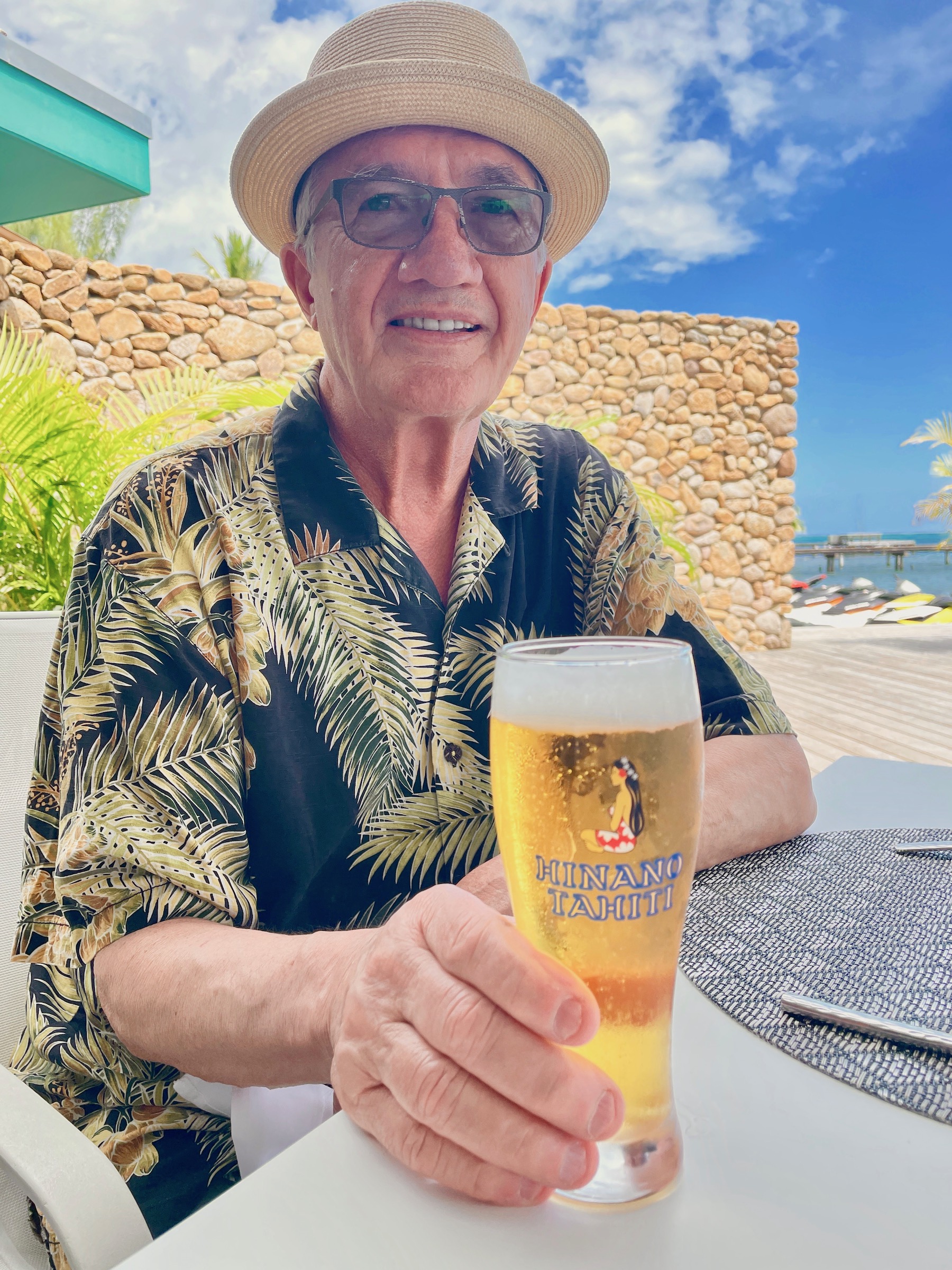 After catching up with Martin, Alison and I had our first meal on Tahiti at the Taapuna Restaurant which is adjacent to the bar. It was my first chance to try what must be the national dish of French Polynesia – poisson cru or 'Ota 'ika as a Polynesian would call it. On English menus it has the less appetizing appellation – raw fish.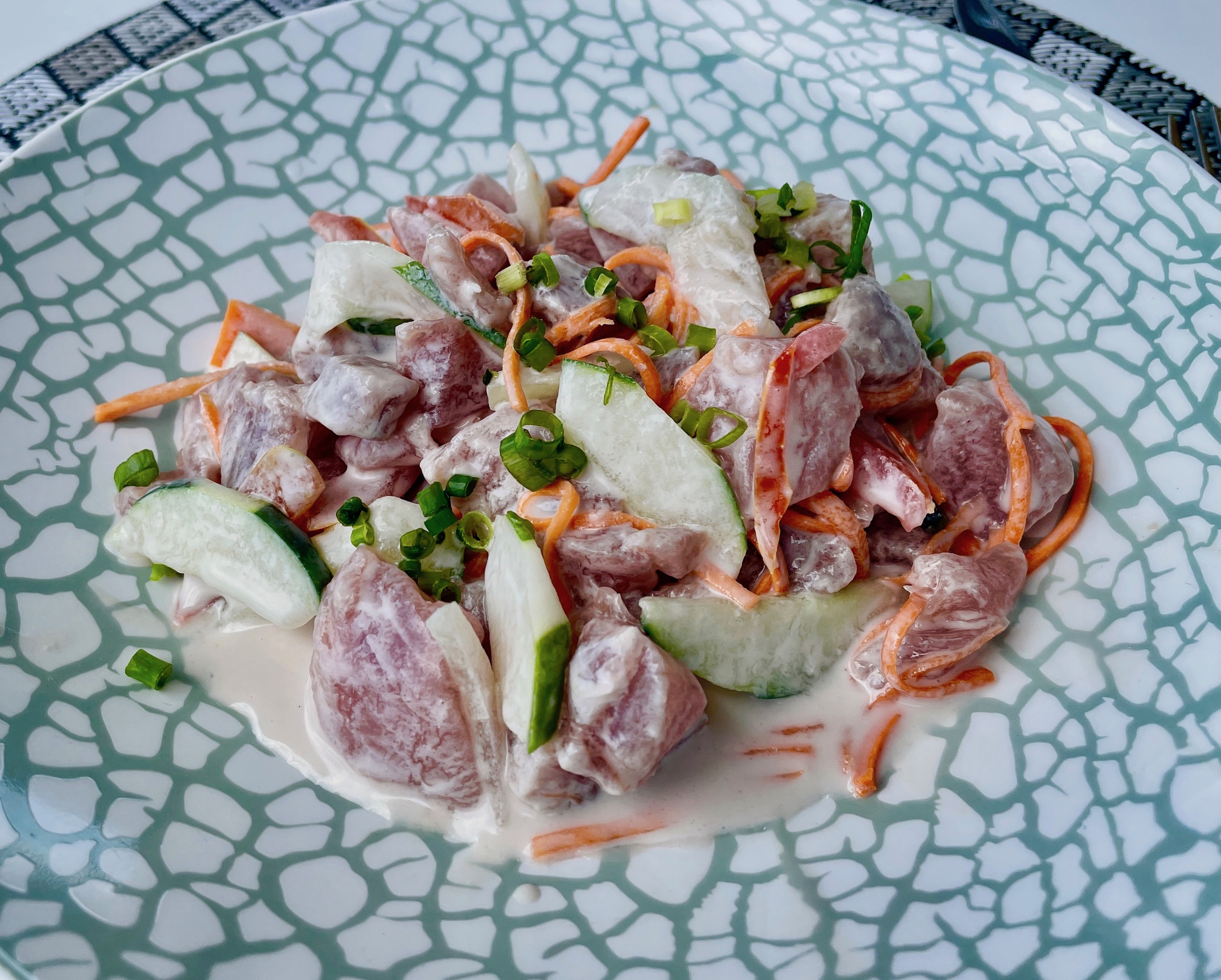 It is made from raw fish, usually tuna, briefly marinated in lime or lemon juice and then soaked in coconut milk with raw vegetables such as green onions, carrots or cucumbers added. It is essentially a South Seas version of ceviche which is probably my all time favourite dish on earth. Not surprisingly I loved the poisson cru and ate it virtually every day I was in French Polynesia.
Alison had an equally delicious seafood salad, this one made with another of our favourite seafoods, octopus.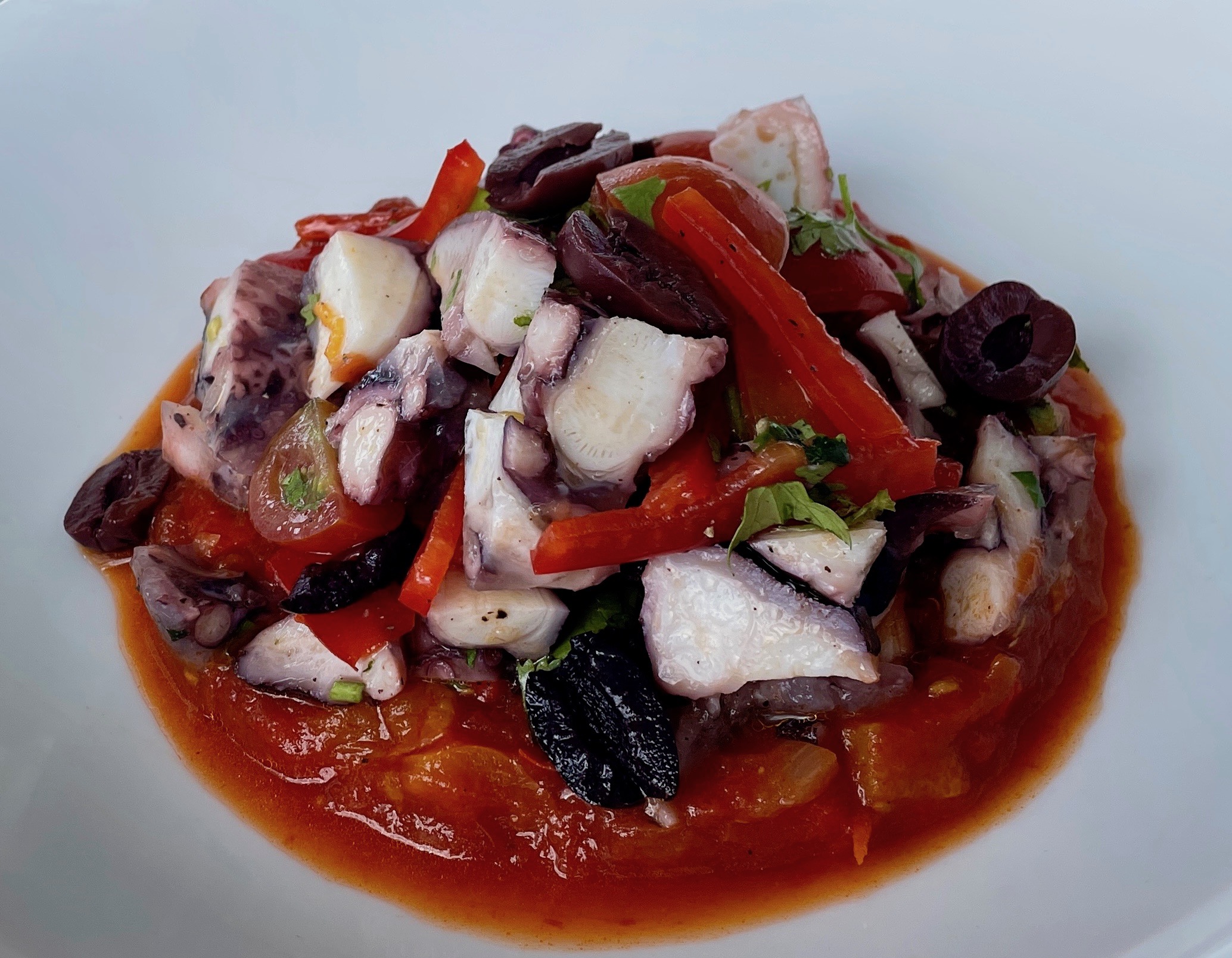 It had been a long day and we made an early night of it with a glass of wine on the balcony watching paddle boarders go by in the dusk.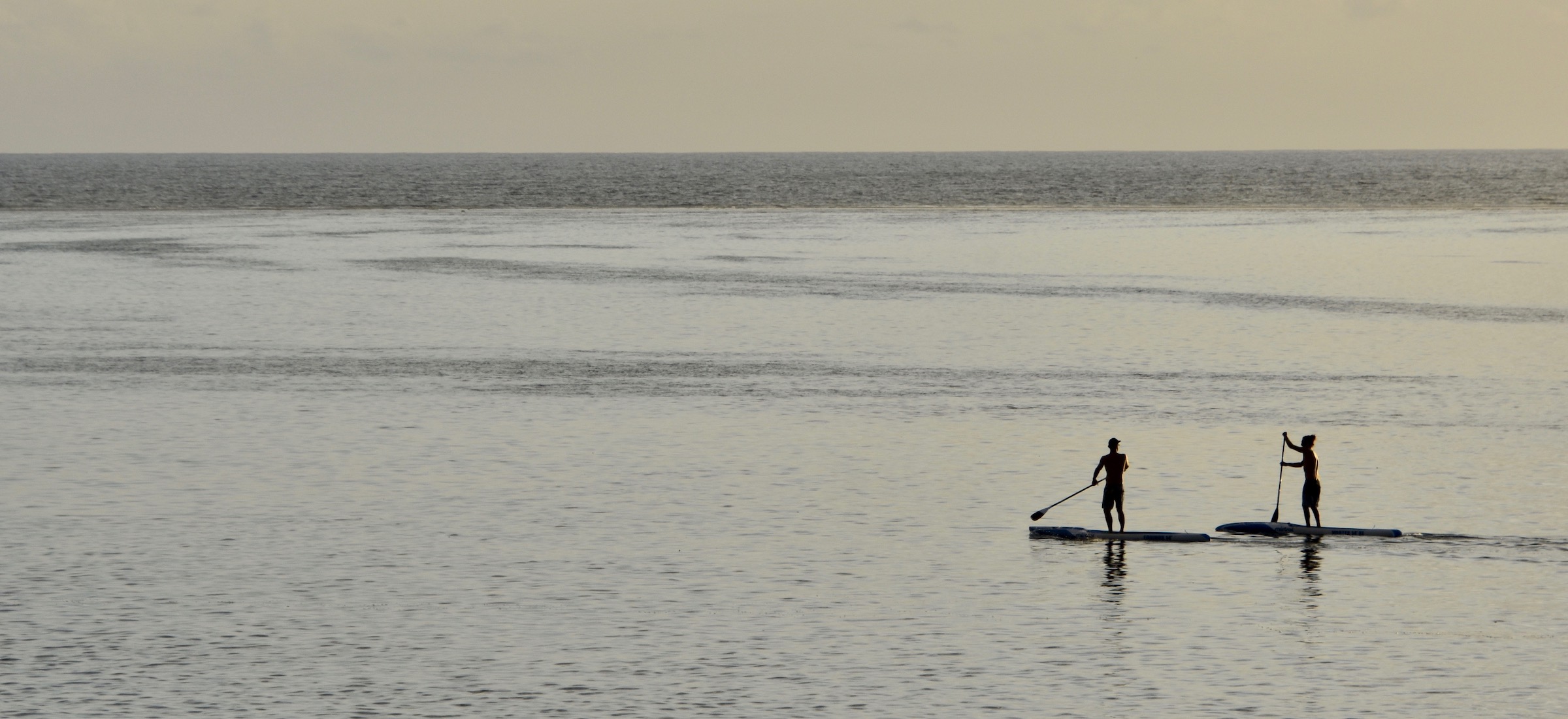 As the sun set over Moorea it was truly one of those pinch me moments when we both looked at each other and said, "Are we really here?" and the answer was, "Yes."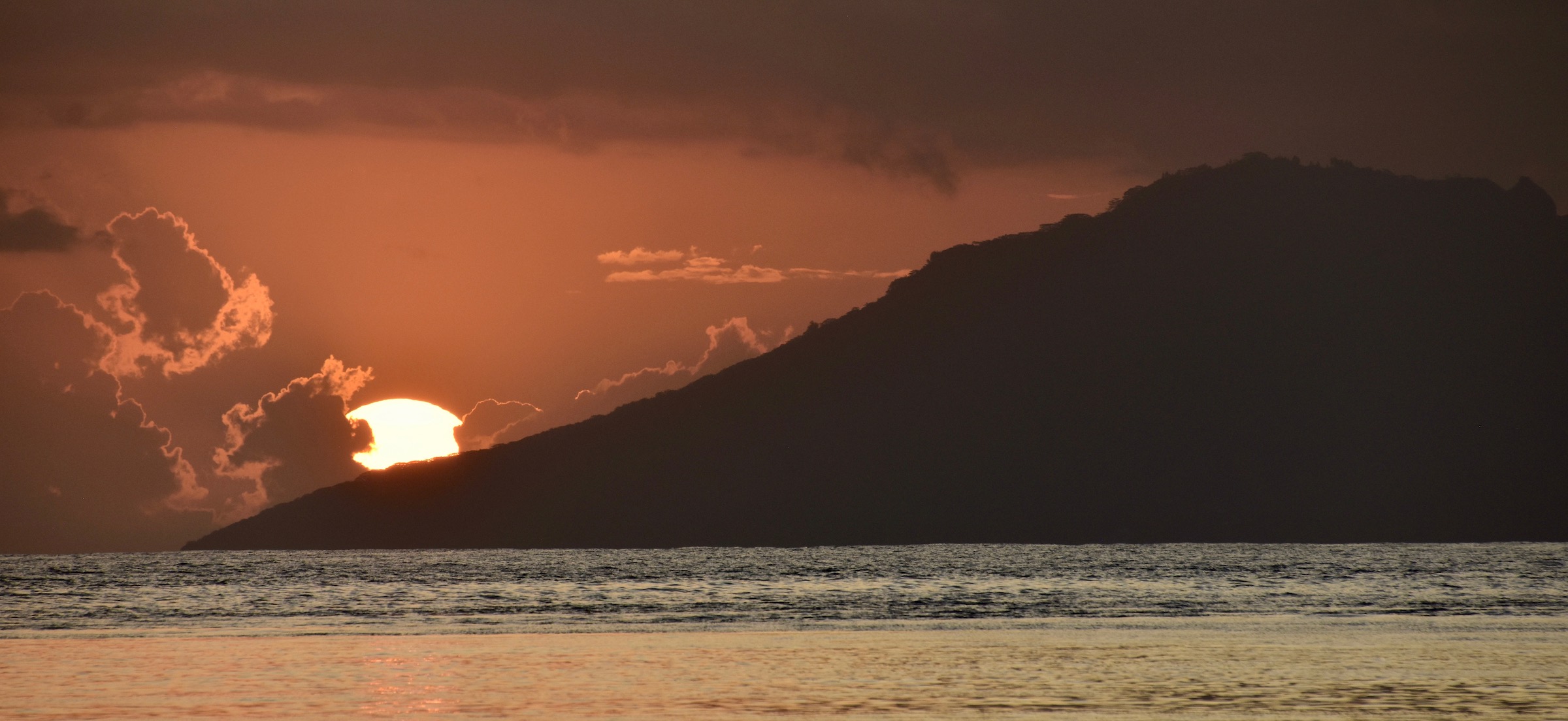 The breakfast at Te Moana was our first opportunity to actually realize that we were in French territory as the buffet included not only the standard items you would expect including some great tropical fruits, but also freshly baked baguettes, croissants and other hard to resist pastries. You could also order a number of items including very good omelettes from the menu.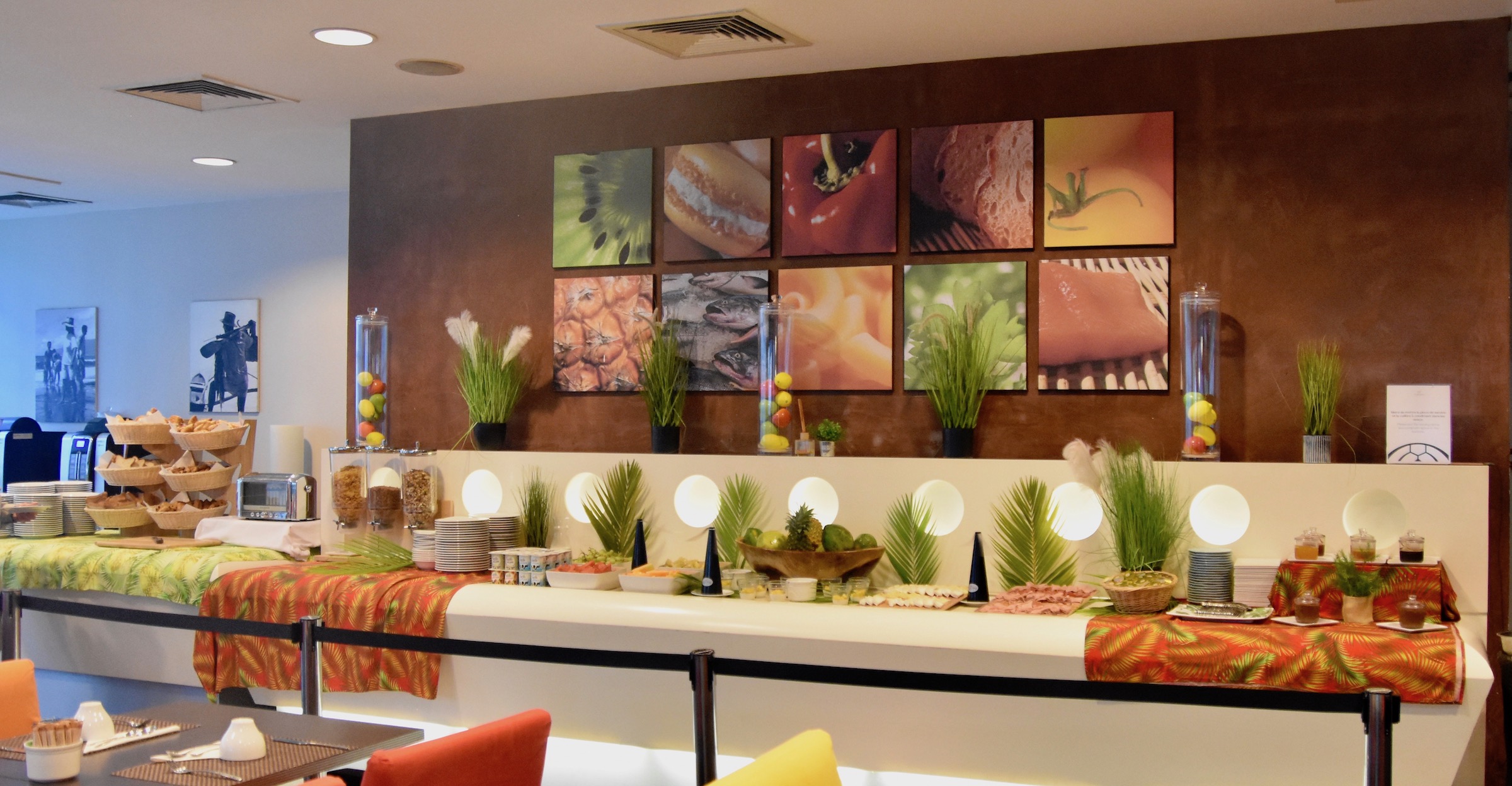 Perhaps the best feature of the Te Moana is the enclosed lagoon where you can see a pretty good variety of tropical fish from the walkway leading to the motu or even closer up if you want to put on your snorkelling gear. BTW a motu is a Polynesian word for a small flat island.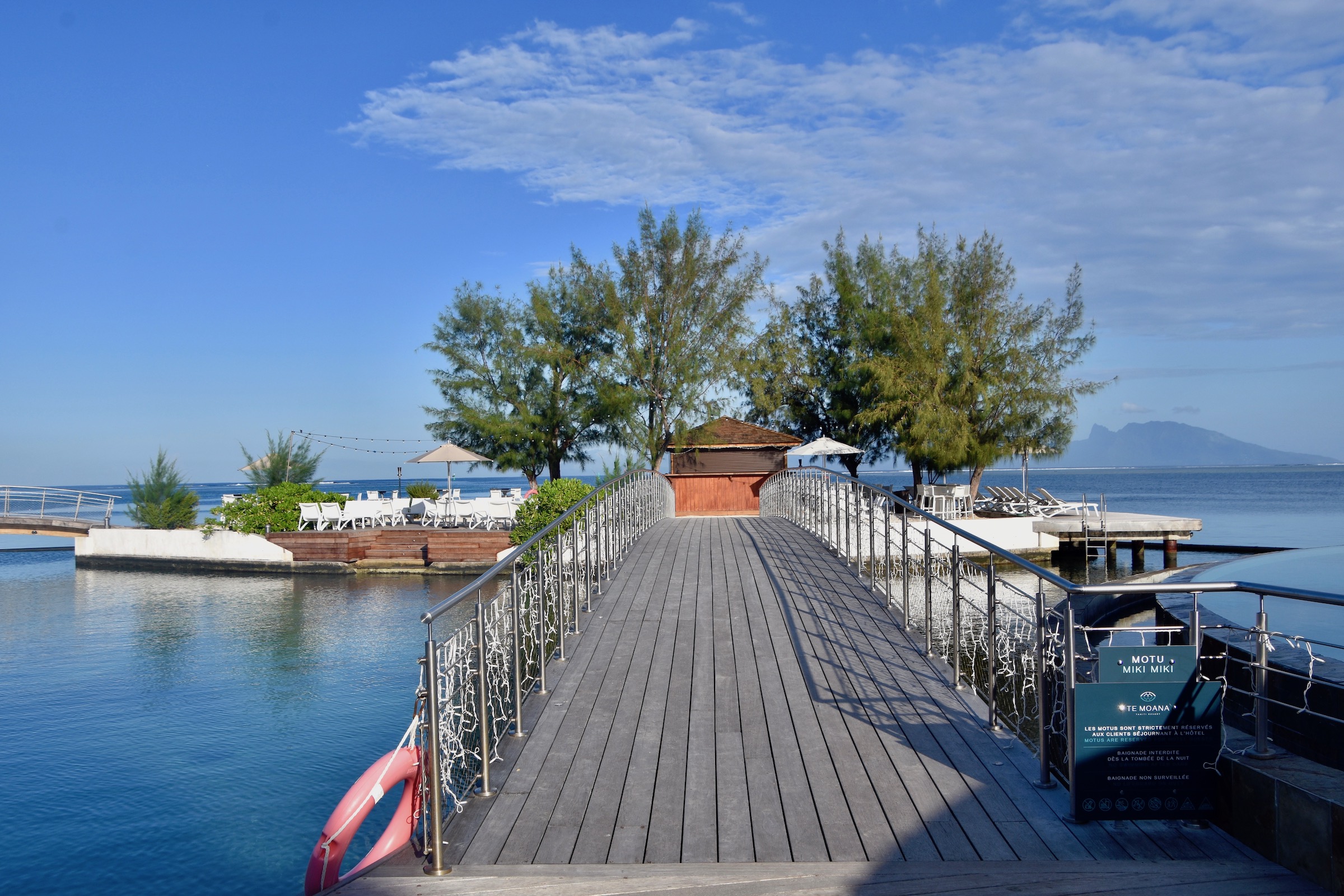 I'm not usually a pool person, but the infinity pool at the Te Moana is quite irresistible. I mean where else can you get this?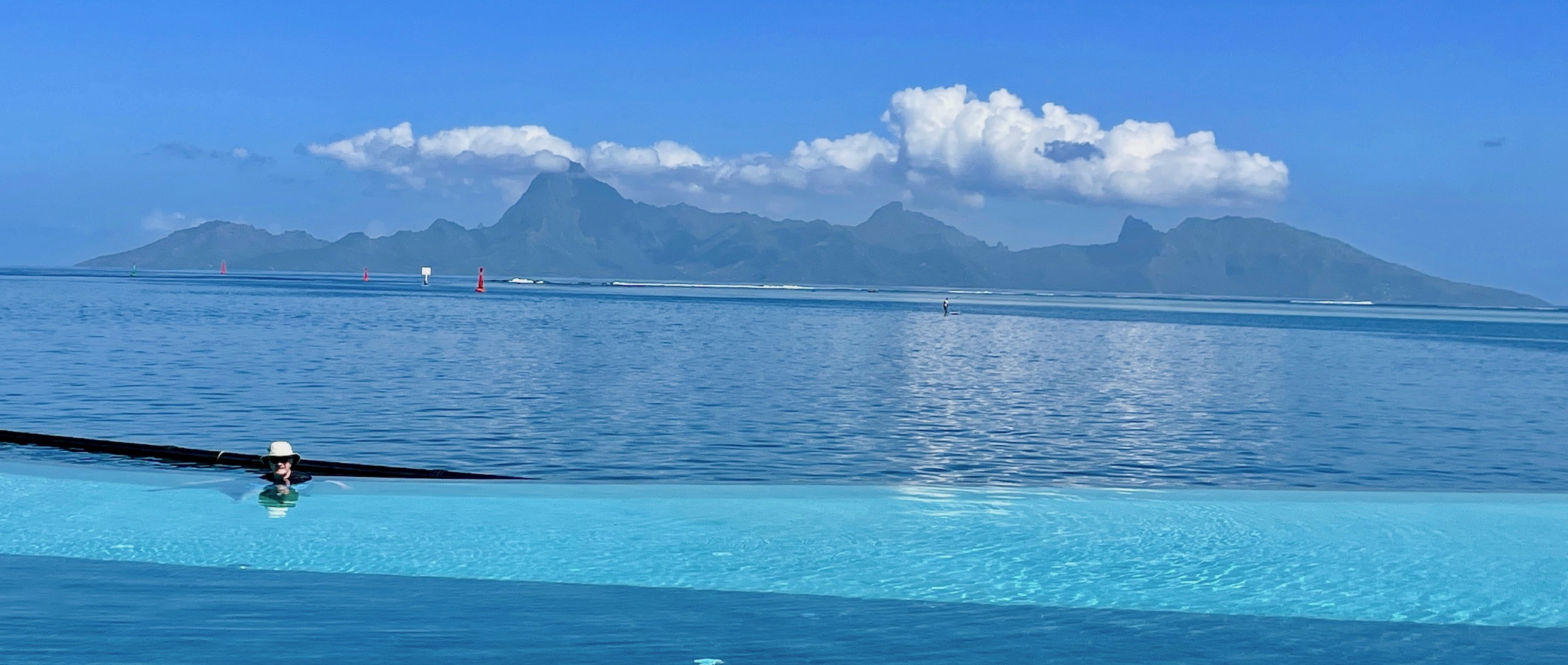 So those are my reasons for coming to the Te Moana resort at least one day early. In the next post, I'll give you another reason – to spend some time exploring Papeete.