Jasper National Park – Some Highlights
Alison and I have had two visits to Jasper National Park in the last nine months. The first was to spend some time with our son Dale, Kerrie and our granddaughter Nina over the holidays. The second was to meet and greet our newest grandchild, Della just a few weeks ago. With both visits we were able to see two very different aspects of this world famous park. Here are just a few highlights that should make you want to include a visit here no matter what the time of year.
History of Jasper National Park
The Rocky Mountains that stretch from northern British Columbia to New Mexico are relatives babies in terms of mountain ranges. From over a billion years ago up until about 80 million years ago the land was flat and for most of the time covered in sea water. During this time layers of sediment over a thousand metres deep were created and when the Laramide orogeny came along and lasted between 80 million and 50 million years ago, these now sedimentary rocks were pushed upward as tectonic plates engaged in a 30 million year tug of war. What was formerly sea bottom was now high and dry and folded a myriad of ways. The Canadian Rockies that make up Jasper National Park as well as Banff did not see much post orogeny volcanic activity such as occurred in much of the United States with the result that the mountains are almost all sedimentary rock with the occasional much older metamorphic rock poking through in some places. The beautiful mountains that we see today were almost literally polished up by 50 million years of erosion and more obviously by at least four ice ages, the remnants of which still exist today in the Columbia Icefields and other glaciers such as Angel on Mount Edith Cavell.
Now here's the thing I find most interesting about Jasper National Park and why it along with Banff are so famous around the world. Of the top 100 highest peaks in the Rockies not one is in either Jasper or Banff and only one, Mount Robson just across the border in British Columbia, is in Canada. Colorado alone has all of the top 30 and 78 of the 100. So why does anyone bother with our relative pygmies compared to the 14,400 + peaks of Colorado? It's another term related to mountains that is separate from just the bare fact of altitude above sea level – summit prominence. This measures the distance from the summit of the mountain to the surrounding landscape. And guess what? By this measure Canada is #1 with Mount Robson rising 2,829 metres (9,281 feet) above the land below. Jasper National Park has the #3 and #7 peaks by this measure, Mount Columbia and Mount Edith Cavell. In other words, in terms of scenic beauty the Canadian Rockies look bigger than they actually are because you are looking at them from a much lower distance than most of those Colorado Rocky Mountain highs. Talk about punching above your weight!
The human history of Jasper National Park dates back at least 10,000 years when the Athabasca River provided a natural waterway up into the rich game lands of the area that was later to become the town of Jasper. At least a dozen different groups of Indigenous people and Metis either resided in or passed through on a seasonal basis. in 1810 David Thompson found a way through the rockies by way of Athabasca Pass and that led directly to the establishment of a fur trading post by the North-West  Company, in 1813. In 1817 one Jasper Hawse was put in charge of operations there and the name of the post morphed into Jasper House. In 1829 after the Hudson's Bay Company had bought out the North-West Company, the site was moved to the location which is now a National Historic Site. However, the name Jasper House was maintained. It finally closed in 1857 when the heyday of the great Canadian fur trading industry was long gone. In 1909 the buildings were dismantled and used for lumber by the Grand Trunk Pacific Railway which was constructing a railway through Yellowhead Pass to connect the Prairie Provinces with the Pacific port of Prince Rupert. It was this company the started the modern town of Jasper. Originally called Fitzhugh it was changed to Jasper in 1913 to coincide with the name of the park, the third and final place in the park that was 'Jasper'.
It was the coming of the railway that convinced the then Dominion of Canada to set aside 13,000 sq. kms. in 1907 as Canada's fifth national park. As I have written about in other posts on Canada's Rocky Mountain national parks such as this one on Glacier NP, tourism in Canada at that time was almost entirely driven by train traffic. As had been done at Banff, Yoho and Glacier NPs before, Jasper National Park was to become a playground for wealthy tourists.
It was at this time that the same policy that had been applied to the first four NPs was also applied to Jasper. Any Indigenous and Metis people living within the park boundaries were evicted and they were not allowed to hunt or fish there as well. This disgraceful policy continued for decades later. As late as 1936 the Ojibwe people were evicted from Riding Mountain NP in Manitoba and their homes burnt by park wardens. It also happened in Algonquin Park in Ontario and Stanley Park in Vancouver. Thankfully, all levels of government have recognized the inherent racism behind these policies and in attempts to create a reconciliation with the Indigenous and Metis people Parks Canada now not only welcomes them back to their former lands, but includes them in all decision making regarding the future of Jasper National Park
In 1984 Jasper National Park along with Banff, Yoho and Kootenay NPs and three BC Provincial Parks were inscribed as a UNESCO World Heritage site with this description:
The seven parks of the Canadian Rockies form a striking mountain landscape. With rugged mountain peaks, ice fields, and glaciers, alpine meadows, lakes, waterfalls, extensive karst cave systems, thermal springs and deeply incised canyons, the Canadian Rocky Mountain Parks possess exceptional natural beauty, attracting millions of visitors annually.
Interestingly, no other part of the Rockies other than Waterton Lakes/Glacier which is partially in the Canadian Rockies and partially in Montana, has a UNESCO World Heritage Designation.
Accommodation in Jasper
As noted in the UNESCO description, Jasper National Park along with the others receive millions of annual visitors. In the case of Banff that is over four million and Jasper is just about half of that. The real problem is that the great majority of these visitors come in a period of only a few months over the summer and early fall. Banff and Jasper are fairly small towns so accommodating that many visitors is problematic. The law of supply and demand has pushed traditional Jasper hotels, lodges and motor inns to unaffordable levels for many. Jasper Park Lodge, which is a deluxe Fairmont property, is in a class of its own and out of reach for all but the wealthiest of visitors during the peak season.
Fortunately there is an alternative which Alison and I took advantage of on both of our visits. Jasper Home Accommodations offers a great variety of choices from one room to fully equipped multi-bedroom apartments at prices well within reach for most. These units are located in Jasper residences, usually with their own entrance. The two places we stayed at were within easy walking distance of Jasper's two main streets, very clean and less than a third of what we paid for one night at one of Jasper's Connaught Street lodges.
OK, with this fairly long introduction let's get down to some actual activities in Jasper National Park.
The Icefields Parkway, Jasper National Park
When we visited in December 2022, Jasper National Park was in the middle of a deep freeze that saw temperatures below -40°C every day and daily highs no more than -25°C. Any thoughts of skiing at Marmot Basin or doing some cross country around the town were out the window. However, the one thing we could do was drive one of Canada's great scenic routes, the Icefields Parkway which connects the town of Jasper with Lake Louise in Banff National Park. Our intention was to drive as far as the park boundary and back, making a number of stops along the way. We had our son Dale, who is in charge of maintaining this stretch of highway for Parks Canada, as our guide.
As I have written about Peggy's Cove in winter, so it is with the clarity of the skies in Jasper National Park. The colder the air the less moisture it can hold and that makes for the clearest blue skies found at any time of year. So the really frigid temps actually have a bright side, literally. Here is a small gallery of photos from that drive. Double click to open a thumbnail and double click again for the full picture.
We also made a very quick stop at Athabaska Falls 33 kms. (21 miles) south of Jasper. With these temperatures the falls had been reduced to an ice wall.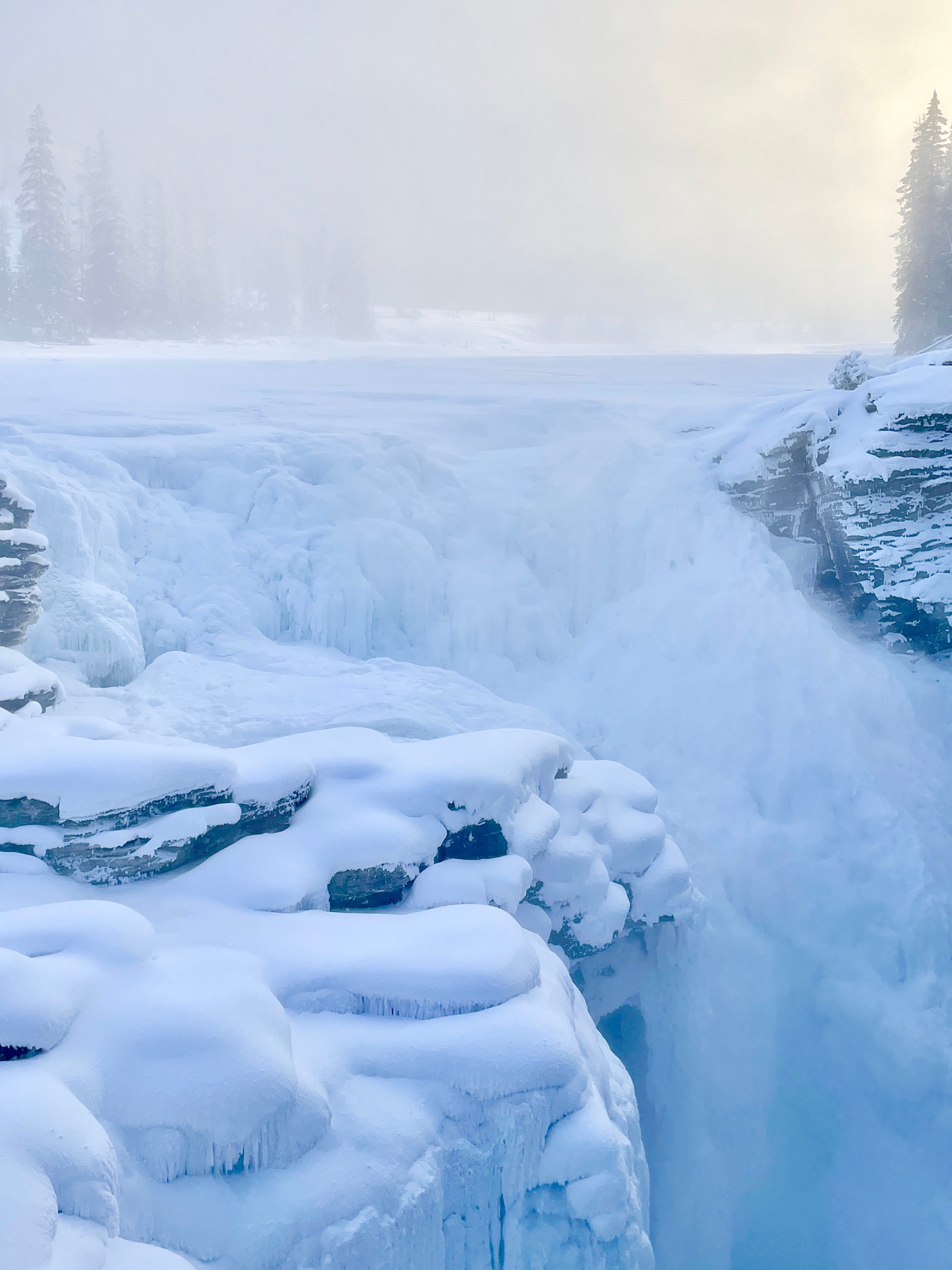 You can see from this photo of Alison and Dale why we couldn't linger outside very long at the falls.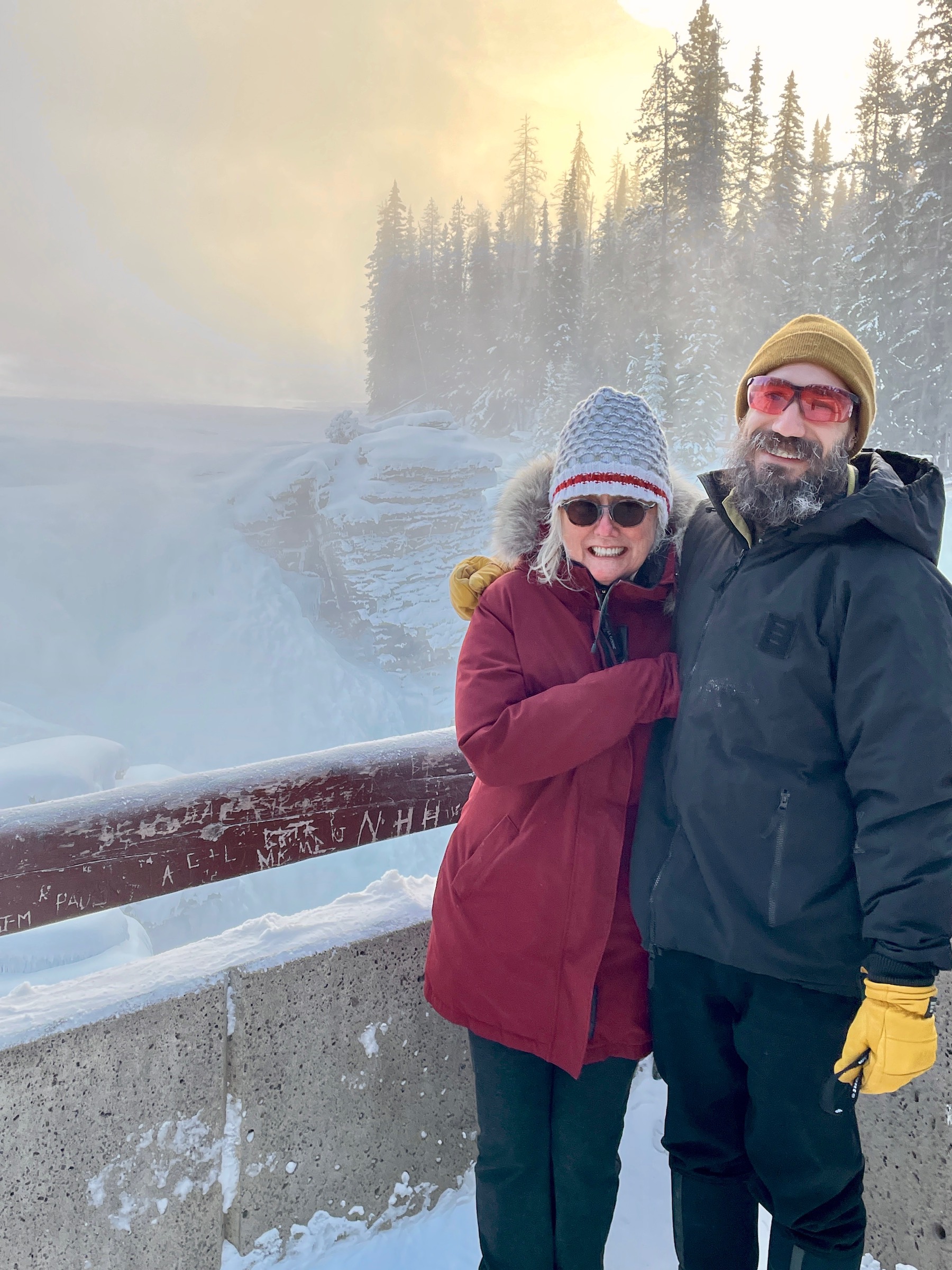 Wildlife viewing has always been a major attraction in Jasper National Park and even at -40°C there was still plenty to see, including this magnificent bull elk which we saw on the way to Maligne Canyon.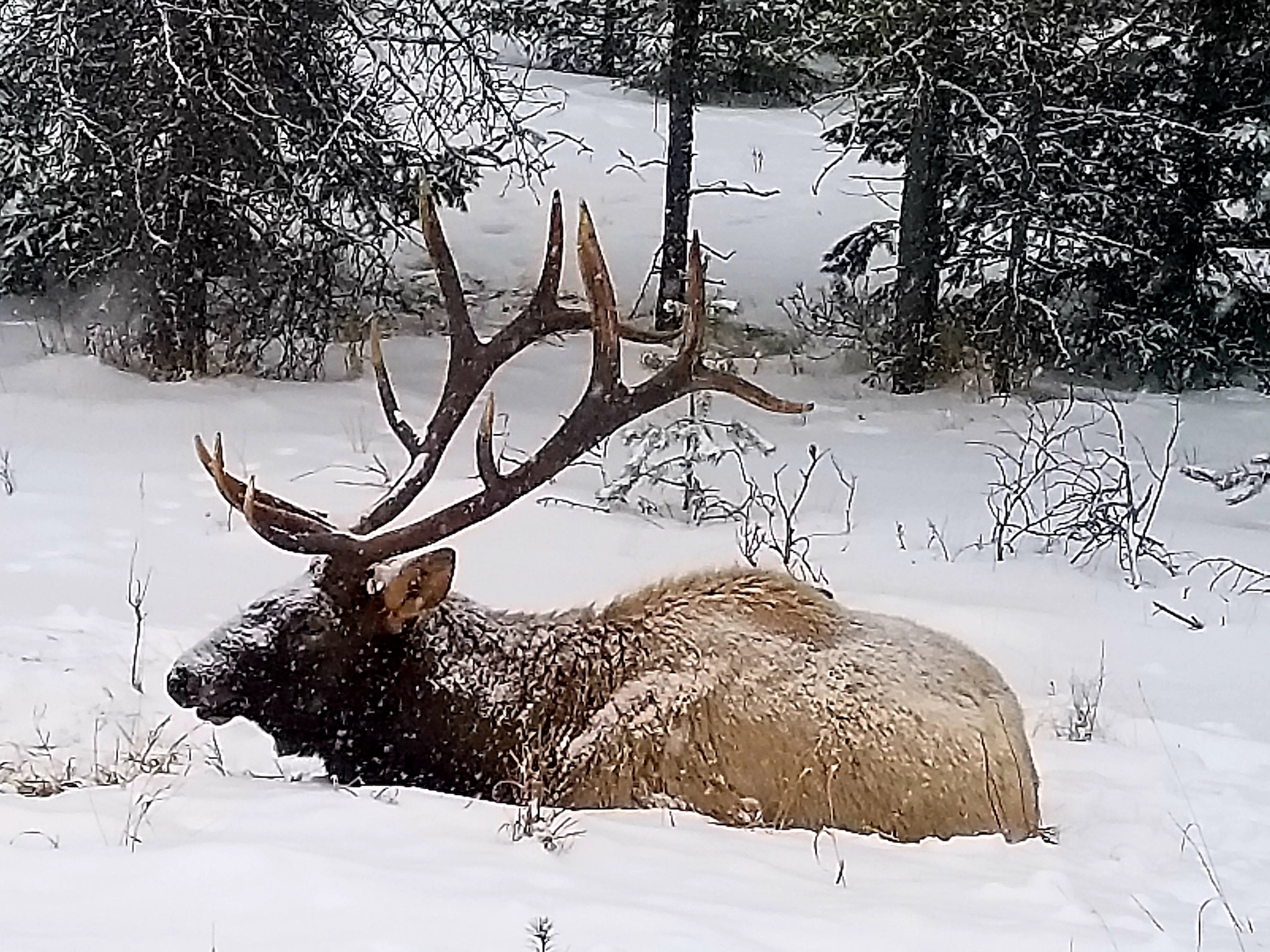 Maligne Canyon is a must visit in Jasper National Park and we did drop by during our winter visit, this time also with our granddaughter Nina, but once again it was simply too cold to stay our any longer than about twenty minutes. Like General MacArthur on leaving the Philippines, I promised to return.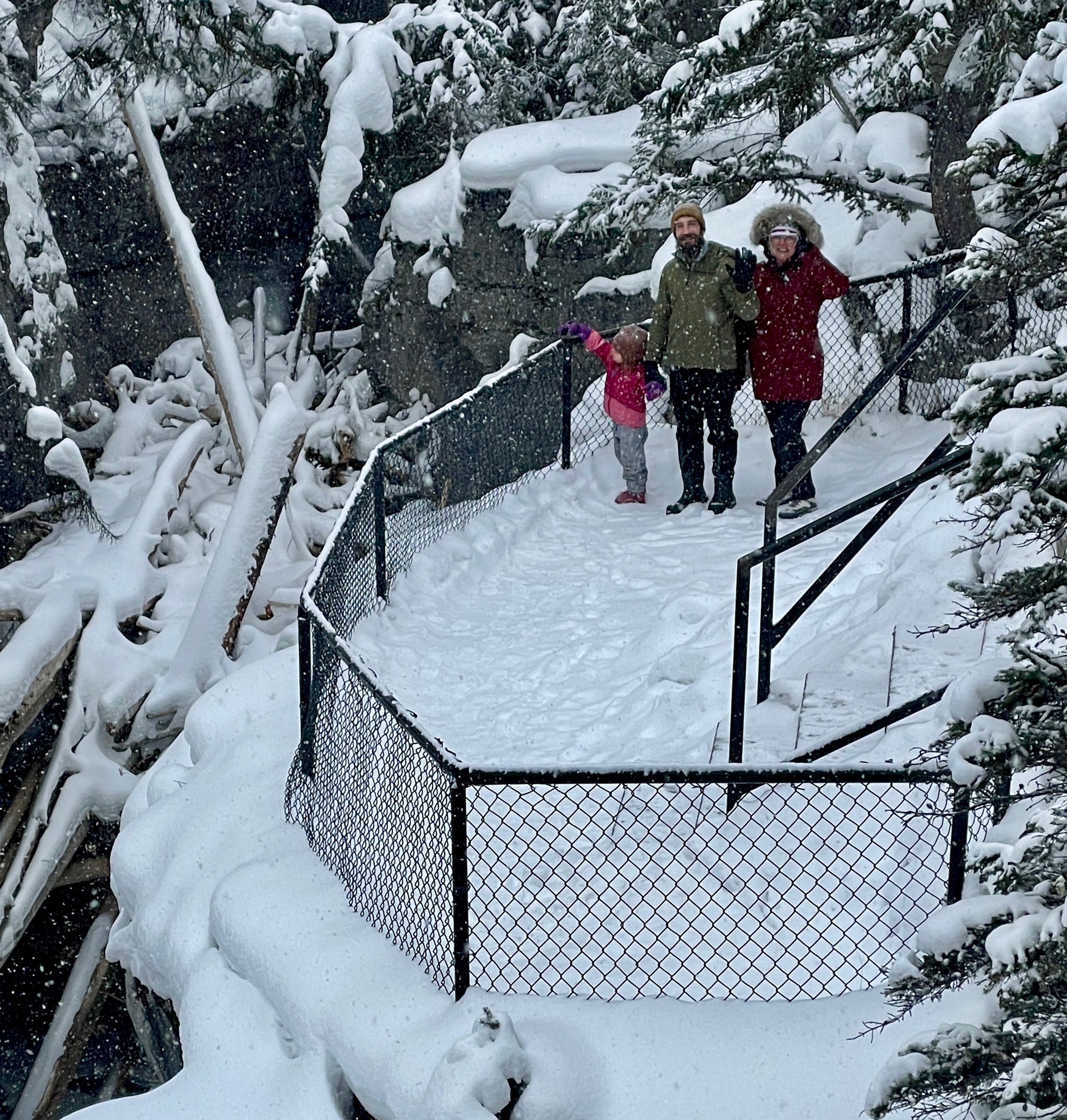 So we did get as much as we could out of our visit to Jasper National Park in December despite the cold weather, including some very nice meals at Jasper restaurants. An added bonus was the many holiday light displays, particularly Locomotive 6015.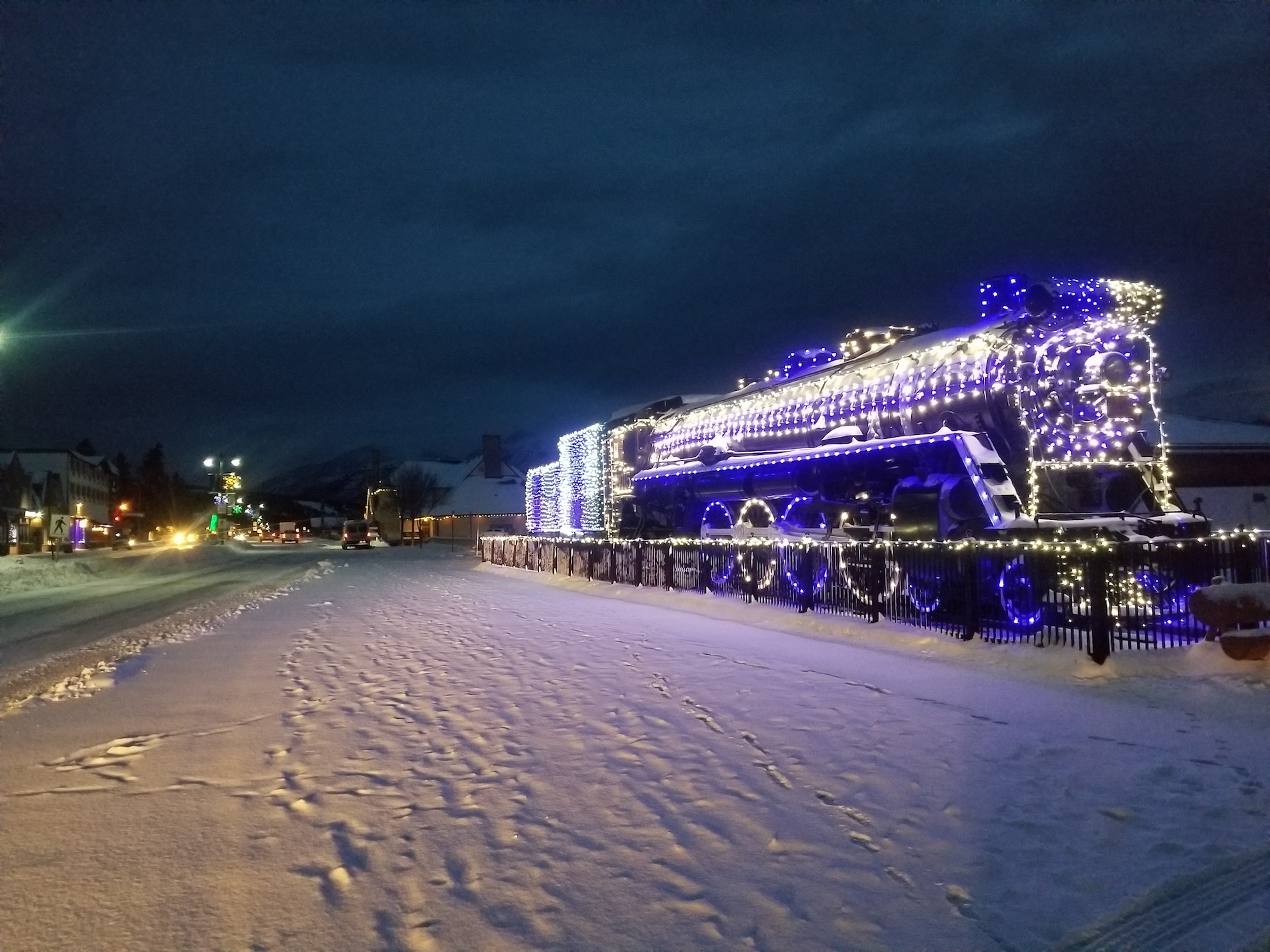 We had not originally planned to return to Jasper in the summer of 2023, but those plans changed when Dale and Kerrie informed us just before leaving in December that she was expecting a new addition to the family in early July. Little Della was born July 10, 2023 and a month later I fulfilled my promise to return and we were once again in Jasper National Park.
This time the weather was much better, but the visibility was limited by smoke from the many wildfires burning in B.C. Still Alison and I did manage to get a lot in during our four day stay starting with the wonderful Jasper Park Lodge Golf Course which I wrote about in this post.
Maligne Canyon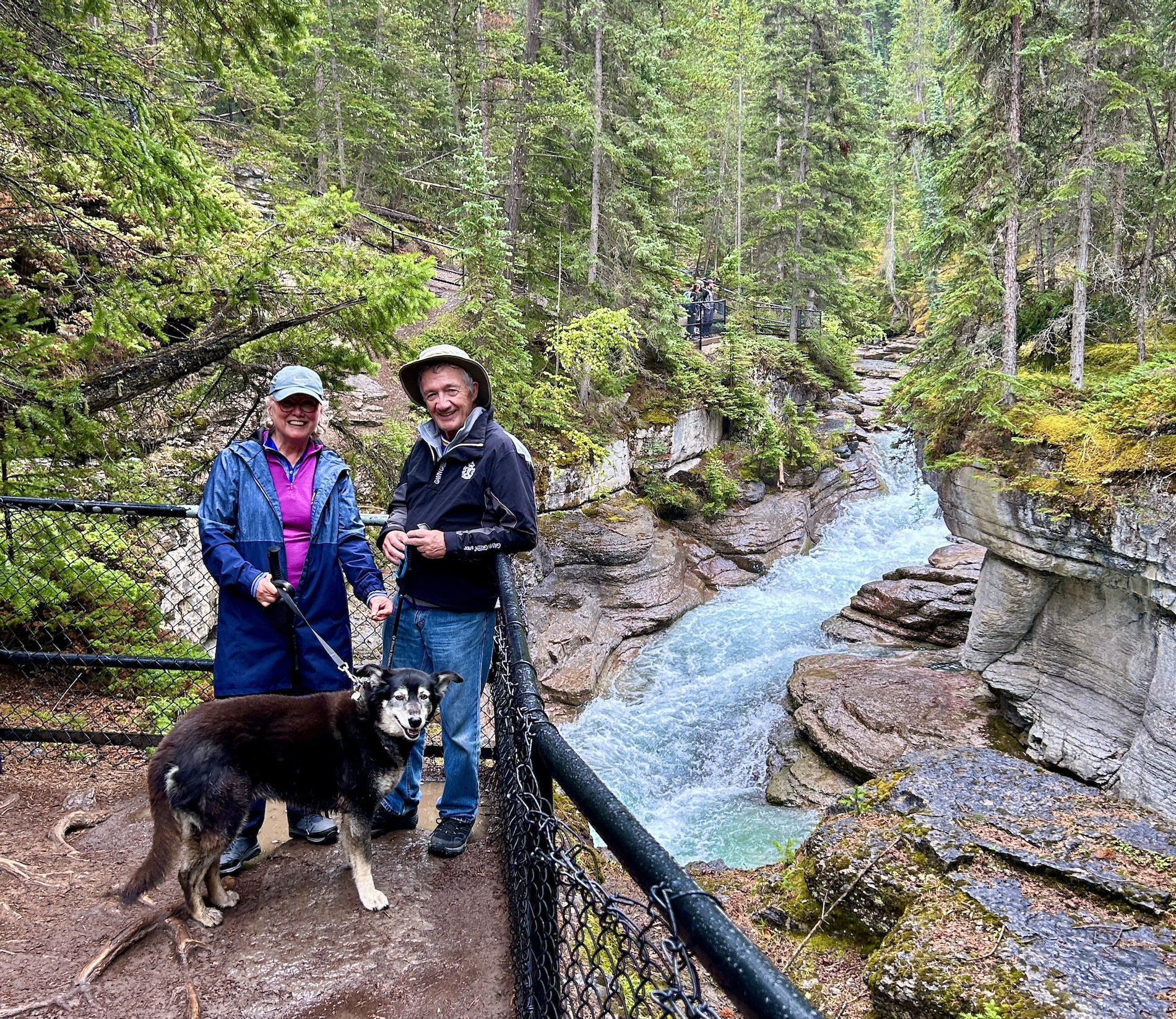 Maligne (pronounced ma-leen) Canyon is one of Jasper National Park's most interesting and approachable natural attractions. Not far from the town of Jasper the Maligne River has cut a gorge as deep as 50 metres (164 feet) deep into the soft limestone not far from where it flows into the Athabaska River. What makes Maligne Canyon so significant is its narrowness, only a few meteres across in places. Parks Canada has created a hiking trail that follows the course of the canyon, crossing over it six times on bridges that give a great view of the onrushing waters.
Here is a very short video showing the waterfall at the narrowest part of the canyon.

And a second one taken past the third bridge.
This hike can be as long or a short as you want it to be. We did it with Kerrie's Dad Harry and his dog Raven and went as far as fifth bridge and then back. You do need hiking boots and preferably poles as well as there are some slippery and muddy spots. For birders a real bonus would be seeing the very rare black swifts that nest in crevices in the canyon walls.
I'll end this section on Maligne Canyon with this gallery which depicts portions of the canyon in the order that you will see them. The swifts are most likely to be seen in the area where the third photo was taken.
Maligne Lake Cruise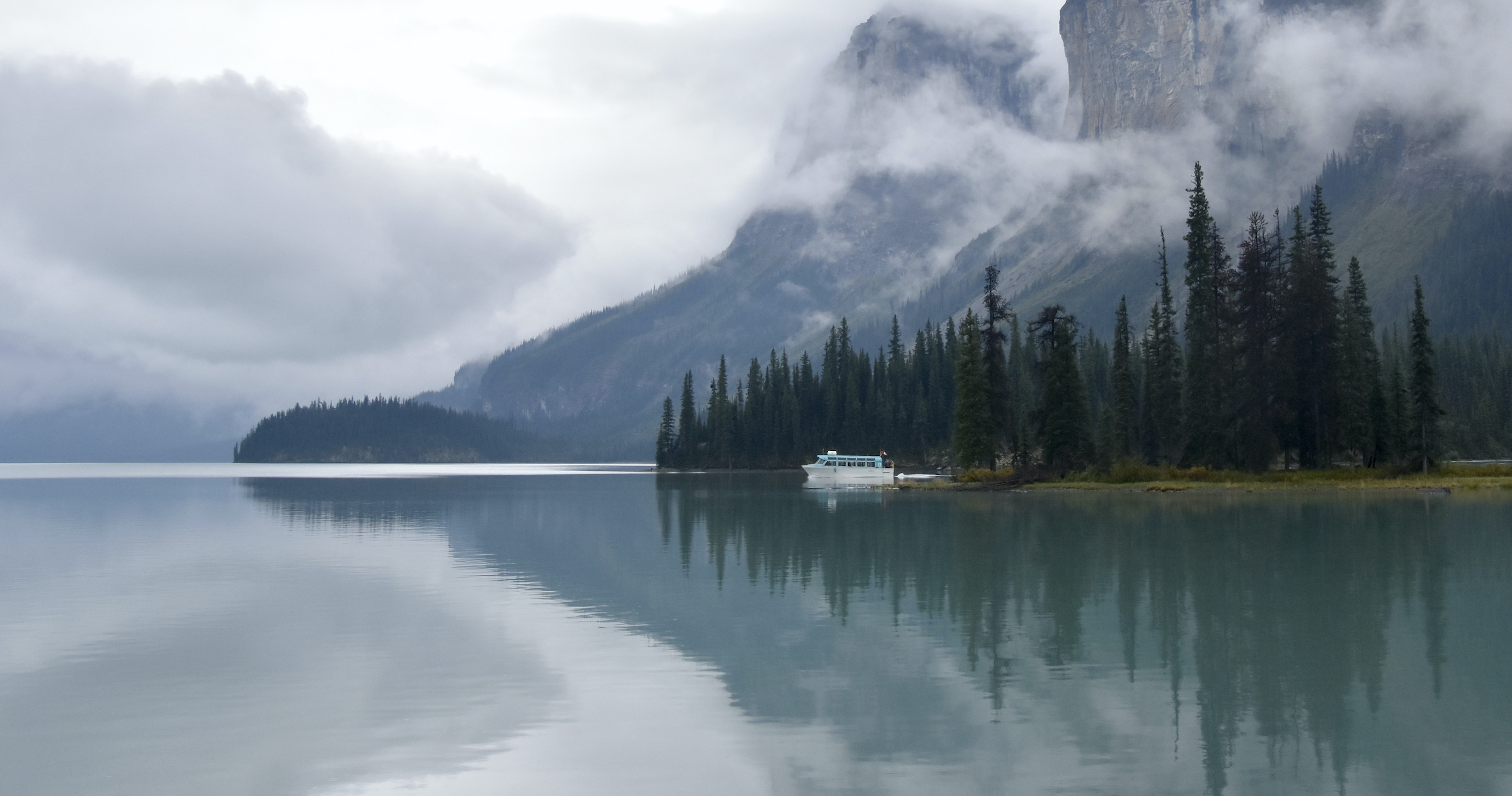 Now that we've explored the Maligne River canyon it's time to go further up the road to the lake that is the headwaters of the river. Maligne Lake is the largest natural lake in the Canadian Rockies and for over sixty years visitors have been able to take a cruise 14 kms. up the lake to Spirit Island where there is an opportunity to take a short walk on land sacred to the Indigenous people. We took the opportunity to book the first cruise of the day and although the weather was not overly cooperative, it was something I would not want to miss when visiting Jasper National Park. Click on the preceding link to reserve a spot and buy tickets online.
Here is a gallery of some of the highlights from that boat trip.
Maligne Lake is worth visiting even if you don't plan to take the boat trip. It is one of the places in Jasper National Park you are most likely to see a moose and that was the case as we drove into the parking lot. This young moose was grazing at the entrance and I took this photo from the car. You are not supposed to get this close to a moose, but we had no choice to get into the parking lot.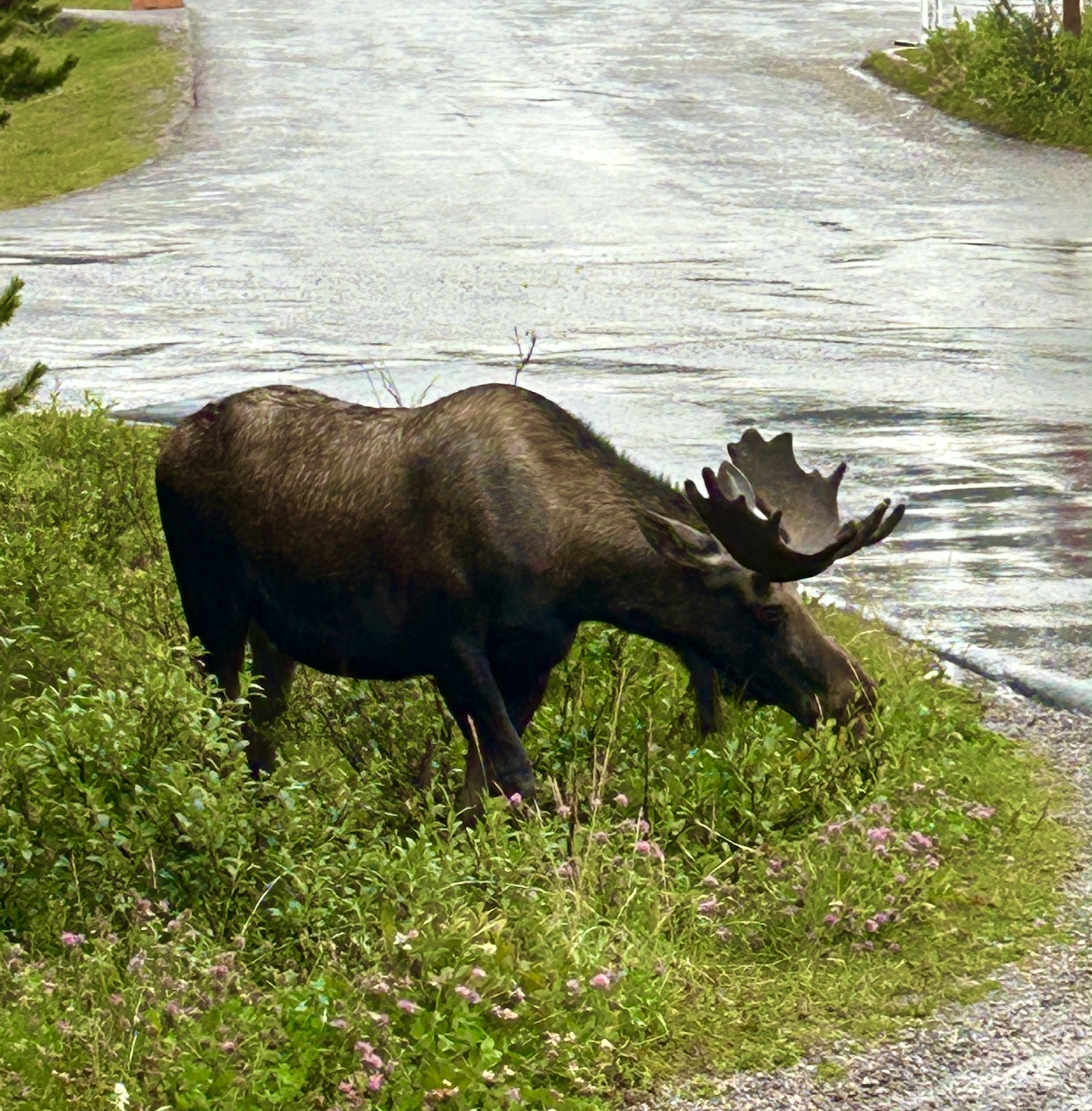 Also worthwhile at Maligne Lake is to take a stroll along the lakeshore on the Mary Schaeffer trail where you'll find the historic boat house.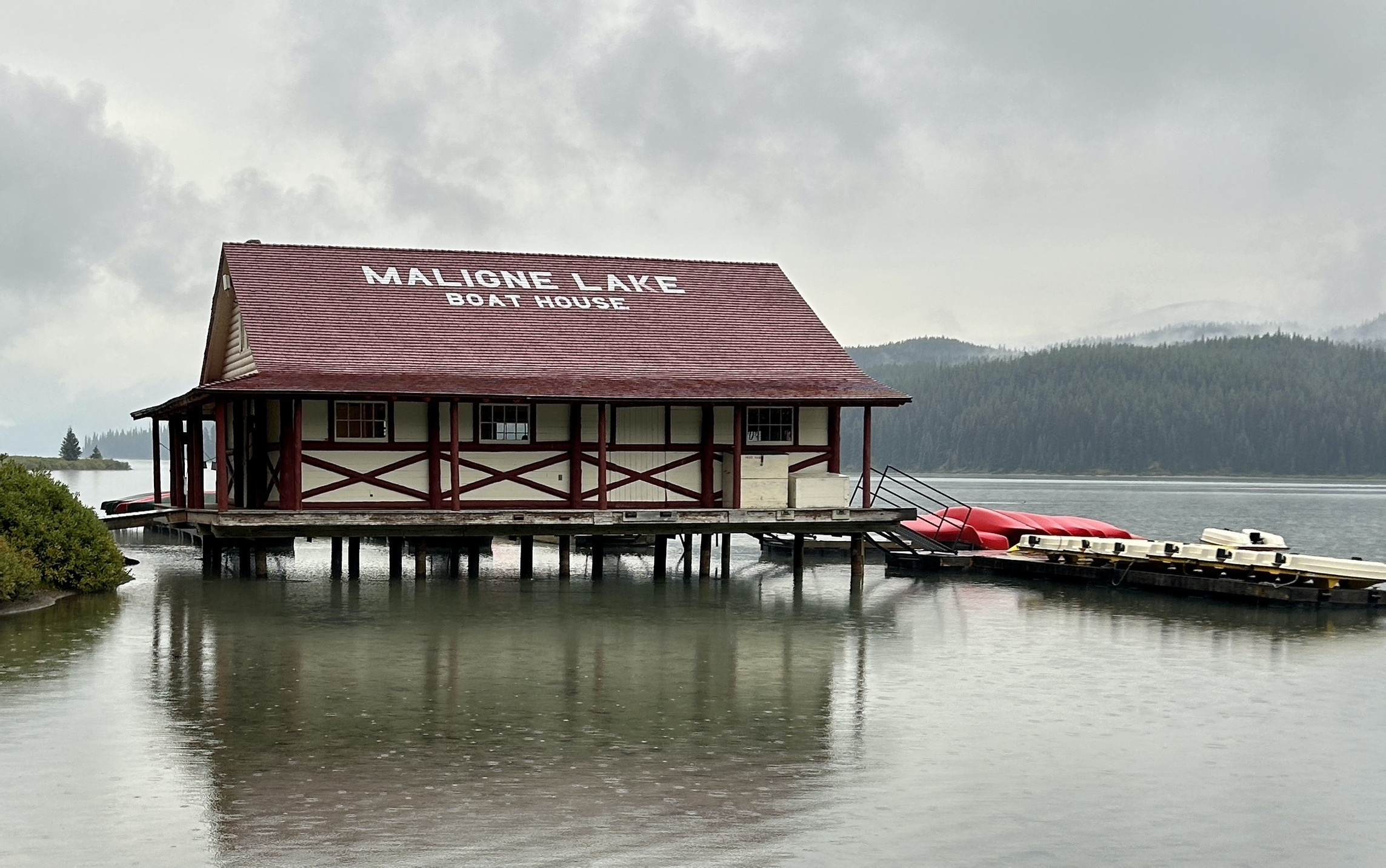 Continuing on a short distance will bring you to the Parks Canada red chairs that are a must find for me at every National Park and National Historic Site I visit.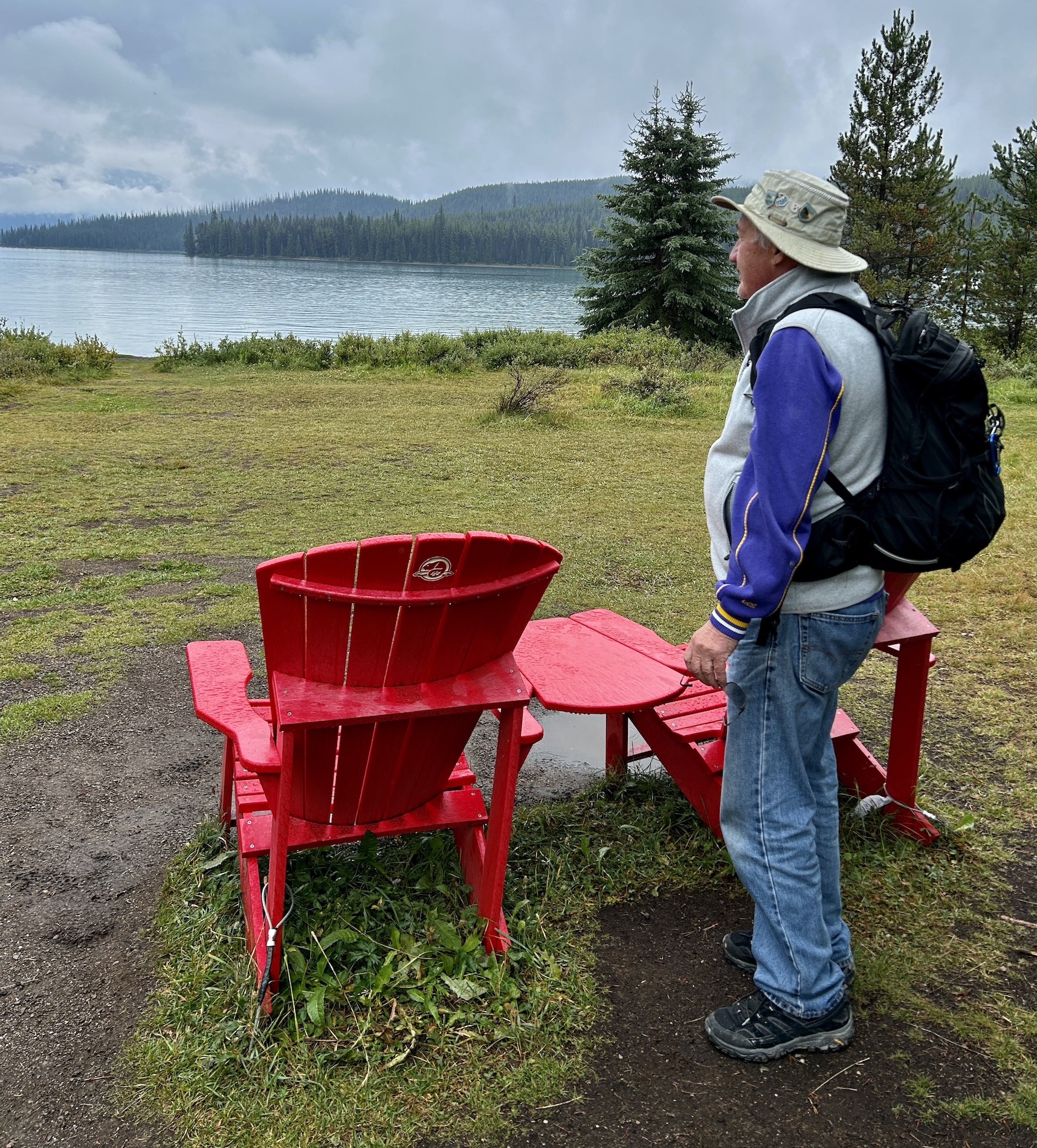 Mount Edith Cavell Trail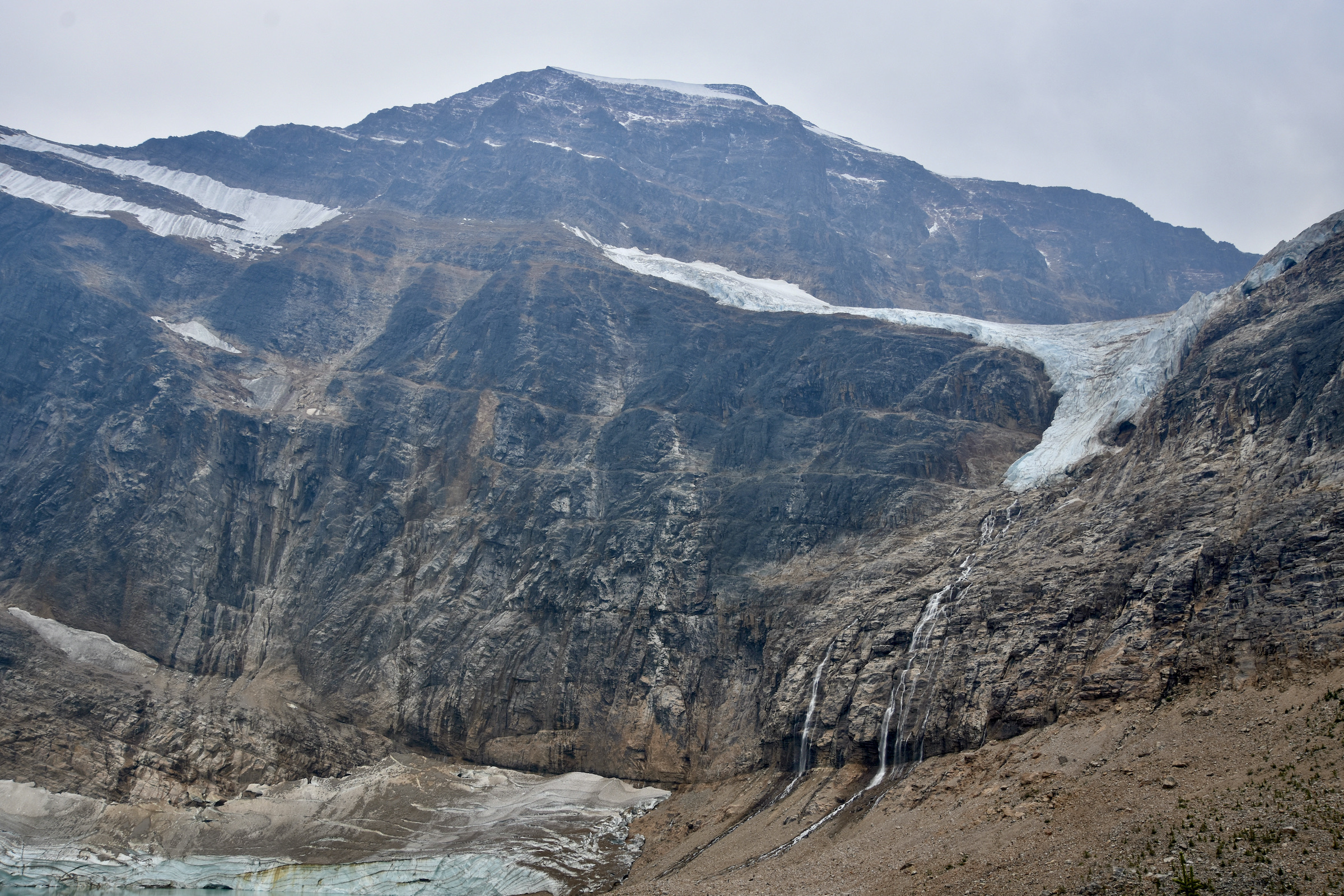 Another of the most-do experiences in Jasper National Park is to take the short hike up to the face of Mount Edith Cavell and Angel Glacier. The trailhead is some 28 kms. (17 miles) from Jasper, but the road into it is very narrow with a lot of  hairpin turns so if you have a trailer you'll need to leave it in a parking area designated for them at the entrance to the Mount Edith Cavell Road. This is a very popular hike so don't be surprised if the parking lot is full when you get there. My advice is to go early.
The hike itself is not long, but it is at elevation so if you're coming from sea level as we were, you will feel the thin air. That small bother is more than worth it when you get to the end of the trail which has a full on view of Mount Edith Cavell as well as the glacier and the tarn below it.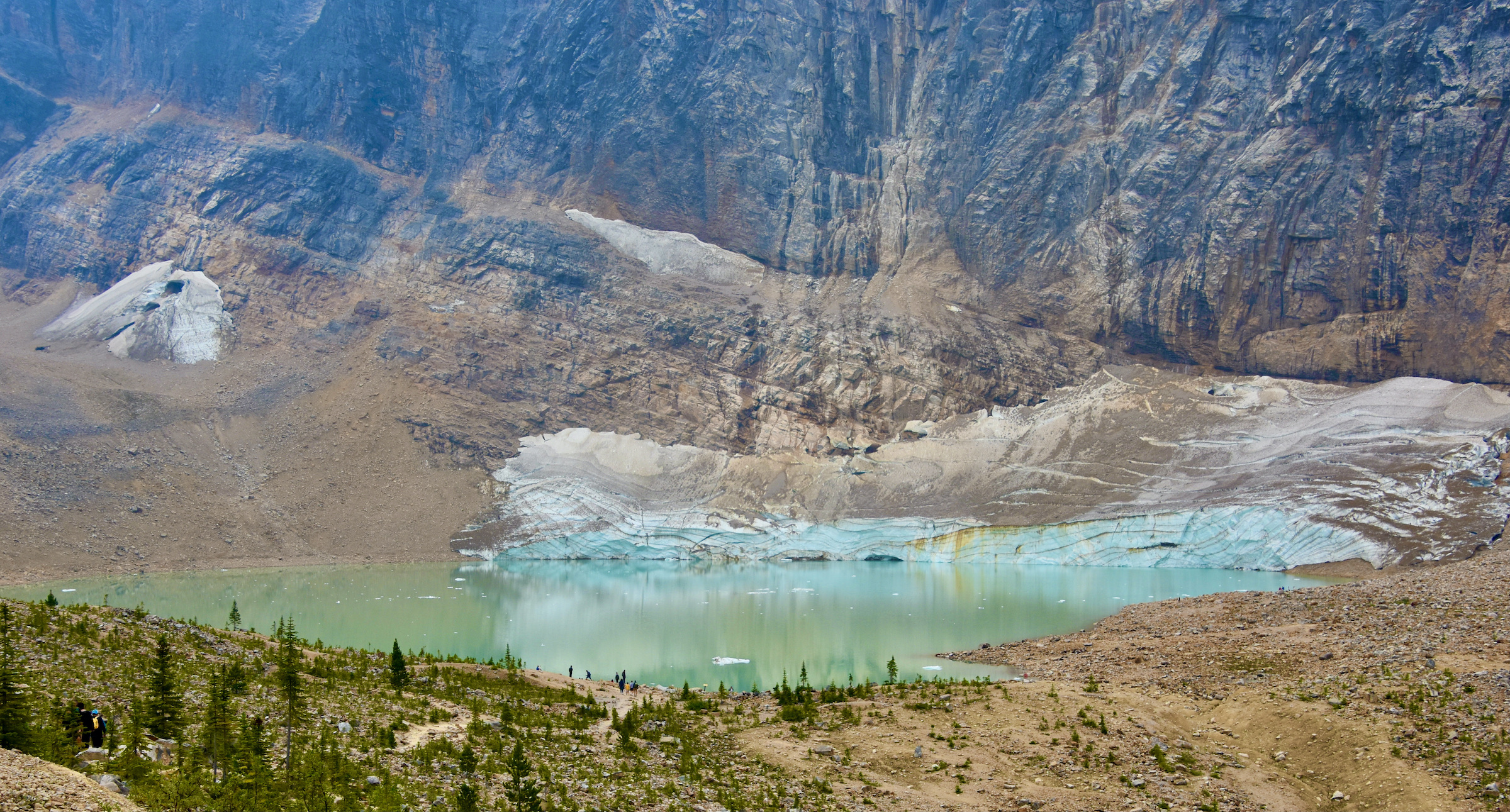 You can walk down to the tarn or get an even better look by taking the Cavell Meadows trail which we did not have time to, but both Harry and our son Dale said it was one of the best hikes in the park. Another reason to return.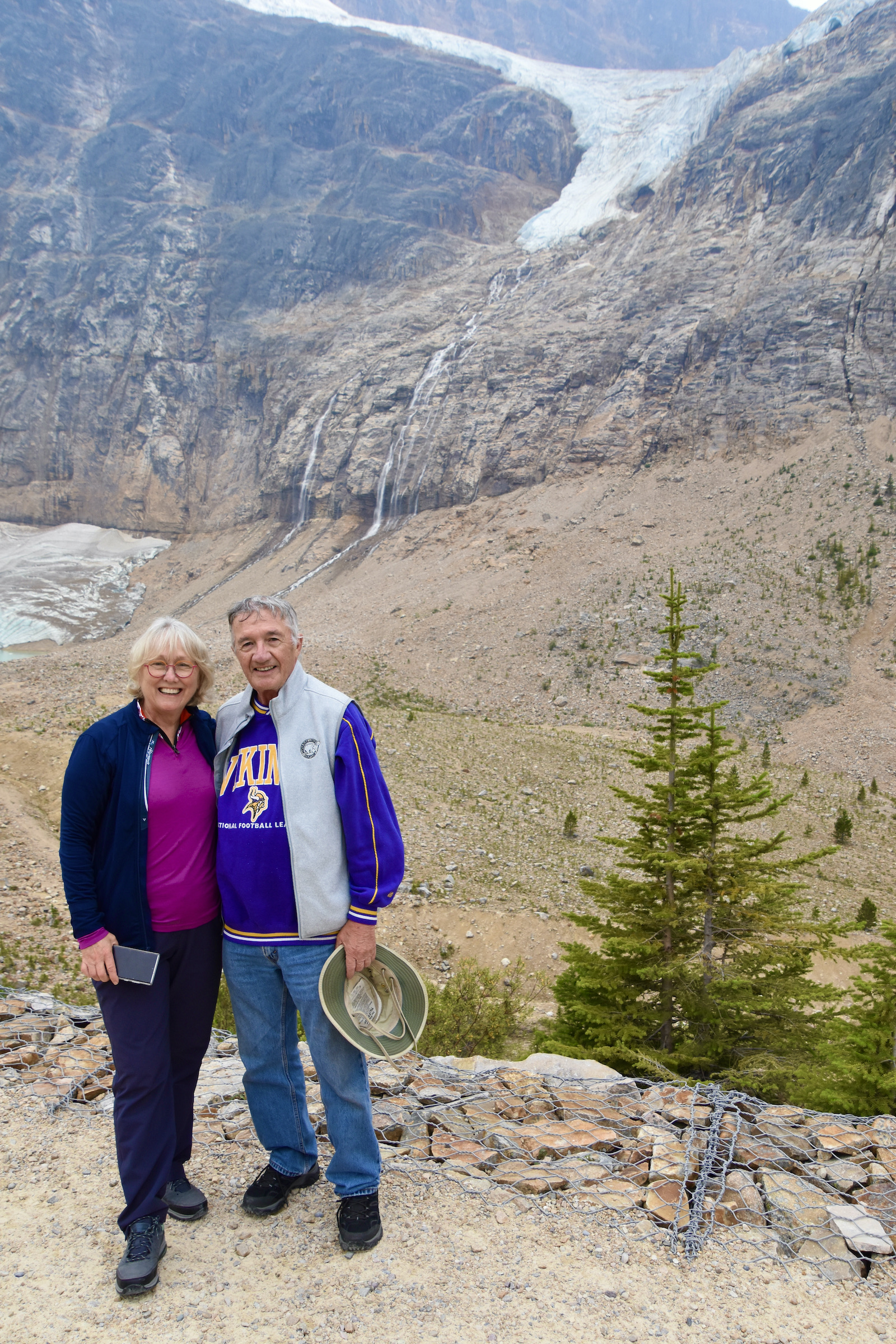 Jasper National Park Skytram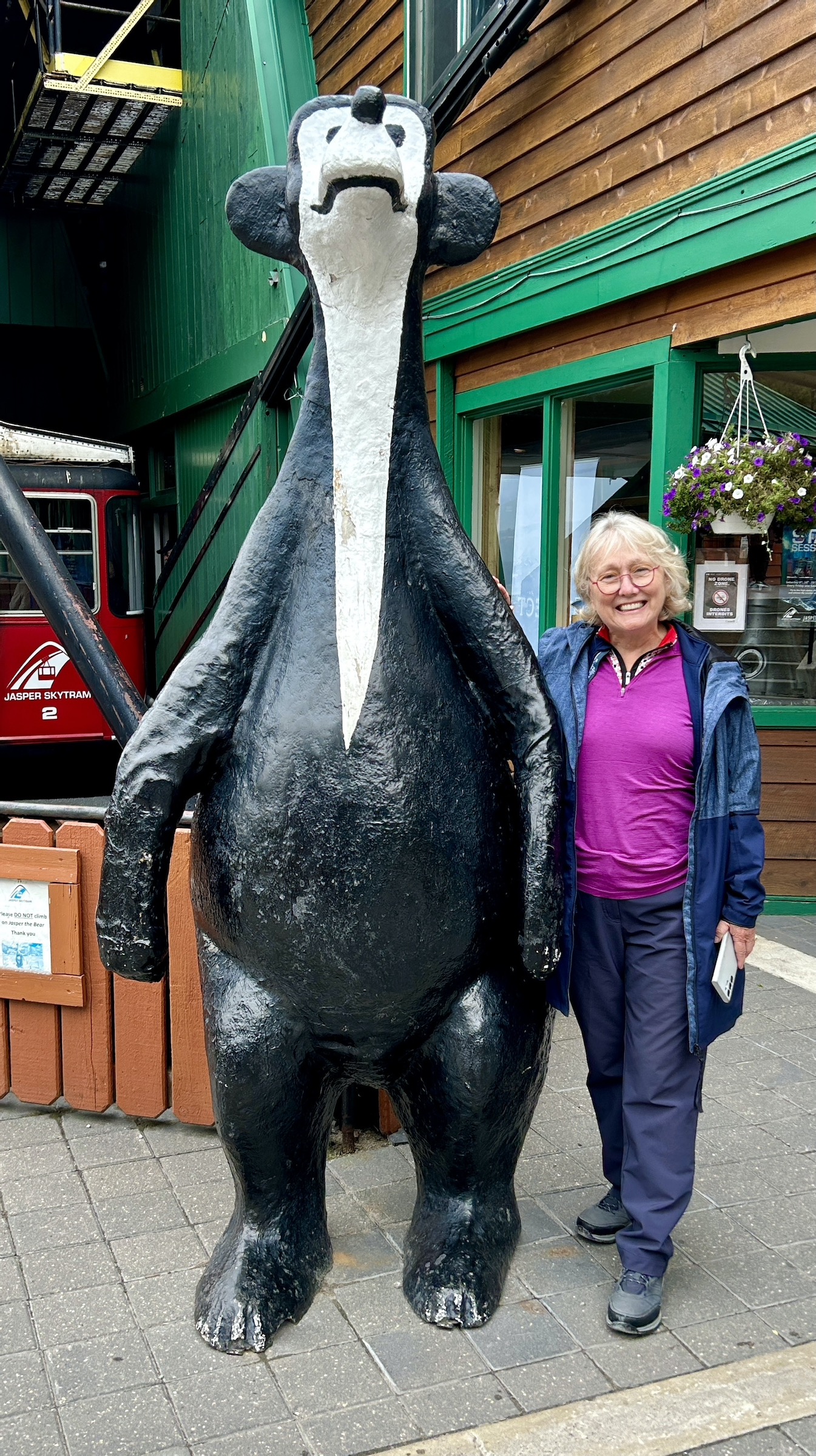 Some might say I have saved the best for last in presenting the highlights from Jasper National Park and I wouldn't disagree. The Jasper Skytram takes you well above the tree line on Whistler's Mountain and provides a rare opportunity to do some high alpine hiking and get some spectacular views of the town of Jasper and the Athabaska River far below.  Opened in 1964 the Skytram has taken some six million visitors up and back. We booked ourselves into the first flight of the day at 10:00 AM to get ahead of the crowds that inevitably follow, especially if it is a clear day.
After the obligatory picture with Jasper the Bear at the entrance to the Skytram it takes only seven minutes to get to the top station which is at 2,263 Metres (7,424 feet). From here a trail leads a further 1.4 kms. (roughly 1 mile) to the summit at 2,470 metres (8,100 feet). It is a fairly gentle ascent, but given the altitude you want to take it slowly. We saw a number of people younger than us on the first flight who tore off for the summit like jackrabbits only to be found panting their lungs out halfway there.
Don't overlook the trails that loop off from the main trails as these all have great viewpoints, especially the one leading the the false summit. Also keep your eyes and especially your ears open for the hoary marmots from whose whistling calls the mountain gets its name. These are the largest members of the ground squirrel family and can get up to twenty pounds. We did see a few along with golden-mantled ground squirrels that look like overgrown chipmunks.
Here is a gallery with some of the highlights of the Whistler's Mountain trail.
Well that wraps up my Jasper National Park highlights and I hope it inspires my readers to follow in our path in exploring this Canadian natural wonder.