Poipu Bay Golf Course – Former Home of the PGA Grand Slam
This is another in my continuing series of posts from the four main islands of Hawaii that Alison and I took a few years ago. They have been updated for accuracy as of 2o21. In the last post we took an amazing helicopter ride over Waimea canyon, the Na Pali coast and Wailua Falls. In this post we'll return to solid earth and play the Poipu Bay golf course, longtime host of the PGA Grand Slam of Golf. Please join us.
After a really great sleep, due no doubt to the numerous activities of the day before, I got up early and checked my office emails. This is an unfortunate necessity in this day and age of immediate expectations. The up side is that you can answer a client's question just as easily from Kauai as Kalamazoo and chances are the client will have no idea you are on a 'working' vacation.
Anyway, there was an email from my receptionist – Did you lose your hat? Turns out I had left my new Tilley hat somewhere on the bike path the previous day. Luckily the person who found it knew enough to look inside the hat where I kept a business card. He had phoned the office to indicate he had it and left his number. I called the number, which was a condo in Kapa'a and made arrangements to retrieve the hat later in the morning as we were headed that way to play Poipu Bay Golf Course. The hat was dutifully retrieved from a retired teacher who would not consider letting me pay for the phone call from Kapa'a to Nova Scotia – yes there are still good Samaratins in this world.
Poipu Bay is the alternate resort area I had contemplated in deciding where to stay on Kauai. As I mentioned in an earlier post the fact that Poipu Bay was considered more 'family oriented' was what tipped the scales in favour of Princeville. While we didn't see a lot of Poipu Bay what we did see convinced me we had made the right choice. Why? Well frankly the topography of the area was pretty flat and bland compared to Hanalei Bay and the area just didn't have instant appeal of the mountains of the Na Pali coast.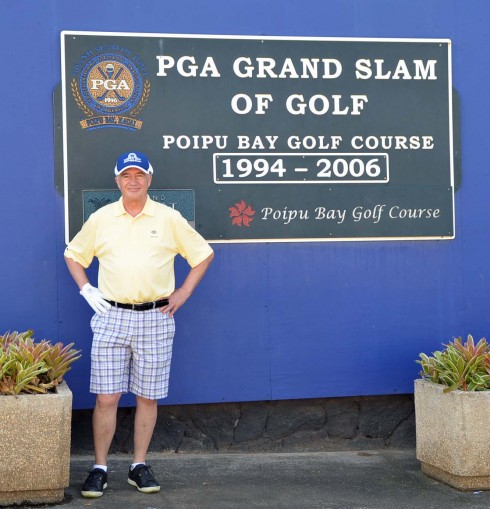 Poipu Bay Golf Course was the second Robert Trent Jones Jr. designed course we were to play and it had a great reputation as the long time home to the PGA Grand Slam of Golf for over a dozen years. The PGA Grand Slam was played by the winners of the four majors in golf so everybody who is anybody in golf has competed here. On the walls of the clubhouse are pictures of past participants and winners with the trophy – every second one seemed to be Tiger Woods. While it was held here Tiger feasted on the competition, although Phil Mickelson holds the course record of 59 – yes 59!
When the PGA Grand Slam of Golf left Poipu Bay it relocated to the Port Royal Golf Club in Bermuda which we have played as well.
So did we follow in Tiger's footsteps? No, but we definitely got mauled. At the end of our round we were exhausted and had played what was to be our worst golf during the entire month. The reason wasn't hard to pinpoint – the wind. This is a course that does not return to the clubhouse after nine holes with the result that, at least on the day we played, there were nine straight holes into a steady trade wind. After an easy start downwind we turned around and began what was a struggle. If there's a flaw in your swing (and who doesn't have one?) then hitting into the wind will expose it. That might be manageable sanitywise for say four holes, but nine? NFW. By the time the downwind holes were reached we ready to run up the white flag. On the positive side, since we didn't give a s*** by this time we could enjoy what were some really spectacular holes coming in. Have a look at 15 and 17.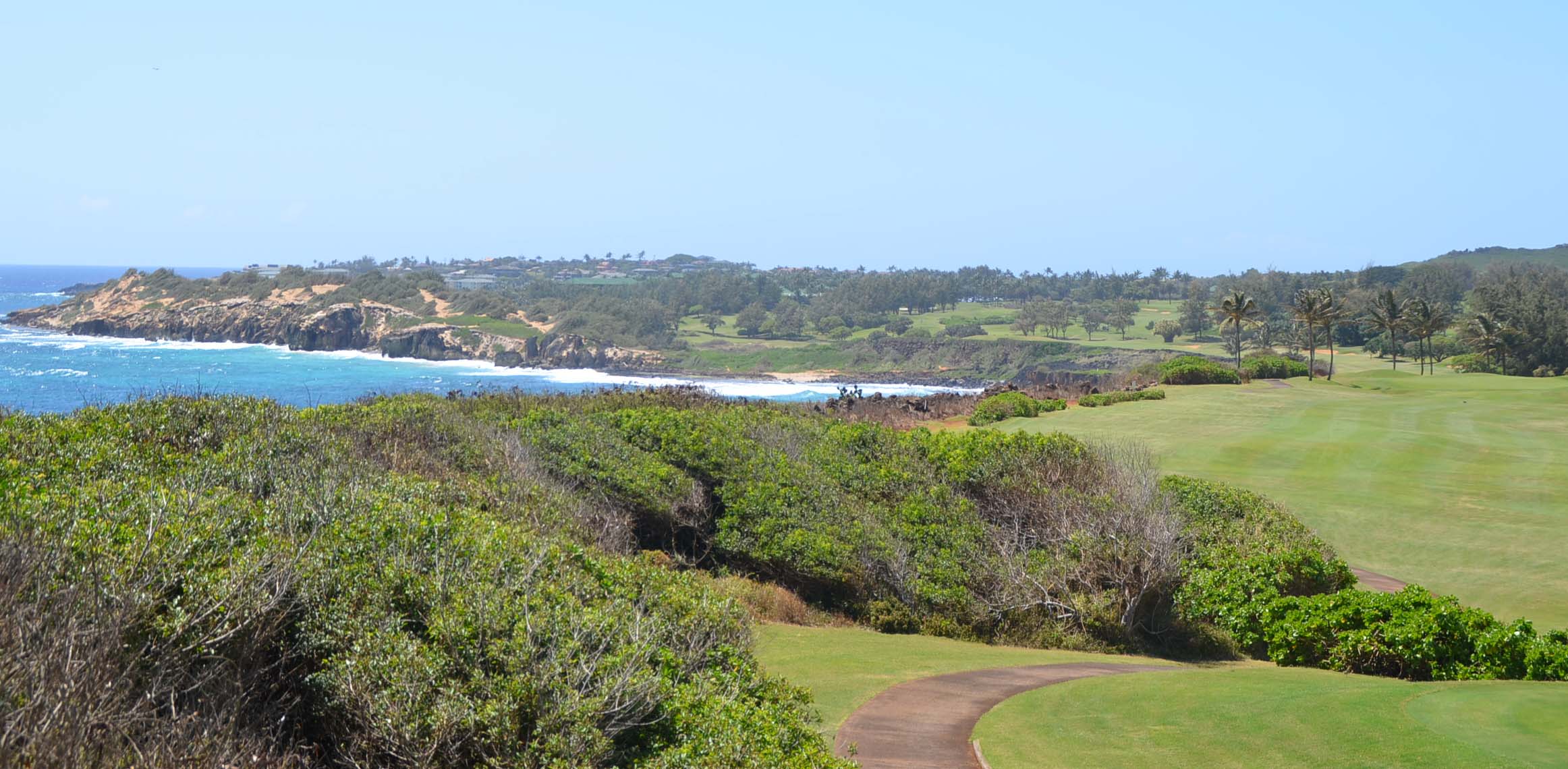 Also of interest were the numerous heiau sites and old lava walls that were preserved and, rightly or wrongly, are part of the course, like this lava wall that crosses No 16 at Poipu Bay.

Looking back with a few months to reconsider I have no doubt that Poipu Bay is a great course, but it's still a distant third place  in the Robert Trent Jones Jr. Kauai sweepstakes.
Heading back through Kapa'a we decided to stop at one of the many small takeout places that we had passed a couple of times by now. Our choice was Chicken in a Barrel which beat out Tacos Al Pastor only because it had a niftier sign. Also they really were cooking BBQ out of old barrels, albeit steel ones. I guess they cut off the tops to be used in steel drum bands and use the bottoms to cook in.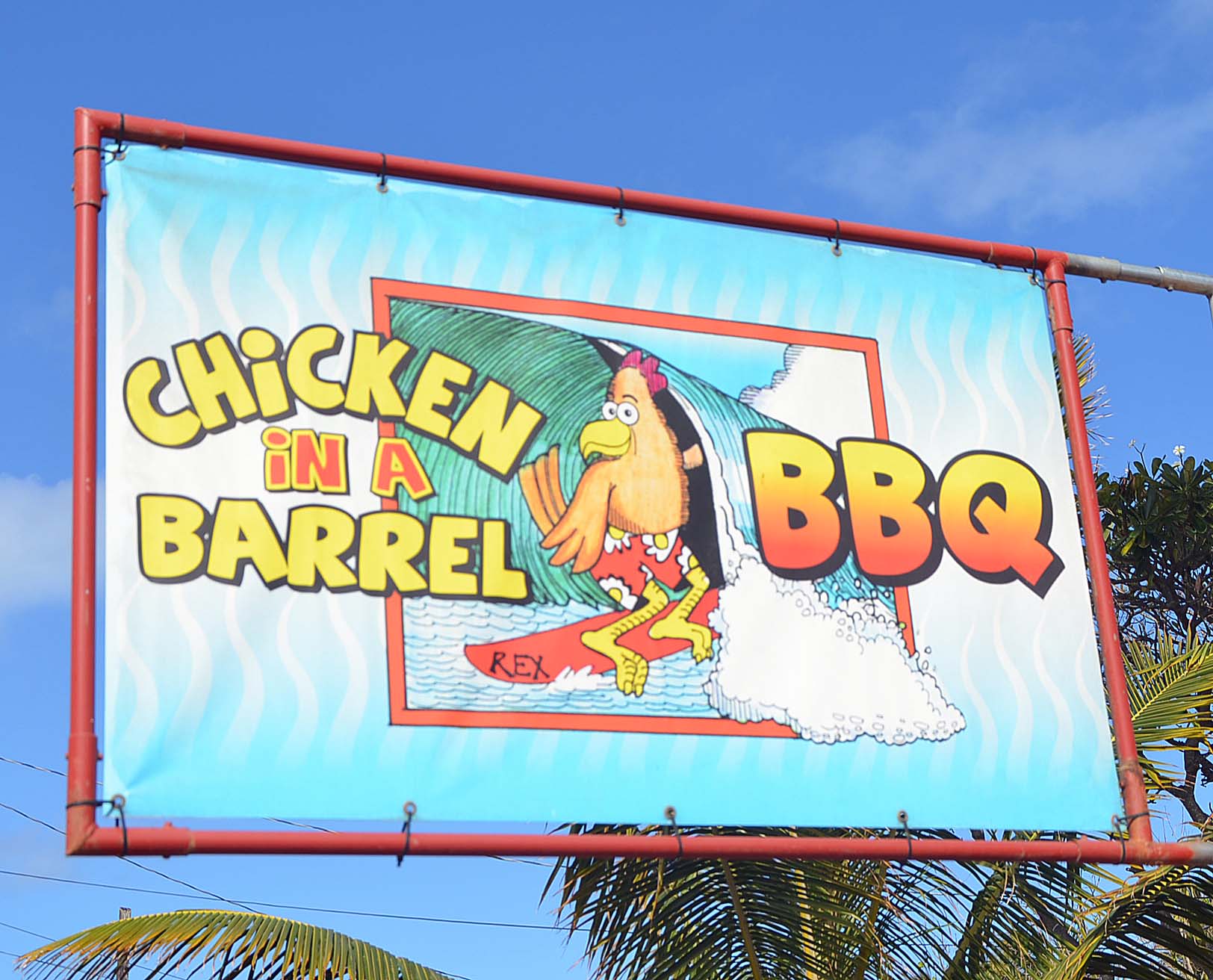 Like so many rural eating places in Hawaii this is a minimalist operation with a couple of people doing a couple of things really well; in this case chicken and ribs. Nothing fancy, nothing expensive, but it sure helped us forget about our non-existent golf games at Poipu Bay.
It was late in the afternoon when we got back to our condo and by the time we freshened up the sun was on its way down. Although the days are short in Hawaii compared with Canada at this time of year there is a period after the sun goes down that there is darkening light that, in combination with the ebbing trade winds, makes the palm tree fronds dance in a magical  black and white world for a few minutes before the sun disappears into the west. It's not the oft looked for and seldom seen 'green flash', but a moving experience none the less. Hopefully this picture taken from our balcony will give some idea of what I am writing about.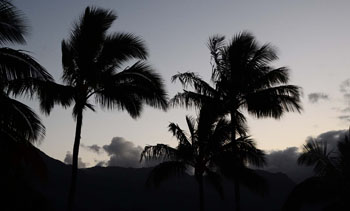 Now that the scene is set, it is time to talk about Hawaiian music and how it enhanced our Hawaiian experience immeasurably. On previous trips music has always played an important part of our journey. Our friends and frequent travel companions Rob and Janet Purdy who you will meet in upcoming posts, are dedicated seekers out of the best in traditional music from whatever  country or region we might be visiting. In the past we have danced to the bouzouki on the Greek islands and mandolins in Italy, sung along with well-oiled patrons in rural Irish pubs and watched entranced as Dervishes whirled to traditional Sufi music in Istanbul. Prior to visiting Hawaii, my knowledge of Hawaiian music didn't go beyond hula girls strumming hokey songs on ukuleles, Don Ho's saccharine "Tiny Bubbles" and the Ventures eternally good "Theme from Hawaii 5-0". That all changed this night in Kauai when we looked through the small collections of CDs and put one on by a guy called IZ which simply blew us away. Israel Kamakawiwo'ole or IZ as he is universally known is Hawaii's most revered singer whose stature has risen immensely since his death at 38 in 1997. Almost certainly you will know his haunting rendition of "Somewhere Over the Rainbow" and probably "What a Wonderful World", but what we don't hear, at least in Canada, are IZ's songs in the Hawaiian language. If there is a more melodic language than Hawaiian, with its preponderance of vowels, I've yet to hear it. For the rest of the trip we listened to IZ every day and by the time we left had bought all of his CDs and we still listen to them, especially if we can sit outside and watch the sunset over the trees, pretending they are palms and not spruce.
Tomorrow we'll switch gears completely a hike the rugged and beautiful Kalalau Trail. Please join us.
Here is a link to a photo gallery of our entire week in Kauai.