Papeete – Walking Tahiti's Capital City
This is my third post from a trip Alison I took with Adventures Abroad to French Polynesia. In the first post I gave my reasons for both visiting French Polynesia and why Adventures Abroad was my tour operator of choice. In the second I described the great relaxing atmosphere at the Te Moana Resort where the tour began. In this post I'll give my reasons for coming to French Polynesia at least a day early so you will have time to explore the capital city of Papeete on foot. Please join Alison and me as we tour the only actual city in French Polynesia.
By international standards Papeete is not a large city at just over 25,000 residents. However, as the administrative centre of the territory it hosts almost every major facility related to government, health, education, defence and just about anything else you can think of. As such, the great majority of Tahiti's population of 190,00 who are employed, work in Papeete. Thus its actual daytime population is up to three times its resident population. That's why Papeete is known as the traffic jam capital of the South Pacific, but that's not a concern for us today. We are located a short distance out of the city and once the traffic dies down it is about a $20USD taxi ride to the centre of the city.
Other than being famous for its traffic jams, why would you want to spend any time in Papeete? Actually there are quite a few reasons. The first is that the Adventures Abroad tour really only spends a short time at the market which is the main tourist attraction and I will describe that when we visit it on the tour in the next post. The other attractions of Papeete you will have to explore on your own. These include the cathedral, the waterfront promenade, a number of interesting parks and for those interested (not me) doing some shopping. There's also some interesting history to be learned along the way. So, yes, while Papeete is not going to wow you like some places, it definitely is worth spending at least half a day just wandering around it. So let's get started.
This is a map of Papeete which actually has a pretty small central area around the waterfront where most of what you want to see will be found. Thankfully most of the commuters who come into the city each day are not headed to this area so, unless a cruise ship is in, it should not be that crowded.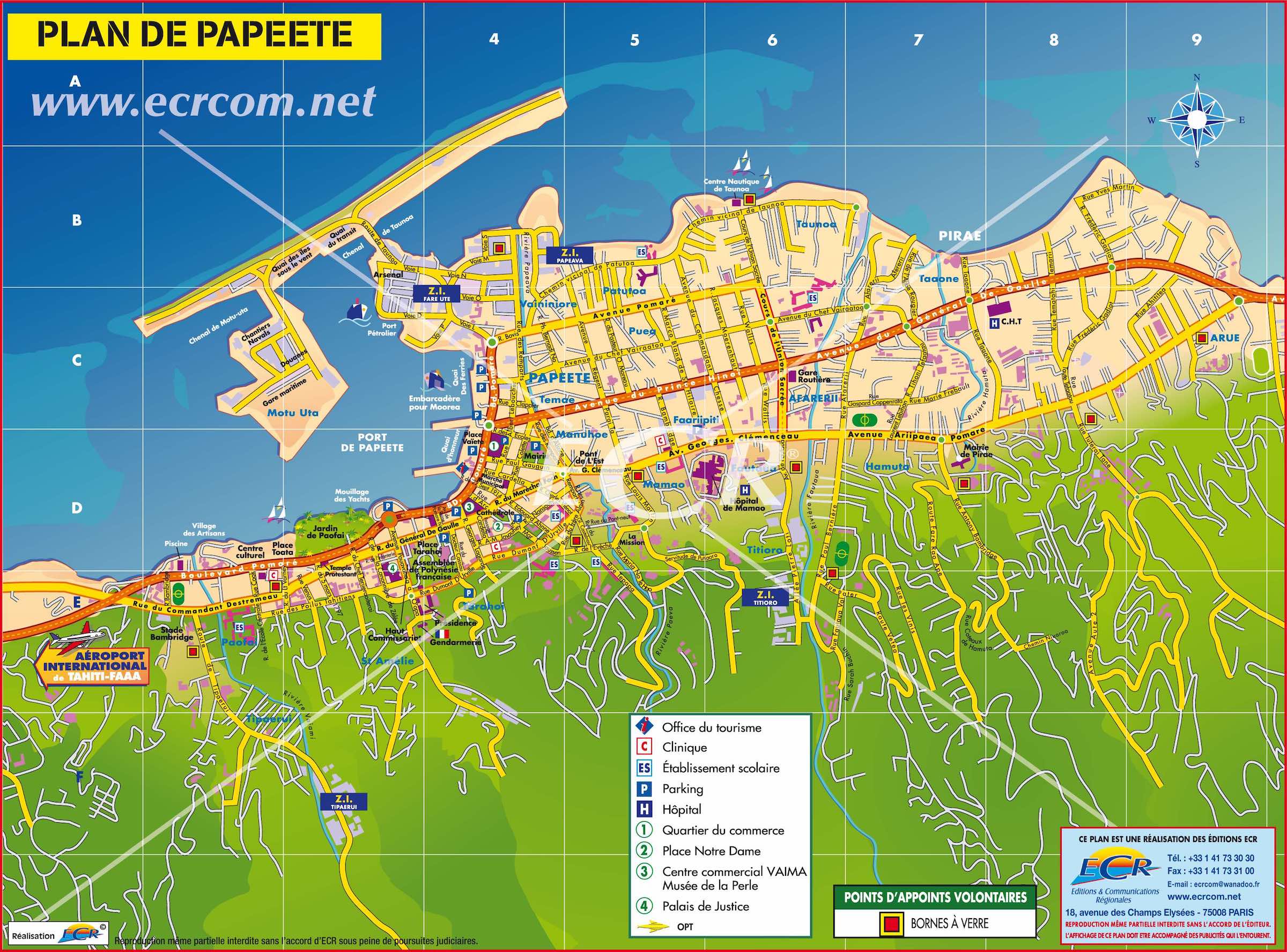 The taxi will drop you at a communal stand on the main boulevard just below the city's largest shopping mall Vaima which is actually pretty nice as these places go. After a half day of walking you'll be glad to return here and sit outside while sipping iced caramel machiattos from the Simply Life coffee shop before grabbing a cab back to the Te Moana. But I'm getting ahead of myself.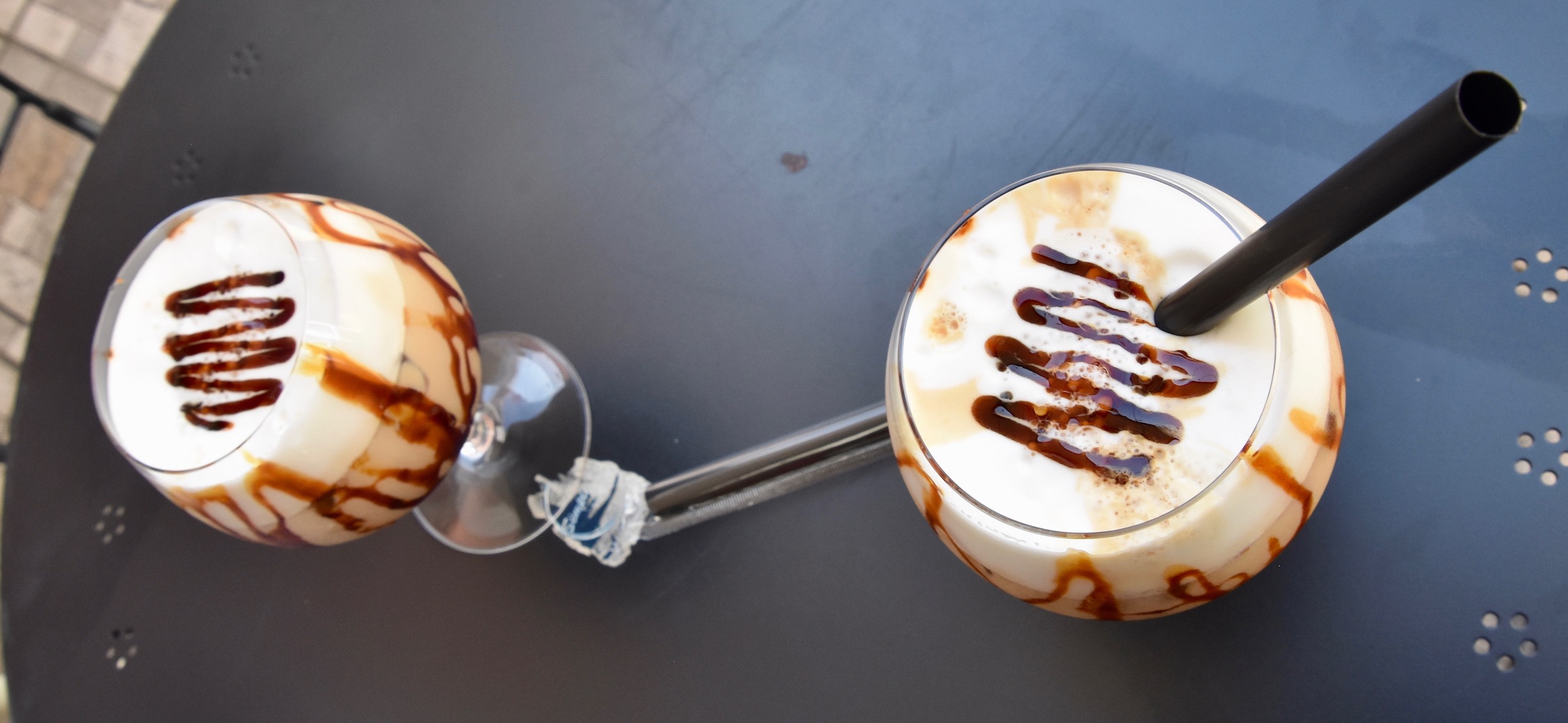 The first place most people head to is the market which is a short distance from the taxi stand and that is what we did, but as noted, I'll describe the market when we return with the rest of the AA group tomorrow.
The streets of Papeete are narrow, but with decent sidewalks and traffic lights that drivers obey, so walking is not a dangerous proposition. Aside from the many shops selling the famed Polynesian black pearls, Papeete did not strike me as your typical cruise ship port of call. There seemed to be few tourists around and pretty well everyone we ran into appeared to be going about their own business. Alison and I were largely ignored, even in the market. That is the way I prefer to walk around a place I've never been to – not being harangued by hawkers of junk, offers to guide or purveyors of shitty food. There was also no excessive horn honking or loud yells from short tempered motorists. In fact, as we were to learn over the coming days, the people of French Polynesia speak with a soft dignity that makes them among the quietest people on the planet. They seem far more likely to express themselves musically than in speech as verified by the great number of stores selling musical instruments and the number of those instruments that are being carried around by people of all ages.
So walking around Papeete should be a reasonably pleasant experience, but, besides the market, what else is there to see.
Notre Dame Cathedral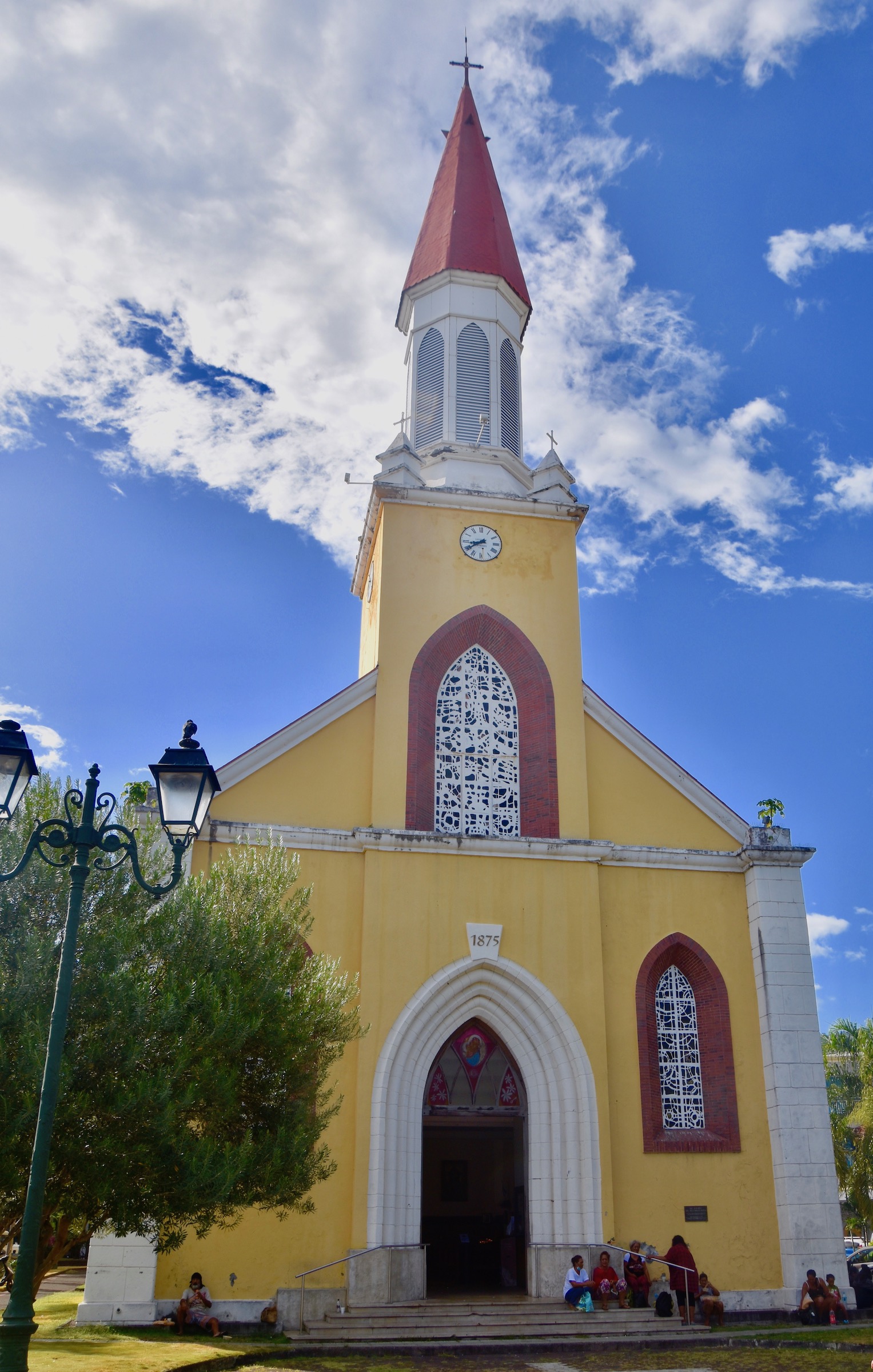 Everyone should visit the Notre Dame Cathedral, the oldest Roman Catholic church on the island of Tahiti. Completed in 1875, it is right in the heart of the older part of the city and hard to miss. This was the first church we visited in French Polynesia and we learned that churches in the country are always worth a visit because you never know what you will find inside.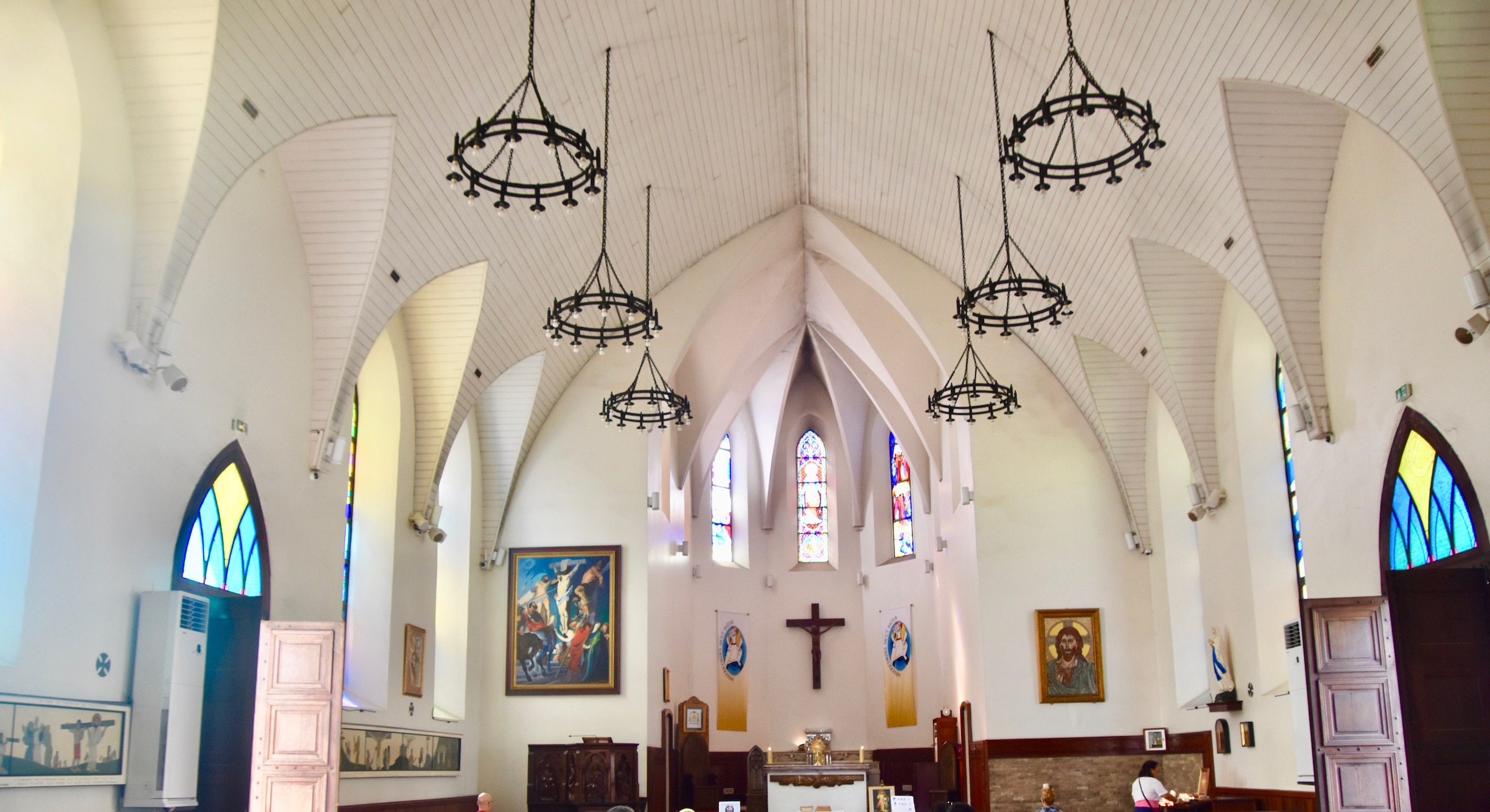 In the case of Notre Dame Cathedral it was the Stations of the Cross which are done in a style that clearly reflects those of Paul Gauguin and Georges Rouault. The stations are based on the Scriptural Way of the Cross introduced by Pope John Paul II and differ somewhat from the traditional ones that I have featured in many other posts.
This first photo depicts the third station wherein Jesus is tried by his fellow Jews led by Caiaphas in what is commonly referred to as the trial before the Sanhedrin. When Jesus avows that he is the Son of God, Caiaphas fairly gasps in horror and Jesus is swiftly condemned.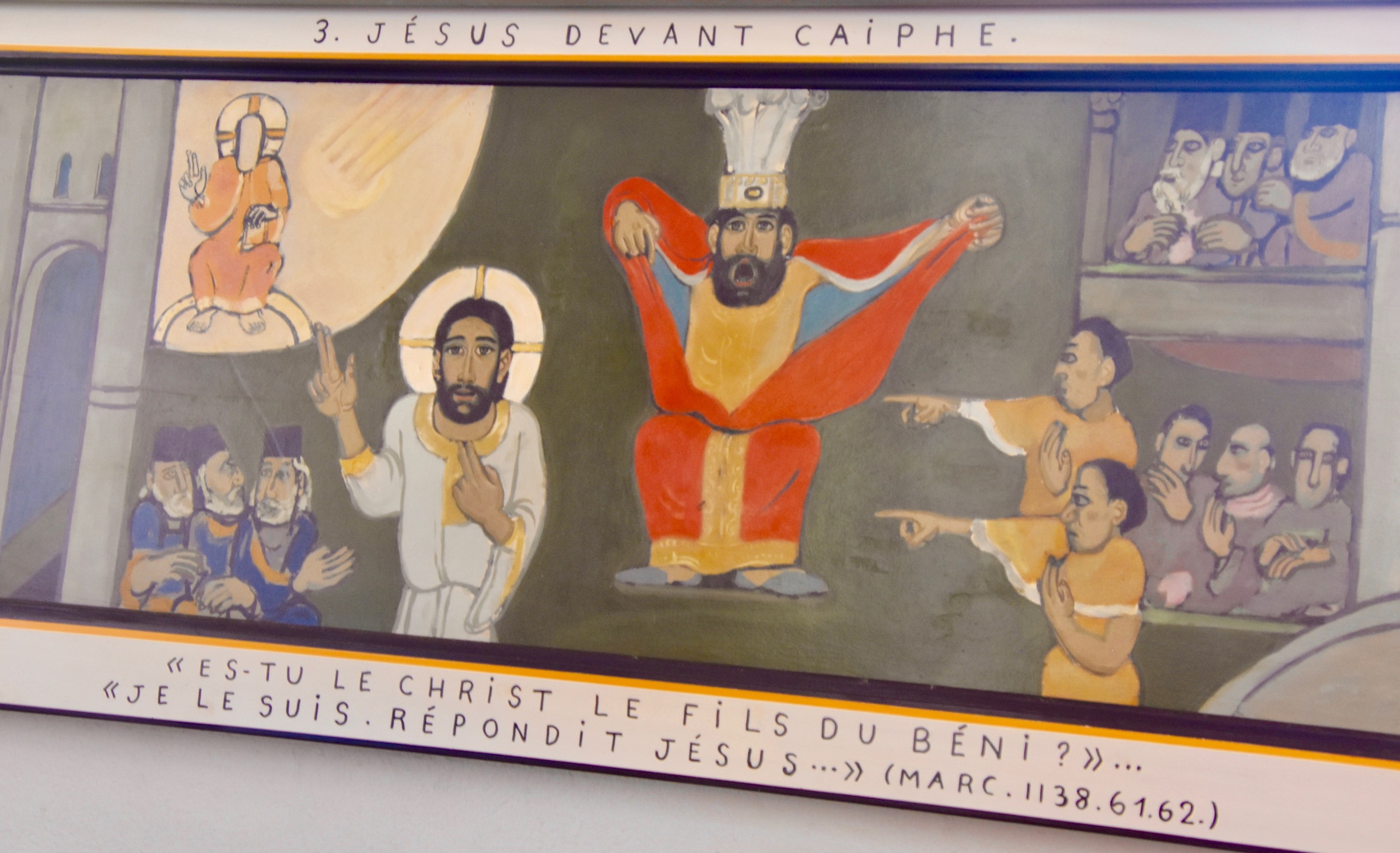 In the next photo, the sixth station, Jesus is scourged (whipped) and given His crown of thorns. The figures depicted are clearly Polynesian and not white as they are depicted in the West. This was the first of many religious depictions we saw through French Polynesia that present the characters as similar in appearance to the congregation, thus making acceptance of this new religion more palatable.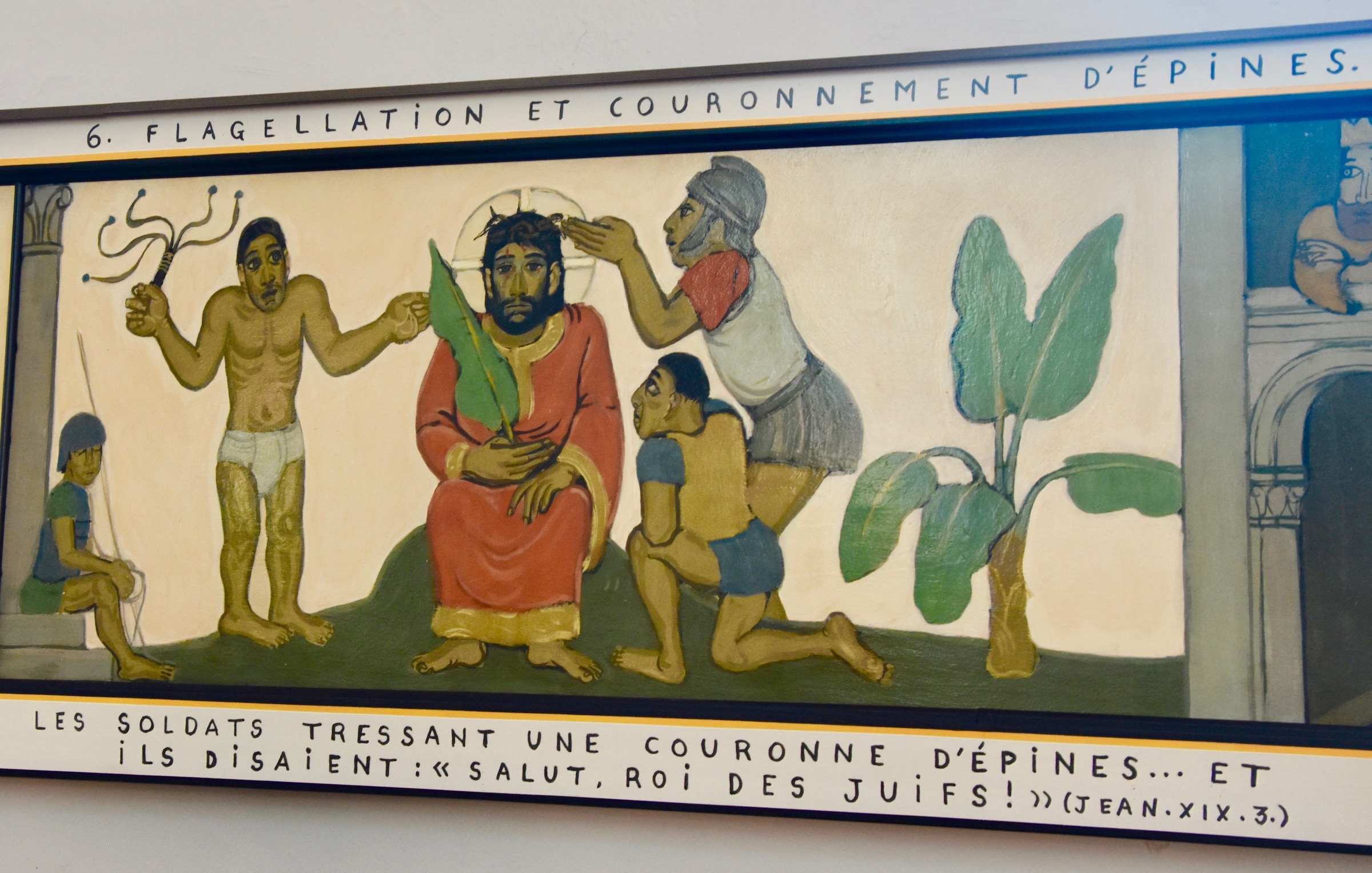 This is station 8, the helping of the carrying of the cross by Simon of Cyrene. Definitely Gauguin inspired.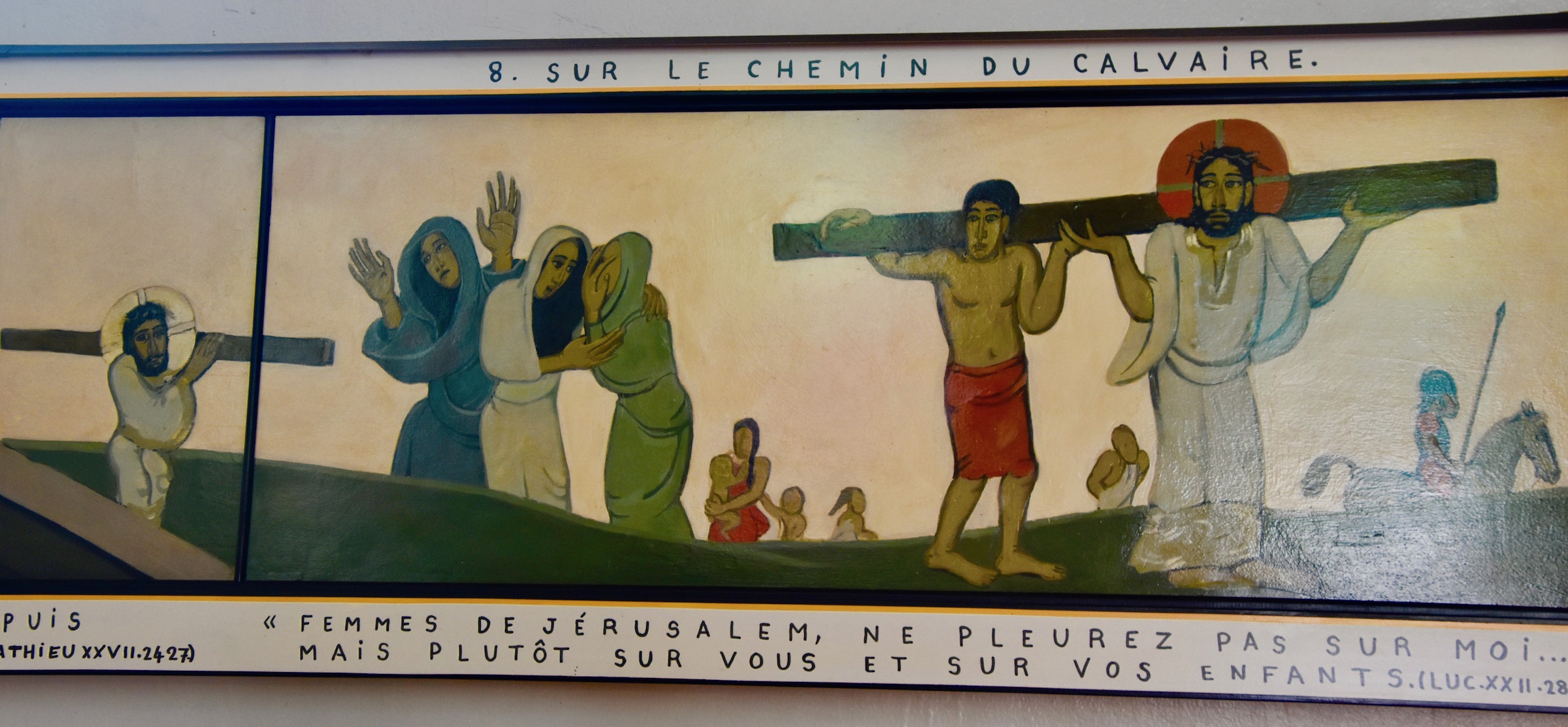 These are not the only pieces of interest in the Notre Dame Cathedral.  The Polynesians are fantastic wood carvers and this was the first of many exquisite carvings that adorn churches throughout the territory. Again note that Mary and the child are clearly Polynesian.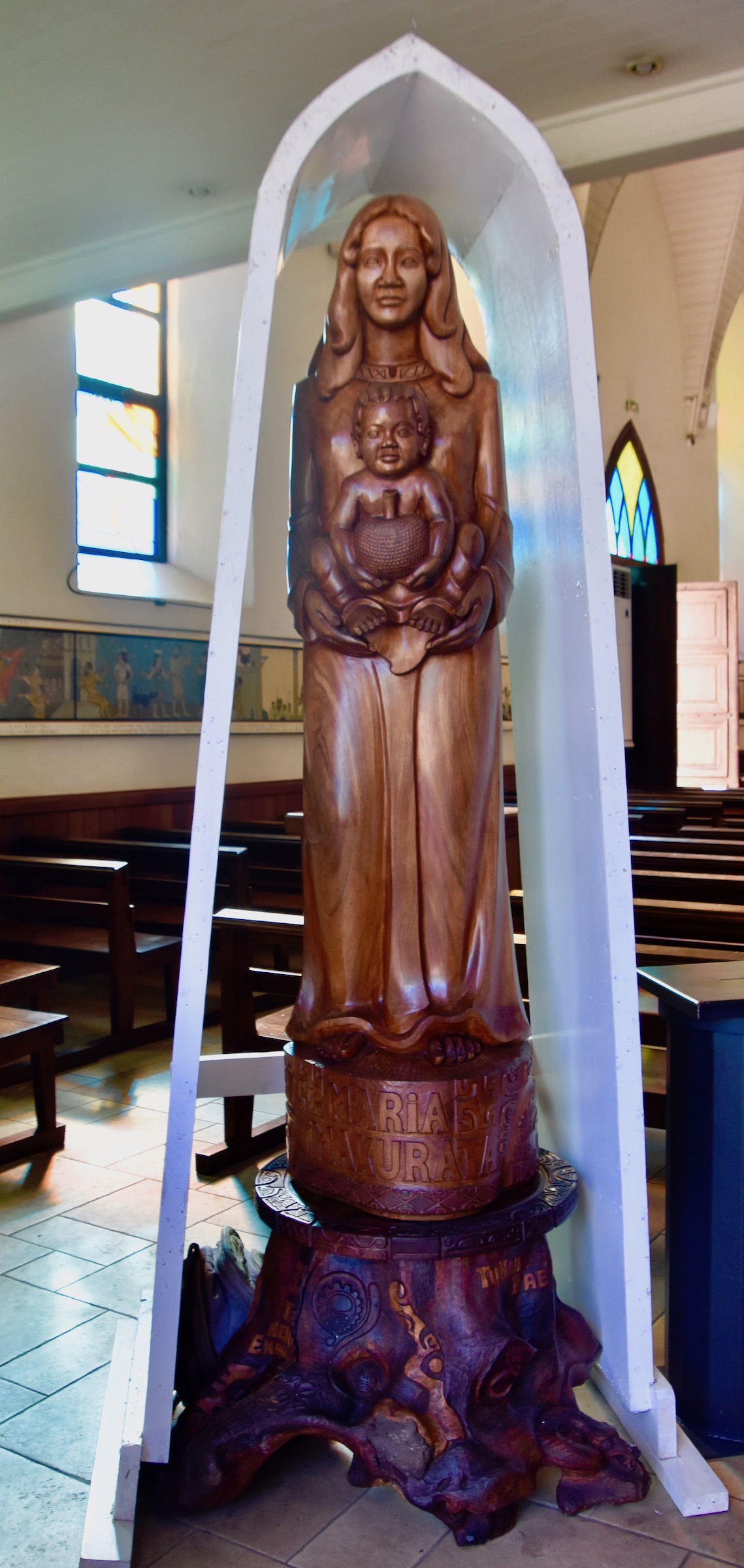 The stained glass also sticks to Polynesian figures including three men in a tub.

Moving on from Notre Dame Cathedral we found ourselves on the Boulevard de la Reine Pomare IV named for the last independent monarch of Tahiti, until the French arrived. It's a pleasant tree lined street that separates the waterfront from the shops on the other side. We turned left and followed it a short distance to Bougainville Park where this statue of the French explorer can be found.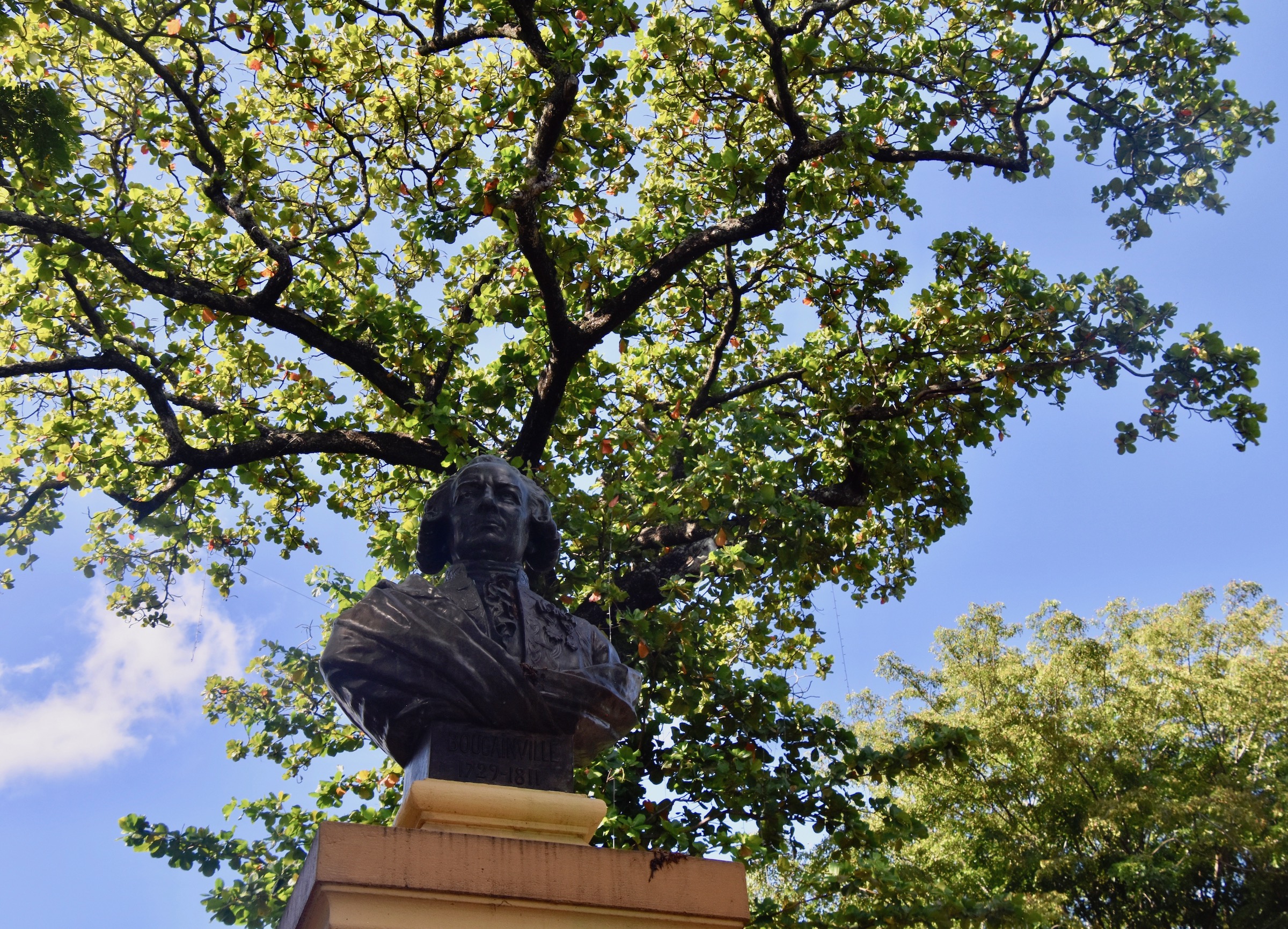 Louis Antoine de Bougainville was the second European captain to reach Tahiti, arriving in 1767 one year after British explorer Samuel Wallis. Unlike Wallis, Bougainville claimed the island for France and although France did not act upon the claim for another 75 years, it was the foundation upon which the claim was based. Bougainville is more widely known for the flowery shrub bougainvillea which was named for him by the botanist on his around the world cruise.
The park is small, but very pleasant with a stream loaded with koi and other fish.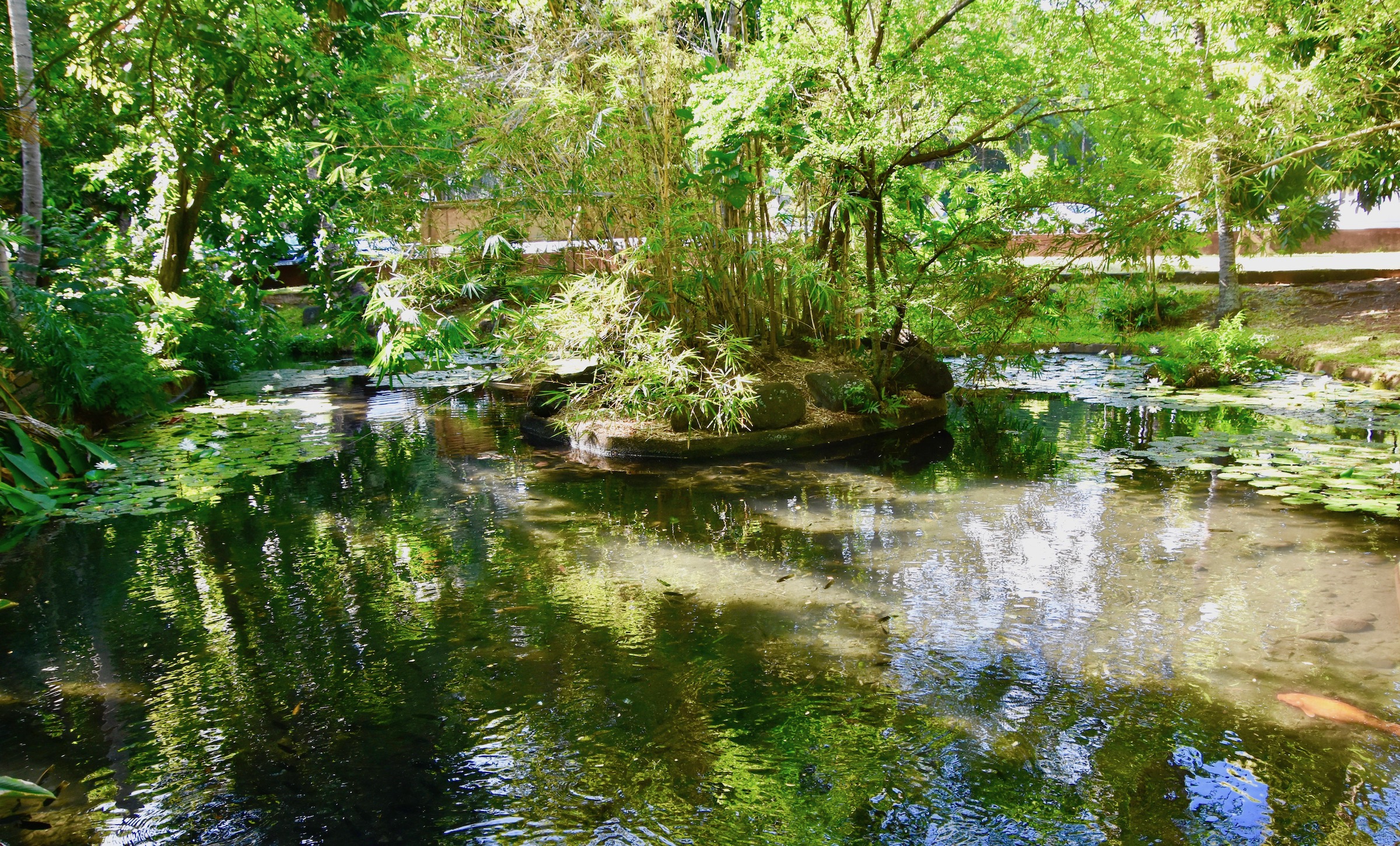 Following the course of the stream upriver will take you to the entrance to the French Polynesian Assembly. Note that the sign is in both French and Tahitian which is the language you hear when people of Polynesian descent are speaking to each other. Since about two thirds of people in French Polynesia are of pure Polynesian descent, you will hear the Tahitian language and other variants spoken a lot more than French. However, we never met anyone on Tahiti who could not speak French.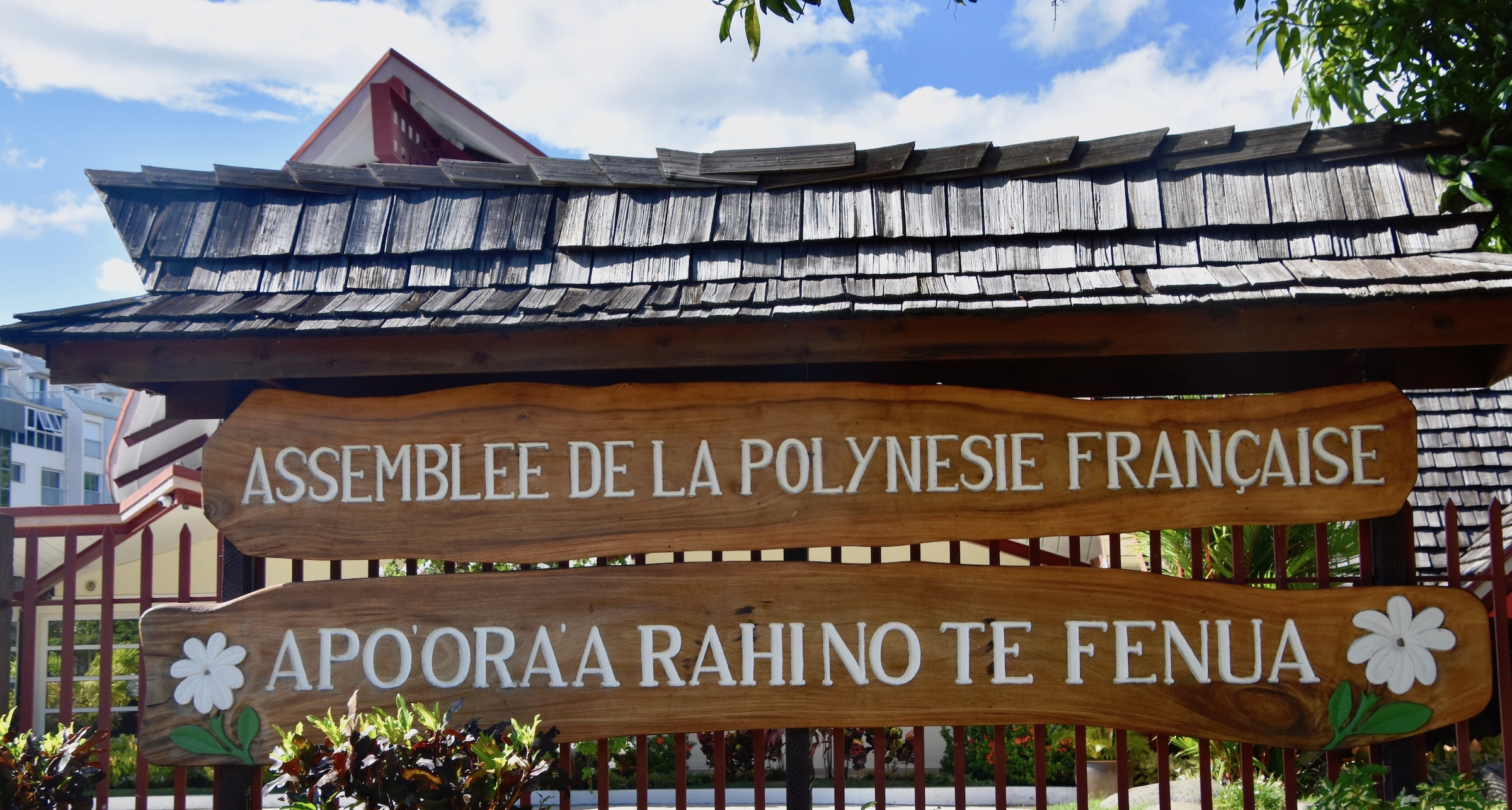 This is the Territorial Assembly building where representatives from all of French Polynesia meet, which makes this a good time to talk about the legal status of this French territory. France has thirteen territories outside of France it either directly or indirectly administers. Five of them, referred to as 'overseas regions' are considered to actually be part of France with the people living there having the same rights as French citizens. The downside is that they cannot make their own laws.
A second category to which French Polynesia belongs are the 'overseas collectivities' which have their own territorial assemblies and may make laws in reference to everything but defence, international relations and justice. These are the responsibility of the French Overseas Minister. In return French Polynesia gets direct representation in the French General Assembly and the Senate.
So I guess it's fair to say that French Polynesia is semi-autonomous and as I pointed out in my first post, in return for that lack of sovereignty in certain respects, receives substantial subsidies from France that allow its citizens a much higher standard of living than many other Oceanic countries. As far as I could tell there does not seem to be much appetite for complete independence.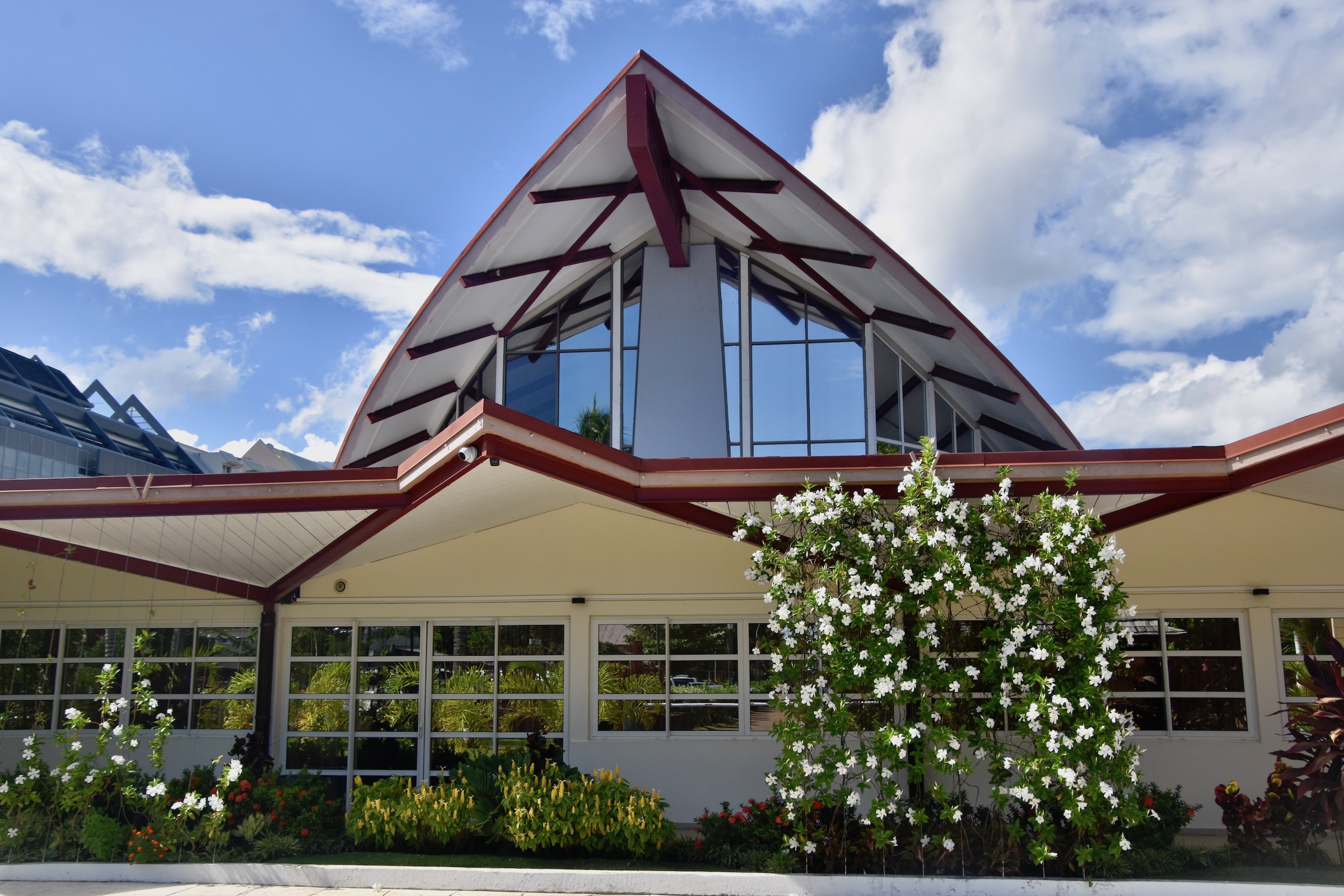 OK, enough with the civics lesson, let's move on.
The stream that we first followed in Bougainville Park continues past the Assembly building and ends at what we learn is a royal pool where the story of Tahiti's last independent monarch Queen Pomare IV is told. It turns out that the Territorial Assembly building and the House of the High Commissioner which is behind it, were built on what used to be the palace and grounds of the Tahitian monarchs. In 1843 France decided to act on the claim first made by Bougainville and unilaterally declared Tahiti a French protectorate. They failed to consult the then sixteen year old Queen Pomare IV who was the legitimate ruler of the island. A bloody war ensued throughout all the Society Islands and as usual the Europeans prevailed. Due to pressure from Britain, Queen Pomare IV was allowed to remain on the throne, albeit as a puppet, until she died in 1877. To Tahitians, the queen is a tragic figure, intent first on resistance and then forced into a position of submission, a symbol of their own situation then and perhaps now.
This is a sculpture of her beside the royal pool.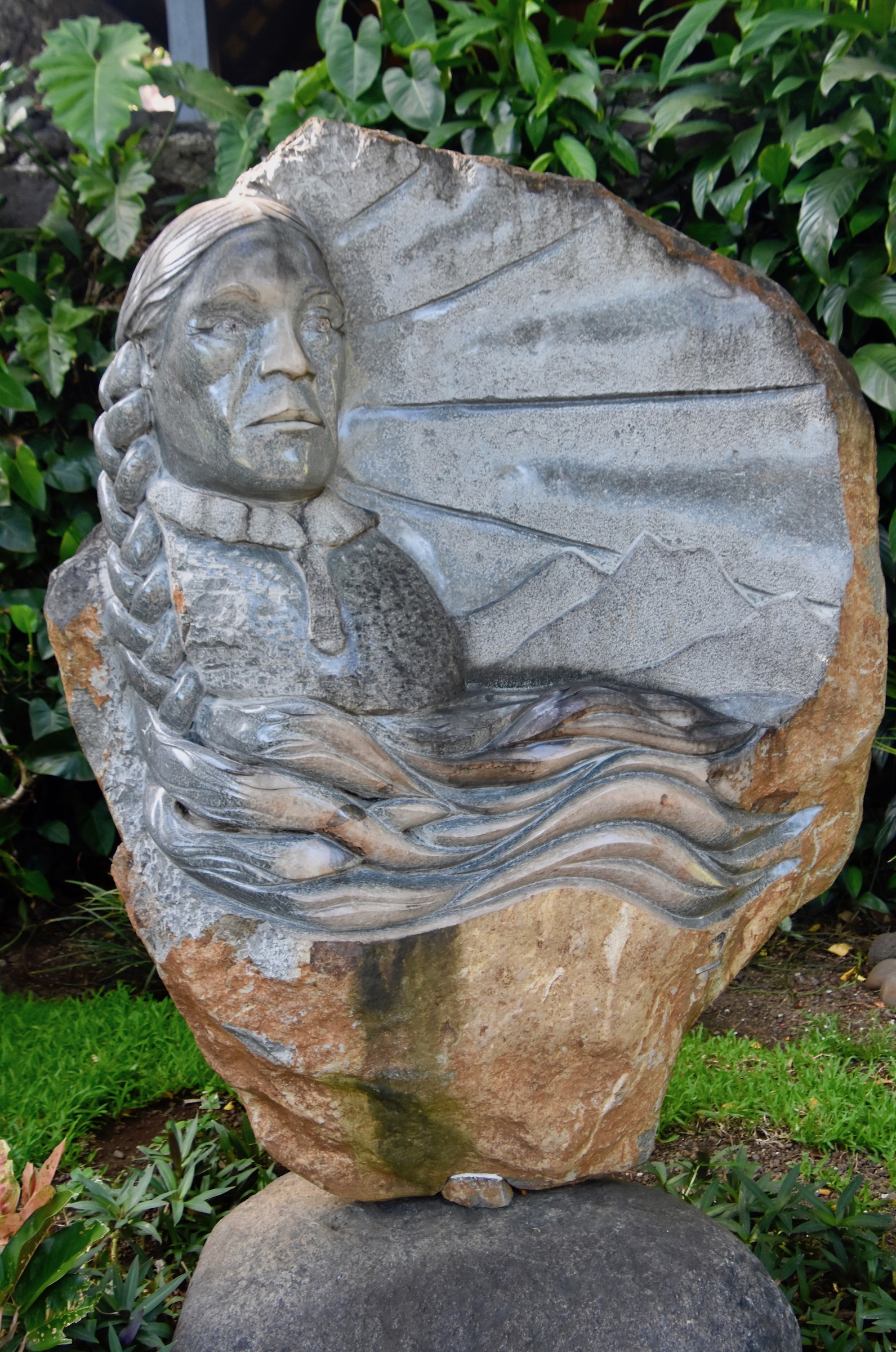 And this is the royal pool which is where the queen would regularly bath. As you can see it is filled with koi.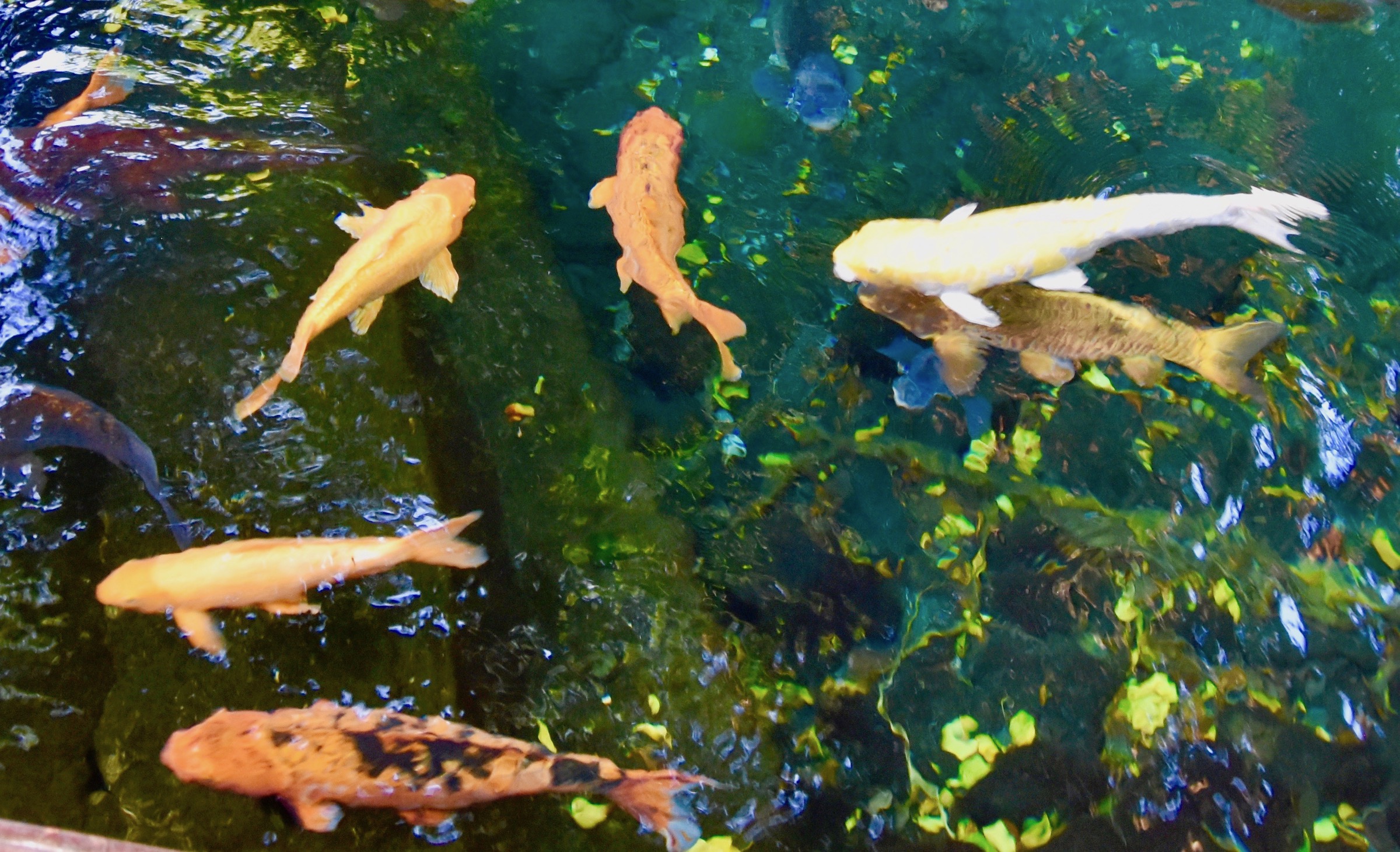 However, if you look closely you'll see that it is also filled with something more ominous – giant mottled eels. This one was on the hunt and continually tried to snatch, without success, one of the smaller fish in the pool. I first saw these things which are truly scary looking, from a bridge over a small stream near the Te Moana Resort and had to look them up to make sure I wasn't seeing things. The last thing I expected to see in Tahiti were giant freshwater eels.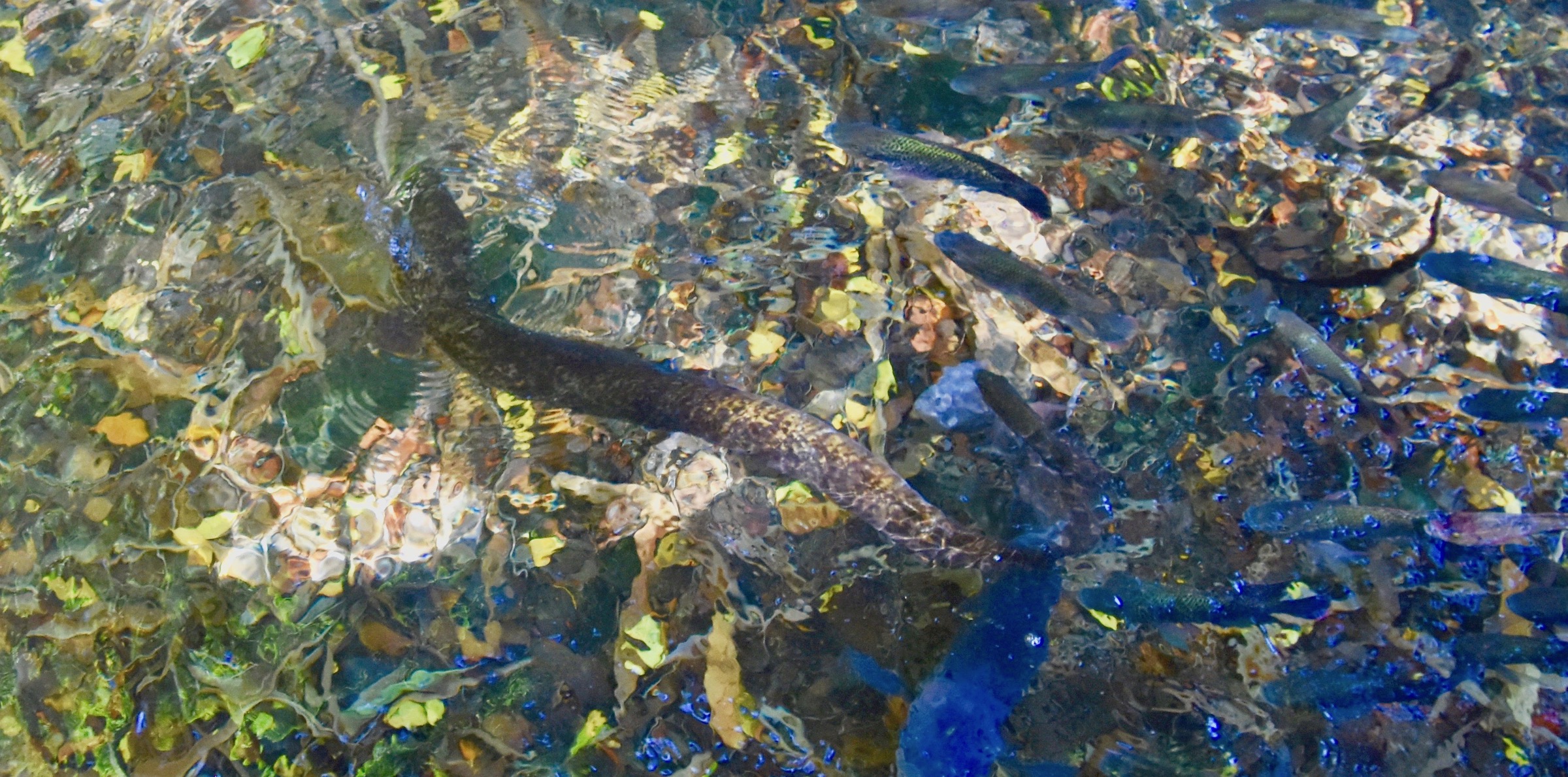 Here is a photo of just how big these things are. I have to give the queen credit if she went into the water with these things around. I don't mind swimming with sharks or rays (in fact we'll do it later on this trip), but I have to admit, these eels freak me out.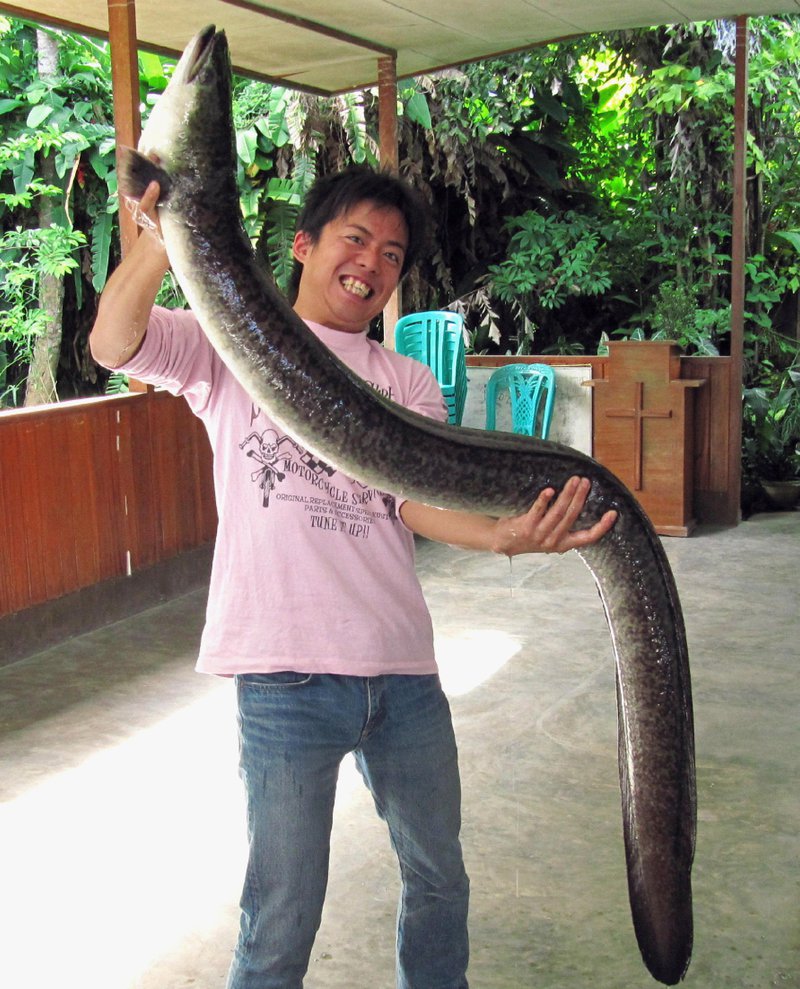 From what I can gather not many tourists wander back to the royal pool, but it's definitely worth the side trip. It's an oasis of green quietude.
Papeete Promenade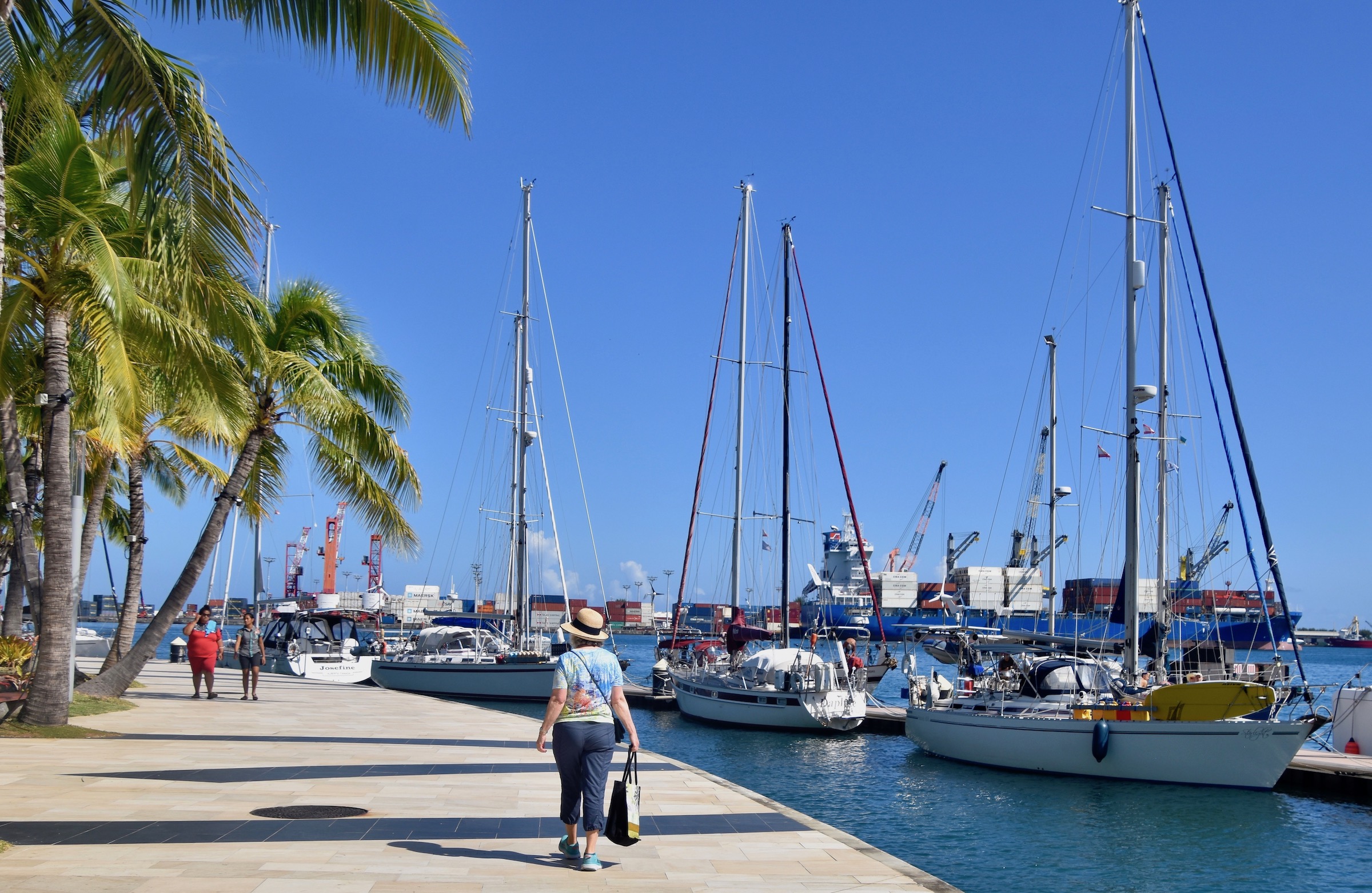 From here we retraced our steps to Queen Pomare IV Boulevard and crossed over the waterfront where the promenade is definitely one of Papeete's feature attractions. It starts not far from Bougainville Park and stretches a good kilometre or more beside the marina and provides great views of Papeete harbour where you can see not only nice sailboats like the ones in the picture above, but also a few super yachts. If you look closely you can see a helicopter on the top deck of the one on the left. I have to wonder if these belong to any of the Russian oligarchs who have had their yachts seized since the invasion of Ukraine. Frankly the sight of these things costing upwards of $300,000,000.00 is obscene.

Here's an enigma. This is the Josefine from Alberta, Canada. Say what? Alberta is completely landlocked so how the heck did this boat get here? One of life's very little mysteries.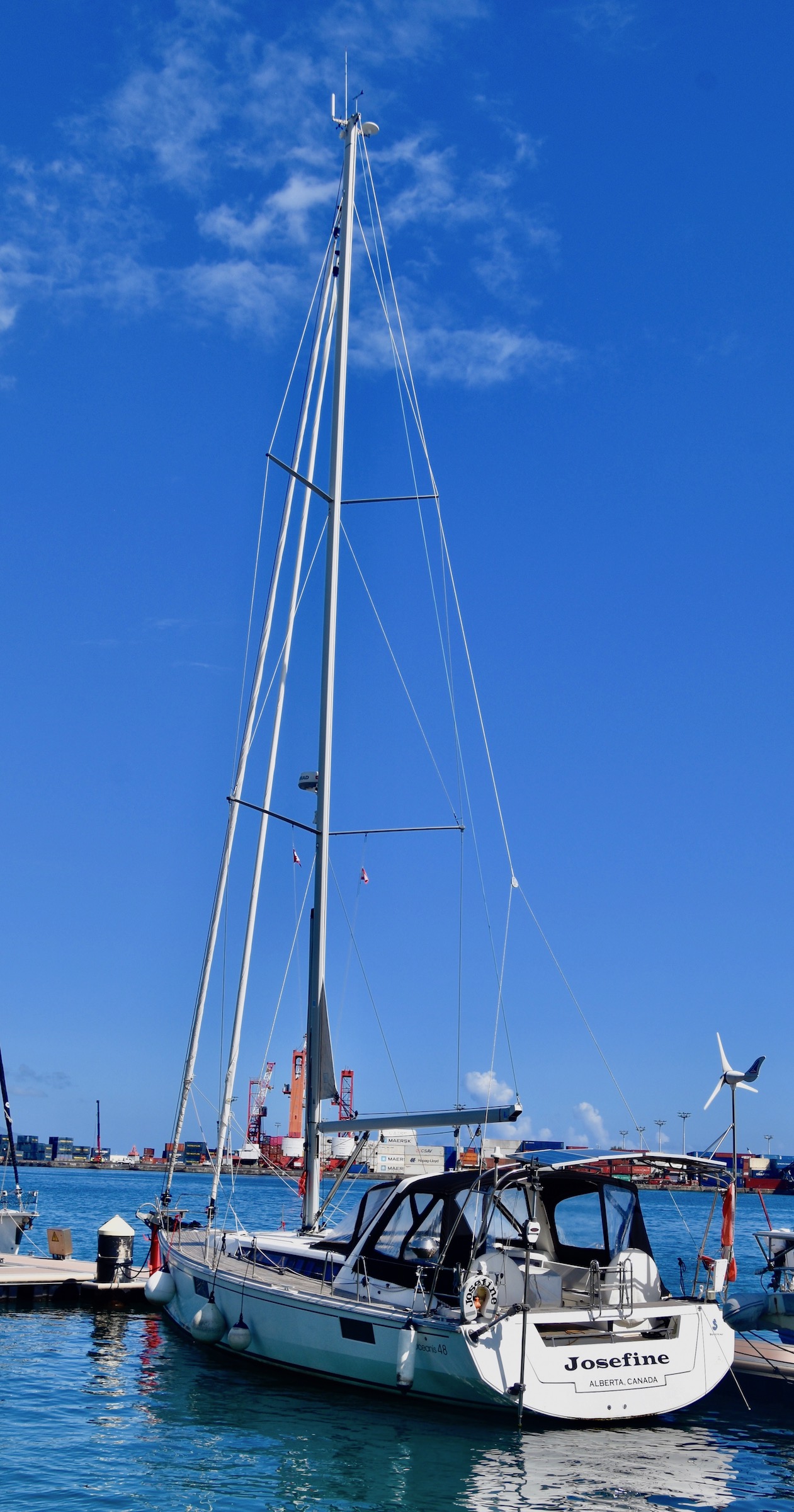 The promenade also has some very nice public art including a series of colourful hearts, this one depicting Tahitian flora and fauna including Mr. Mottled Eel.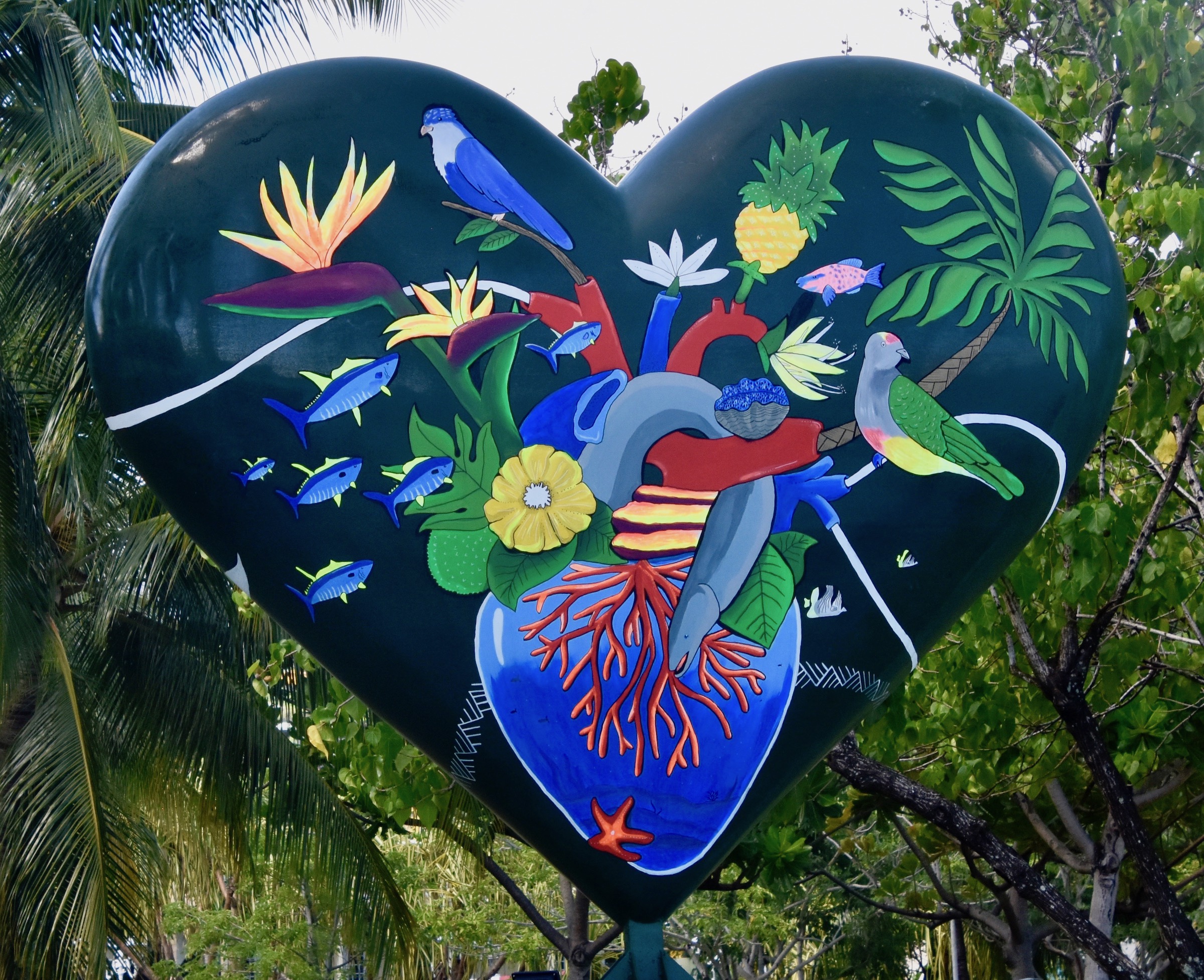 It's also a place to learn a little more history. This is the Nuclear Tests Monument and it brought to my attention something I had no idea about before standing in front of this structure. I knew that France had conducted nuclear tests in French Polynesia, but had no idea how many of them there were or for how long they went on. I also had no idea how destructive they were to almost every person in the territory.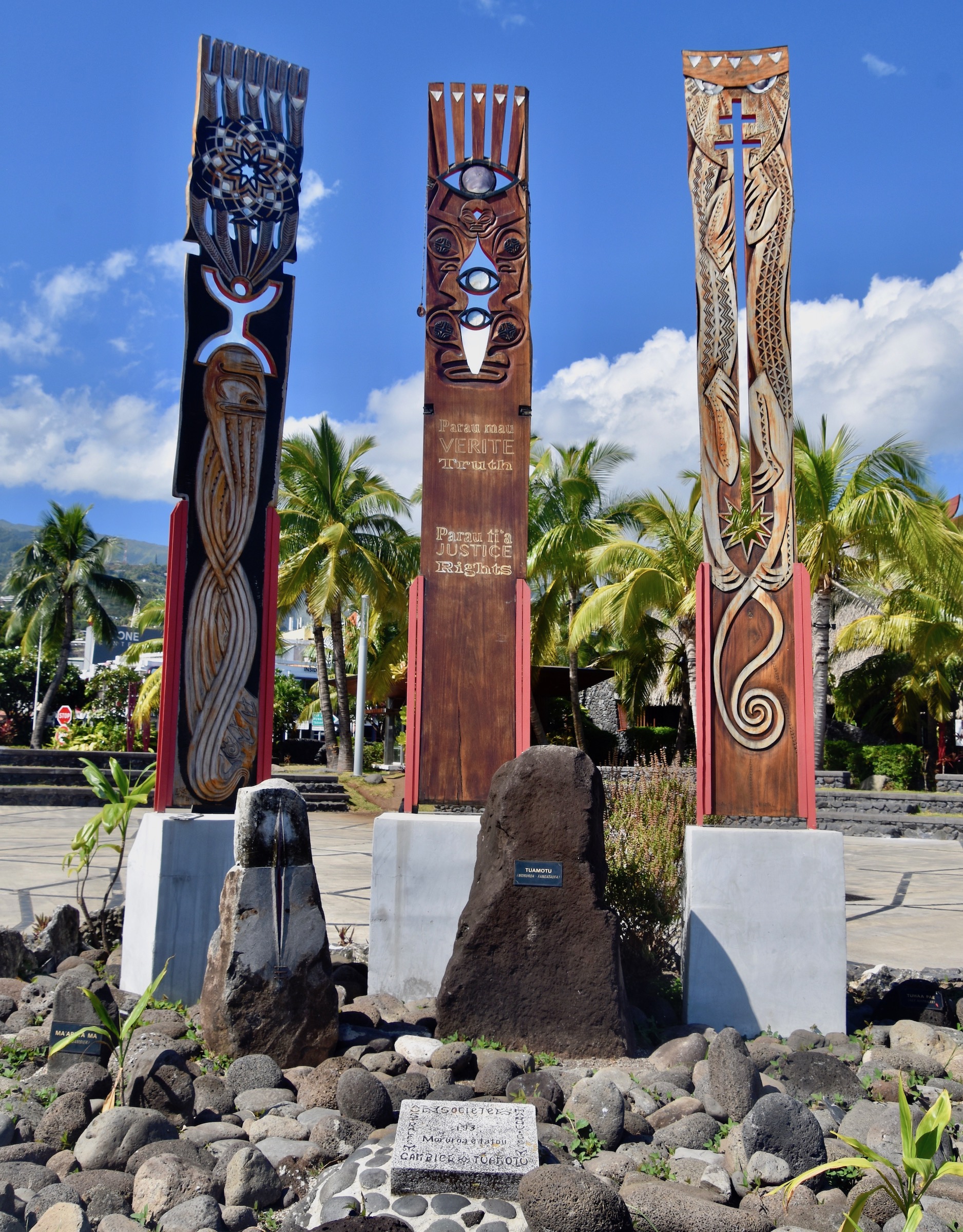 Between 1966 and 1974 France conducted 41 above ground nuclear tests on two small atolls in the Tuamotu Archipelago. However, it did not stop there. Between 1974 and 1995 France conducted over 100 more underground tests that drew worldwide condemnation. Only recently has information been declassified that revealed the extent of the environmental and human costs of these tests, some of which went completely different than expected. Radiation was spewed over almost the entire South Pacific. One of the hot button issues of today in French Polynesia is the ongoing demand for compensation for the thousands of people who developed cancer and other radiation related conditions as a result of these tests.
Between the promenade and Queen Pomare IV Boulevard are the Pa'ofa'i Gardens where there are a number of fountains, walking trails and other pleasantries. It's just a nice place to be on your first day in Tahiti.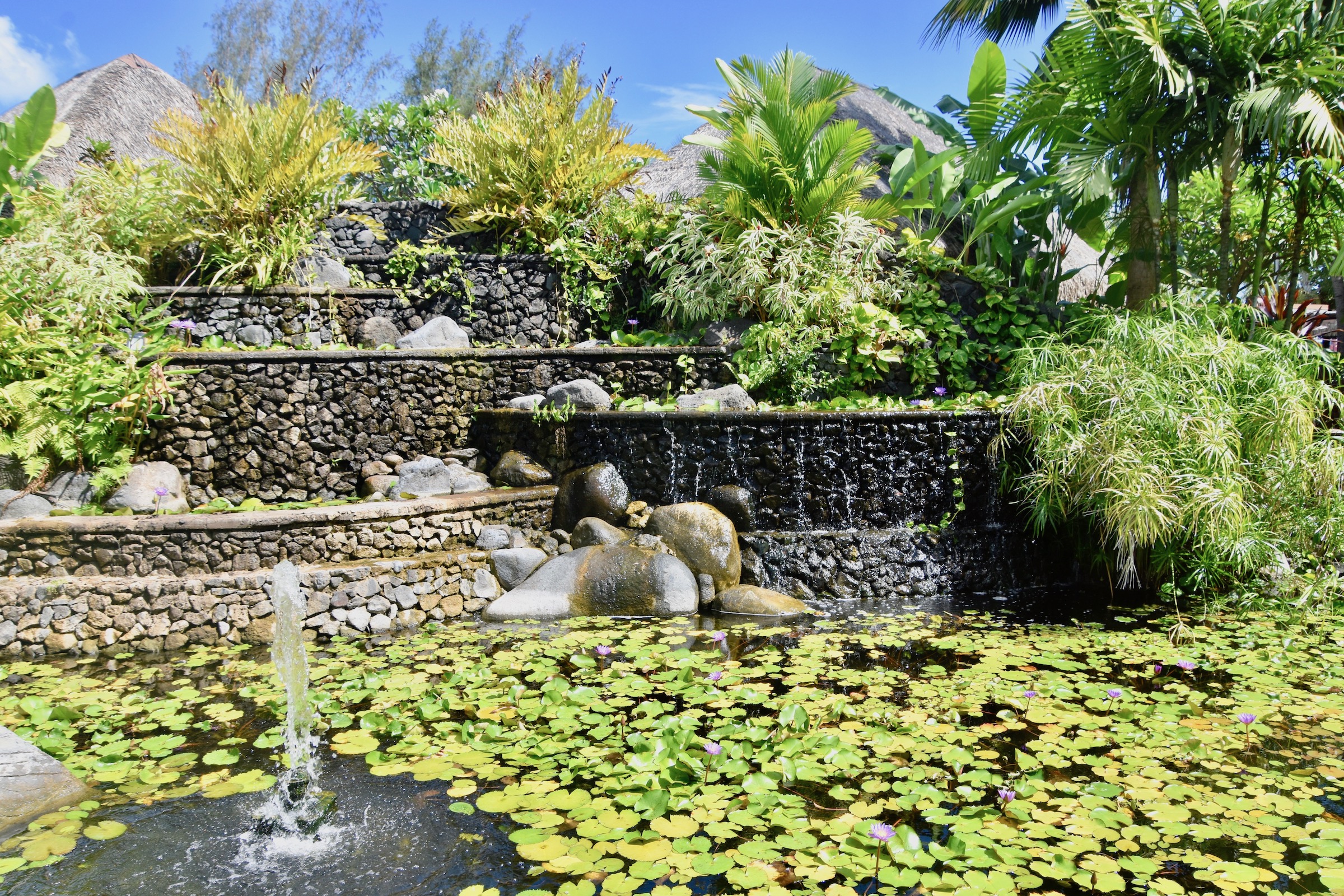 At the end of the promenade we made our way back to Vaima Shopping Centre where we had the iced caramel machiattos before returning to the Te Moana Resort for a relaxing afternoon. Tomorrow we will begin the tour in earnest with a circumnavigation of Tahiti. I hope you'll join us.