Manava Beach Resort – Heaven in Moorea
This is my first post from one of the most beautiful places on earth, the island of Moorea in French Polynesia. In the last post I concluded the circle tour of Tahiti as our Adventures Abroad group ended the day at the site where Captain Cook and later the H.M.S. Bounty set anchor off Venus Point. It is now time to move on from Tahiti to its sister island of Moorea which I have been looking at for the last four days from the Te Moana Resort. It is alluring to say the least. We will be staying at the Manava Beach Resort in Moorea and if it's as nice as the Te Moana then our group is in for a real treat. Please join us to find out.

Getting to Moorea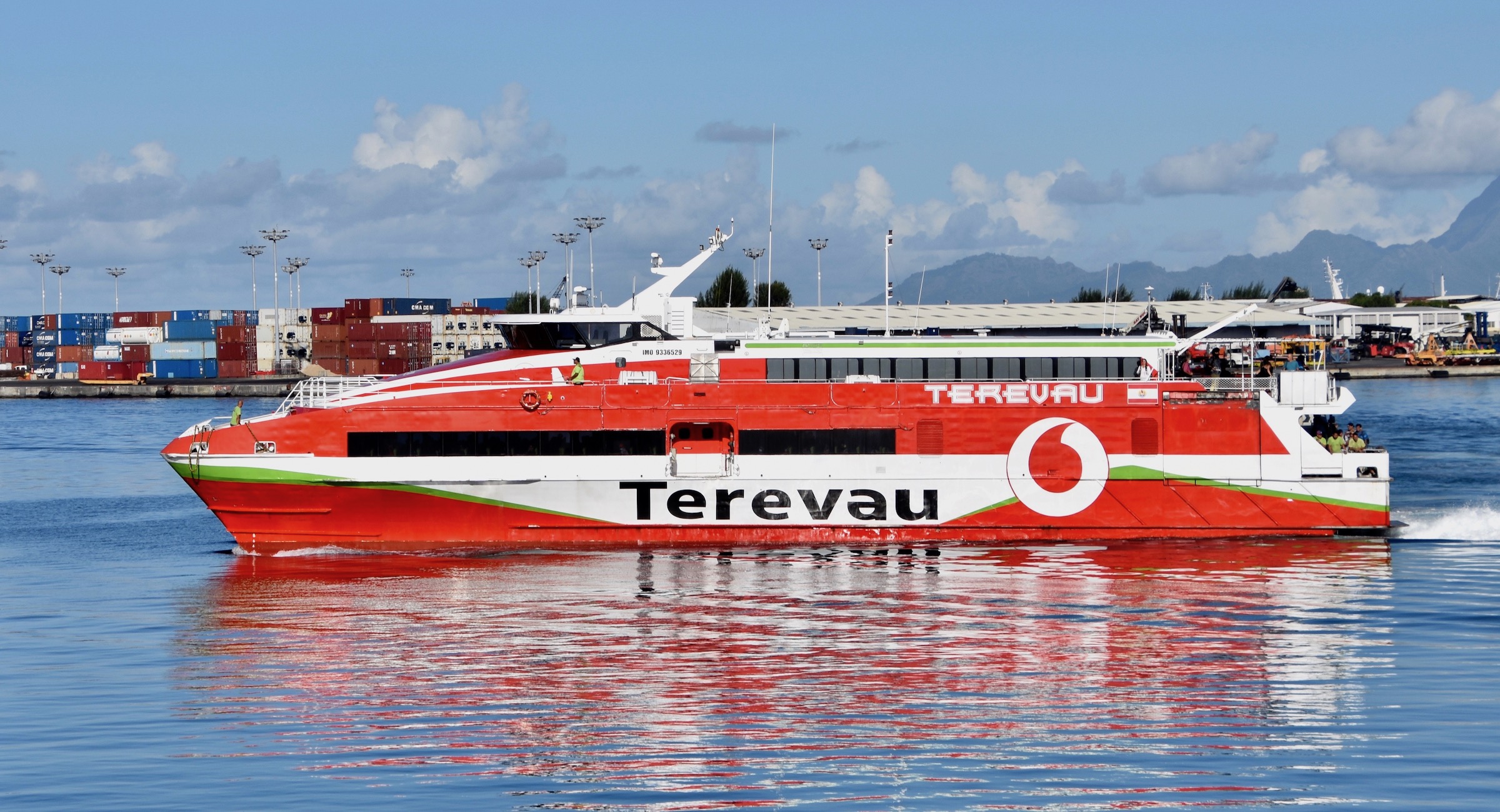 Moorea is only a 40 minute ferry ride from Tahiti if you take the fast ferry Terevau which leaves multiple times daily from the Papeete waterfront. Our guide Martin Charlton gives us each our tickets and our group joins a combination of locals and other tourists on the short but interesting ride to Moorea.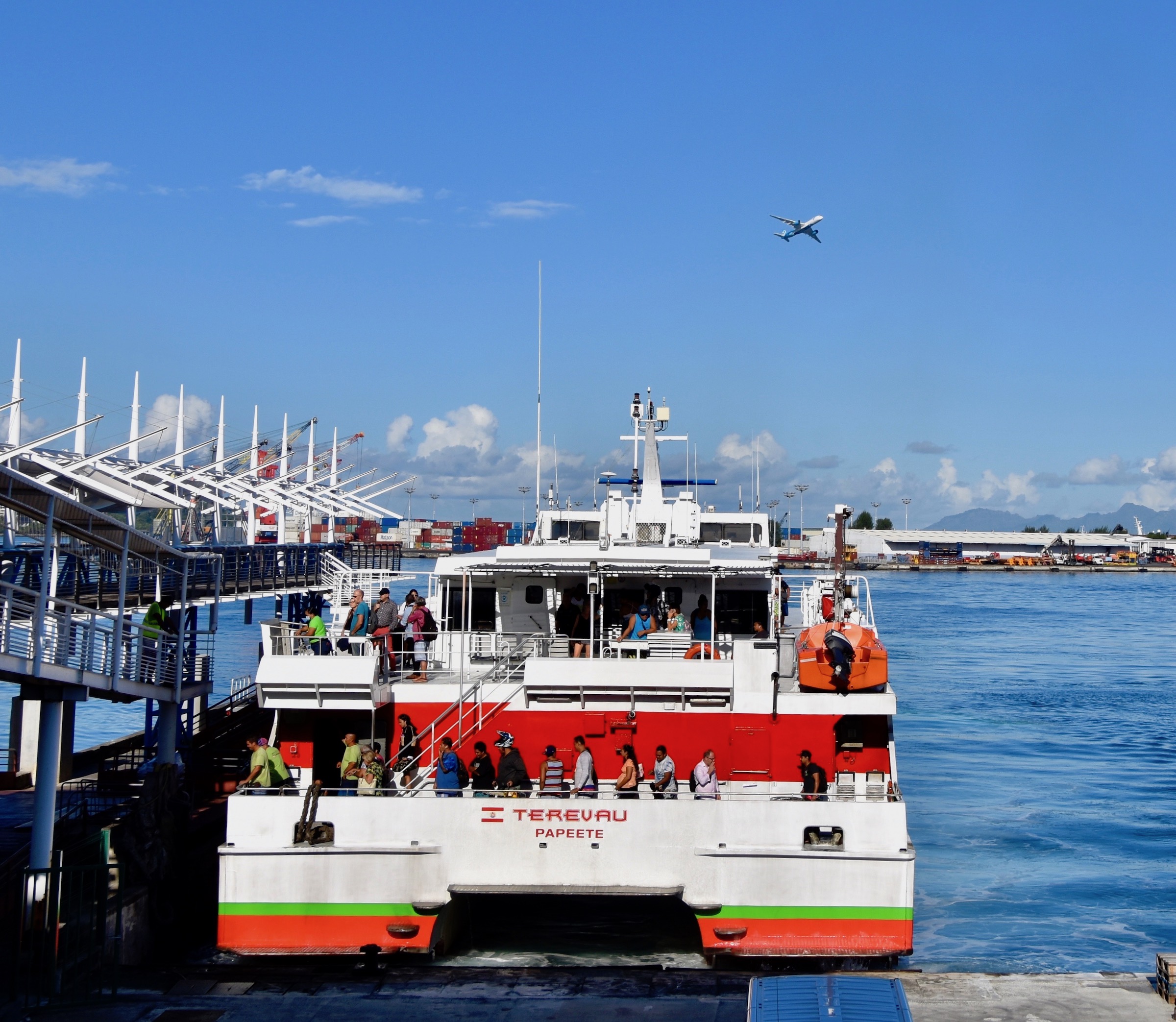 I love ferries and Alison and I do our Titanic moment, although the seas are a lot calmer here than off the Grand Banks and I doubt we'll see an iceberg.
During the ride I posted on social media that I have never approached a place that seemed so alluring from the sea and I stand by that, even after visiting multiple other islands in French Polynesia.

The ferry lands not far from the main town on Moorea, Vaiare which is approached through this harbour entrance.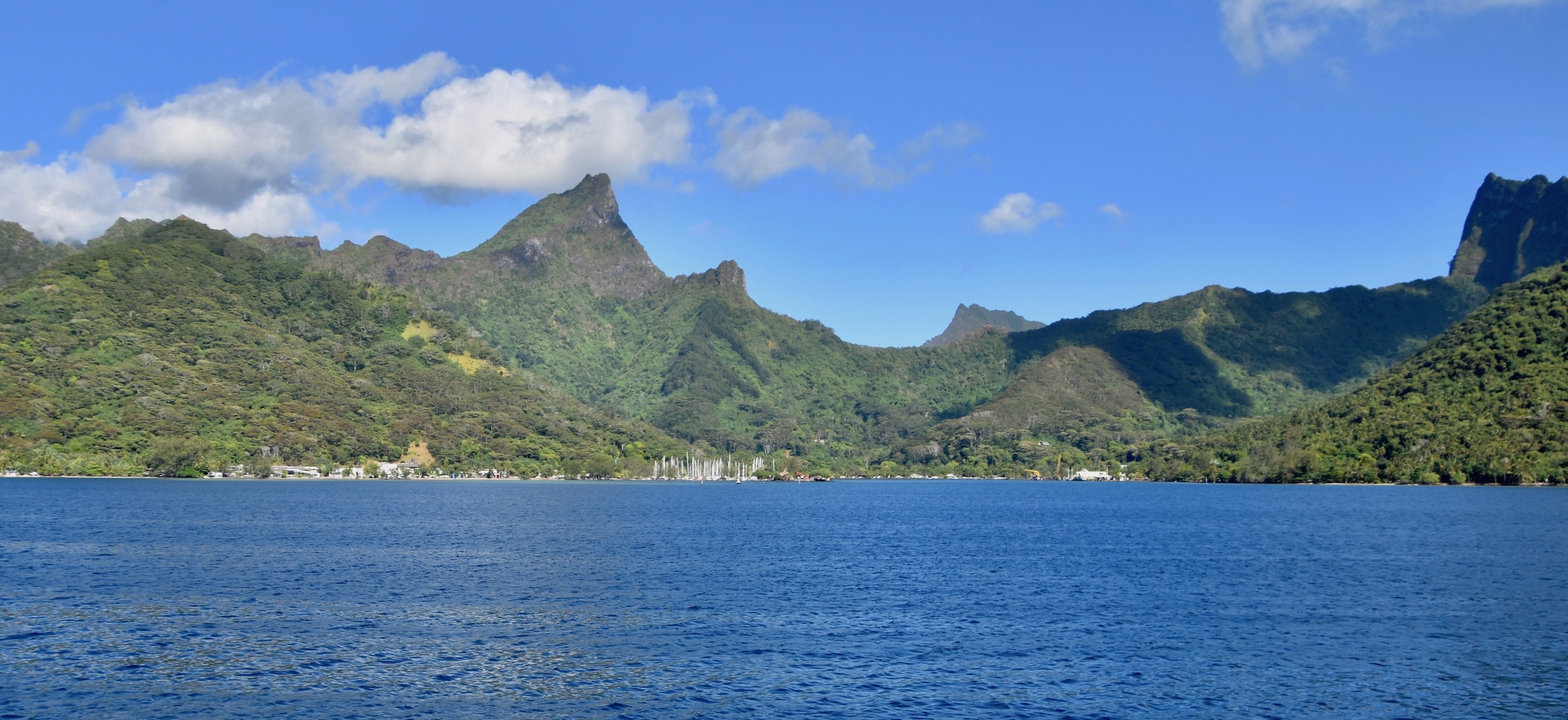 This is the Moorea Ferry Terminal from where we were taken on about a fifteen minute bus ride to the Manava Beach Resort where we would spend the next two nights.

Manava Beach Resort
Moorea has a number of large resort complexes affiliated with international chains like Hilton and InterContinental, but Adventures Abroad, wisely in my opinion, foregoes these in favour of locally owned and managed accommodations like Manava Beach Resort. However, that does not mean they are second rate – anything but. This resort has regularly received the Trip Advisor Traveller's Choice award which neither the Hilton or the InterContinental have.
The front desk and much of the main building that contains the restaurant and bars is constructed from dark hardwood that gives it an authentically South Pacific feel. As we were to learn on this tour, wood carving is a major manner of artistic expression in French Polynesia and it comes through very well at Manava Beach Resort.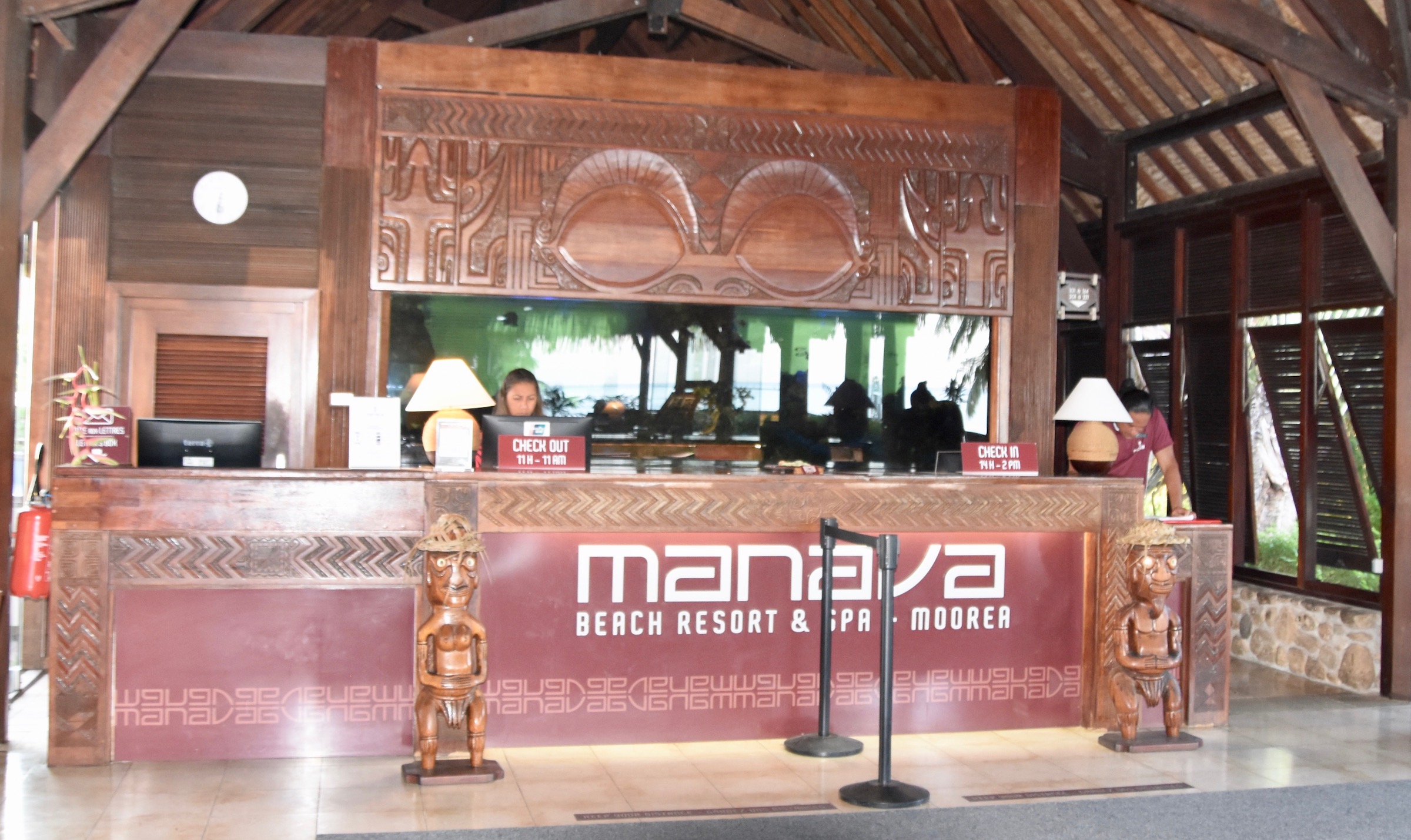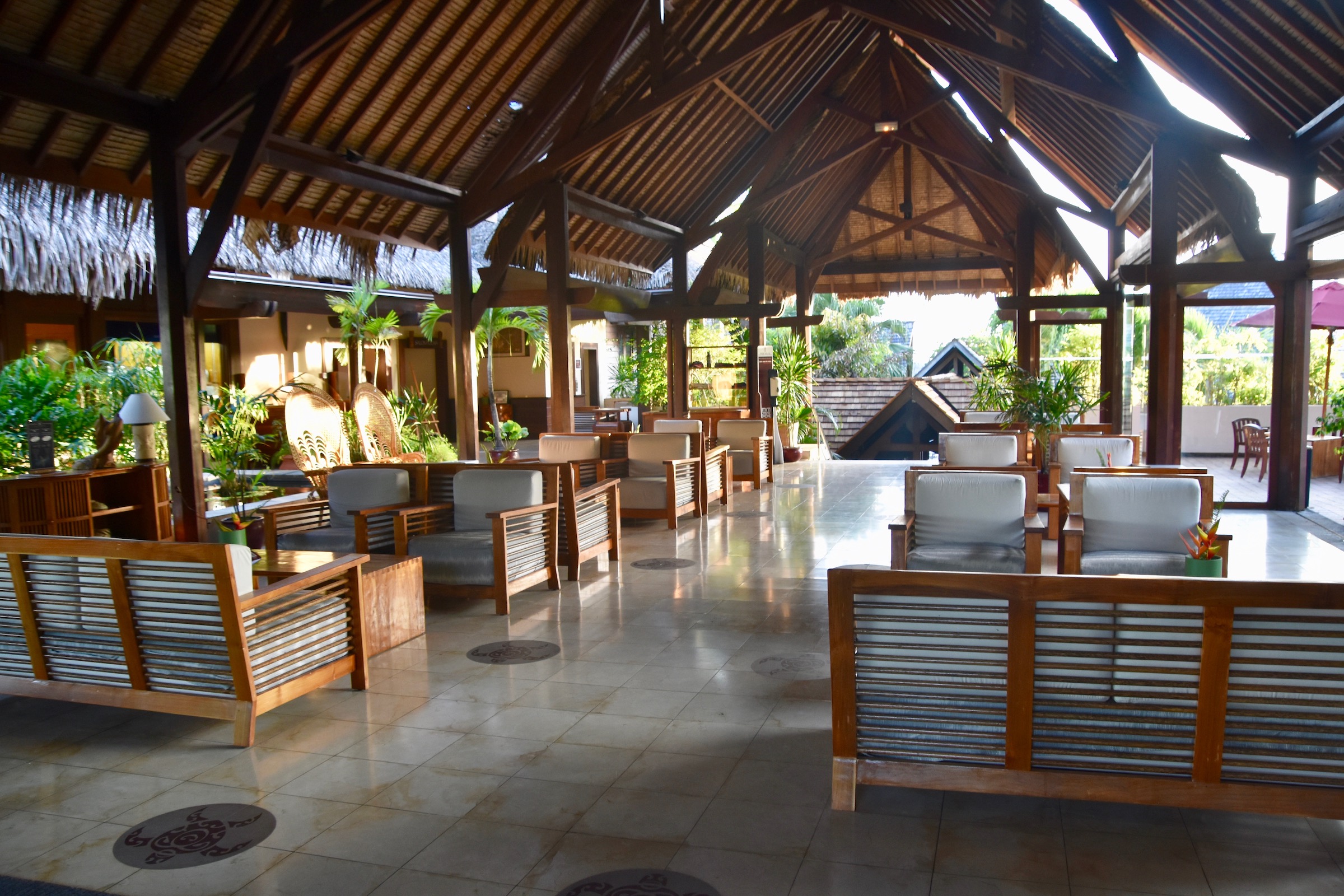 We arrived at the place well before check in time and were scheduled for a dolphin watching boat tour before then which I will write about in the next post. In the meantime it was time for lunch.
The food at the Manava Beach resort was very good. I had this pork and shrimp salad which was not only delicious, but this was the only place where I saw it on a menu.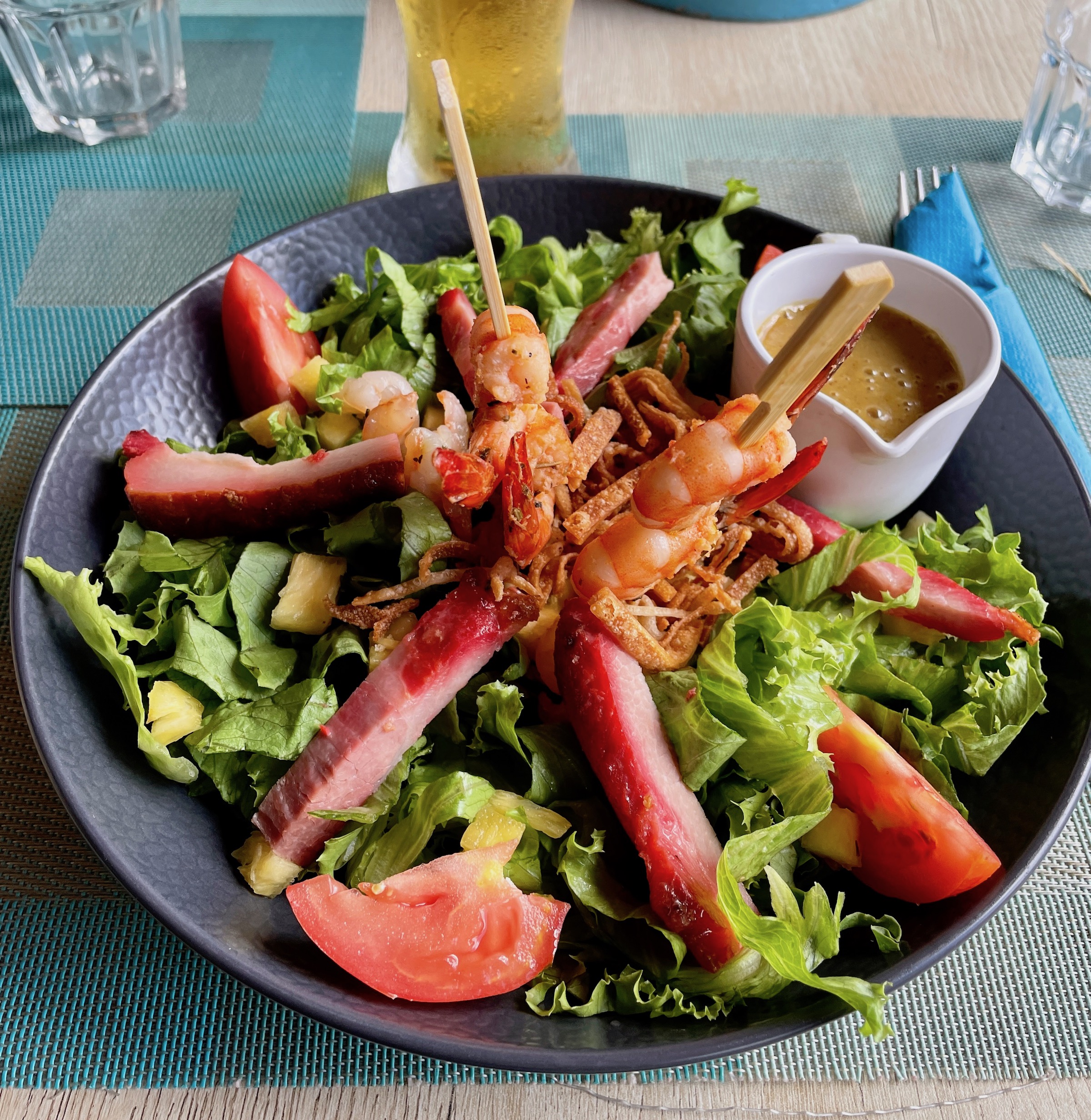 Likewise this farmer's salad that Alison enjoyed.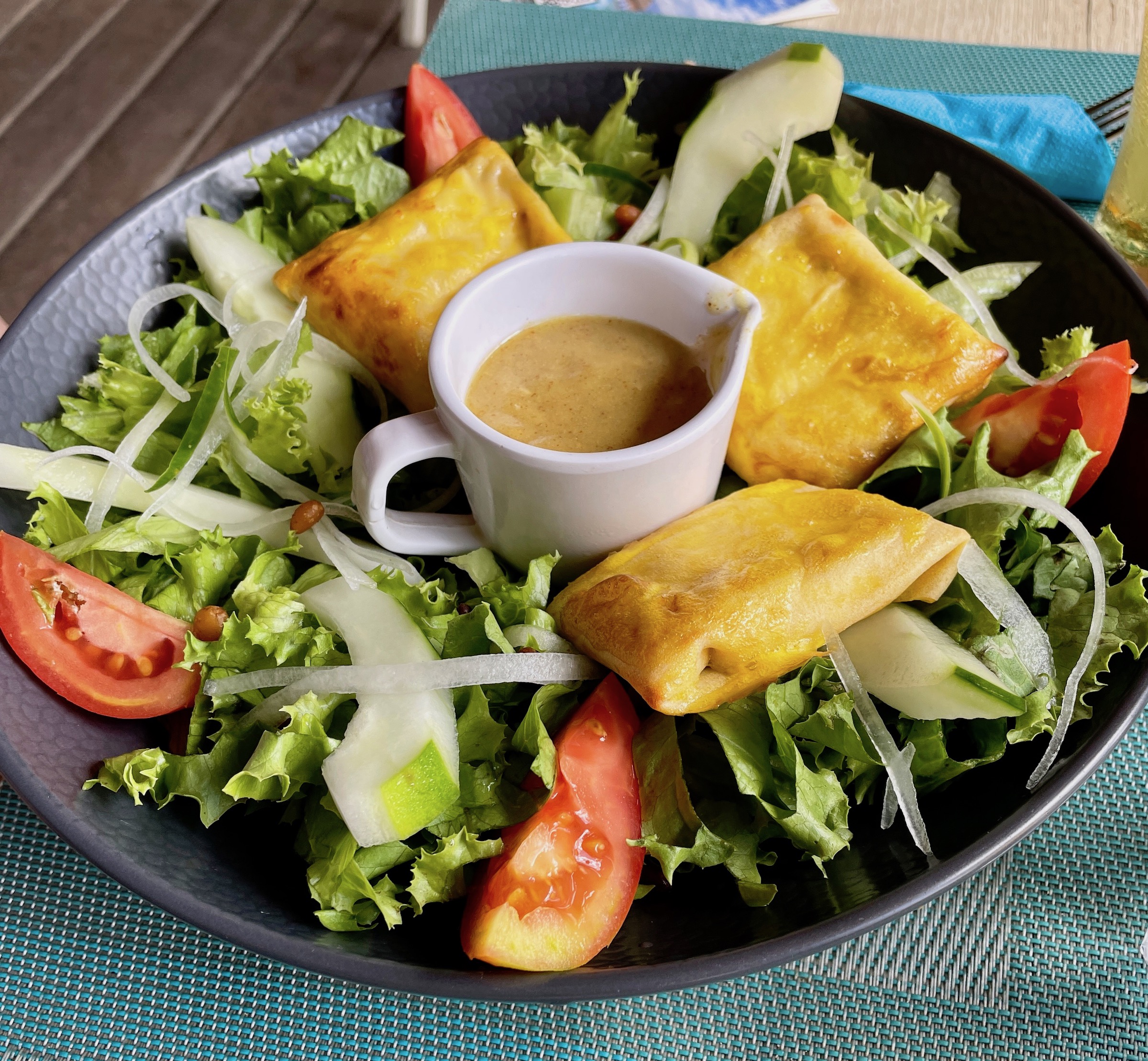 I'll fast forward to the breakfast buffet which was also top notch.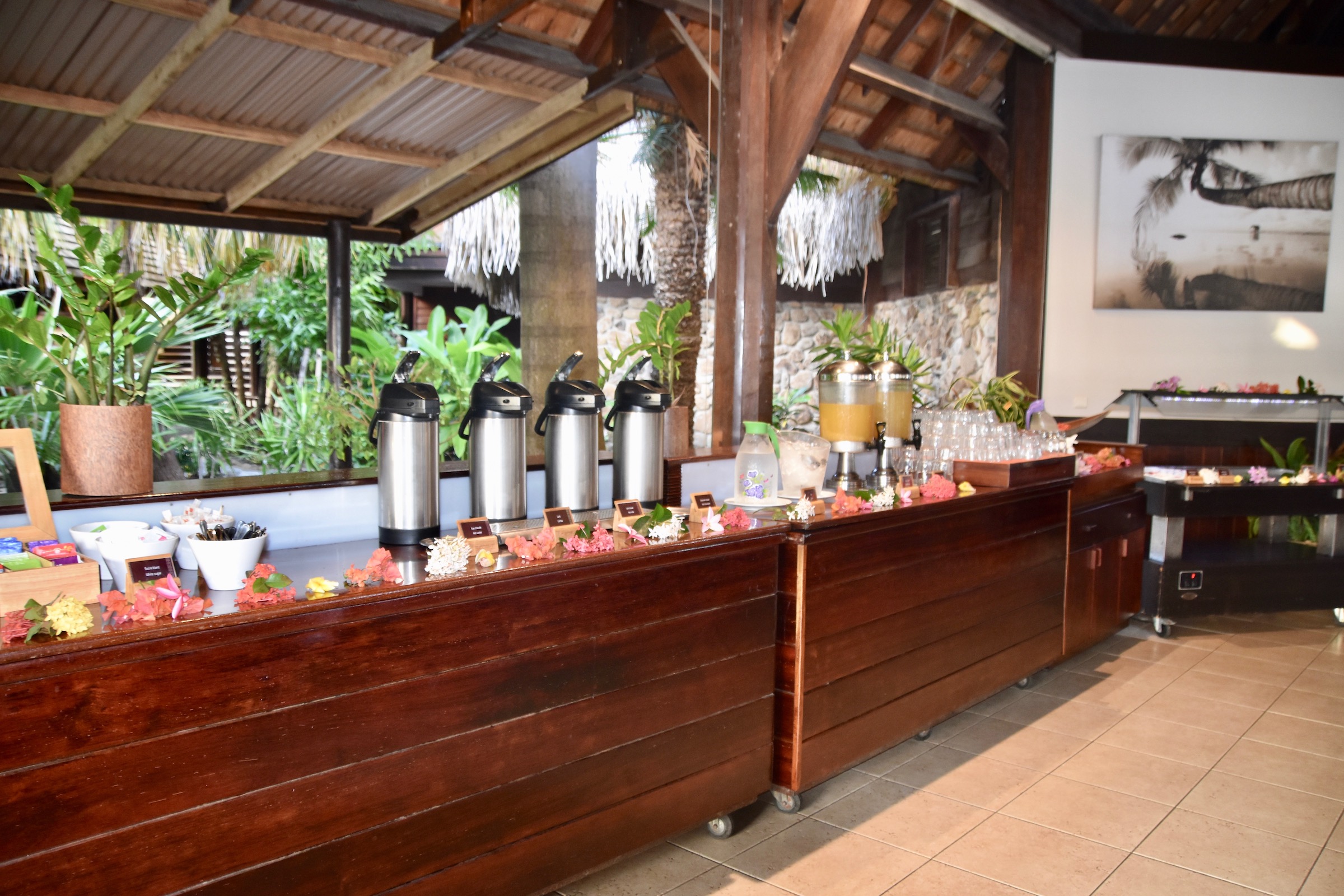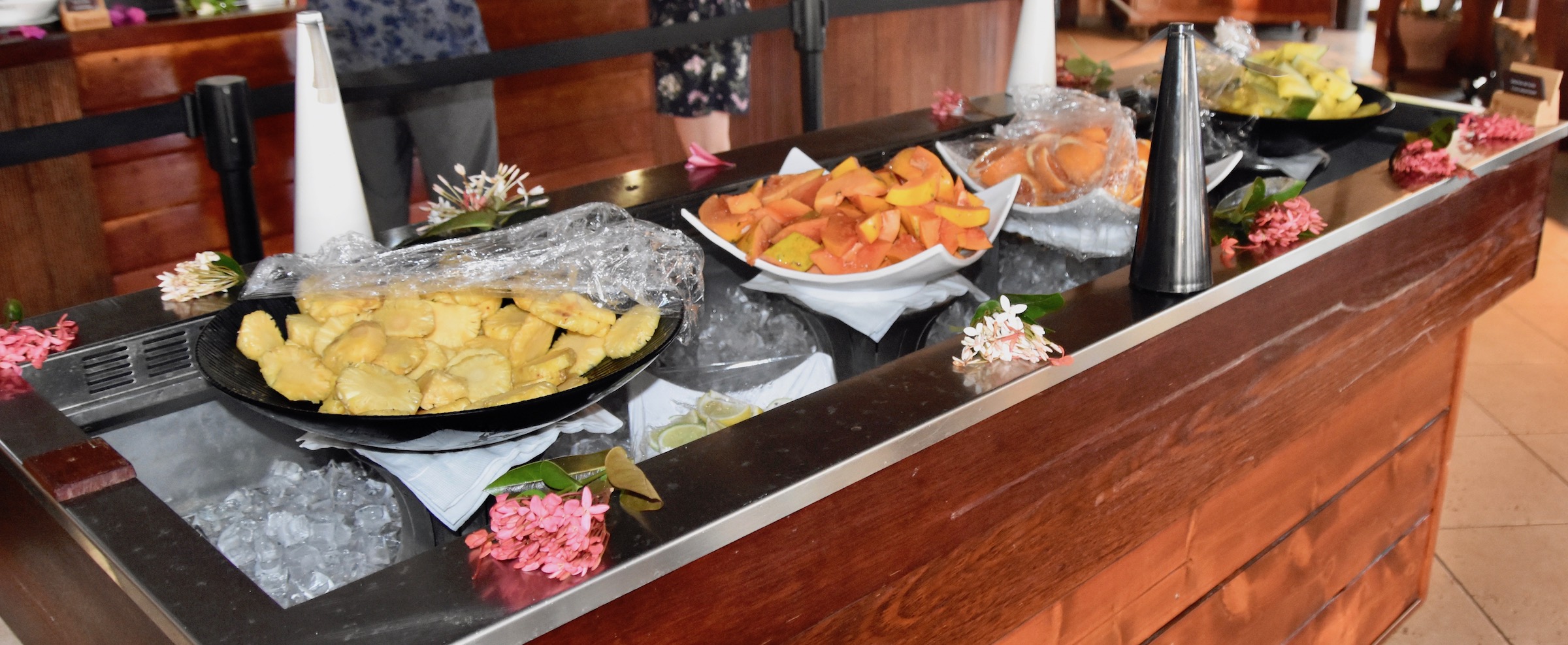 I started off each morning with a selection of fresh fruit, juice and coffee that got me revved up for the day, but there were more substantial offerings as well including enough pastries and bread to satisfy even a glutton. Thankfully, we didn't have any on this tour, I think they prefer cruise ships instead.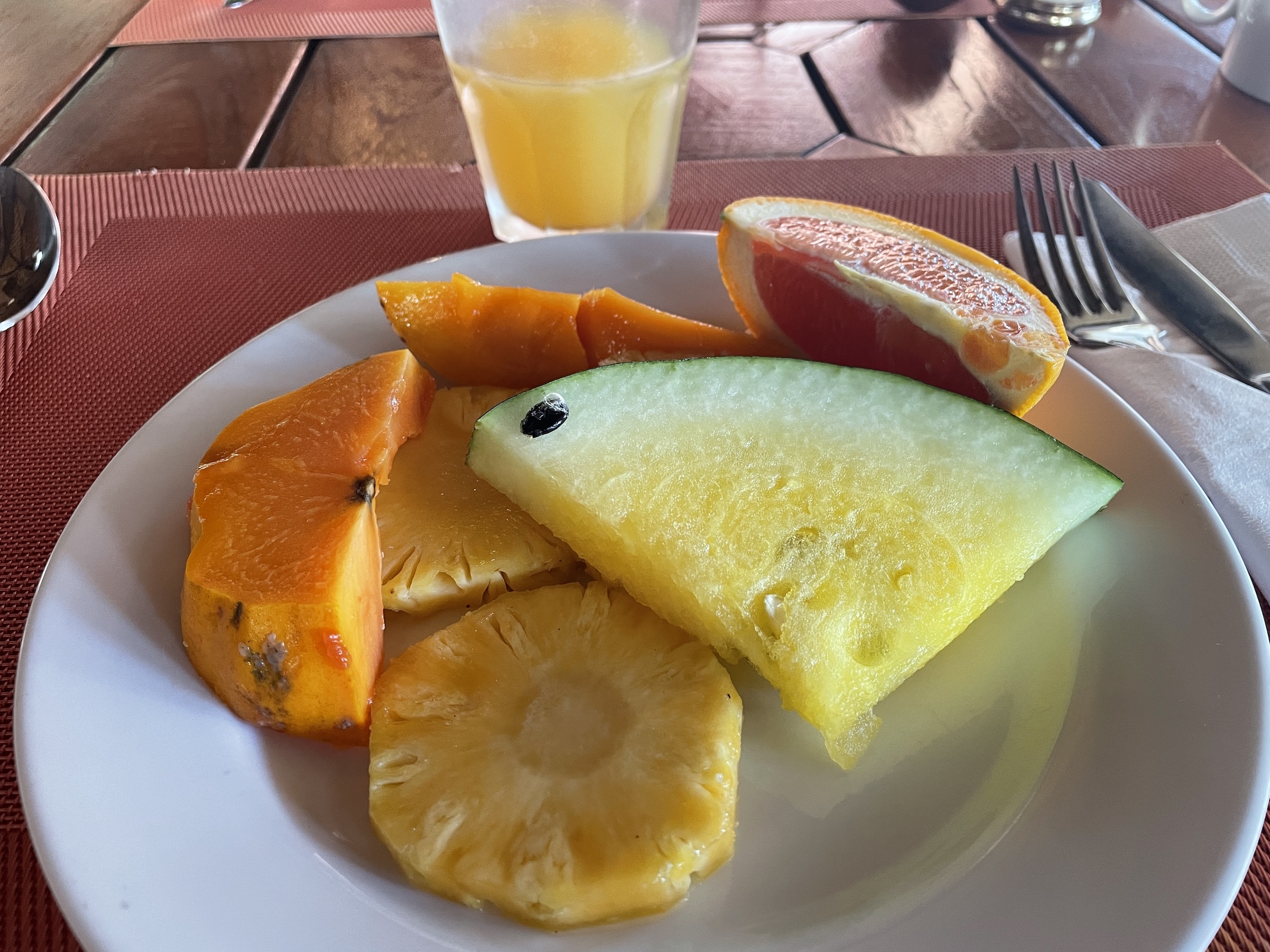 OK, let's get to the rooms.
Despite decades of travel to over forty different countries, many in the tropics, I have never stayed at a resort before that had those gorgeous looking over water cottages. This is the view of some of the ones at Manava Beach Resort from the infinity pool.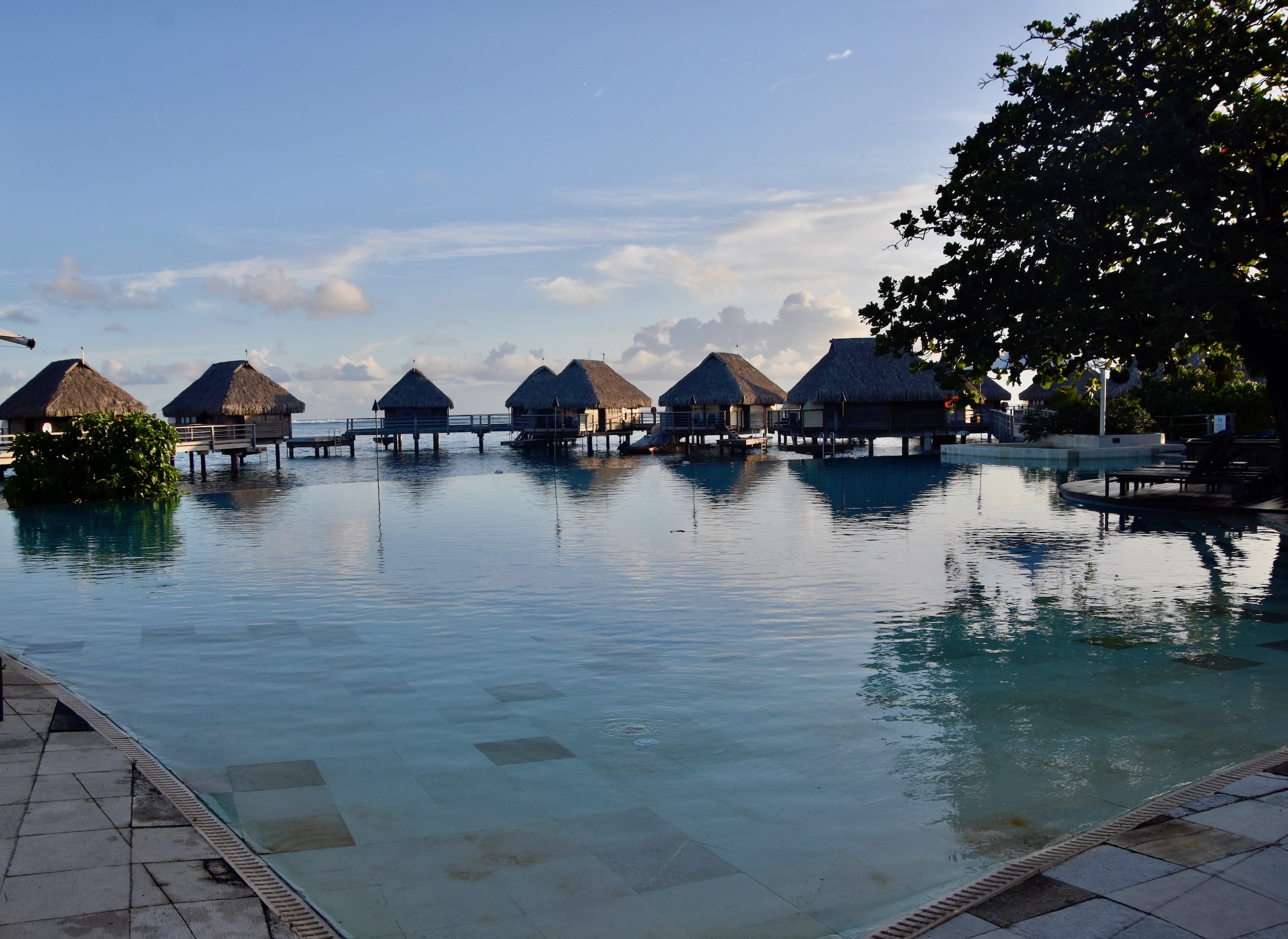 SPOILER ALERT! We didn't actually get to stay in these cottages at Manava Beach, but don't worry we will get to stay in one later on this trip. Our rooms instead were in land based cottages that were more than adequate. This is the cottage assigned to Alison and me.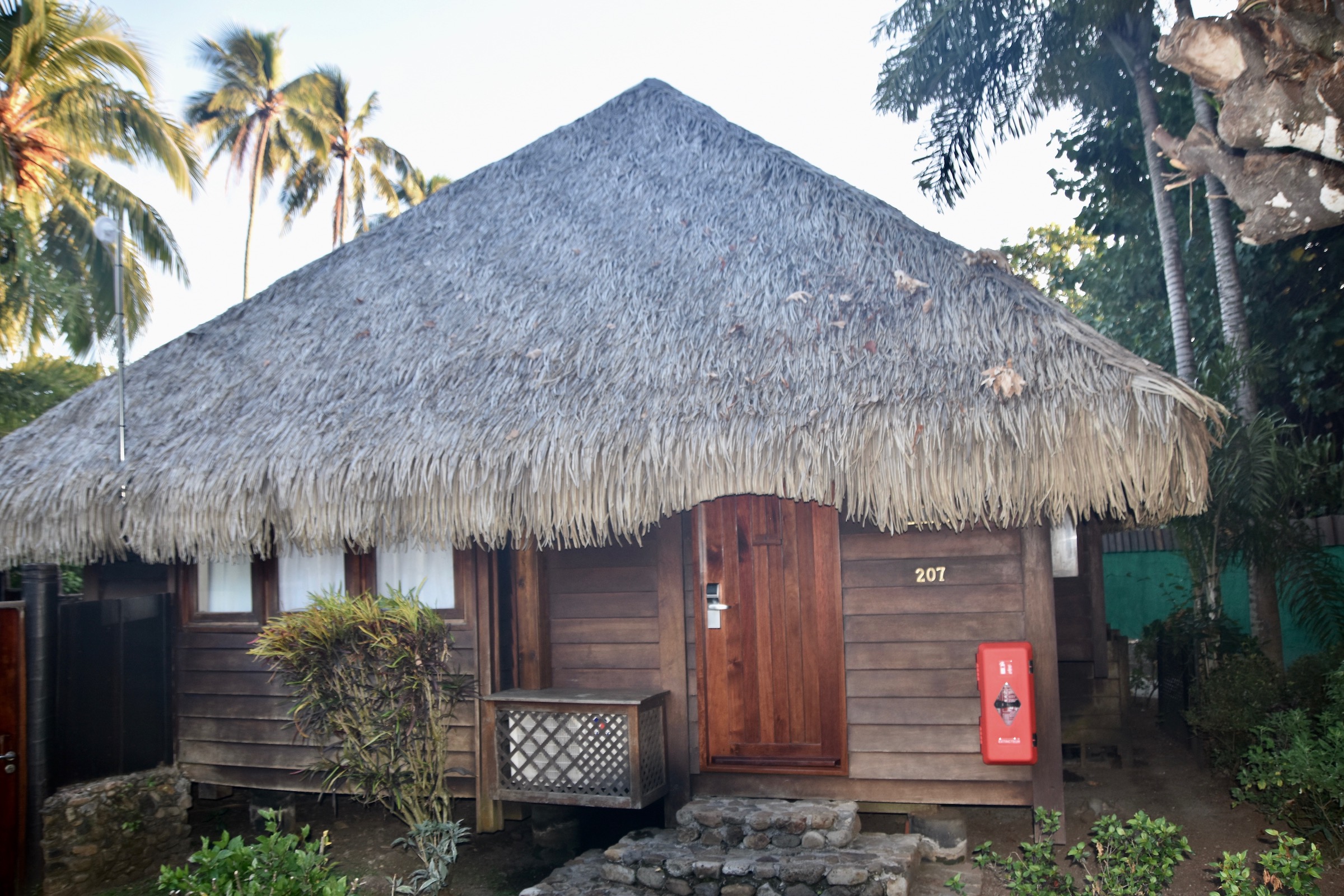 This is the interior with a day bed.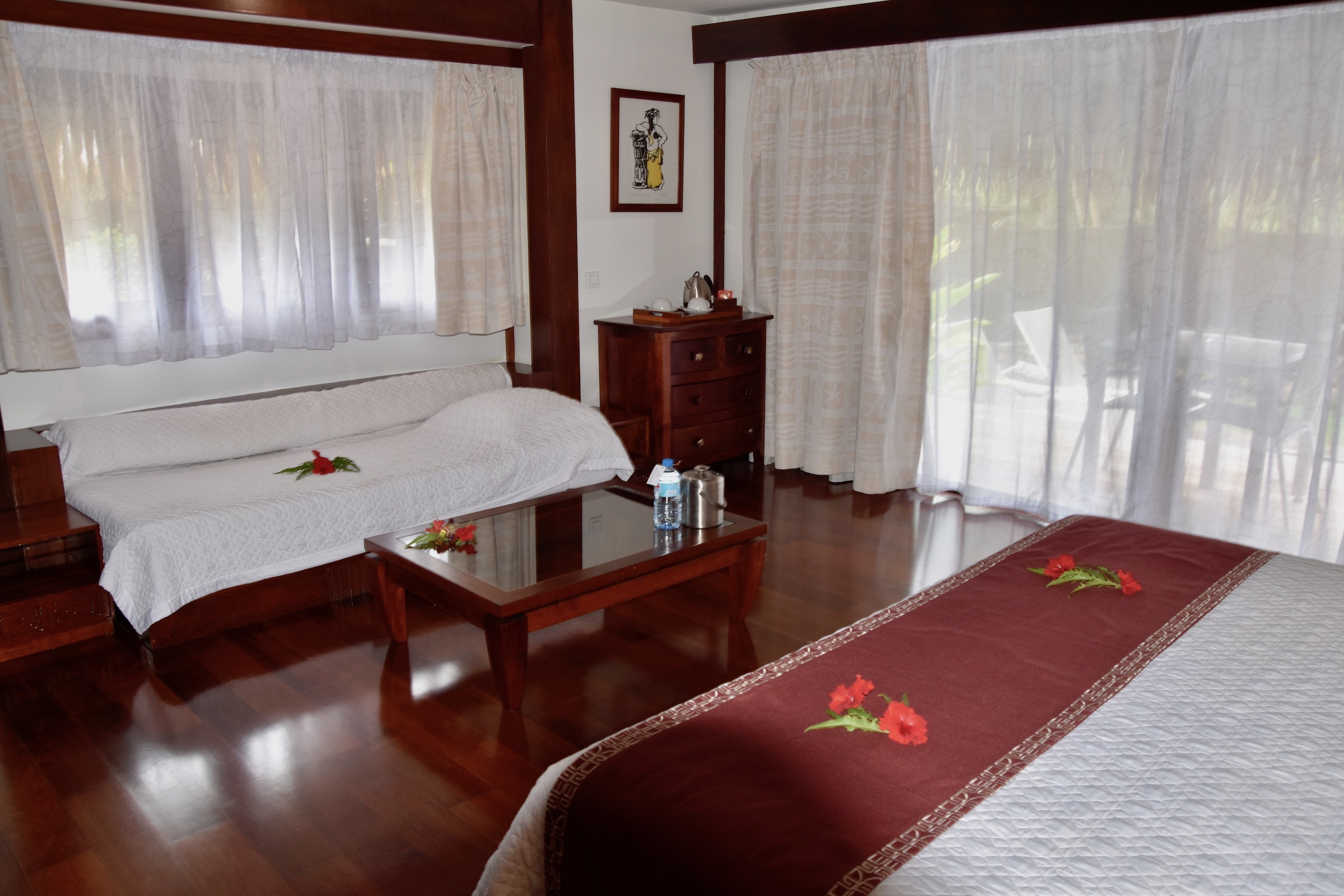 And a king sized bed.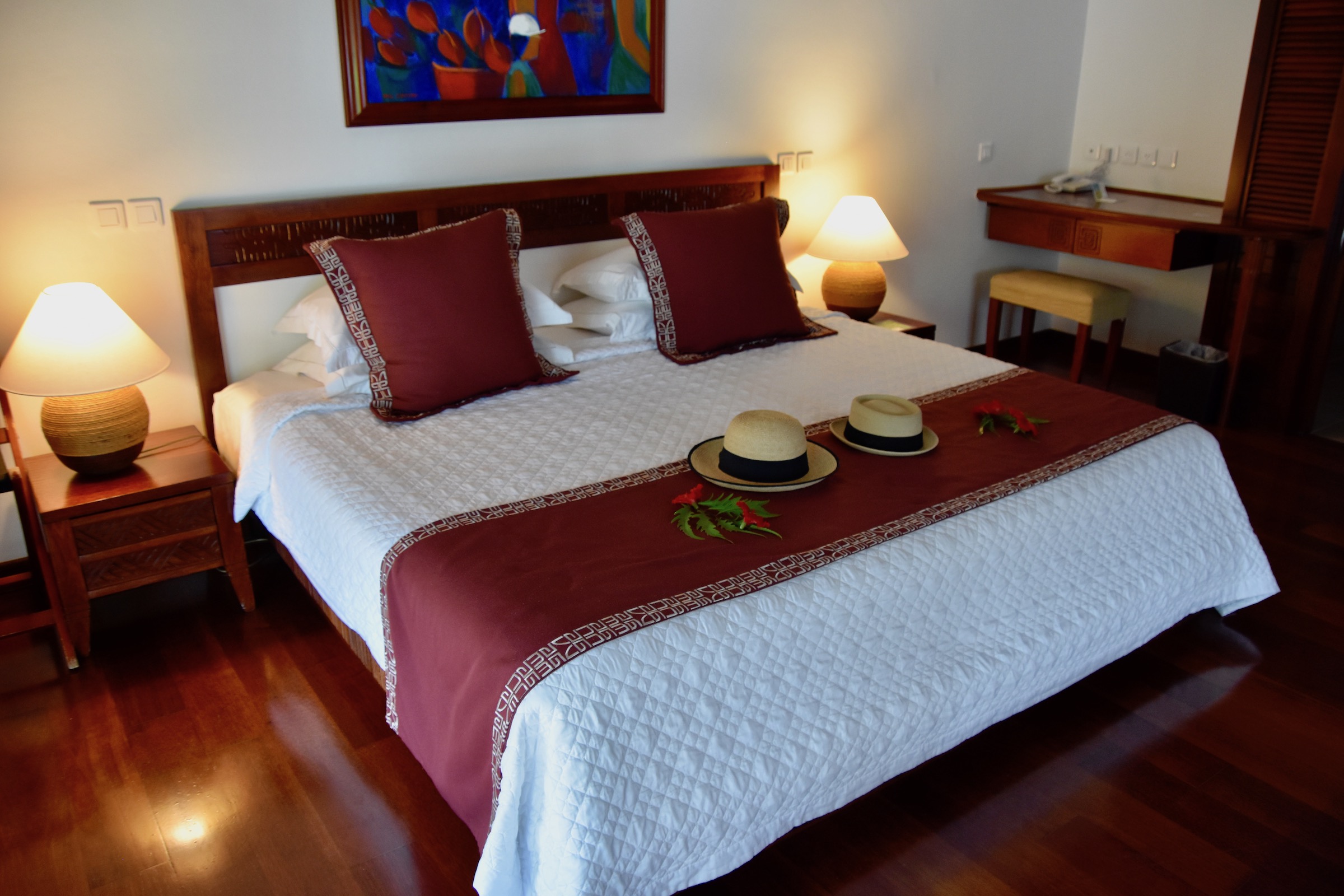 We also had our own fenced off privacy area with this cute little plunge pool that was refreshingly cool.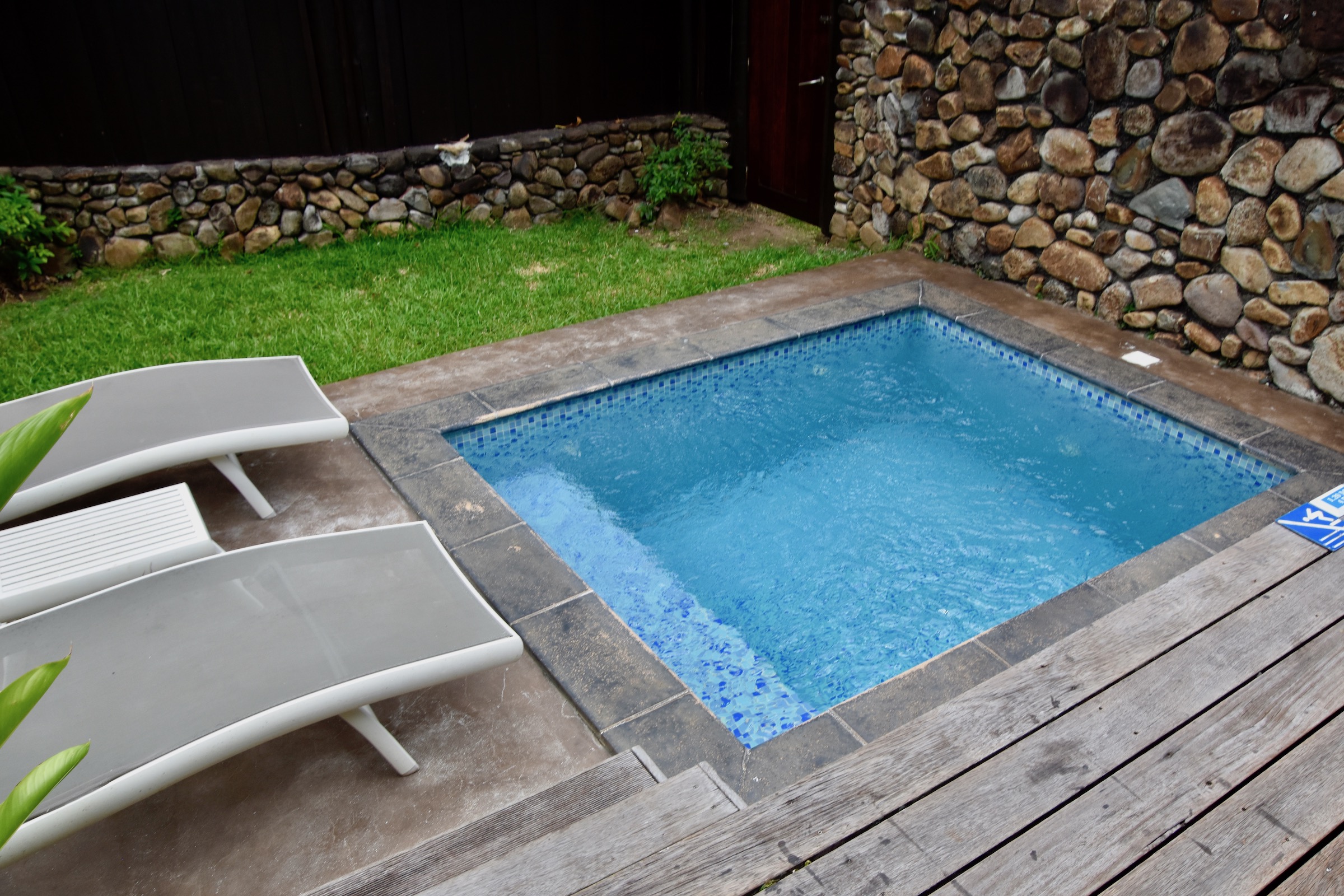 There was also the alternative of going to the beach.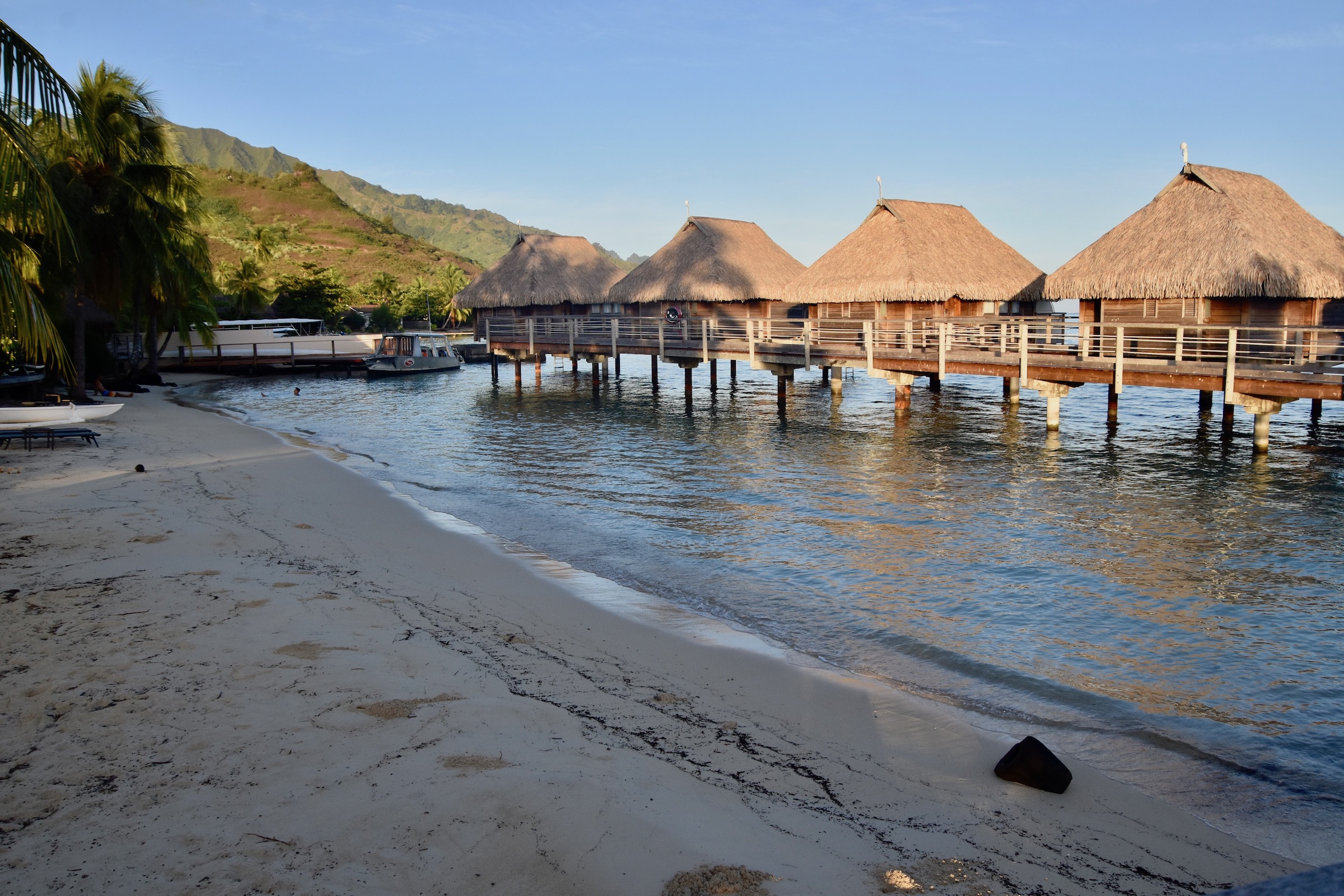 The grounds at Manava Beach resort are extensive and there are number of moias and tikis to photograph like this guy.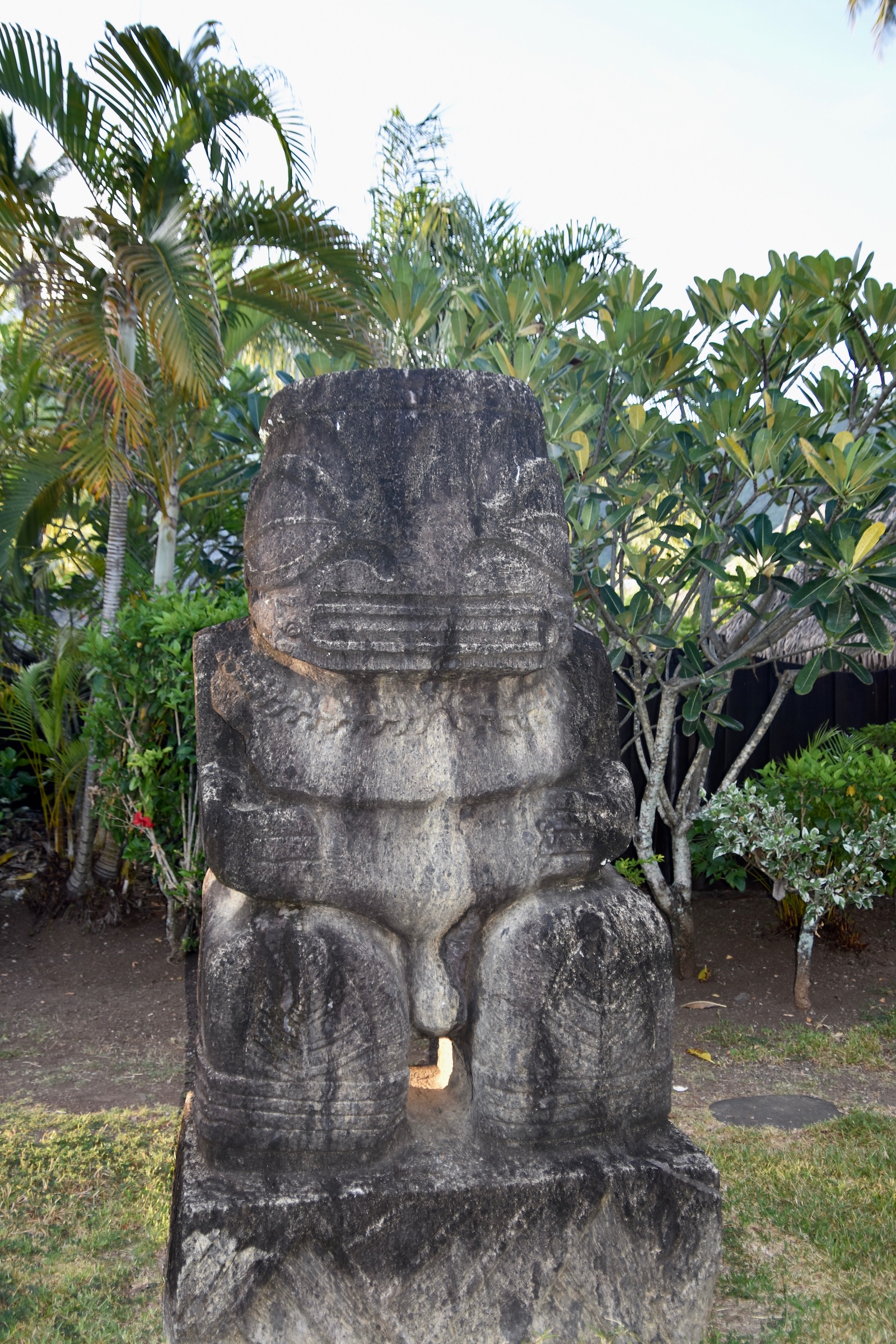 So we've got ourselves ensconced at a great place on Moorea, what's next? Join us as we meet Dr. Michael Poole who is to the dolphin world what Jane Goodall is to the chimpanzees. He will take us on a water tour of Moorea in search of spinner dolphins and other denizens of the South Seas.