Old Town Geneva – A Walk Through History
My first post from Switzerland was a compendium of reasons for signing onto the Adventures Abroad Hiking tour of Switzerland. However, since Alison and I had never spent any time in this country other than at airports, we decided to get there a few days before and include the cities of Geneva and Basel on our itinerary. We arrived on an overnight flight from Montreal and took the airport train into the Cornavin station from where it was only a short walk to our lodgings. In this post I'll recommend a good hotel in Geneva and then we'll take a walking tour of Old Town Geneva followed by a meal at one of the country's most famous restaurants. I hope you'll join us.
The Hotel D
Finding the right hotel in a city you've never visited is often a challenge, but I must confess that since Trip Advisor came along it has become much easier. I have been using this free service for over a decade and have booked at least a hundred or more hotels based on the reviews and seldom if ever have been disappointed. Geneva is well known for the fabulous Belle Epoque hotels that front on Lake Geneva, but they generally run around $1.000.00 a night or more and that is out of my league. I expected that other Geneva hotels would still be quite dear, but was pleasantly surprised to find a number of good choices under $300.00 a night including the Hotel D. It is currently rated #4 out of 164 Geneva hotels for value and #5 in traveller rankings which is a rare combination.
The Hotel D is only a couple of blocks from the Cornavin train station and we had no problem walking there with our luggage. It is a boutique four star hotel with a small chic lobby attended by young multilingual staff. Even though it was well before check in time our room was ready and they presented Alison with a large Toblerone bar because it was close to her birthday. Welcome to Switzerland!
This is room 205.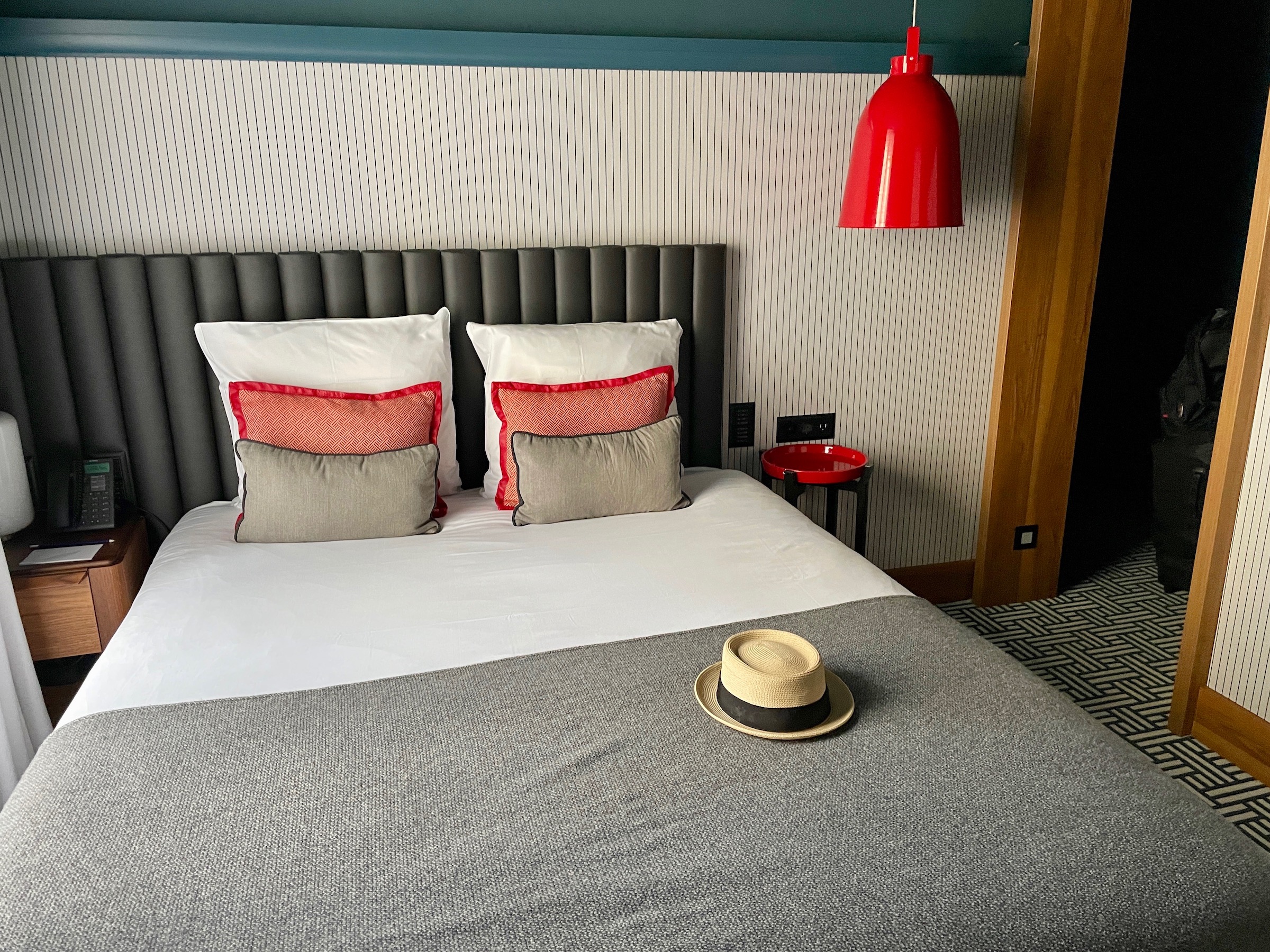 This is the view from the French balcony.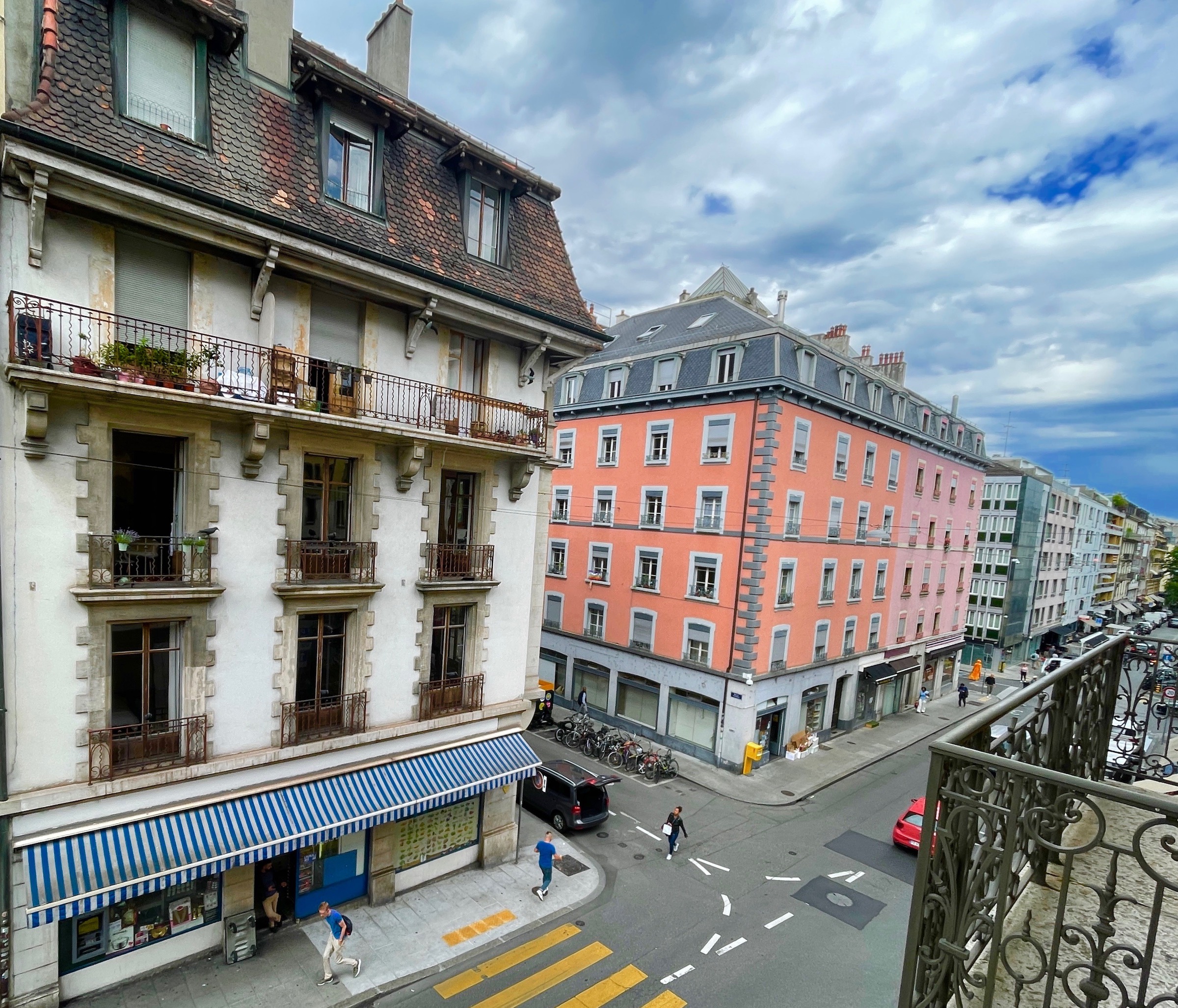 Breakfast is included and the buffet was excellent with a great selection of fruits and cheeses and delicious croissants. There were also hot items including eggs, bacon and sausage.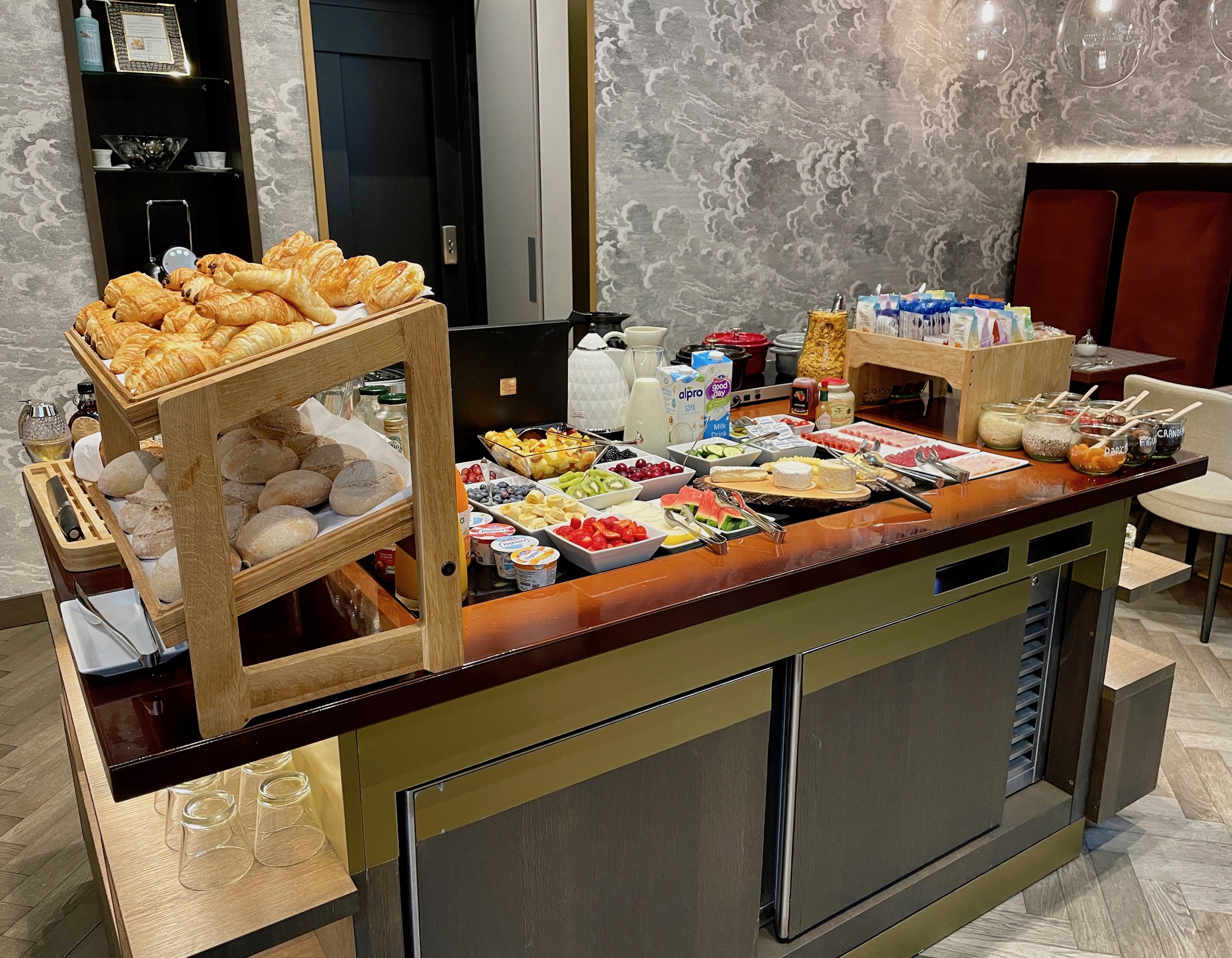 Perhaps the best thing about the Hotel D is its location in the Paquis district of the city. It is home to the most diverse group of nationalities that we saw in all of Switzerland which translates into an incredible variety of restaurants. It is also only a few blocks from the Lake Geneva waterfront with those elegant hotels and very expensive and exclusive watch stores. In the opposite direction is Old Town Geneva which is a little further but easily walkable. That's were we are headed next.
Old Town Geneva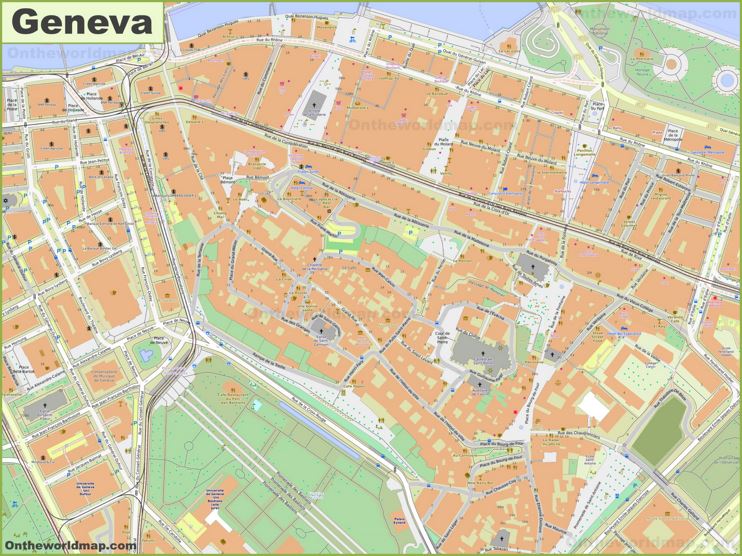 This is a map of Old Town Geneva from On the World Map which provides free printable maps of just about any place on earth. The central feature of the old town is St. Peter's Cathedral which is the large gray structure which sits atop a warren of narrow streets and lanes that have remained unchanged in centuries. These are in marked contrast to the wide boulevards and avenues that create an orderly grid pattern for most of the city.
So setting out from the Hotel D we first had to cross the Mont Blanc bridge which provides fabulous views of the famous Jet D'eau, the highest fountain on earth and the traditional paddle wheelers like the Savoie that still ply the waters of Lake Geneva.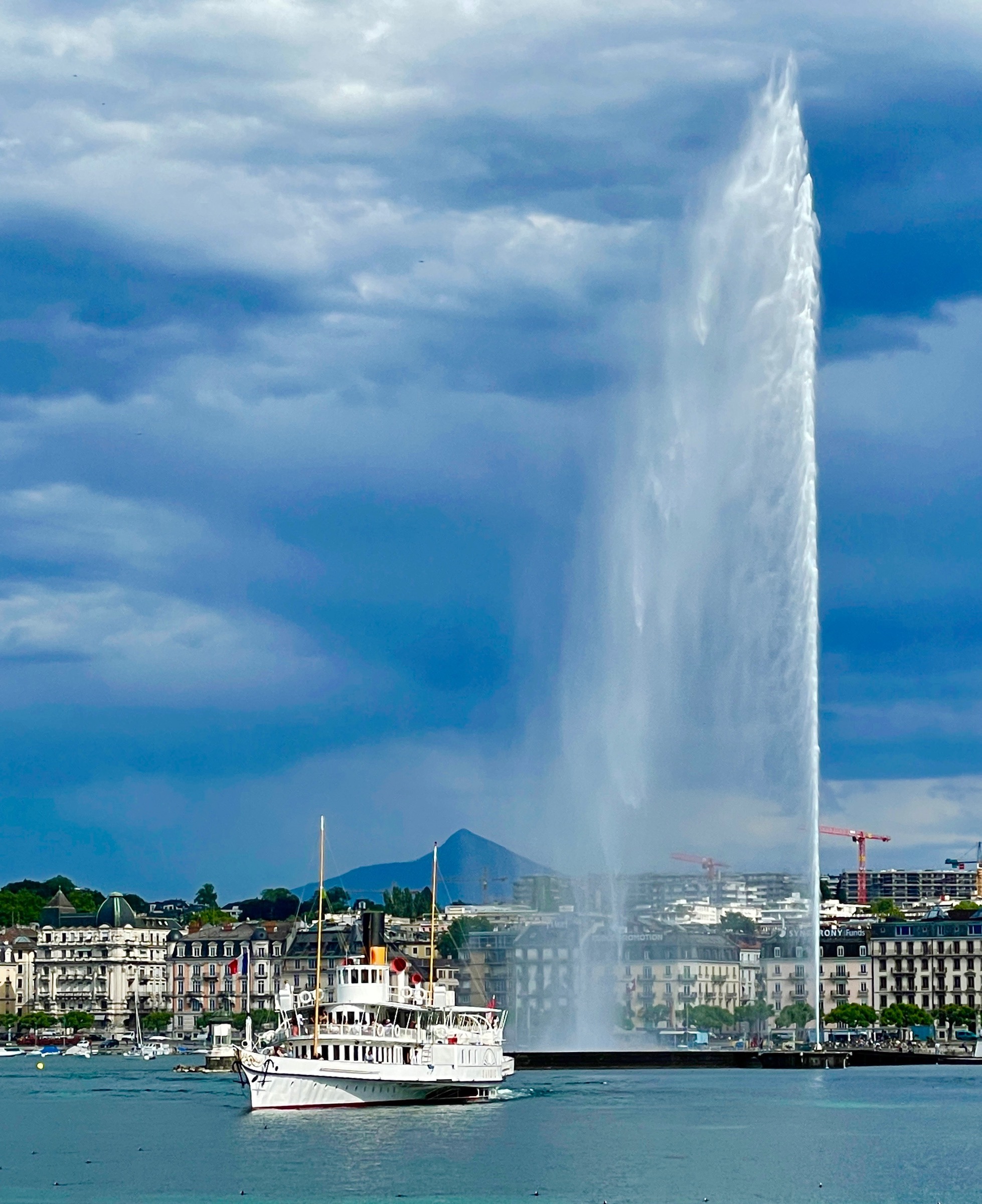 Just on the other side of the bridge is another one of Geneva's icons, the floral clock with the Red Cross and Red Crescent reminding you that these institutions were founded in Geneva.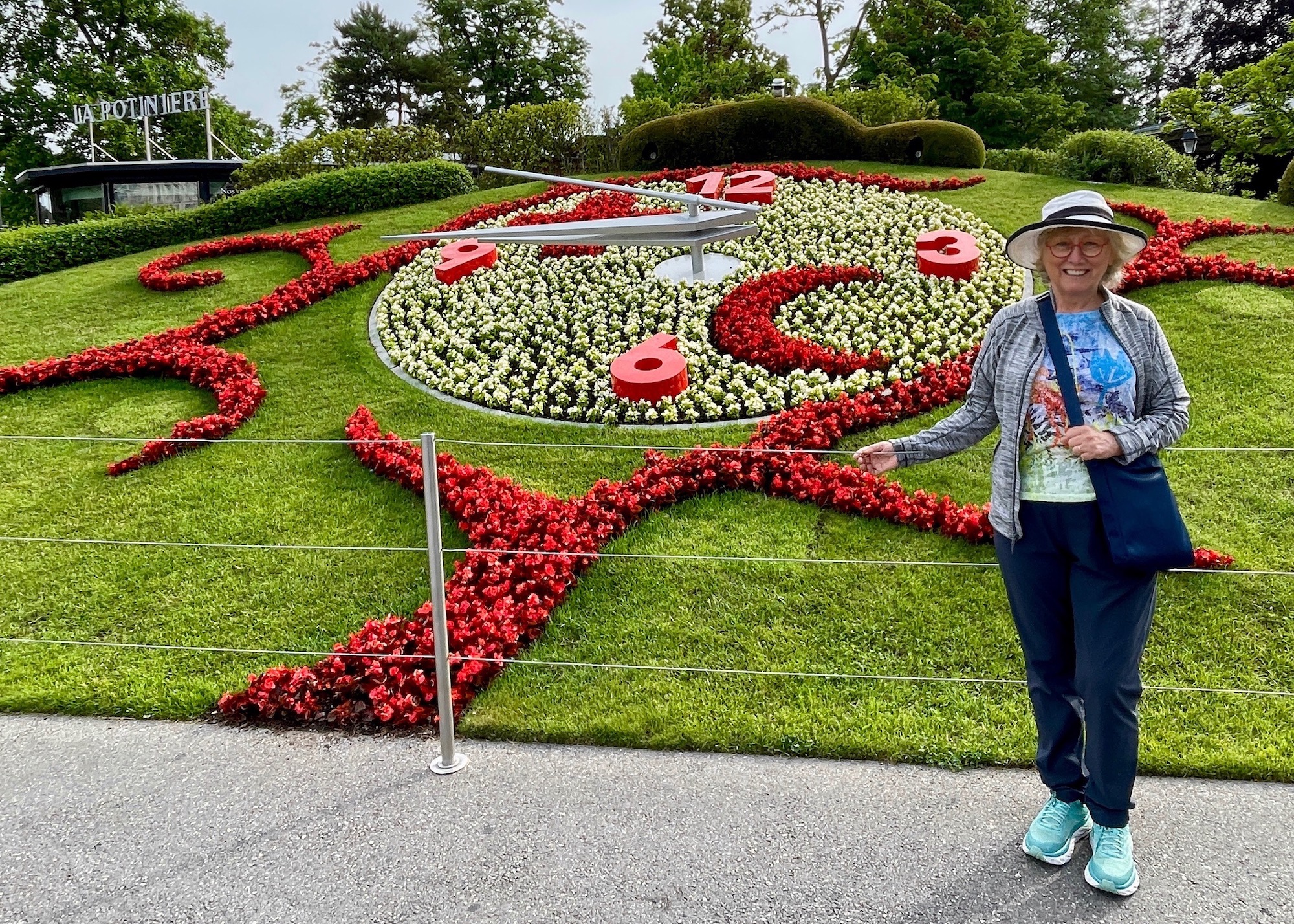 One more site before you cross over into Old Town Geneva proper is the National Monument which commemorates Geneva's entry into the Swiss federation in 1814. The woman on the left represents the Republic of Geneva and beside her is Helvetia, symbol of Switzerland. If you look closely you can see the famous Rolex gold crown peeking out. Along this Quai de General Guisan you'll see huge signs for just about every well know Swiss watch manufacturer in the country including Patek Philippe, which unlike the very secretive Rolex, has a museum dedicated to its history and products.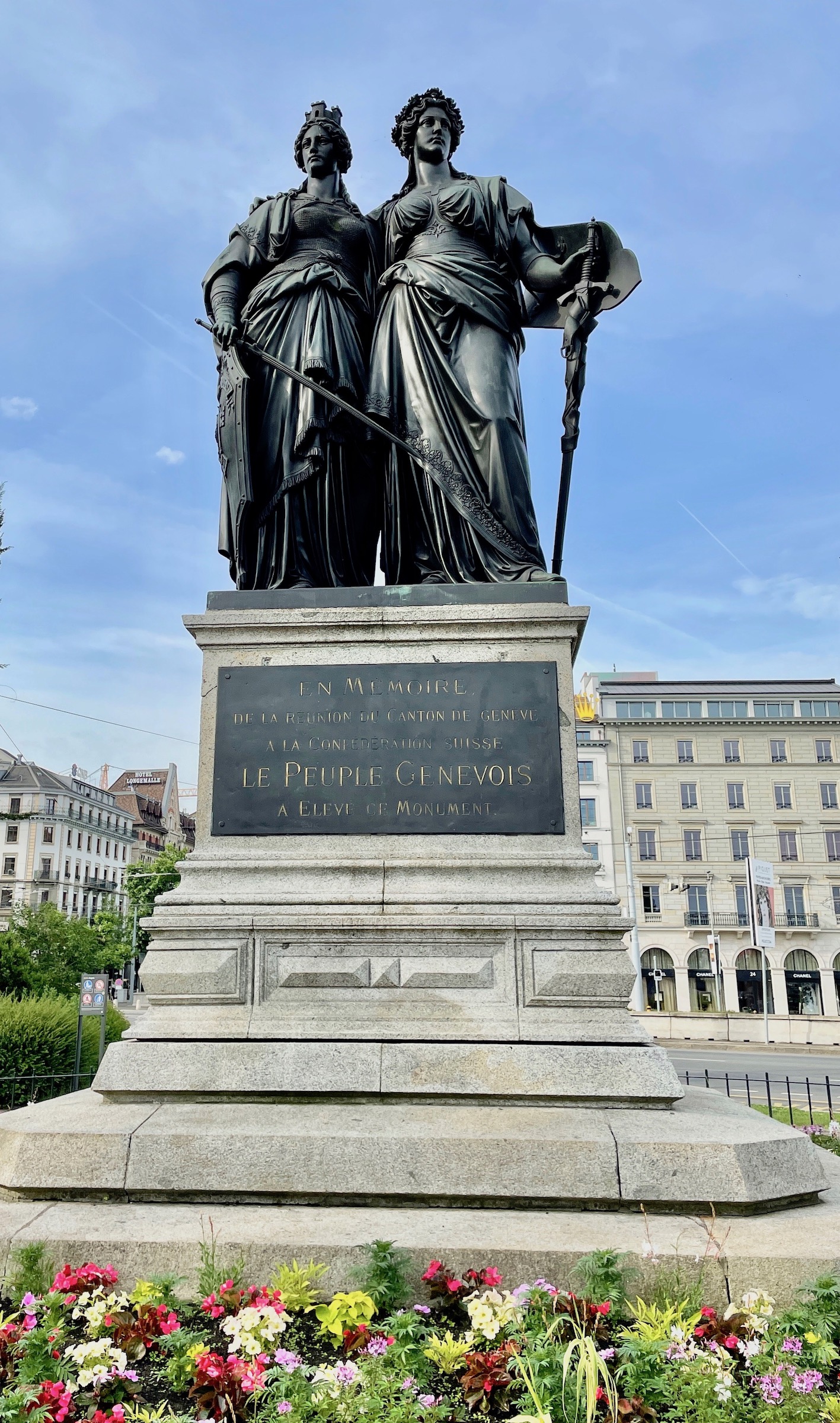 The history of Geneva began well before the common era, but really got going when Julius Caesar, at that time Governor of Gaul, made it into a significant Roman post in 58 BCE and it has been on the world scene ever since. Lying as it does on a very strategic piece of property where the Rhone River flows out of Lake Geneva it has been coveted by many nations since the fall of the western Roman Empire. At one time or another it was the property of the Burgundians, Franks, Germans and for most of its post-Roman history the Kingdom of Savoy. For hundreds of years during the medieval period the burgers of Geneva fought for their independence by appealing to various popes without much success. When the Reformation broke out Geneva turned out to be a fertile breeding ground for Protestants, fed up with the Catholic church and its sway over the city.
John Calvin was the pre-eminent figure in the Swiss Reformation and in 1536 the city became officially Protestant and a republic at the same time. It remained so until the turmoil of the French Revolution spilled over into Switzerland and Geneva was annexed briefly by France. With the eventual French defeat, the Congress of Vienna formerly declared Geneva a city state and oversaw its admission to the country of Switzerland as one of its Cantons and that's where matters stand today.
So let's start our tour of Old Town Geneva by taking one of the side streets that go steeply up toward the cathedral. The contrast between the largely pedestrianized streets of Medieval Geneva with the constant auto traffic and trams that dominate the area all around the hill upon which the cathedral stands could not be starker. Suddenly things are very quiet and calm and instead of seeing stores selling watches, you can peek into windows were Swiss craftsmen are actually making them.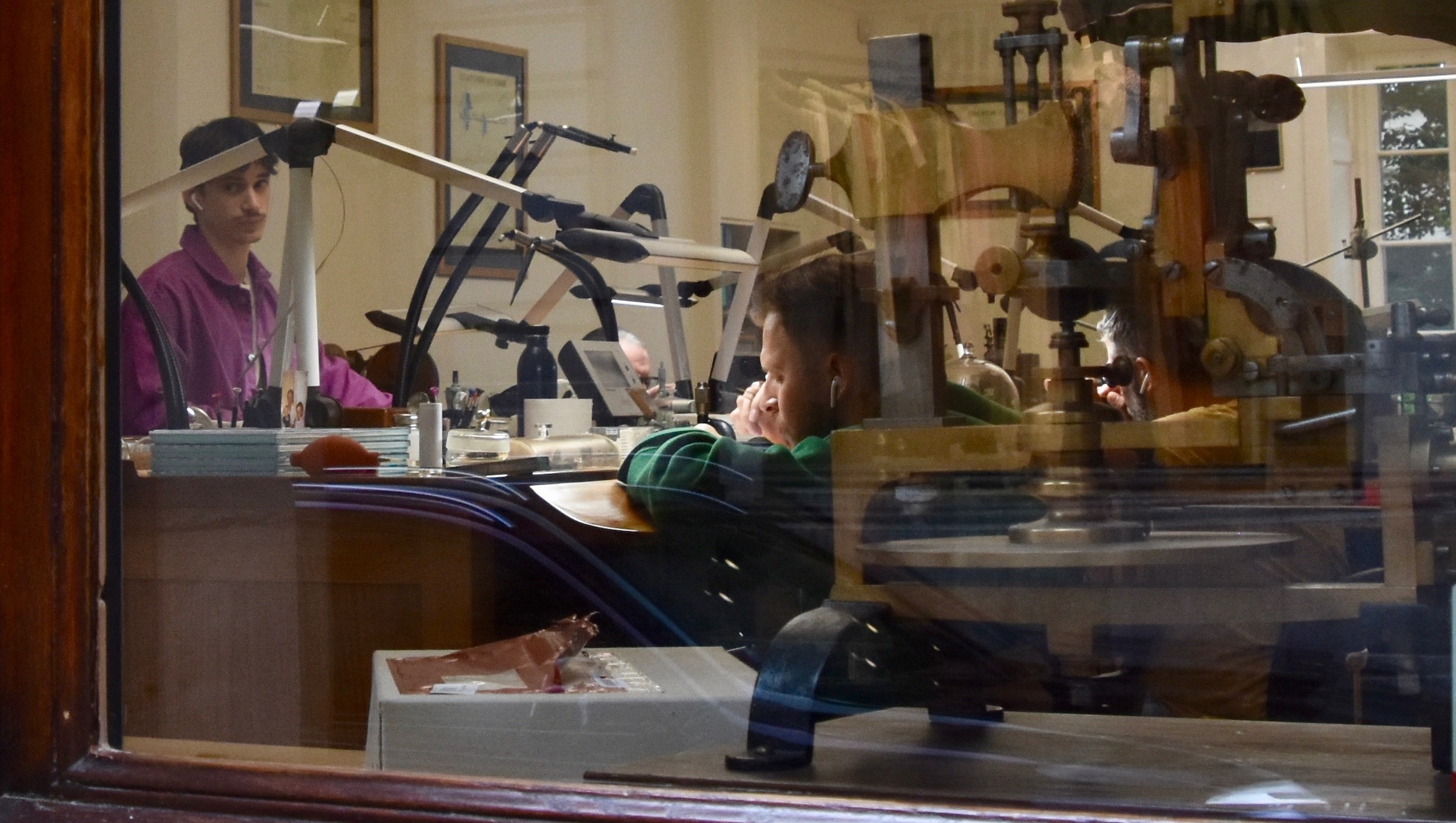 Often the historic part of a city is also the place where most of the tourists are, but not in Old Town Geneva. There were next to no shops catering to tourists and most of the people seemed to be locals. This seems to be somewhat unique to Geneva as we were to learn when we visited Basel, Zurich, Lucerne and Bern where the old districts had plenty of tourists and places to spend your money.
St. Peter's Cathedral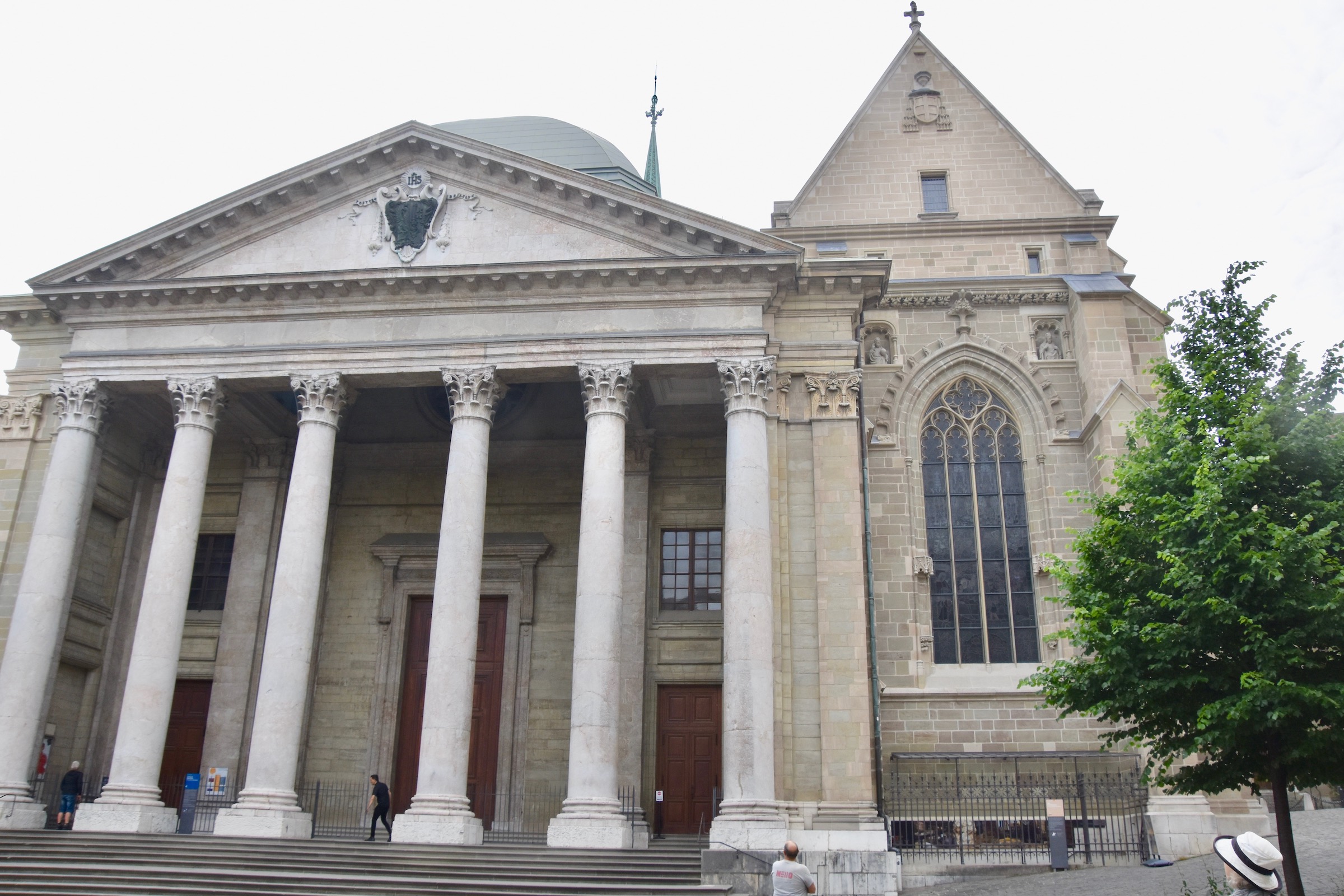 St. Peter's Cathedral is definitely the main destination in Old Town Geneva. Although it won't win any awards for beauty, it definitely has a history that most cathedral's can only envy. There were churches on this site since the 4th century, not surprisingly built atop the ruins of earlier Roman structures. The present cathedral was completed in 1250 as a Catholic church and remained so until 1535 when a riot broke out during mass and the rioters destroyed much of the ornate interior. With the arrival of John Calvin from Basel in 1536, after a few false starts, the now austere building became the Protestant equivalent of St. Peter's in Rome. Thousands of Protestant refugees poured into the city, especially after the infamous St. Bartholomew's Day Massacre of Huguenots in Paris in 1572 with St. Peter's was their destination. One of these refugees was the misogynous John Knox from Scotland who would take Calvin's teaching back home with him and create the Presbyterian Church of Scotland.
We walked around the building first as we had arrived a few minutes before opening. This is the north transept.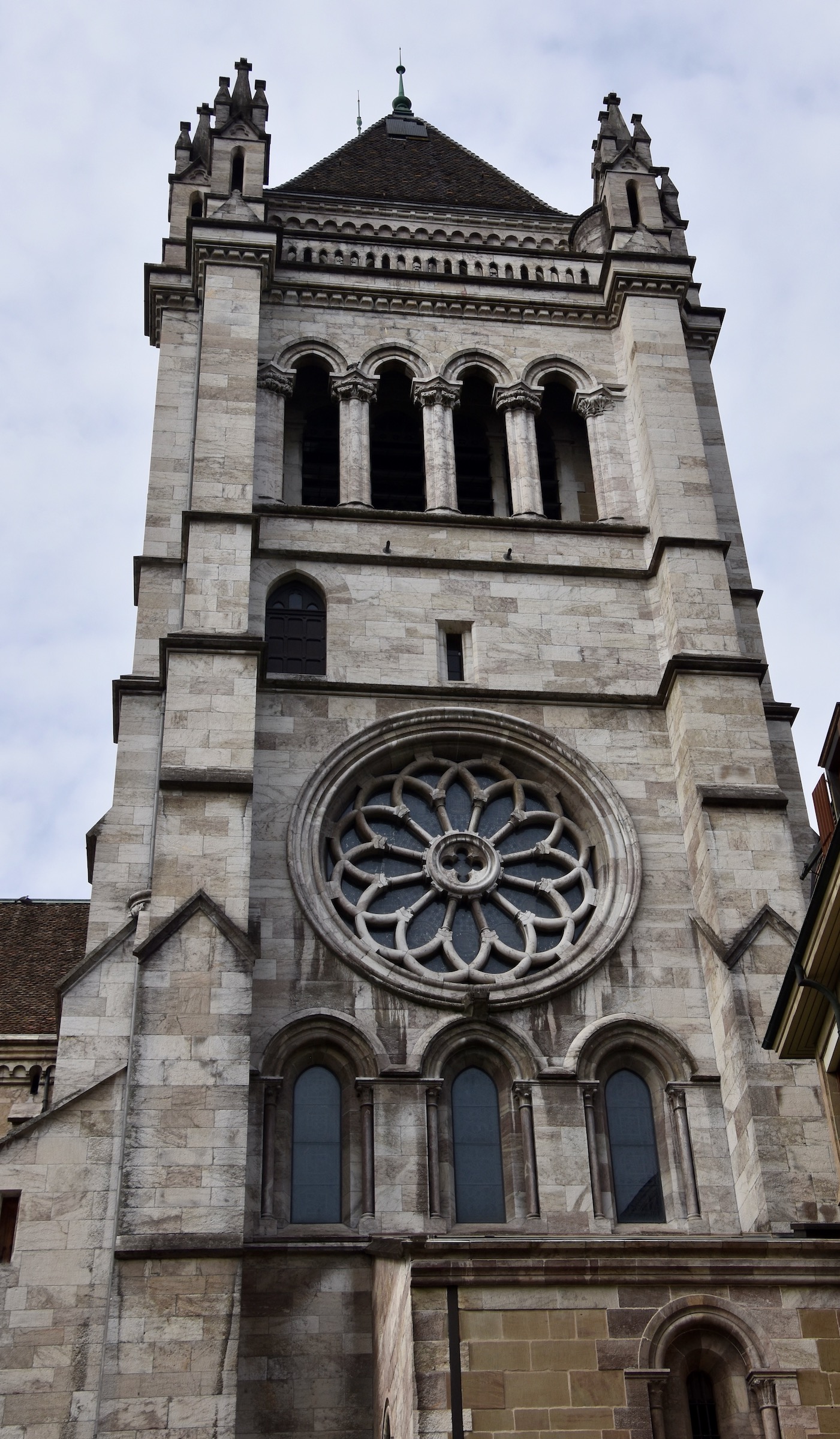 This iron cross with oak leaves over one of the side doors undoubtedly has significance, but I'm afraid I don't know about what. Ironically (pun intended), the Iron Cross with Oak Leaves (aka the Knights Cross of the Iron Cross) was the highest award for valour given out by the Nazis in WWII.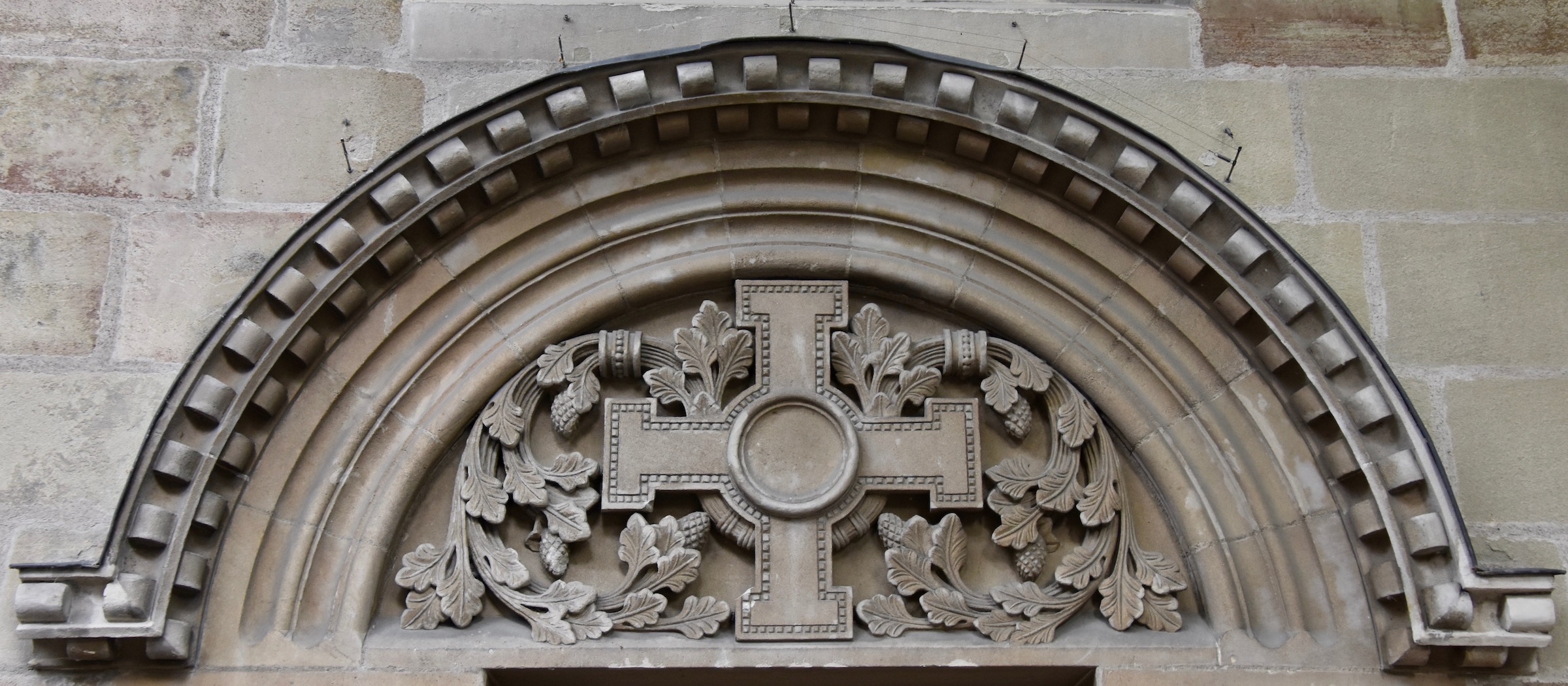 Entry to St. Peter's is free, but you must pay 7 Swiss Francs to climb up to the towers which should be a no brainer for most visitors.
John Calvin was an iconoclast of the first order banning virtually every aspect of  worship except spoken words and prayers. No music, no church decoration, no fun or pleasure of any sort. He applied this dictum to everyday life in Geneva and it had a strange and unexpected side effect. He banned the wearing and making of jewelry of any sort, but did allow people to use watches because timeliness was a Protestant virtue. The result was that all of Geneva's jewellers turned to making one product – you guessed it – Swiss watches. Geneva inadvertently became the world centre for precision made time pieces.
Calvin did succeed in making the interior of St. Peter's actually quite boring. I did not even take a picture of it and had to get this one by Daniel Jolivet from Wikipedia.
What I did take photos of were items that were replaced after the Calvinists somewhat softened their stance on music and decoration. This is the church organ with its beautiful art deco motif that was built by the Metzler organ company and installed in 1965. Calvin must be rolling in his grave every time it is played.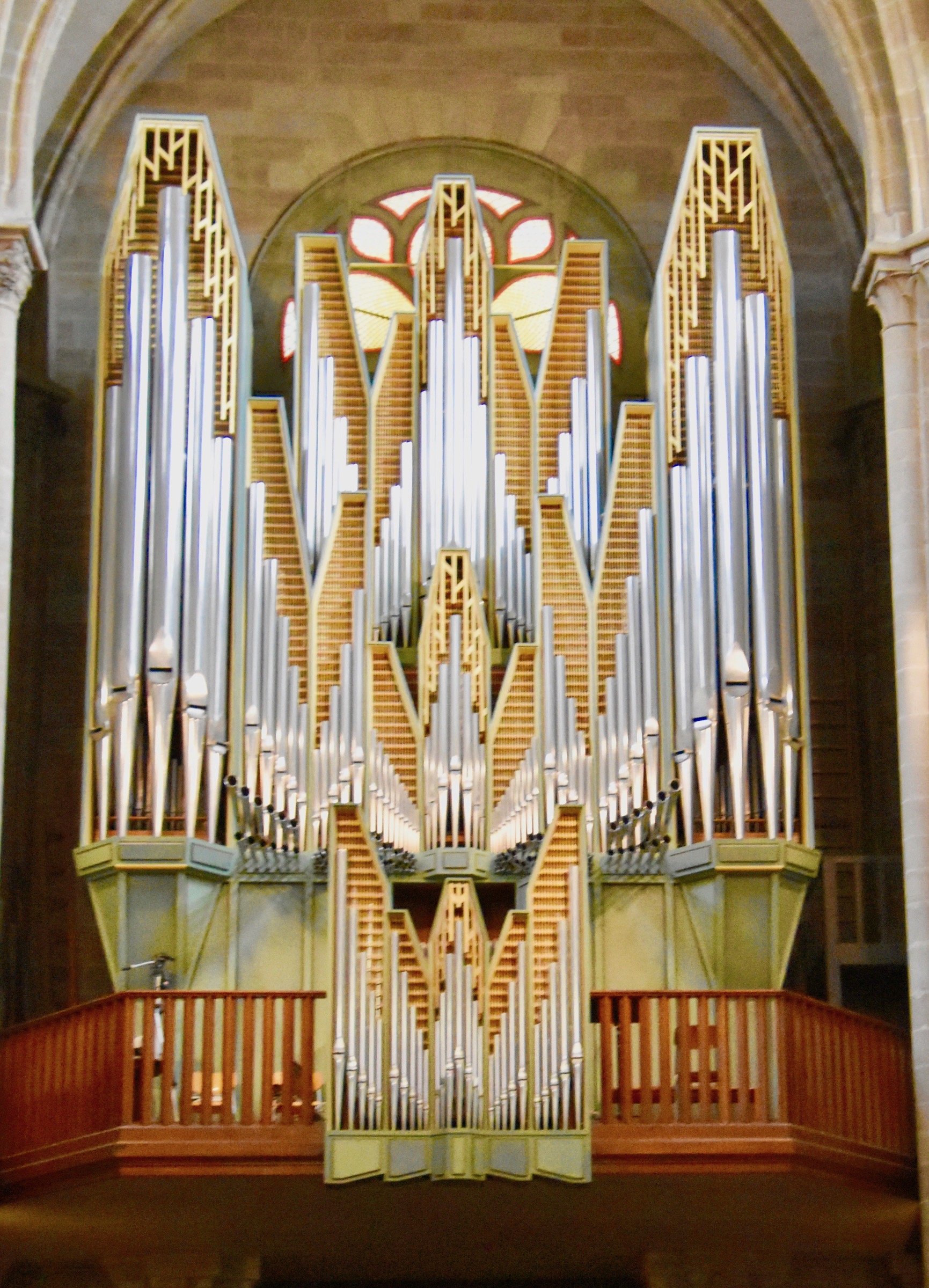 This is the interior view of the rose window on the north transept we first saw from the outside.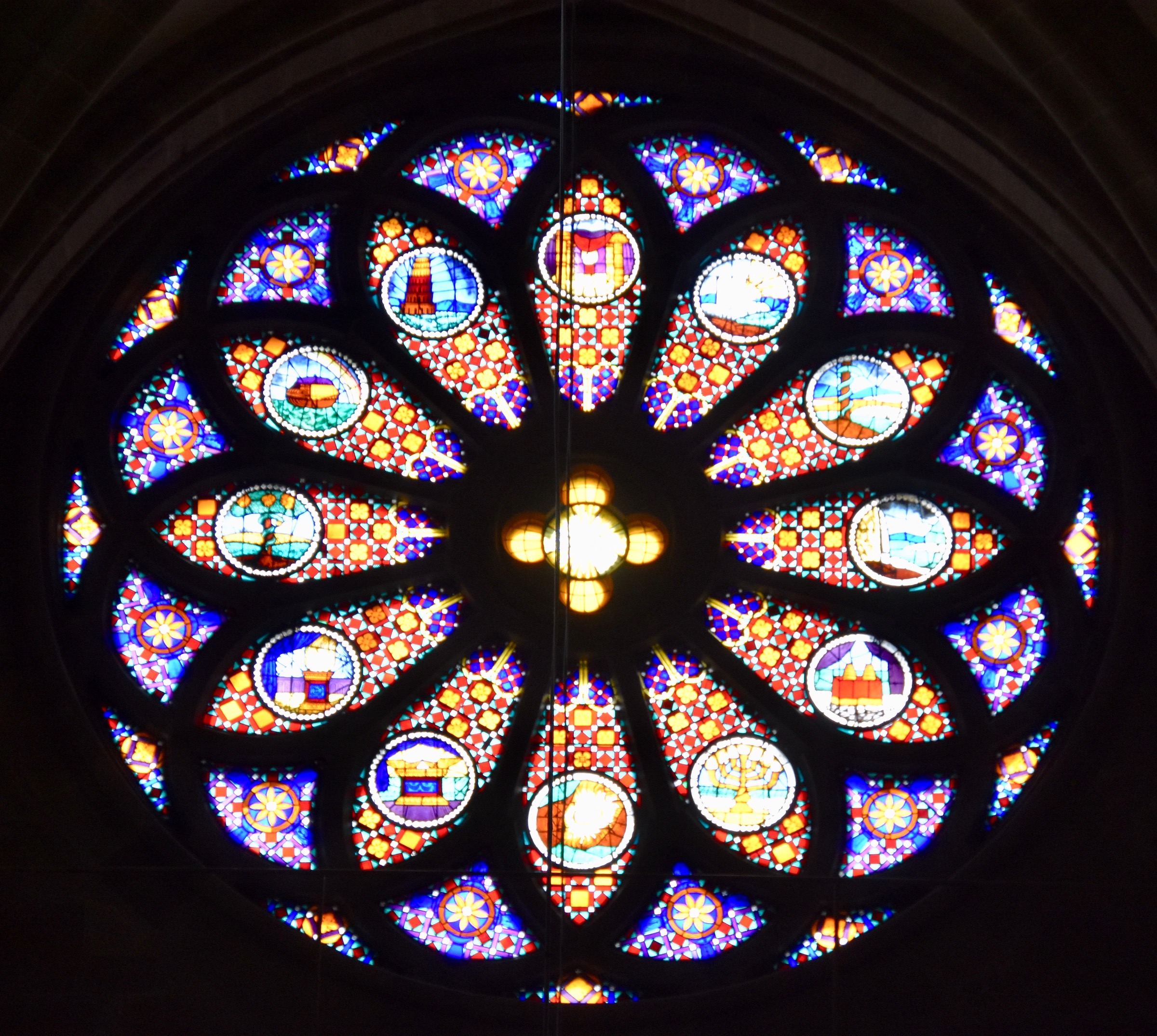 And this is the south transept window.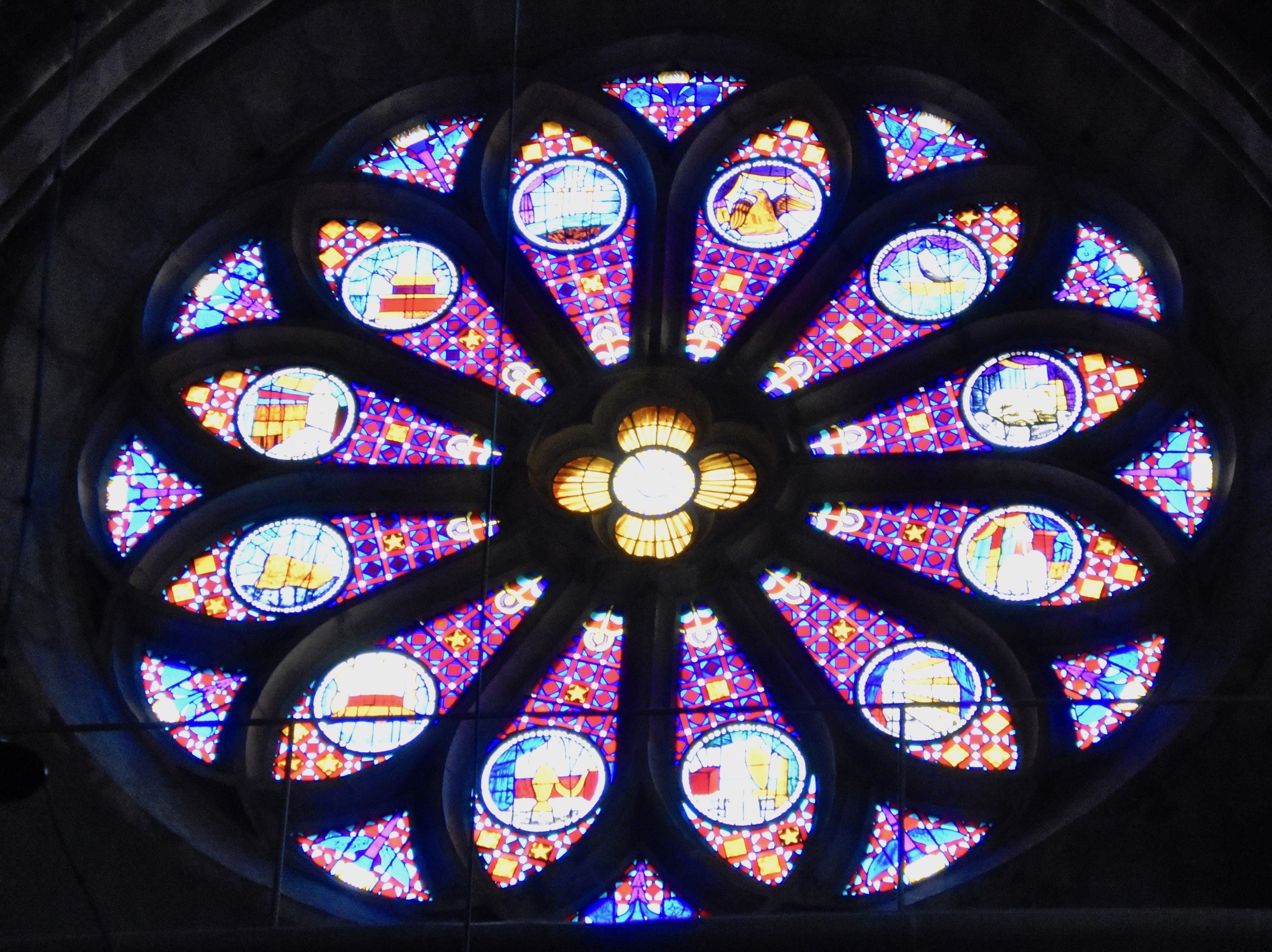 These were installed in the 1800's. Also constructed in the 1800's was this tomb for Henri, Duke of Rohan a French Huguenot military leader and writer who died over 200 years earlier. Why it took so long to build his tomb is beyond my ken. He was a very famous person in his time and was even the godfather of England's Charles I.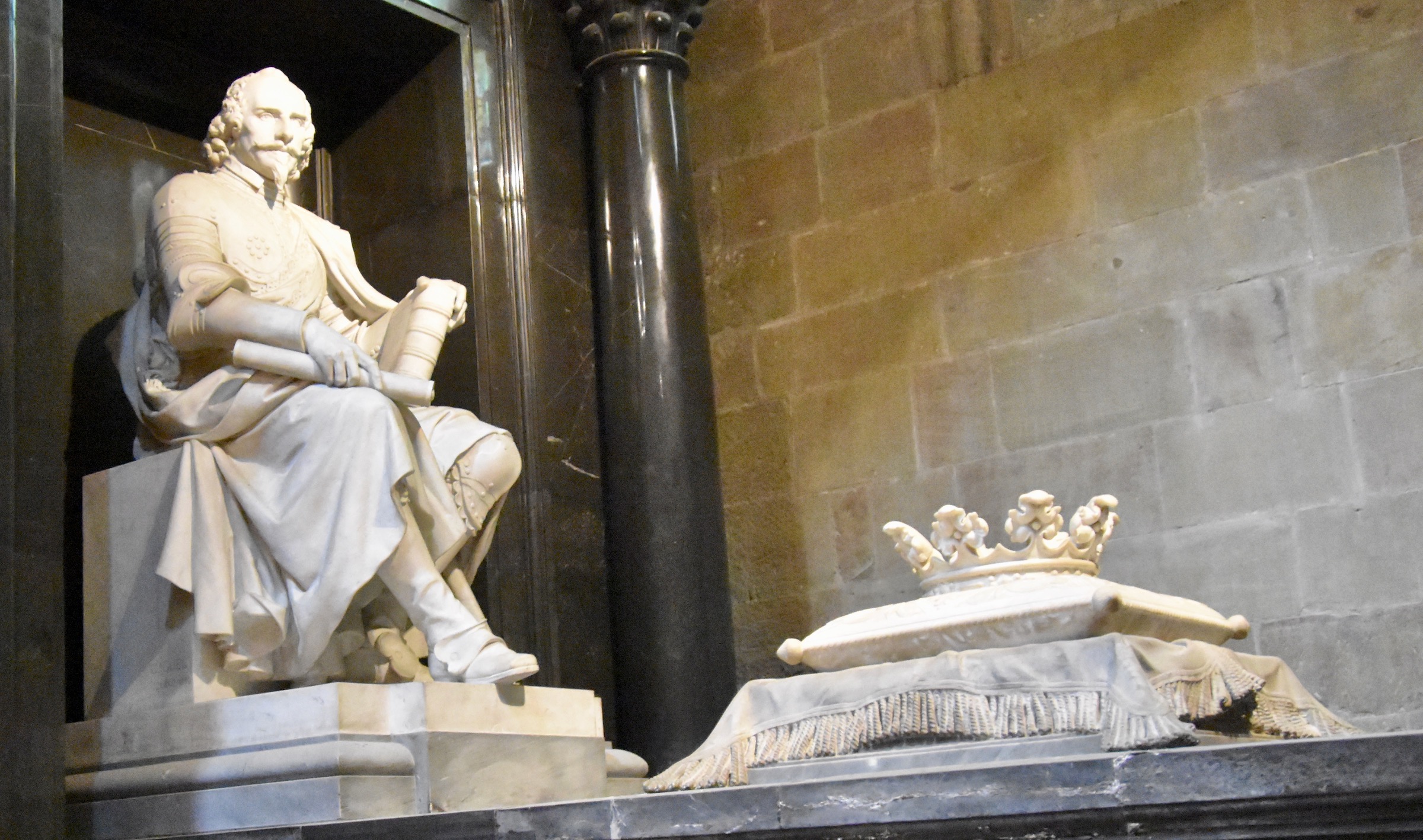 Now we come to the most interesting aspect of St. Peter's Cathedral in Old Town Geneva, the towers. As cathedral climbs go the one up to the top of the north tower is not bad, at 157 steps although in a couple of places you have to look carefully for the next way up. Initially I thought it ended in the bell tower with no views and thought we got ripped off, but then I noticed another door across the way and from here were came out into the open. Although there was a high overcast sky, the views over Old Town Geneva were well worth the 7 Francs.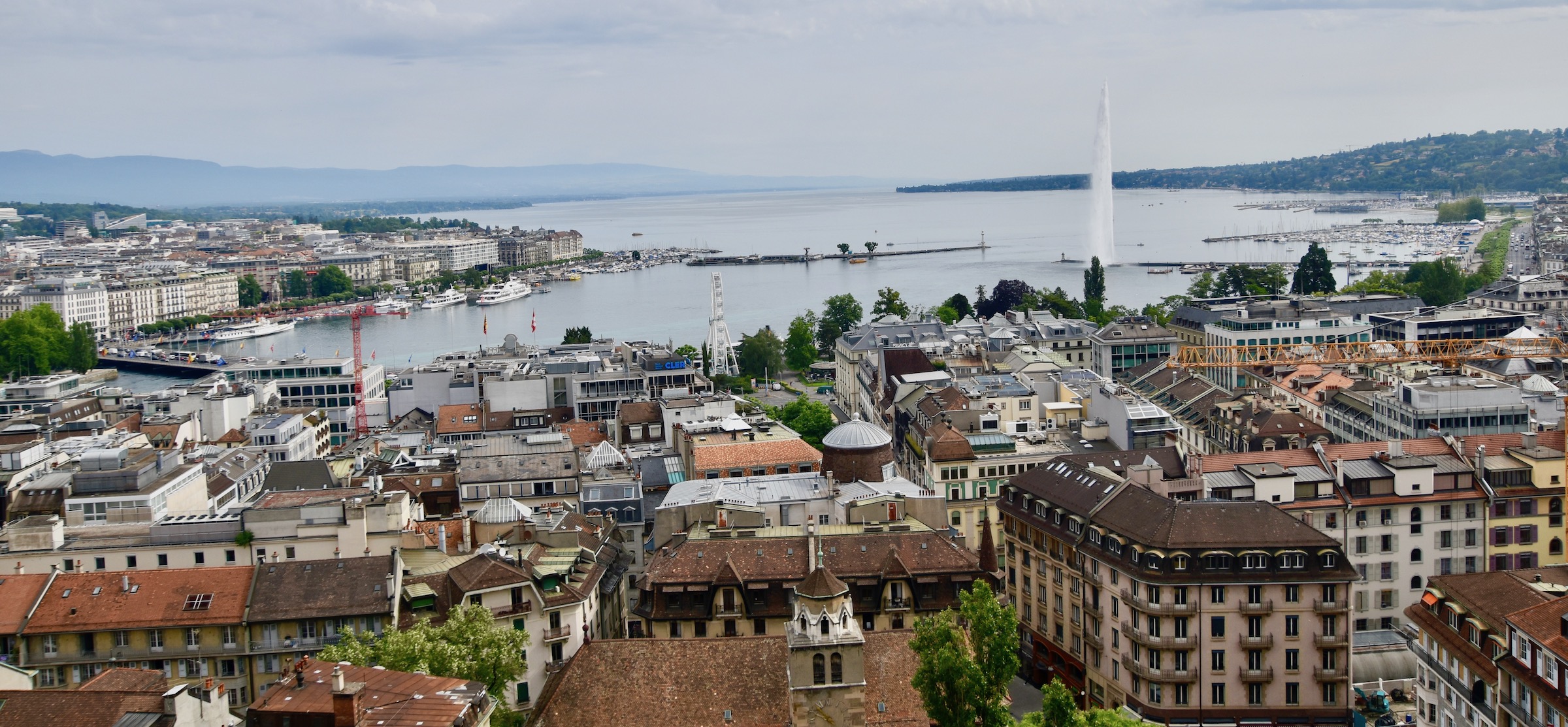 A panorama shot.

The two towers are connected by a walkway. This is the view of Old Town Geneva from the south tower.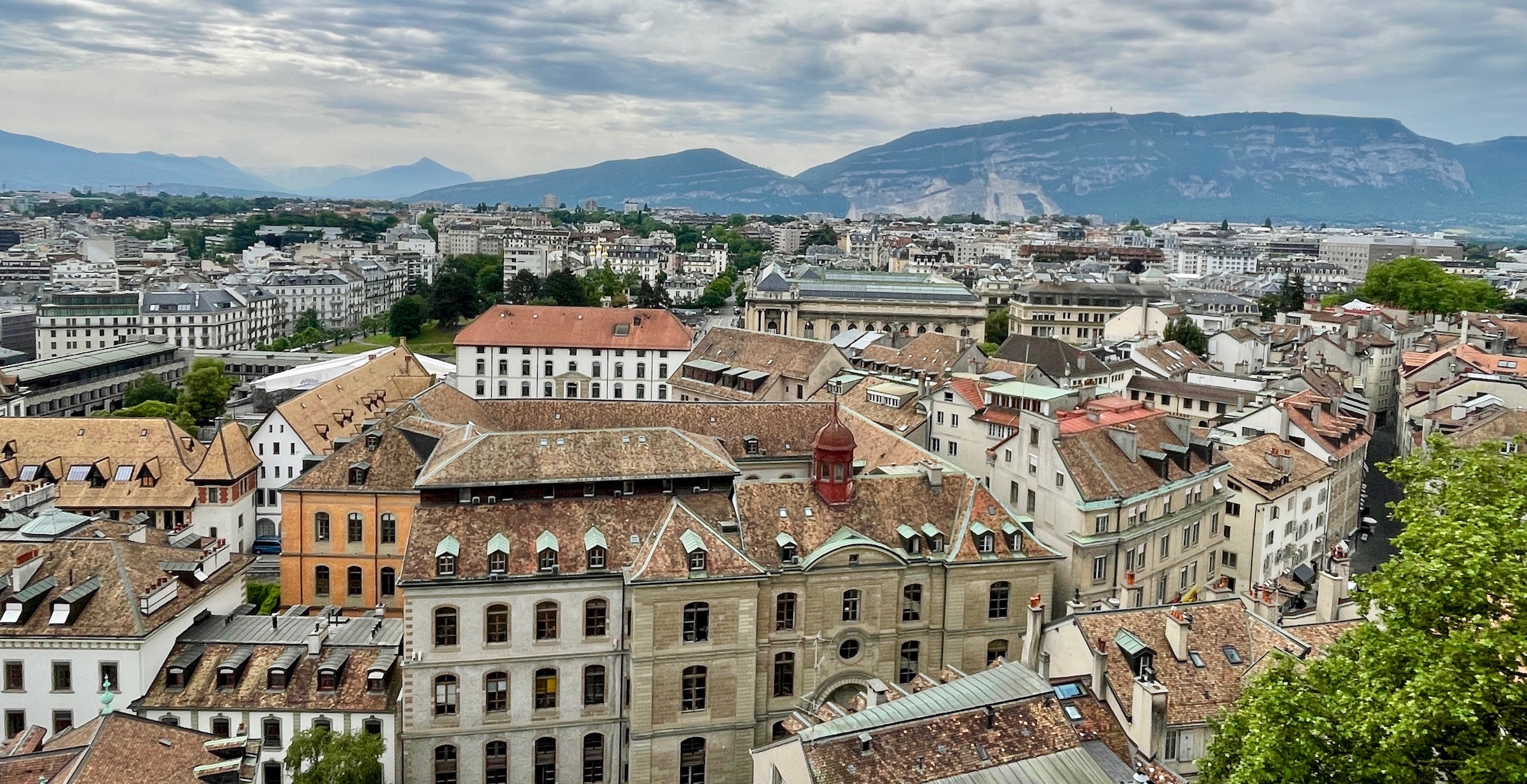 And of course you'll want to prove you actually climbed those stairs.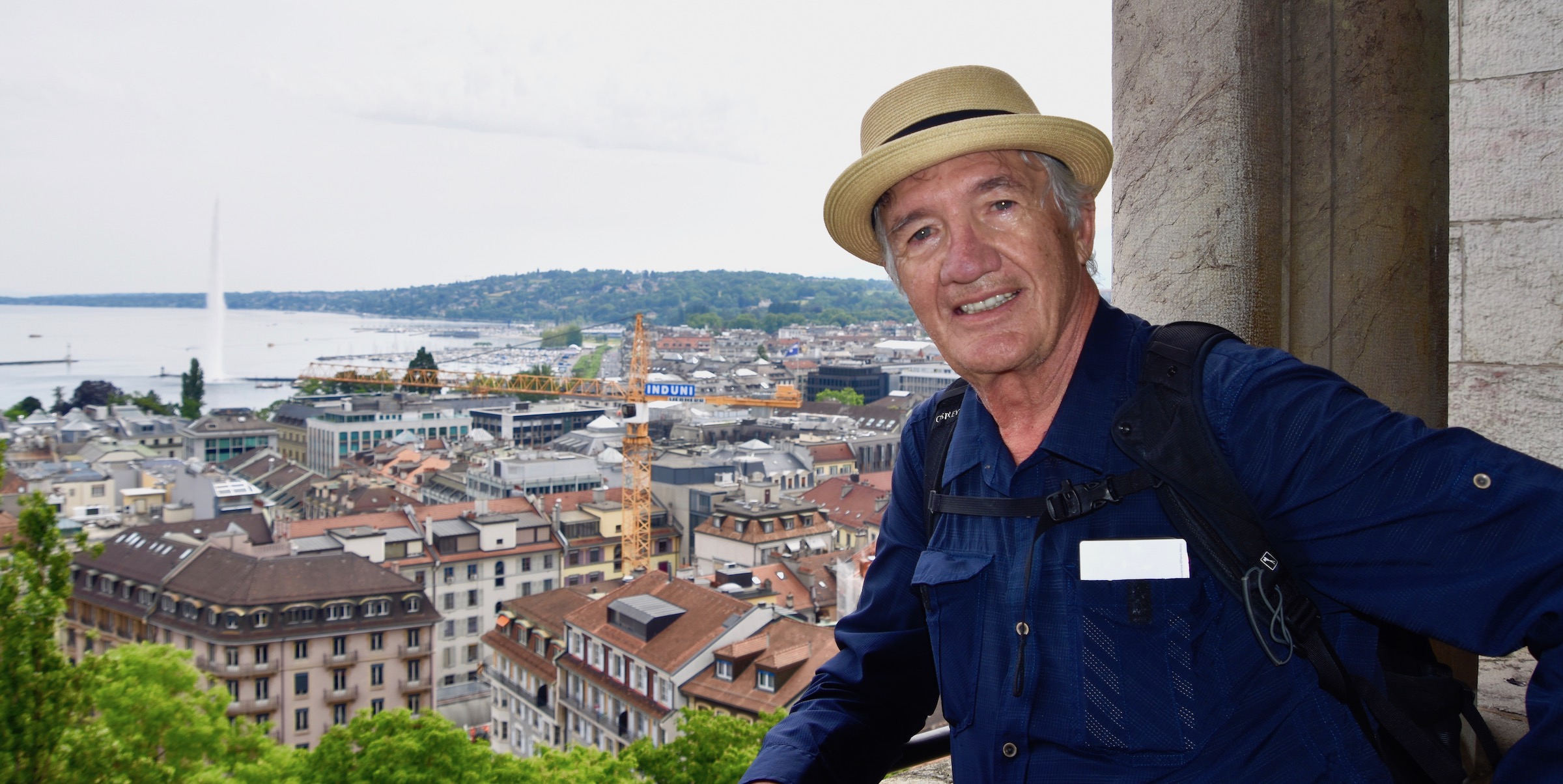 While St. Peter's is the highlight of Old Town Geneva there's a lot more to see as Alison and I found out by just rambling around. A lot of famous people and events are associated with the area, none more so than being the birthplace of Jean Jacques Rousseau, the great Enlightenment philosopher whom most people mistakenly believe was French.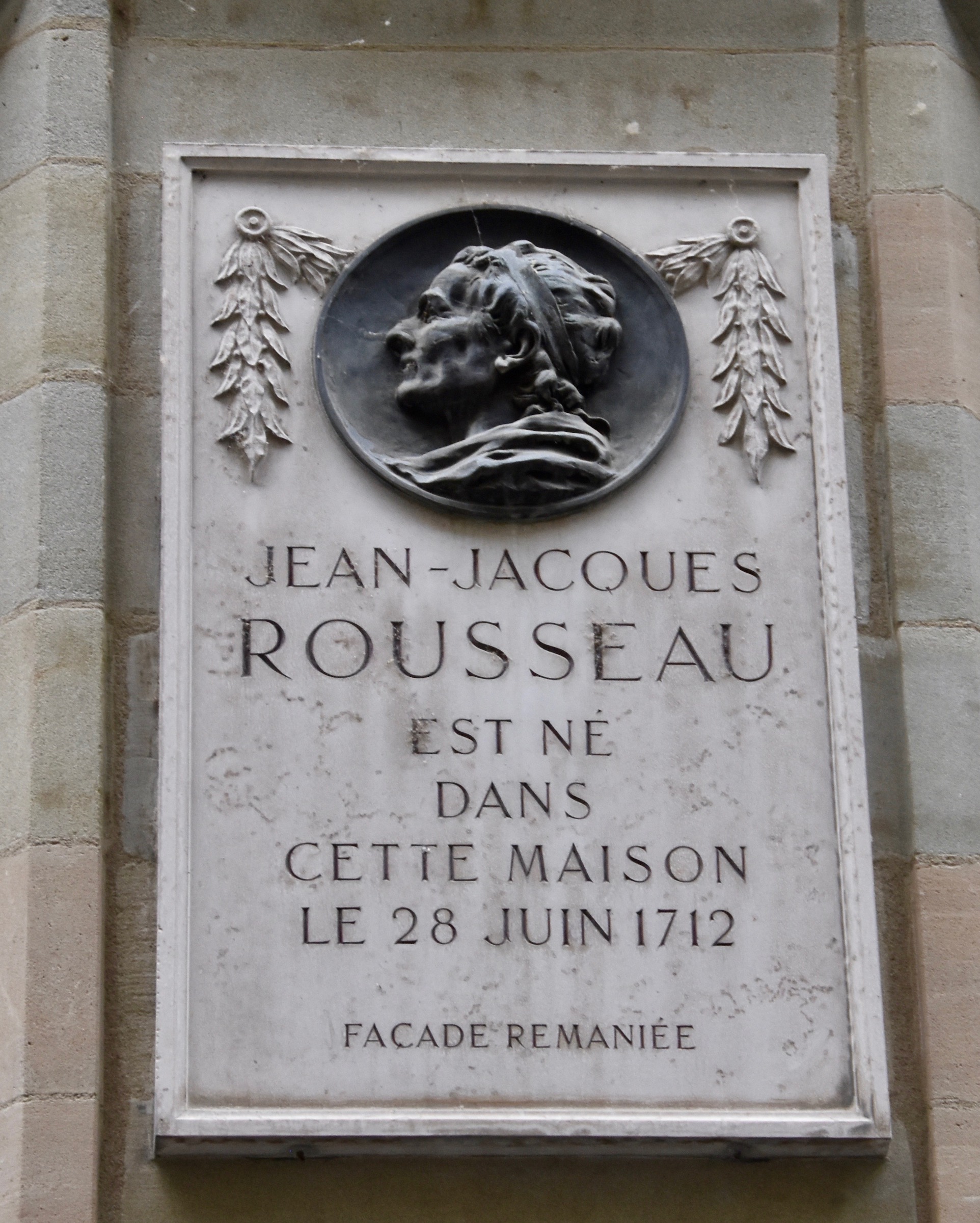 It wasn't just great people who were born in Old Town Geneva, but also great ideas and organizations. In 1863 five guys got together and created the International Red Cross which has arguably done more for the good of humanity than any other organization on the planet. Today when five guys get together they start a hamburger chain.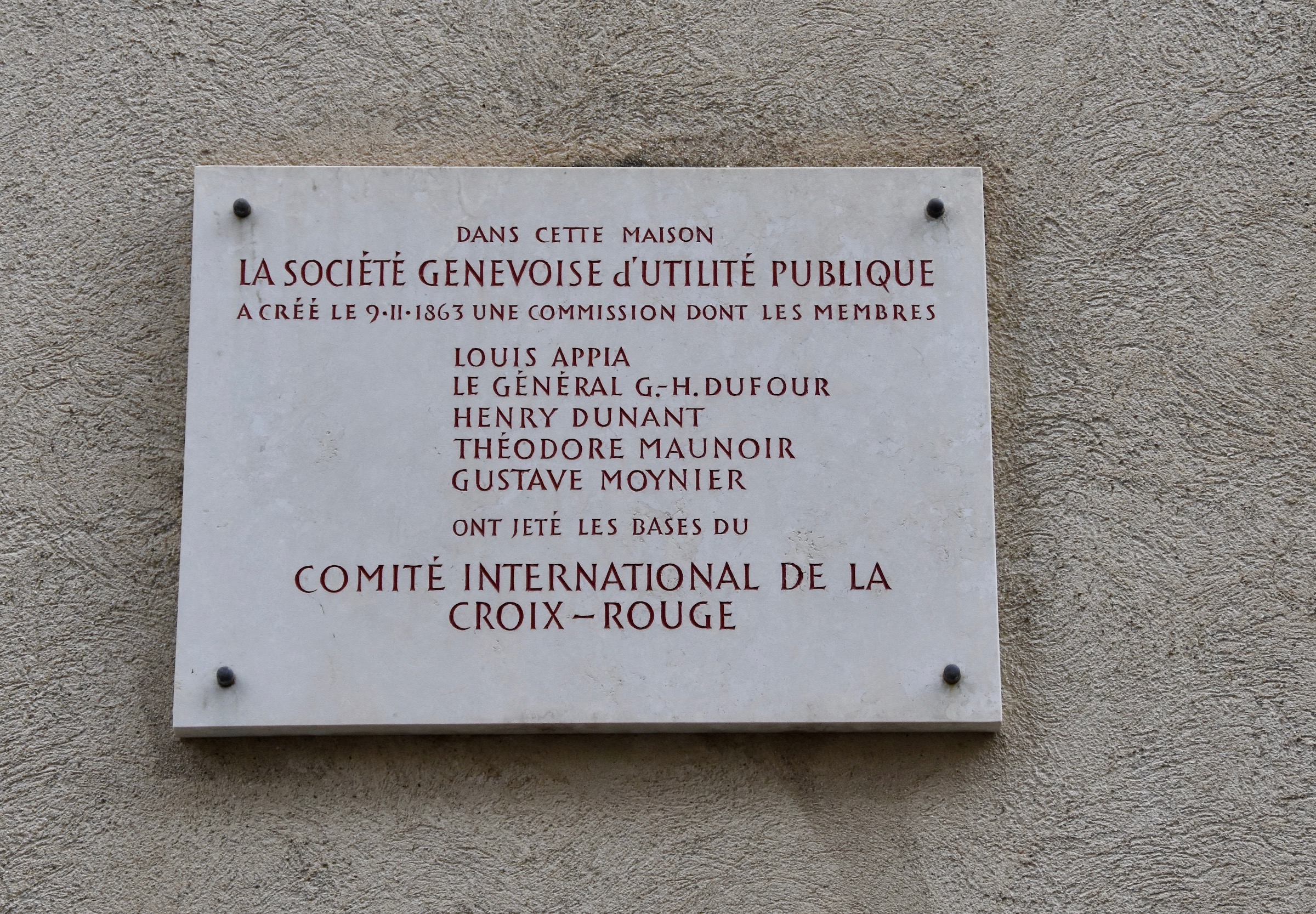 Other greats just stayed in Old Town Geneva for a while like the novelist George Eliot who was in reality Mary Ann Evans, one of the first modern feminists. She came here only weeks after the death of her father with the radical couple Charles and Cara Bray who were pioneers of the free-love movement over a century before it came back into vogue in the 1960's.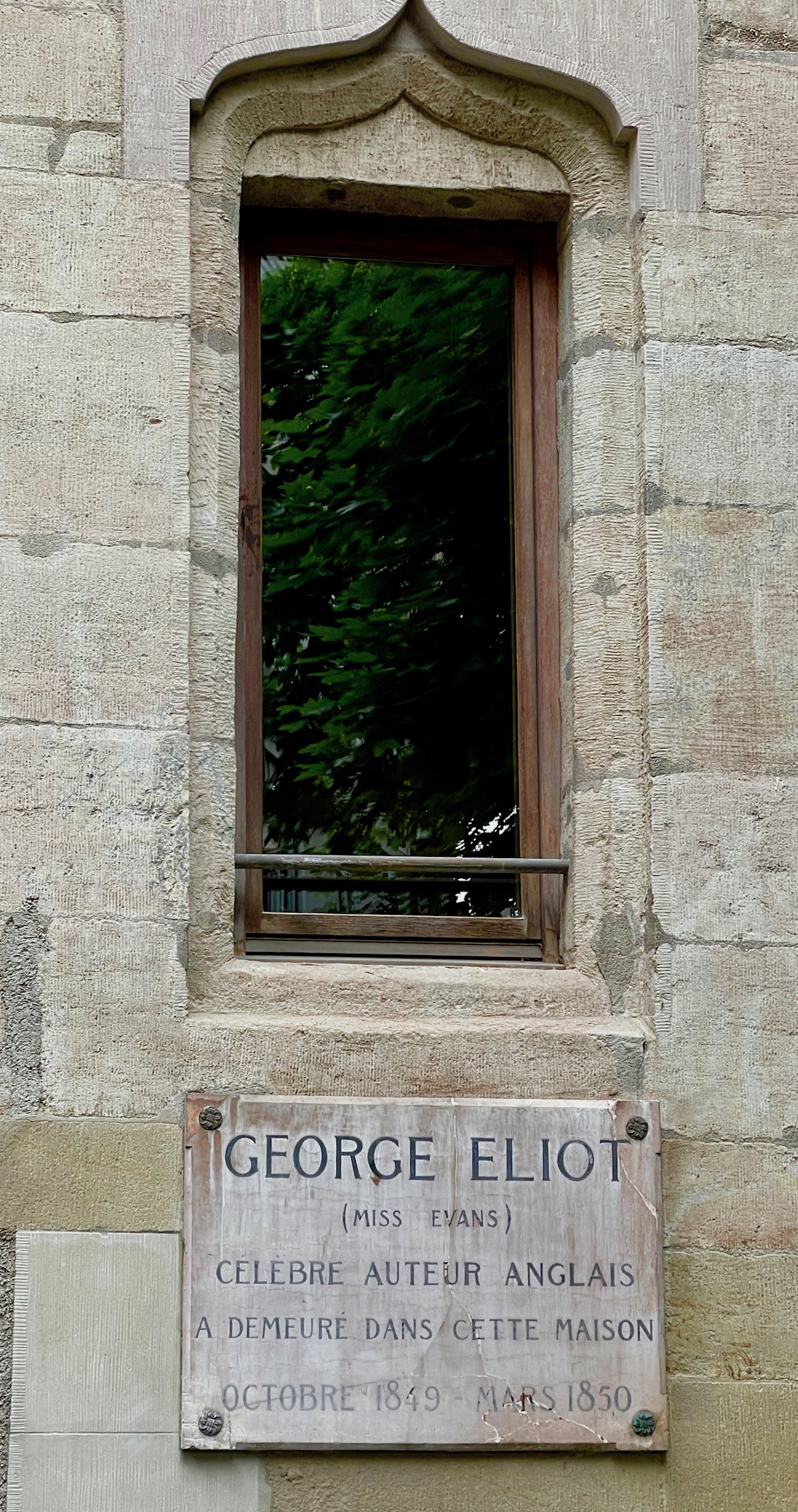 Other famous people moved here to die, like the great Argentinian writer/philosopher Jorge Luis Borges who lived here as a youth and moved back in 1985. Here he married the 40 year old Maria Kodama only three months before his death in 1986. He is buried in the Cimitière de Plainpalais in Geneva.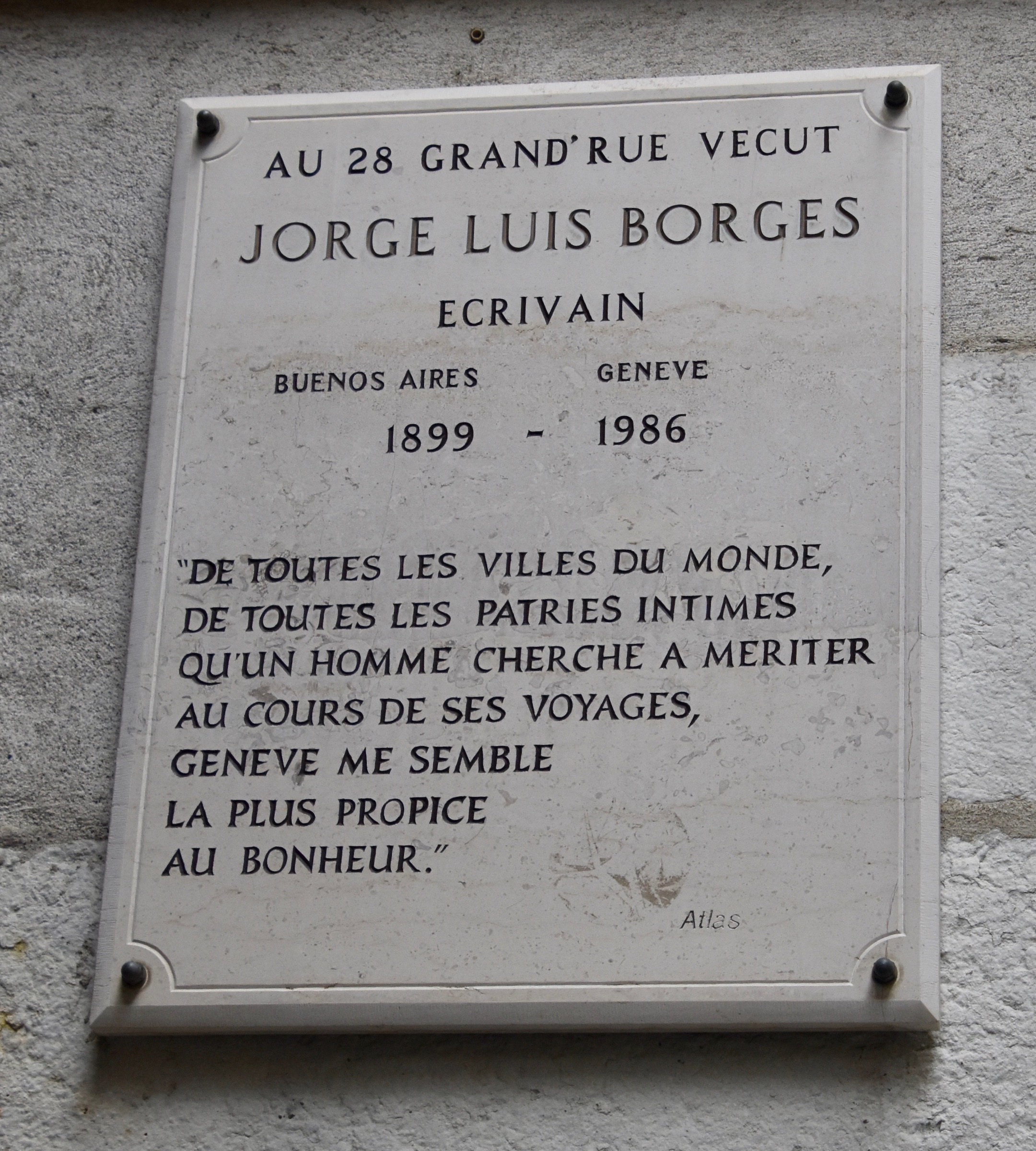 There are few things I enjoy more than just walking with no destination in mind and coming across unexpected places where people or events that are important took place. London is the best place for this with New York and Paris a close second, but Old Town Geneva was pretty good on this lovely Swiss morning.
Also adding to the serendipitous feeling of these walks is coming upon really interesting little shops like the Illibrairie – Beaux Livres with its beautiful wood exterior.  Here you can buy or at least look at books that are five hundred years old.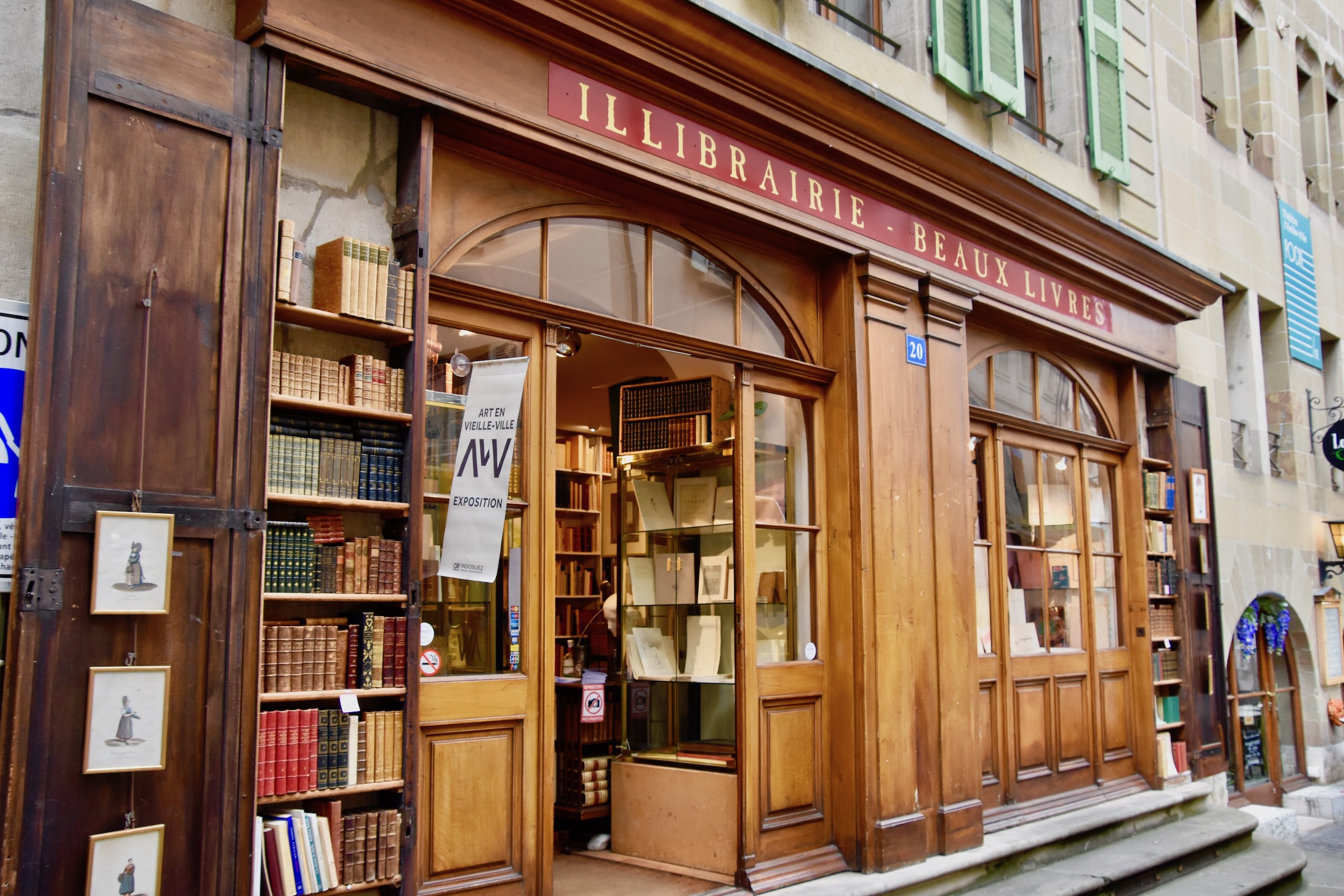 We gradually made our way back down to the riverfront and returned to the Paquis district for lunch, but we would return that evening for dinner.
Restaurant Les Armures, Old Town Geneva
At the hotel we asked the staff where would be the best place to go for an authentic Swiss meal and the person at the front desk suggested a couple of places nearby, but then she said that if we wanted the best place in Geneva then it had to be Restaurant Les Armures in Old Town Geneva. She said it was always busy, but called and got us a reservation for that night. It is the oldest restaurant in Geneva and is nestled beside the 12th century Tavel House and the old arsenal.
It was a glorious Spring evening in Geneva so we were happy to be seated at an outdoor table with views of the cannons and murals in the arsenal. What followed was a feast we won't soon forget.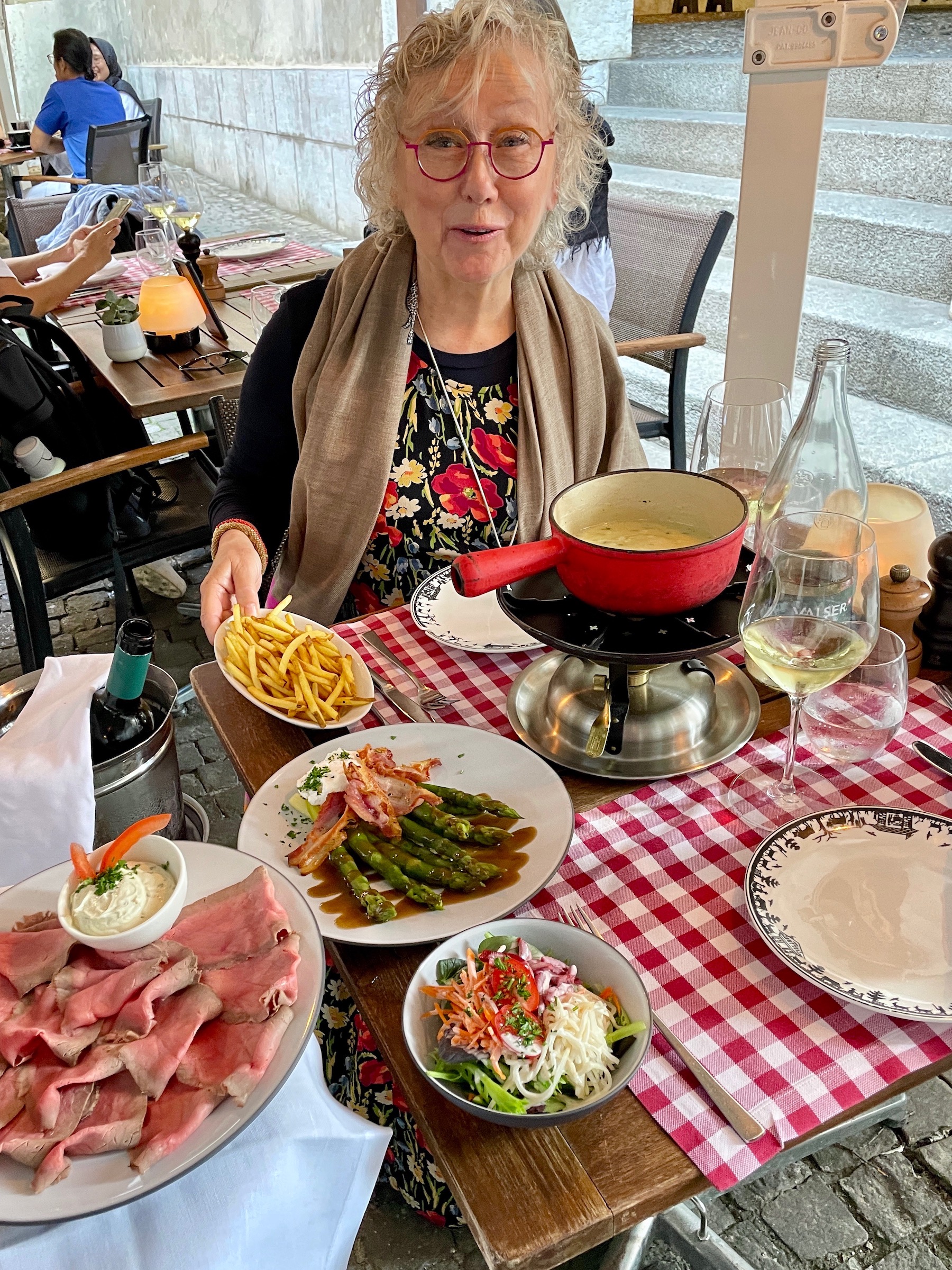 I mentioned in the first post from Switzerland that I'm not a big fan of the traditional cheese and bread fondue. Although it is a traditional winter dish especially for après ski, we had to try it at least once in Switzerland. This was a version with the addition of some blue cheese from Neuchatel. As fondues go, it was very good, but frankly it paled in comparison to the flavour, texture and appearance of the other dishes we ordered.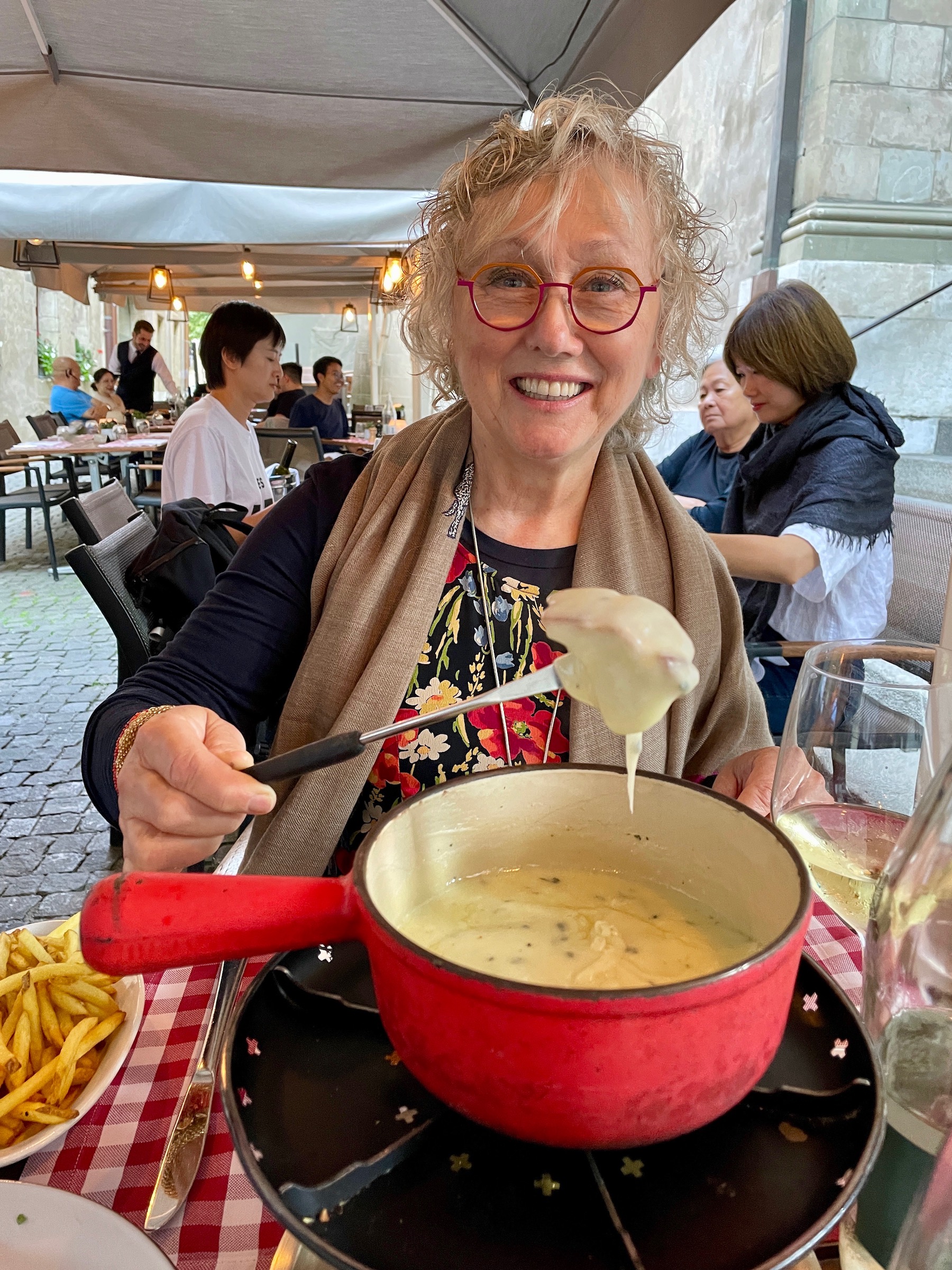 This is the asparagus with poached egg, bacon and a brown sauce that I could put on everything I eat for the rest of my life. And the Begnins bacon was simply the best I have ever tasted. I would fly to Switzerland just to have this dish again, it was that good.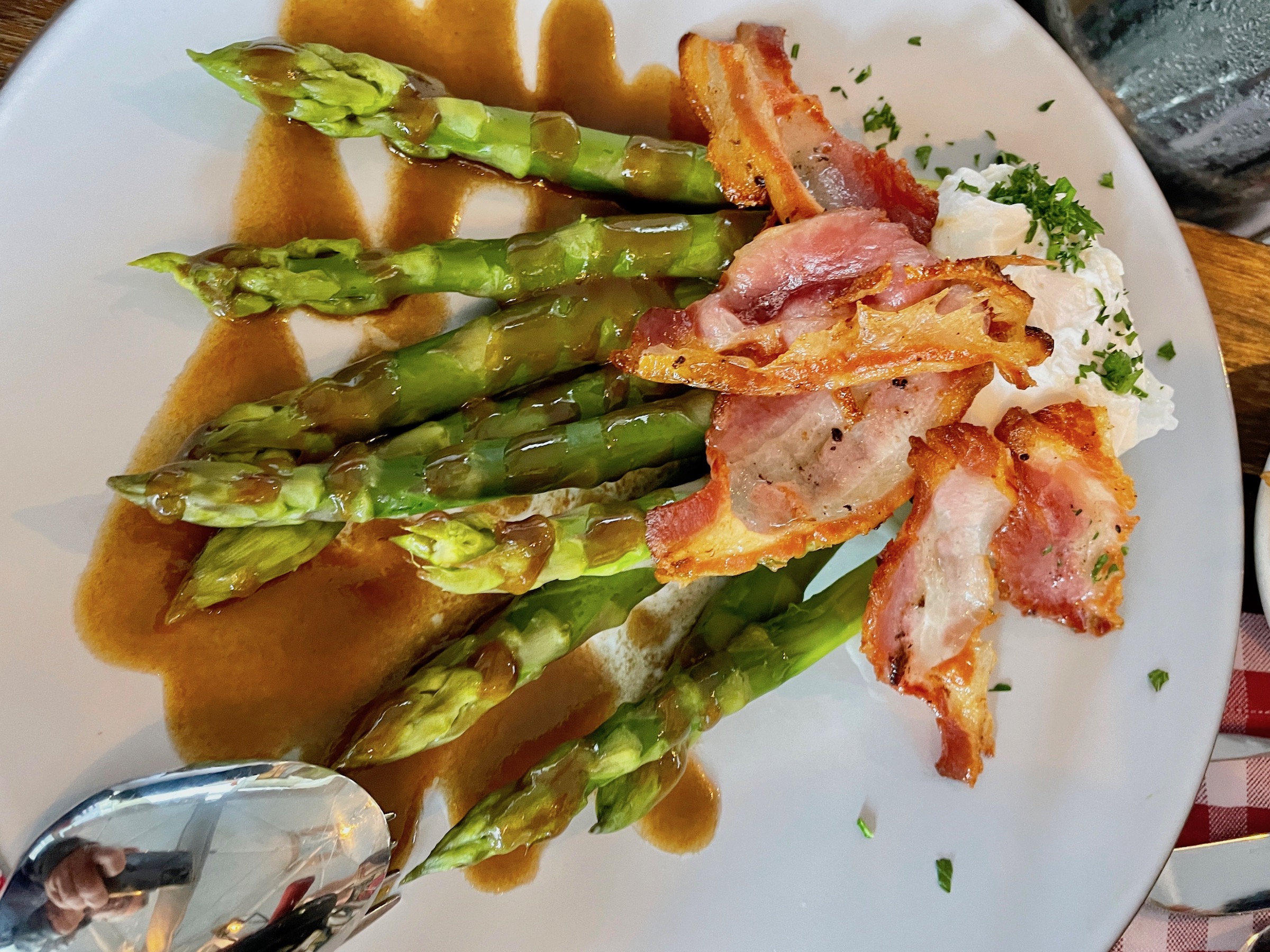 But there was more. This was the supremely thinly sliced rare roast beef with an emulsified tarragon and shallot dip. The Swiss are masters at this type of meat dish as we were to find out in the coming weeks, but this was the best version we sampled.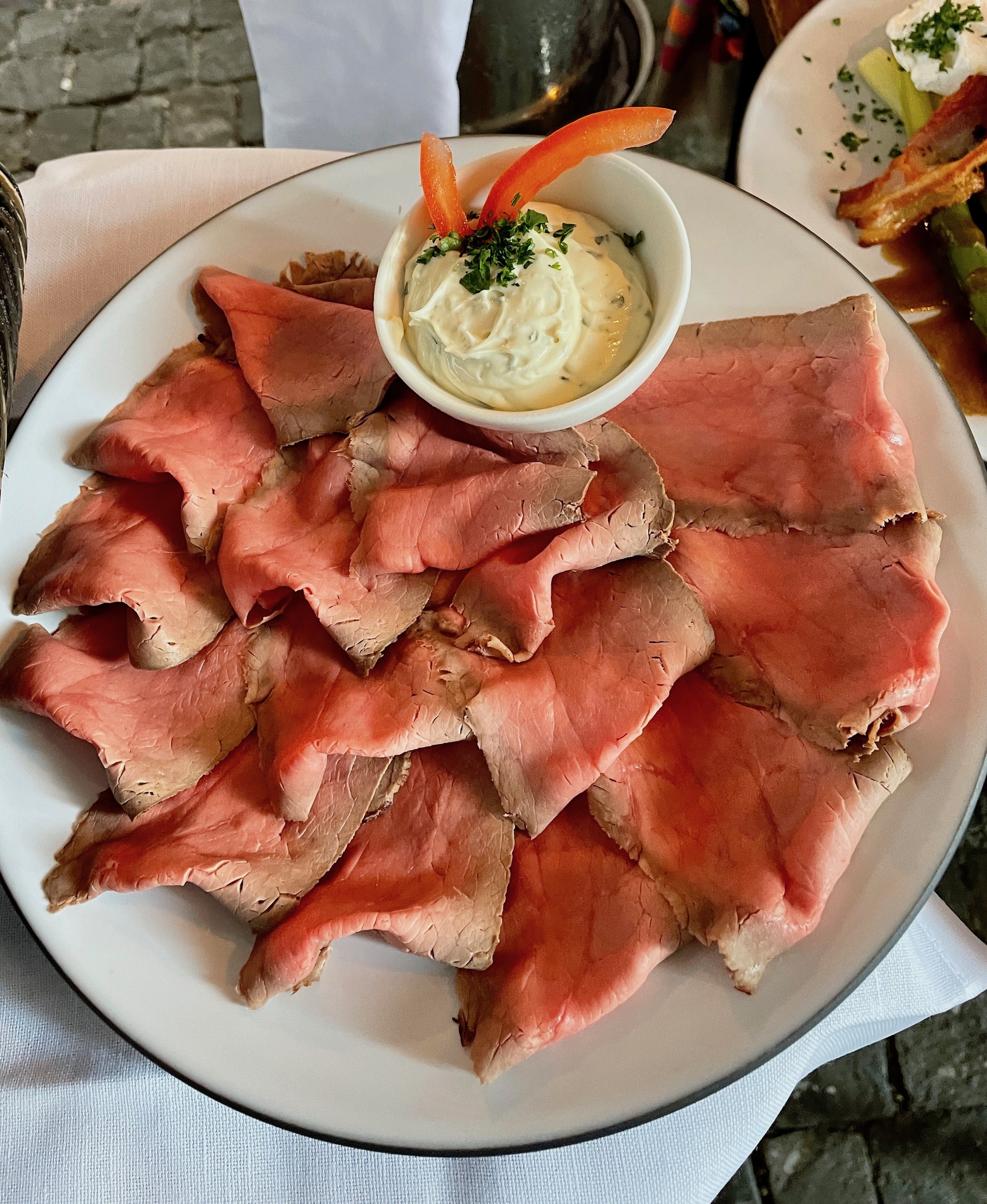 Even something as simple as a side salad was well above and beyond the average of this often throw away side dish.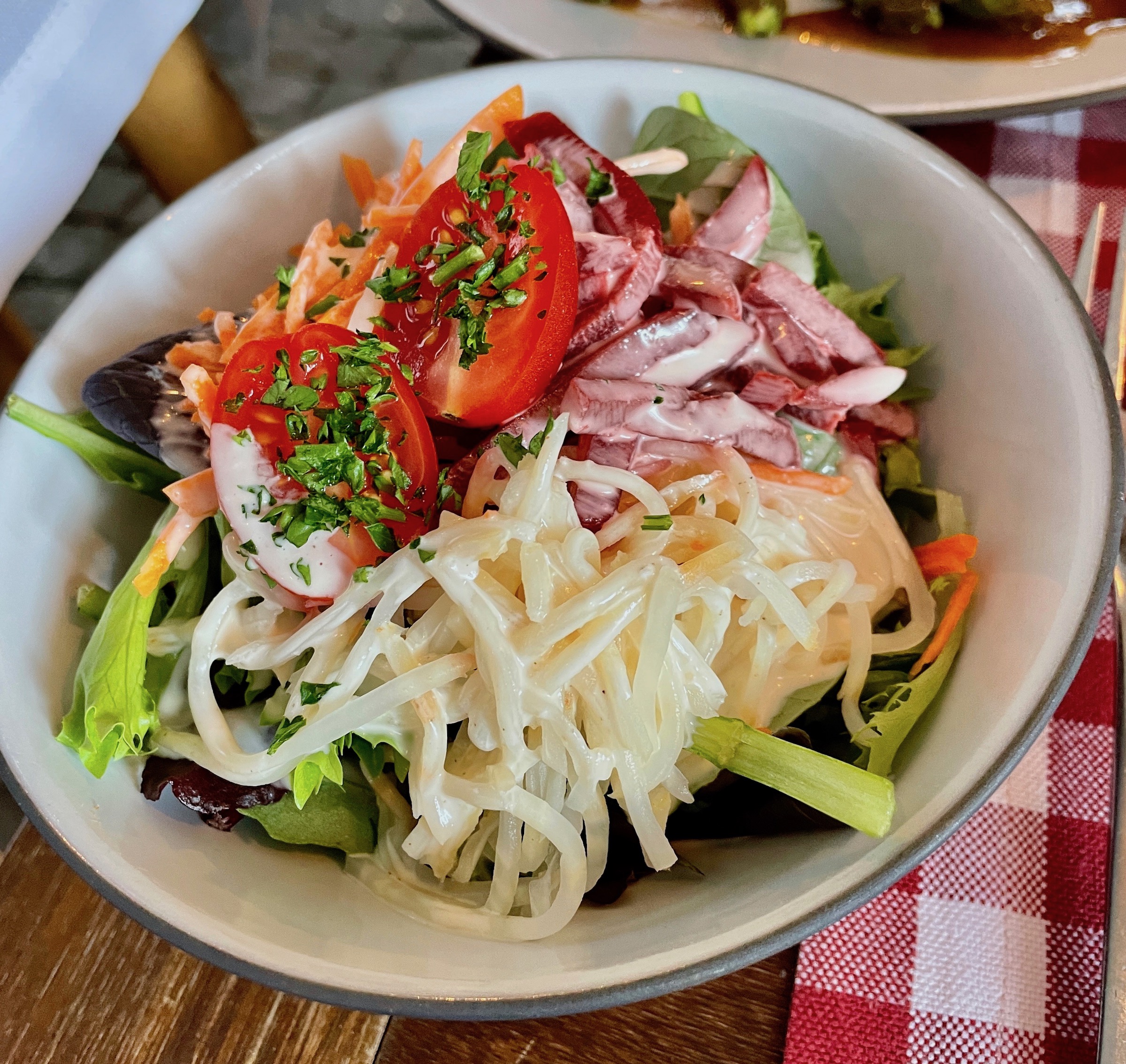 To accompany this great food with the help of our waiter, who while formally attired, was anything but, we ordered this Genevan area wine, Comtesse Eldegarde Chardonnay. It was simply superb.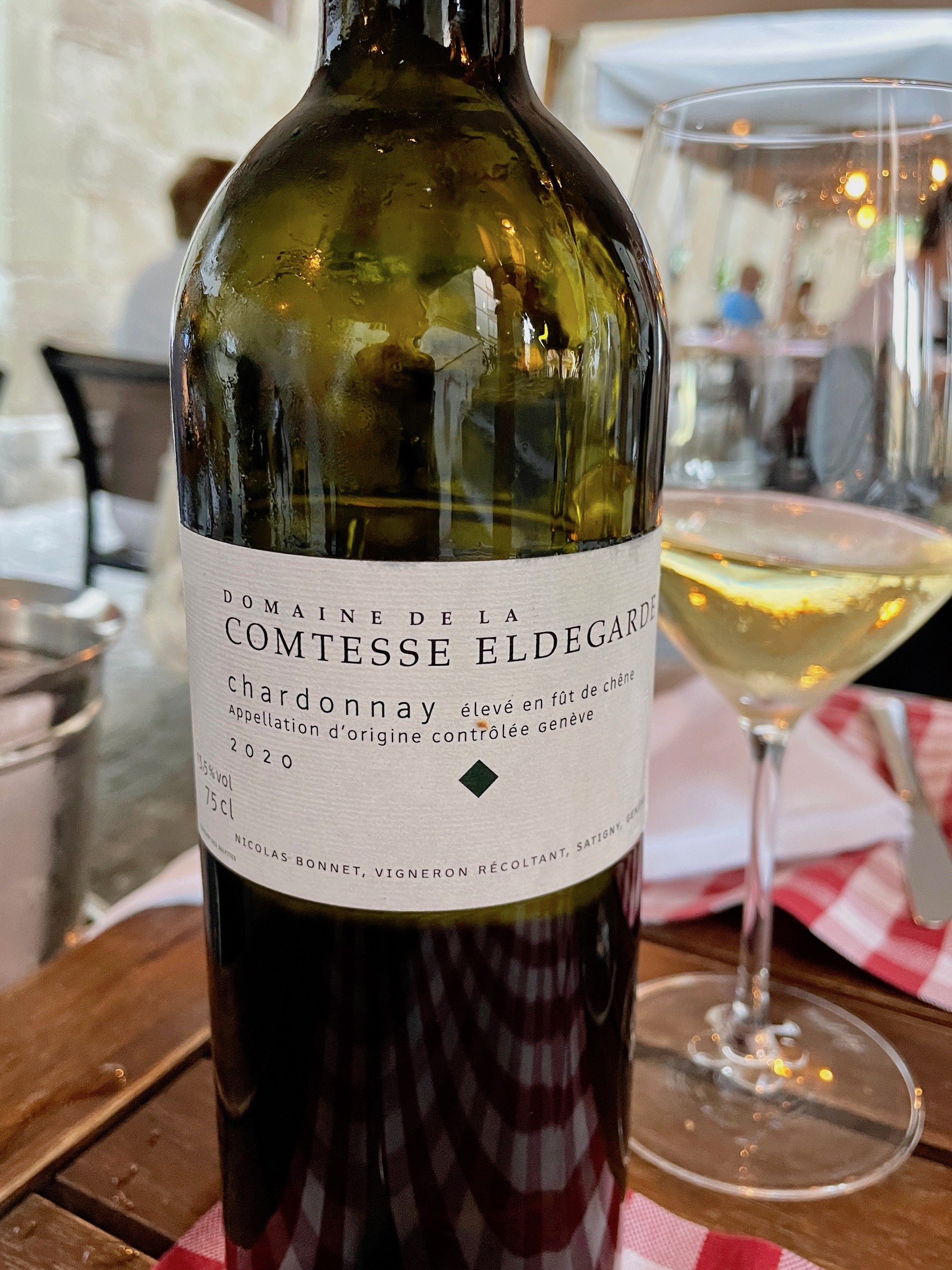 Let's not forget dessert which we almost never have while at home, but invariably order when travelling. What better excuse for getting on the road again? I opted for a scoop of salted caramel ice cream on top of a scoop of pistachio, my two favourite flavours. Alison went for mango sorbet topped with a scoop of chocolate sorbet. They were all heavenly.
As a final touch we were presented with a very generous selection of Cailler chocolates which started a love affair with these great products that are rarely found outside of Switzerland.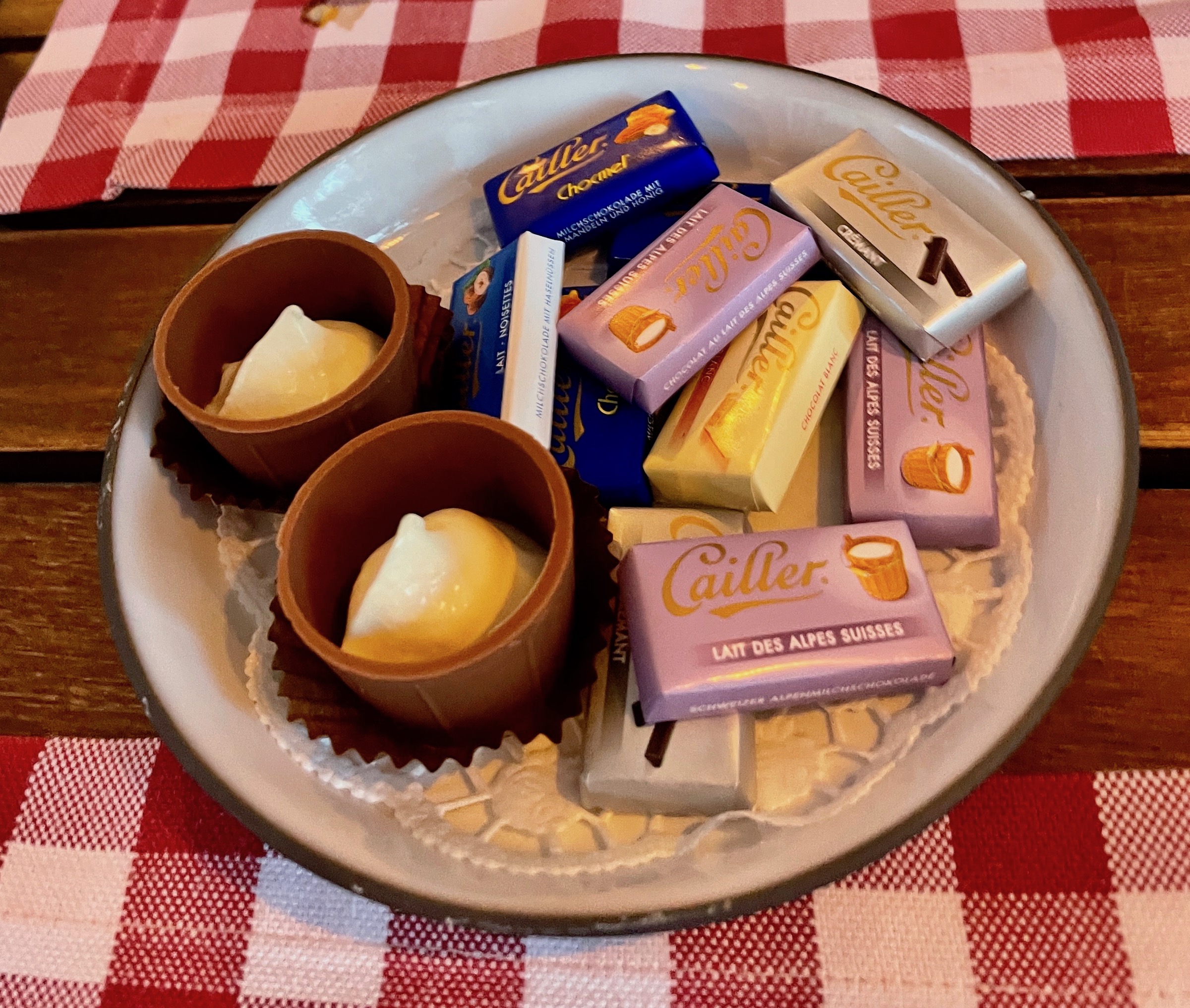 While the Restaurant Les Armures is not inexpensive, neither is it ridiculously overpriced like some of the restaurants in the Belle Epoque hotels. It is in my opinion, good value for money in a great location in Old Town Geneva.
In the next post we'll take advantage of the great Genevan transportation system and go farther afield to see some of the reasons why Geneva is host to many of the most important institutions in the world. Please join us.