Bora Bora Can't be Beat
Okay I know the title to this post sounds like the last line in a high school cheerleaders chant, but the fact is Bora Bora can't be beat, at least in my book. Equalled maybe, but in all my travels I found no place I enjoyed more than Bora Bora. It was absolutely the right place to end our Adventures Abroad French Polynesia tour. Here's the first of two posts explaining why Alison and I absolutely loved this island.
We wrapped up our Aranui 5 cruise with an overnight sailing from Rangiroa, arriving at Papeete early in the morning. From here Martin Charlton, our AA tour leader quickly shepherded us onto a bus to the airport where we boarded an Air Tahiti flight for the 50 minute flight to Bora Bora. These flights don't have seat selection so Martin advised us to try to be among the first ones on to get seats with great views not only of Bora Bora, but the larger islands of Raiatea and Taha'a which we would fly over on the way. I'm not saying how we did it, but Alison and I were among the first five to board and going up the ramp I asked which side to sit on for the best views – the left as it turned out.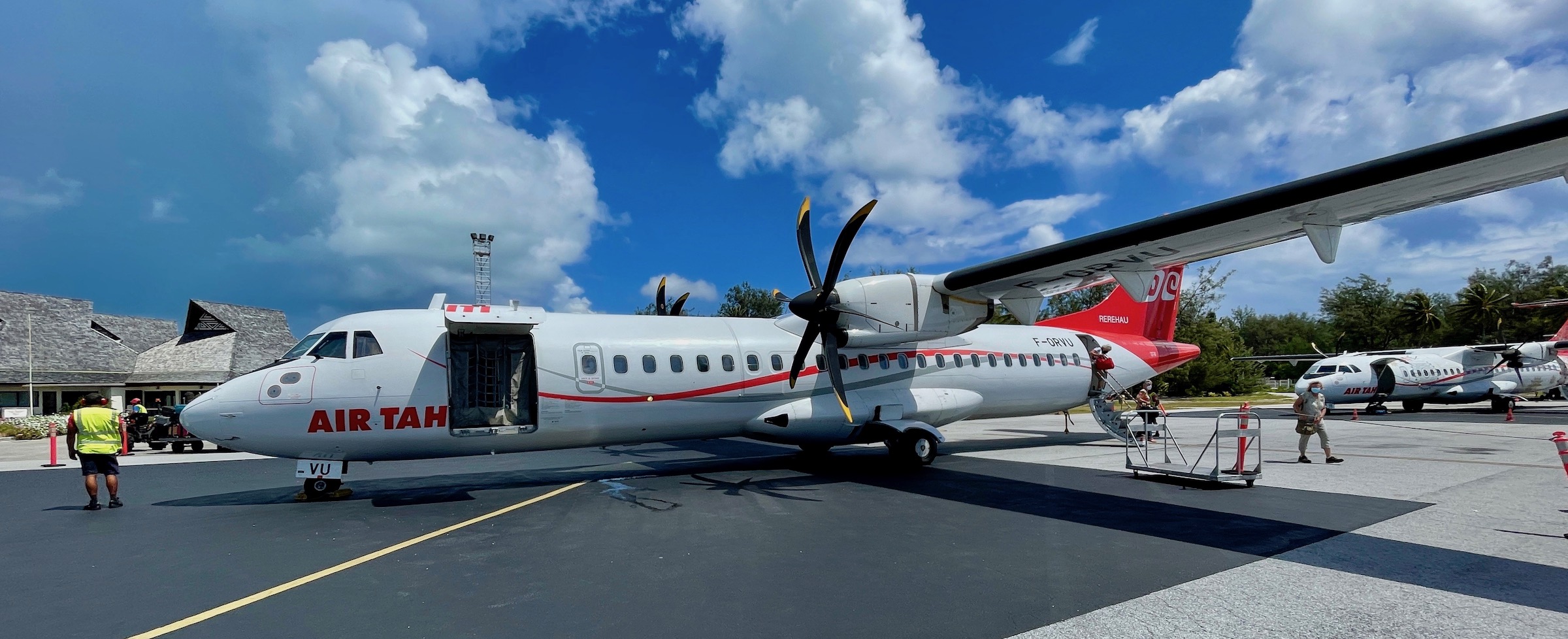 Martin's advice paid off handsomely as I got these photos along the way.
That's Taha'a which is famous for its vanilla and one of the lesser visited of the Society Islands. Maybe a future AA trip might include it and nearby Raiatea, which is believed to be the island from which Polynesians set sail to discover and colonize both Hawaii and New Zealand.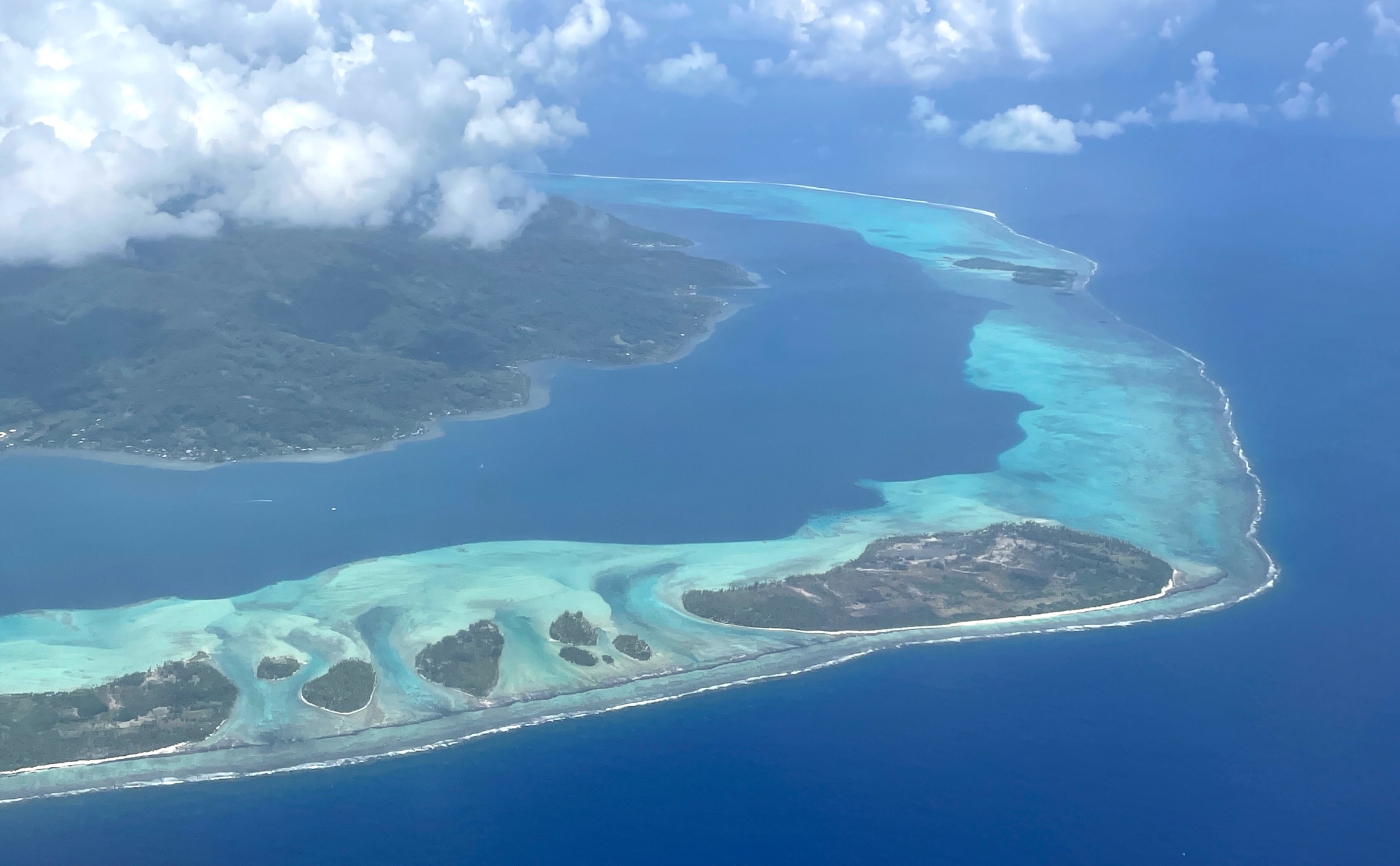 This is Bora Bora coming up with its unmistakable profile of a central volcanic island surrounded by a lagoon and a series of atolls.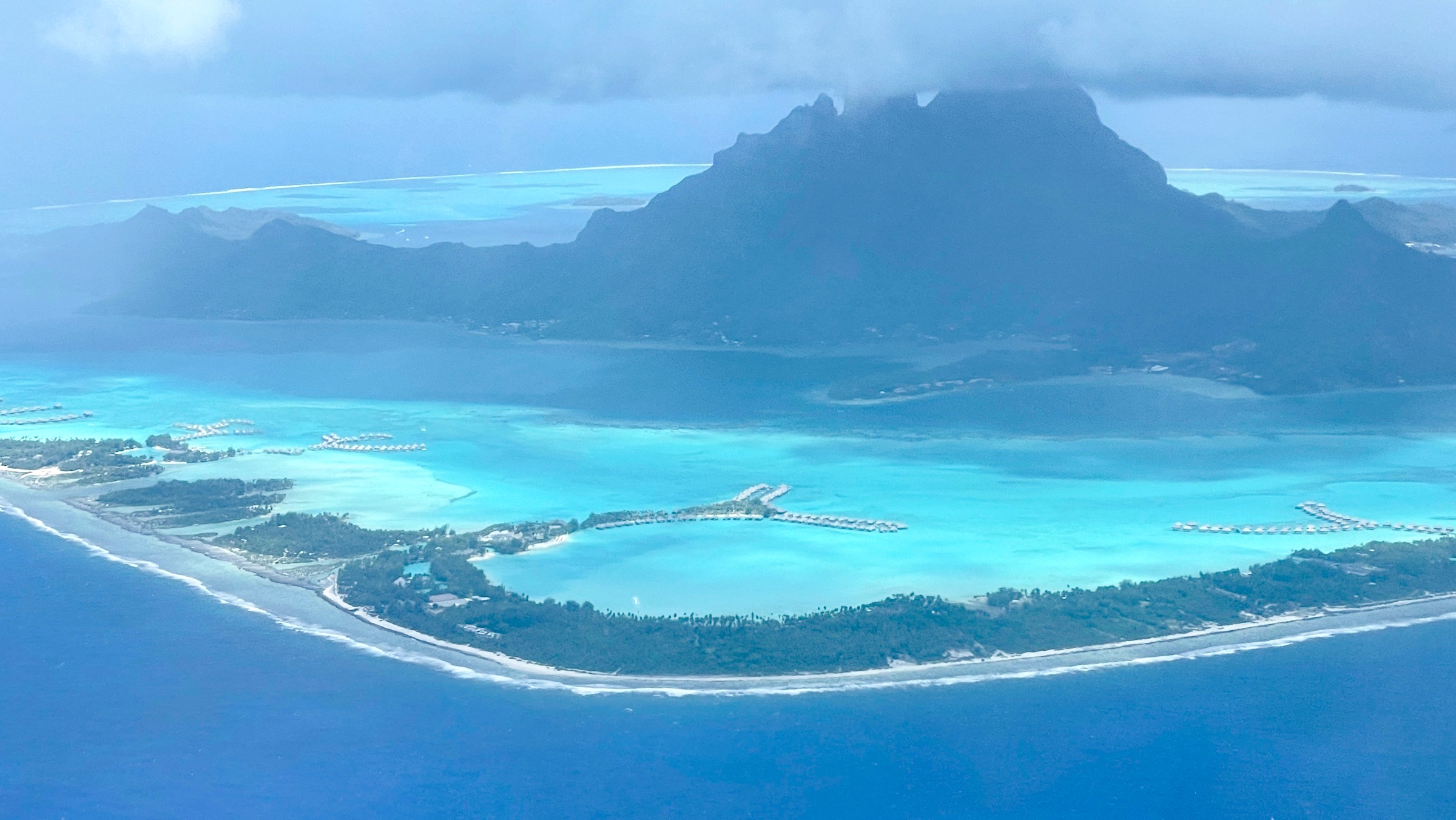 The airport on Bora Bora was built by the Americans during WWII and is found on one of the outer atolls.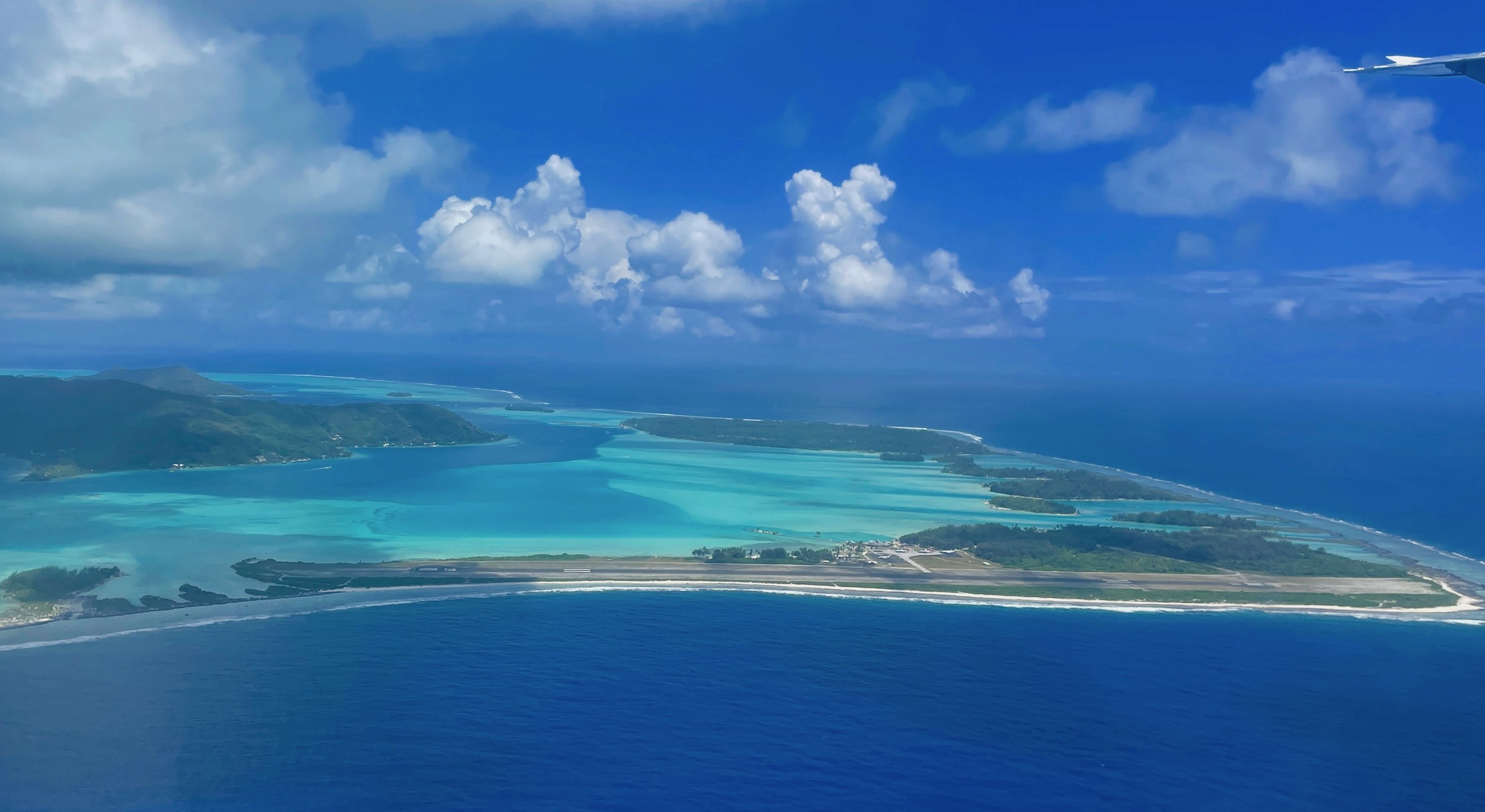 After landing we walked to the very tropical looking terminal while our luggage was transported by tractor to the next stage of the Bora Bora experience.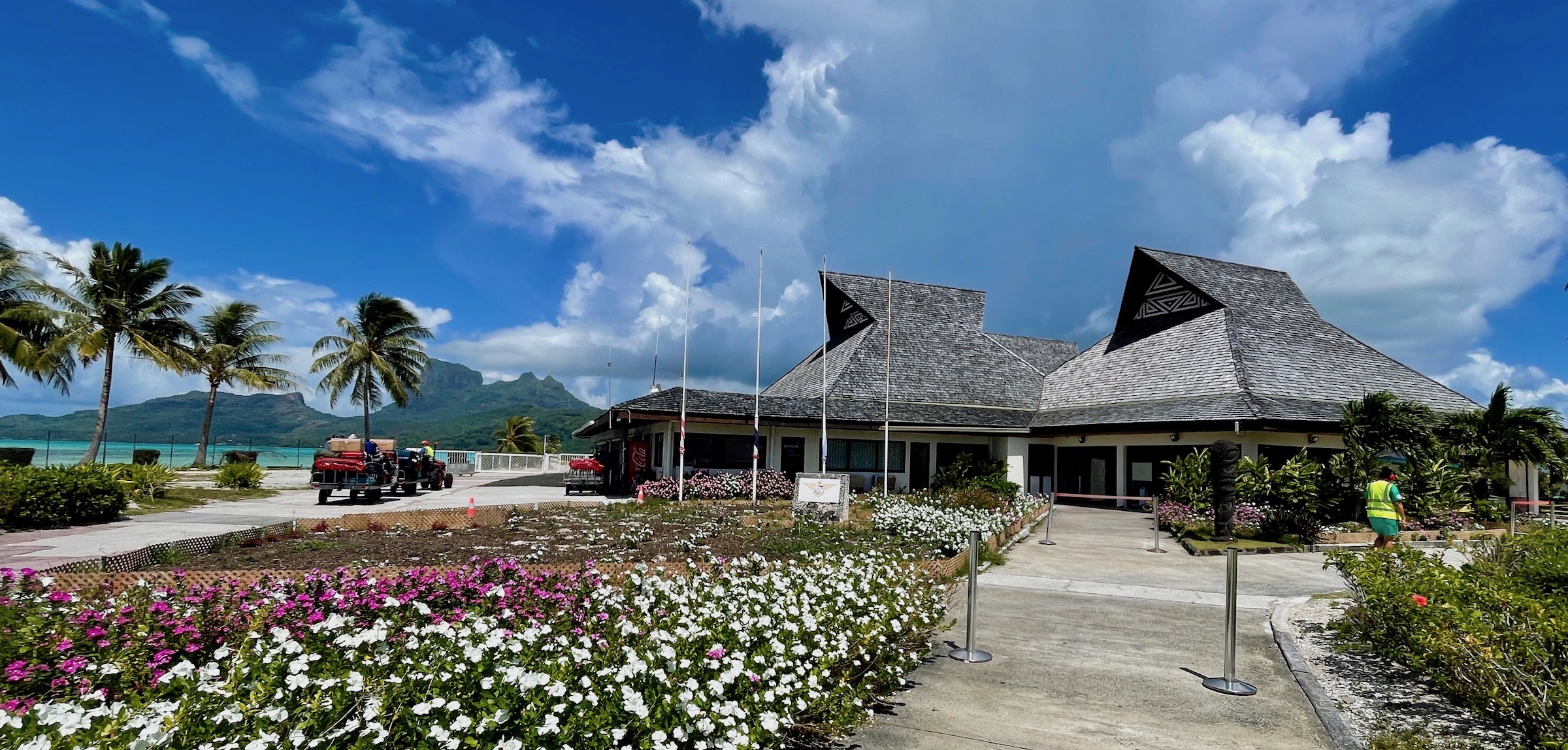 To get to the mainland where our lodge was located we had to board this catamaran that would take us on a fifteen minute trip to Vaitape the only real town on Bora Bora.
There were other passengers who boarded private boats that would take them to various exclusive resorts located on different atolls not connected to the mainland. For reasons I'll get into shortly, I'm glad we weren't on one of these.
As we left the airport on the catamaran we passed this one-of-a-kind welcome to what is rightly considered a Pacific paradise.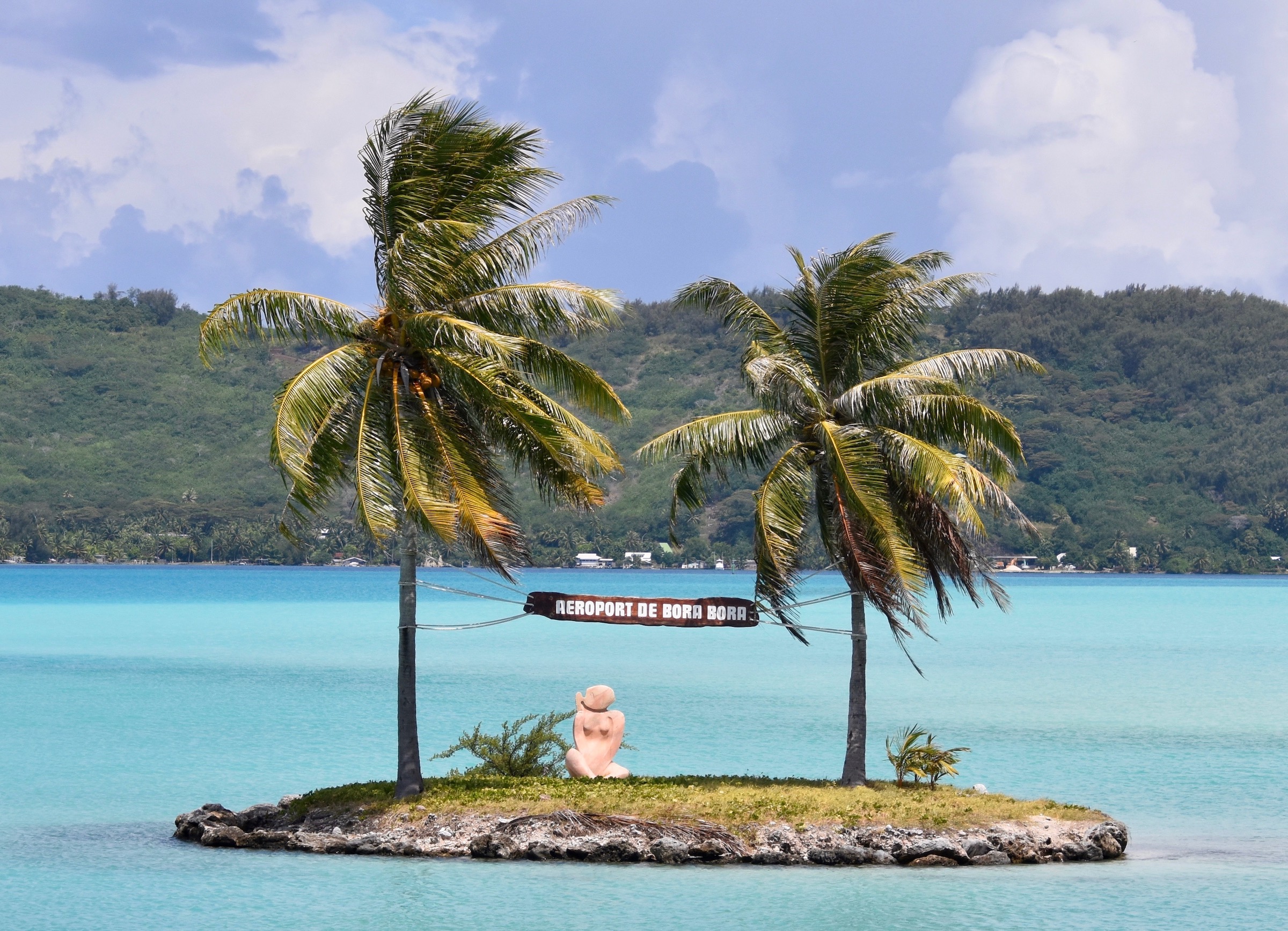 In case you are wondering why I am spending so much ink on just getting to Bora Bora it is because it is an experience I'll never forget and I suspect it is the same for all first time visitors.
Getting off in Vaitape we boarded an ancient bus that might have been left behind by the Americans after WWII, but it did its job and got us to our resort on Bora Bora where we would spend the final days of this amazing trip.
Maitai Resort

Like the Te Moana in Tahiti and the Manava Beach in Moorea, the Maitai Resort is locally owned and not affiliated with one of the major international chains. It is located astride the only highway that circles Bora Bora with the reception area, main dining room and a number of hotel like units on the land side of the road and a number of cottages on the seaward side including a number of the overwater cottages that are so famous in Polynesia. Our initial stay was at Cottage 10 which fronted the water and the beach, but was not an over water cottage. Other couples in the group had similar cottages and they were more than adequate.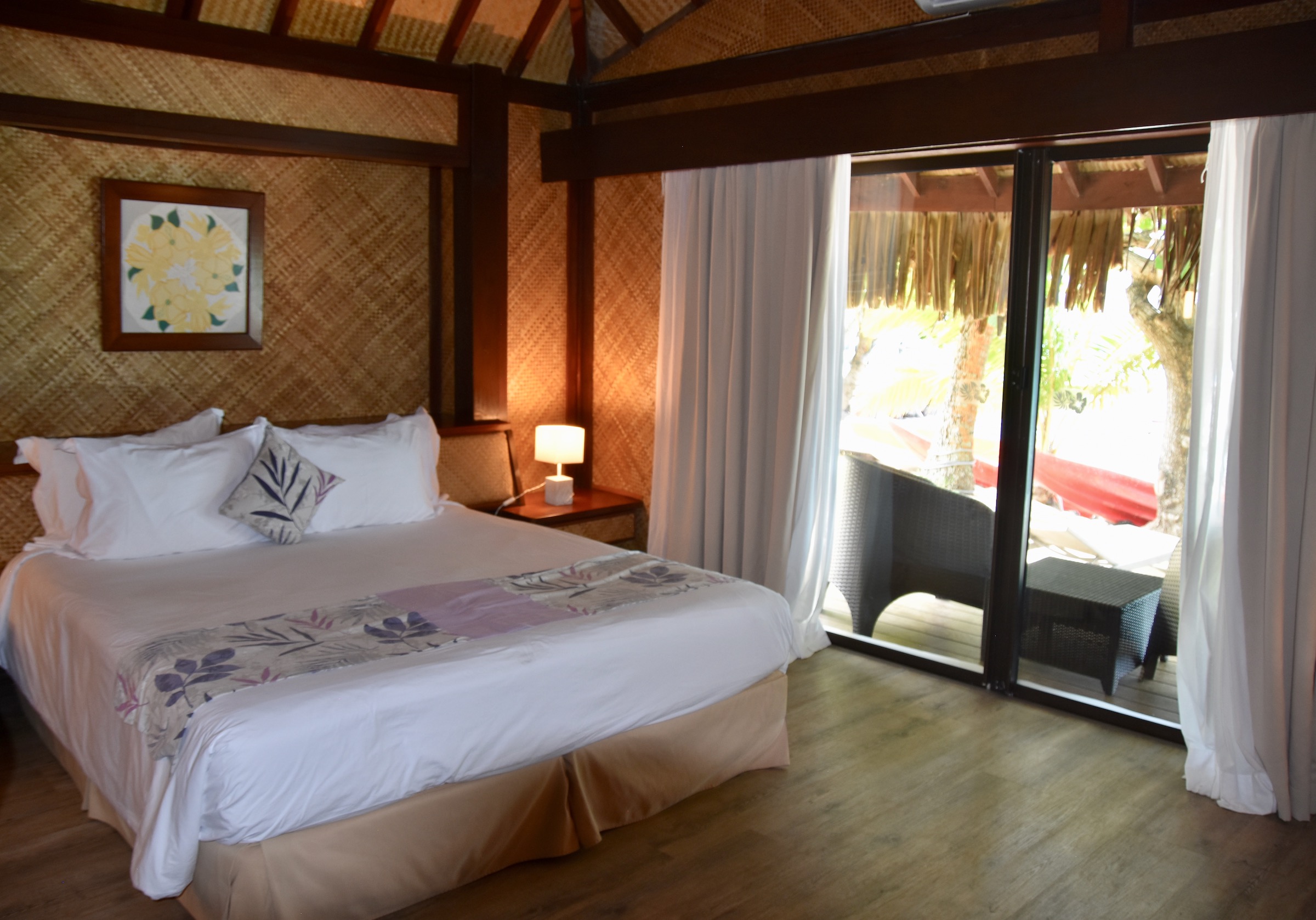 They all had very nice lanais from which one could sit and enjoy a drink while looking at the clear azure waters of Bora Bora as Linda, Sarah and Carolyn are doing in this photo.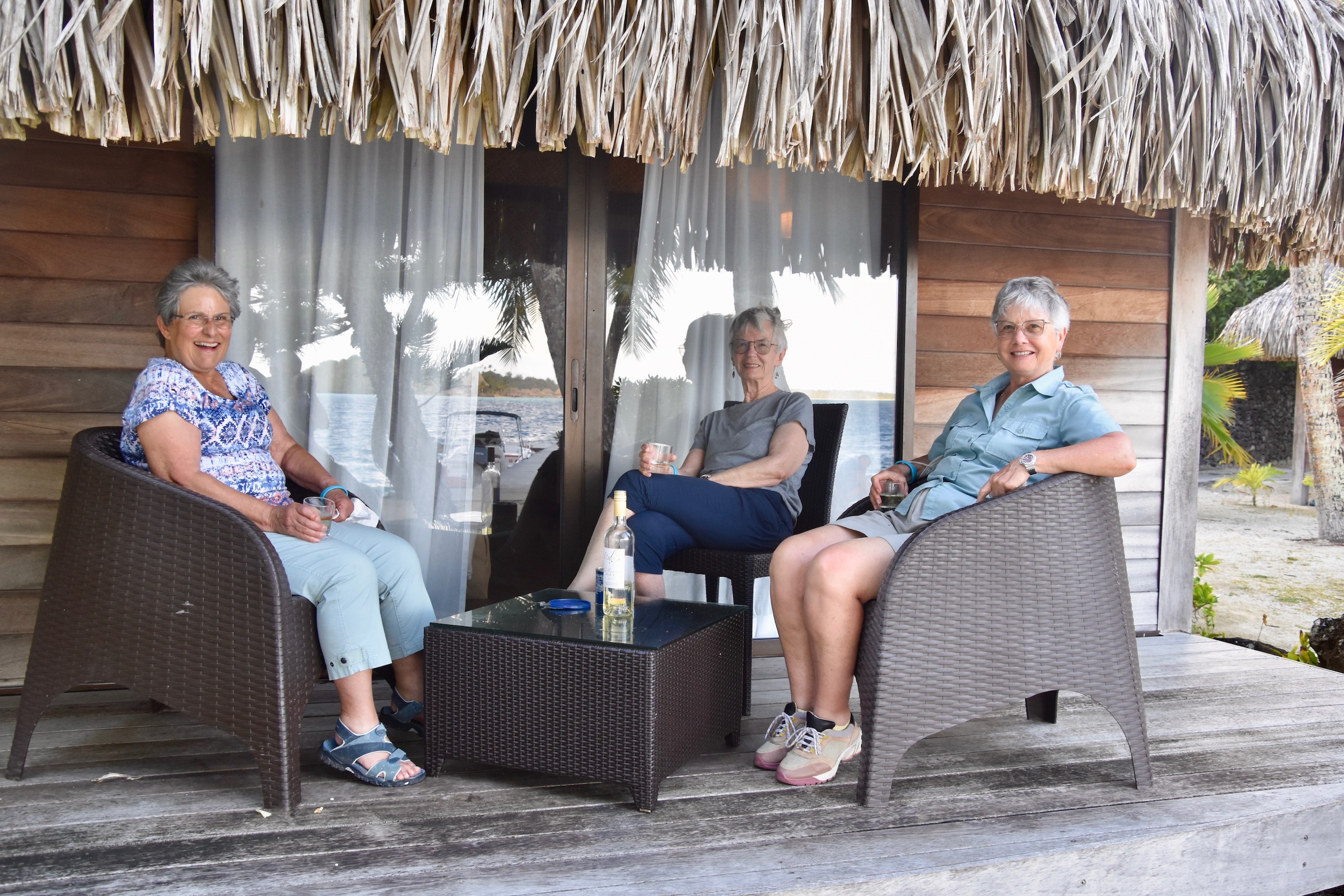 But …
I could not come to Polynesia without spending at least one night in an over water cottage. I made enquiries at the front desk and for a surprisingly small upgrade fee was able to book one of these for three nights. This is the aptly named Paradiso cottage.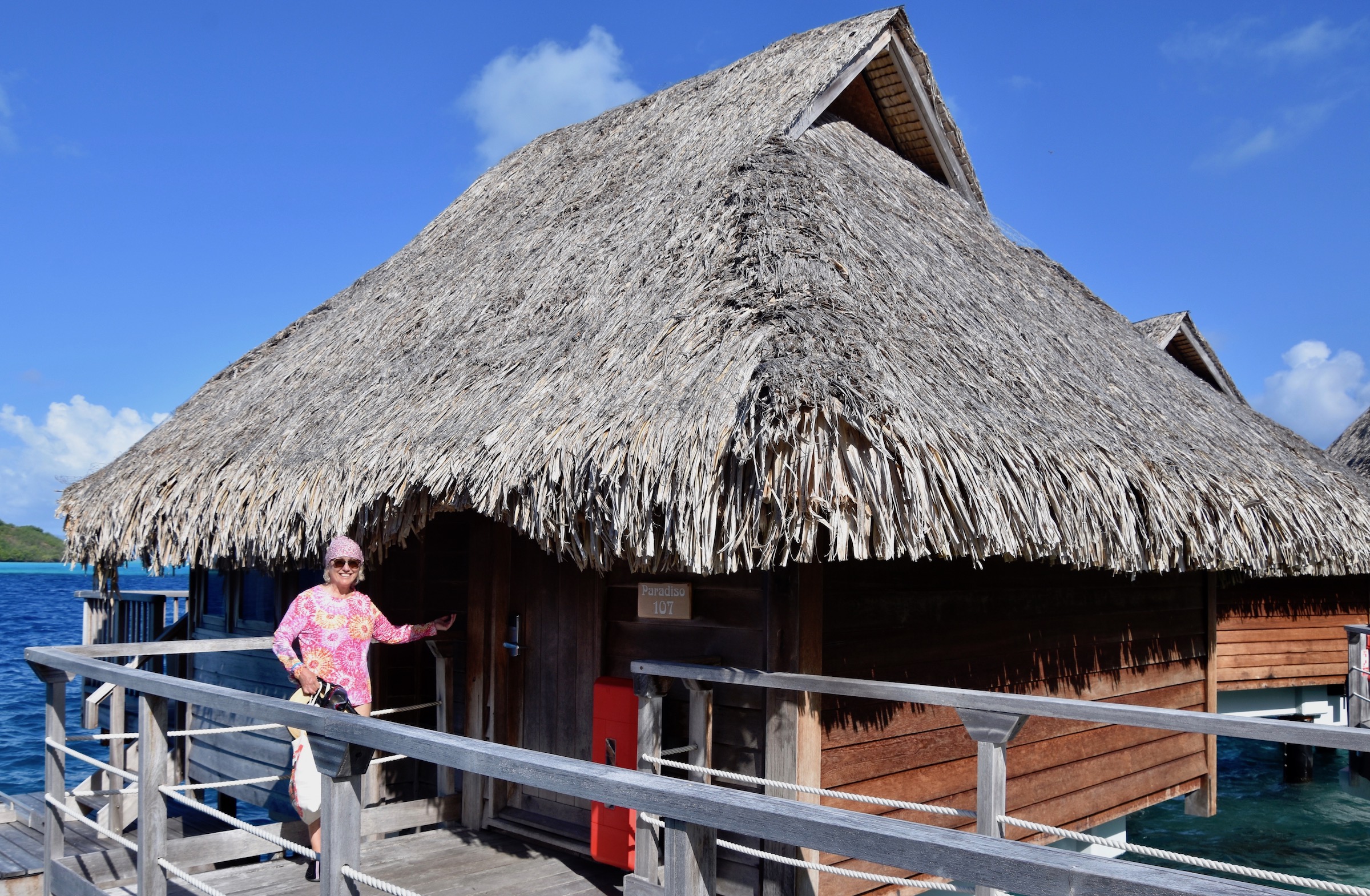 The interior has a portion of the floor under the coffee table that is glass and you can literally see the fish swimming below you.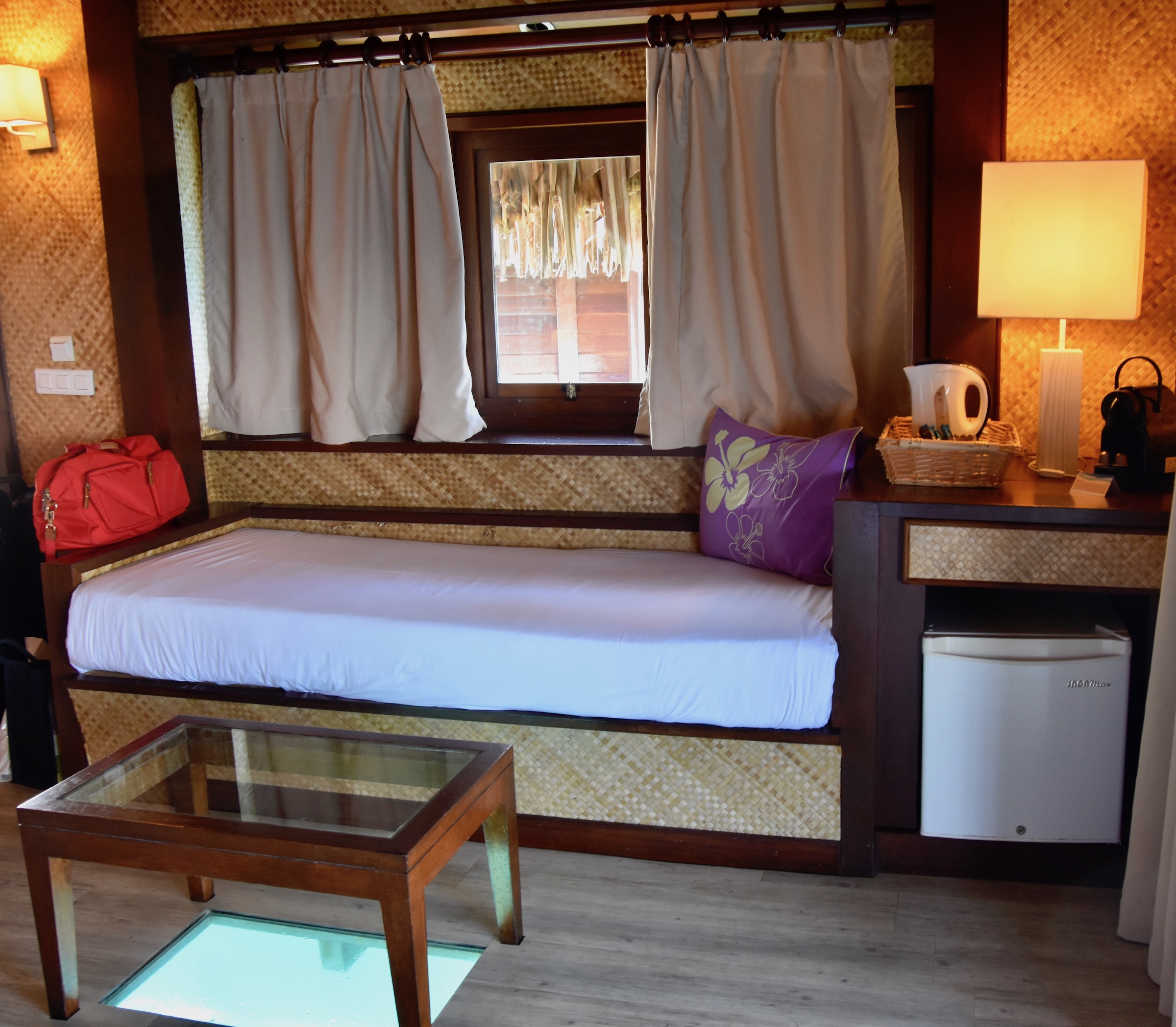 Better yet you can put on your snorkelling gear and climb down the ladder from your deck into the deliciously warm water and find yourself immersed amid an incredible variety of colourful fish.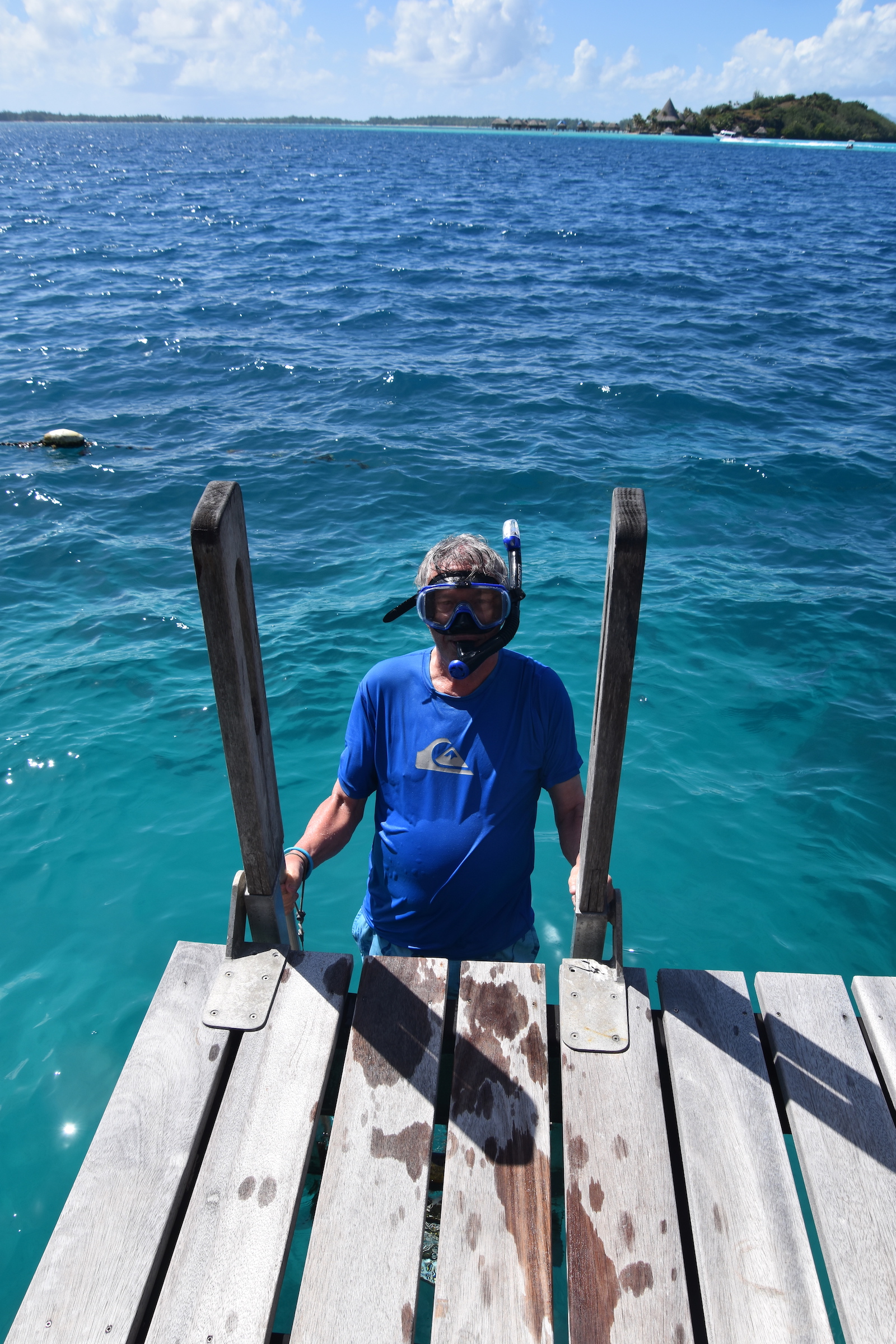 This poster on the property shows just how many types of sea life you can find in the small lagoon at the Maitai Resort.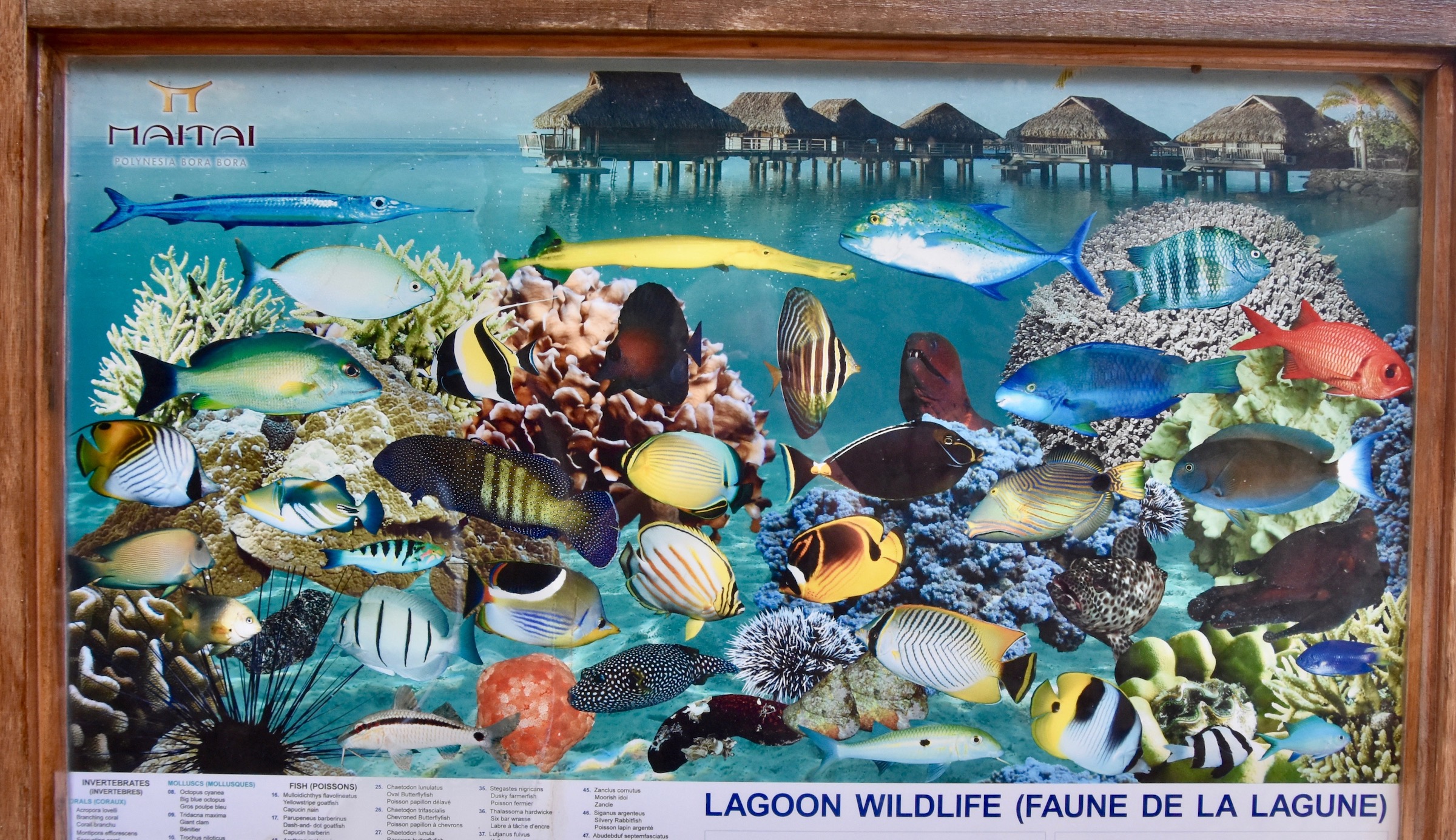 I can't say we saw all these species, but certainly at least half of them including this curious fellow.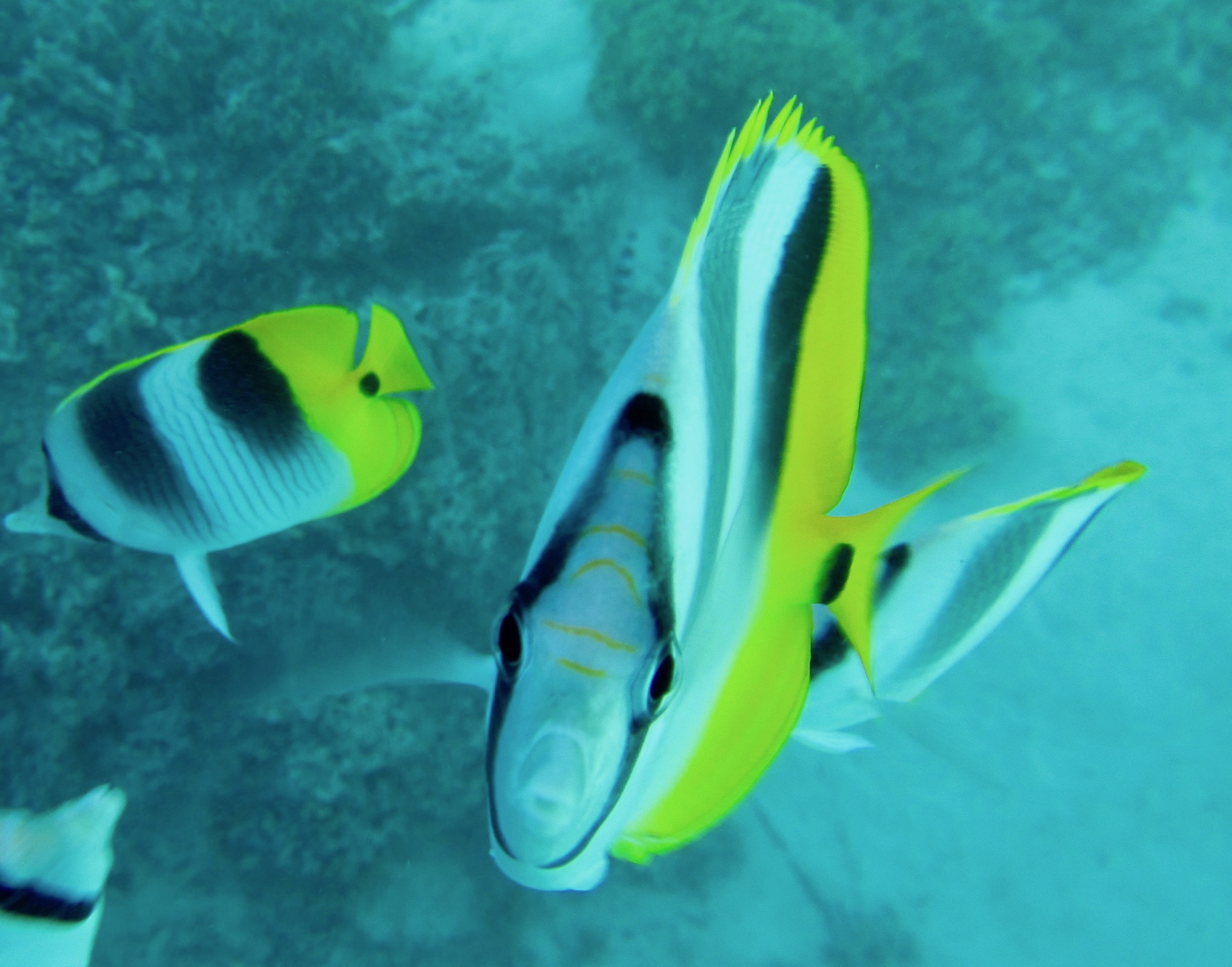 If you are planning to take this trip with AA, I can give no better advice than to ask in advance if it is possible to upgrade to one of these over water cottages. You will thank me for it it if you do.
I mentioned earlier in this post that I was glad we were not booked into one of the resorts located on one of the outer atolls and here's why. Aside from costing a hell of a lot more than staying at the Maitai, you are a virtual prisoner once you are there. Yes there are day trips you can take at additional cost, but you don't have the freedom to walk to restaurants and beaches, rent a bike or car, take a bus or taxi into Vaitape for shopping and generally get the feel of life on Bora Bora that we had by staying on the mainland.
Restaurants of Bora Bora
During our all too short stay on Bora Bora we ate at a number of different restaurants, all of which were very good and except for one, within easy walking distance of the resort. The Maitai served a nice breakfast buffet on one side of the road.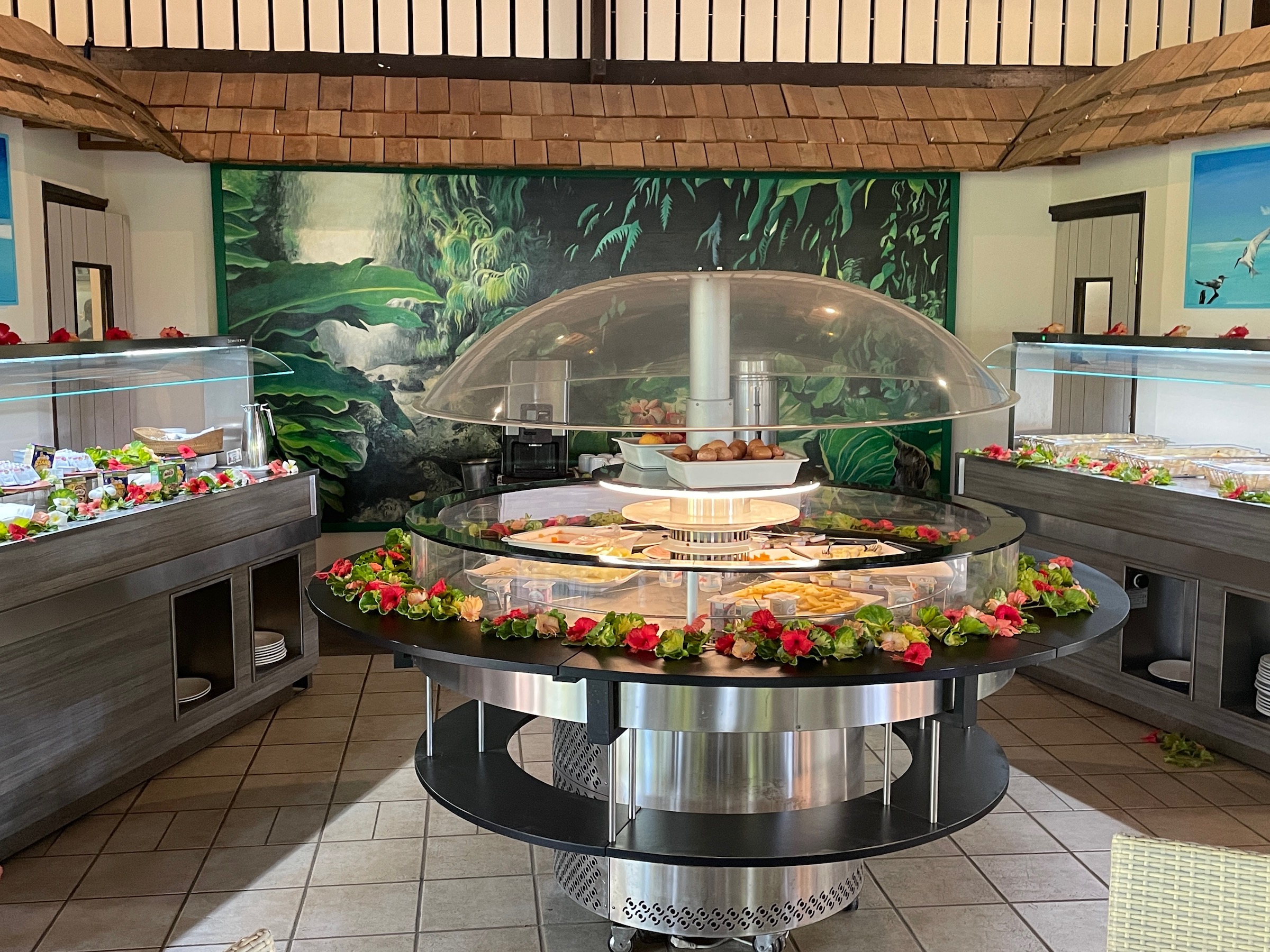 And had a very relaxed outdoor restaurant on the sea side where I enjoyed the poisson cru which I could eat every day of the year.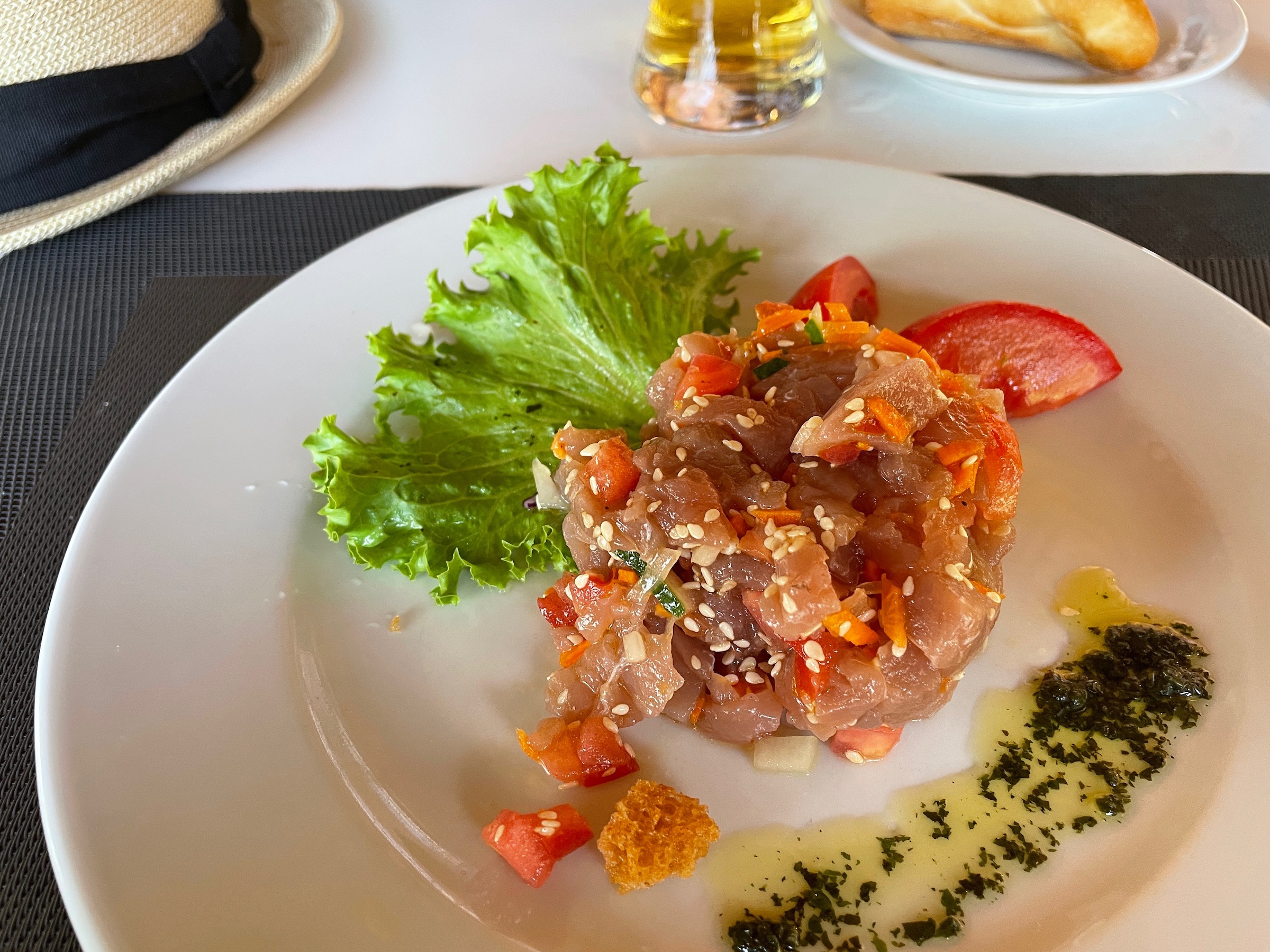 Bora Bora is home to the most famous restaurant in French Polynesia and maybe all of Oceania. Bloody Mary's is an institution and judging from the number of celebrities who have dined here you'll understand why. This is just one of a number of boards with literally hundreds of names. I presume mine is now among them.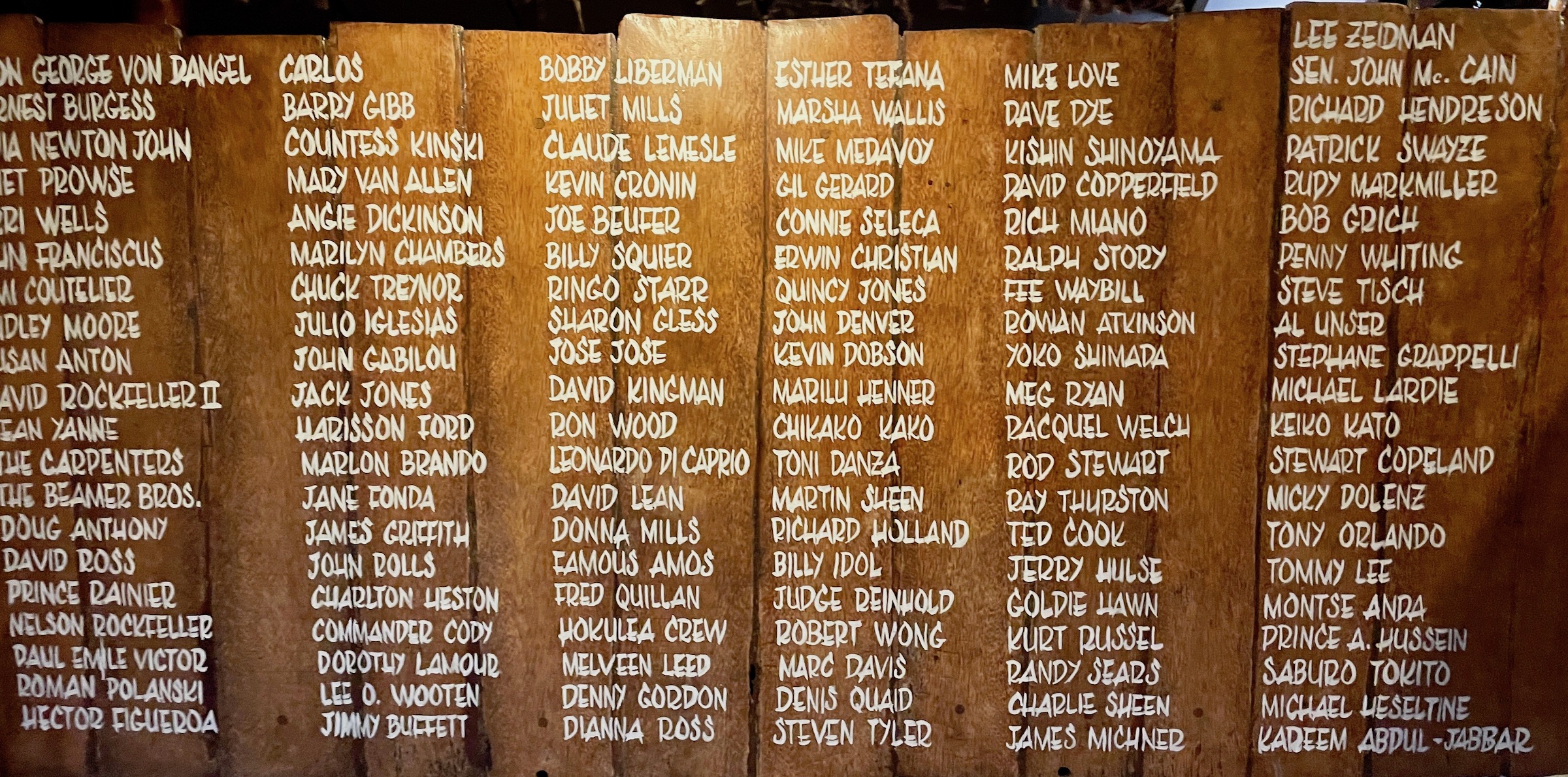 How about this table.

This is Bloody Mary herself and she's quite the doll.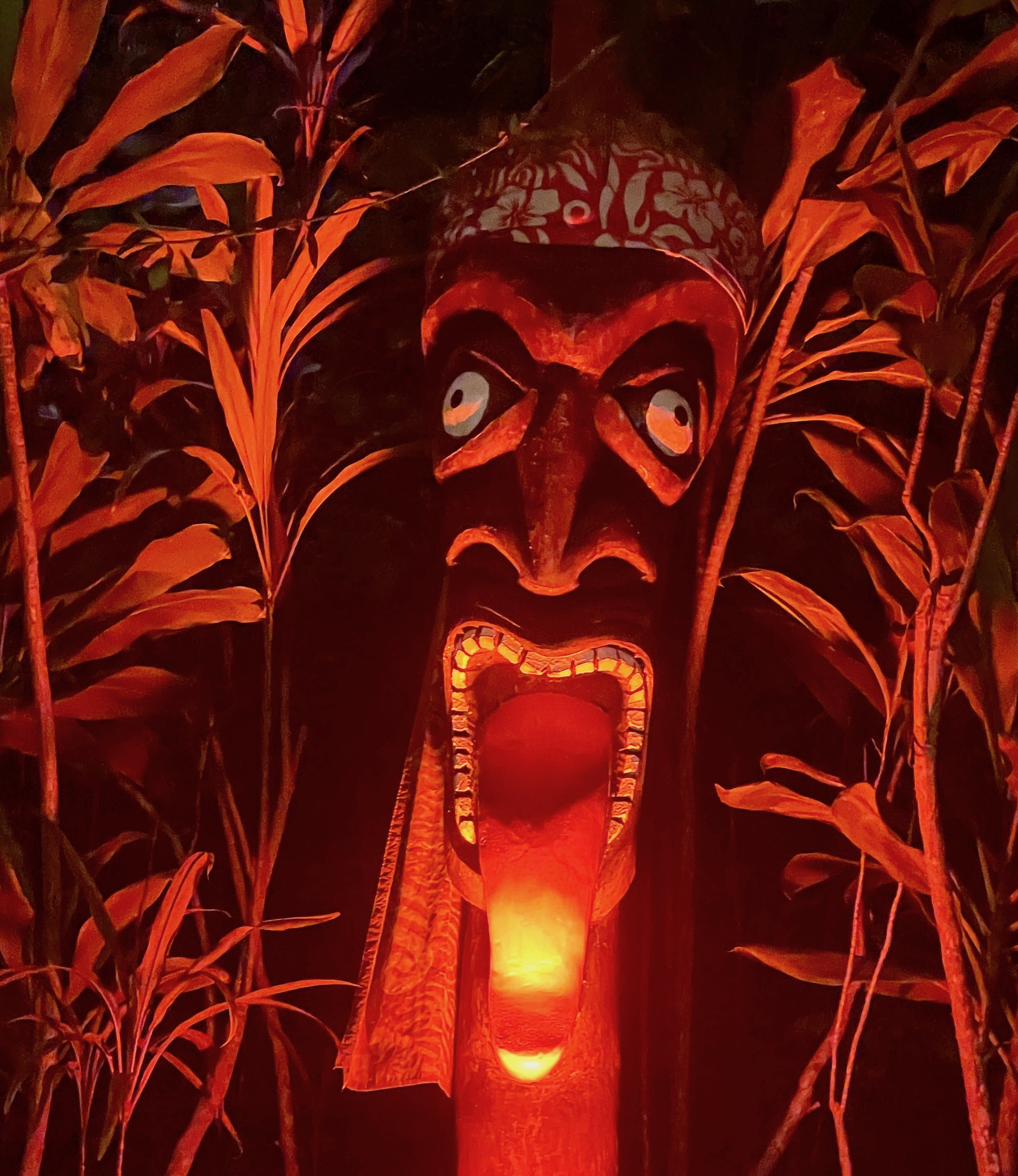 And here's me doing my best Tony Bourdain imitation with a bloody mary, the first in many a year.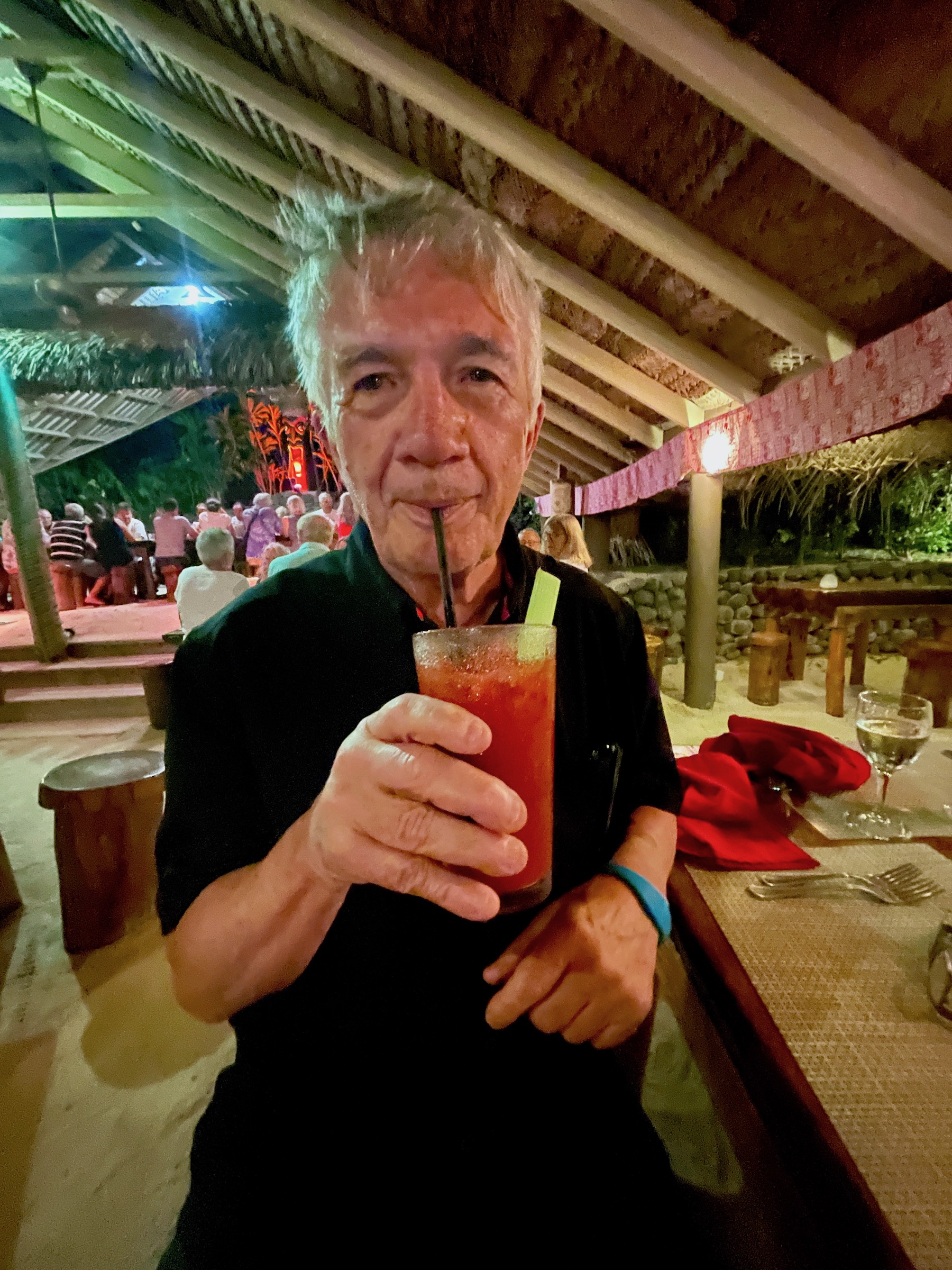 At Bloody Mary's, after getting your drinks, you go over to this magnificent layout of seafood and meats where the chef explains the choices and the prices. I almost choked on my bloody mary when I heard the prices, but remembered that Martin was treating and was very pleasantly surprised that AA would include a meal at the most expensive place in French Polynesia because after all, anybody who is anybody has to come to Bloody Mary's if you are on Bora Bora.

Seriously though, the atmosphere at this place is great and the food lived up to its very hyped reputation. I had this perfectly cooked mesquite tuna steak.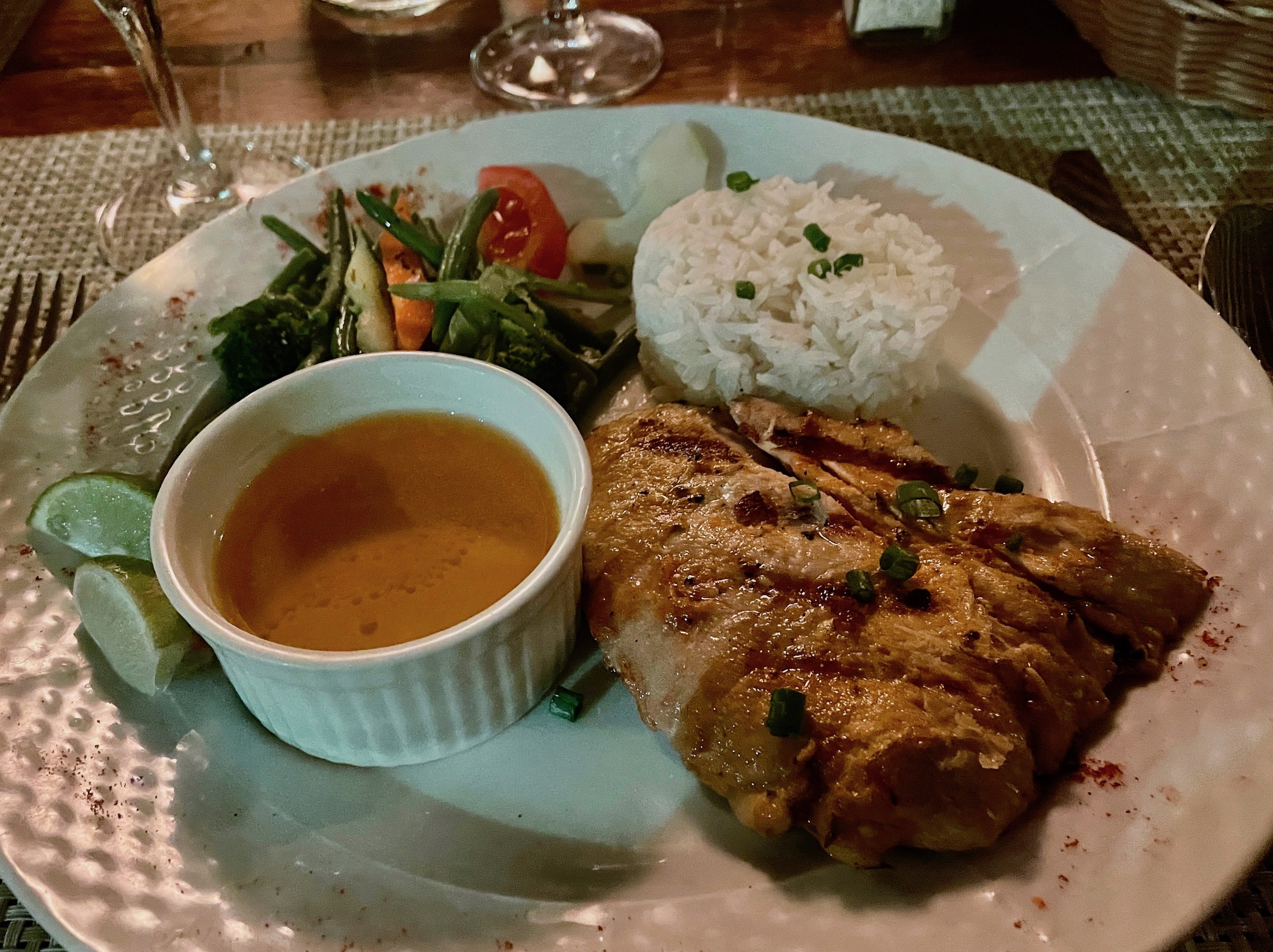 Alison went for the coconut crusted parrot fish which she declared was heavenly.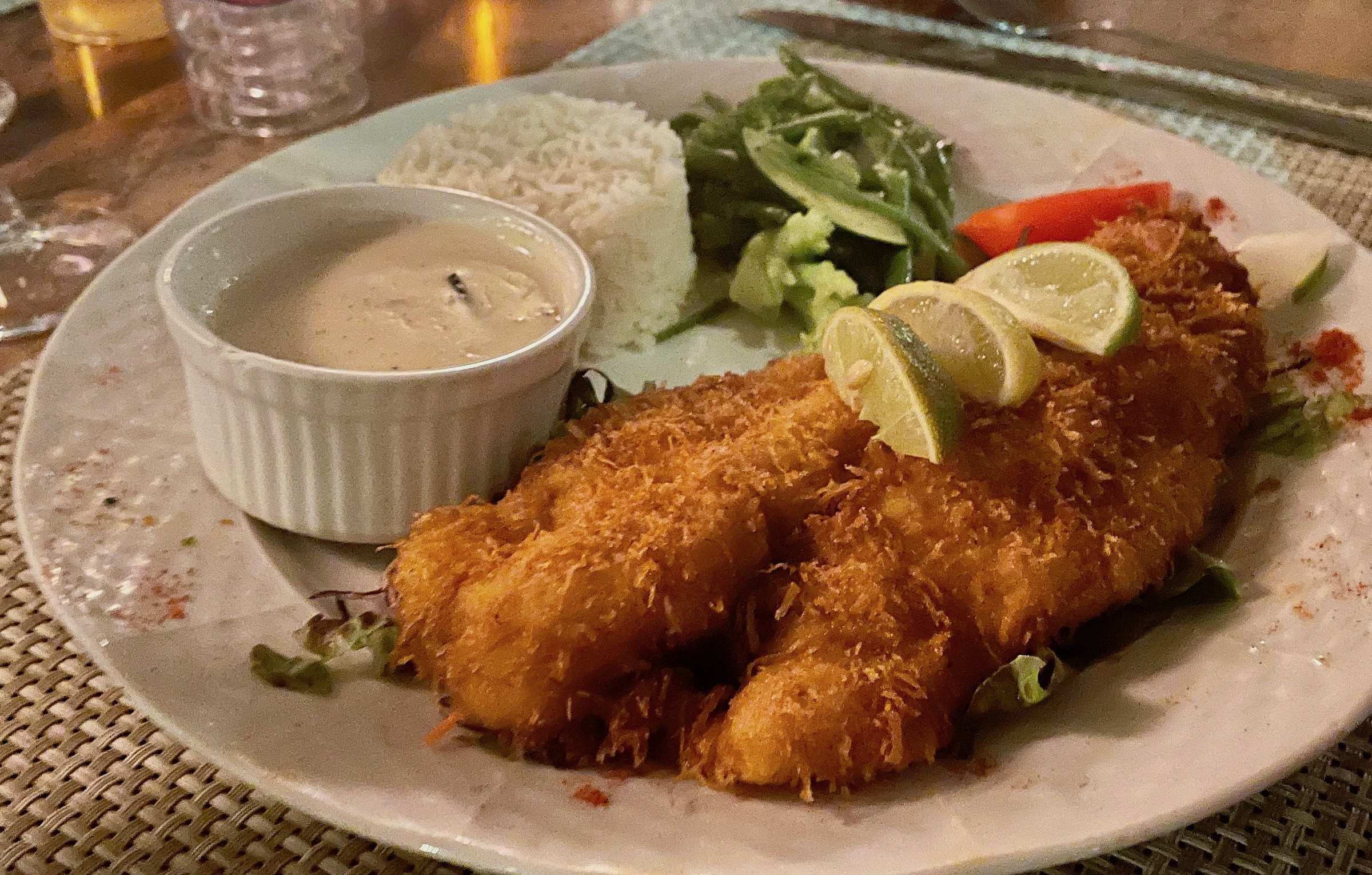 At the opposite end of the spectrum in terms of cost is The Lucky House which is just down the road from the Maitai. We liked it so much we ate there three times – I should explain that we stayed over a few extra days after the AA trip formally ended, thus the number of restaurant meals.
You are beckoned in to the really informal exterior by this buxom mermaid where there is a great deal of choice on the menu.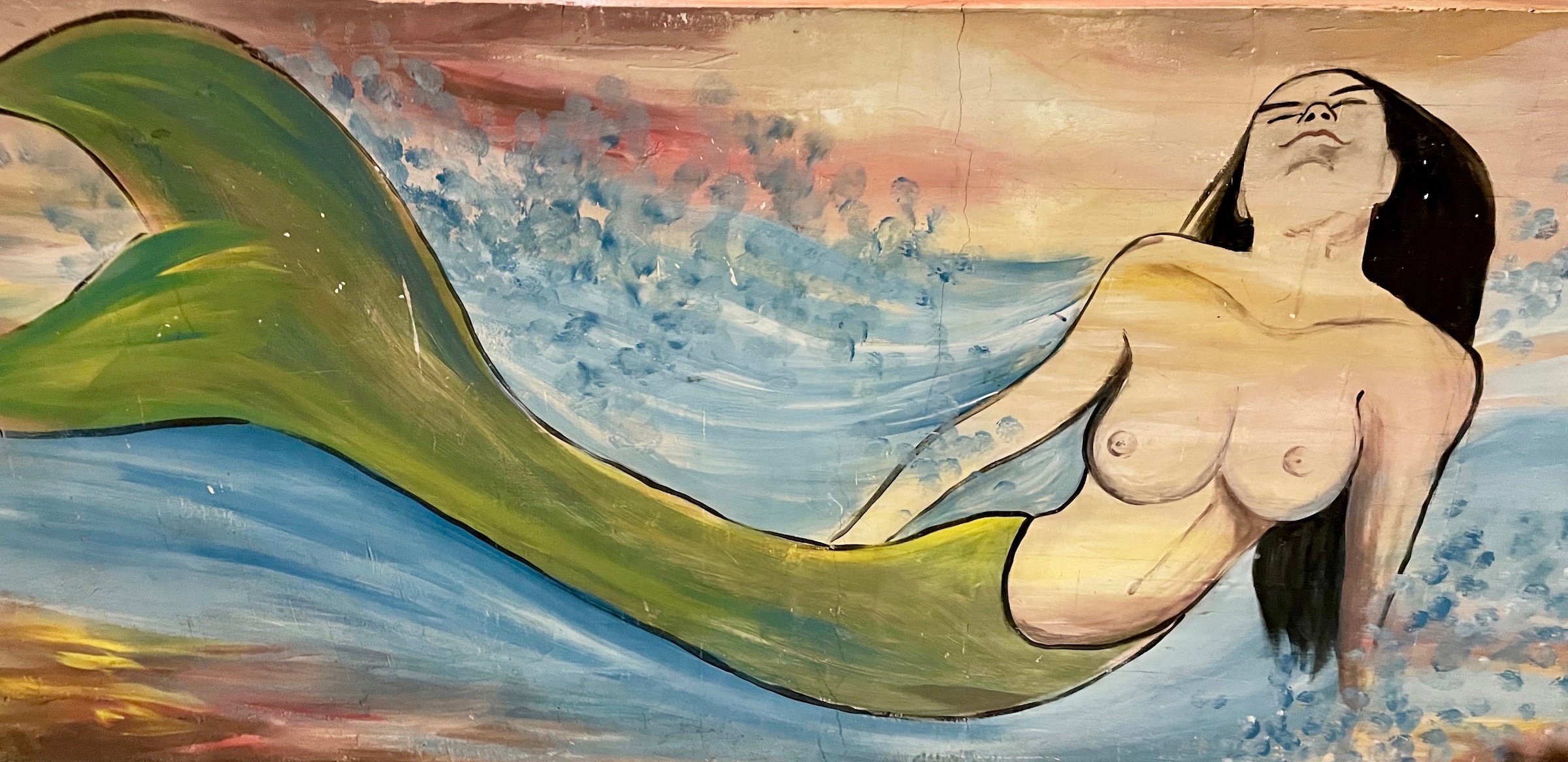 What brought me back was the combination plate of four ways to prepare raw tuna. In addition to the Polynesian classic poisson cru there was tuna tartare, sashimi and a truly outstanding tuna carpaccio. Up until I tasted it, I thought poisson cru and tuna tartare were hard to beat, but the carpaccio was the clear winner in this grouping, although any one on its own would satisfy those who love this type of food.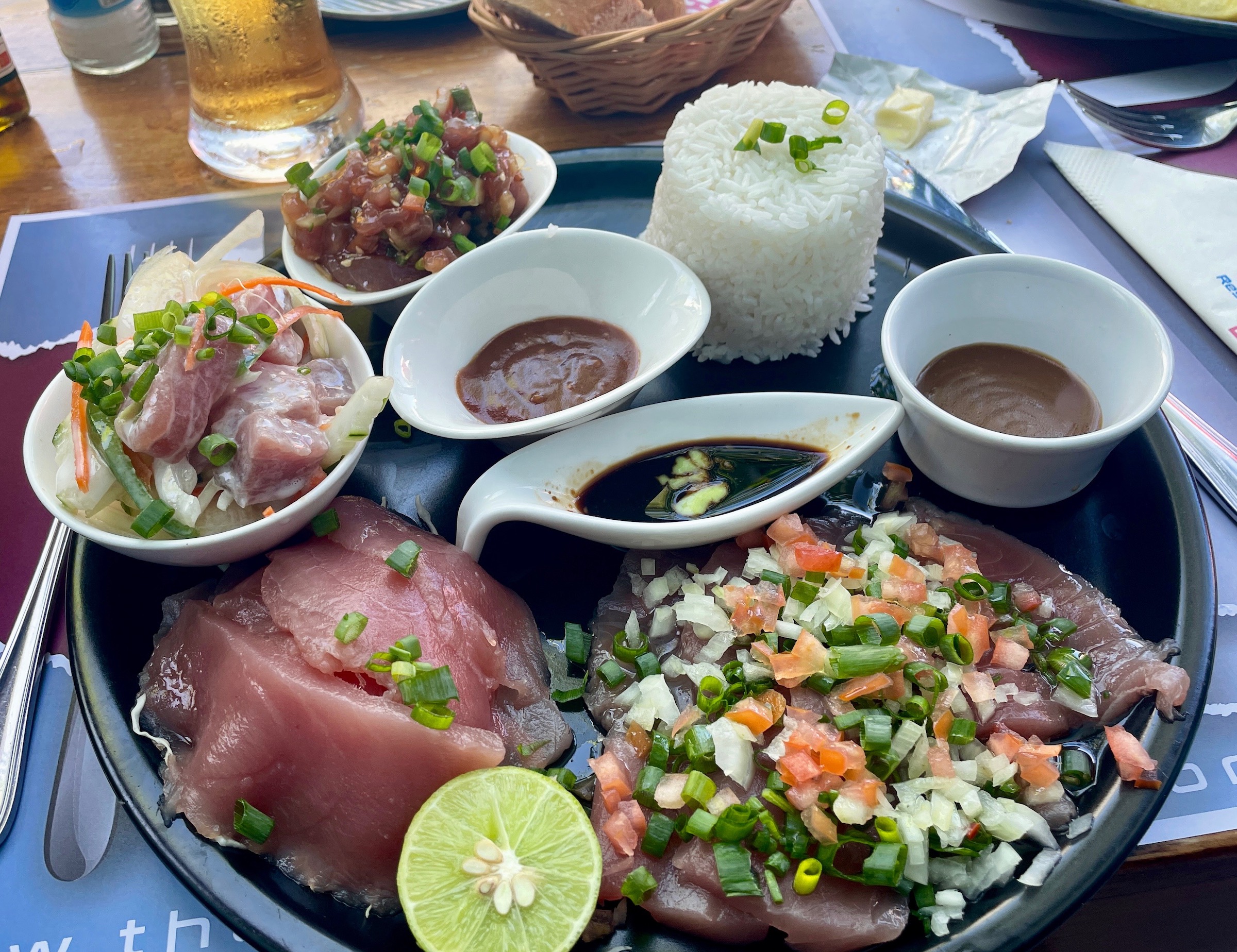 If you like your tuna a little less raw than I do, the Lucky House serves up a very good fish burger made with tuna steak as Alison found out.
Although we both ate seafood at least once a day during our French Polynesian sojourn, on occasion we wanted something closer to comfort food and you can't beat pizza for that. The good news is that Lucky House makes a great charcuterie pizza which was a meat and cheese extravaganza. The naked saltiness of it demanded at least two Hinanos to wash it down.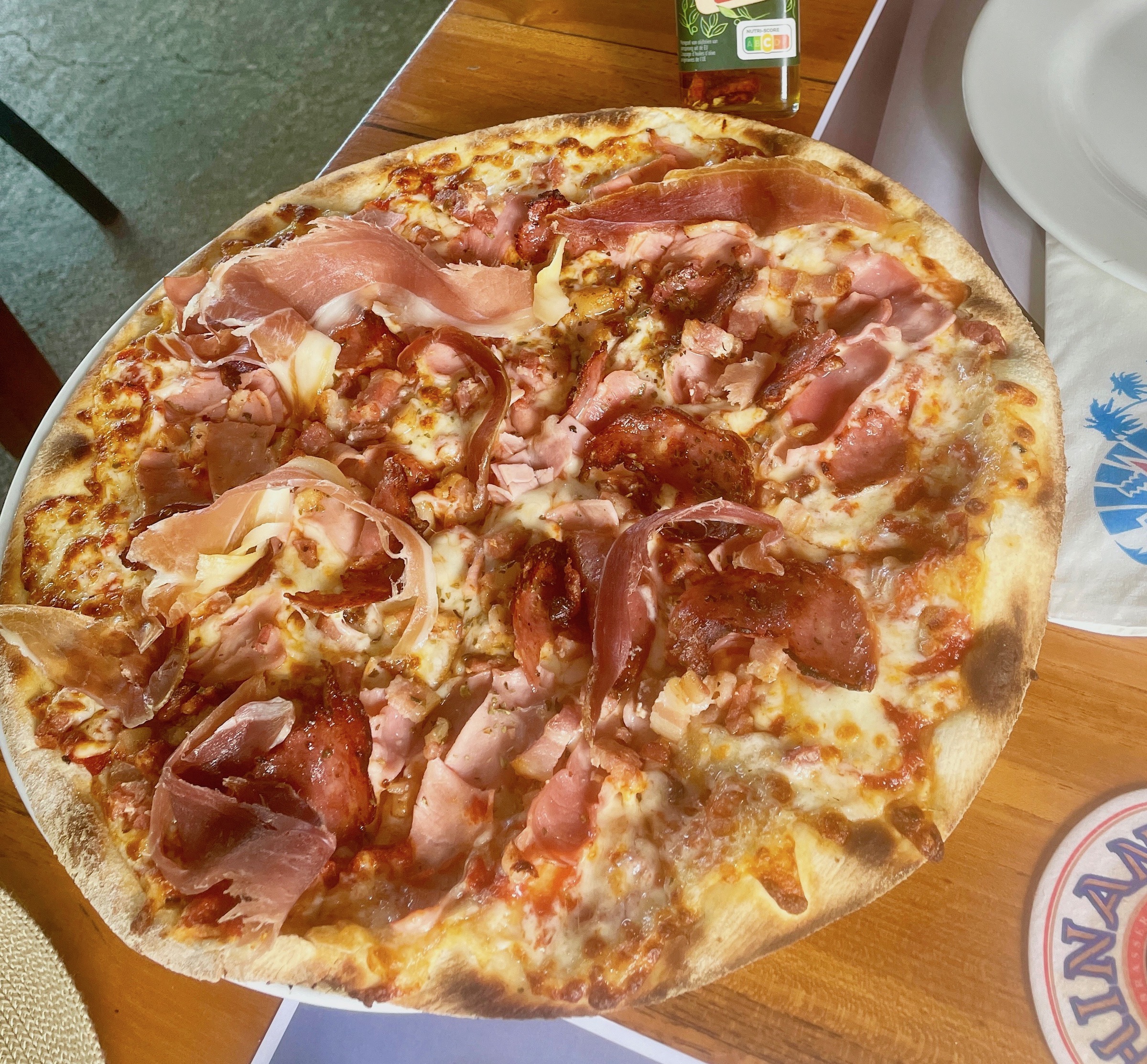 The final place I can recommend which is also within walking distance (about a kilometre) from the Maitai is the Bora Bora Beach Club which overlooks beautiful Matira beach. Here you can get that house made burger you have been longing for.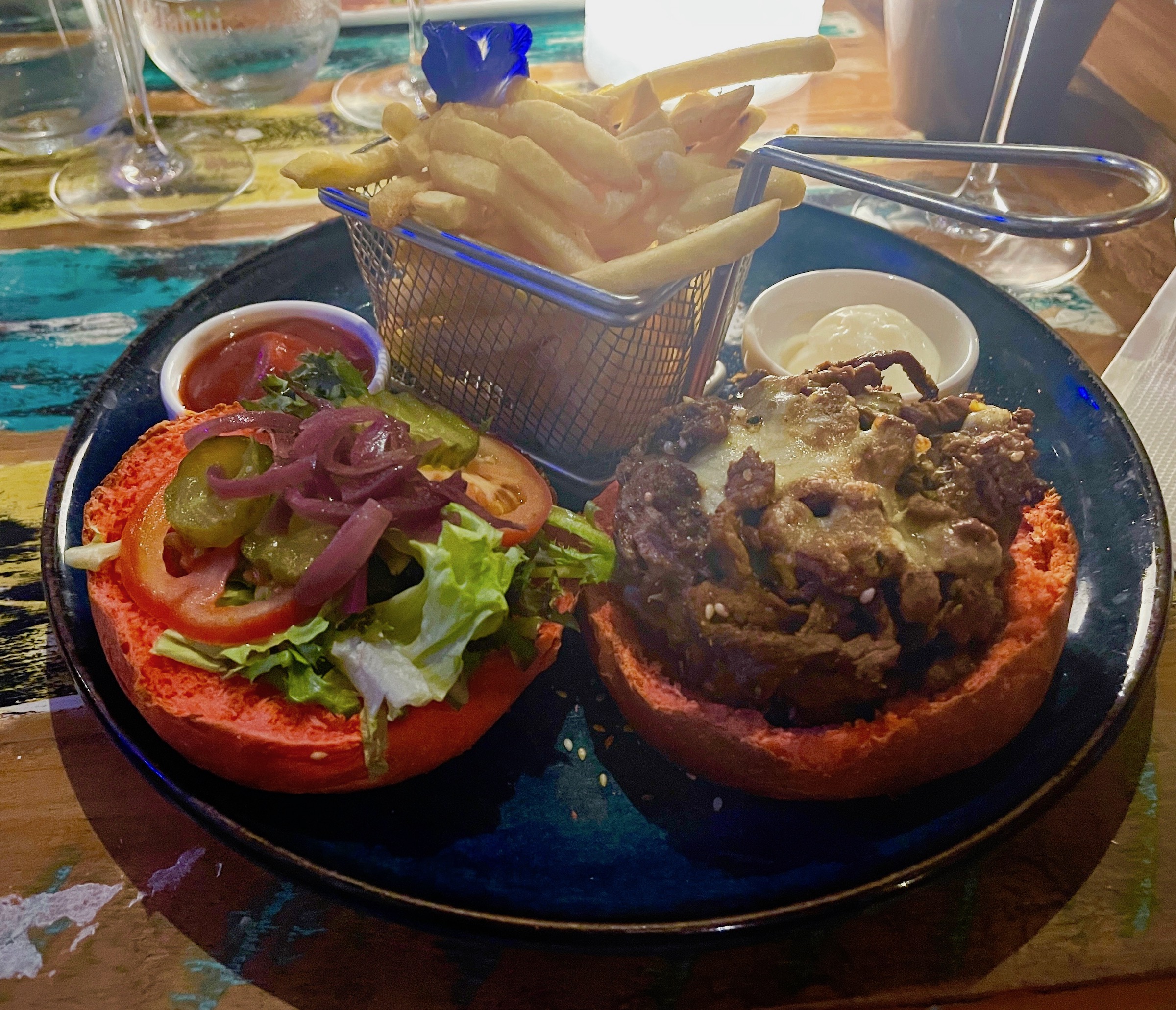 Beach Burger with Red Buns
Or you can try their version of coconut crusted parrot fish as Alison did and found it to be comparably good to the one she tried at Bloody Mary's.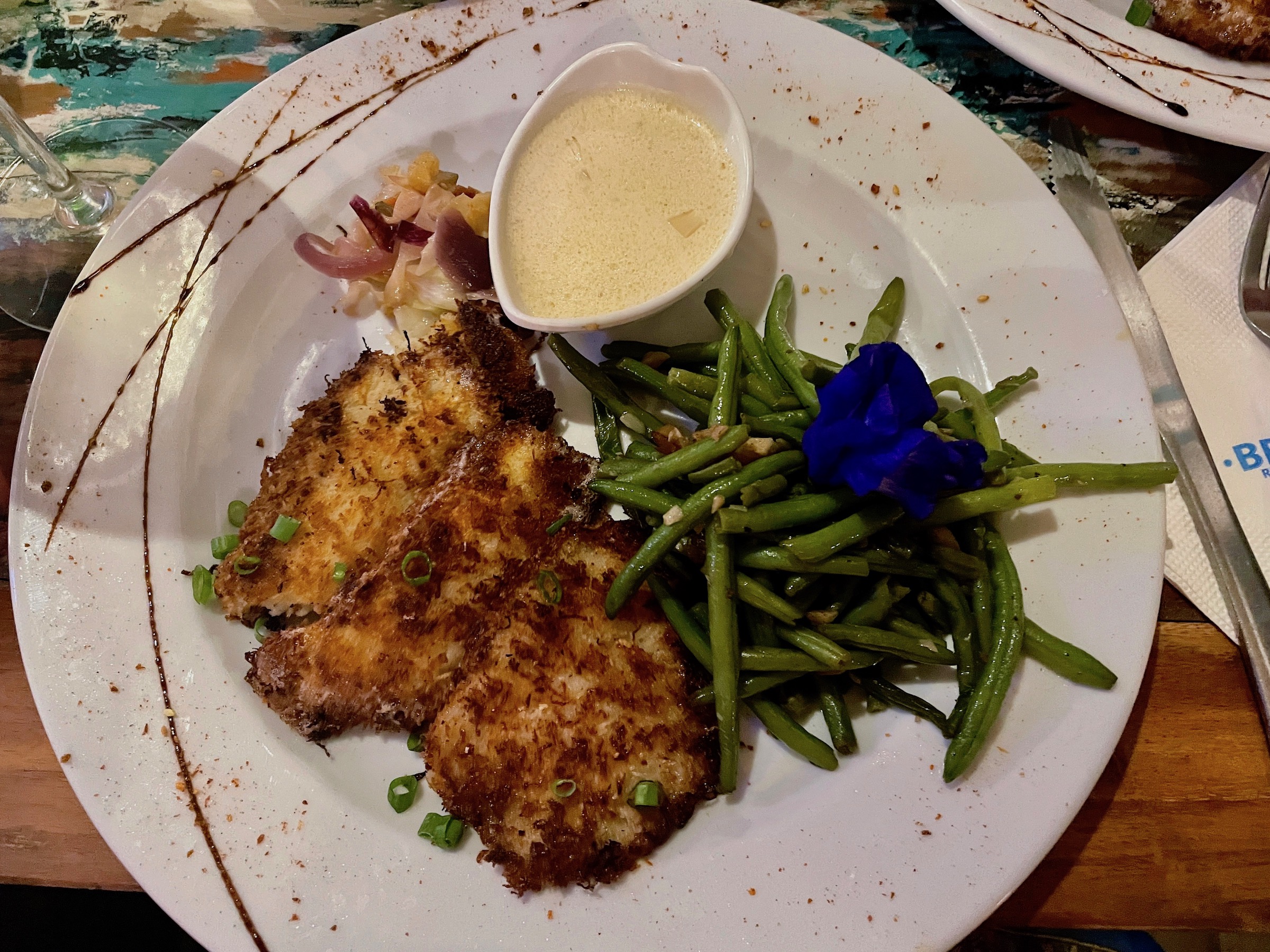 This is also the place on Bora Bora to save room for dessert as it has great versions of some of the classics, like this lava cake which quite literally is an explosion of chocolatey flavour.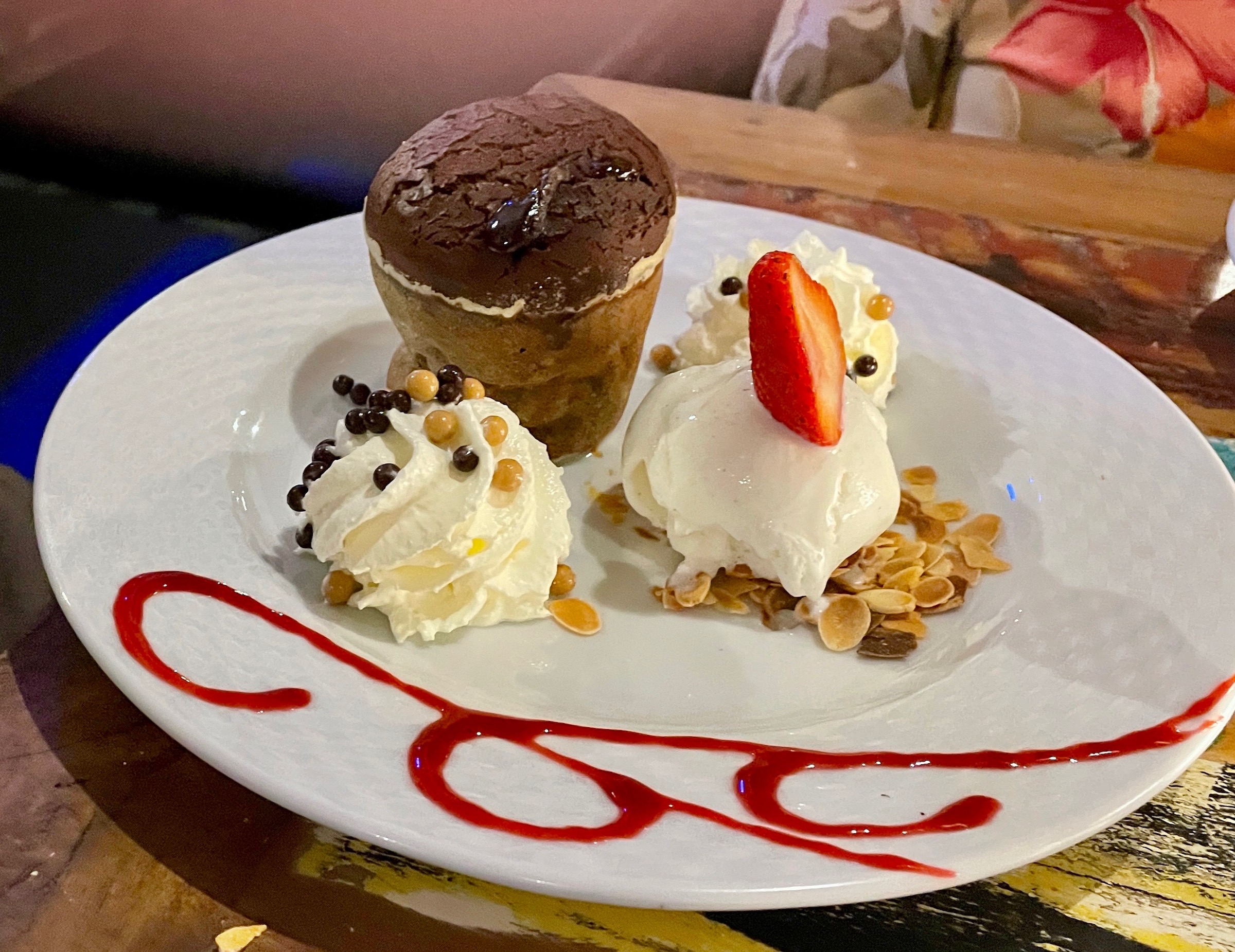 Equally traditional was the pavlova, the great meringue dessert that originated in New Zealand, maybe invented by descendants of the Polynesians who first settled there from this very area.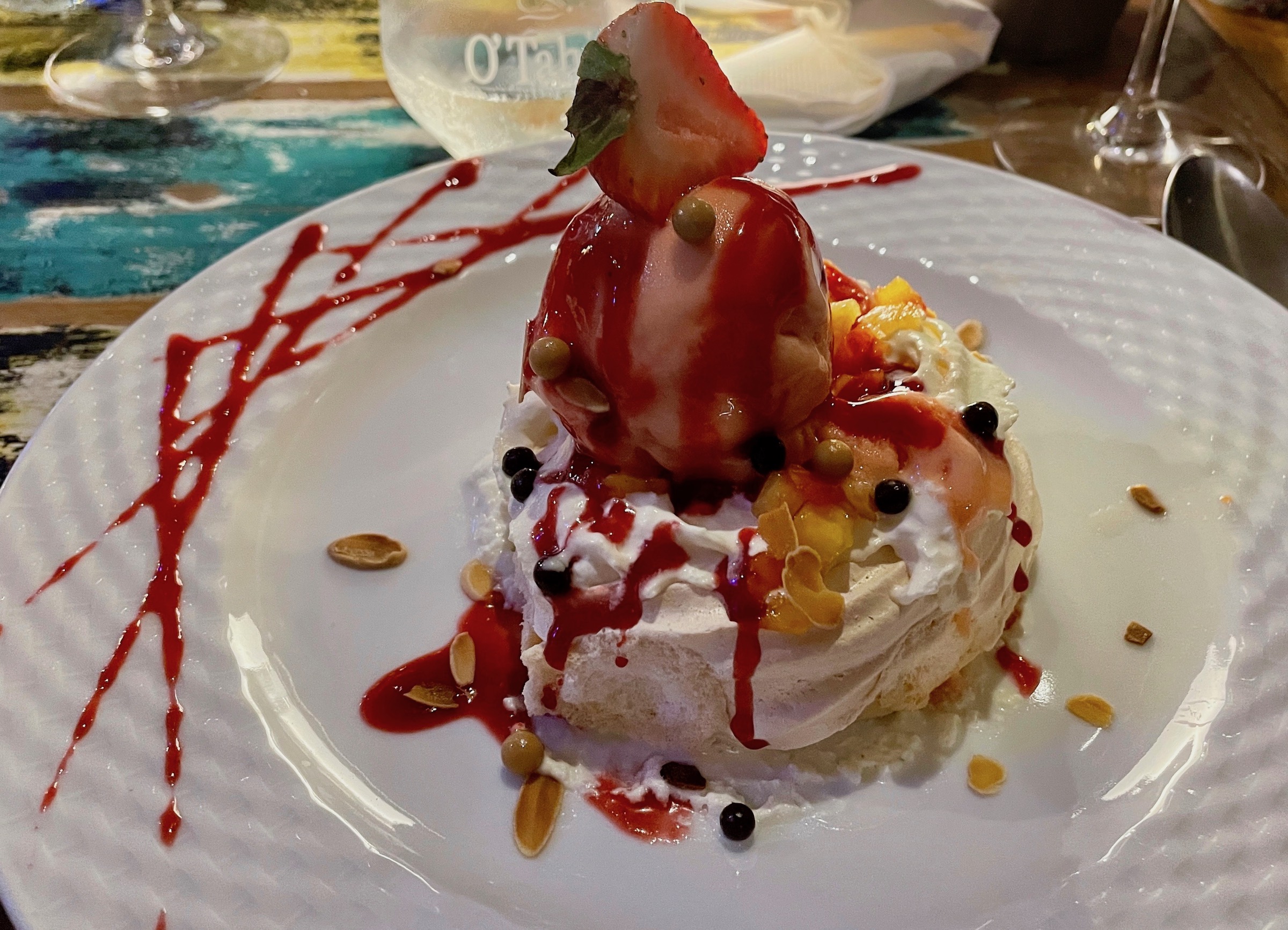 The bottom line is that you are going to eat very well in Bora Bora, no matter what your food preferences might be.
A Short Trip Around Bora Bora
Along with the airport, the U.S. troops on Bora Bora during WWII constructed the road that now circles the island and that is where Martin starts us on our exploration of the place as we pile into Le Truck with a local guide. Aside from being brightly painted there are a number of hibiscus blooms festooning the interior. These have a definite purpose as we shall find out shortly.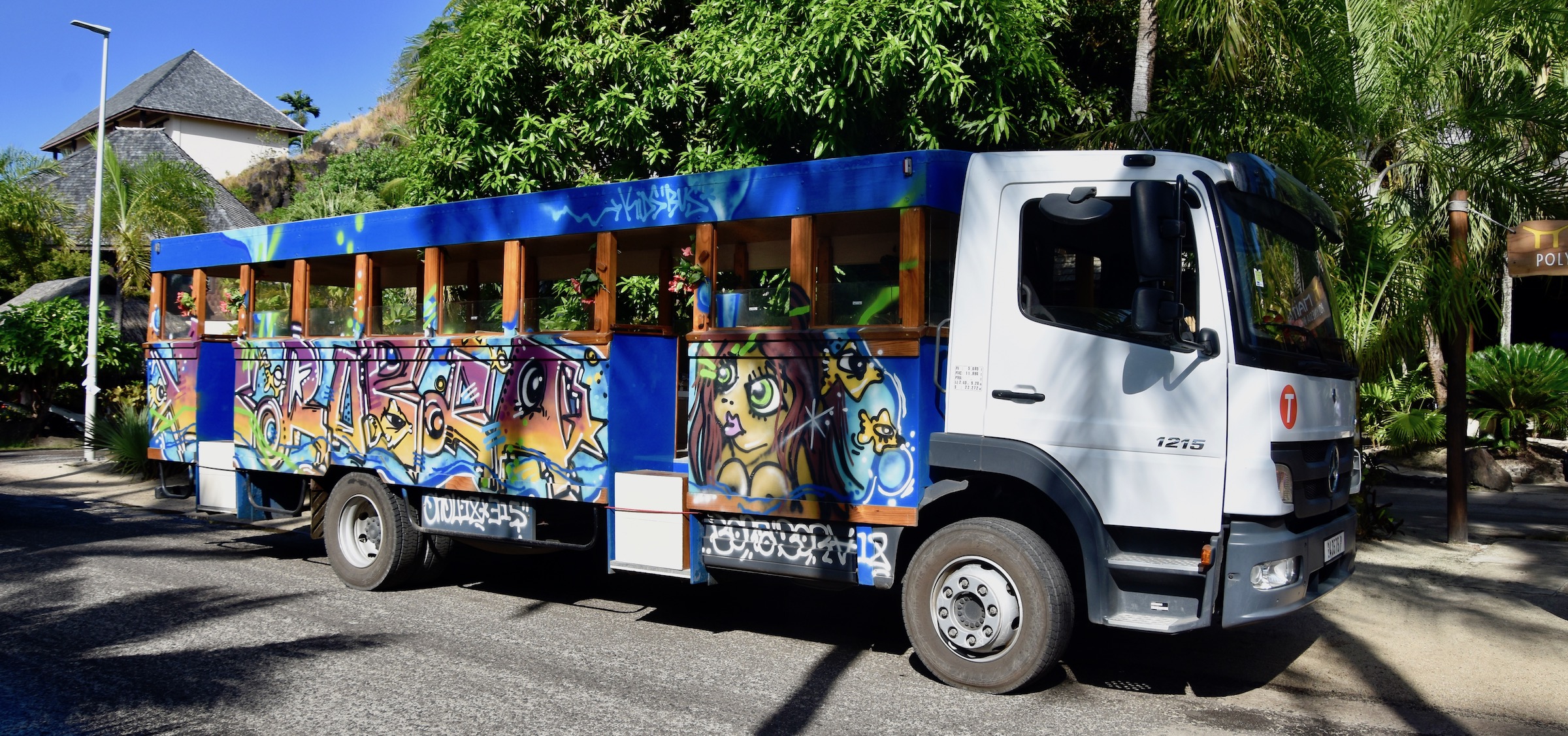 Not far from the Maitai resort is a small islet with the remains of what was once the Sofitel resort which succumbed to the Covid epidemic.
Looking inland we get the first clear look at Mount Otemanu the distinctive remnant of the volcano that created Bora Bora. At 727 metres (2,385 feet) it is the highest point on the island and has never been successfully climbed because of the crumbly volcanic rock that it is made of. You can however hike as far as the shoulder beneath the vertical rise.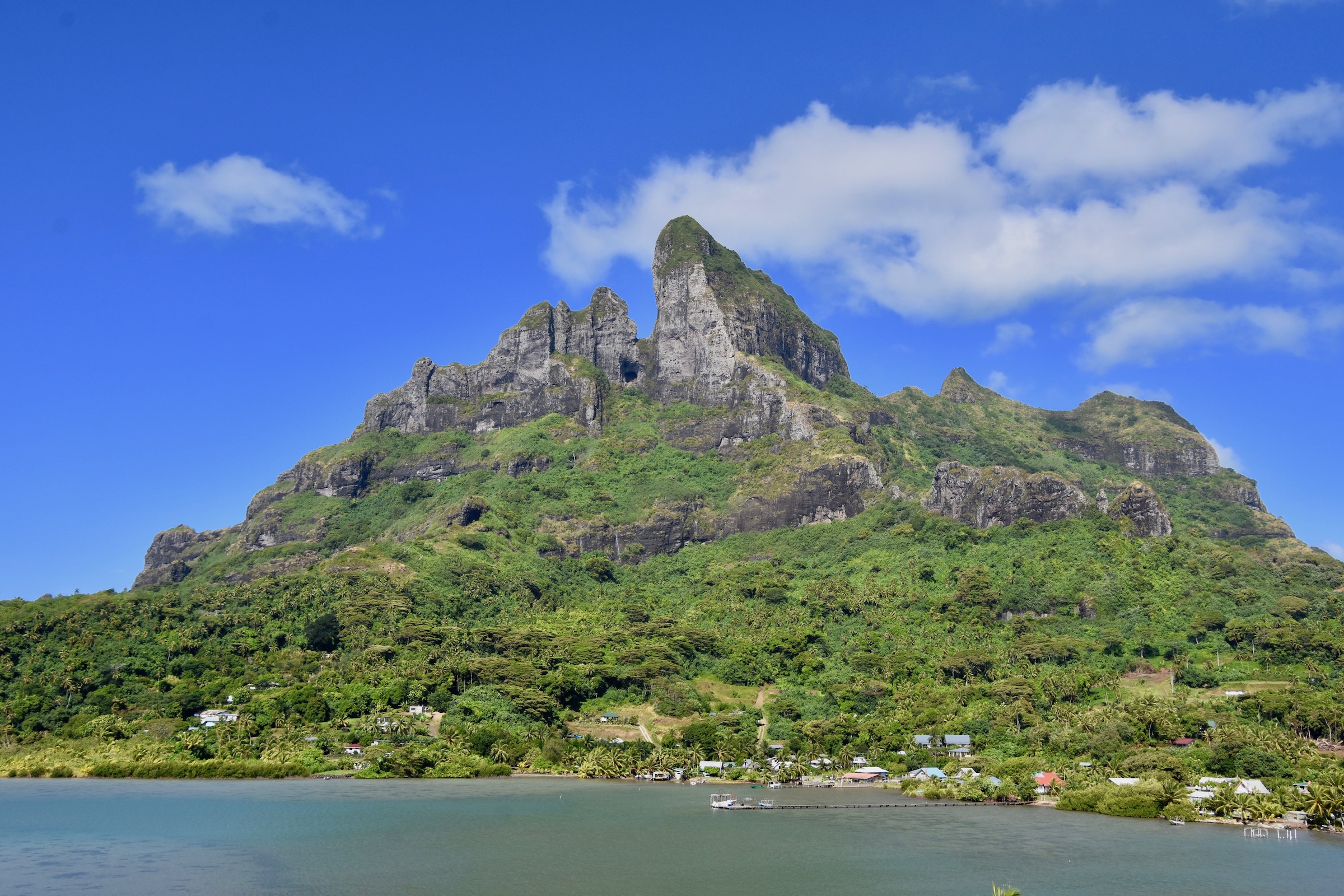 Continuing on we stop to look at this breadfruit tree, the fruit of which is why Captain Bligh was sent to the Society Islands on the H.M.S. Bounty and that helped precipitate the infamous mutiny.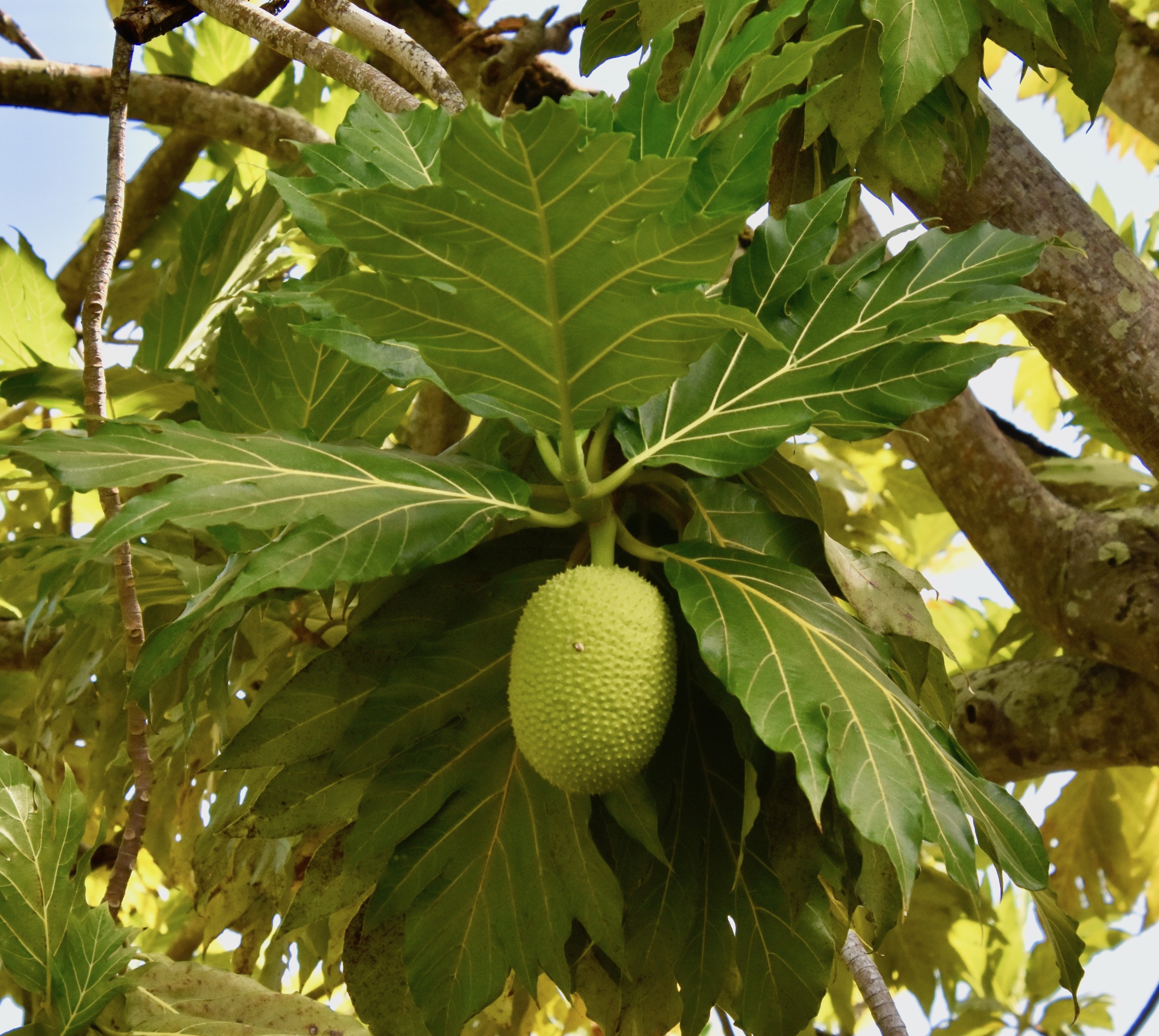 On our next stop we learn the reason for the hibiscus flowers. Our guide throws some out the window near some holes in the ground and almost instantly land crabs rush out to gather them and pull them back into their dens. Then we all join in the crab feeding fest.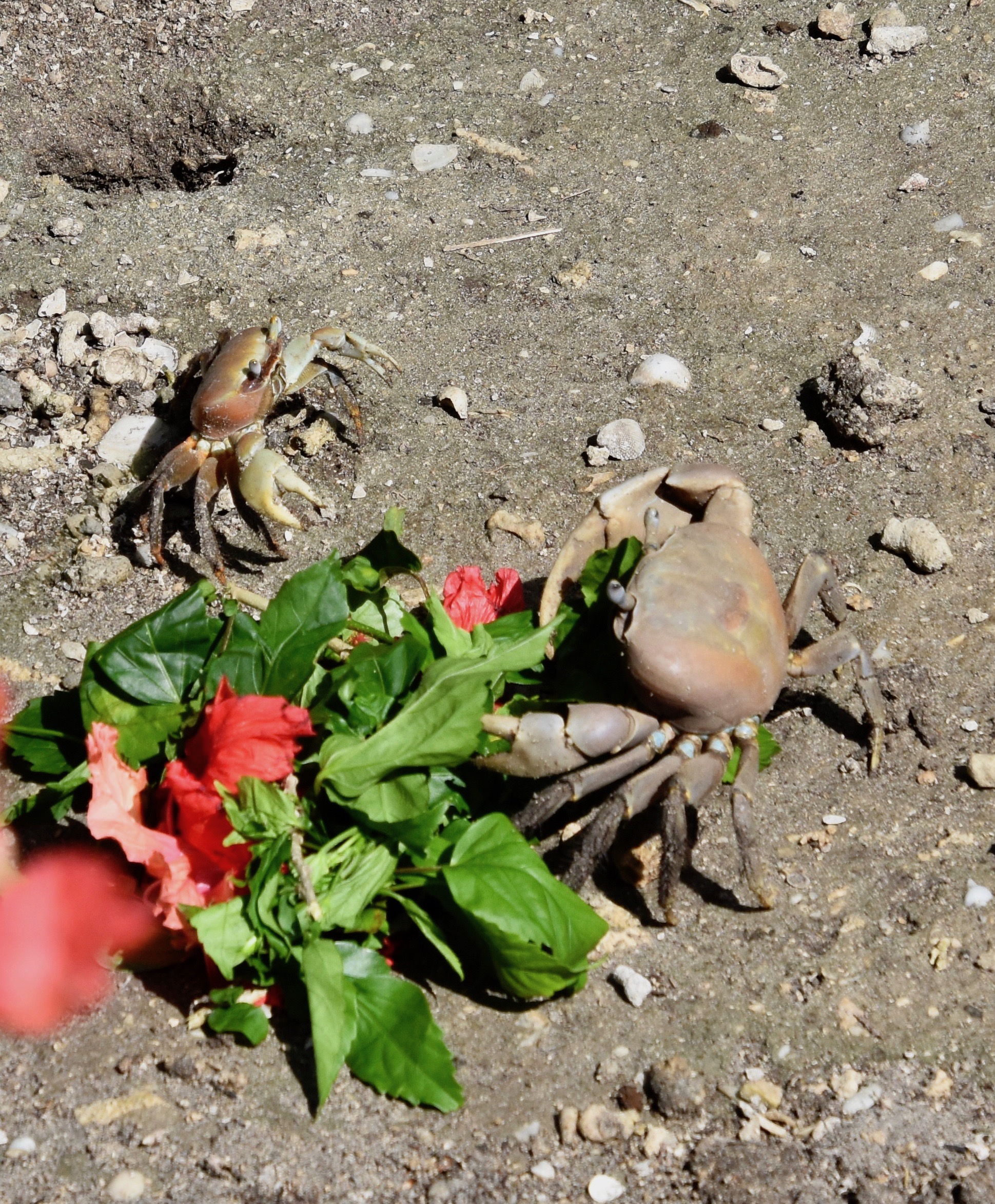 The views of Mount Otemanu change dramatically as we see it from different angles on this circular drive around Bora Bora. Here you would hardly know that it is the same mountain we were looking at in the first picture.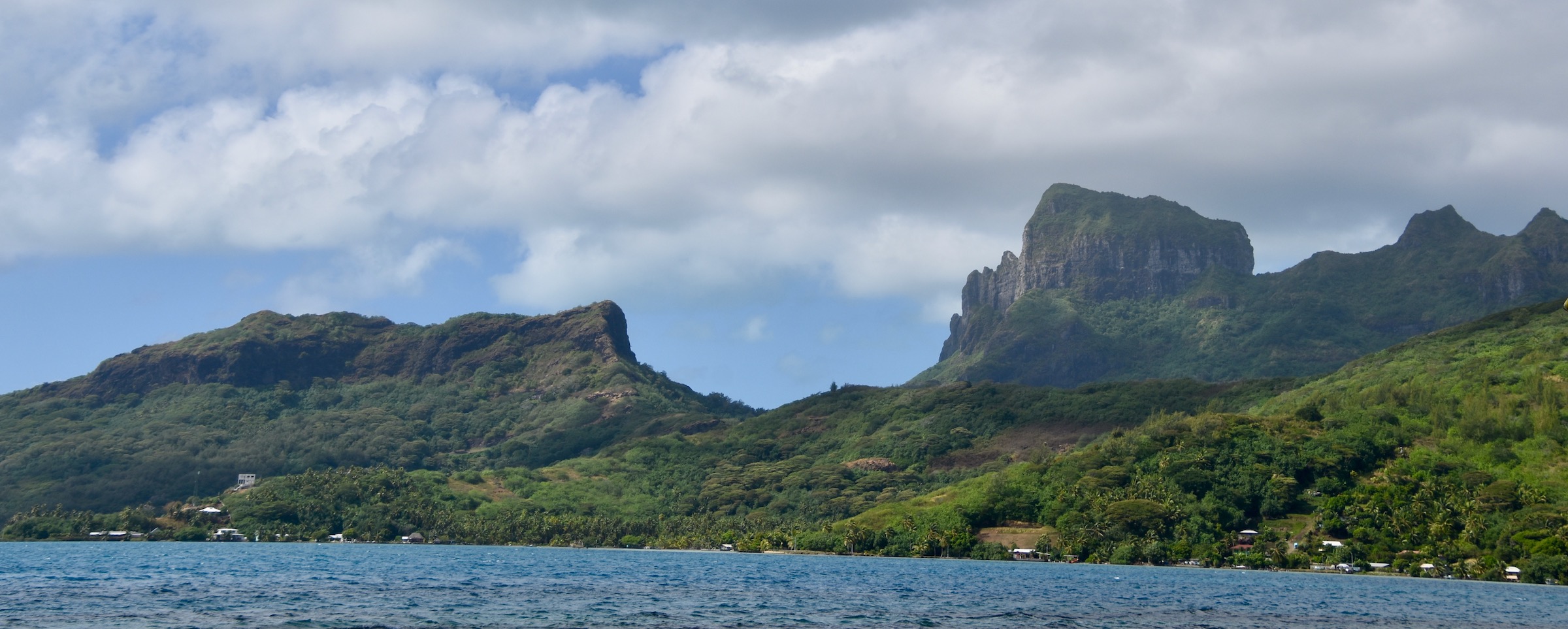 This is the cottage that Marlon Brando stayed in while filming those parts of Mutiny on the Bounty that were shot in Bora Bora. It is literally just off the road with no privacy whatsoever and stands in contrast to the gated and guarded compounds that today's A listers hide out in to avoid the paparazzi.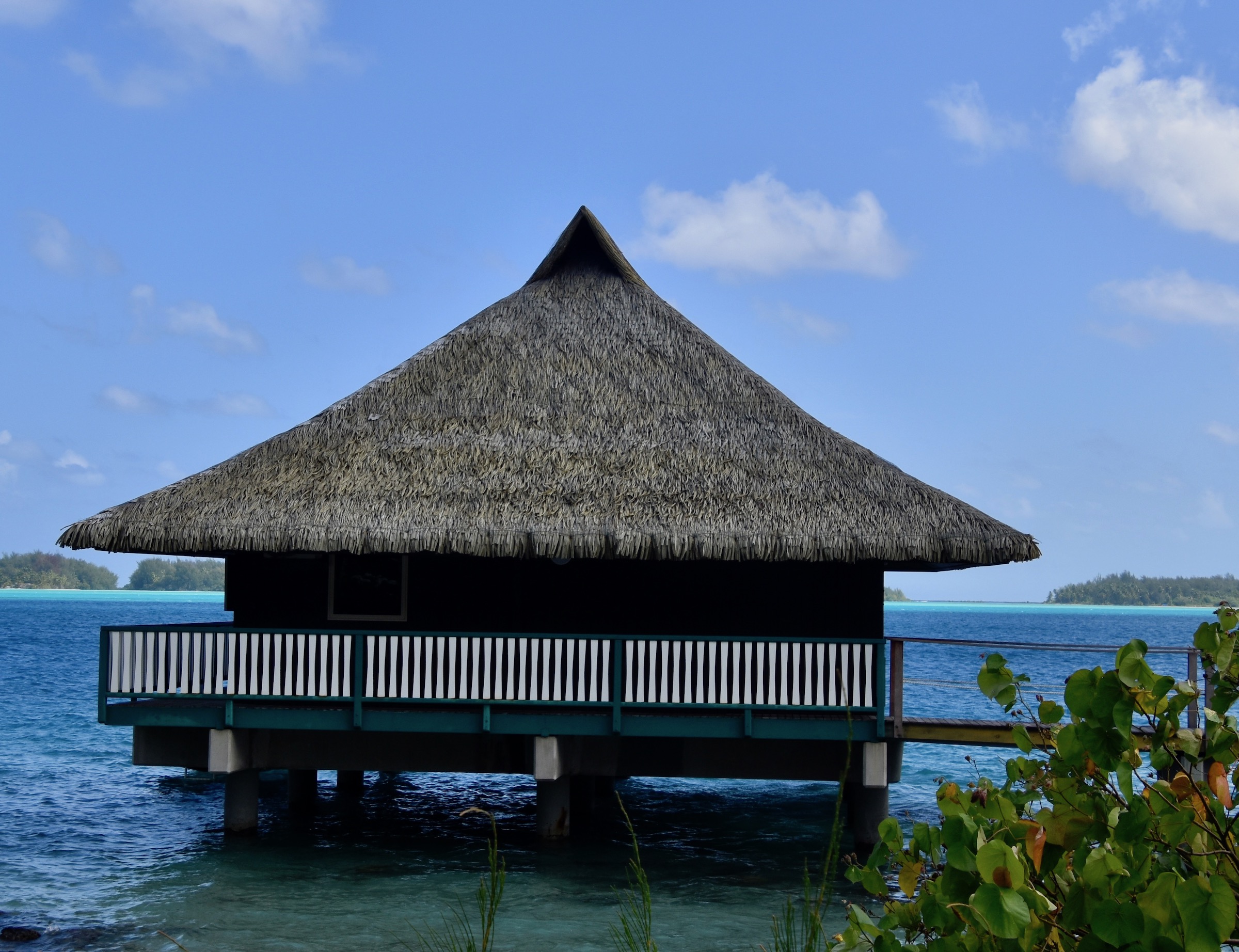 Next we stop at a place where they are making stencilled designs onto traditional cloth which is sort of interesting, but I'm more interested in this caged coconut crab. This is just a baby as these are the largest land arthropods on earth and can have a claw span of up to a metre. They also have the most powerful claws of any creature which explains how they can easily crush coconuts. They have a dark side, being known to eat birds and despite their cuteness, kittens. To top it off they are poisonous to eat. This guy was very aggressive and practically begged me to stick a finger into the cage. I didn't fulfill his wish and thus still have ten digits.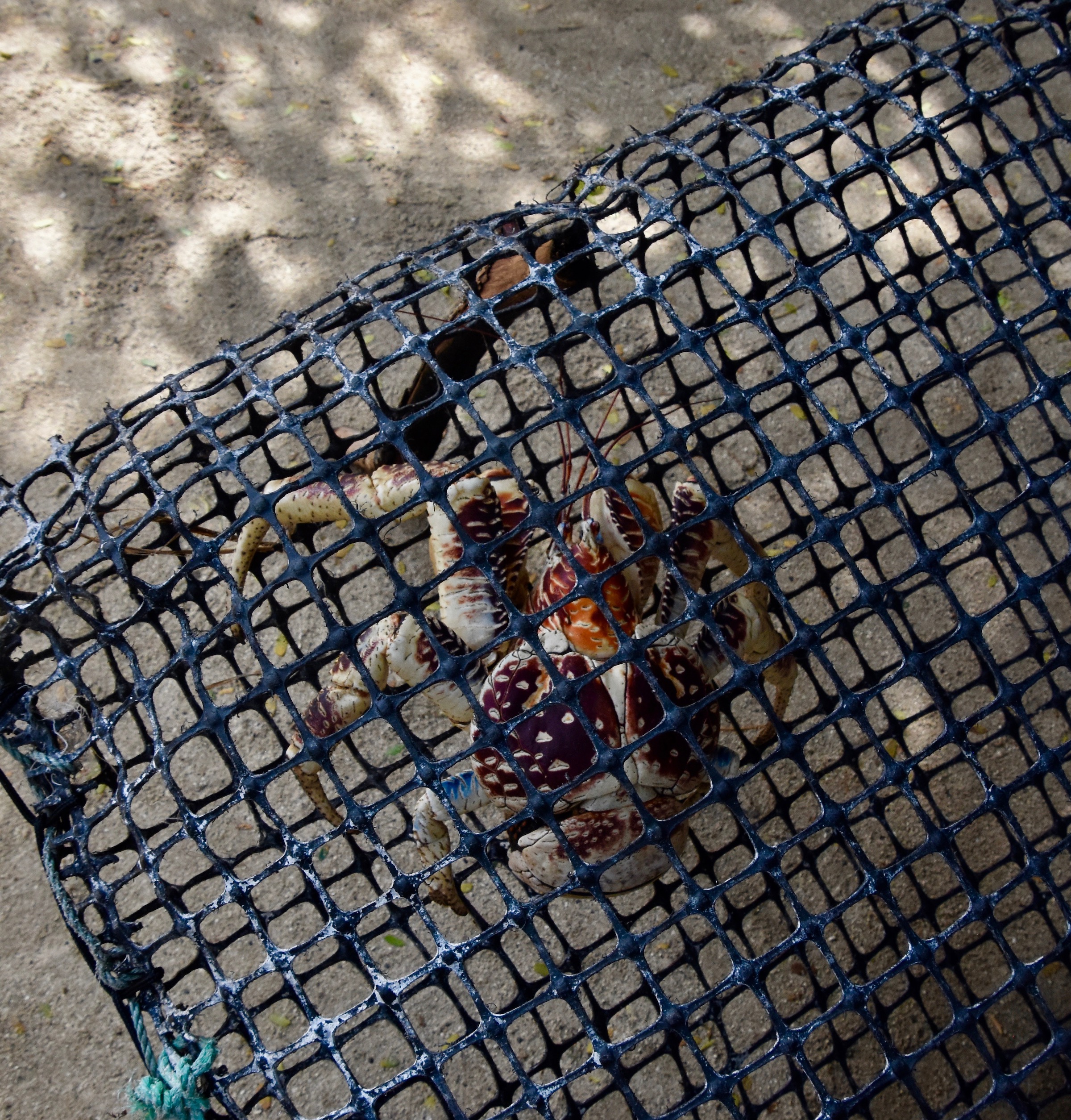 While the rest of the group were engaged in the stencil making I wandered across the road for yet another perspective of Mount Otemanu, but this time with the sister peak Mount Pahia in the foreground. At 619 metres (2,00 feet) it is climbable and if I was a few years younger I just might have given it a try. The views from the top are said to be awesome.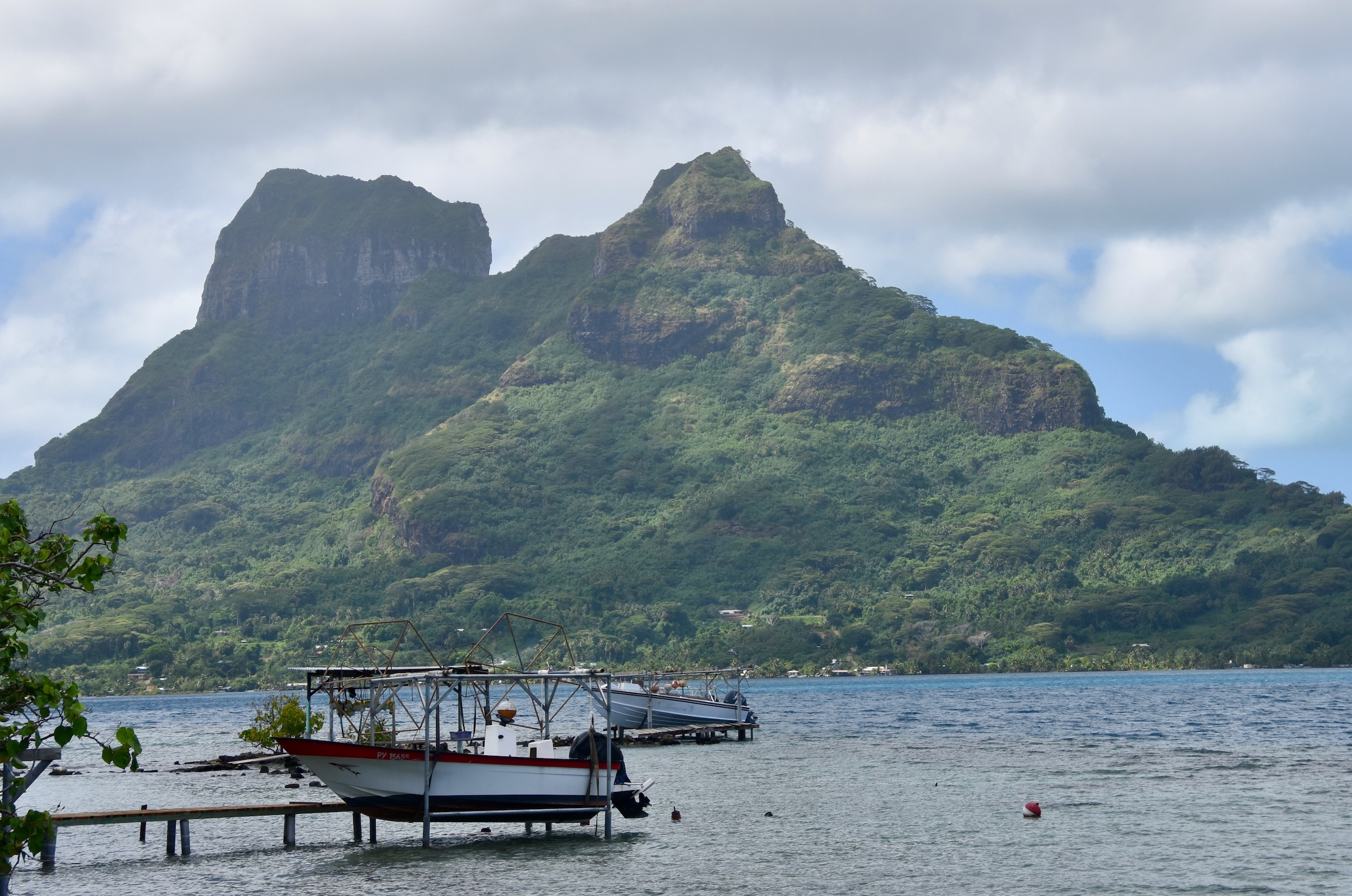 Back in Le Truck we next made a brief stop at the only real archaeological place of interest on Bora Bora. This is the tiny marae of Fare-Opu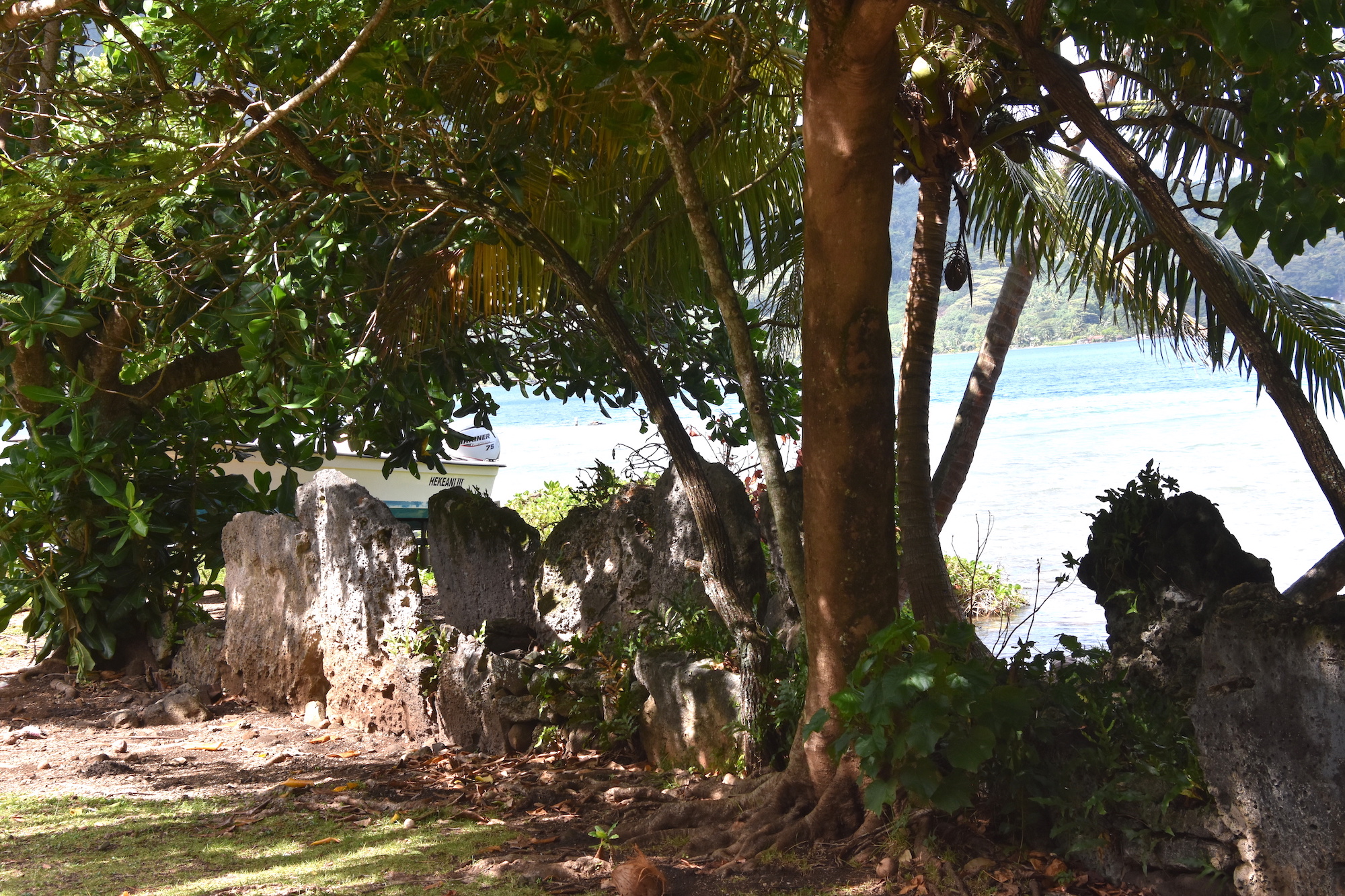 It features this famous turtle petroglyph and sadly, not much more.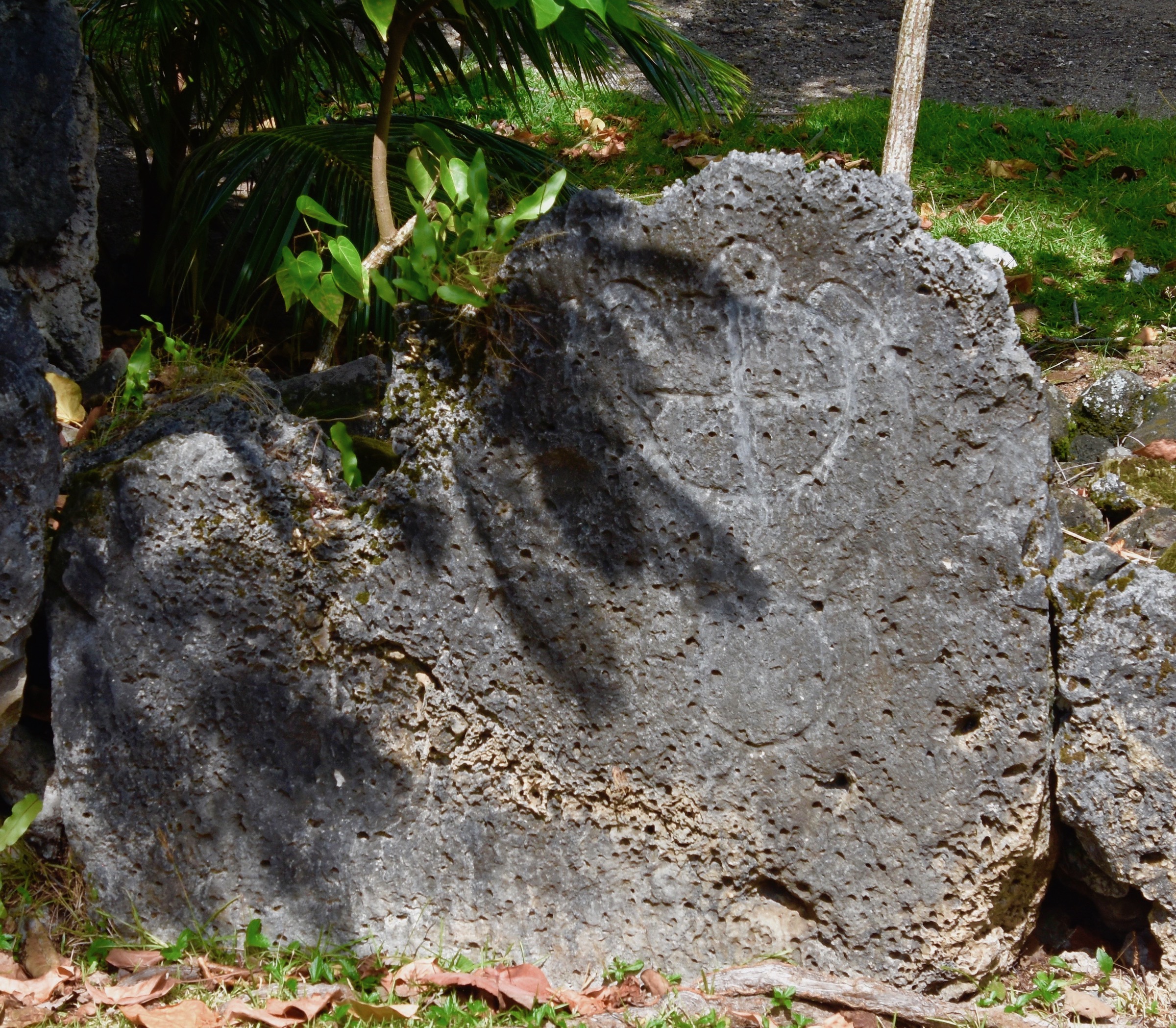 The inhabitants of Bora Bora have the unusual practice of burying their dead relatives within the confines of the their property lines so you do see burials such as this one where the person is interred right next to the house.
We are close now to completing our circumnavigation of Bora Bora when we arrive at the crystal clear waters of Matira Beach where have a chance to test the waters. As I have noted in previous posts, there are very few beaches on the newer volcanic islands like Tahiti, Moorea and Bora Bora so Matira is something of a rarity.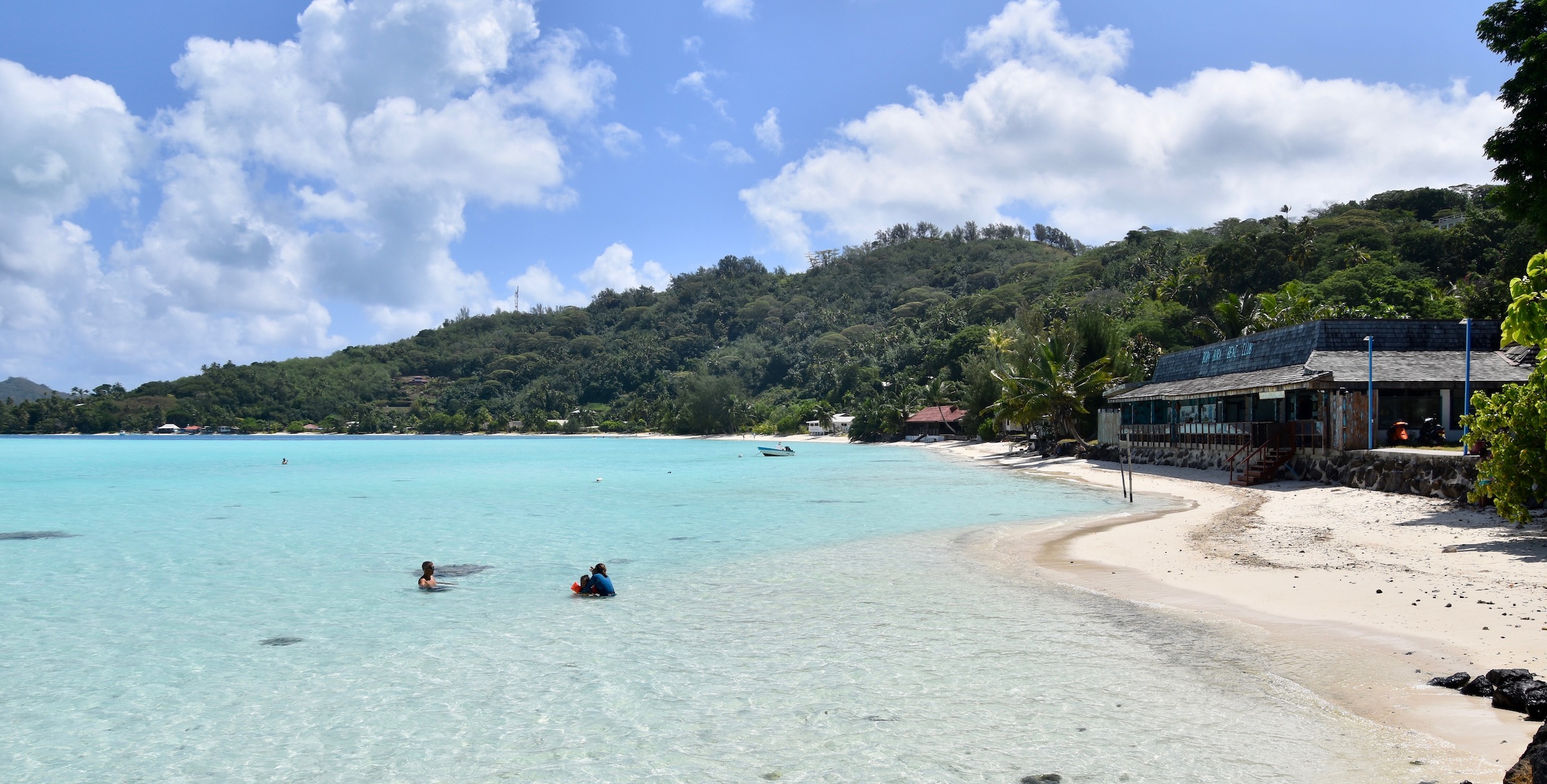 That's the Bora Bora Beach Club in the photo and where we're headed for a late lunch.
Tomorrow we will get to explore Bora Bora from the water on what promises to be the grand finale on this fabulous trip. Grab your swimming trunks and snorkelling gear and join us.
For now, adieu from our over water heaven.