The Walls of Ston – A Croatian Surprise on the Way to Dubrovnik
In the last post Alison and I detoured to the Bosnian city of Mostar on our way to Dubrovnik and I described the mixed feelings I had about the place. Now we are headed back to Croatia in our trusty Mercedes sedan with our driver Darius who has suggested a stop on the way to view the Great Wall of Europe. The Great Wall of Europe – never heard of it! "Darius, I hope you haven't been smoking something you shouldn't be?" He professes that the small town of Ston (pronounced Stone) has a wall that he says is the second longest in the world. Only one way to find out – OK, Darius let's go to the Walls of Ston.
We have to cross into Croatia from Bosnia which is not a problem and are soon on the way to Bosnia. I kid you not. We have to cross into Bosnia again where it has a tiny finger of land that stretches to the Adriatic, cutting the Dalmatian coast in two, a relic of Balkan politics. Darius points out the beginning of a stalled bridge project that would have connected Komarna, a town on the Adriatic to the Peljesac Peninsula, also part of Croatia. It failed due to lack of funds and the fading memories of the Croatian-Bosnian war. If it's ever completed it surely would be the first bridge built to completely by-pass another country. For now, we have to re-enter and leave Bosnia once again, our fourth border crossing of the day.
Ston and Mali Ston
Ston and it's little sister Mali Ston are two places not on the usual Dalmatian tourist routes, mainly because they don't have beaches, but they are definitely worth a visit; Ston because of the walls and Mali Ston because of the food. At least that's the way I feel after just visiting both. First Ston. What made it famous and still does in some circles, is the fact that it produces great – wait for it – salt. If I wrote this twenty years ago, people would laugh, but now good salt, like water, even though they are always made from the same molecules, is all the rage. I confess to snubbing your traditional Sifto salt at a few bucks for enough to last a year, in favour of  ridiculously priced sea salts from the most exotic places you can imagine, like Newfoundland. Actually the Newfoundland sea salt was a gift from Gillian Marx at a TMAC conference a year or so ago and it was incredible in texture. In taste, well it's salt.
So Darius takes us into Ston and leaves us at a square from where we enter the old city which is totally pedestrian only. Croatia is really ahead of the curve in this way. It ups the experience manyfold not having to get out of the way of cars that are trying to be where they shouldn't be and avoiding the exhaust spewed out by motorcycles. We soon get to one of the entrances to the walls and Alison announces that she has no interest in walking them, but would like to poke around in the shops as they look interesting. I ask, rather pathetically "Who's going to take my picture on the walls?" She replies, "Didn't you write in one of your last posts that if somebody takes a picture from someplace then there's a pretty good chance they were actually there?" "Uh, yeah." "See you in an hour"
The Walls of Ston
The story of the walls of Ston revolves around salt and the desire of other people to get it. Apparently you can't get at the salt pans from the water because it's too shallow, so the only alternative is to take it by land. Thus to keep out the invader you build a wall – in the case of Ston the second longest to protect a city in the world and if you look for a list of walled cities it runs into the hundreds, so good on Ston. I'd like to caption this photos as, "Here I am at the walls.", but thanks to Alison and my inability and to take and loathing of selfies, here are the walls of Ston.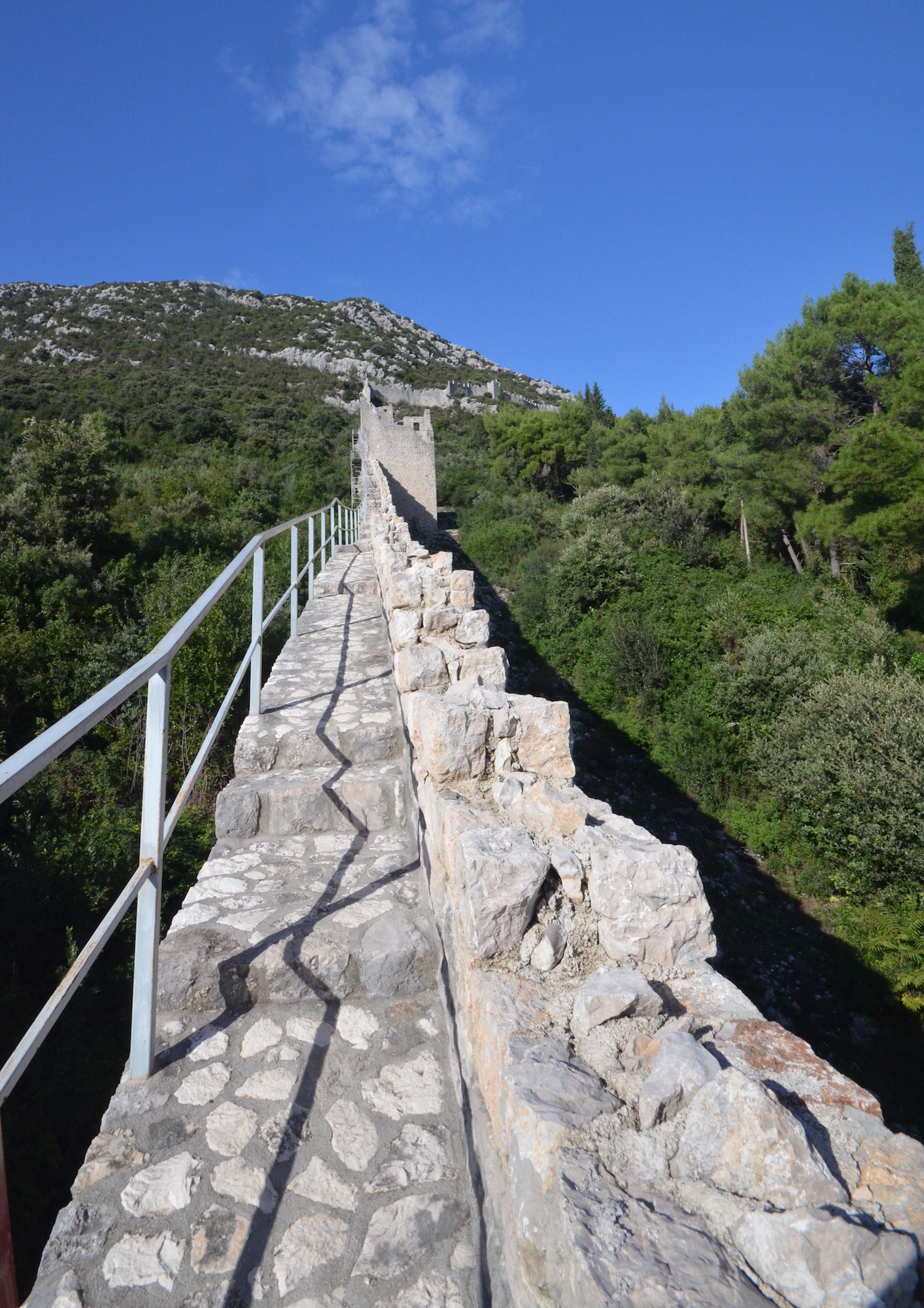 The walls are not quite up to Great Wall of China standards, but they are still very neat. All told they run for for over 7 kms. (4.3 miles) and there are multiple towers to explore. You can even run a marathon on them – I kid you not. The views get better as you climb higher and I'm tempted to just keep on going up, up and away, but God knows when I'd finish, so I turn left and take the short route.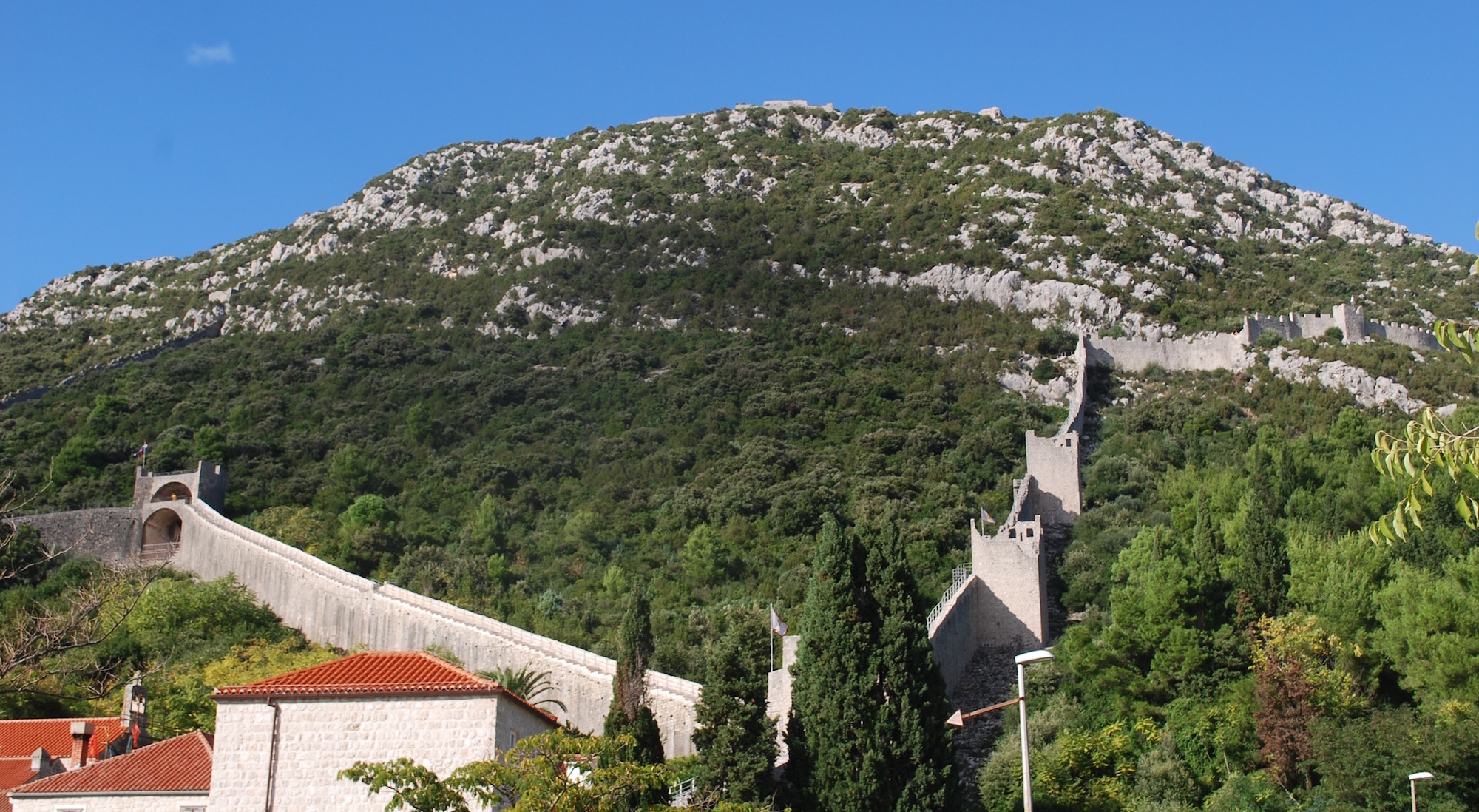 These are photos taken from the tower on the left in the last photo. That's Ston below.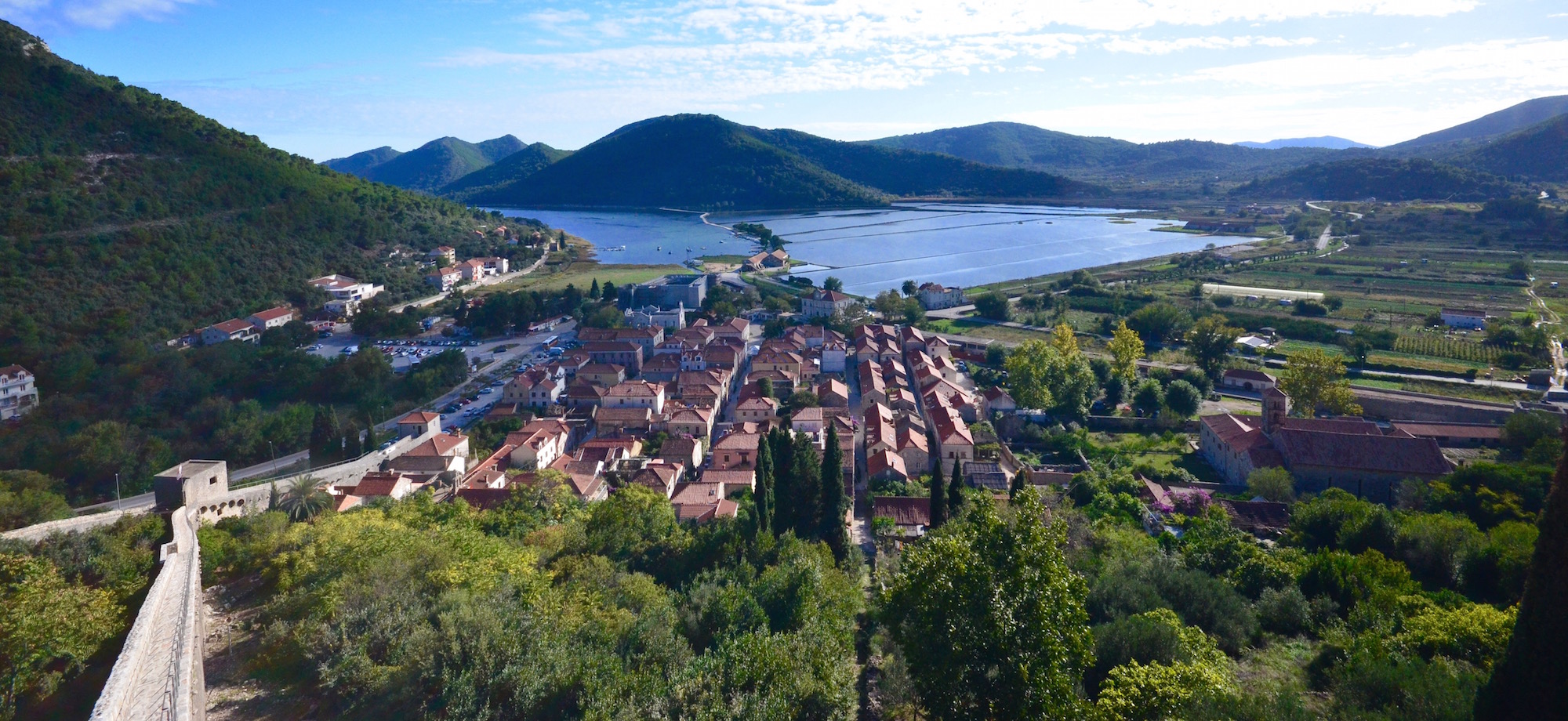 And this one shows the salt pans that are still producing salt, and given the horrendous price of sea salt these days, maybe they shouldn't let the walls fall into disrepair. Who knows who could be coming for the salt the next time? Putin? ISIS? A herd of salt starved cows?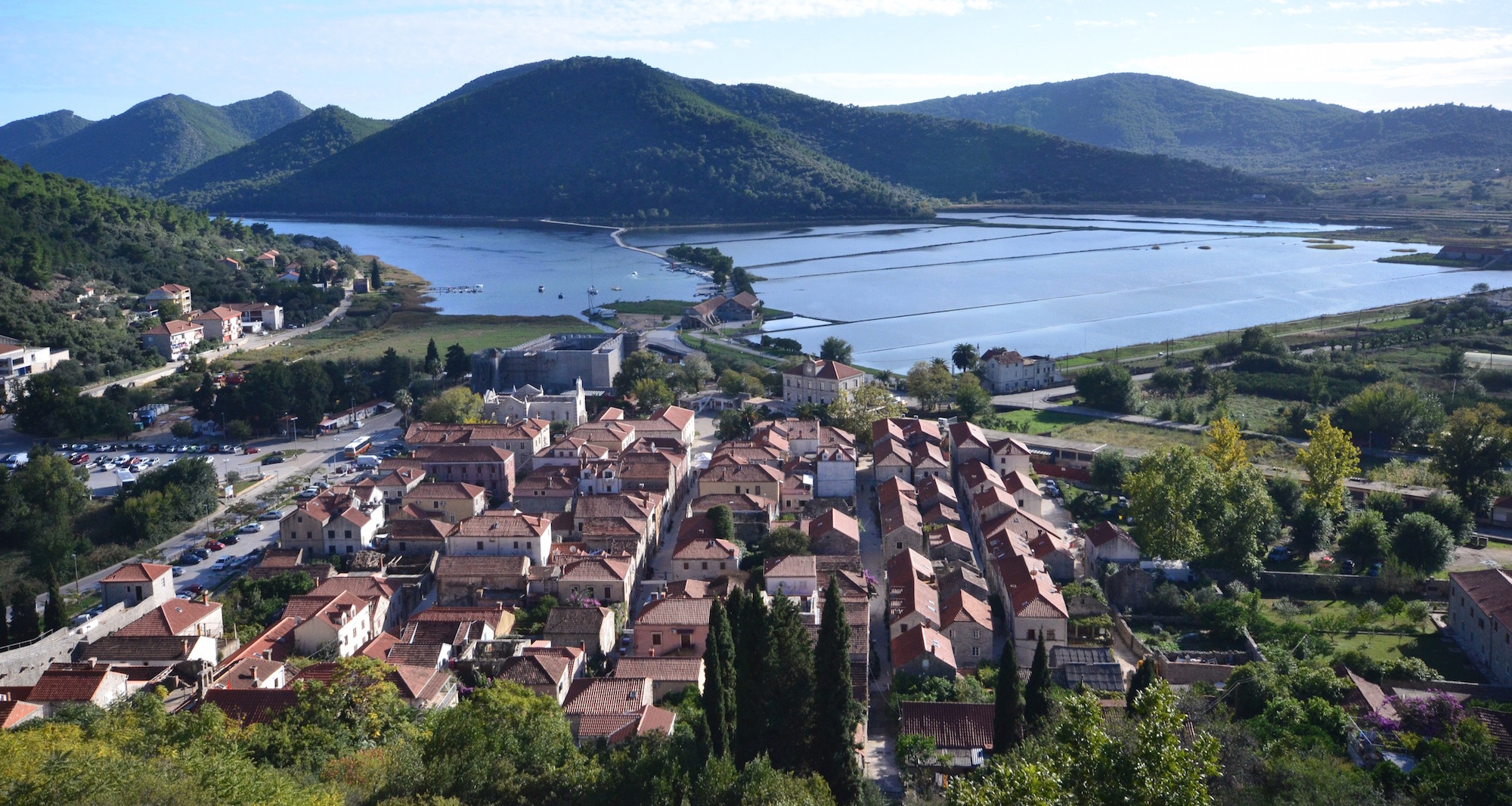 Kapetanova Kuca Restaurant
After circling the town I rejoin Alison, who has bought S.F.A., and Darius drives us the short distance to Mali Stone which is a quaint fishing village with restaurants lining the promenade. The Kapetanova Kuca is one of them and has quite a few people, mostly locals, all well dressed, enjoying a meal in the afternoon sunshine. Once again Dalmatia does its thing with the weather. Whereas this morning it was overcast and drizzly, it's now glorious warm sunshine. I get the impression that Kapetanova Kuca is the type of place that Dalmatians take their families for a special outing.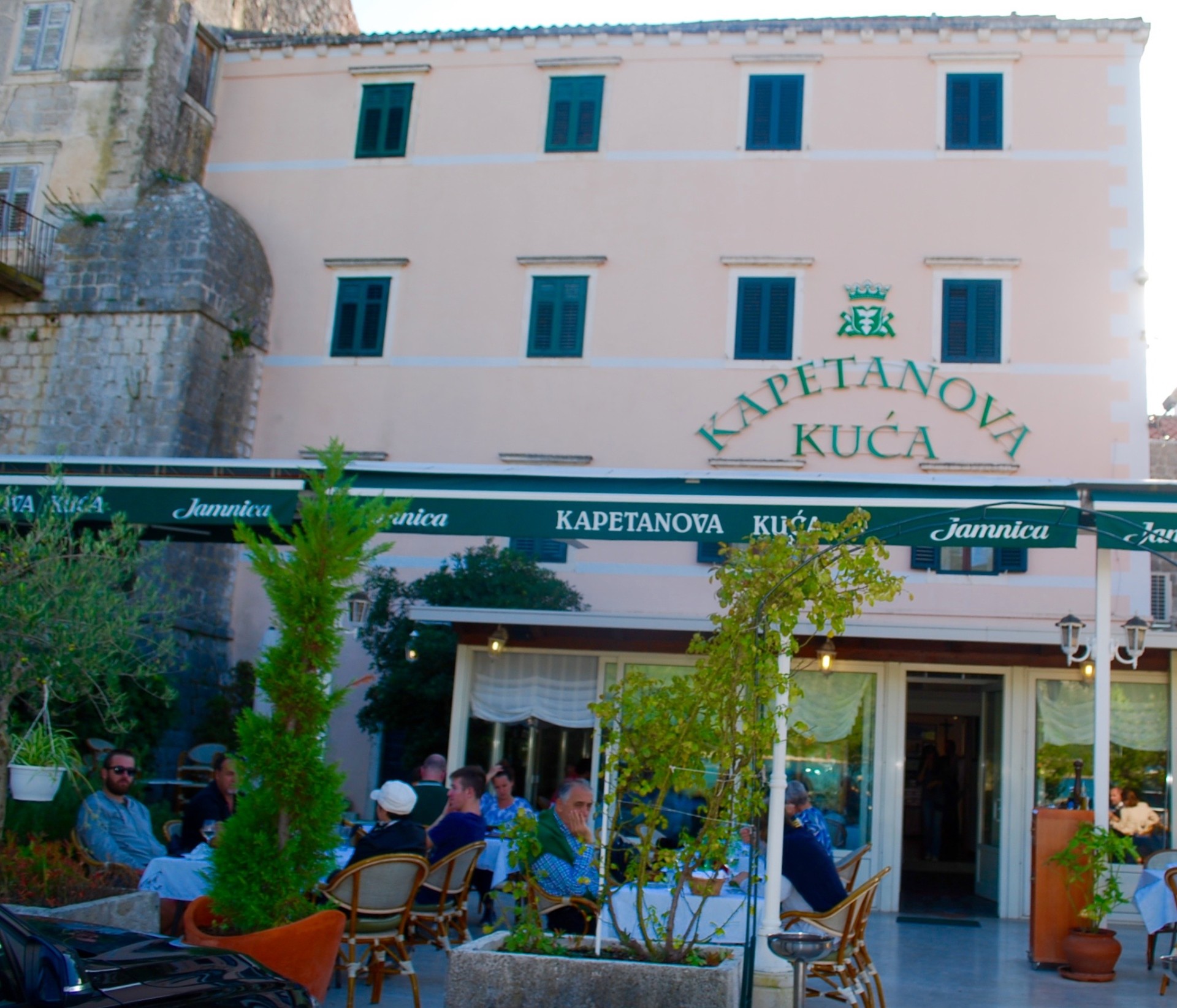 One Dalmatian specialty we haven't tried is the cuttlefish risotto so we order that along with squid. You don't see calamari on the menu at non-tourist restaurants because Dalmatians prefer to grill the shrimp whole without cutting it up or battering it.
First we are served this very tasty and nice looking amuse bouche.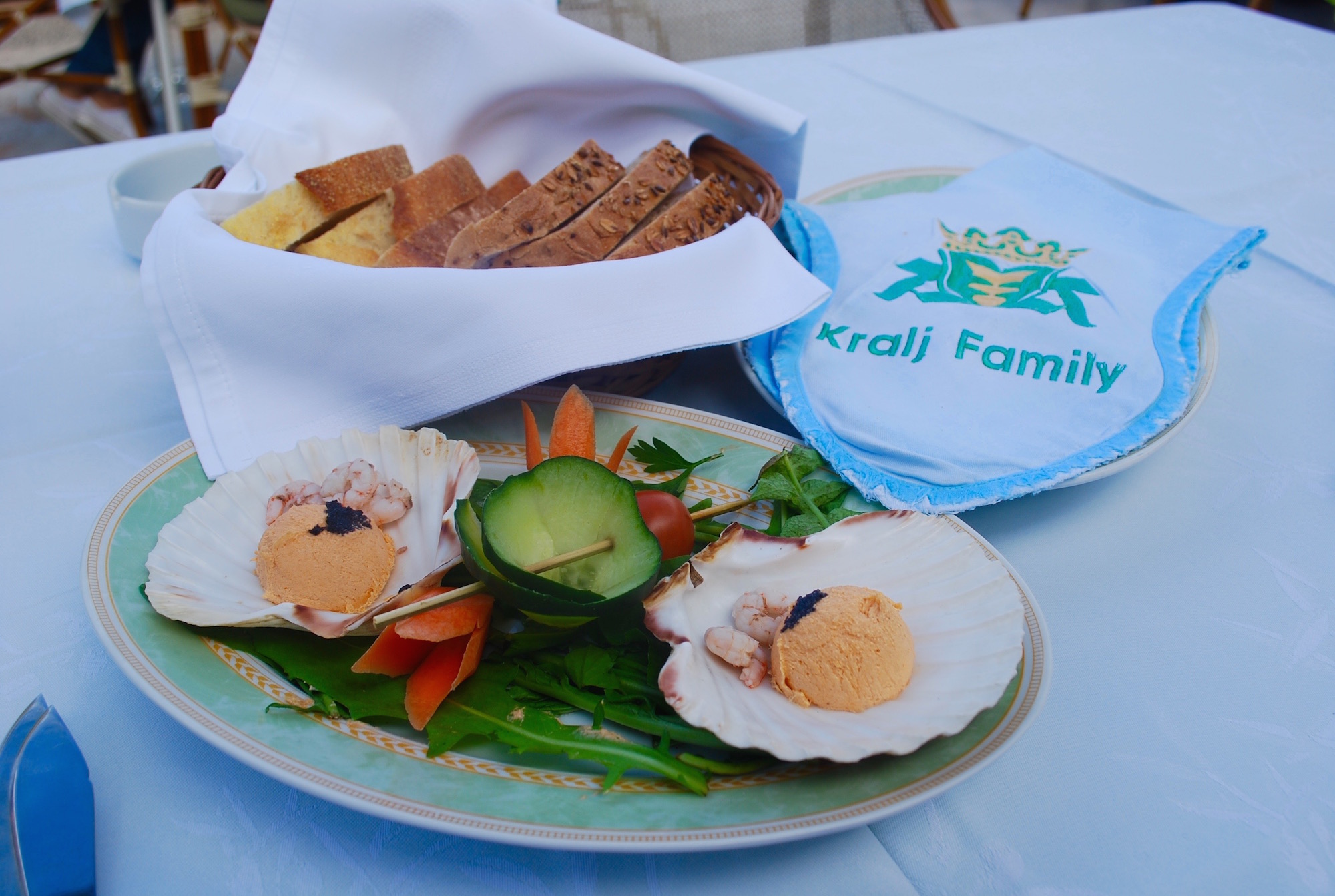 The wines on offer are all local to the Peljesac peninsula and the glasses of dry white we have are superb – a perfect go with for seafood.
Here is the  cuttlefish risotto and grilled squid. Cuttlefish are members of the octopus family and secrete a jet black ink when threatened. It is this ink that is prized in Dalmatian cooking, rather than the cuttlefish itself. You might not think that black risotto looks that appetizing, but trust me it's damn good. The squid you see are four little guys that are exquisite and on large one that is not quite as tender, but still very good. All in all a great call by Darius.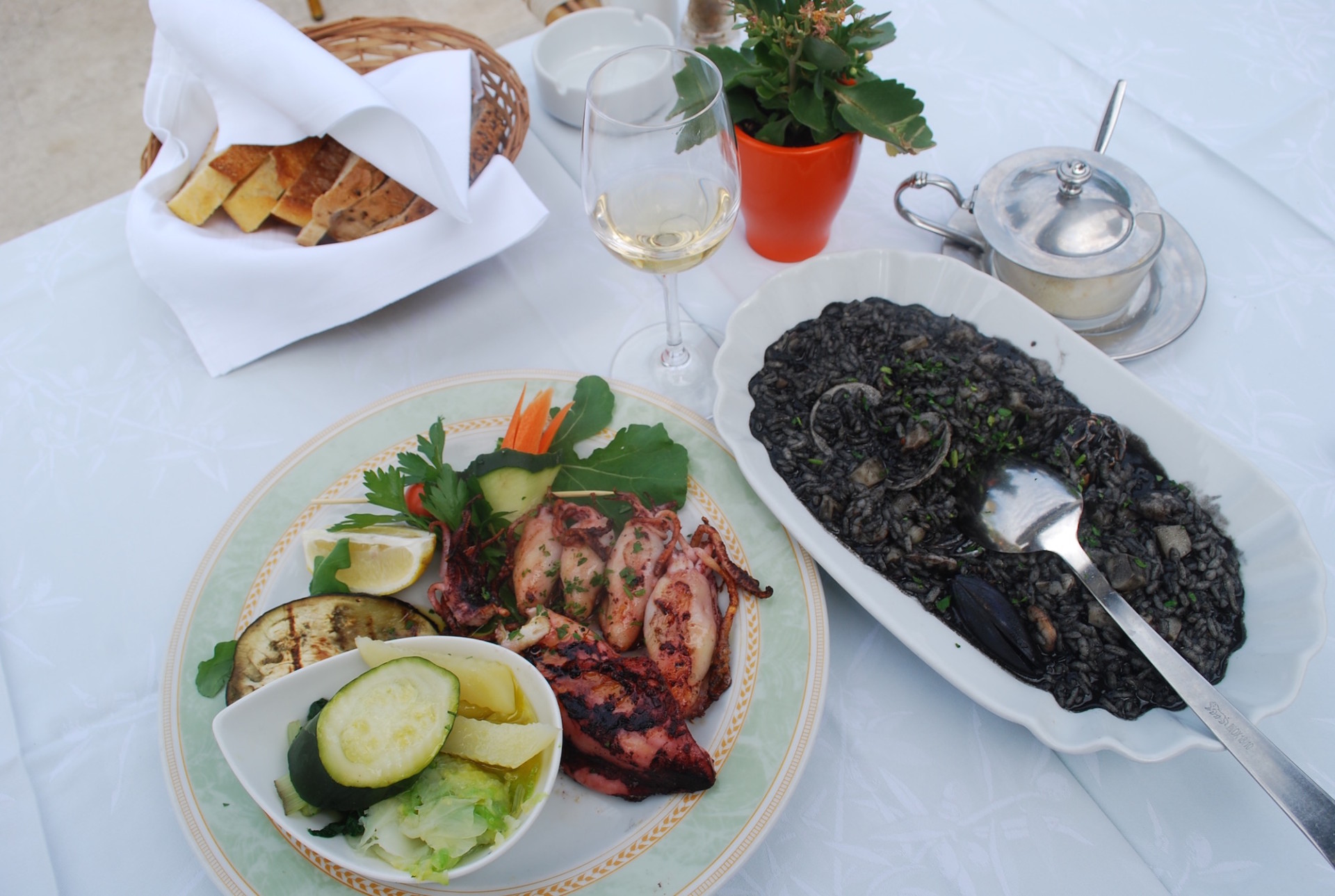 So finally, after several detours and four border crossings we arrived at the storied city of Dubrovnik. Hope you'll want to read about our exploits there in the next few days as we walk the fabled city walls and take a Game of Thrones tour.
Here is a link to the Croatia photo gallery with pics from the entire trip from Split to Dubrovnik.